Evidently, we are glutton for punishment.  This past June we parked our truck camper in a family member's driveway for 11-days while they went to Hawaii.
Our mission – which we not only accepted but volunteered for – was to watch, feed and otherwise care for four dogs.  That's two mini-poodles, one standard poodle, and a Greyhound.  What were we thinking?
After leveling our rig with two ramps, we ran our 30-amp power cord to the garage door, attached a 15-amp converter and extension cord to a 110-volt outlet.  As is our standard procedure, we then checked the quality of the power with a line voltage monitor.
That's when things went sideways.  The line voltage monitor showed the power level was low.  Voltage sensitive RV appliances like refrigerators and air conditioners can be adversely affected by low power.  When we checked the house outlet directly, it was only minimally better.  The whole house had low power.
With that reading, we unplugged the camper and kept the refrigerator on propane.  With two Group 31 AGMs, one 160-watt solar panel, and two 20-pound propane tanks, our camper and refrigerator would be fine off-grid for the duration.  So much for the powered moochdocking.
It's not unusual for us to find funky power conditions on the road.  A few times a year we'll find a campground has low or intermittent power.  And we sometimes get caught away from our camper during a lighting storm – the perfect time for an appliance destroying power surge.
The answer to these conditions is routinely checking the shore power and a proper RV surge protector.  We use the aforementioned line voltage monitor to check shore power.  That works well and only costs about $15.
As for a surge protector, Truck Camper Magazine readers strongly recommend the Progressive International EMS-PT30X in an October of 2017 Question of the Week.  The Progressive International is a 30-amp outdoor EMS and surge protector specifically designed for RVs.
That said, I find outdoor surge protectors to be a clunky solution.  First, they are just asking for someone to pinch a very expensive ($260) piece of gear.  And shouldn't these devices be built into every truck camper?  Doesn't that make more sense than plugging them into the post outside?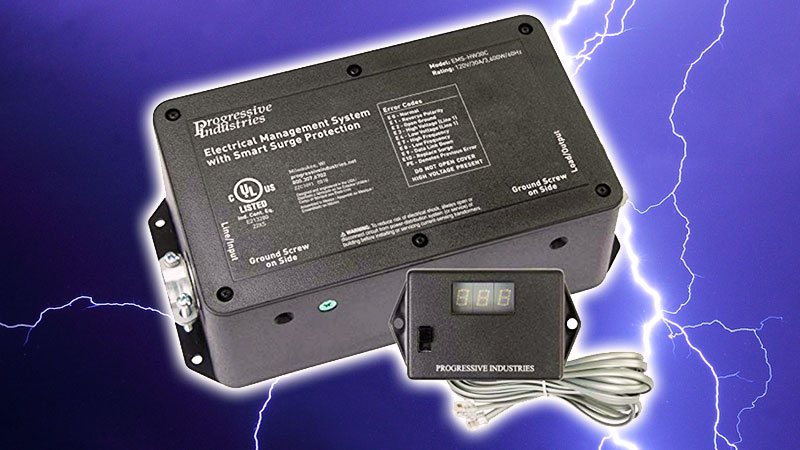 Above: The Progressive Industries HW30C 30-amp hardwired RV surge and electrical protector.  A good idea?
Of course my judgement isn't the best these days.  After all, it was me who volunteered for 11-day dog duty.  Who let the dogs out?  We did, again, and again, and again.  Glutton indeed.
This week's Question of the Week is, "Should power surge protection be built into truck campers?"
Keep in mind that building surge protection into truck campers will add cost and weight to the unit.  That is offset by the convenience and peace of mind that your camper is protected from a fairly common set of issues, but not everyone wants to sign up for more cost and weight.  What do you think?
Click here to read about why 89% of people who responded to our poll want built-in surge protection.