We have some incredible reader feedback on the Truck Campers of Apollo 11 including an eyewitness testimony and positive identification on at least one of the campers, probably more.  It's a 1966…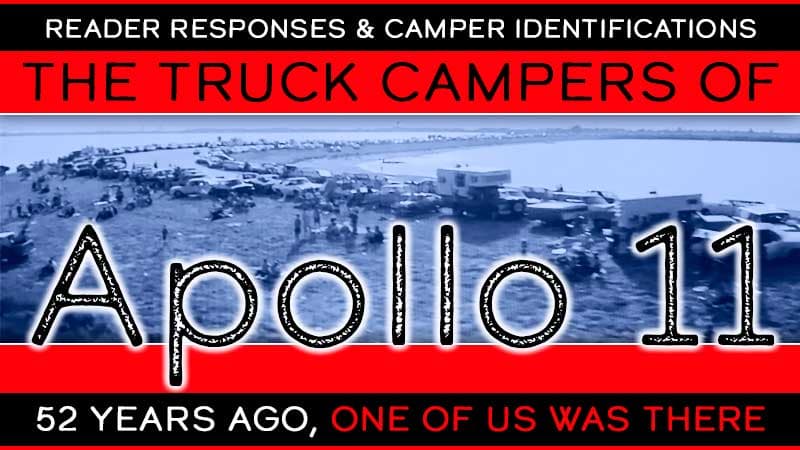 This week we published four stills from the stunning 2019 documentary film, Apollo 11. The stills showed at least five mystery truck campers that were present for the July 16th, 1969 launch. Our question was, what were these campers?
The morning we published the story, I said to Angela, "Imagine if someone who was at the launch sees the article and responds." The mere thought was a moon shot itself, but the idea that a Truck Camper Magazine reader in 2021 could have been at the launch in 1969 wasn't too far-fetched. A few hours later, an email arrived:
"I was at this Apollo 11 launch watching from a parking lot along the beach in Titusville. We were probably very close to where your last picture for campers E and F was taken. This was about as close as you could get without special permission.
I was 11 years old and we were on vacation from Ohio visiting my grandparents in St. Petersburg, Florida. We left our Apache tent-trailer at my grandparent's and just took the 1960 Plymouth station wagon across to the East Coast. We arrived there about 7:00pm the evening before the launch and it was already getting pretty busy.
As you can see, it was really crowded and people were sleeping everywhere. Businesses and authorities were being very generous about allowing people to park and use facilities. The atmosphere was one of pure festivity and celebration. People were up walking around and talking all night like it was the middle of the day.
I do not remember any trouble makers or rowdy parties. People were just excited and anxious for the launch. Most conversations were about space, rockets, and technology. The rocket was brightly lit at night like a monument of some kind. It was quite stunning to see in the still night air.
The launch was mid-morning and we were several miles away from the pad. Binoculars made it close enough to actually identify the rocket.
Everybody had a radio tuned to the launch coverage. It was like surround sound. The rocket had already lifted off before we heard any noise.
It was a deep rumble that went right through you like an earthquake or something. Nobody made a sound until the rocket was well up into the sky.
Then, there was cheering and applause as it went up.
The rocket actually burned a hole in the clouds where it went through. The heat re-vaporized the moisture in the clouds.
We were already on our way home when the moon-walk happened. It was maybe 8:00pm in the evening. We stopped at a hotel in Georgia and asked if we could watch it in their lobby. Of course, they said, "Yes" so that's where we watched from.
I don't think they would have been very comfortable sleeping in a truck camper that July night. Florida is very hot and humid in July and only cools down to around 80 overnight. Not many campers had air conditioning back then and I'm pretty sure Fantastic Vents were not invented yet. Without air conditioning, canvas with huge screen windows was the way to go." – Vince Kurpan
While Vince's 11-year-old recollection of the launch couldn't place the campers themselves, the idea that we found someone who might be in the movie stills completely blew our minds. Thank you for the email, Vince. You made our day.
Next came what is likely the most accurate ID of the campers themselves. Long-time reader, Kevin Pinassi, is like the one-man CIA for anything truck campers. He regularly sends us funky vintage campers just for fun, so it was no surprise that he got to work identifying the truck campers at Apollo 11.
Here are his answers: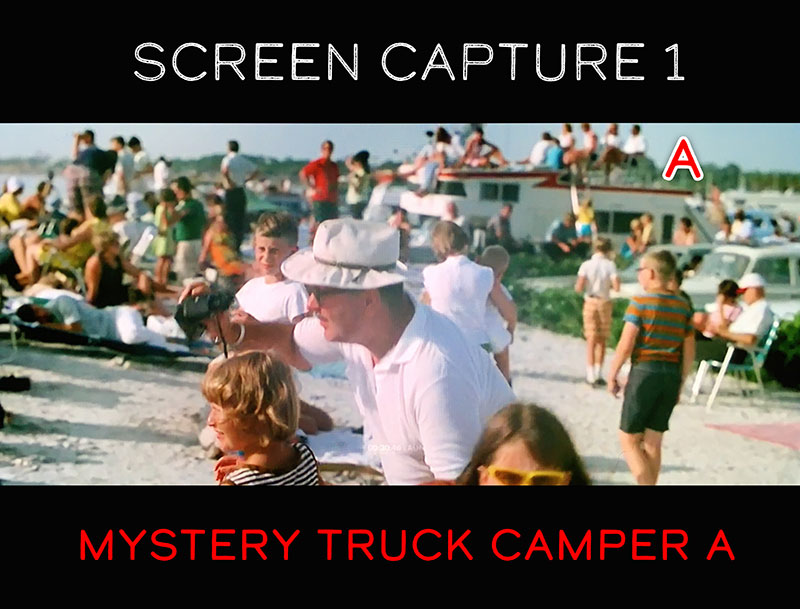 Camper A: 1966 Kamp King side entry with pop-out rear tent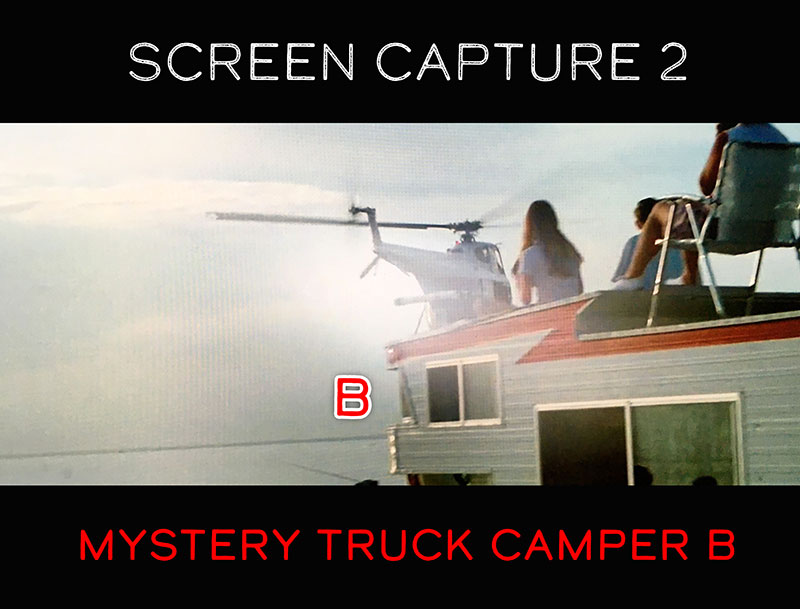 Camper B: Same as above camper A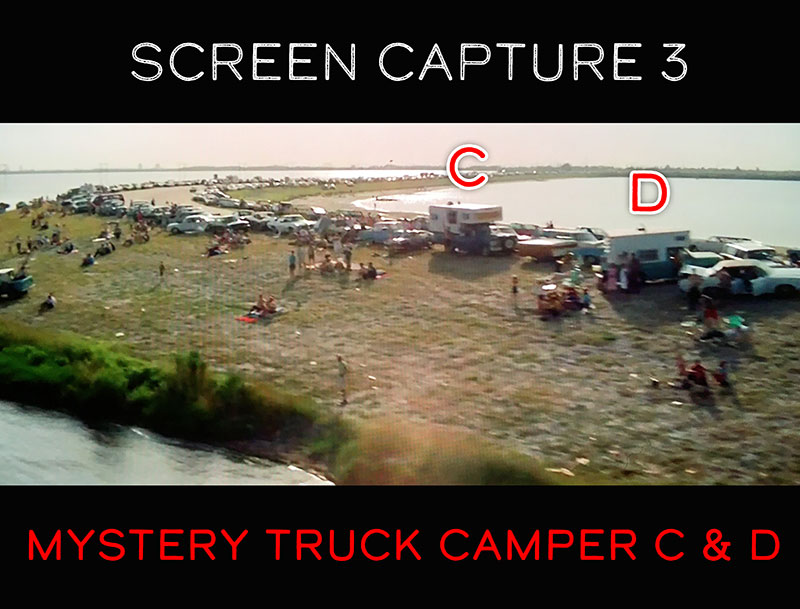 Camper C: 1967 Monitor 10-footer
Camper D: 1966 Californian 10-footer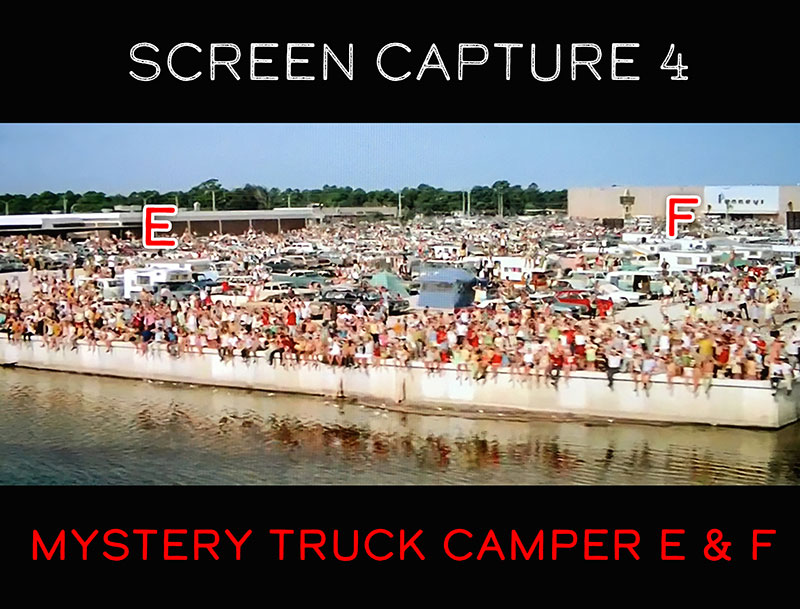 Camper E: 1965 Huntsman 10-footer
Camper F: 1967 Open Road
To further prove his spy credentials, Kevin also identified a few additional campers:
"Also in the pictures, I saw a Barth camper, a VW Westfalia pop-top and a Green VW non pop-top." – Kevin Pinassi
Well done, Kevin.  And a little freaky.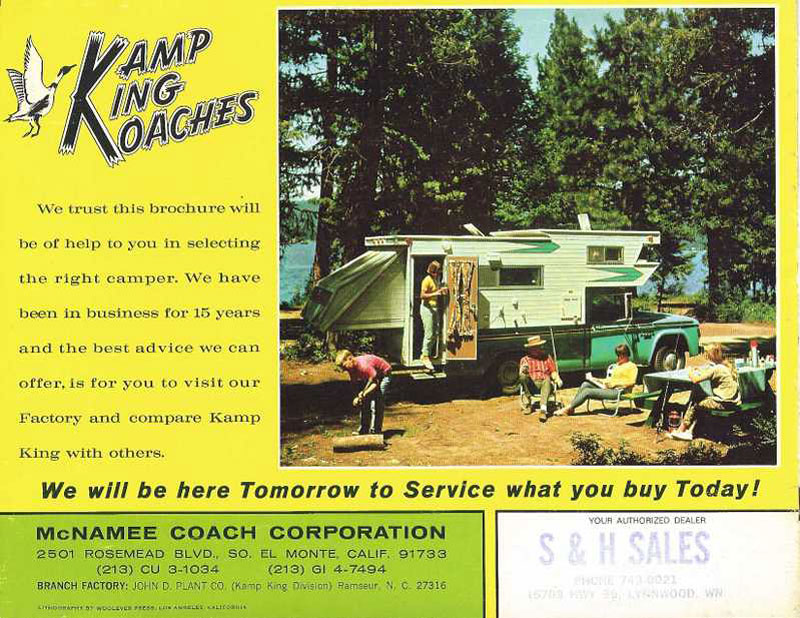 Many more readers responded after Kevin's post with similar answers.  After a Google image search, the Kamp King appears to be a solid ID.  Others are likely, but difficult to make an absolute and final call.
Here are additional responses and guesses: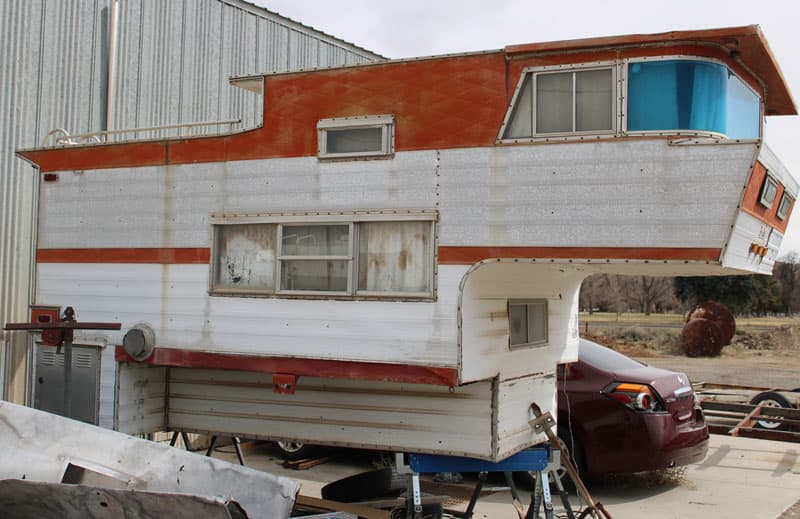 "I have a neighbor that has a Del Rey truck camper. He believes it's a 1962 to 1964.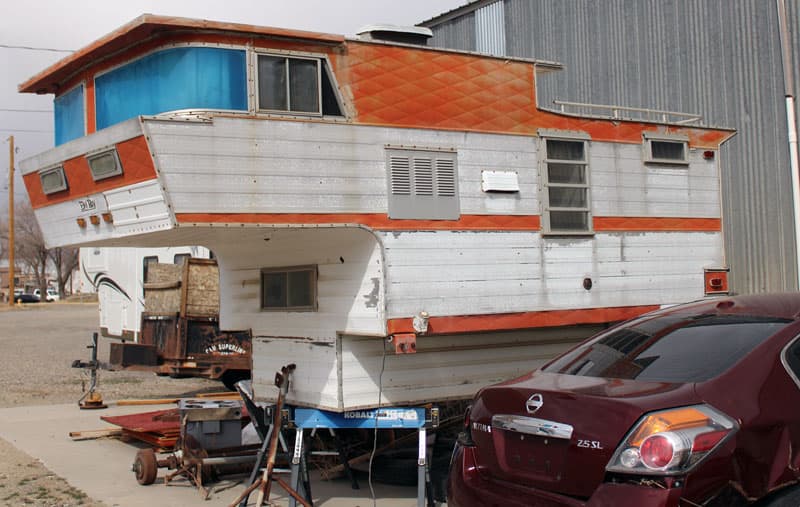 His camper has the same lines and profile of the camper in screen caps 1 and 2.  It was called a three-tier; living space, sleeping, and sun-deck.  The stills from the movie might be a fifth-wheel as it is quite long." – Dave Kaiser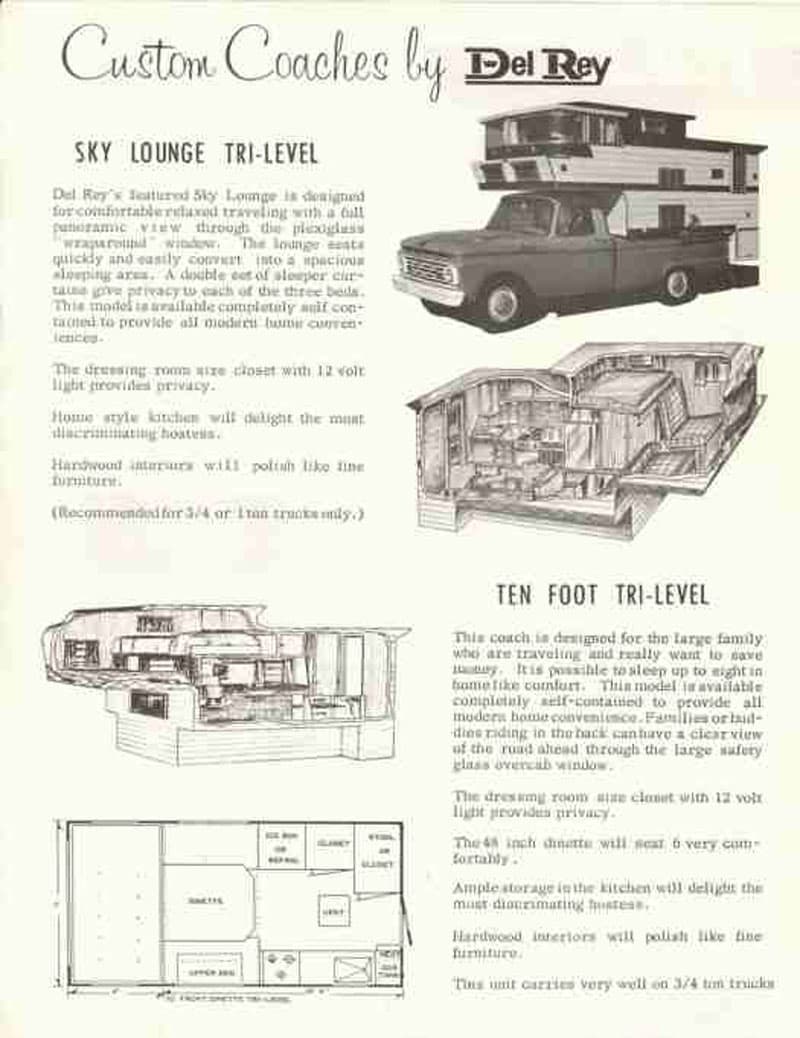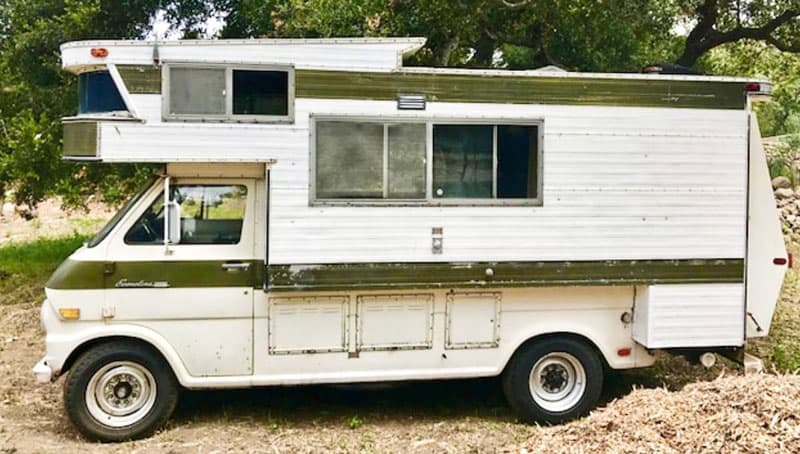 "Camper A is perhaps a 1969 Kamp King Koach Van-A-Home, but I am not sure. Happy camping!" – Gerd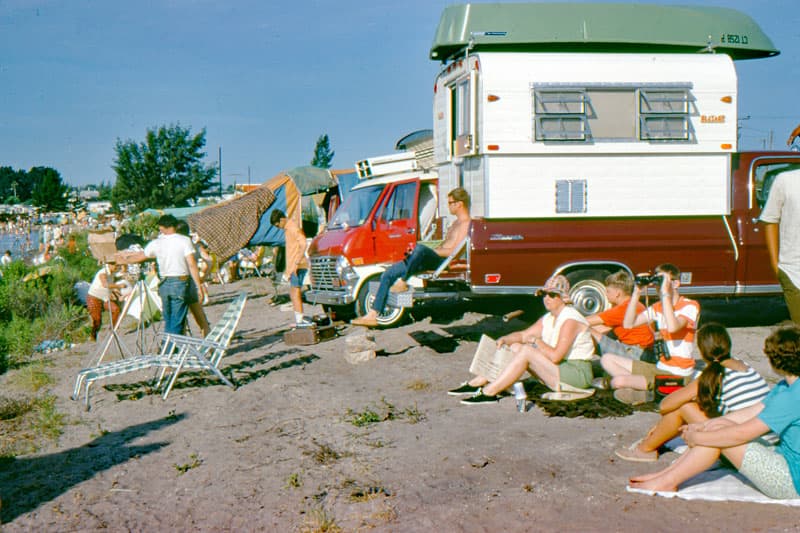 Above: An Alaskan at the launch, from the Collect Space forum.
"If you do some Google image searches you can bring up lots of photos from the launch party. I caught a couple of Alaskan Campers in a Collect Space post; one with a green boat on top that has more detail from someone that was there. And another Alaskan is clearly visible in another frame." – Chris Cameron
"I believe the red camper in screencaps 1 and 2 is a Kamp King Koach.  I arrived at this by doing a Google picture search.  I'm convinced this was the same designer who made the Griswald's Sport Wagon." – Finn-Erik