Lost for half a century on 70mm film, the movie Apollo 11 reveals stunning behind-the-scenes moments from man's first Moon landing.  It also reveals a number of unidentified truck campers from the 1960s in all their glory.  Can you name these rigs?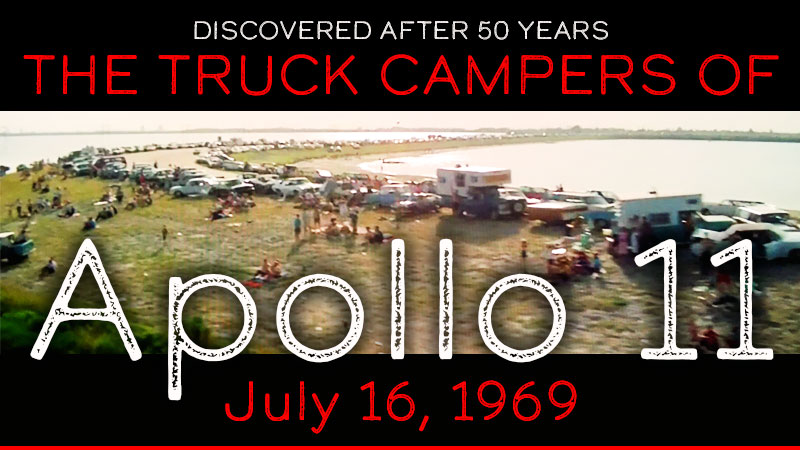 As the story goes, Todd Douglas Miller had just directed a short film on Apollo 17.  During his research, he gained access to the film archives at NASA and the National Archives.  That led to the discovery of a significant cache of 70mm film from the Apollo 11 launch preparations, Saturn V launch and astronaut recovery – none of which had ever been seen publicly.
Thanks to the extreme quality of the 70mm film (and Todd's meticulous restoration), the detail and clarity of this archival footage is as good or better than anything made by Hollywood today.  Imagine if a top-notch IMAX crew with unrestricted access was filming before, during and after the Apollo 11 launch and you begin to get the idea of the jaw dropping imagery on tap.
Above: The Apollo 11 trailer gives you a hint of the majesty of this remarkable film.  If the above video does not play, click here to watch it on YouTube.
The resulting film, "Apollo 11" runs 1-hour and 33-minutes without narration.  It's a pure and unadulterated dose of the moment-by-moment lead up and execution of the mission.  From Neil Armstrong, Buzz Aldrin, and Michael Collins putting on their space suits, to mission control, to the launch at Complex 39, it's all right there; raw and incredibly clear.
Sadly, the film wasn't a big hit upon its release.  Apollo 11 grossed only $9M in the United States, all from limited IMAX screenings.  What almost immediately pushed this brilliant glimpse of one of mankind's greatest achievements out of the theater?  Captain Marvel.  Now I love the Marvel Cinematic Universe (and admittedly own the film), but it's a shame Apollo 11 didn't make a bigger impact.
The Truck Campers of Apollo 11
You can probably sense my enthusiasm for this subject, but none of this would have made it to the electrons of TCM if it weren't for a couple of sweeping shots showing the gathered crowds for the launch; and their numerous truck campers.  If anyone needed evidence that truck campers were likely the most popular form of RV in 1969, this remarkable film is your proof.
The best part (for yours truly) is that I purchased this film having no idea truck campers were in it.  I was entranced by the subject, production and visuals when, "What? Hey, that's a camper!  And there's another one!  Angela!  There are a bucket-ton of truck campers in this Apollo 11 movie!  You gotta see this!"
The film shows at least five truck campers parked along Florida's Space Coast.  The problem is that I have no idea what truck campers they are; year, make and model.  As someone who is supposed to know this stuff, not being able to identify a camper makes me crazy (I heard that Angela).  I want to know exactly what campers were at the Apollo 11 launch.  This is history people!
Help Us ID These Campers
After 14-years, we are well aware that a number of you really know your vintage campers.  In fact, some of you seem to know vintage campers like I know vintage stereo tube amplifiers.  Which obsession is more in need of a head examination remains to be seen, but my thermionic compulsions are not exactly helpful for this exercise.
I have taken screen captures of the truck campers in the film, numbered them and placed letters next to the mystery campers.  If you can identify a camper, scroll to the bottom of this article and us know.  Then call me if you have a vacuum tube stereo component that needs a home.  Got it?  Okay, here we go…
The first two (mystery campers A and B) are likely the same.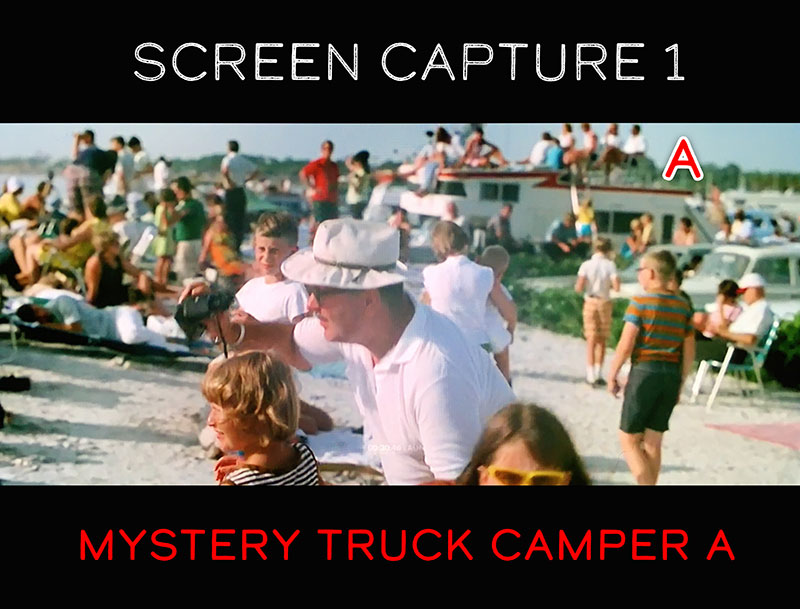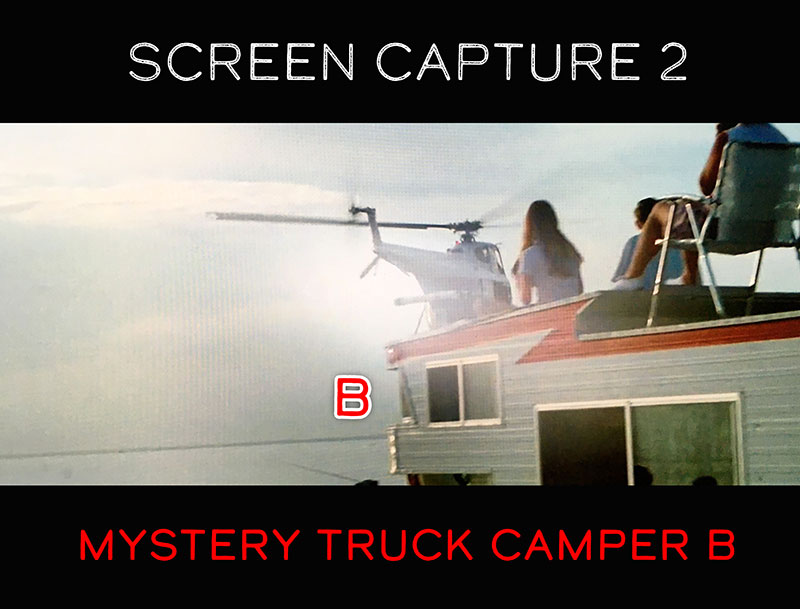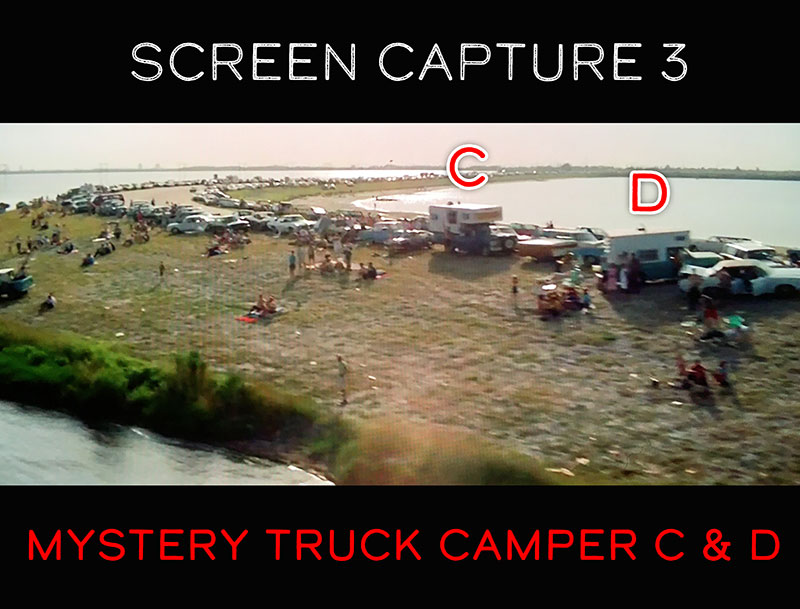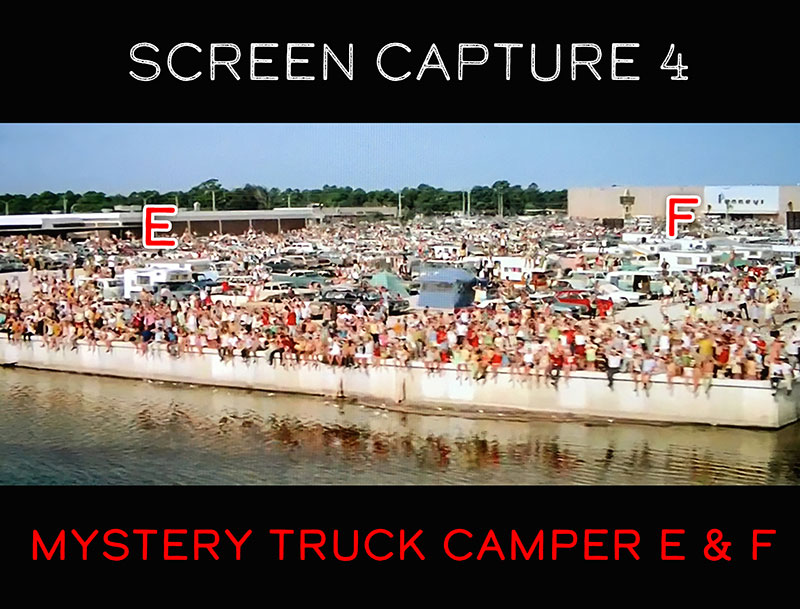 Think you know the year, make and model of one or more of these truck campers?  Please scroll down to the bottom of this article and let us know.
Click here to see the reader responses to the truck campers in the images above.
Bucket List Launch Experience
I have absolutely no doubt the truck campers who witnessed the Apollo 11 launch in 1969 were crossing a huge dream off their bucket list.  What an incredible experience to be there when we launched the first human beings to walk on the Moon.  And then, they relaxed as everyone else fought traffic on their way home.  The launch was a 9:32am EST, so maybe lunch, and then a nap.  What's the rush?  We're truck campers!
Angela and I were privileged (and crazy lucky) to witness the last Space Shuttle launch from Sand Point Park in Titusville.  It was a few months before our first truck camping trip, but we can imagine how amazing it would be to attend a launch with our camper.  The crowds and atmosphere were similar to what's seen in the film.
Since then we've seen three more NASA rocket launches from much further away.  It's a highly recommended experience, even from a distance.  As NASA, SpaceX, and Boeing gear up for more launches, consider putting a rocket launch on your truck camping bucket list.  They're a blast.
How to Watch Apollo 11
Apollo 11 is available for streaming via Amazon Prime, Apple TV (iTunes), Fandango Now, Google Plan and Vudo.  The movie is not not free, but the rent price is between $2 and $4 and purchase is between $12 and $15.  As of this publishing, Amazon Prime appears to have the best prices.
If you're old school, Amazon has the Blu-ray for about $12, or the 4K Blu-ray for $24.  I bought the 4K download from Apple.  Stunning.