It's a tight balance running Truck Camper Magazine and getting out on the road to enjoy the lifestyle we aspire to represent.  Things usually work out well so long as we work well before we go out.  Then again, sometimes everything goes out the window.
This past May we darn near missed the Mystic Jamboree to such a window.  The truck camper review that graces the homepage this week had yet to be completed, and completed it needed to be.  To that end, we missed the Jamboree on Thursday and Friday, and made a five hour B-line to make it to Mystic for Saturday afternoon, and Sunday morning.
When we arrived, we were surprised to discover rally rigs huddled two at a time on large pull-through sites.  "You missed the rain yesterday," Mike Tassinari told us.  He wasn't kidding.  Rally participants reported a torrential downpour so ferocious they couldn't sleep the evening before.
To make sure no one washed away, the campground had moved the rally out of low lying areas and put everyone together on higher ground.  Fortunately, the pull-through sites were so long the rally could have put three truck campers on each, if folks squeezed.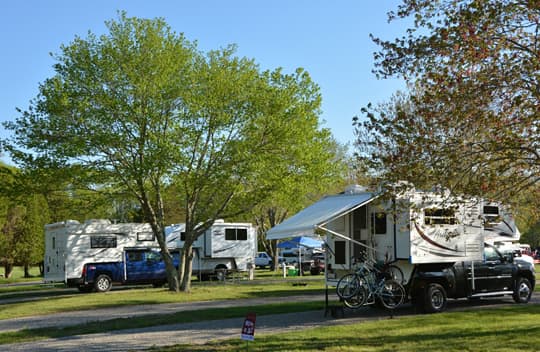 We pulled our 2014 Northstar 8.5 Arrow U up to Guy Dalphond's Northern Lite.
A few minutes later, Cathie Tassinari was started ice cream Bingo in the pavilion.  Angela is not known to miss an opportunity to (a) play Bingo at a truck camper rally or (b) possibly win ice cream, and neither am I.  All we had to was to wait until Cathie called the letter and number corresponding with the cherry on our card.  Then we would shout, "Cherry!" and Mike would bring us ice cream.  This would be easy, right?
Well, it didn't happen quite like that.  All around us folks won, "Cherry!" ice cream here, and, "Cherry!' ice cream there.  Mike, having found his new calling in life, scurried from winner to winner with his ice box of sweet frozen treats asking, "Hoodsie or water ice?".  For those of you who are not from New England, a "Hoodsie" is an ice cream cup.  Don't feel bad, we didn't know either.
Cherry after cherry, winner after winner, we waited, and waited.  Some were even starting to win second rounds of ice cream when, finally, at long last, Angela won.  Then I won, and shouted "Cherry!" so loud I think my folks in Pennsylvania heard me.  I get excited sometimes.
After ice cream Bingo, we walked around the rally and checked out the forty-two rigs in attendance.  Most everybody was gathered in a single row, two deep.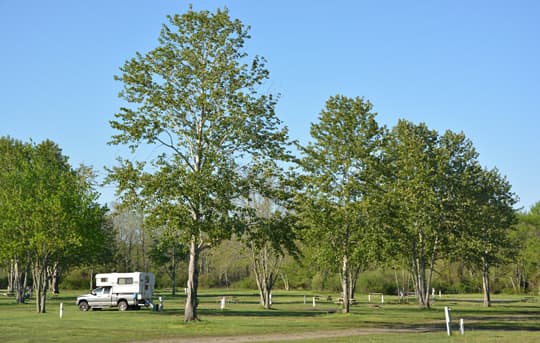 Then there was this lone Alaskan Camper parked way off and away from everybody.  It was Dave and Nancy Carvalho from the article "Empty Nest Alaskan Quest".  I asked him why they were camped all by themselves and he said, "Why not?"  He had a point.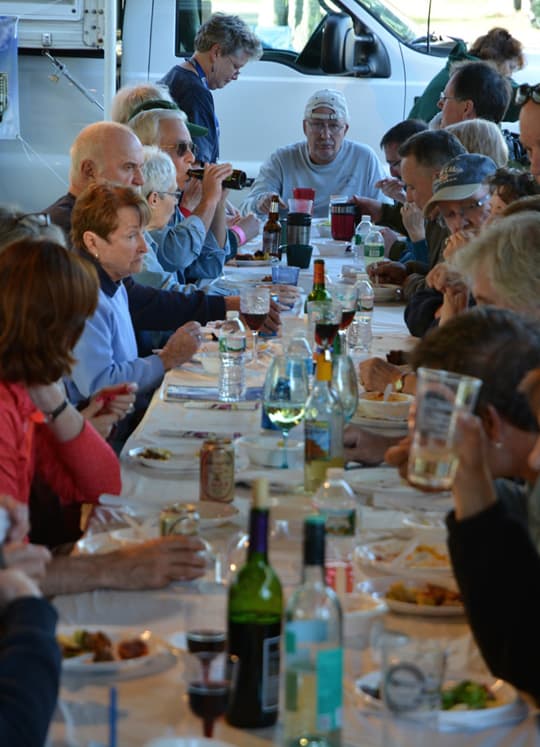 Above: Mike saw that I was going to take his picture at the far side of the table, turned his hat around, and put his serious face on.  I assure you, this didn't last.
At 5:30pm Mike and Cathie Tassinari gathered everyone under the pavilion again for an all-you-could-possibly-eat-if-you-had-a-week (and help from a few dozen hungry friends) potluck dinner.  I can honestly say this was one of the best potluck dinners we've ever had at a truck camper rally.  We're talking incredible quality and quantity.  Thanksgiving should be this good, seriously.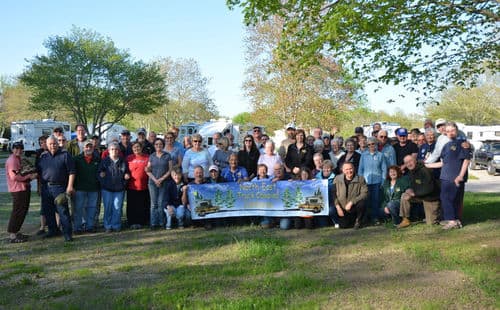 Above: Group photo (click to enlarge)
After dinner, we took a quick group photo and then Mike asked everyone to tell the rally their name and where they were from.  It's amazing how we come from so many places and then come together as friends at a truck camper rally.  I believe this is why we drive long distances to spend a few days with fellow truck campers.  There's magic when we get together.  The rallies are truly one of our favorite parts of life, and I don't think we're alone in those sentiments.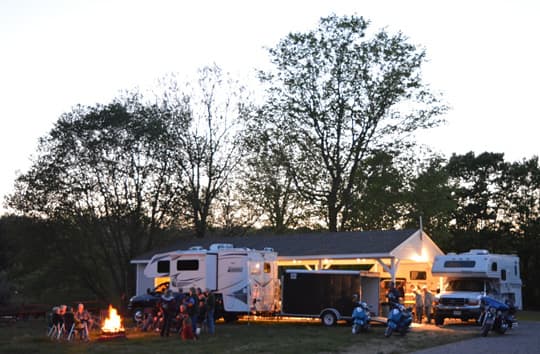 Mike enlisted Ed and Donna Amato (aka Mr. and Mrs. Fast Eddie) to help give away prizes and call the raffle.  Once the last price was called, a campfire was started and we talked with good friends, new and old, long after the sun went down.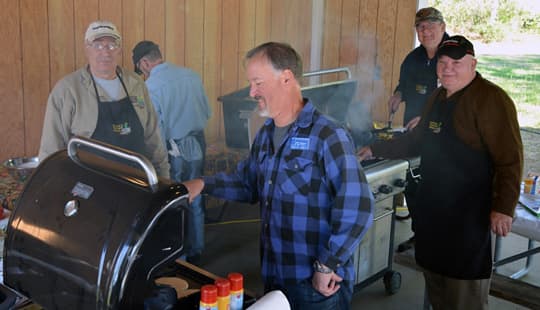 The next morning Mike and his crew had worked up a farewell breakfast feast of coffee, juice, eggs, bacon, pancakes, and sausage.  It's a good thing our heath insurance company doesn't know we eat this way or they might increase our premium.
It seemed like we were saying goodbye just moments after we arrived.  We're still very happy we went to the Mystic Jamboree, even if we missed half the fun.  It was wonderful to catch up with everybody, and talk about our truck camping plans for the year.
Speaking of truck camping plans, ours took a different turn shortly after leaving the rally when we drove to Truck Camper Warehouse, and dropped off our 2014 Northstar 8.5 Arrow U.  We managed to get everything that was in our camper, including Harley, into our truck and drive back home.  For the moment, we are camper-less, and soon to sell our truck.  What happens next is very exciting, but is still half in Oregon, and half who knows where.
Thank you Mike and Cathie Tassinari for another wonderful North-East Truck Camping Jamboree.