Now empty nesters, Dave and Nancy Carvalho sold their fifth wheel and journeyed 3,000 miles cross-country to pick-up their custom eight foot 2013 Alaskan Camper, the perfect truck camper for them.

It's not exactly rocket science to suggest that knowing exactly what you want – what you really want – is absolutely critical to actually getting what you want.  After all, how can you get what you want if you don't even know what that really is?  This is as true for truck and camper purchases as it is for about anything else in life.
After selling their fifth wheel, Dave Carvalho and his wife, Nancy, knew exactly what they wanted in a truck camper.  The criteria was well defined before they even started looking.  When they discovered a camper that checked off each and every one of their criteria, they had found their perfect fit; an 8' Alaskan Camper.  Anything else would have been a compromise.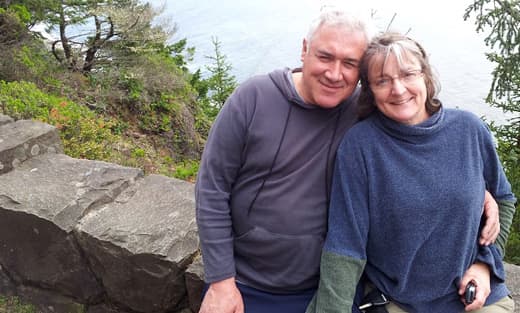 Above: Dave and Nancy Carvalho on the Oregon Coast
TCM: How did you get into truck camping?
Dave: We had a fifth wheel, but we just got rid of it.  The fifth wheel was too big for what we wanted and we were always bringing a lot of stuff we never used.
Our kids are grown and have moved out of the house.  Now it's just the two of us, we wanted to go camping without the muss or fuss.  A truck camper was the logical choice.
I researched our truck camper purchase over a period of a few months.  Last October we visited Nancy's son in Washington State.  While we were in Washington, we went to the Alaskan Camper factory and talked to Bryan Wheat, President of Alaskan Campers.  This Spring we placed the order.
TCM: That's quite a downsize to go form a fifth wheel to an Alaskan hard-side pop-up truck camper.  What led you to an Alaskan Camper?
Dave: With the kids gone, we no longer need a big camper with extra storage.  I wanted something I could go just about anywhere with.  I also wanted to be able to leave quickly.  Most of our trips are over a long weekend.
Since I wasn't going to upgrade my truck, I needed a truck camper that would be matched to our existing truck, a 2006 Dodge Ram 3500, extended cab, single rear wheel, short bed, four-wheel drive, Cummins diesel.  I also wanted a truck camper that I could park and store in my garage.  With my work schedule, the camper might sit for five or six months and I don't want it out in the weather during that time.
Finally, we wanted a simple camper with the basics and a little bit of luxury.  I was very excited when I discovered that an Alaskan Camper met all of our criteria.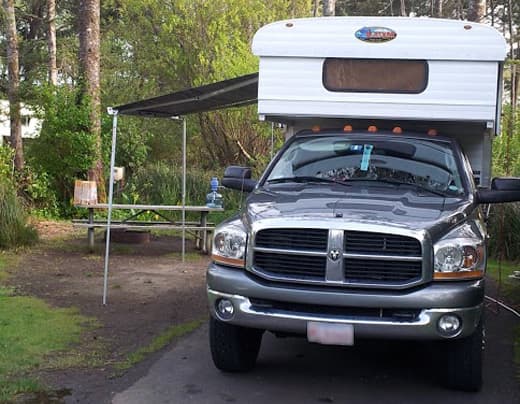 Above: The Carvalho's ordered their custom Alaskan with a side awning
The interior the Alaskan is very nice and high quality.  Our Alaskan was custom ordered with a two burner stove, Nova Cool 12-volt refrigerator, Radio, large sink, a cassette toilet, exterior shower, hot water heater, roof rack, and awning.  That's all we wanted.  Our Alaskan Camper makes us feel like we are really camping.  It's perfect for us.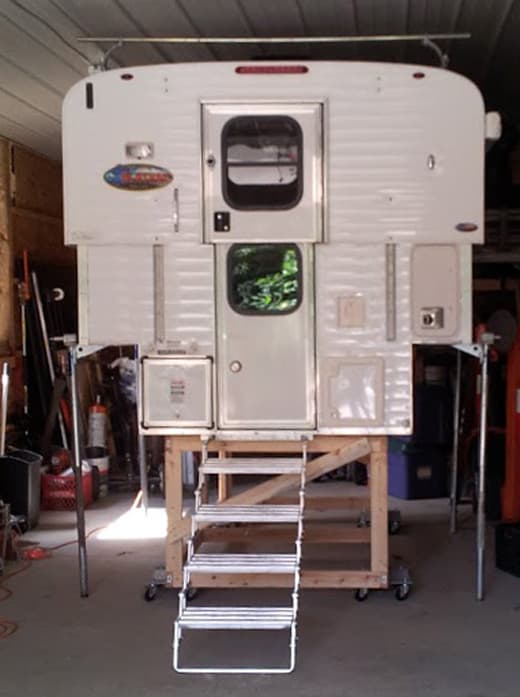 Above: The Carvalho's store, load, and unload the Alaskan inside their garage
TCM: How did it work out storing the Alaskan in your garage?  We have long wished we could do that.
Dave: My garage is 10' tall on the sides and 11' tall in the middle.  The garage door is 9' tall and the camper is 8'6" to top of the roof racks.
I drive the truck and camper rig into the garage with the camper top down.  Then I unload the camper and place it onto a stand I made at about the same height as the truck bed.  Having the stand about the same height as the truck bed means I don't have to crank the manual jacks much during loading and unloading.  The cart has dolly wheels allowing me to move the camper inside the garage.  I can load and unload the camper inside the garage in twenty minutes.
When the Alaskan is inside the garage, the 11' foot garage ceiling means I can pop the top up to access the camper.  It's a great set up.  This camper can be stored in any conventional garage if put on a dolly or low trailer.
TCM: Tell us about designing your custom Alaskan and working with Alaskan Campers after visiting the factory.
Dave: Before I ordered a new Alaskan, I looked at a used Alaskan Camper in New York State.  That was soon after our trip to Washington.  I was ready to purchase the used Alaskan and was scheduled to check it out on Saturday morning when the owner called the night before.  He had a change of heart and decided to keep his camper.
After that I waited a few weeks hoping to hear back from the guy, but he never contacted me.  That's when I called Bryan about purchasing a new Alaskan.  I had seen Bryan's online videos and bought essentially the same floor plan from one of his videos.
I contacted Bryan in the Winter and scheduled a time to pick it up several months later at a time that was convenient.  I arranged time off work and planned a trip from our home in Massachusetts to Washington State to take delivery of the Alaskan.
TCM: Were you nervous about buying a camper from a factory direct company that was located three time zones and three-thousand miles away?
Dave: No.  I had met Bryan and seen the factory.  I like the construction.  Any basic stuff that needs to be fixed, I can handle.  I knew what I wanted.  This was the camper that fit the bill for what I was looking for.  I was very confident in Alaskan.  All tolled, picking up the camper was actually an 8,300 mile round trip.
TCM: 8,300 miles?  Somewhere you picked up an extra 2,300 miles or so.
Dave: Going out west, we just had our truck.  We had blue storage totes in the truck bed with our stuff and load locks to keep them from blowing away.  We also had a rear carrier with generator and a few other things.  We stayed in hotels for four nights as we traveled west.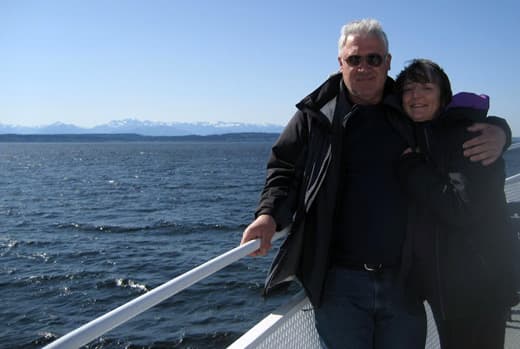 Above: Dave and Nancy after their arrival in Seattle, Washington
We had a mission to get to Washington in four to five days.  We got there in four and a half days, even with the bad weather we ran into.  My wife's son lives outside of Seattle in Tacoma, so we stayed with them when we arrived on the coast.  They live about an hour from the factory.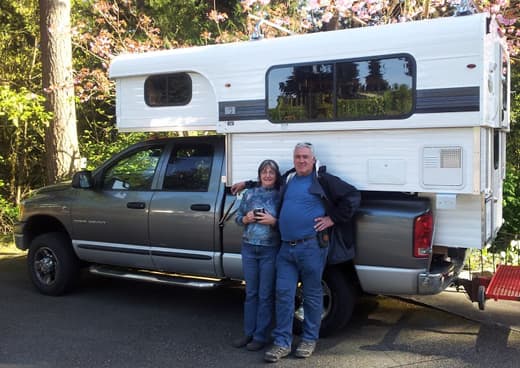 Above: Nancy and Dave pose with their brand new Alaskan Camper
Picking up the camper took a morning as Bryan and the Alaskan team outfitted our truck with the necessary electrical connections and camper tie-downs.  All together, it was a very smooth process.
Above: Delivery at the Alaskan factory in Chehalis, Washington.  Click to enlarge.
On our way back East, we slowed down and explored the country with our new truck camper.  That's where the extra miles came from.

TCM: Did you stay on the West Coast for a while before heading home?
Dave: We had to make it home by our deadline of May 10th.  My wife wanted to see a rainforest, so we went to Olympic National Park and stayed two nights.  Rain was in the forecast, so we headed to the Oregon coast.
Above: Exploring Olympic National Park in Washington.  Click to enlarge.
When we got to Oregon the first night, we saw a sign that the campground was full.  We asked and the guy there and he said, "Let me check".  He found us a spot.  We took the last site next to the bathrooms.  They had a wine tasting event in town, so everybody was booked.  We stayed on the coast of Oregon for two nights.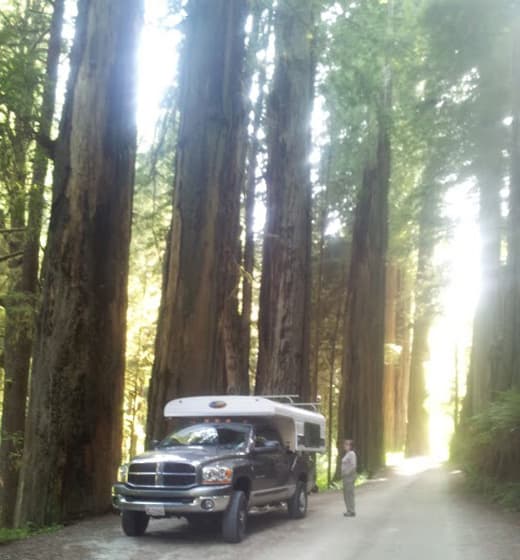 Above: Among the towering Redwoods in Redwood National Park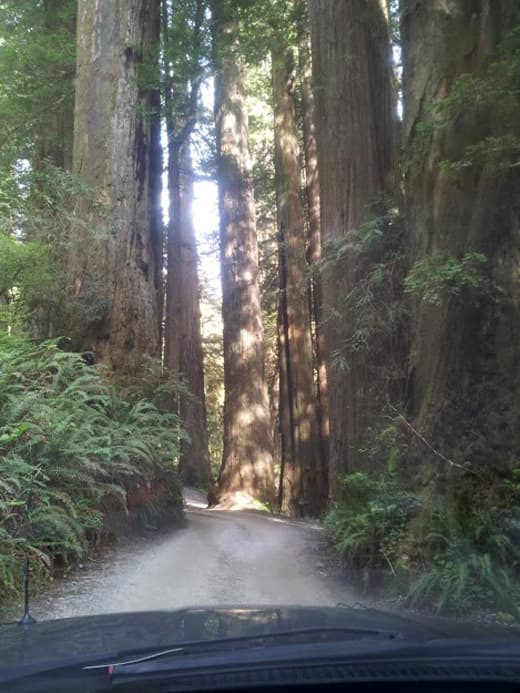 Above: Driving the narrow roads in Redwood National Park
Then we traveled south to Northern California to see the Redwoods.  We stayed a night in the Redwoods and, from there, we went to watch the tide pools.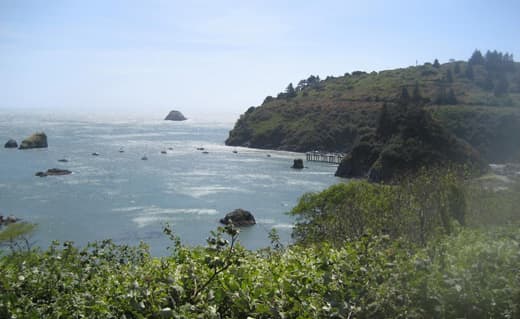 Above: The California coast
After the tide pools, we went a little further down the coast before finding a route east toward Lake Tahoe.
We arrived at Lake Tahoe late at night, so we stayed at our first Walmart there.  That was our first Walmart adventure.  We had heard about people camping at Walmart, but never did it ourselves. The big thing is figuring out where to park where you are away from the traffic.
I got out, hit the pop-up button and, sixty seconds later, the top is up.  There were plenty of other RVs there so we weren't alone at that Walmart.  At another Walmart, on our way back East, we didn't put the top up.  We just stayed in the camper with the top down in the lower bunk.  When in doubt, it's nice to be able to do that and not look like an RV.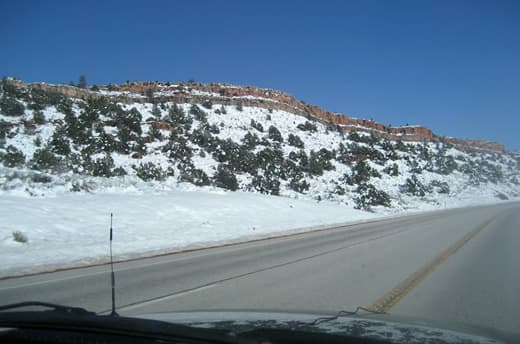 Above: Driving through Colorado on the way back home
From Tahoe we went to Salt Lake City, Utah.  Then we went to Wyoming.  It was so cold there that our grey water hose froze overnight.  In Colorado, our next destination, they were calling for a foot of snow.  By the time we arrived, there were only six inches on the ground and the roads were cleared.  In Colorado we visited family friends, camped at another Walmart, and then continued east towards home.
Once we hit Pennsylvania, we took the Pennsylvania turnpike, stopped in Lancaster, and had lunch.  My wife bought loungers and then we headed home.  We stopped at a friend's house in New York and stayed the night in their driveway.  The last place we stopped on a our 8,300 mile trip was at the Charlestown Breachway in Rhode Island.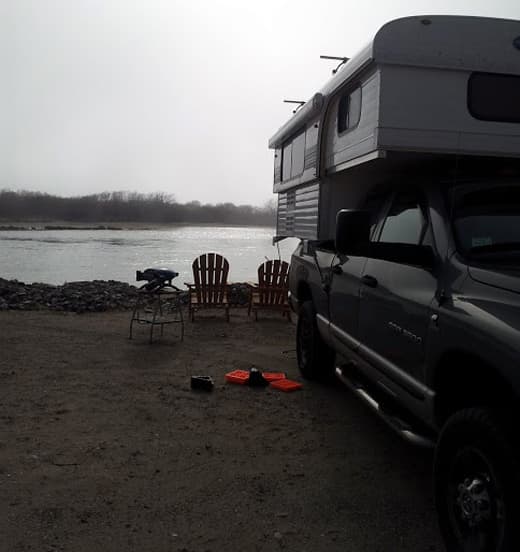 Above: Camping on the water in Rhode Island
TCM: What do you like to do during the long weekends when you go truck camping?
Dave: We've been out truck camping a half dozen times since we've been back.  We do a lot of beach camping and boondocking.
We like to go to the Breachway in Rhode Island where the boats go out.  They do not allow canvas pop-ups.  It's a parking lot next to the beach and you have to be self contained.  This was another reason for picking the Alaskan.
It's a really relaxing place.  We enjoy the salt water marsh.  Some people go there to go clamming.  We enjoy kayaking, taking walks on the beach, and swimming.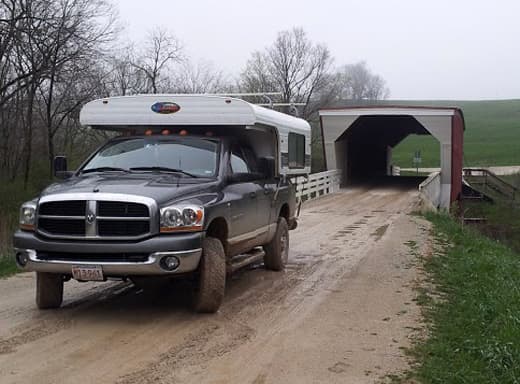 Above: The Carvalho's have no problems with low bridges, like this one in Iowa
TCM: How would you compare using the Alaskan Camper rig to your old fifth wheel?
Dave: With the fifth wheel, we had to plan our route with the low bridges here in the Northeast.  We couldn't get into any campsite.  Now I don't have to worry about low bridges, I can go on any road that exists, and campsites are a breeze.  We have a few local bridges that are ten feet and I go through all of them.
When I was buying the Alaskan, I knew I didn't want restrictions.  The only thing I had to consider was giving up my inside shower.  The Alaskan has an outdoor shower.  For us, that was the only compromise compared to the fifth wheel.  It is a smaller rig, but it has everything I need.
TCM: What's next for you and Nancy?
Dave: We're going to Pennsylvania for the Gettysburg Jamboree.  We're also going to Florida for the holidays.  We don't have to take the rig to Florida because my mom has a home there, but we want to go camping along the way.
Someday I want to go to the Grand Canyon.  If we had more time on this last trip we would have taken a detour and gone.  I want to spend at least a week there.  It may be on the list for next year.
TCM: Is there anything else that you would like to add to your interview?
Dave: Our cross country trip was a joy.  We had never done anything like that before.   We geared the purchase of our Alaskan on what we wanted to do.  It is easy and quick get up and go.  We love it.
Truck: 2006 Dodge Ram 3500, extended cab, single rear wheel, short bed, 4×4, diesel
Camper: 2013 Alaskan 8 foot cabover
Tie-downs/Turnbuckles: Happijac
Suspension: Torklift Stable-Load Quick Disconnect
Gear: Roof rack for kayaks, six volt batteries, added a grey water tank