Now empty nesters, Dave and Nancy Carvalho sold their fifth wheel and journeyed 3,000 miles cross-country to pick-up their custom eight foot 2013 Alaskan Camper, the perfect truck camper for them.

It's not exactly rocket science to suggest that knowing exactly what you want – what you really want – is absolutely critical to actually getting what you want.  After all, how can you get what you want if you don't even know what that really is?  This is as true for truck and camper purchases as it is for about anything else in life.
After selling their fifth wheel, Dave Carvalho and his wife, Nancy, knew exactly what they wanted in a truck camper.  The criteria was well defined before they even started looking.  When they discovered a camper that checked off each and every one of their criteria, they had found their perfect fit; an 8' Alaskan Camper.  Anything else would have been a compromise.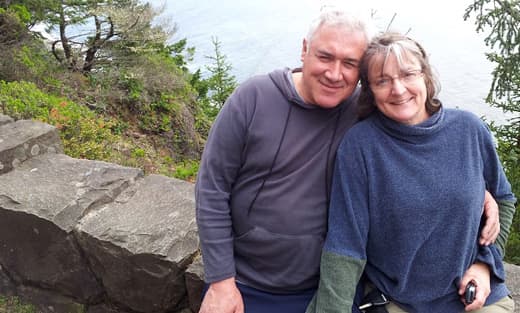 Above: Dave and Nancy Carvalho on the Oregon Coast
TCM: How did you get into truck camping?
Dave: We had a fifth wheel, but we just got rid of it.  The fifth wheel was too big for what we wanted and we were always bringing a lot of stuff we never used.
Our kids are grown and have moved out of the house.  Now it's just the two of us, we wanted to go camping without the muss or fuss.  A truck camper was the logical choice.
I researched our truck camper purchase over a period of a few months.  Last October we visited Nancy's son in Washington State.  While we were in Washington, we went to the Alaskan Camper factory and talked to Bryan Wheat, President of Alaskan Campers.  This Spring we placed the order.
TCM: That's quite a downsize to go form a fifth wheel to an Alaskan hard-side pop-up truck camper.  What led you to an Alaskan Camper?
Dave: With the kids gone, we no longer need a big camper with extra storage.  I wanted something I could go just about anywhere with.  I also wanted to be able to leave quickly.  Most of our trips are over a long weekend.
Since I wasn't going to upgrade my truck, I needed a truck camper that would be matched to our existing truck, a 2006 Dodge Ram 3500, extended cab, single rear wheel, short bed, four-wheel drive, Cummins diesel.  I also wanted a truck camper that I could park and store in my garage.  With my work schedule, the camper might sit for five or six months and I don't want it out in the weather during that time.
Finally, we wanted a simple camper with the basics and a little bit of luxury.  I was very excited when I discovered that an Alaskan Camper met all of our criteria.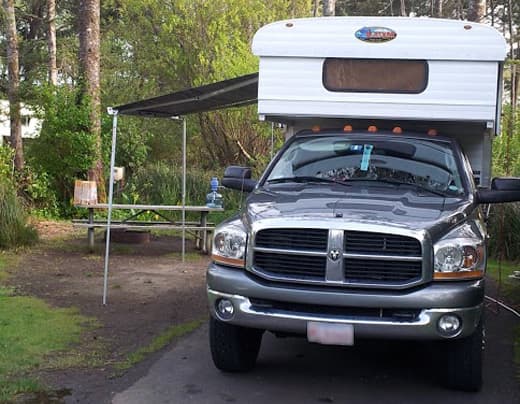 Above: The Carvalho's ordered their custom Alaskan with a side awning
The interior the Alaskan is very nice and high quality.  Our Alaskan was custom ordered with a two burner stove, Nova Cool 12-volt refrigerator, Radio, large sink, a cassette toilet, exterior shower, hot water heater, roof rack, and awning.  That's all we wanted.  Our Alaskan Camper makes us feel like we are really camping.  It's perfect for us.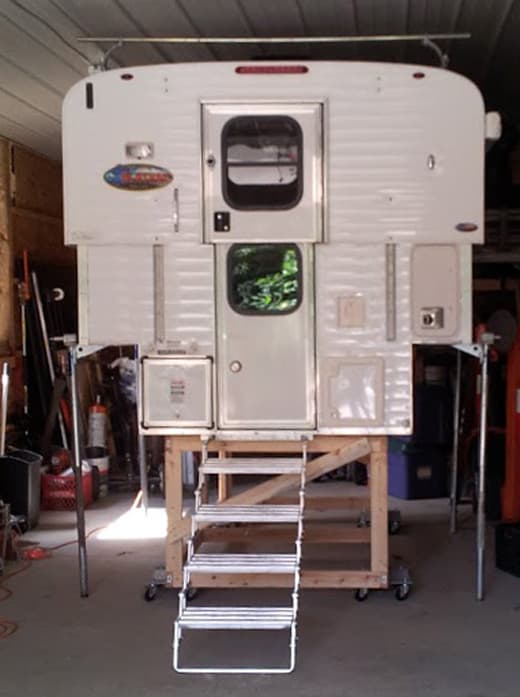 Above: The Carvalho's store, load, and unload the Alaskan inside their garage
TCM: How did it work out storing the Alaskan in your garage?  We have long wished we could do that.