After several near disasters, David Franklin, Russ Sherratt, Dave Riddle and Robert Gardner have created some very important checklists. Are all of your windows and vents shut?
Create A Laminated Pre-Travel Checklist Card
Submitted by David Franklin, 2017 GMC Sierra 1500, 2018 Four Wheel Camper Hawk
Four Wheel Campers includes a checklist card with their campers.  This checklist is very helpful, but it's generic for all of their models.
Following the provided checklist, I was forgetting to latch the refrigerator and remove the rear steps – two items that were not on Four Wheel Campers' checklist.  I would also forget to open the curtain in the entry door before setting out.
After forgetting things a couple of times, I made my own checklist card and had it laminated.  I place my checklist card in my truck and read it out loud every time before I drive away.  This has helped tremendously!
I have included a photograph of the laminated checklist card, but here's the text:
1. Are the turnbuckles tight?
2. Is the sink drain hose removed?
3. Are roof vents and windows closed?
4. Are all lights off? Curtains open?
5. Is the refrigerator latched shut?
6. Is the propane tank turned off?
7. Are the leveling blocks secured?
8. Are all six roof latches double checked?
9. Is the bed step secure?
10. Is the back-door dead-bolted?
The Camper Memo
Create a pre-travel checklist card to make sure you don't forget anything.  Have that card laminated and keep it in your truck's cab.  Read it out loud before you leave and you will never forget to check the turnbuckles, open the curtains, or dead-bolt the door again!
Have A Set Routine For Critical Tasks
Submitted by Russ Sherratt, 2016 F250 Ford, 2016 ATC Cougar
I have a pop-up truck camper.  While getting fuel and coffee one cold morning in west Texas, I noticed a small bit of the pop-up canvas protruding from the unit.  I opened a few roof latches and lifted the roof just enough to push the canvas back in.  When I re-latched the roof for travel, I didn't latch the two front latches on the driver's side.
I don't remember the distraction.  I probably stopped to replace the fuel nozzle.  Whatever it was, I jumped on the big road.
A few minutes later I thought to myself, "I don't remember if I latched the roof on my side".  I pulled over and sure enough the latches were dangling.  The roof on the corner was up a few inches.  Fortunately there was no damage.
I now have a rule when raising or lowering the roof.  I follow exactly the same sequence each time, and never ever stop until it's completed.  So far it is working pretty well.
The Camper Memo
For critical tasks like securing a pop-up roof before travel, have a routine checklist and follow that routine checklist each and every time.  Even if you are distracted, you should remember to complete the routine checklist.
Camper Departure Checklist
Submitted by Dave Riddle, 2015 Chevrolet 3500 HD, 2017 Host Mammoth
After many years of truck camping, you would think my experience would lessen my inherent knack for forgetting to close windows, turn things off and secure that which needs securing.  Unfortunately, that doesn't seem to be the case.
Part of this challenge is that each camper we've owned has progressively required more steps and more complicated steps to prepare it for travel.  For example, preparing our first pop-up truck camper with a hand-pump water supply and no toilet is quite different that preparing our current triple-slide that requires doors be closed, rugs put away, and numerous windows and vents to be shut.  The challenge isn't the work, but remembering to get everything done.
To ensure that a consistent approach was used to prepare for travel, I developed a checklist.  There are 32 planned steps so far and we may have missed one or two that will need to be added at some point.  We use it as a step-by-step guide to making sure that we don't leave something undone that will cost us in lost camping time, repairs or some other financial impact.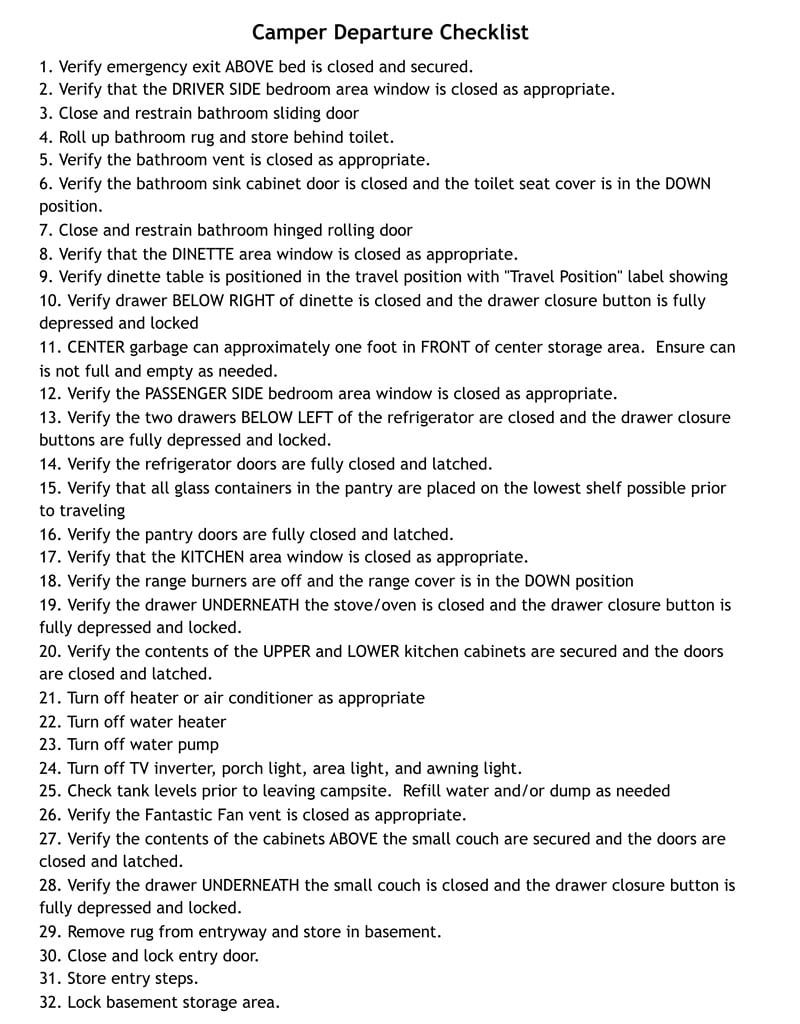 One of us takes the list and follows the other person through the performance of each step to verify that each step has been completed.  This way we check each other and make sure that each step is done before leaving camp.  It works for us.
The Camper Memo
Make a list of everything that needs to be done before you travel.  This will save all kinds of potential damage and frustration.
Make a Dos and Don'ts Lists
Submitted by Robert Gardner, 2002 Dodge Ram 3500 (the beast), 2016 Lance 1172
I had been camping in Cape May, New Jersey with the awning deployed all week.  The awning is electric so it's up high and generally out of sight.  The weather was cloudy for the last two days of my stay so, when I packed up to leave, I didn't give the awning a moment's thought.
I drove out of my spot and hit a tree limb.  Thankfully, I was driving slowly and the awning self-closed on impact.  When I inspected the awning for damage only the cover for the leading arm was knocked off.  The rest of the awning was unharmed.  I was very lucky. Lesson learned.
The Camper Memo
After the nearly disastrous awning experience, I created a checklist of dos and don'ts before travel.  Retract the awning is on the list among many other items that are important to remember.
Submit Your Teachable Moment
If you have experienced a teachable moment while truck camping (aka, a Camper Memo), please click here to share your story.