NOTE: You do not need VR goggles to view Northwood's interactive walking tours.  Just launch the 3D tours from your phone or computer and you can enjoy the 360-degree views.  To try the 360-degree tours, or the VR experience, click here.
Northwood Launches 3D and Virtual Reality Tours
Had someone said to you fifteen years ago that people would be sitting across from one another at restaurants and walking down the street while staring at hand-held computers, you would have thought they were nuts.  And yet there you are, reading this very article on such a device.  Look out, you're about to walk into a tree.
As we all come to terms with our new smartphone overloads, we must also marvel at the new possibilities these devices are creating.  Perhaps none of these new possibilities is more mind-blowing than virtual reality.  Just insert your smartphone master into a virtual reality headset and bam – you're in Paris walking the Musee du Louvre, taking a spacewalk to repair the International Space Station, or becoming one with the Fantastasynth in mind-melting color and sound.
All of these virtual experiences are happening, right now, online, and in perfect three-dimensional, turn-your-head-to-see-what's-behind-you reality.  I had a friend show me his VR set up about a year ago and I'm still recovering from the experience.  For those who have yet to experience modern VR, it's completely immersive in a way you can't quite understand until you've been there.
I can practically hear some readers thinking, "At least truck camping is safe from this newfangled technology.  You can't see truck campers in virtual reality.  That's what RV shows and dealer showrooms are for.  Take that you techno-wienie whipper snappers!"
Well, not so fast.  Northwood Manufacturing has just launched several of their truck camper models in virtual reality including the Arctic Fox 990, Arctic Fox 811, and Wolf Creek 840.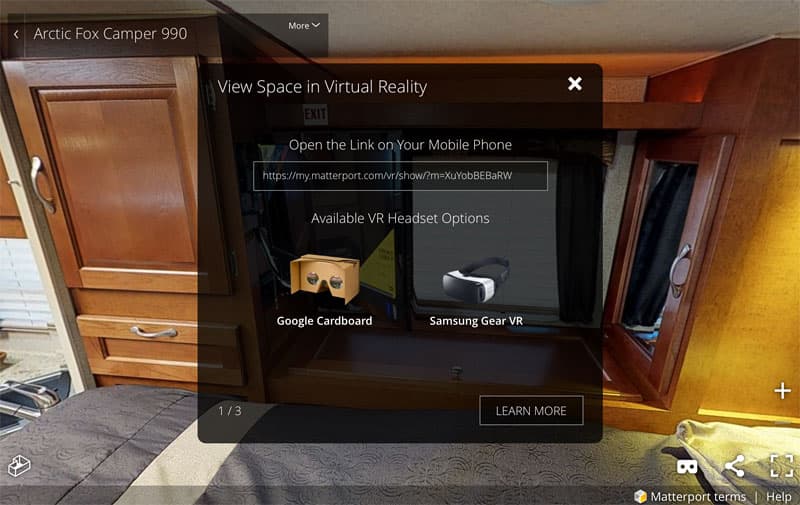 We're talking put your VR googles on and walk through a 2018 Arctic Fox 990 – from home, in your pajamas, right now, in virtual reality.  You can't start the truck and drive to Yellowstone in VR, at least not yet.
Above: Arctic Fox 811 3D-tour
We tried the 3D tours on our computer and the quality of the walk-throughs is very good indeed.  You really get a sense of the payout and what it's like to be in the campers.  Since it's not always possible to drive to a dealer lot, these 3D tours – along with reading our in-depth reviews and lifestyle stories – are the next best thing.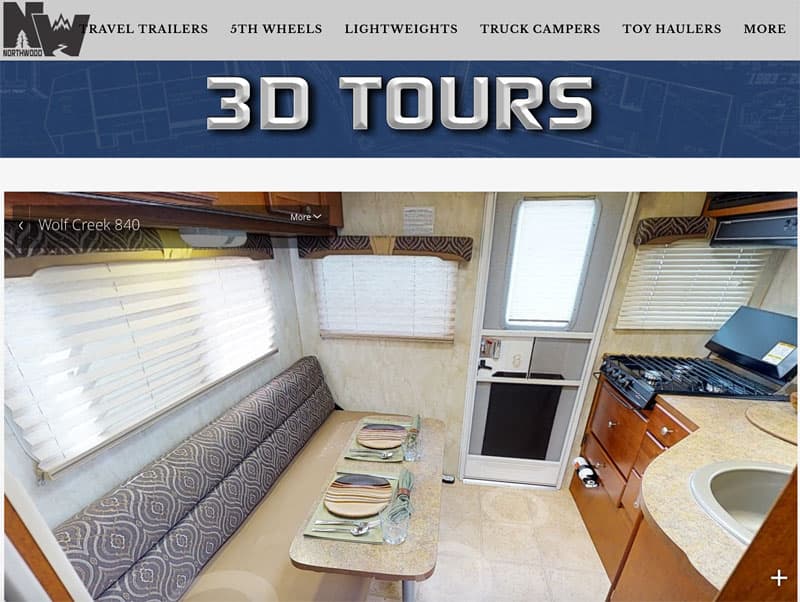 Above: 3D Tour of a Wolf Creek 840
Is virtual reality the future of how we will check out new truck campers?  Probably, but I still recommend going to your local dealer for the real thing.  Than again, I'm the guy who prefers vinyl records and tube amps.  Phones are for talking.  Computers are for typing.  And truck campers are still for traveling – in the real world.
Click here to check out Northwood Manufacturing's 3D and Virtual Tours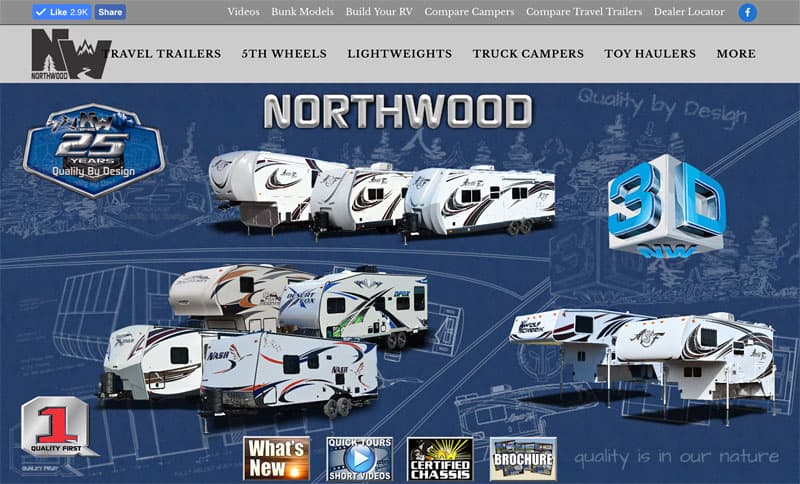 For more information on Arctic Fox and Wolf Creek campers, visit their website at northwoodmfg.com/truck-campers.  To request an Arctic Fox brochure, click here.