In today's article, "Life Hangs in the Balance", Scott and Johanna Cameron mentioned their handmade evaporative cooler.  Also known as swamp coolers, they are great for keeping an area cool – including truck campers – in hot, dry climates.
Here are Scott and Johanna's directions on how to make your own evaporative cooler.
Evaporative (Swamp) Cooler Parts
– 5 gallon bucket with a lid
– Cooler pad (Aspen pads work best)
– 12-volt mini DC submersible water pump
– 12-volt fan (CPU case fans are good because of very low current draw and quiet operation)
– Vinyl tubing
– Wire
The above parts should cost around $50.  I added a few extra components that were laying around the house, such as a switch and cigarette style plug.
Basic Instructions
1. Cut holes in side of bucket at least four-inches up from bottom.  These are the air inlets.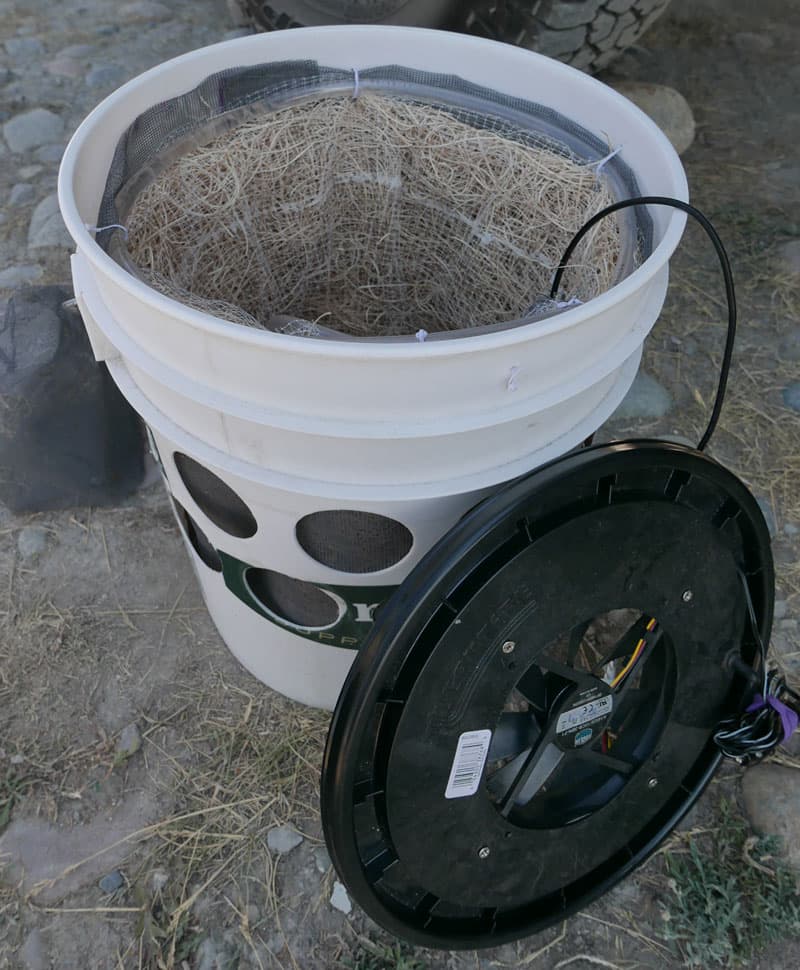 2. Cut hole in bucket lid and attach fan.  This is the air outlet.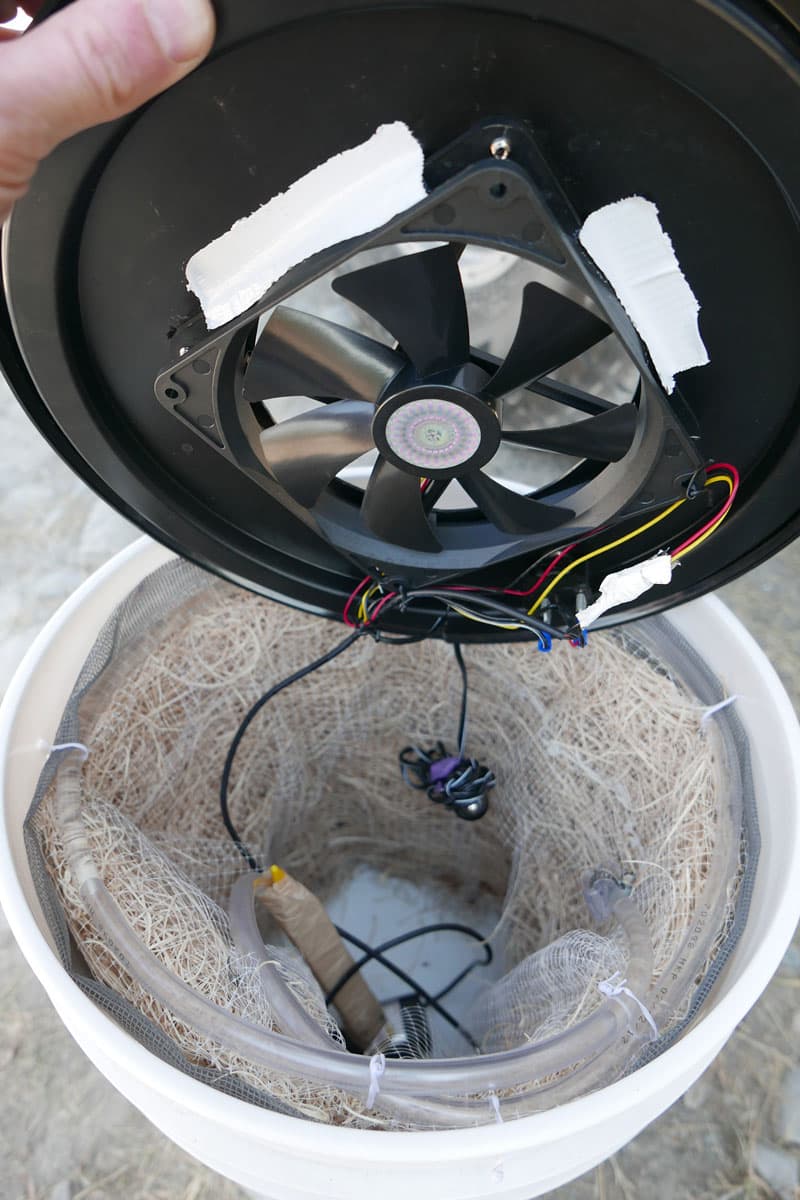 3. Roll up cooler pad and insert in bucket.  Trimming of the pad is likely required.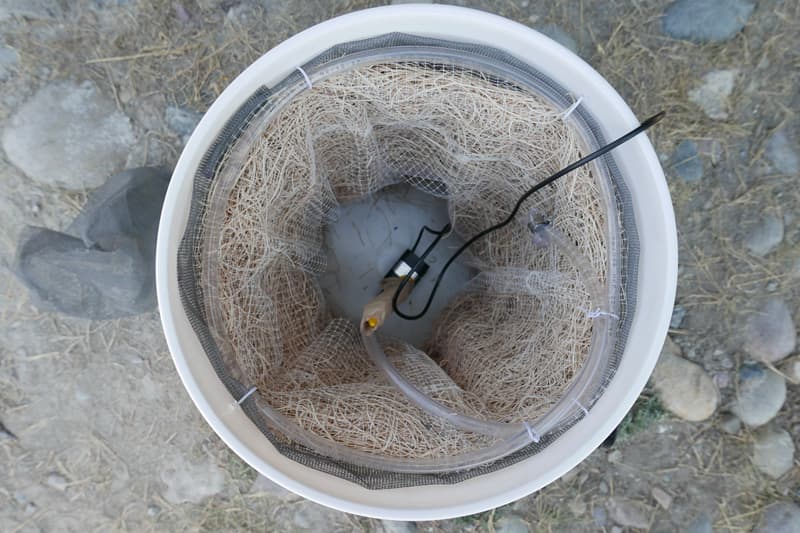 4. Attach vinyl tubing to the pump.  Place the pump at bottom of bucket and run the tubing up and around the perimeter of the cooler pad.
5. Poke many small holes in the downside of the vinyl tubing.  Water should drip from these holes onto the cooler pad when pumping.
6. Wire all electrical connections.  It is very handy to wire in an on/off switch, and a standard 12-volt electrical connection for power.  An old cell phone charger connector works great for the power connection.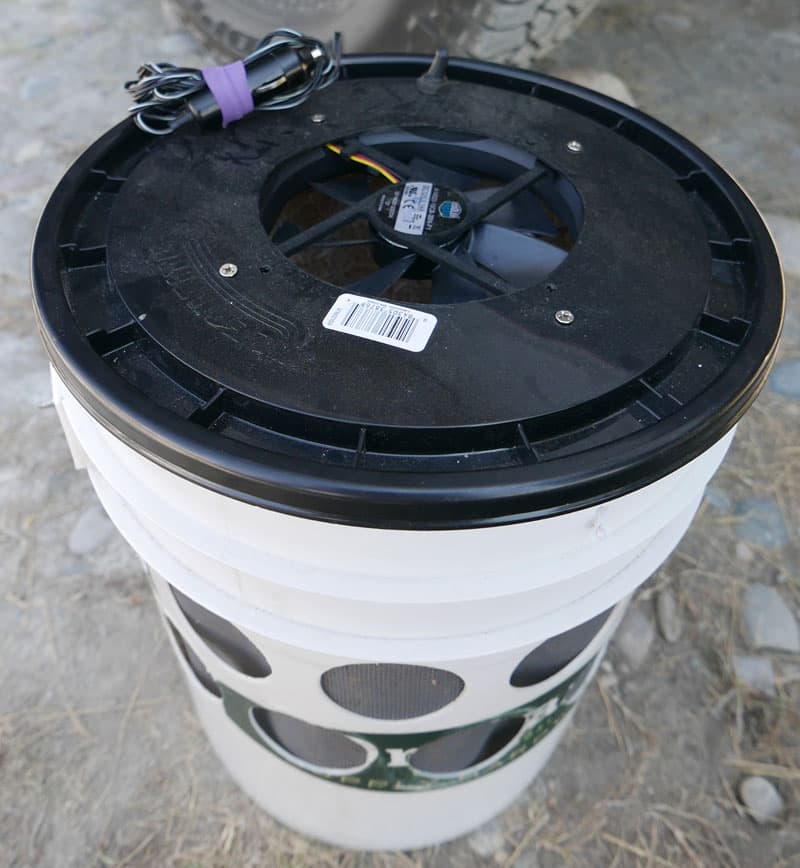 7. Fill the bucket with water.
Note: The physics behind this cooler relies on the air being cooled through the evaporation of water.  Therefore, if it is too humid, the cooler will not perform as efficiently.  This is the main reason why most people out west use evaporative (aka swamp) coolers in their home, and those on the East Coast do not.
For the low cost and extremely low power consumption, these types of cooling units can make a small camper or tent much more bearable in hot environments.