Ascending the cliff face of mainstream life often means letting go of your dreams.  Scott and Johanna Cameron dared to challenge this path, assemble a truck camper rig, and climb in a very different direction.   Rock Resolution, and roll.

What would you give up to save money?  Would you cut cable television?  Downgrade your cell phone and wireless plan?  Turn down the air conditioning or heat in your home?  Stop going out to eat?  Sell your car and only use public transportation?
Cut up your credit cards?  Sell everything you don't use or need?  Lower your water heater?  Cancel your gym or club memberships?  Cancel your paid newspaper and magazine subscriptions?  Only buy generics?  Stop drinking and other expensive habits?  Move to a cheaper area?
No way, right?
But what if doing these things – perhaps all of these things and more – meant you could live your dreams – not tomorrow or someday, but right now.
Would giving up cable television be so hard if you could have the life you truly want?  Would downgrading your cell phone plan be such a burden if your everyday life was full of what you love to do the most?
It's not an easy question as most of us are addicted to these luxuries.  We can't imagine life without going out to eat regularly.  We start to get sick just thinking about selling almost everything we own.  Give up beer and wine?  Forget about it.
Scott and Johanna Cameron have a different take on this question.  Not too long ago they were project managers longing to live a life of freedom, rock climbing, and traveling.  Without kids, pets or a mortgage, it dawned on them that the freewheeling, climbing, and traveling lifestyle of their dreams was simply a decision.
What follows is their story after making the leap.  Hold that break line, and don't look down.

TCM: You guys come from very different backgrounds on two separate continents.  Tell us about how you both got into camping.
Scott: I grew up in the Sierra Nevada Mountains near Yosemite, so I went camping a lot as a kid.  My parents still have the original truck camper that I grew up camping in; a 1985 Lance 825 on a 1989 Ford F250.  I guess it was natural that I would one day follow in the footsteps of my father.
Johanna: I did not grow up camping in France, but always had the desire to go camping.  Pickup trucks are rare in France, so truck campers are even more rare.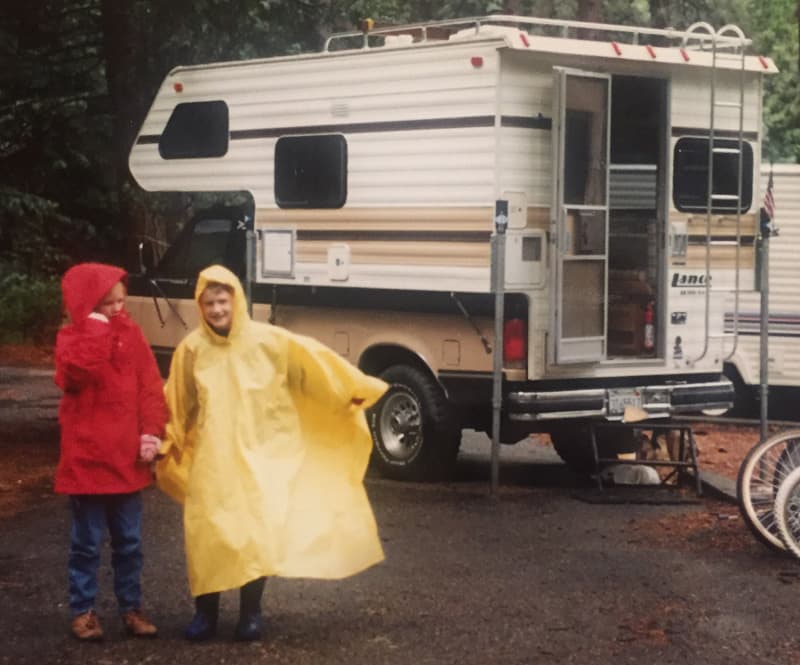 Above: Scott's family had a 1985 Lance 825 on a 1989 Ford F250 when he was growing up
TCM: Did you naturally gravitate to a truck camper after having camped in one as a kid?
Scott: Actually, we initially looked into van conversions, but one of our main requirements was four-wheel drive.  Four-wheel drive vans are both hard to come-by, and expensive, in the realm of vans.
My parents offered us their Lance Camper.  All we needed was a burly truck.  After countless hours of research on used trucks and engines, we opted for a Ford 7.3L Powerstroke diesel.  The 7.3L is said to be one of the most reliable and efficient diesel truck engines to date.