"I have memories of traveling in a friend's truck camper back in the 1970s. My husband and I have been campers for years moving from a tent to a pop-up and finally to our 2005 Lance 1030. Our inspiration was to have the freedom, flexibility, and ability to go anywhere we choose including off road.
Our Lance truck camper has allowed us to live our dream. The camper is so easy to load and unload and, as a totally self-contained unit, we stop wherever/whenever we choose.
As Florida residents, we are somewhat of an oddity traveling in our truck camper. However, we continue to see heads turn and receive positive comments about our good looking rig. We love our truck camper!" – Tracy Nickel
"Hi all truck campers! Well, way back when in 1969 I was a small boy, I lived in Charleston, South Carolina. The neighbor had a son that I was friends with. They had a truck camper and invited me a couple of times to camp with them. I had a ball camping and riding in the cabover. Remember this was 1969.
Over the years, I've owned a travel trailer, a small motorhome, a Class B, and a big Winnebago. Then the wife and I decided to give up RVs and buy a time share. We still have it, but, in 2011, I bought a small Palomino pop-up truck camper. It was nice in nice condition, but I'm 6'6″ tall and I was just too long to fit in the cabover.
So I looked for something with a bigger bed and air conditioning. I found a real nice Travel Lite 800 SBX. It was in South Carolina near Greenville. I packed it up on the back of my truck and brought it home. I have used it several times this year and plan to use it this week. I hope to retire in a few years and travel." – Jeff
"I also followed Teresa and Sterling's adventures on where-rv.now.com and corresponded with them. It was amazing. We were already into truck camping, or their blog certainly would have been an inspiration. Just think, you serve as an inspiration to future truck campers now!" – Carl G.
"It was not a person who inspired me to begin truck camping. Two incidents conspired to hook me in. I was a tent camper and sneered at those who needed to bring their home with them. Then my mother and camping partner retired and decided she no longer wanted to travel in the heat of summer. She jumped in her Jimmy at a whim and took off with her tent and dog whenever the mood struck. So I headed out on my own the following summer.
It was the first time that I had a scary situation of being lied to and stalked at a desolate campsite. When another guy came and tried to warn me, "My friend is really weird. You know, my friend is weird". I took the hint, packed up my gear, found a family camping in another area, and slept in my locked car that night.
At about the same time, I was looking for a truck to pull a horse trailer. My neighbor had a ten year old Ford with less than 20,000 miles on it. But he would not sell the truck without the camper. I bought the pair for a very good price and my mom joined me for our first April week in the camper.
Okay, there were some problems. We reached Georgia (from New York state) and a brake caliper rusted closed and I went through Atlanta suburbs spewing smoke from a burning brake pad. We had trouble at first coaxing the heater to work on our first snowy night in Pennsylvania.
Regardless of those minor mishaps, we were hooked. I could now travel alone with more safety, having a door I could lock. We had more freedom to explore out of the way places we couldn't go with a car and tent. It's now been eighteen years that I've traveled like a turtle with my summer home on my back!" – Barbara Linsley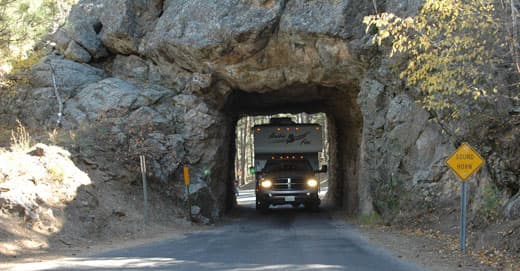 "Hi Angela! When I was in college, my dad had remarried and purchased a truck camper to camp with his wife and new young step-kids. A few times when I was on college break, I was able to go along and had a blast. It was back in the olden days, when we were allowed to ride in the camper while the rig was moving. I remember laying in the bed over the cab and watching the world go by out of the front camper window as dad drove. There was a boot between the camper and the truck, so we could pass drinks back and forth and my little siblings would climb from camper to truck and back again.
Years later, my husband and I had four kids with a myriad activities in opposite directions with no time to camp. When we became empty nesters, we got a dachshund and soon discovered what a hassle it is to do the restaurant/motel thing with a dog.
We went to an RV show to look at a Class B Sprinter vans and there was no way my husband was going to fit in those little beds. He is 6'4″! Besides, I like to cook and the kitchens were itty bitty. We were disappointed as knew we did not want a larger motorhome or a huge rig and were just shuffling past all the big stuff.
As we came upon the truck campers, I asked my husband if I could look at the new campers for nostalgic reasons. He waited outside, and only ventured in after my, "ooooh's and ahhhhs" got his curiosity up.
It had a slide-out! He had headroom to spare. We both laid down on the bed and had plenty of room for the dog to sleep with us. There was a refrigerator, freezer, stove, oven, and microwave. There was a shower that even my husband could use.