There are some very touching stories to this is week's Question of the Week, "Who inspired you to go truck camping?"
"Hi Angela. We were inspired to purchase our Northstar TC650 by my sister and brother-in-law, Joan and Ted Berger. They purchased their Northstar TC650 about twelve years ago so that they could boondock in California's Mohave Desert.
We owned a Volkswagen Westfalia when our children were growing up and loved the freedom it allowed us when traveling. As it aged, it became less dependable and no longer fit our family. Camping vacations became less practical.
A few years ago, we had to cancel a vacation because of a medical condition my husband suffered. We rescheduled for later in the summer than planned and traveled up the West Coast to the Canadian border in a tent. We loved the freedom of tent camping, but hated getting up off the ground. Thus the idea of a truck camper began to percolate. We liked the size and versatility of the our relative's TC650.
I researched the Northstar by reading your online magazine. In September of 2011, we found our Northstar TC650 on Craigslist and then went to the Toyota dealer and purchased our Toyota Tundra 4X4. We enjoy every minute we can find to escape in our vacation home and are off for our second Thanksgiving in Death Valley.
Attached are pictures of our Northstar alongside my sister and brother-in-law's Northstar during our 4,000 mile trip north from Northern California to Bella Coola, British Columbia." – Carol Wegner
"Hi Angela. My inspiration for truck camping definitely started with my father and continued with my best friend, Bill. My dad was an avid hunter and I started RVing with him and my uncles on their hunting trips when I was eight years old.
When my sister graduated from high school and started attending Virginia Tech, my father decided to get our first truck camper. It was definitely rugged, but it was built strong. We immediately had to go to work sealing it up and replacing rotten wood. Anyone that had a truck camper back in the seventies knows exactly what I'm talking about.
We put that camper in the back of an old blue two tone, two wheel drive Ford F250. I remember when I first got my learner's permit and he let me drive the truck down Route 81. That was some kind of experience for a sixteen year old.
Move ahead a few years and my best friend Bill and I camped on the mountain in Pocohontas County West Virginia in a pop-up camper. Man, was it cold and wet! I had my old truck camper still and he decided to buy an old camper as well. We kept them in Circleville, West Virginia, and hunted many years out of those old campers. They were dry and warm, even after years of many coats of rubber roof cement. Neither had bathrooms though; we had to use the old concrete out houses.
My best friend Bill has passed away from lung cancer, and Bill's family and I donated those old campers. I haven't had the heart to go back to Circleville and hunt those beautiful mountains of Highland County, but I decided to go ahead get myself another truck camper.
I bought a used Arctic Fox truck camper 1080, quite an upgrade from those old campers.. It has a bathroom, furnace, generator, oven, microwave, and television. I miss my buddy Bill; he'd be proud of this new camper.
My son plays football for Ferrum College and the truck camper is the perfect combination to travel to the games. I take the kids to the games the night before; it's about a four hour drive. We relax, get up the next morning, cook breakfast, and tailgate. We either leave after the game or leave the next morning when we are rested. It was tough getting up Saturday morning driving about four and half hours, watching the game, driving back home right after the game, and then having to be at work Monday morning. The truck camper was the perfect answer to this.
My Dad loves my new camper. He's 74 now and said he'd go back to the mountains with me. I've included some pictures of those old campers and my buddy, Bill. My camper is the one on Bill's right. That's the old outhouse we had to use (talk about a cold draft in the winter hunting months). Thanks again for bringing back so many great memories." – Kenny Tapscott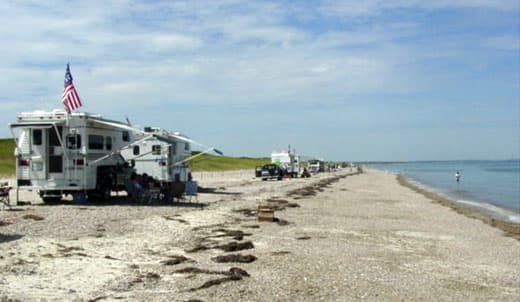 "Friends and co-workers of my husband Ron's were already camping on Cape Cod's Sandy Neck Beach, and invited us to visit and see what it was all about. We went for a day. As soon as we got home, started looking for a truck and camper. Back then, only truck campers with four-wheel drive allowed on the beach. That was 1976.
Since our original 1972 Dodge and 1971 Wolverine, we've had six more trucks and six more campers. We've been up and down the East Coast numerous times, and into the Canadian Maritimes. We've been cross country a few times, with and without kids. We've been north, south, east, and west. Sandy Neck is still a favorite! And now that we're retired, our new winterization plan is load the camper on the truck, and drive south!" – Toni Robertson
"Hi Angela. I have always had itchy feet. It started when I left home as a teenager and traveled by bus and/or catching rides with friends. By the time I was twenty-one I had traveled to the Pacific Northwest, to Florida in the Southeast, to Detroit, Michigan in the Northeast and to southern Mexico.