Matt and Molly Ward of Hallmark RV are the first industry leaders to complete our Triple-Dog truck camping dare.  Here's their in-depth dare report, photography and perspectives on a 2019 Hallmark Milner.  Well done, Hallmark RV!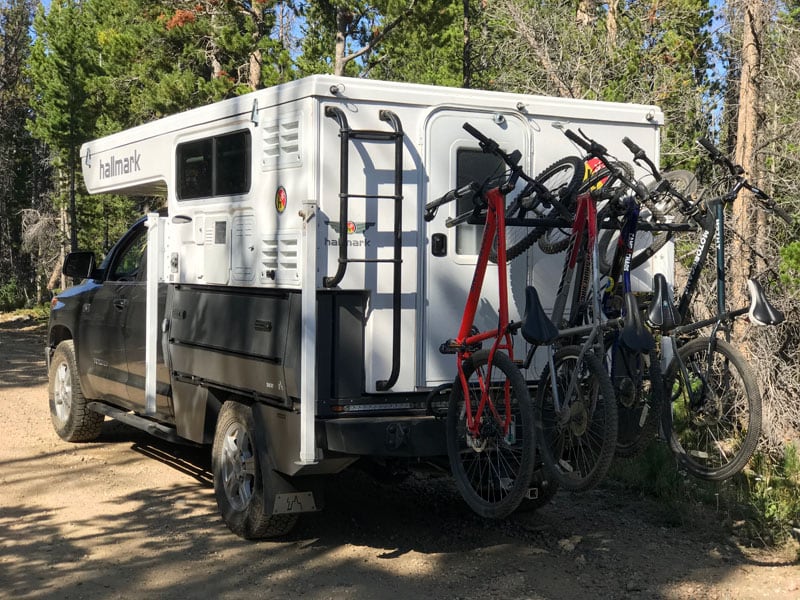 On August 13th, Hallmark RV was the fifth company to accept Truck Camper Magazine's dare to go truck camping in their own products.  Matt and Molly Ward took out their personal 2018 Toyota Tundra SR5 and a 2019 Hallmark Milner.
They went on camping trip to Red Feather, Colorado from Friday, August 16 to Sunday, August 18, 2019.  Here is the report from Molly:
Hallmark RV's Dare Report
Red Feather, Colorado is a little town between Fort Collins and the Wyoming border.  We climbed to 9,200 feet to a special spot covered in pine trees and Aspen groves.  A few moose and the occasional cow are known to visit this location.
The trip plan was one last hurrah for our family of five, before the chaos of school settles in.  Oh, and it was my birthday so my sister Anna, brother-in-law Dave, who are experienced tent campers, along with Elli (11 year old niece), Cooper (5 year old nephew) and their dog Henry came too.
My husband Matt, Harper (17 years old), Georgi (13 years old), Owen (10 years old), our dog, Zig and I headed out Friday night after school, band, volleyball practice, work and a quick omelette dinner.
Above: Harper and Molly about to depart
A stop at the local Agfinity Co-Op and we were gassed up for play in the mountains!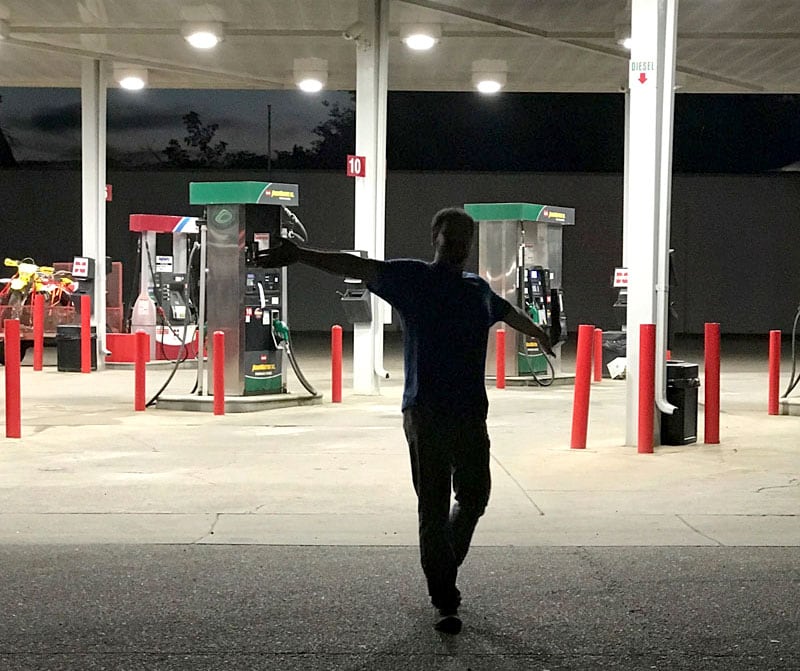 Above: Matt at the fuel station; fueling up on the way to Red Feathers
We trailered a go-kart, five motorcycles and four bicycles.  We arrived at camp under the light of a full moon, did a quick sleep set-up in the camper and hit the hay.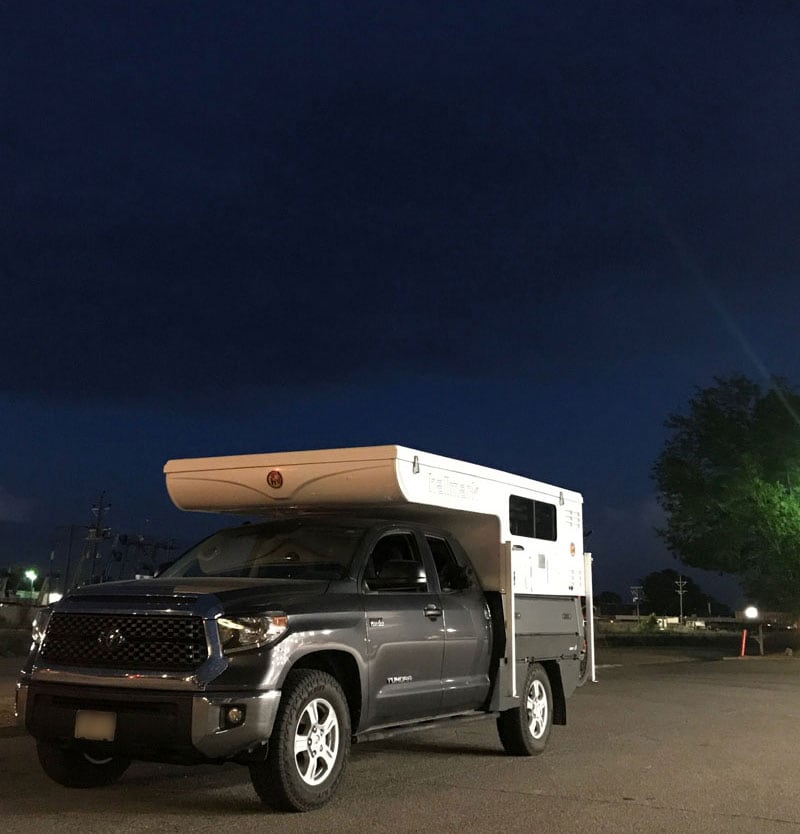 The next morning Zig and I wandered out looking for our morning relief spot when we came upon a handmade sign that said, "Private property, do not enter. Ferns on the premises."
"I thought it was nice they were concerned for the local flora.  I wasn't wearing my glasses and, upon closer inspection, I found it was not ferns but, "firearms".  So that was an exciting way to start the day!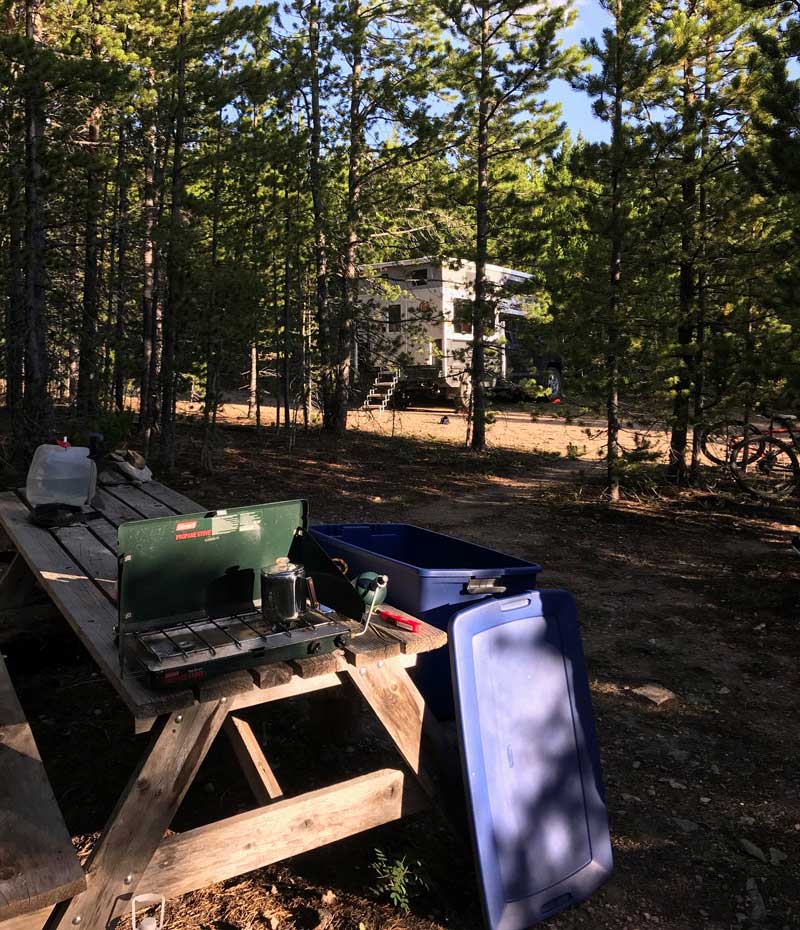 For breakfast my sister, Anna, and brother-in-law, Dave, cooked up a giant plate of pancakes and bacon, and some tasty coffee.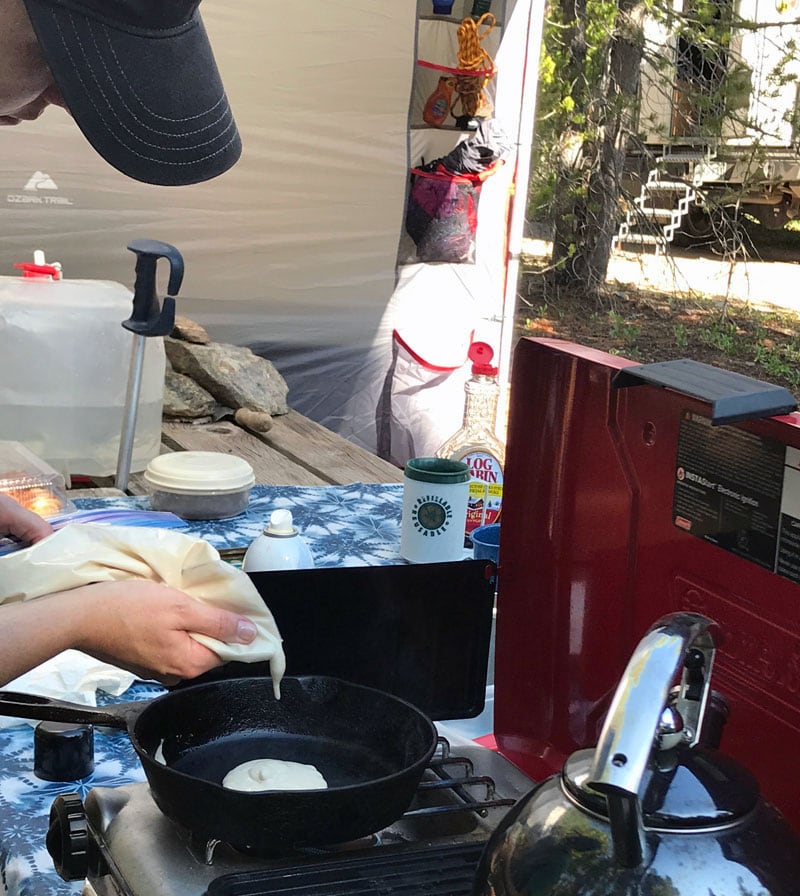 Breakfast was soon over and we got to the business of play.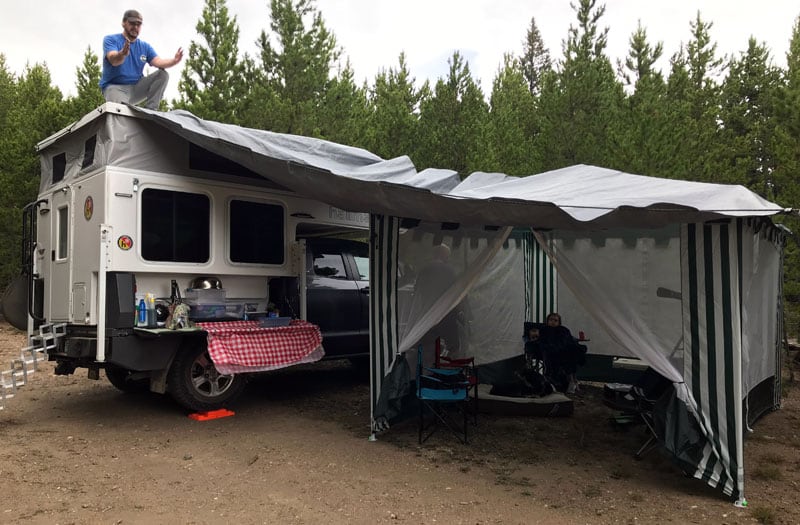 Above: Matt setting up the tarp before the storm approached
Setting up camp more fully, we put up a giant 12-foot by 19-foot tarp from the Milner to some trees.  Now, we had a place to get out of the inevitable Colorado afternoon thunderstorms.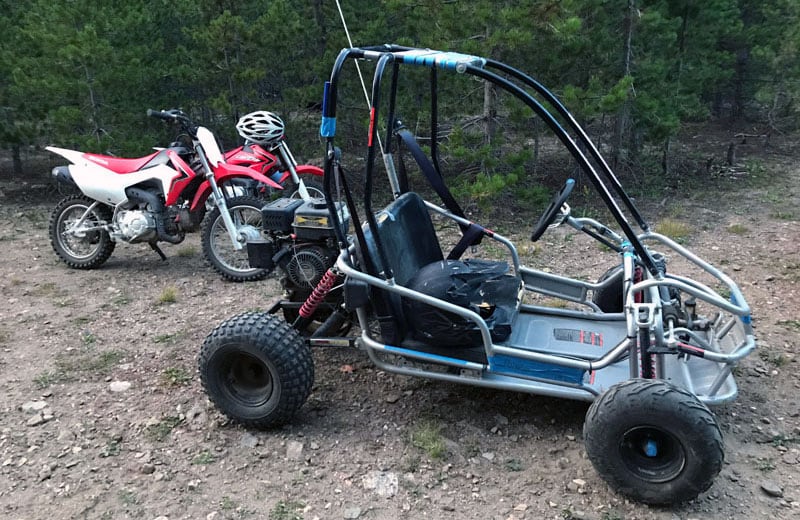 Matt, Dave and Harper went up the mountain to ride bikes.  The kids set up their hammocks and played on motorcycles, the go-kart and bikes.
Soon the Milner became my five year old nephew, Cooper's, milkshake shop and lemonade stand where, for a bajillion dollars, you could buy pretty much anything you could imagine.  The dogs, Zig and Henry, did their best to keep tabs on everyone.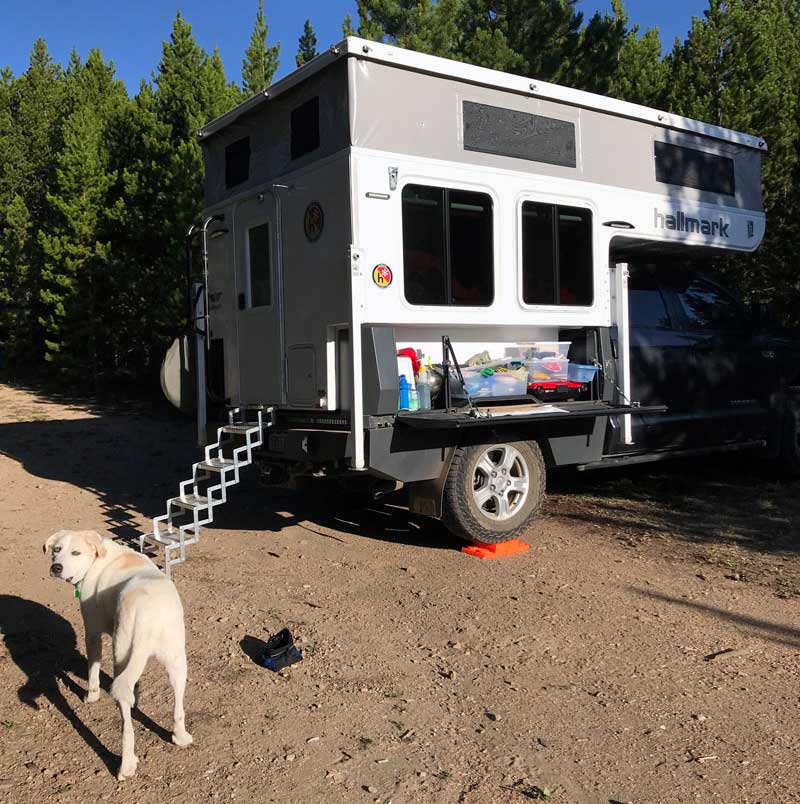 Above and below: Henry hanging out in camp and Zig taking a nap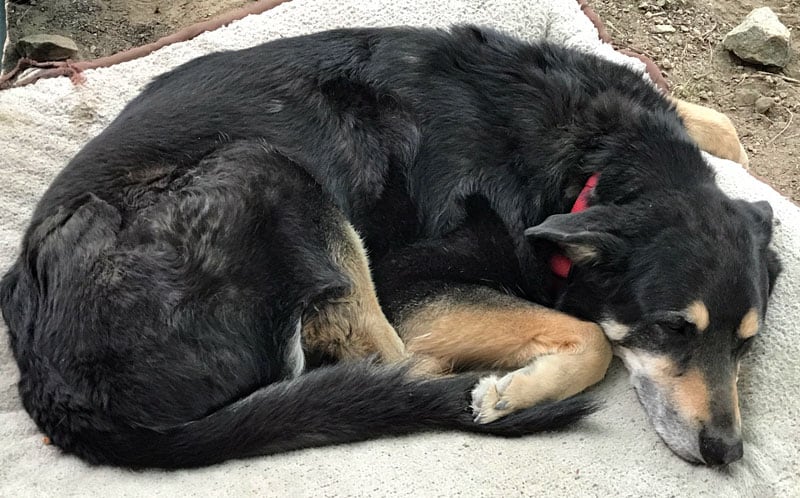 Around lunchtime, Matt, Dave and Harper appeared – funny how that works.  Oddly, Matt, too, had an interesting encounter while breaking for a quick relief.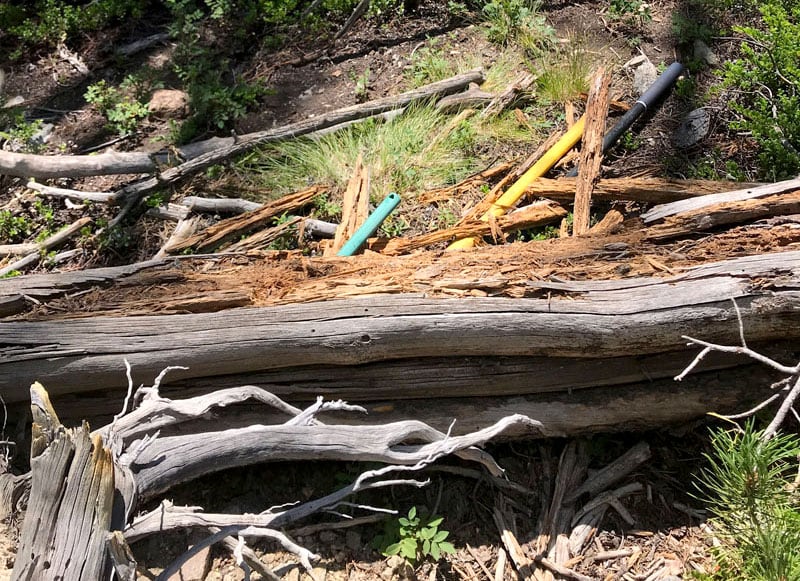 Looking down from the log he was standing on, he found a relatively new pick, mini-pick and shovel shoved just out of sight.  He was thinking, "Where there are tools, there must be a hole."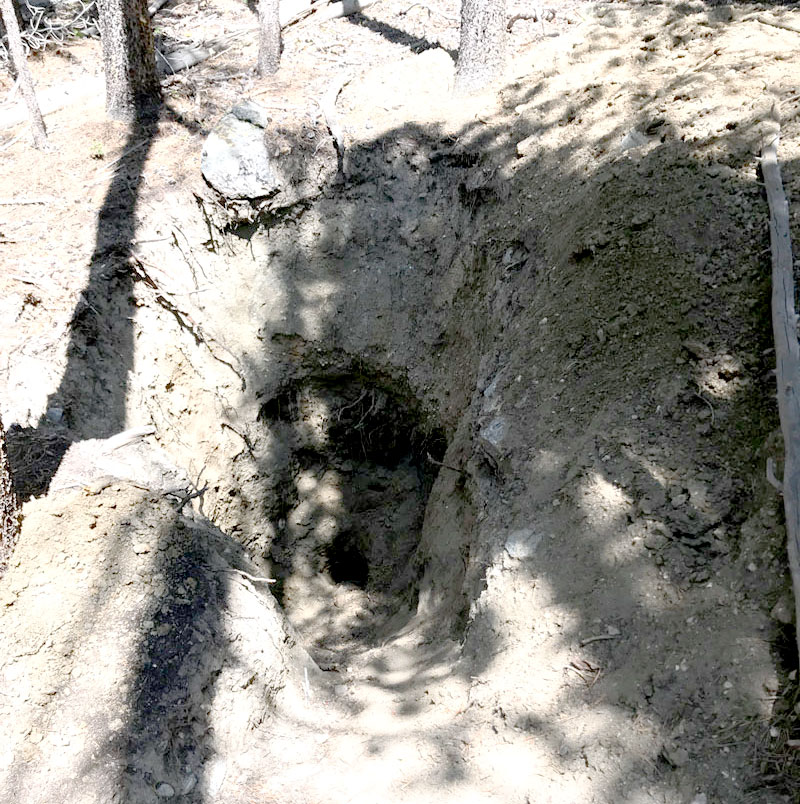 Above: Mysterious Hole. Pictures don't do it justice; it was big!
He wandered a bit up hill and, sure enough, there a hole in the side of the mountain just the right size for…  Let me just say that the speculation that night around the campfire made us all uneasy!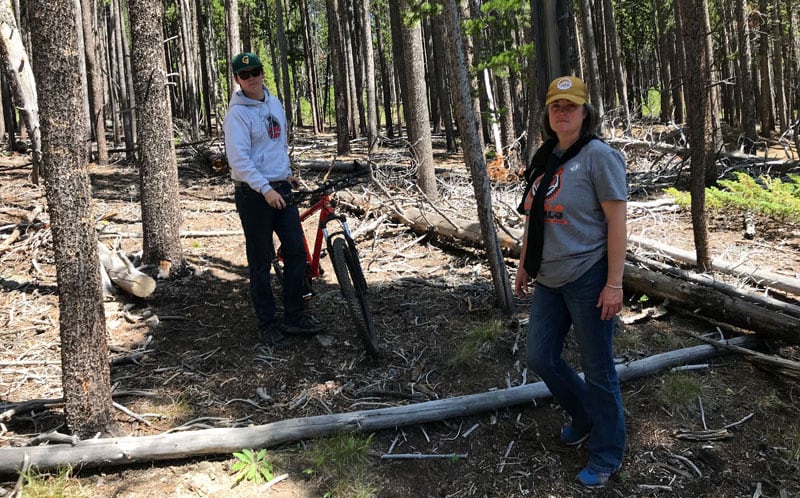 Above: Molly and Harper after he discovers the mysterious hole
Harper's comment was the most frighting, "Well, no matter what it is, we just made a trail that leads right back to our camp."  Ugh.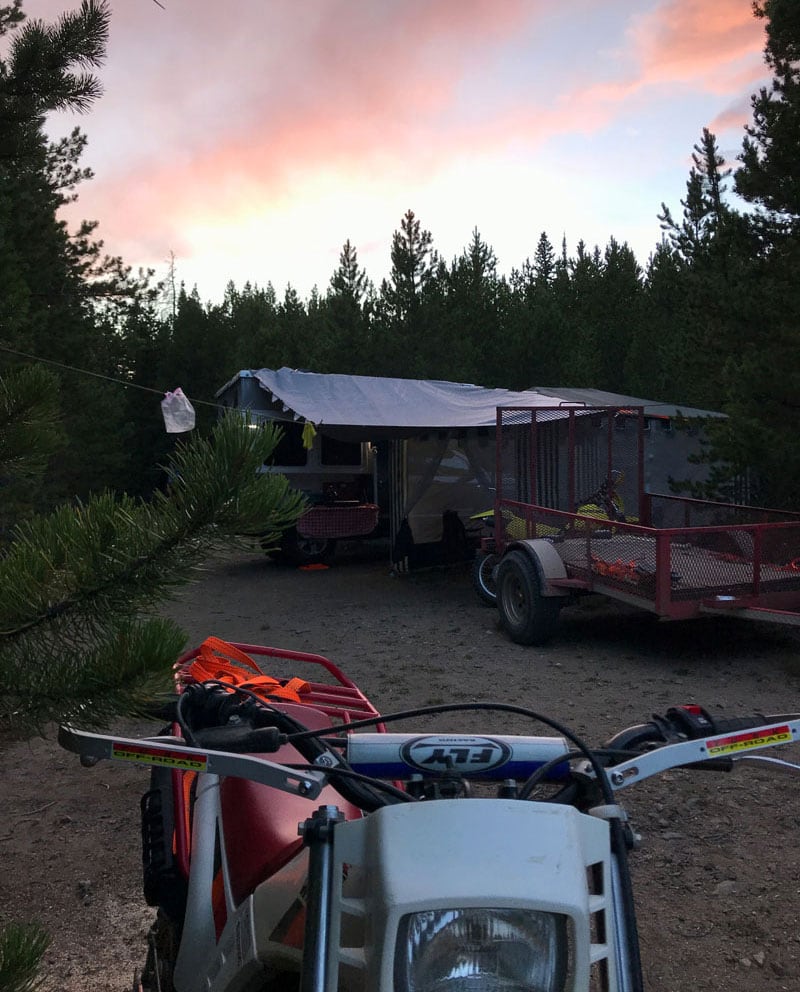 Above: Their campsite, pre-concert, post play day
But the night wore on and so did the campfire, chili, wine and birthday cake.  There was an amateur concert comprised of a variety of tunes from Queen to Disney.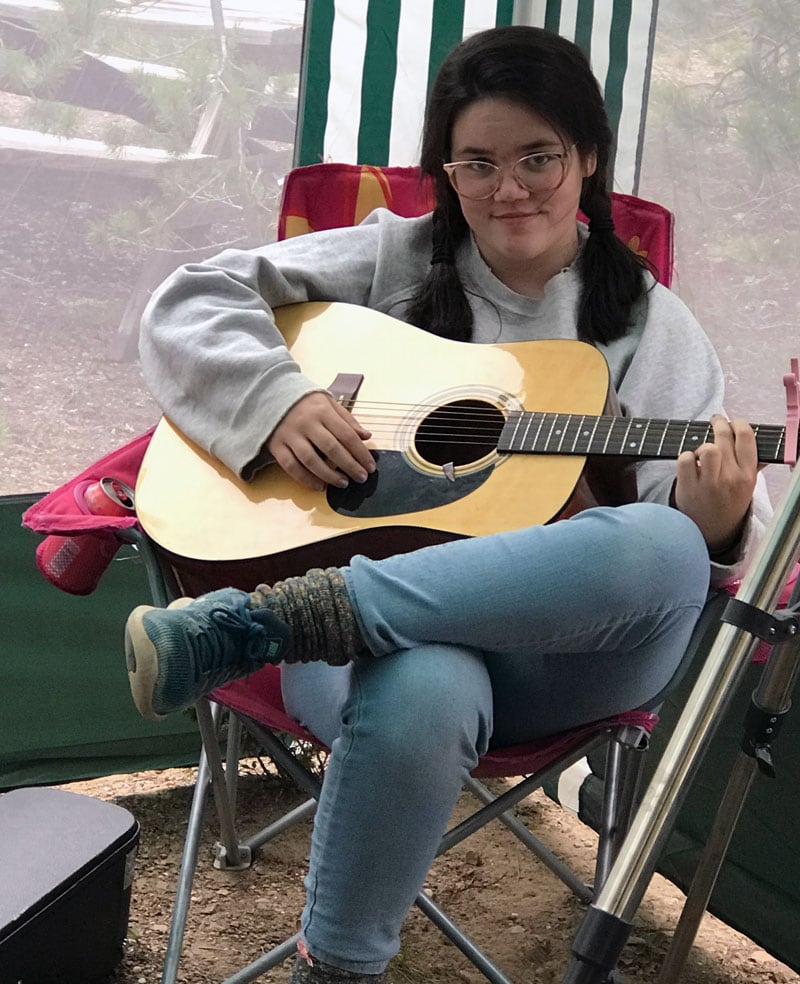 The next day, the final day on a camping trip, is always the hardest.  Time to clean up and head back to the world.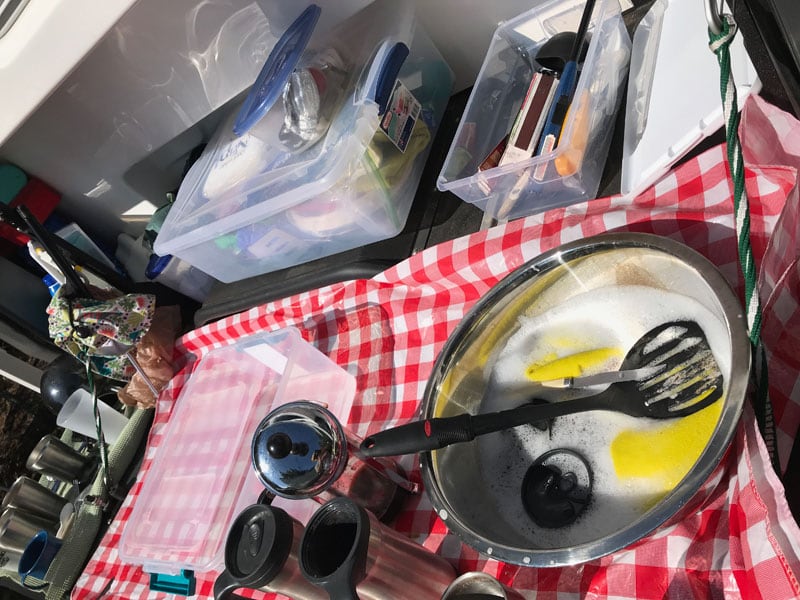 Above: Cleaning up after breakfast, kitchen side of their SherpTek
After some breakfast burritos, we enjoyed more of the same activities from the day before.  Eventually we were heading home with enough time to get everyone cleaned up, fed and to bed for the start of a new week.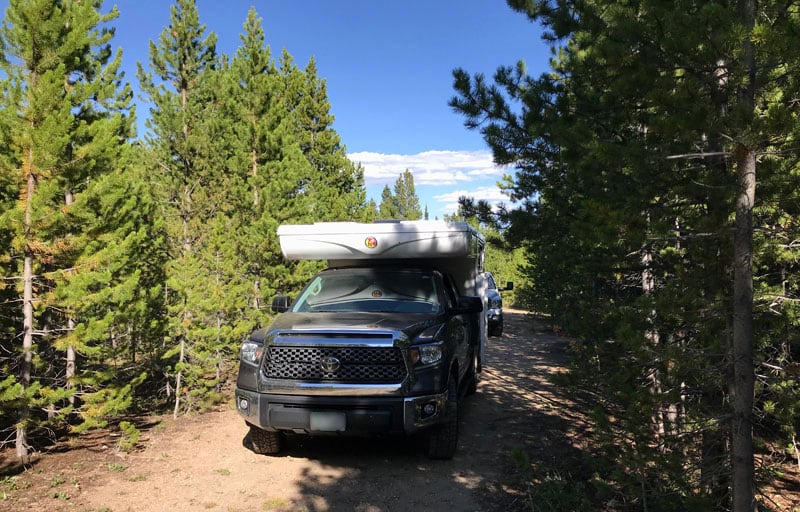 Above: Time to go back to work and school
Anna, my sister, Dave, Elli (11 year old niece), Cooper (5 year old nephew with the lemonade stand) and Henry (6 year old pup) were experienced tent campers.
The Kids' Evaluation of The Camper
We are a family of five.  Harper, our oldest, is 6'1", Georgi is 5'6″ and Owen is moving quickly up to 5-feet tall.  Zig is a long and tall and 75-pounds.  Now that we have the SherpTek bed, he is the aisle pile.  But, we all fit comfortably in the smallest unit we build, the Hallmark Milner.
All three of our children love the camper because they feel safe, warm and comfortable.  Owen, for the time being, sleeps with Matt and I on the cabover bed.  Georgi sleeps on the top hide-a-bunk and Harper sleeps on the dinette.  Zig gets the floor.
Harper said, "I can't see any flaw in it; everything works really well".  He also mentioned that he wishes we would leave the polar covers on the dinette windows so he can sleep in without the sun coming in.  As far as the configuration of the Milner we took out, he said, "We don't cook inside so we should make it so we have more storage or more beds".
Above: Forgot to put up the polar covers, Harper and Georgi trying to sleep in
Georgi loves the camper because we truly just use it as a home base.  We are on the go until evening and then we have that safe, warm and comfortable place to rest up for the next day's adventures.
Owen said, "The camper is just right and that no space is wasted!  I don't like the white on the outside, I miss the grey camper.  And I want the ladder to go all the way up so I can get on the roof easier."
All the kids agree.  They love the beds!
Matt and Molly's Evaluation of The Camper
We are always considering product changes.  As it sits, we believe we build the best pop-up camper in the industry.  What we don't have is something simple.  We are working on a simpler design; one that accommodates an active, off-grid family.
Matt wants Truck Camper Magazine readers to know that Hallmark's team uses Hallmark campers a lot.  Accepting this challenge was important, but we regularly use Hallmark truck campers anyway.
He added that, from those experiences, the Hallmark Milner we took out for the weekend was too much for us.  We don't use most of what is standard in Hallmark campers.  We would prefer a much simpler unit to suit our family's camping style.
One thing we, at Hallmark RV, have known for a while is that we need more how-to videos and classes to better equip our extended Hallmark family with skills and knowledge.  We want to ensure they have all the tools they need so their Hallmark camper is their favorite means of getting to and through their adventures.
As for me, I love our campers because they allow us to be a connected family enjoying the world.  Logistically, I love the light and the breeze the windows allow.  I love the warmth and comfort of the beds.  And it is great that if the truck can get there, we can camp there!
I do need one more bed, but I have a plan.  I just need Bill, Matt and Andy to say yes, fingers crossed!  My only real complaint is the spigot handle located on the rear wall, passenger's side; that darn thing is too hard to turn, especially with cold fingers.
The Next Trip Is Planned
We always come away from a trip with a sense of simplifying our day-to-day life.  Truck camping is a guide for our at-home life.  It is a way we reset and gain perspective.
Being in the camper reminds us that the excesses of life tie us down.  The simplicity of truck camping opens our time, our creativity, our joy and our work that becomes play!
This camper has been sitting on our SherpTek bed since May (right after we sold the grey camper from Overland Expo) and we continue to use it as often as we can.
Stringing a series of days together here and there is tough with growing kids.  But, we are weekend warriors, so we have already planned our next trip!  In fact, a girlfriend and I just took the rig out last weekend!