Hallmark RV has assembled a one-of-a-kind Hallmark K2 and SherpTek modular flatbed rig for Overland Expo West.  This capable beast is wrapped-up and ready for off-road.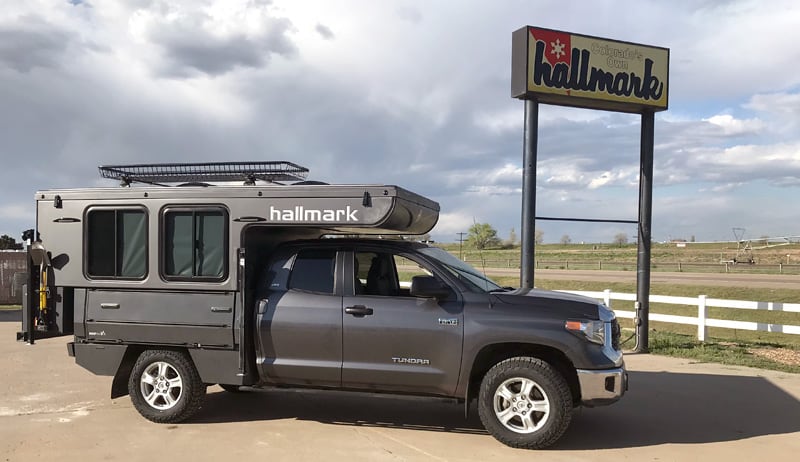 Designing a truck camper for a flatbed truck opens up a myriad of floor plan and storage opportunities that would otherwise be impossible.  When traditional truck bed rails are removed from the equation, the floor space expands, compartment possibilities multiply, and every other feature can be stretched and enhanced.  Bigger holding tanks?  You bet.  Larger bathroom?  Absolutely.
So why wouldn't every truck camper owner want a flatbed truck camper?  The trade-offs.  What you gain in camper space, storage and capacity with a flatbed you lose in truck versatility.  Without bed rails or a tailgate, flatbed trucks don't have the hauling capabilities that make traditional pickup trucks so popular.  More critically, a flatbed camper might be impossible to sell without the partnering flatbed truck.  And not everyone wants your preferred truck brand and configuration.
Matt Ward of Hallmark RV read those first two paragraphs thinking, "Yes, that's true, but you need to tell them about SherpTek.  Come on Gordon, tell them about the modular flatbed."
Patience, Matt.  We're getting there.
You see, Matt himself steered away from flatbed trucks for exactly the above stated reasons.   This is particularly interesting when you consider that Matt helps to design and build some of the most impressive and capable flatbed truck campers on the planet.  Just last year Hallmark debuted the Nevada, a long bed 8.5-foot flatbed pop-up tour de force.  The Nevada remains Hallmark's state-of-the-art.
Despite Matt's access, he still preferred a traditional pickup truck and camper design.  Then the Hallmark team discovered SherpTek and the wheels for the following Overland Expo feature rig were set into motion.
With a modular flatbed, it's possible to preserve most of the benefits of a traditional pickup bed while gaining a tremendous amount of exterior storage.  In essence, it splits the difference between a traditional and flatbed approach.  After flying out to visit the SherpTek factory in Oregon, Matt, and his wife Molly, were sold.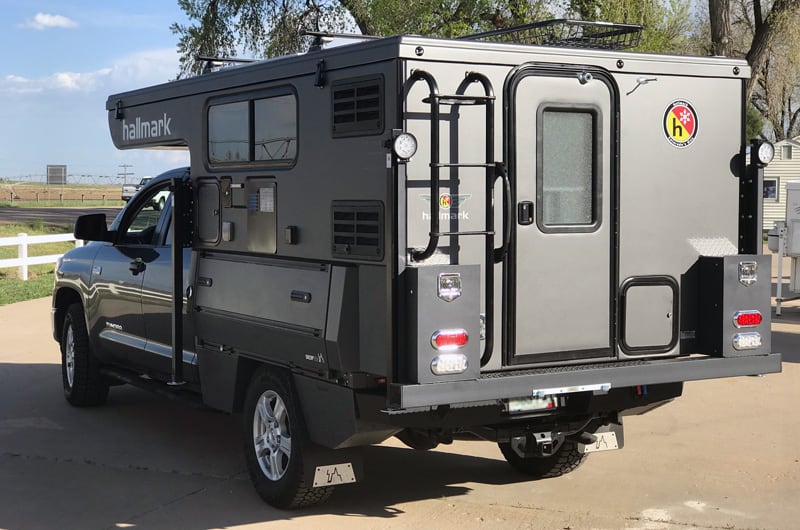 What follows is actually Matt and Molly's personal Hallmark rig.  They will be on hand at Overland Expo West this weekend to debut it to the public.  After the event, the rig will challenge the off-road opportunities of Colorado, and pickup the kids at school.  Now that's versatility.
For more information about the Hallmark's feature rig, we talked to Matt Ward of Hallmark RV.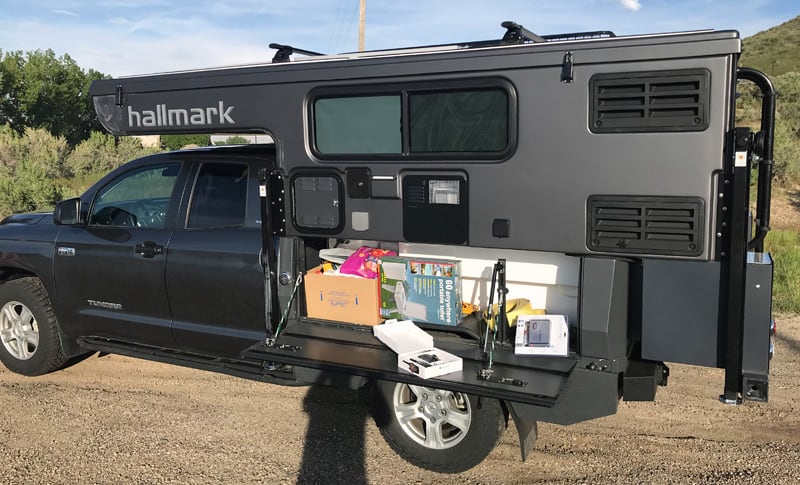 Above: Hallmark flank sides open on SherpTek modular system.  All photos provided by Hallmark RV.
For 2018 Overland Expo West, Hallmark debuted the flatbed Hallmark Nevada. How has the Nevada model done in the past year?
We've had strong interest for flatbed models from Truck Camper Magazine readers. We get inquiries for flatbed models almost daily. Two are in production now.
Every flatbed we have built has been sold. In fact, we haven't had one in our showroom until now. We are taking a Nevada model to Overland Expo West this year. It's been a good model for us.
The initial Nevada models were a production challenge. We were spot on with our fiberglass walls and overall design, but getting the flatbed model onto our production line took some work. Everything is dialed in now.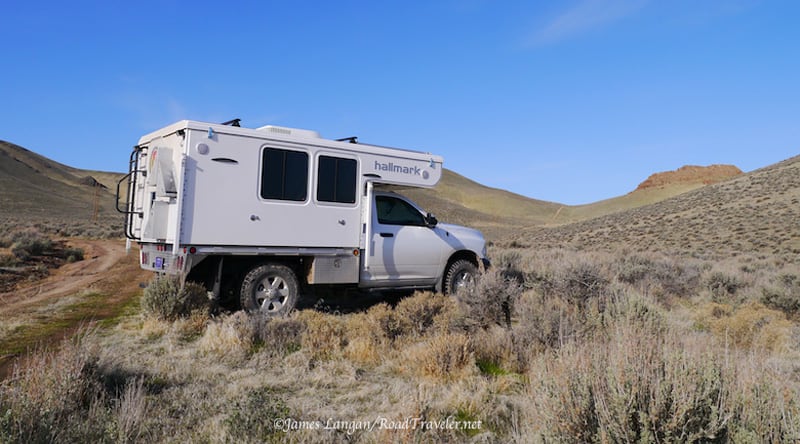 Above: James Langan's Hallmark Nevada flatbed; Hallmark's 2018 Overland Expo feature rig
Have you seen any emerging trends other than the growing popularity of flatbed models?
The most obvious trend right now is the continued move toward lithium batteries. One out of three Hallmark truck campers now has lithium batteries installed.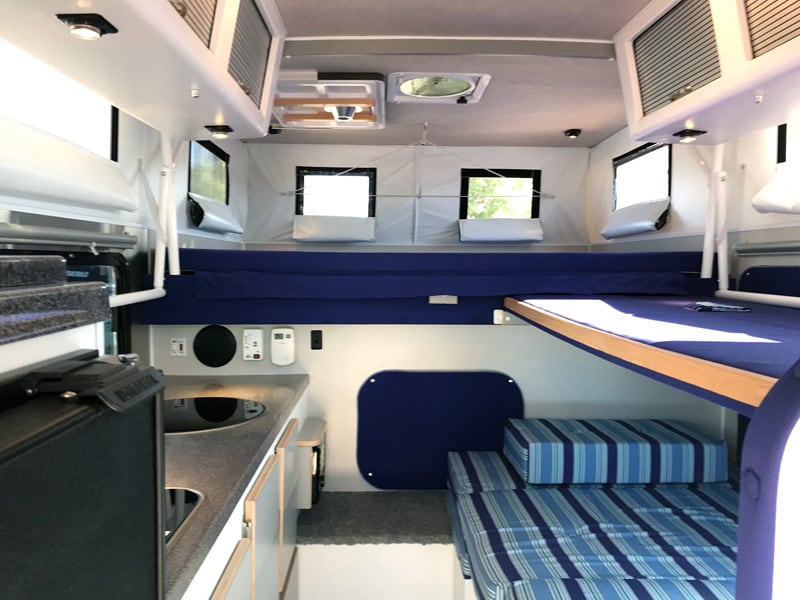 Above and below: The interior of the Hallmark K2 feature rig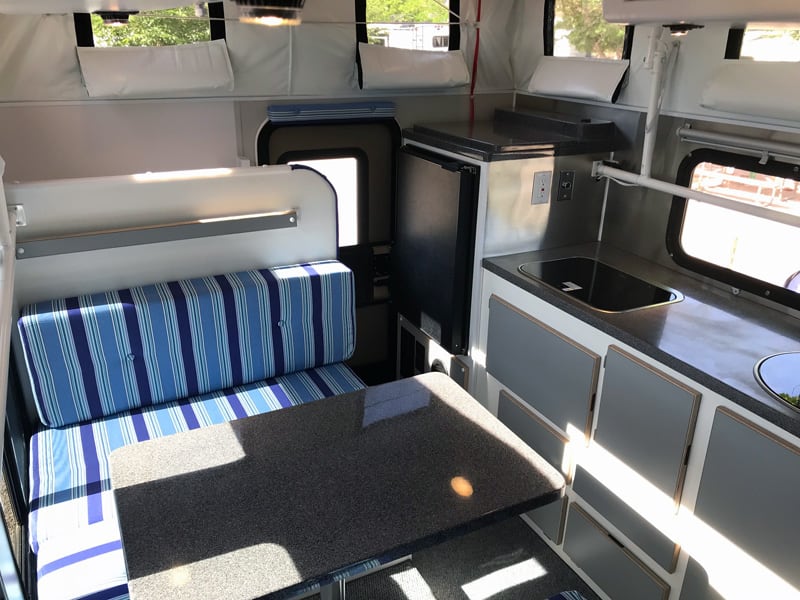 What make and model of lithium batteries are you typically installing?
We are using Battle Born LiFePO4 lithium batteries. They come in a standard Group 27 size with 100-amp hours. The current price is around $980 retail.
Our preferred battery monitor to match with the Battle Born lithium batteries is made by Victron Energy.
Beyond lithium battery systems, we have started installing the Truma AquaGo water heaters and VarioHeat furnaces. We also offer the Truma Combi in some models. The flatbed Nevada has a Combi that we are taking to the show. Truma is more efficient and higher quality than what comes standard. But they do have a couple of trade-offs. I would be happy to discuss these while someone is ordering.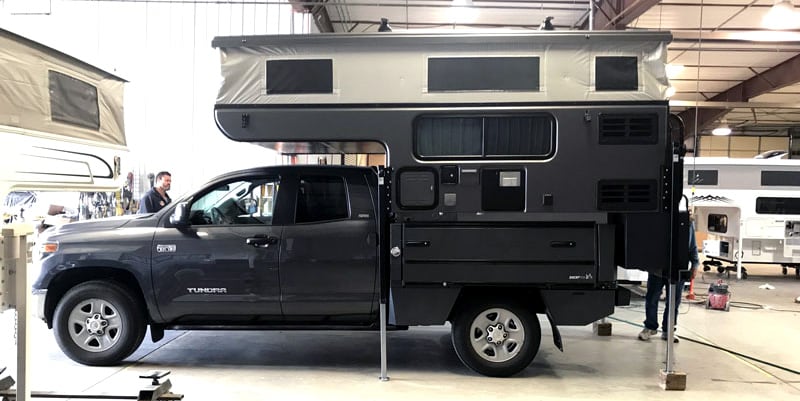 Above: Truck and camper coming together at Hallmark RV in Fort Lupton, Colorado
As we speak, the Hallmark team is taking this new feature rig to 2019 Overland Expo West. Tell us about the concept for this rig.
For 2019 Overland Expo West have built a color-matched Hallmark K2 and Toyota Tundra with a SherpTek flatbed. It's a flatbed truck with storage and a non-flatbed truck camper mounted on it.
With this set-up you get all of the advantages of a flatbed truck and camper without having to purchase a flatbed camper. That's the concept we're excited to debut.
I must say that this rig was not my idea. Dad was going to send his Ram to SherpTek in Oregon and have a flatbed installed. He wanted a flatbed camper on a truck that Hallmark owned. At the last minute, those plans fell through.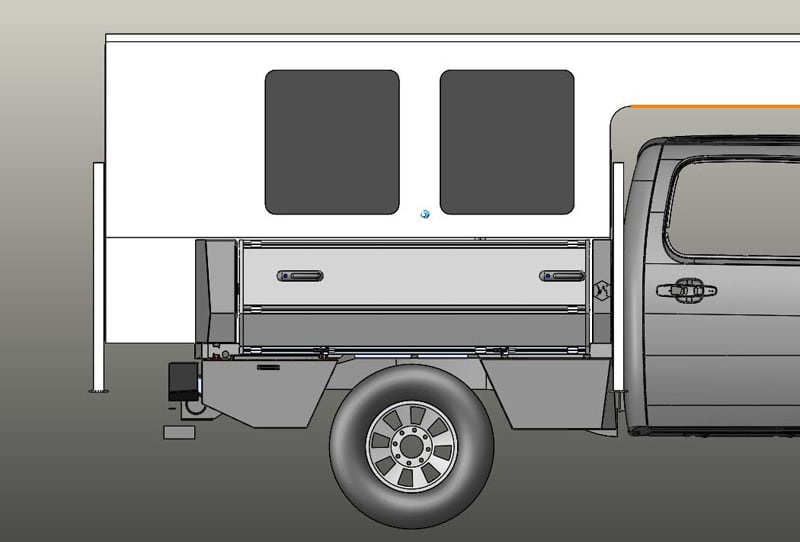 Above: Computer rendering of what the SherpTek system would look like on the Toyota
A short time later my wife, Molly, and I flew out to Oregon to visit SherpTek. We liked what we saw and told dad to move forward with his plan. Well, dad had lost interest by then. That's when Molly said we should do a SherpTek rig for ourselves.
The feature rig we're taking to 2019 Overland Expo West this weekend is our personal rig. This is what my family takes out when we go truck camping.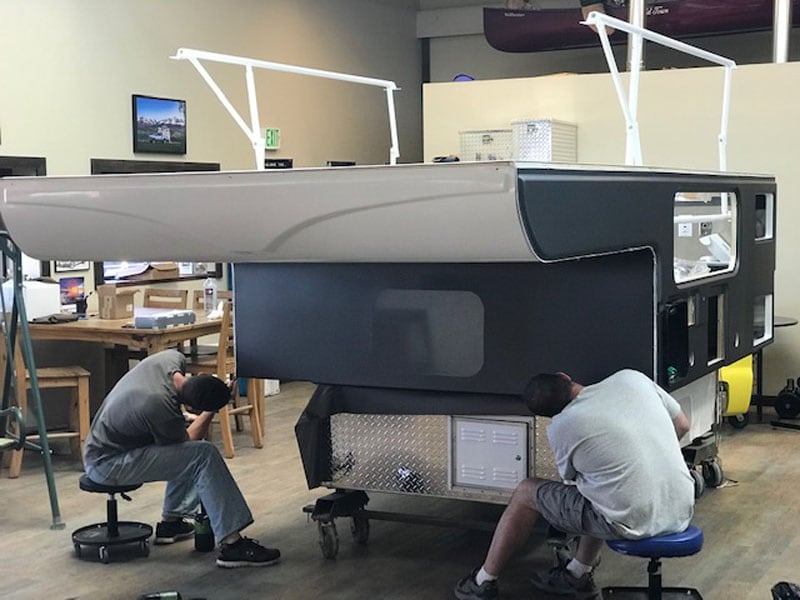 Above: The Hallmark K2 getting wrapped in charcoal grey
The camper has been wrapped to demonstrate our ability to do colors. The truck bed and camper match the truck's color. We're very excited to showcase the rig at Expo, and even more excited to take it out for ourselves.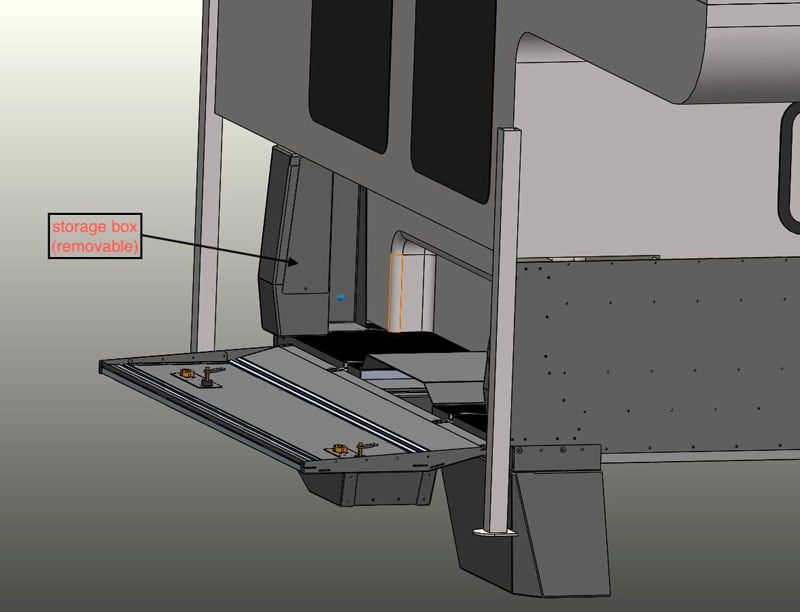 Obviously you could have any model Hallmark you want, including a Hallmark Nevada flatbed. Why is a Hallmark K2 your choice?
I was never interested in a flatbed truck for myself because I didn't see it as beneficial. I preferred the versatility of a traditional pickup bed. But, once we saw the SherpTek option and the way it could be used, we saw the advantages of a flatbed truck.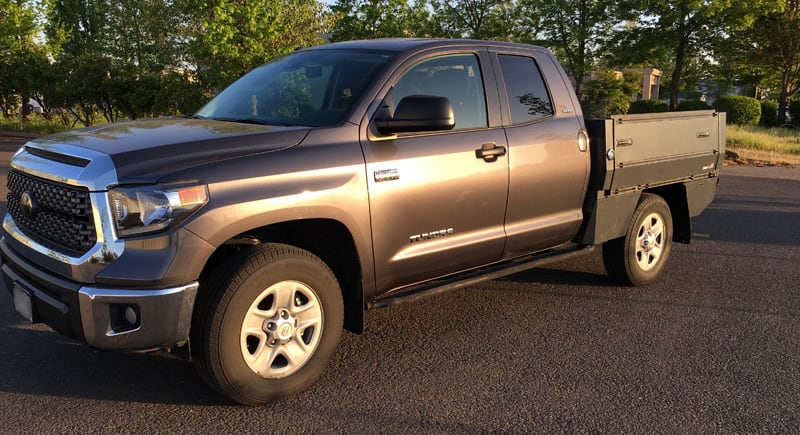 Above: The modular system can stay on when the camper is off the truck
Even with the camper off I still have sides. Or I can take the sides off. They fold down into a horizontal position – like tables. The modular system with tie-down points are like Yakima tracks. You can slide them on and off.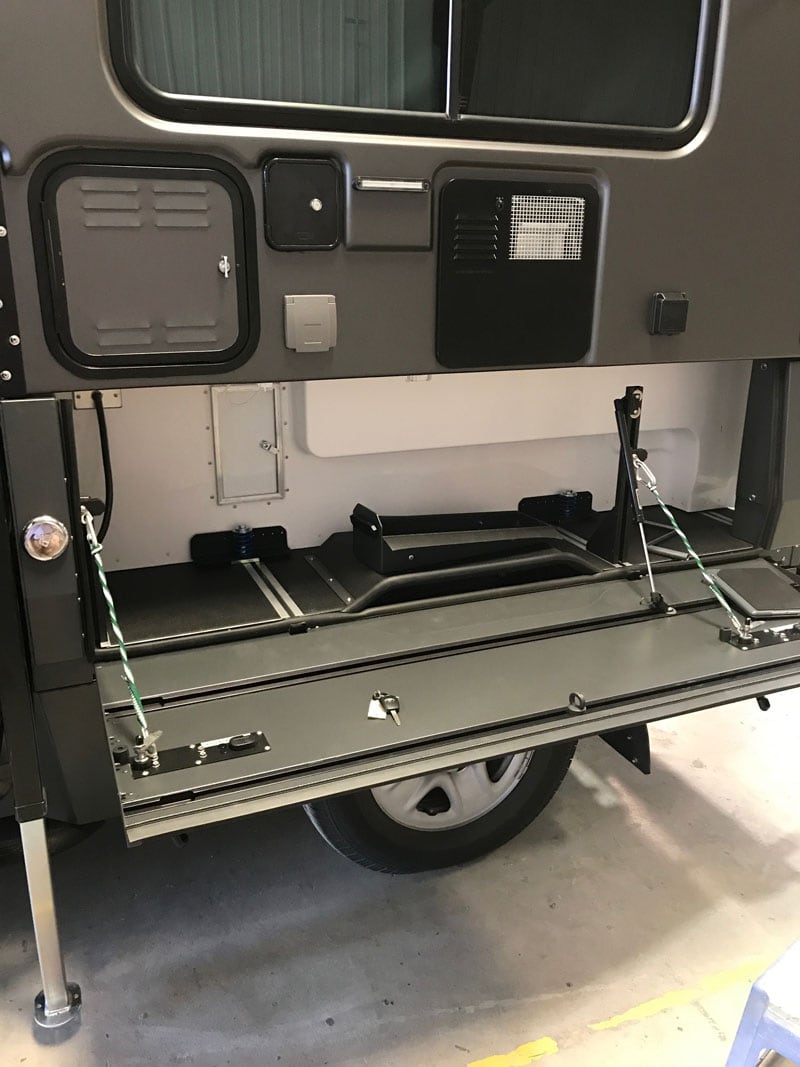 You can tie your camper down using specialized tie down brackets on the bed. Plus you get all the storage around the camper's sides. The SherpTek seemed like a logical choice because we get the benefits of a flatbed and the benefits of a regular bed.
When we're camping, we bring our kids, our dog, and all of our stuff. This option allows us to have lower storage boxes as well. We like that we can have outside storage with a small camper.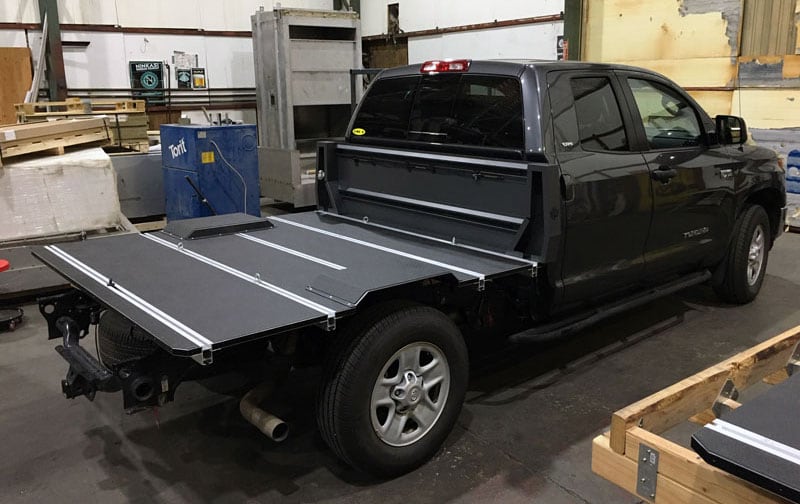 Above: The truck bed was not elevated to install the modular bed system
Did you need to do anything special to make the SherpTek system work with the Hallmark K2?
Not really. Ryan Goodwin, the Founder of SherpTek, had already been working with a Hallmark customer from Alaska. I sent him jack spacers so it made it easier to load their Hallmark on the SherpTek bed.
The great thing is that you don't have to elevate the truck bed. He will build wheel wells in the flatbed that are removable. Having wheel wells allows your axles to articulate when you go off-road. It also allows you to store things on either side of your wheel wells while not elevating the truck's deck height. Plus, there is storage on the wheel wells.
What are the advantages of the SherpTek design versus the Hillsboro 2000-series flatbed you have previously recommended to flatbed Hallmark customers?
The Hillsboro 2000-series is an amazing bed for $3,000 base. With all the popular options it's still less than $6,000 with options. We still recommend the Hillsboro 2000-series for those on a budget.
"The tie-down points can be used for accessories like pull out cooktops and to tie the camper to the bed of the truck."
What does the SherpTek system cost?
A SherpTek is going to be between $7,000 to $20,000 optioned out. We were impressed enough by the system that we wanted to invest in one for ourselves.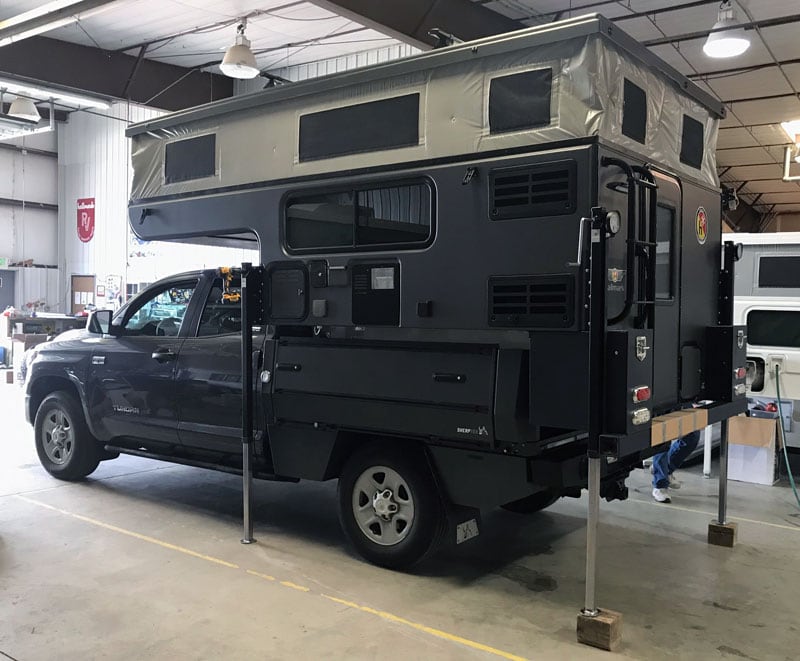 What is the weight of the SherpTek bed?
It's about 210 to 405 pounds, depending on options. That's approximately the same weight as the Toyota bed that was removed, but you get all the functionality of the flatbed. SherpTek builds their beds with aluminum and composite materials. That's why it's so light.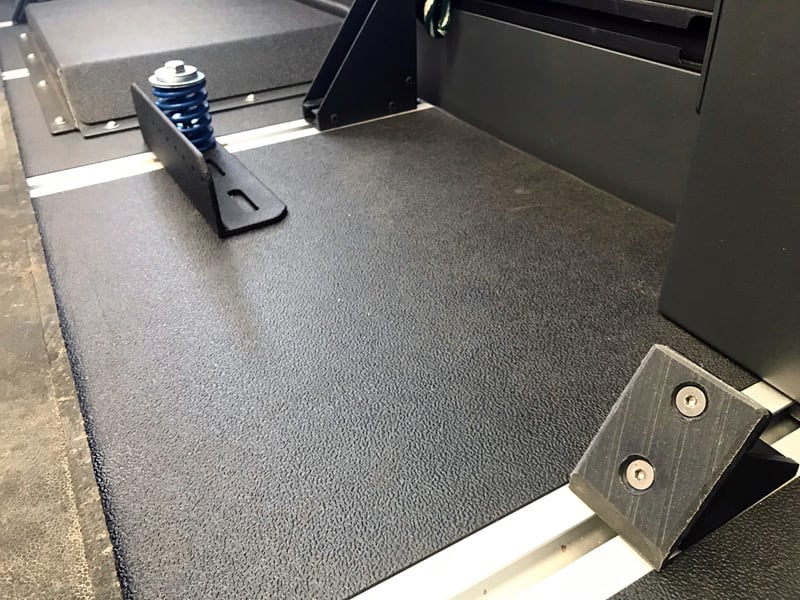 Above: SherpTek centering guides and tie-downs
How does the SherpTek system work with tie-downs and turnbuckles?
The SherpTek deck features tie-down points. Those tie-down points can be used for accessories like pull out cooktops and they can be used to tie the camper to the bed of the truck.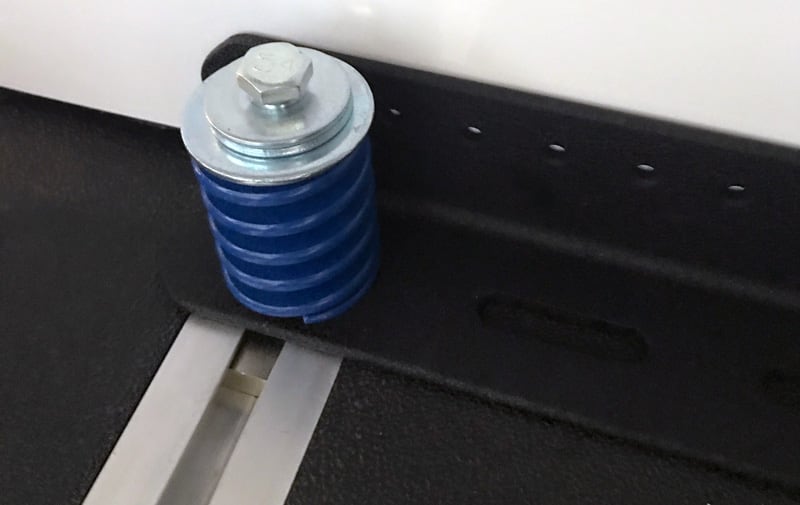 We use a SherpTek tie-down system on the modular bed. The SherpTek system attaches to the camper and allows quick loading once set.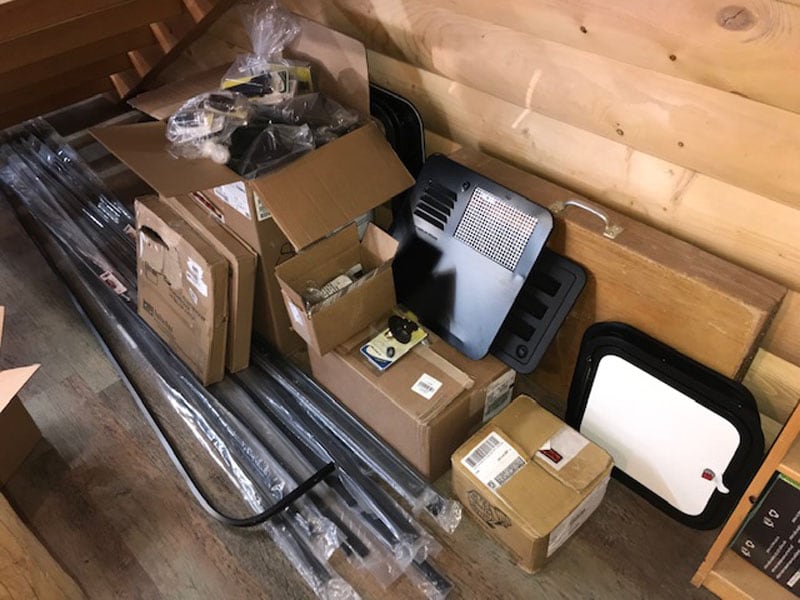 Above: All of the components were color matched to the camper
How did you get the components painted?
We ordered the components in black. For example, we ordered new black vents from MaxxAir. The black molding is from Yellow Dog Extrusion Company. The black K2 boxes are from another preferred vendor.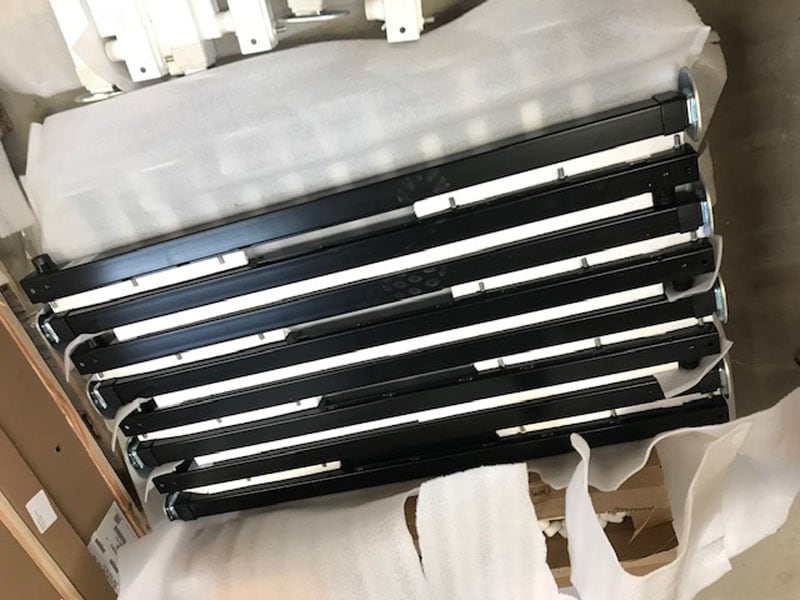 We ordered black Happijac jacks.  It came down to the wire, but we got it done.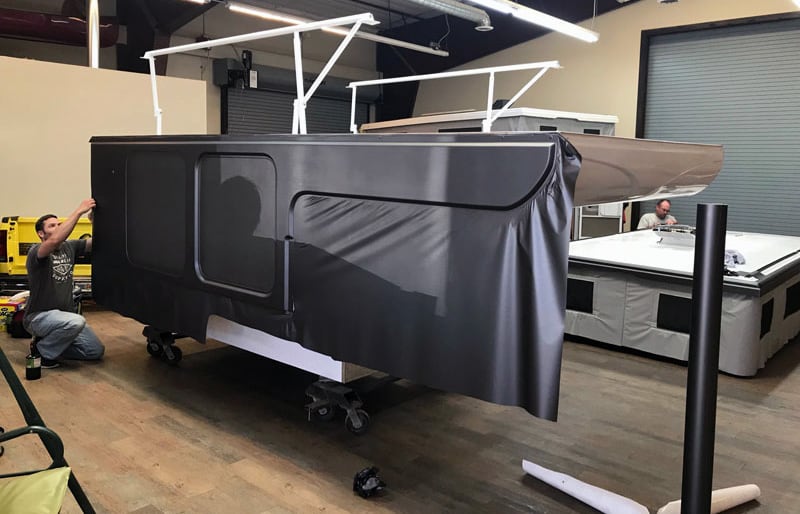 Above: The 3M wrap being installed at Hallmark RV
Tell us about the process of wrapping the K2.
We are using the highest quality wrap available. It's a 3M wrap that is used to wrap buses and tool trucks. It comes with a five-year warranty.
The primary purpose of the wrap is to give color to the fiberglass shell. If the wrap gets torn up while off-roading, it can be patched, removed or it can be a beautiful white camper with black trim.
We are using a professional company that wraps everything here in the Denver area. They come here to Hallmark to install the wraps.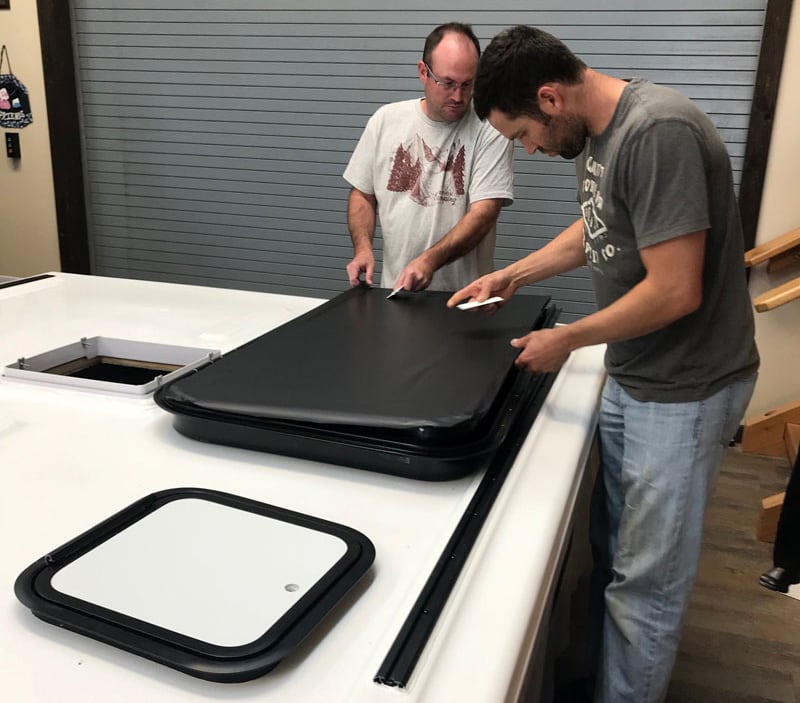 Above and below: The compartment doors and back door is wrapped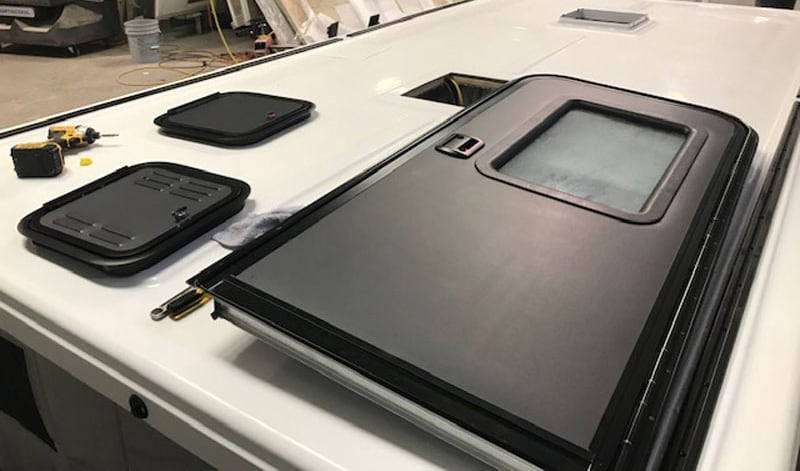 Above: The doors and compartment doors were wrapped separately
When we asked about the highest quality material and installation possible, the wrap company had some strong recommendations. To ensure the best results, they wanted certain components left out. They didn't want the doors, trim, soft-wall or roof installed.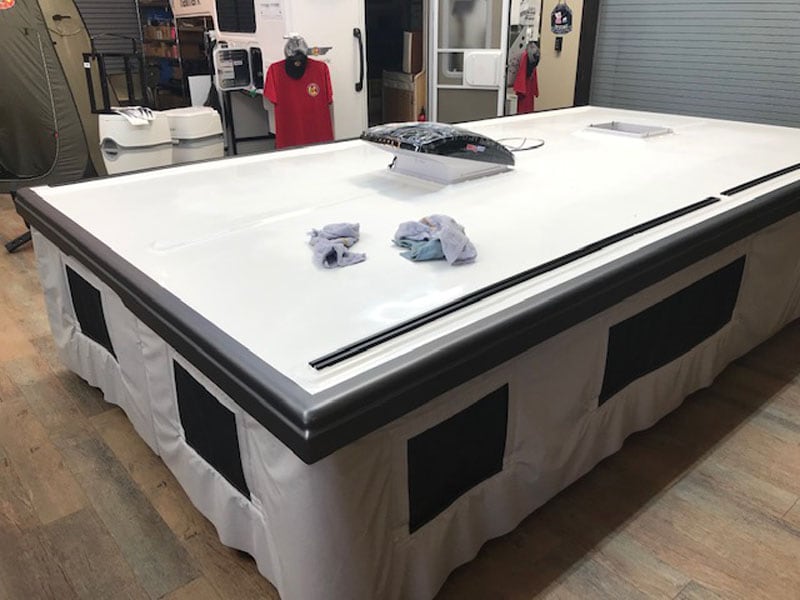 Above: The wrap only went to the edge of the roof so that the roof could remain white
That's interesting. What about the roof?
They're going to only wrap to the edge of the roof. For heat issues, we don't want a black roof. If you can store your camper under a cover or in a building, then the colors will stay nice and protect your camper for many years.
"White will always be the best color to reflect the heat, but colors are a popular trend in campers right now."
Are you concerned about heat retention with the dark color?
White will always be the best color to reflect the heat, but colors are a popular trend in campers right now. With this camper we want to showcase that Hallmark campers are available in colors. White will always be the toughest and last the longest.
Is this the first camper Hallmark RV has wrapped?
Yes, it is. Our campers have been painted and we've always added decals, but this is the first wrapped Hallmark.
Why a wrap instead of painting the unit?
Painting is a lot more expensive, plus paint can easily scratch. We also considered a colored gel coat, but that can be extremely hard to repair if it gets gouged. A wrap offers the look, affordability, and durability we were looking for. It's a good way to go.
This camper has been wrapped in a charcoal grey color to match our truck. There are over 100-colors available from 3M wraps. They also offer wraps with texture, but they are more expensive.
Let's say someone sees this new Hallmark-SherpTek rig and wants one. With both companies selling custom-order and direct only, how would they go about assembling one of their own?
The first thing is to pick your truck. Then choose a Hallmark that matches that truck for size and payload capacity. We are here to help with that process.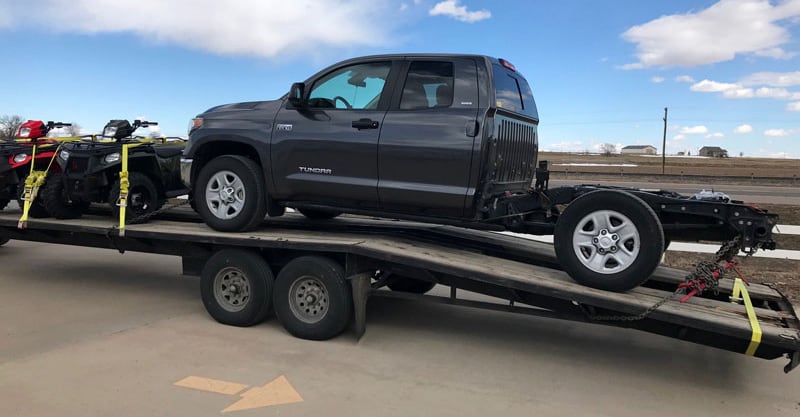 Above: Matt removed the Toyota's bed and had it shipped to SherpTek in Oregon
Then talk to Ryan about the SherpTek and what you want on it. You will need to ship or deliver your truck to SherpTek in Oregon, and then Hallmark in Colorado. Another option is that the camper can be picked up and the entire rig, camper and truck, can be taken to SherpTek for the bed and camper install.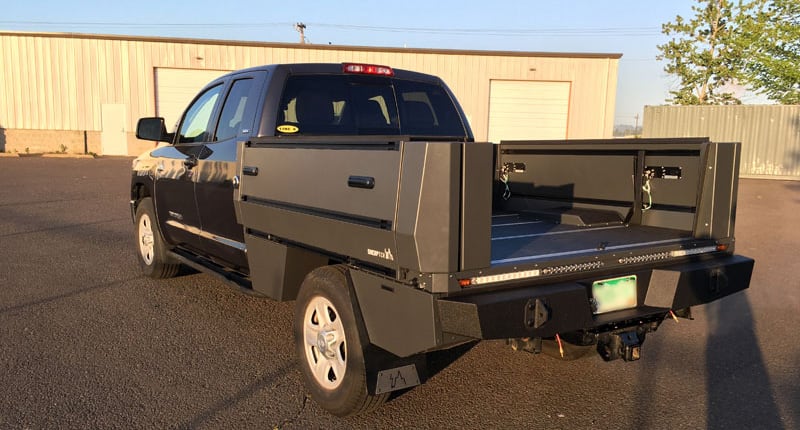 Above: The SherpTek bed installed on the Toyota
I had our truck shipped to Oregon and then Molly and her sister flew out to drive it back to Colorado. Once here, the installation of the Hallmark K2 was a straight forward process. In some ways, installing a Hallmark on a SherpTek is easier than a normal pickup truck's installation.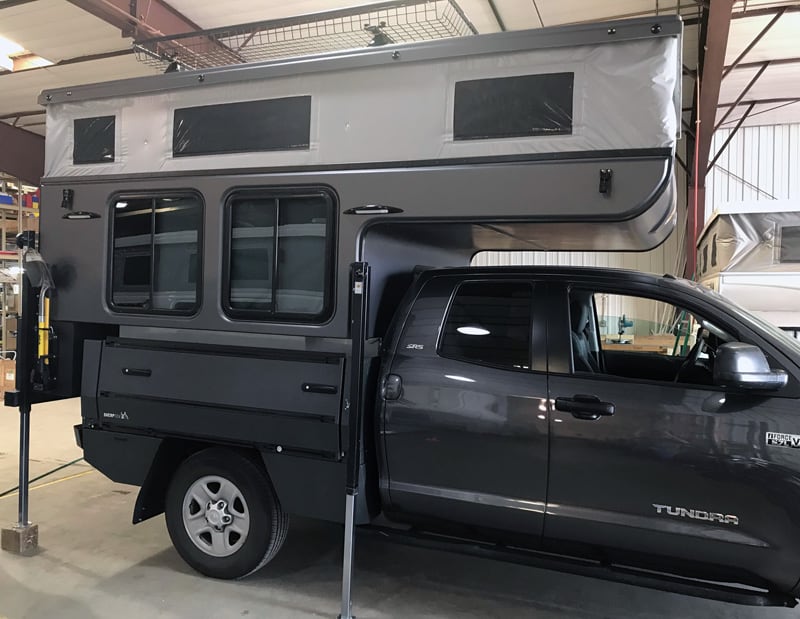 Will you have any other Hallmark rigs on display at Overland Expo West?
I'll be taking this feature rig and we'll have a Nevada. We'll have other rigs at the Expo from customers. Four or five customers usually come into the display with us. Come out and see us at Overland Expo this weekend! We can't wait!
For more information about Hallmark Campers visit their website at hallmarkrv.com.  Click here to request a Hallmark camper brochure.