Kay Goode and Steve Timmings showcase two important lessons with cheap and creative camper solutions.
$2.59 Solution For A $10 Problem.  Plus Tea.
Submitted by Kay Goode, 2016 Dodge Ram 3500, 2008 Okanagan 117DBL
For some time we had a problem making sure the exterior water fill cap was secure or even replaced.  On more than one occasion, our water fill cap would work itself lose while traveling down the road.  Eventually the wind would get it and the cap would bounce down the road, free from its job.
Each replacement was $6-$10, which we thought was a little pricey.  So my husband, Carl, decided to try the cap from a gallon jug of Arizona Tea.  And whaddaya know?   It was a perfect fit for only $2.59.  The delicious tea was a bonus.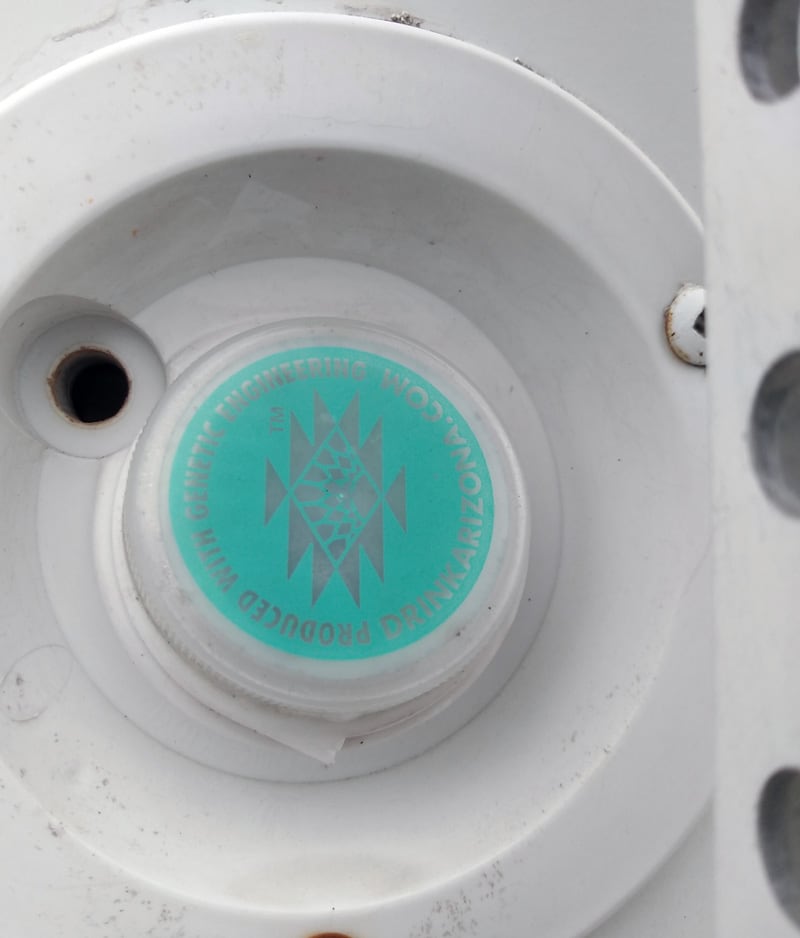 When you see a truck camper with a turquoise label inside the water fill cap, you know the rest of the story.
The Camper Memo
There are frugal solutions to problems out there.  You just have to find them.
Half A Sandwich Box Prevents A Riot
Submitted by Steve Timmings, 2003 Ford F350, 2013 Four Wheel Hawk SC
I own a Four Wheel Camper and there are a group of switches on the left side of the entry to control certain lights.  One of these switches activates the rear flood lights.
While driving to Overland Expo a couple years ago, I stopped at a truck stop off I-15 in southern Utah for a snack and potty break.  When I came back out to my truck there was a guy waiting to read me the riot act.
Some loose items in the camper had rolled around and activated the switch for the rear flood lights.  These lights are LED and extremely bright.  If you get close to them they are blinding.
After seeing that the guy had a point, I apologized and turned the flood lights off.  I also secured the loose items so the situation wouldn't repeat itself.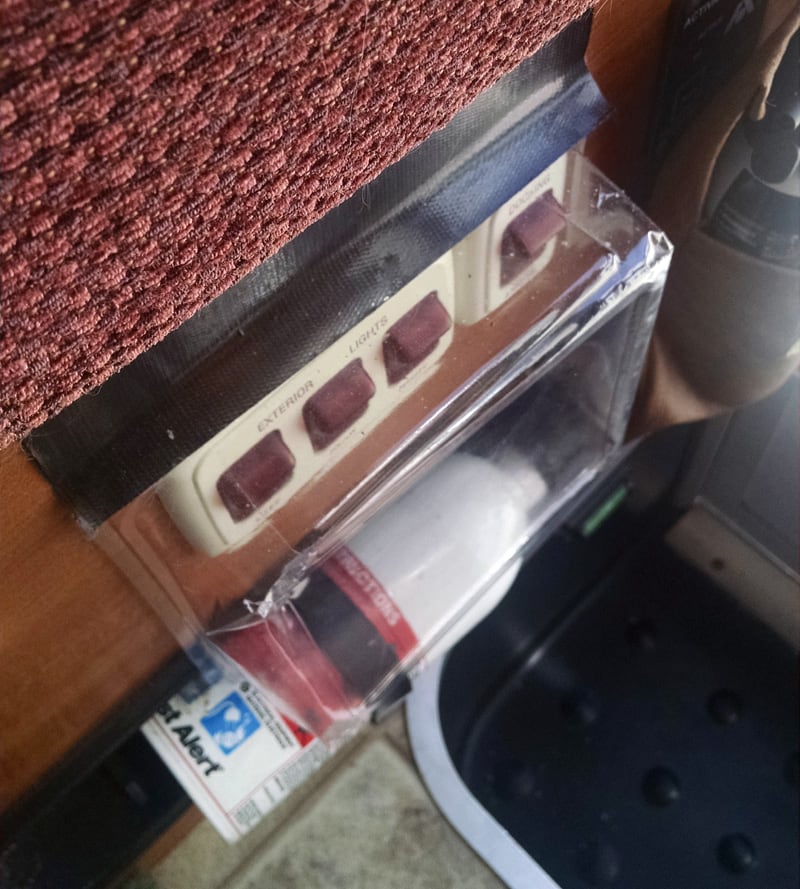 I later found a permanent solution from one of Truck Camper Magazine's mod articles (shown above).  I used half of a clear plastic sandwich box to protect the switches from rolling objects.
The Camper Memo
Simple and inexpensive modifications can make a big difference.  If there's something you don't like about your truck camper, or you have a problem relating to its design, mod it.  Truck Camper Magazine's mod contests are a great place to find creative and often inexpensive inspirations and ideas.
Submit Your Teachable Moment
If you have experienced a teachable moment while truck camping (aka, a Camper Memo), please click here to share your story.