This past June we found ourselves leading five truck camper rigs across central New York.  Like some kind of roving truck camper gang, we rode through undulating farm fields, whipped past serpentine forest lands and rolled into quaint New York towns.
Upon sight of this roaming truck camper pack, travel trailers, fifth wheels and motorhomes backed into parking lots, tucked behind buildings, and generally made themselves invisible.  There were shaking motorhomes and terrified towables everywhere we rolled.
"There's no height marker."
These dreaded words escaped us as the gang quickly approached an overpass scarred with tell tale impact marks of over height vehicles gone before us.  Time for a quick decision.
"It looks okay.  Should we go?"
What looks okay at first blush might be a the last thing your rooftop air conditioner ever sees, or worse.  This is one shave and a haircut that costs more than two bits.  For some rigs, it's the end of the road.
Think this is a joke?  You need to see 11foot8.com.  In Durham, North Carolina they have an overpass that's so notorious they call it, "The Can Opener".  The videos will scar you for life.
Above: Watch these 11foot8.com videos at your own risk.  You've been warned!
These horrible videos make me laugh uncontrollably.  What's wrong with me?
I'm also oddly attracted to the resulting, "Crash Art" collected and sold by 11foot8.com.  Evidently these curiously beautiful and cleverly named sculptures fetch some considerable prices online.  Have a look!
Okay, getting back to our rolling gang truck camper story, the unmarked New York overpass looked high enough and Angela and I squeaked through like the good canaries we are.  Hopefully the others were paying attention and would have stopped if we decapitated our air conditioner.
All five rigs followed us through in short order, each of them wondering if they'd make it.  Evidently our motley crew said various prayers and unprintable words and hit the fuel pedal.  Fortunately, luck was on our side.
When we arrived at our destination, we realized we hadn't re-measured our rig since getting a new truck and having extensive work done on our camper.  We didn't think the rig was any taller, but we didn't know.  It was time to find out.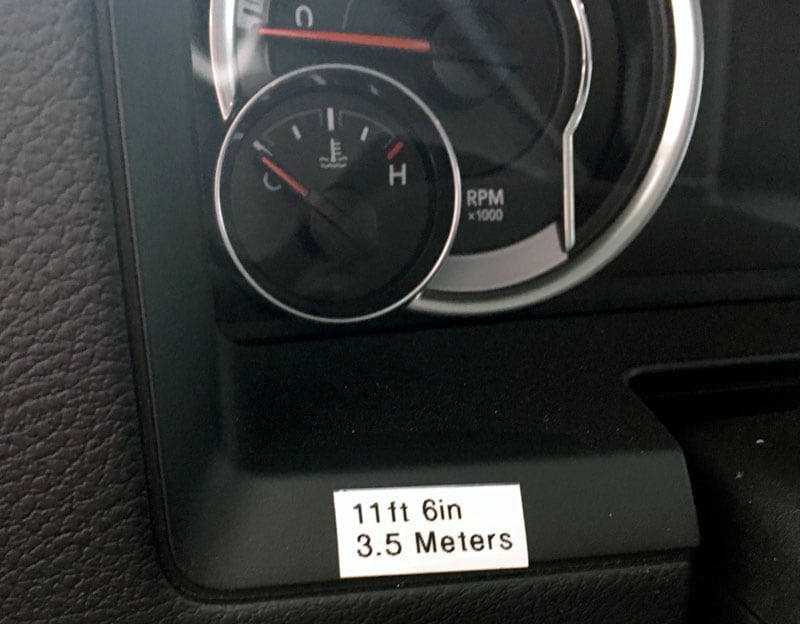 Above: The height of our rig on the dashboard of our truck
From the ground to the top of the air conditioner (our tallest point), our rig is 11-feet, 6-inches tall.  For when we go to Canada, the height in meters is 3.5 meters.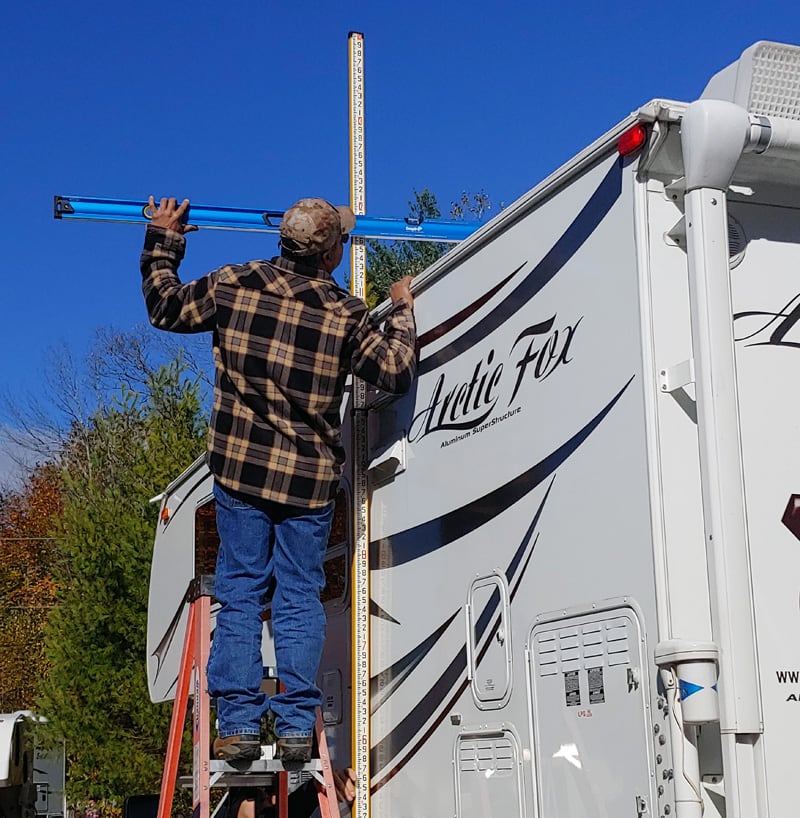 Above: Measuring rigs was an activity a recent NorthEast Truck Camping Jamboree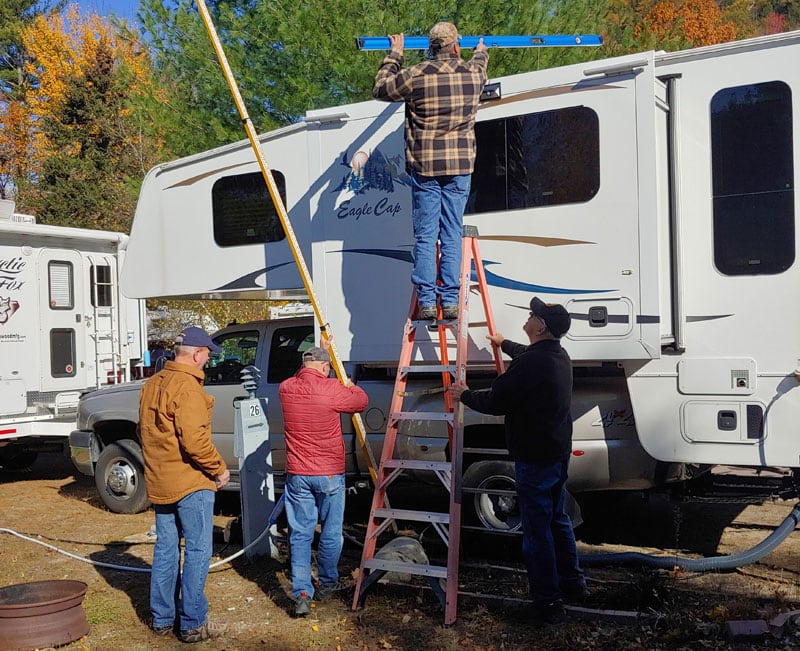 At Mike Tassinari's rally they use a leveling rod that extends and a level that is placed on the highest point of the roof (usually the air conditioner).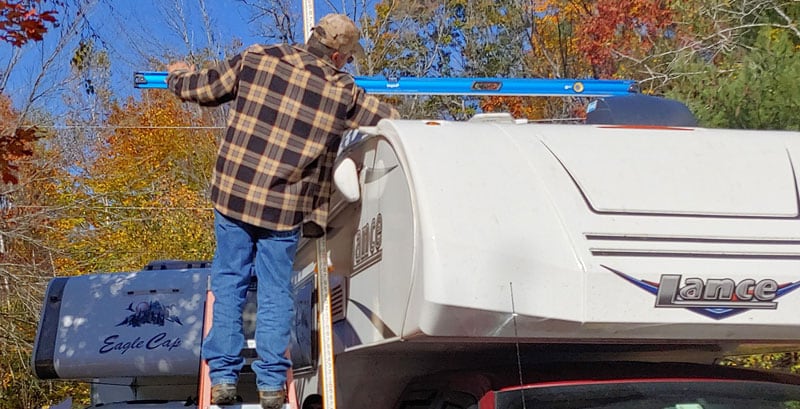 Of course, you can also use a measuring tape.  Just make sure your camper is on your truck when you do the measuring!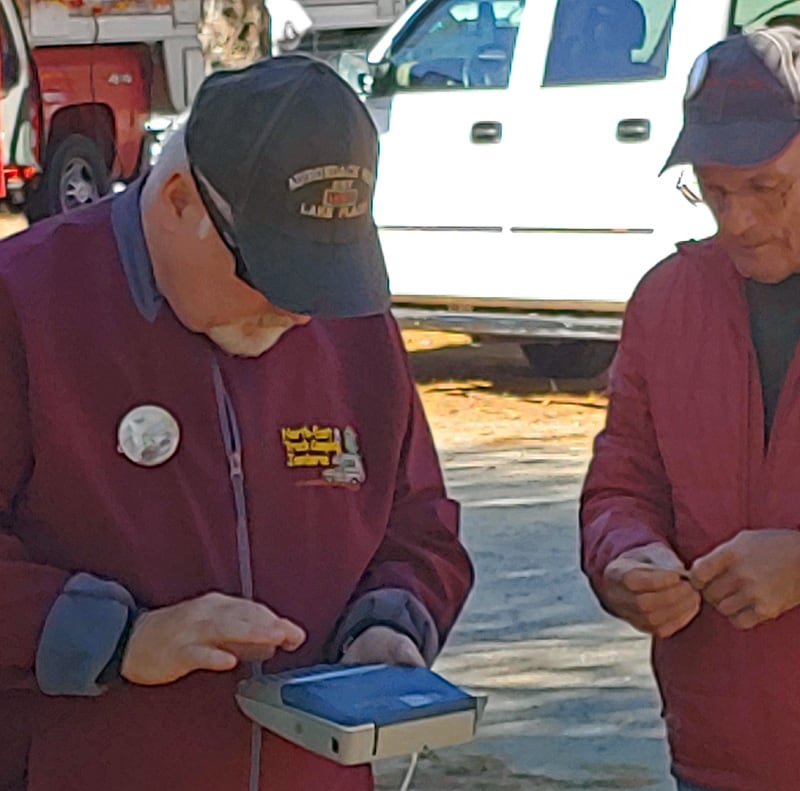 This week's Question of the Week is, "What height is your loaded truck and camper?"
Please include the year, make and model of your truck, the year make and model of your camper, and the tallest point on your rig.  For example, is it your air conditioner – or something else?
Extra Credit: Please show a picture of you measuring your rig like we shared above.
Please do not tell us that you haven't measured.  That's not an option we are going to print.  That said, we know a guy in North Carolina who would be happy to find out if you're over 11-feet 8-inches – no charge.
This QOTW is now closed.  Click here to see many different truck and camper heights by reading, 50 Truck Camper Rig Heights Revealed.