What's remarkable about truck camper rig height measurements is how seemingly identical truck and camper combinations can have variations in height.  Small changes to a truck's suspension set-up and camper roof top options can mean the difference between nailing that overpass, and passing through unscathed.
All this means is that you can't just assume you know the height of your rig – unless you have physically measured it.  You also need to re-measure your rig if you change your truck, camper, suspension or roof-top options.  We recently got a thicker rubber mat and added an inch to our overall height.  When it comes to rig weight and height, everything adds up.
This week's Question of the Week was, "What height is your loaded truck and camper?"
What follows are 50 camper rig heights factoring in a wide range of important variables: truck configurations, camper models, air bags, air conditioners, riser kits and beyond.
Heights of Hard Side Campers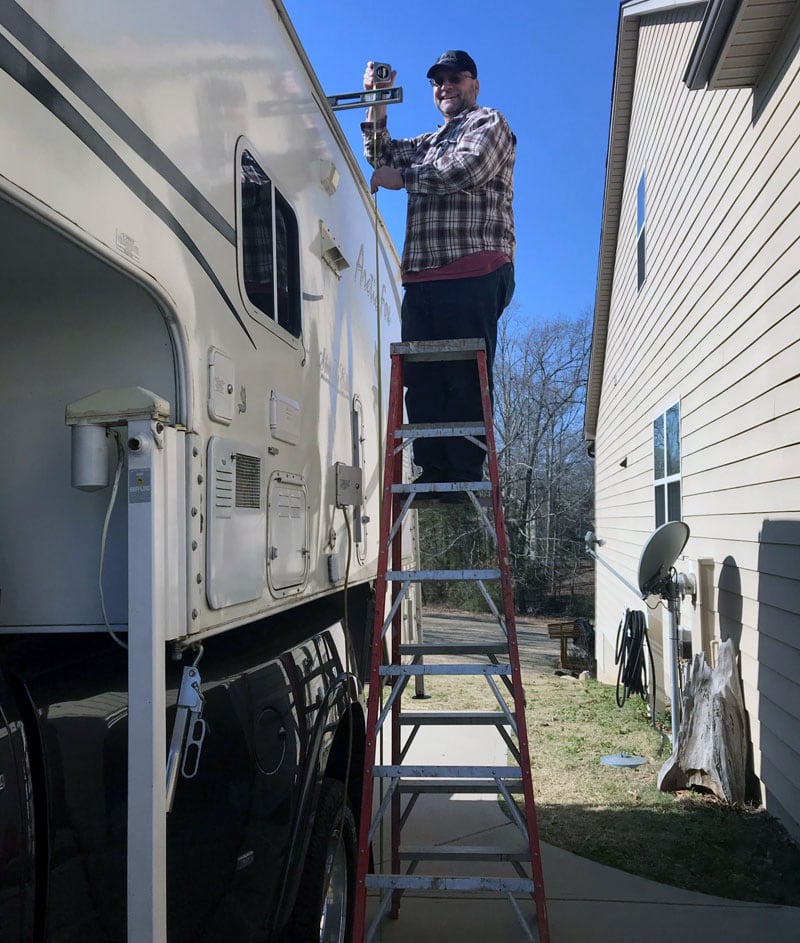 12'2" to the top of the air conditioner. – Tim Zeh, 2019 RAM 3500, 2007 Arctic Fox 1150
11'7″ – Mike Paulucci, 2013 GMC 3500, 2016 Lance 1052
10'10" – the highest point is the cowl over the Fantastic Fan. – Stephen Paushter, 2016 RAM 3500, 2016 Northstar Arrow 8.5 U
11'6″ to the top of the air conditioner. – Tom Brown, 2018 RAM 3500, 2019 Bigfoot 25C10.4

12'3" – Mark Joslin, 2006 RAM 3500, 2005 Lance 1181
11'1″ – Tim Cooper, 2016 RAM 3500, 2009 Bigfoot 25C9.4
11'3″ to the top of the Fantastic Fan cover. – Dave Barker, 2014 Ram 3500, 2017 Northstar Laredo
12'8″ to the top of the storage pod mounted on the roof rack. – Gerald Peddy, 1997 Ford F-350, 2002 Lance 1130
11'0" or 3.35-meters – John Schlobohm, 2013 Ford F-150, 2013 Lance 825
10'5" – Terry Fleming, 1999 Ford F-250, 2019 Adventurer 80RB
12'6" – we put a sticker on both the rearview mirror and the driver's side mirror. – Cindi Delo, 2013 Chevy 2500, 2013 Arctic Fox 992
12'3″ – Dale Wilmot, 2007 Chevrolet 2500HD, 2012 Lance 992
11'11" – Benny King, 2017 Ford F-350, 2014 Northern Lite 10-2EX CDSE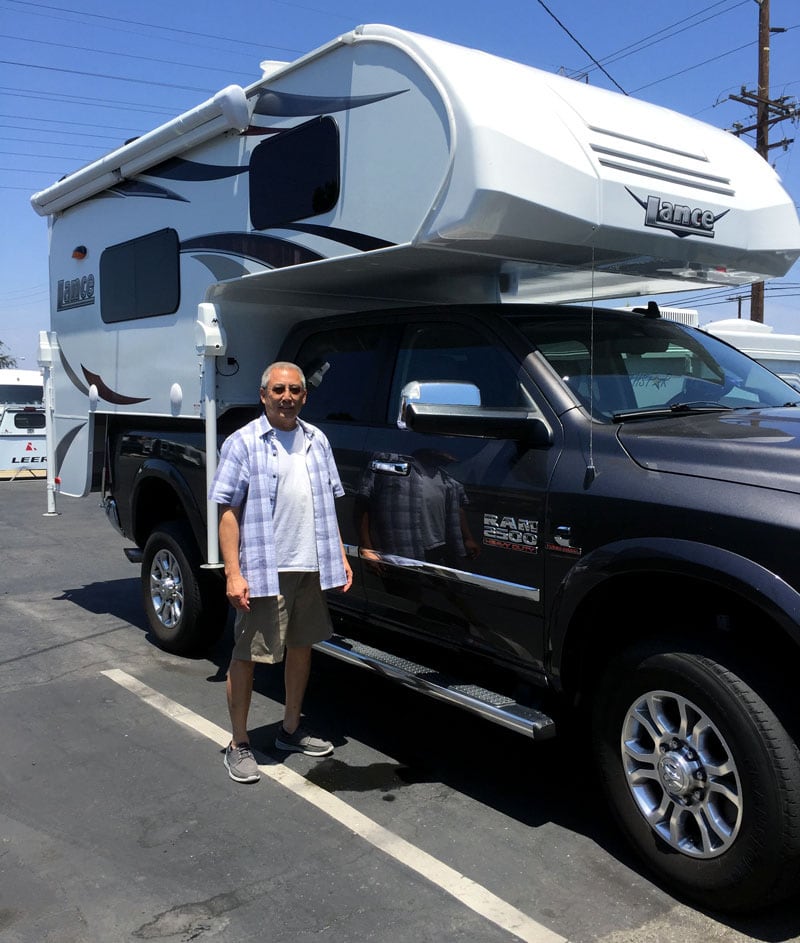 11'10" – Gary Ishii, 2014 Ram 2500, Lance 825
12'6″ – Ken Knopp, 2010 Ford F-350, 2016 Lance 1172
11'6". Fantastic Fan cover, no air conditioner. – Kathy Claycomb, 2007 Dodge Ram 2500HD, 2019 Northstar Laredo SC
11'7" – Jot McDonald, 2018 GMC 3500, Adventurer 89RB
12'0″ to the top of air conditioner, measured by the dealer at delivery. – Joe Sesto, 2015 Chevy 3500, 2015 Bigfoot 2500 10.6E
11'9″ – Eldon Rhodes, 2008 Chevy 3500, 2011 Lance 1050
12'10" or 3.91-meters – Sylvain Robin, 2015 Ford F-450, 2018 Lance 1172
12'10". This is why I'm scared to take it back east! – Bruce Ostermann, 2015 Ram 5500, 2016 Eagle Cap 1165
13'6" – Richard Duzenack, 2018 Ford F-550, 2015 Arctic Fox 1140
11'11" – Jon Hancock, 2015 RAM 3500, 2016 Northern Lite 10-2EX CDSE
12'6". I figure 13'0 minimum. – Frank Poole, RAM 5500 Flatbed, Arctic Fox 990
10'10" before air bags installed. 10'11" after. – Neil and Yoly Mullen Mullen, 2016 Ram 2500, 2018 Travel Lite 840 SBRX
11'3". Tassinari measured at the rally. – Barry Schoenwetter, 2006 GMC 2500HD, 2005 Lance 1030
11'9" – George Visconti, 2015 GMC 3500, 2016 Arctic Fox 990
12'0" – Ron Richardson, 2014 Ram 3500, 2012 Wolf Creek 850
13'8″ flatbed truck – Pete Haidinyak, 2016 RAM 5500, 2016 Eagle Cap 1165
12″9″, but I always figure 13′ just to be sure. – Audrey Ruccio, 2016 RAM 3500, 2008 Host Everest
12'3″ – I round up to 13′ for safety. If it is less the 13' I go around. Also I'm putting air bags on my truck this year so I will have to measure again after the install and they are inflated. Air bags will cause the rig height to grow a couple of inches. – Eric Beatty, 2005 Ford F-550, 2005 Lance 1181
10'10" at the top of the air conditioner. – Eric Devolin, 2007 GMC 3500, 2006 Adventurer 106DBS
12'2″ to top of the canoe. – James Thies, 2015 Ford F-350, 2016 Northstar Adventurer 8.5
12'9" to the vent cover. I can lose 2.5" if I deflate the air bags. – Mike Triska, 2018 Ram 3500, 2019 Eagle Cap 1165
12'6", but must raise it 3/4″ then remeasure. – Charles King, 2011 Chevy 1500, 2017 Camplite 6-8
11'0" with 285/75/16 tires." – Greg Z., 2004 GMC 2500HD, 2016 Lance 650
12'2" with oversized 19.5″ tires and Torklift StableLoads." – William Cole, 2006 Dodge 3500, 2008 Arctic Fox 811
10'6" – James Freniere, 2013 Ford F-150, Lance 650
12'6" – Alison Joki, 2001, Ford F-350, 2016 Lance 995
11'4.5″ to the top of the air conditioner. – Fred Patterson, 2013 Ford F-350, 2002 Lance 1161
12'6″ – Vince Marolla, 2000 Ford F-350, 2005 Lance 881
11'10" – James McCarron, 2013 Ford F-350, 2013 Northern Lite 10-2 CDSE
11'5" – Sue Mathison, 1997 Dodge Ram 3500, 2000 Lance 1030

11'3" – Tom and Dawn Dort, 2016 Chevy 2500, 2002 Palomino 8801
11'11" – Gus Postreich, 2019 Ford F-450, 2012 Lance 1191
13'6" – David Meyer, 2019 Ford F-350, 2019 Real Lite HS-1912
11'3.5" – Bill and Kira Jones, 2017 Ford F-350, 2018 Northern Lite 9-6Q SE
12'4″ – Kevin Hasch, 2013 RAM 5500, 2013 Lance 1172
12'6″ or 3.8 meters – Douglas Packer, 2012 Dodge RAM 3500, 2014 Eagle Cap 1160
Heights of Pop-Up Campers
7'1" – Phil Semas, 2013 Dodge Ram 1500, 2013 Four Wheel Hawk
9'7″ to air conditioner, 10'7″ if the canoe is on the roof – Kevin Presson, 1997 Dodge Ram 2500, 2011 Outfitter Apex 9.5
8'2″ – Manfred Klement, 2000 Ford-F250, 1992 Jayco Sportster
Other Height Comments
"The bridge in Durham called the Can Opener bridge has been raised to a height of 12'4". It is still no excuse for not knowing the height of your rig, but just wanted to let you know that raised the bridge about a month or two ago." – Brian P.
"Below is a picture of an angled low bridge where long-rig effective-height changes as they pass under. The tow vehicle begins to rise before the trailer wheels have made it through. The picture is of Boston Street in Baltimore, Maryland eastbound just before I-95. Westbound is even lower. Visitors headed to Canton are always getting a nasty surprise, as do many, many tractor trailers that travel there every day." – James Coffman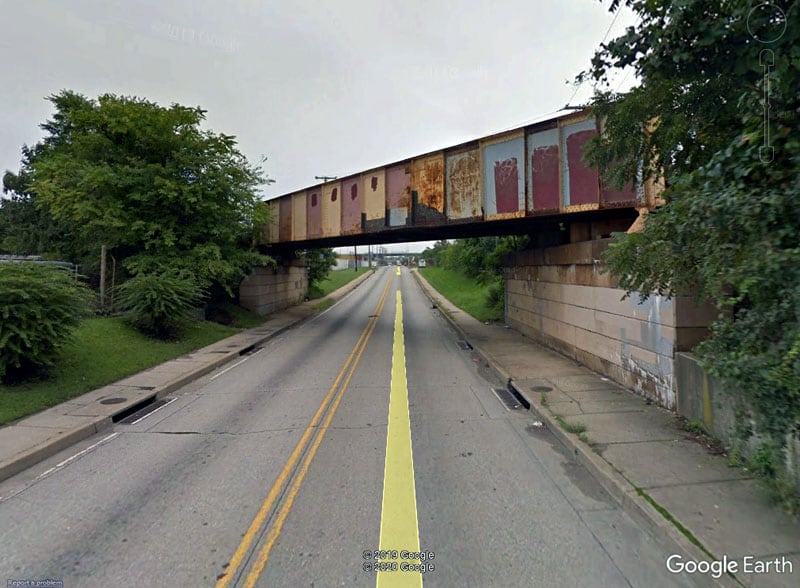 "This Boston Street railroad bridge is insidious for several reasons, and it probably eats or scars at least one vehicle a week.
The major problem is that the road is actually higher on both sides of the approach (difficult to grasp in the Google Earth fisheye perspective), so an especially long rig (sleeper cab and max length trailer, 5th wheel toy hauler on a crew cab, etc.) can end up getting skinned, or worse.
At other less traveled locations, we have encountered several unmarked and extremely low railroad underpasses where even our 8'6″ height had us guessing. After one such outing I finally remembered when I got home to get out my old surveying rod, like the one used at the event that your article highlighted.
Harbor Freight sells a plastic one that telescopes pretty cheap that's worth stashing behind a seat or wherever it can be kept handy.
Now, when I come across any unmarked passes I can pull over BEFORE entering and walk up to it with my extendable stick and get a reasonable measure before it's too late.
I still leave 6-inches to allow for the odd roadbed irregularity and angle of approach. Even towing our trailer, that's still a pretty short length relative to most 5th wheel toy haulers.
The Golden Ring Road underpass is noteworthy more for the fact that it lies on one of the approaches to a well known heavy rig towing company that is also a state vehicle inspection station and truck repair facility.
Night-time travelers in search of a repair facility relatively close to the most heavily traveled interstate on the east side of Baltimore might be steered that way by their GPS and happen upon it suddenly in the dark. It happens.
Another fun fact; kids in and around Baltimore have been known to make sport of removing the height warning signs, and there's a trailer repair company right up the street from the Boston Street hazard that people were sure for years was complicit in that sign regularly disappearing – just for the business that it brought them.
I travel the back roads and bye ways of the rural Mid-Atlantic region pretty regularly. The most common hazard in this regard that I've seen (and this includes a surprising number of unmarked low passes, most of which I can't find on Google Earth Street View at present) involve railroad crossings.
Word to the wise; when trip planning or looking for detours (usually how I encounter them for the first time) give a cursory check of a map or Google Earth satellite views for any railroad right-of-ways in the neighborhood. Their long straight nature makes them easy to pick out quickly, so it's not really as complicated as it may sound." – Jamie C.
"How can one person safely measure the clearance height of a truck camper when loaded? Here's what I did.
First, I extended tape measure to 12-feet.  Then I placed it on the ground beside my truck camper, extension of tape up.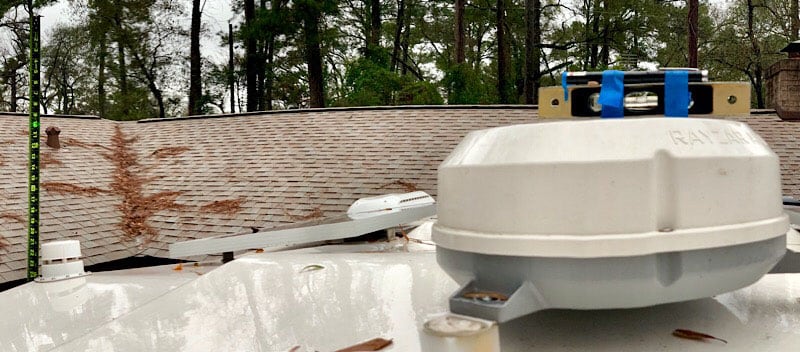 Then I placed a level and aligned the laser pointer assembly on highest point of the truck camper and adjusted the position it until was level.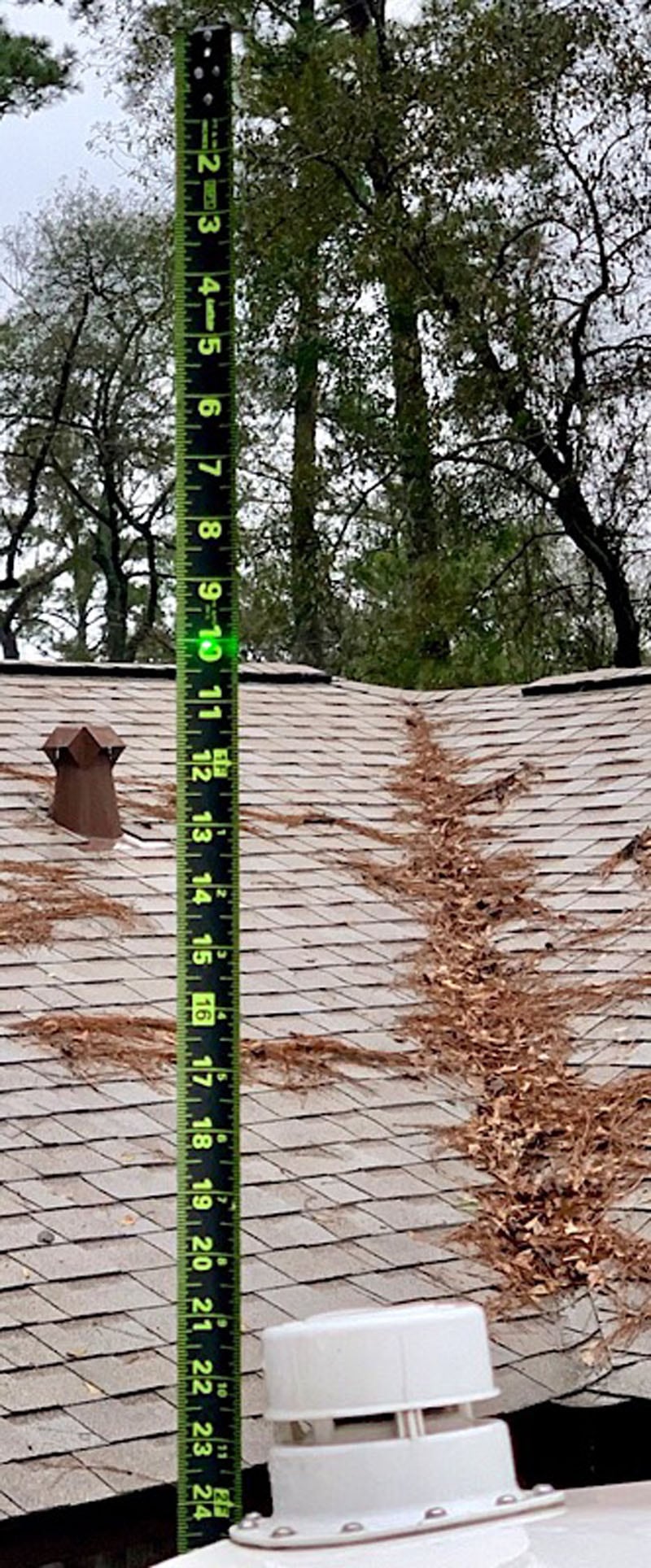 Then I pointed the laser at the measuring tape.
That's how I took the reading.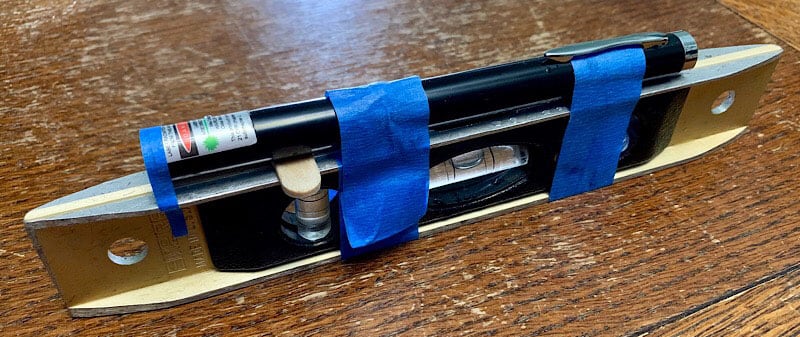 The popsicle stick was used as a beam alignment wedge.  This is to keep the beam at the same height over distance." – Bill and Kira Jones