For years we have heard the cries from readers pleading with the industry to shed the traditional RV interior decors for something more bold and modern.
Well, now it's time to find out if you actually meant it.
For 2016, there are two very new bold and very modern CampLite interior choices, Alpine and Cascade, alongside a third and more traditional interior, Sierra.
When we saw these new interiors, Angela immediately gravitated to one (she's still talking about it) and I instantly liked another.  Harley could care less as long as he can find his food, water, litter box, and napping spot, so he's no help in this matter.  Besides, his interior decorating sensibilities are somewhat questionable.
Anyway, we thought it would be fun to ask you which new CampLite interiors you like.  The results could be a strong signal to the industry to go bolder and more modern with their interiors.  Or, it could be a signal to stay more traditional, and less daring.
There's only one way to find out.  It's time to pick your favorite, and vote.
Please review the following photographs showing the three new 2016 CampLite interior decors.  Once you have your favorite, use the link below to vote.
1. Alpine
The 2016 CampLite Alpine interior features white wood cabinetry, grey solid surface countertops, grey vinyl flooring, and Riollo accent fabric.  Click to enlarge the Alpine decor photo below.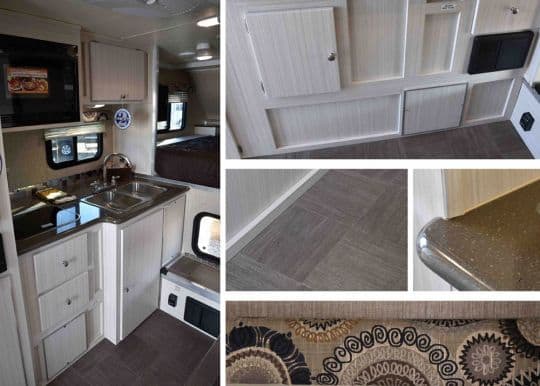 2. Cascade
The 2016 CampLite Cascade interior features dark zebra wood cabinetry, while solid surface countertops, light wood plank vinyl flooring, and Fireworks accent fabric.  Click to enlarge the Cascade decor photo below.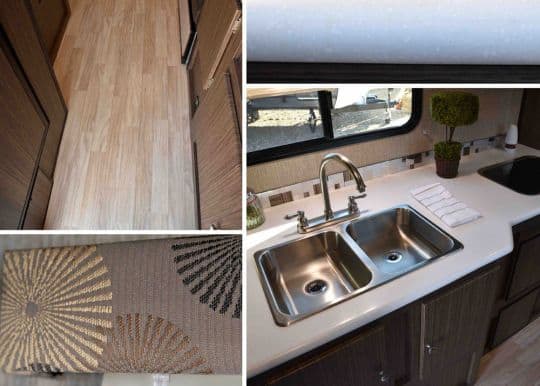 3. Sierra
The 2016 CampLite Sierra interior features caramel colored maple cabinetry, raised panel doors, grey solid surface countertops, and tile-pattern vinyl flooring.  Click to enlarge the Sierra decor photo below.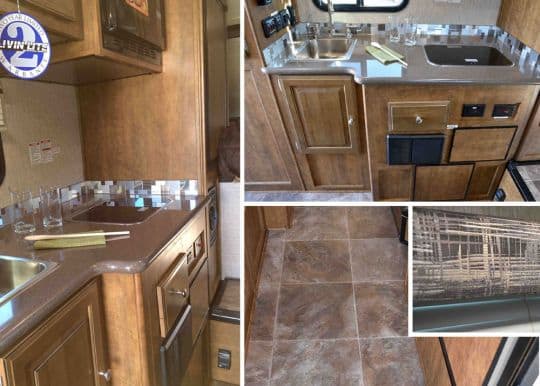 Click here to see which of these 3 CampLite interiors won the Decor Battle.