After many years on the road, we have developed a few funny habits.  One of our favorites is what we call dump showers.  Yes, dump showers!
Here's how a dump shower works:
When we find an open dump station (no long lines) with a clearly marked fresh water source nearby, we spring into action.  First, we dump our tanks.  Then we fill with fresh water.
Once safely ensconced in a level parking spot, we turn on the water pump, fire up the propane water heater, wait about 15-minutes, and take long and glorious showers.  Everything gets washed – sometimes twice.  We might even burst into song with the hot water running.
"Hey now, you're an all-star, get your game on, go play!"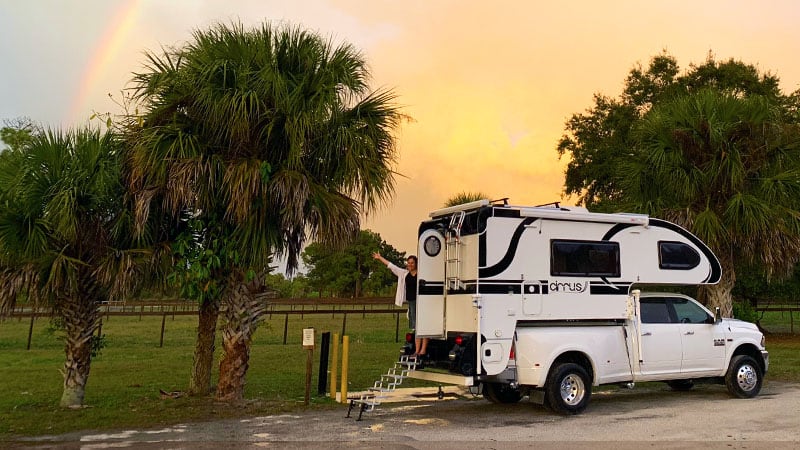 Above: All you need is an open dump station and a fresh water source

Then we get dressed, get back into the truck, and go back to the dump station.  All that boondockin' dirt-water gets flushed away.  Then we fill up with fresh again, and hit the road like a two gleaming pennies.  Don't we smell wonderful?  Yup!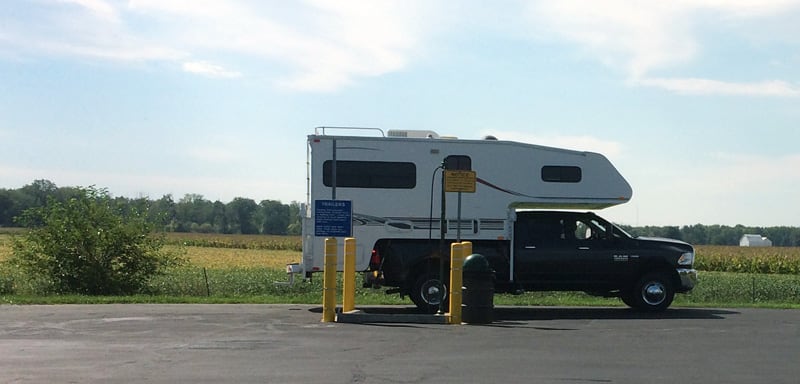 Above: Another dump shower spot off the Ohio Turnpike
If you think this hasn't happened, think again.  We have dump showered dozens of times over the years.  In fact, we have gone back to successful dump shower locations to dump shower again.  Cue the Smashmouth!
"Hey now, you're a rock-star, get the show on, get paid!"
The Camper Memo
If you've been dry camping off-grid for a while and happen to come across a decent dump station and fresh water source, take a dump shower for goodness sake.  It's amazing how refreshing a dump shower can be.  The stinkier you are, the better!
Submit Your Teachable Moment
If you have experienced a teachable moment while truck camping (aka, a Camper Memo), please click here to share your story.