Mark Harrison warns us of the dangers that lurk inside a tall bay car wash.  The door may be tall enough, but look out for that swiveling wash arm!
Beware The Swiveling Wash Arm
Submitted by: Mark Harrison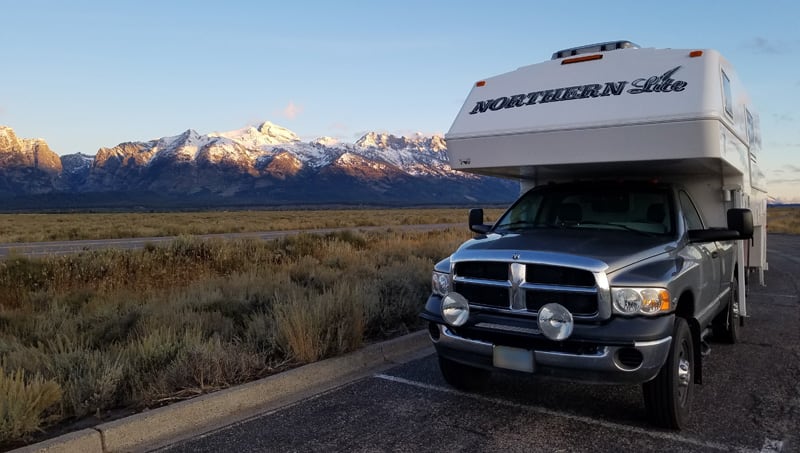 Above: Their current camper, a 2017 Northern Lite 10-2 EX CD Special Edition
"Honey, thanks for trying to get the truck camper clean!"
That's all you can say when your spouse of just a few years takes your brand new camper to the car wash alone.  She just wanted to have it 100-percent clean for our upcoming trip to the western slope of Colorado.
She was very careful about approaching the car wash and got out a number of times to make sure she had plenty of clearance for the top of the camper as well as the vents.  We didn't have an air conditioner, so the vents were the high points. She did a great job of thinking the situation through.
But the truck came to an unexpected stop halfway through the car wash.  She was going slow and couldn't figure out what stopped her.  Again she got out, and nothing was in front or under the truck.  Then she looked up.
The swivel system on the car wash was substantially below the car wash's door height.  The cabover had hit the swivel system.  Thankfully she had been going very slowly and there was only a small dent in the camper and no damage to the car wash.
Just remember that handling our big boxes is really a two person job in close quarters.  Also, that when the worst happens, you remember to thank your spouse or friend for trying to help.  None of us are perfect.
We have now survived 51-years of marriage, three truck campers, one Class A motorhome, one Class B, and a 42-foot ocean going sailboat.  Maneuvering in close quarters takes teamwork and sometimes a little luck.  Be considerate of your partner!
The Camper Memo
Be mindful of the swiveling wash arm in a car wash.  They are sometimes lower than the bay door's height.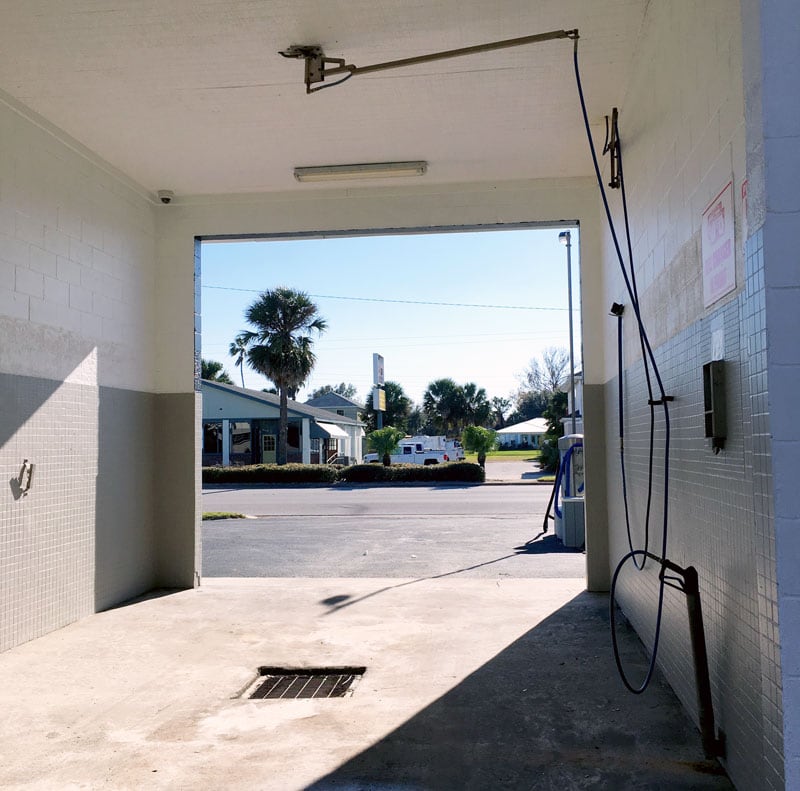 Most importantly, don't screw up your relationship with your spouse over any kind of damage to your rig.
Submit Your Teachable Moment
If you have experienced a teachable moment while truck camping (aka, a Camper Memo), please click here to share your story.