This past December, we drove from California to Pennsylvania to spend time with our families for Christmas.  Along the way we stopped at my cousin's house in Phoenix and visited Truck Camper Magazine readers in Albuquerque, New Mexico.  After that we hot-footed it back to the East Coast.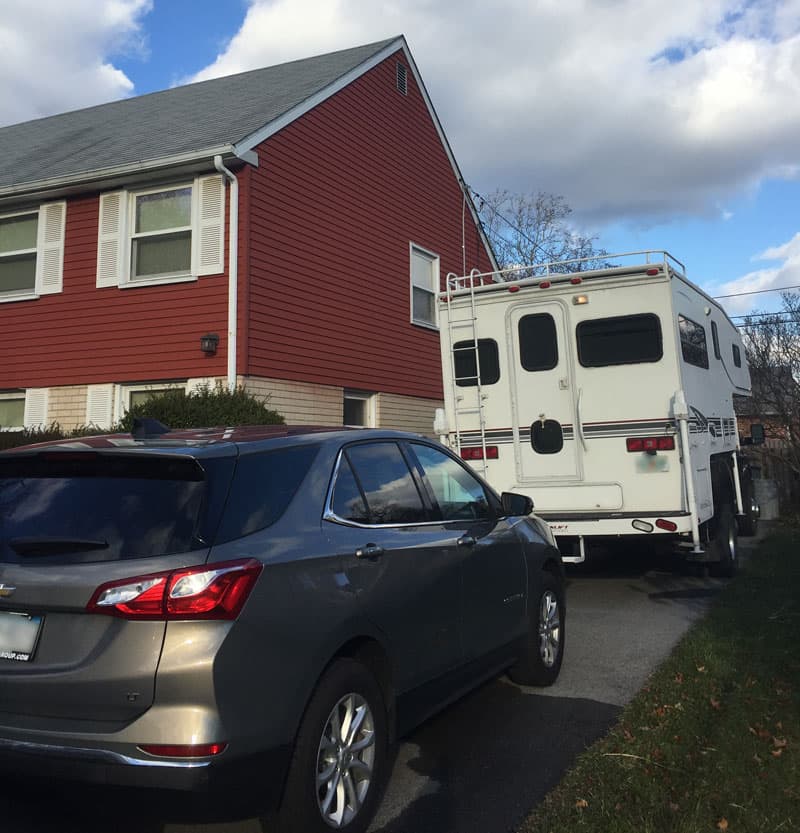 Above: Visiting family over Christmas in Pennsylvania.  Photo credit: Andrew White – my brother!
Our first stop on the East Coast was the White House, aka my dad's place.  Lucky for us, dad has a perfectly level driveway where we can park our rig.  We even had a 30-amp outlet installed on the side of his house last summer so we can plug in the rig during our stay.
Considering that dad allows us to use his shower, laundry, and WIFI, dad's driveway scores at least four out of five campground stars.  Now I need to talk dad into building a fresh water connection and dump station.  Hey dad, an official five-star campground rating awaits.  That has to be tempting, right?
So That's What We've Been Doing!
Last June we published, "Don't Get Too Comfortable", Jase and Lauri Stump's story of avoiding residential comfort traps to pursue an adventurous and fulfilling lifestyle.  In their interview, the Stumps implore us to (1) stop watching television, (2) stop cruising the internet, and (3) go explore the planet.
Their interview really hit home for us.  It must have hit home for a lot of other folks as well as their article was number 7 on 2017's Top 10 most read Truck Camper Magazine articles.  Perhaps we're all well aware of how dangerous comfort traps can be, and long to break free.
Anyway, one of Jase and Lauri's tips for life on the road was, "moochdocking".  The Stumps defined moochdocking as, "…staying in a friend's or family's driveway".
Wait a minute!  By that definition, Angela, Harley, and I are serial moochdockers.  We have always called this practice driveway camping, but moochdocking explains the concept so much better, and funnier.  Hey dad, we were totally moochdocking at your house for Christmas!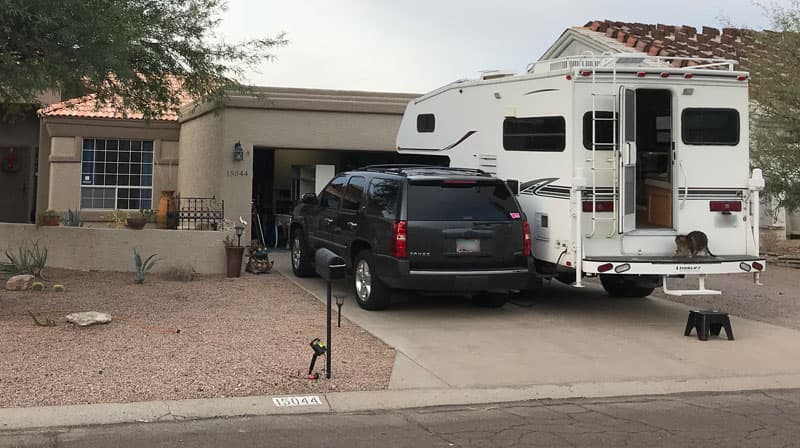 You too, cousin Stacye in Phoenix.  And we'll do it again.
Moochdockers Are Us.
Truth be told, we absolutely love moochdocking.  Just this past fall we moochdocked with family and TCM reader friends in Colorado, Wyoming, Idaho, California, Arizona, and New Mexico.
By bringing our own living quarters, we can stay with friends and family and not intrude on their space.  We can sleep in our own bed, make ourselves coffee and breakfast in the morning, and retreat to our camper whenever we want.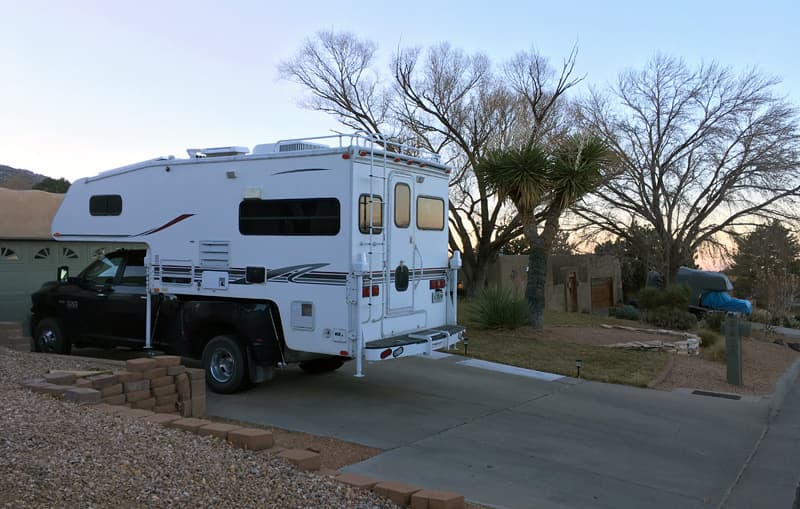 Above: Moochdocking with new TCM reader friends in Albuquerque.  Think we don't like moochdocking?  Invite us over and we'll prove it!
We also find we have a better time with friends and family when we're not concerned about where we're staying that evening, or intruding on our hosts.  It's especially great for our cat, Harley, who is much happier staying in our camper.  With our camper and cat comfortably in the driveway, we can relax and have a good time.  Moochdocking is the best.
Of course it's a good practice to let the homeowners know how long you're going to stay, and to contribute.  For example, you could make dinner one night, or take everyone out to dinner.  Additionally you could bring a bottle of wine or another gift from your travels.  Just like a dinner party, it's best to bring something to the occasion, and to participate in the experience.  You want to be invited back, right?
This week's Question of the Week is, "Do you moochdock with your truck camper?"
Perhaps you have another name for this practice like ground hounding, hut bumming, or lot loafing.  Whatever you call it, tell us if you driveway camp, and if it's an important part of your truck camping lifestyle.
We love moochdocking.  Do you?
This Question of the Week is now closed.  To read about readers who Moochdock camp, look at the article, Moochdock Camping With Family and Friends.