To escape the time-draining comfort traps of modern life, Jase and Lauri Stumph sold almost everything and hit the road full-time in an Airstream travel trailer and Hallmark pop-up truck camper.  Here's what they've learned from living their dream.

For some reason, many folks believe they can only own one type of RV.  For example, they'll own a fifth wheel trailer and then won't even consider the possibilities of adding a pop-up truck camper.  Once you pick an RV type, that's it – right?
Not just no, but heck no!  That's a bit like saying that people who own a Toyota Camry sedan can't also own a Harley Davidson motorcycle.  Other than both being transportation machines, they're apples and oranges with completely different utilities (not to mention fun potential).  That's why millions of people own both a car and a motorcycle.
Rumor has it you can also own two homes, two pets, and two DSLR cameras (thank goodness).  We are free people and we can own what we darn well please; in duplicate if we desire.  If you're not already, stand on the tallest nearby piece of furniture, tear off your shirt and yell out, "I can own two kinds of RVs if I want to!"
Feel better now?  Good.  Now get down before somebody sees you.
Jase and Lauri Stumph had a somewhat different epiphany that led them to a similar conclusion.  After twelve years of home ownership, they realized that they wanted a bigger and more social lifestyle.  They discovered that the memories their stuff represented were more important than the stuff itself.  And then, most likely with their shirts on, they decided to do something about it.
Jase and Lauri bought an Airstream, sold their house, and liquidated most of their stuff.  They hit the road full-time, exploring the National Parks and meeting wonderful new friends.  Everything worked out great – except for one thing.  They wanted to go further; further off the beaten path, further in distance, further into their dream lifestyle.
Adding a pop-up Hallmark truck camper was just the ticket.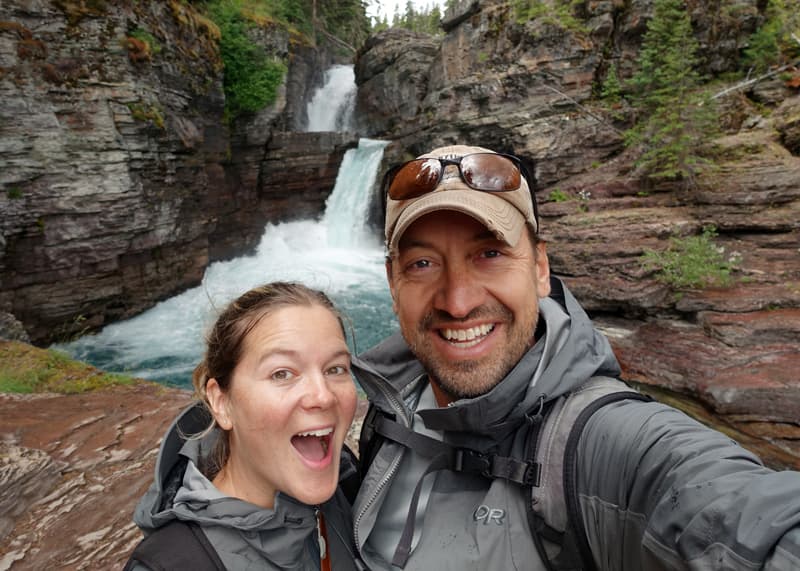 Above: Lauri and Jase in Glacier National Park, Montana
TCM: Tell us about your camping experiences and lifestyle over the years.
Jase: I grew up in northern Wisconsin, so there was no need to go camping because we already lived in the woods.  Over the years, Lauri and I have had quite the collection of tents and camping gear.  We always preferred backcountry camping and took time to go on weekend camping trips during our regular life.  We also tent camped during extended family gatherings, surrounded by our family in their RVs.
Lauri: Growing up in Minnesota, my summers were spent tent camping.  Later my family had a Coleman pop-up camper.
In November of 2013, we looked at everything the local RV dealership had; Tab trailers, A-liners, and even fifth wheels.  That February we went to a RV show, saw an Airstream, and loved it.  We couldn't afford a new one, but the Airstream dealer had a used one coming in.  We put money down on the used Airstream without even seeing it.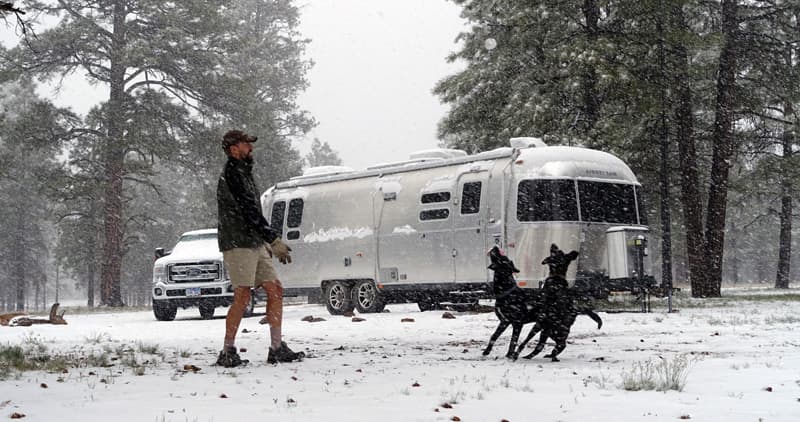 Jase: We got the Airstream in April of 2014 when it came out of winter storage.  We finished projects on the house and got it ready to sell.  At first we thought we would rent it, but honestly I dreaded the idea of renters calling me for help in the middle of the night.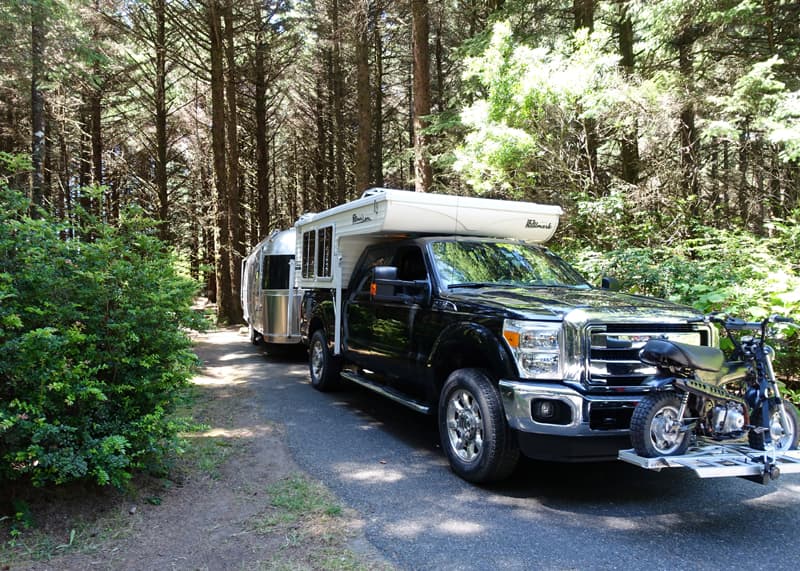 Above: Camping at Cape Blanco with their Airstream and Hallmark
TCM: So how did you get into truck camping?
Jase: After living in our Airstream full-time for almost two years, we headed up to northern California and southern Oregon where there is limited boondocking along with smaller campgrounds and campsites.  We felt a bit oversized in the Airstream.
We also had the plan in the back of our minds to explore Baja, Mexico for a few months and we knew we would want something smaller so we could get to the good stuff.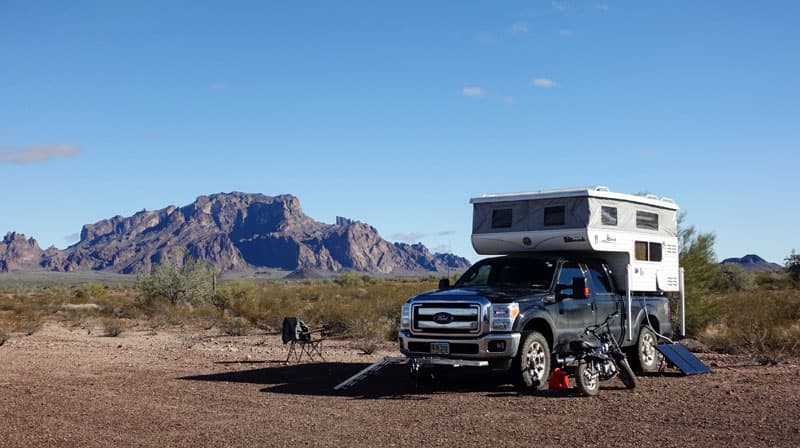 Above: Boondocking in Quartzsite, Arizona
At the time we were throwing around the idea of a van, but we didn't want two engines, two registrations, two insurance payments, etc.  Then we were able to get a peek at our friends, Dan and Marlene's new truck camper back in December 2015.  We also looked at some truck camper options at the Overland Expo in Flagstaff in 2016.  After the van idea was off the table, we started looking for a truck camper.
We never really gave any consideration to a hard side truck camper because they were just too heavy.  We have always been very mindful of payload and axle weights and a pop-up truck camper fit the bill.
We wanted something as light as we could get and fully self-contained.  The camper needed to fit inside the back of the truck just in case we had to tow the Airstream with the truck camper loaded.  After research, we had our minds set on a Hallmark.
TCM: What do you do with the Airstream when you're not using it, and vice-versa?
Lauri: We have stored the Airstream and gone off in the Hallmark for a few months.  When we went back to see family in Minnesota this past summer, we did not want to tow the Airstream, so we just took the camper.  When we go to Baja we will leave our Airstream here at the RV park, since our site is paid for, for the year.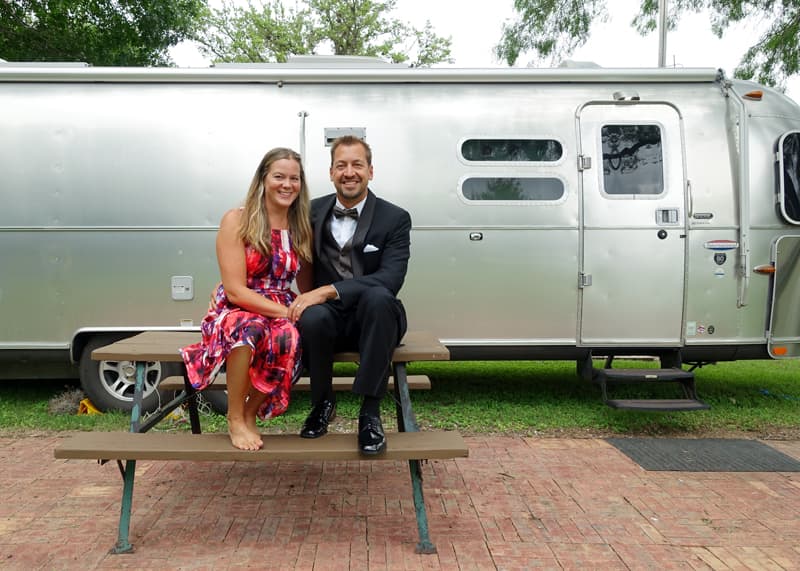 Above: Lauri and Jase with their Airstream in San Antonio, Texas
Jase: The Airstream is just too big sometimes.  You wouldn't think 240 square feet was too big, but it can be.  Outside of Yosemite we couldn't boondock with the Airstream because it had rained and was too muddy.  The truck camper would have been perfectly fine.
Part of getting the Hallmark Milner is that we can bring along both the Airstream and Hallmark if we have to, but we only do that when it's absolutely necessary.  We've done it twice; once when we put our Airstream into storage for the summer, and once when we went from Oregon to our winter site in Arizona.
We will likely spend most winters in the southwest, so we'll probably just store either the Airstream or the Hallmark down there, and grab the RV we want when we need it.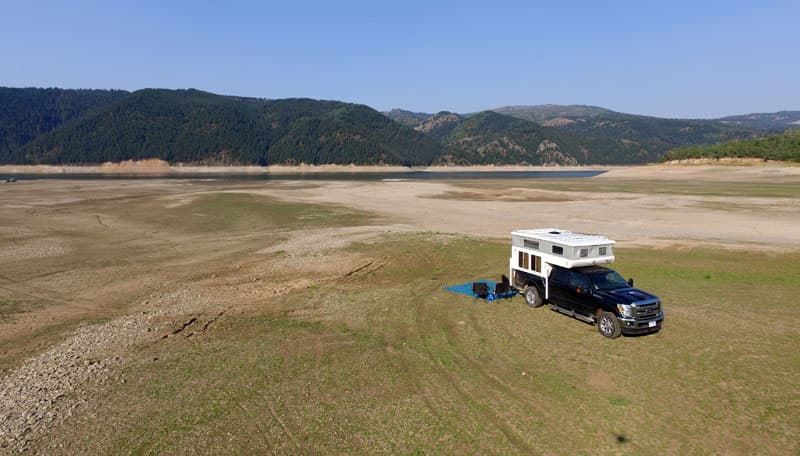 Above: Palisades Reservoir, Idaho
TCM: When and how did you make the decision to go full-time on the road?
Jase: When Lauri finished grad school we did a lot of soul searching.  You grow when you are out of your comfort zone.
The hardest part of moving into our rig was selling our stuff.  If you're not careful, you become your things.  We realized that when you lose your things, you still have your memories.  Once we mentally separated our memories from our stuff, we were okay with it.
Moving was a long process.  At my parent's house we have four bins of old photos and memorabilia.  My tools are also there so my dad and brother can use them.  Everything we own can fit into a 5×5 storage unit.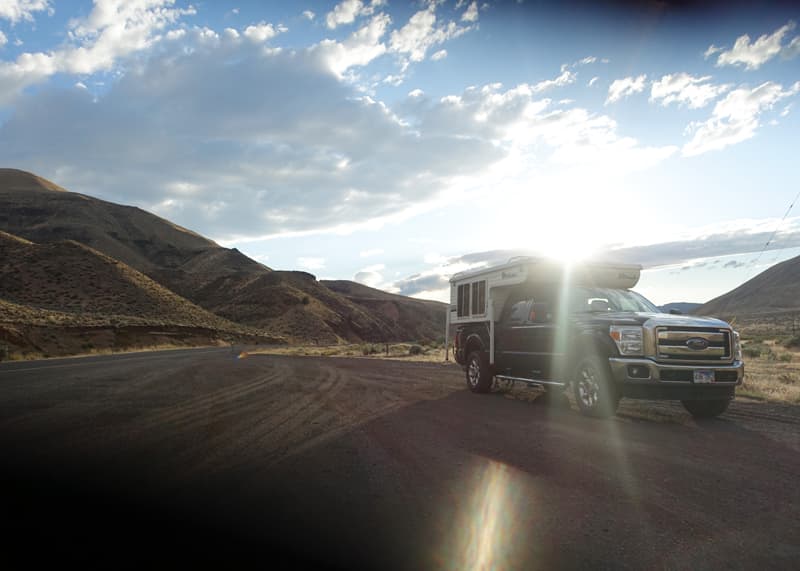 Above: Traveling through eastern Oregon with their Hallmark Milner
Lauri and I have always been the traveling kind even though our families like to stay close to home.  Lauri and I were both in the military, so we have traveled all over the world.  I have been to more countries than states and Lauri is close.  People kind of expect traveling out of us.
We initially dealt with skepticism from our friends and family.  We are like brand ambassadors for a lifestyle that scares the heck out of people.
We are not traveling every day like traditional full-timers.  Lauri is an occupational therapist, so we stop for a few months in the winter when she gets medical contracts.  We say we have a work season and travel season.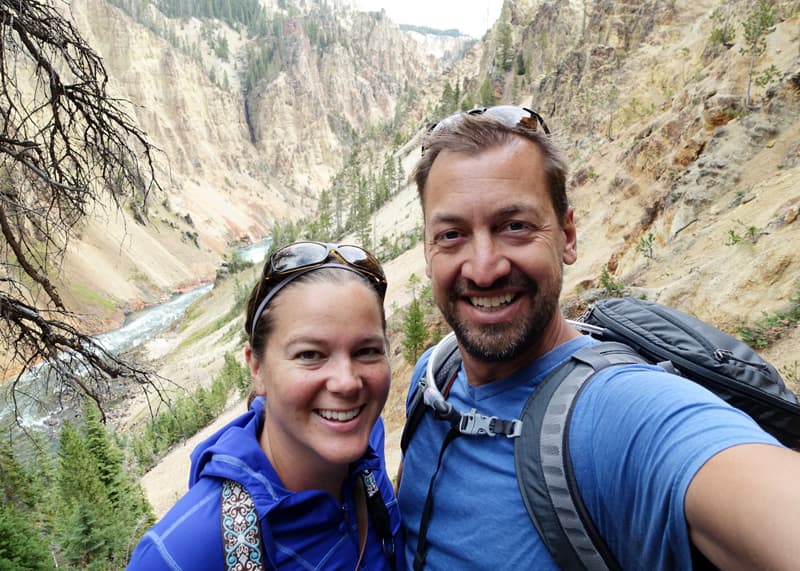 Above: Lauri and Jase in Yellowstone National Park, Wyoming
Lauri: As full-time RVers, we use South Dakota as our permanent address.  We have a mailbox there and our car insurance is based on that rural address, which gets us good rates.  Our health insurance is through the military since Jase is retired military.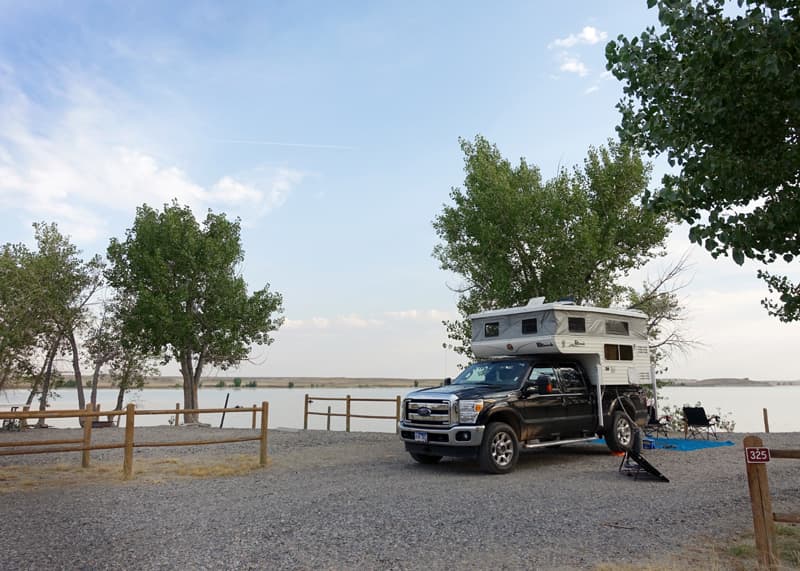 Above: At a campground in Wyoming
TCM: How is living in an RV different than being in a house?
Lauri: Right now we're in the same spot every day because I am working.  When we leave here, we'll be doing something different every day.  We aren't good at staying in the same place for a long time.  We know what we want to see.  We go on hikes and get out of the camper as much as possible.
Jase: When we're on the road, we meet up with friends if they're nearby.   Being on the road makes that convenient.  The RVers we have met on Instagram are like-minded people.
We met Brian and Lea who run Campendium.  They are good friends of ours.  We use Campendium to find campsites in rough areas.  You can read the reviews and then check into their blogs if they stayed for a while.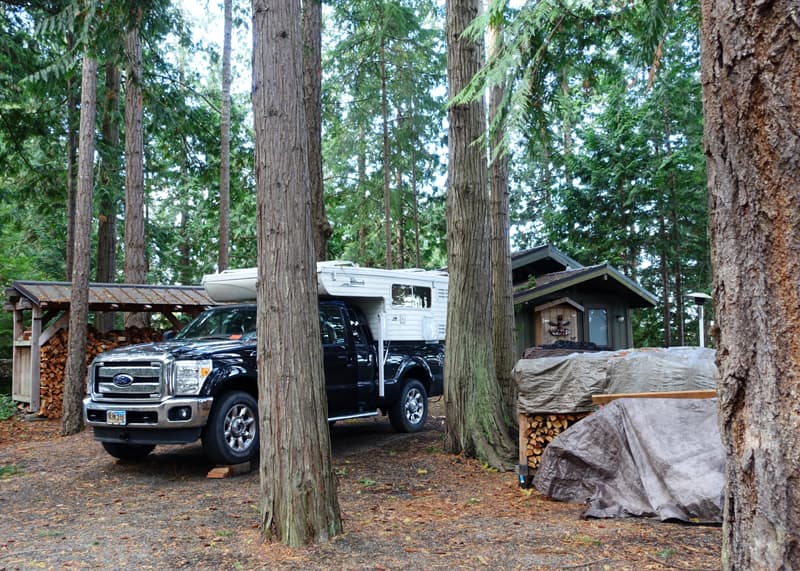 Above: Moochdocking in the San Juan Islands, Washington
TCM: One of your pictures on Instagram was labeled, Moochdocking.  What's that?
Lauri: It means that we are staying in a friend's or family's driveway.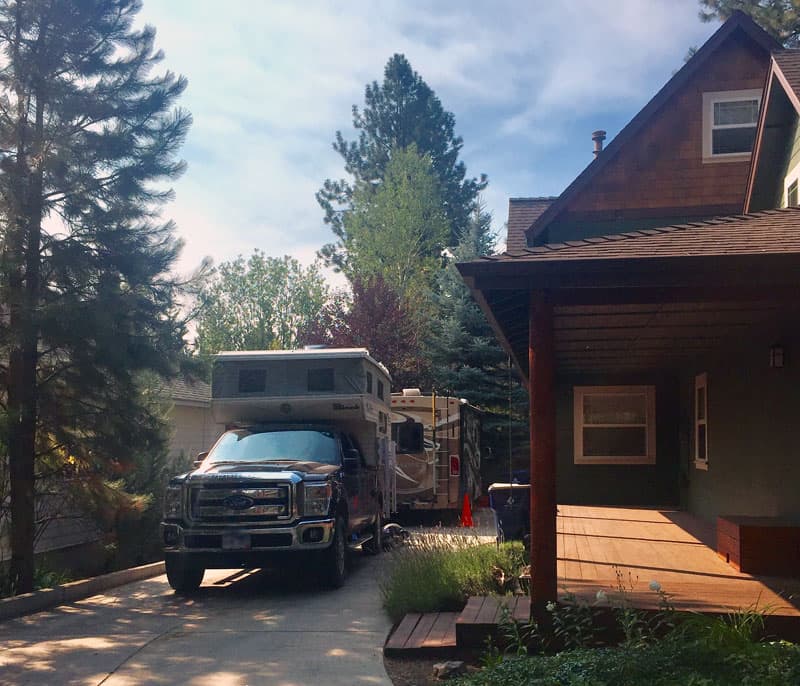 Above: Moochdocking in friend's driveway
Jase: We are moochdocking because we may use their washer and dryer, get packages sent to us, and use their hot water.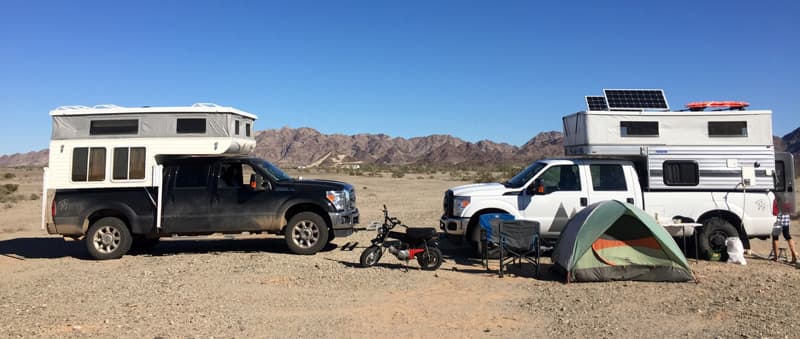 Above: Camping with their friends, Dan and Marlene
TCM: That's funny.  We do that all the time.  I guess we're Moochdockers, too.  Tell us about meeting friends on the road.
Jase: We're more social on the road than we ever were in our house.  We laugh because we spent twelve years living in a house in Minneapolis, and we had good friends that we barely saw.  You get too comfortable in your house.  You never want to leave if you get too comfortable.
In this lifestyle, we have found people with the same interests.  Even if we're a few hours apart, we'll make the effort to meet up with friends on the road.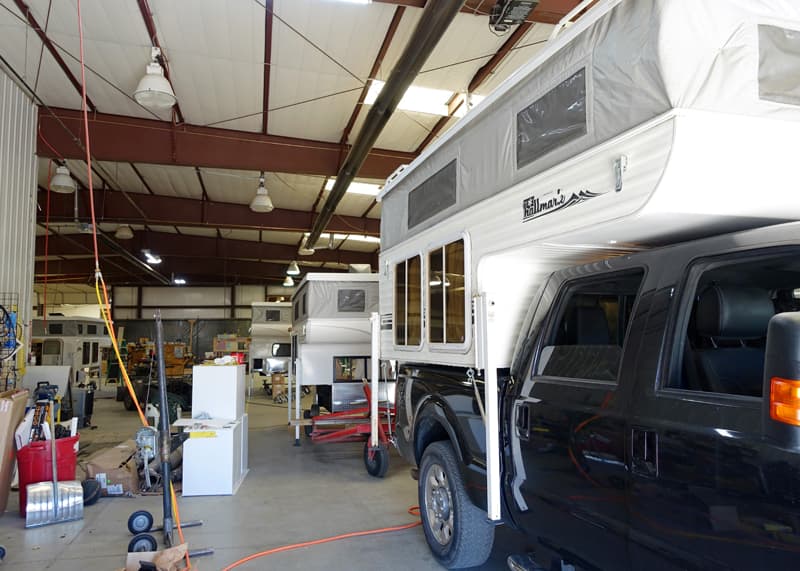 TCM: You have an older Hallmark, but you have a picture of your camper at the factory.  Did you stop by there or did you buy a used camper from them?
Jase: Lauri had done a lot of truck camper research and was impressed by Hallmark, but their campers were beyond our budget.  Then Lauri found the used Hallmark camper in Laramie, Wyoming.
We drove from Cape Blanco State Park in Oregon, looked at it, and thought it was good.  I did notice that there was a front corner that was damaged and the roof hadn't been sealed.  Otherwise it seemed solid, but I wondered if I had missed anything.
We were going to back to Minnesota to see family, so we decided to visit the Hallmark factory in Colorado.  It was there that we met Bill Ward.  He told us about Truck Camper Magazine.  That was when I started tagging you on my truck camper Instagram photos.
Even though we have a used camper, Hallmark was great helping us out and answering questions.  Andy Ward went through the camper and answered a bunch of my questions.  He worked on some things and told me how to fix things.  We left with a clean bill of health and the knowledge that we have a solid camper.  We highly recommend Hallmark.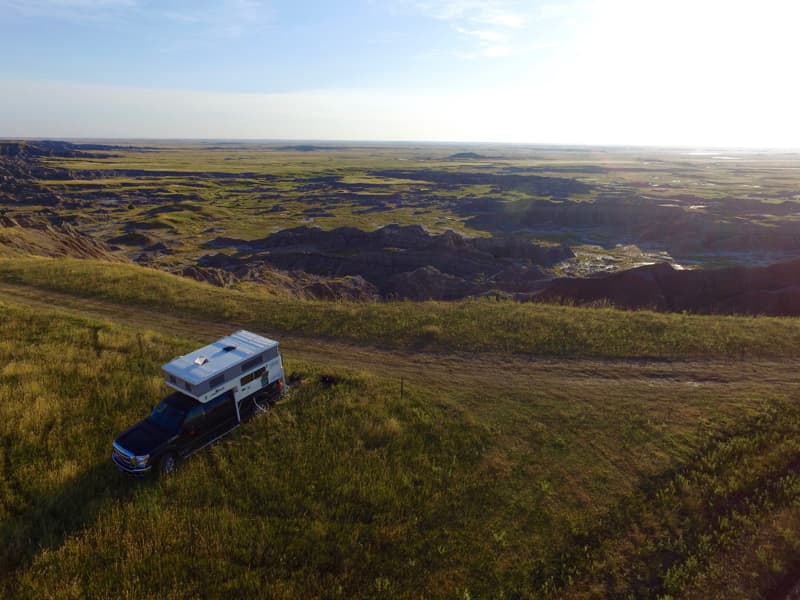 Above: Drone photo showing their rig in South Dakota
TCM: We have been to Hallmark's factory many times over the years and have always seen them take excellent care of their customers.  What do you enjoy doing while truck camping?
Jase: We both love hiking and generally base our travels around visiting National Parks.  Lauri enjoys photography and I enjoy drone photography, but not in the National Parks of course.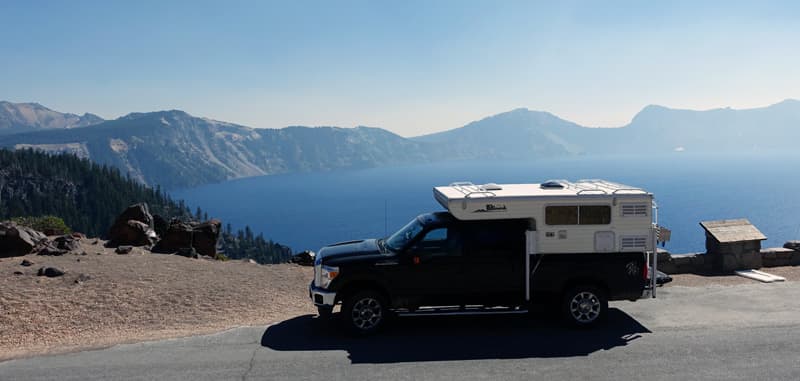 Above: Crater Lake National Park, Oregon
Aside from National Parks guiding our journey, we often make sure our paths cross with friends.  And, even though it puts a dent in our budget, we both really enjoy visiting breweries.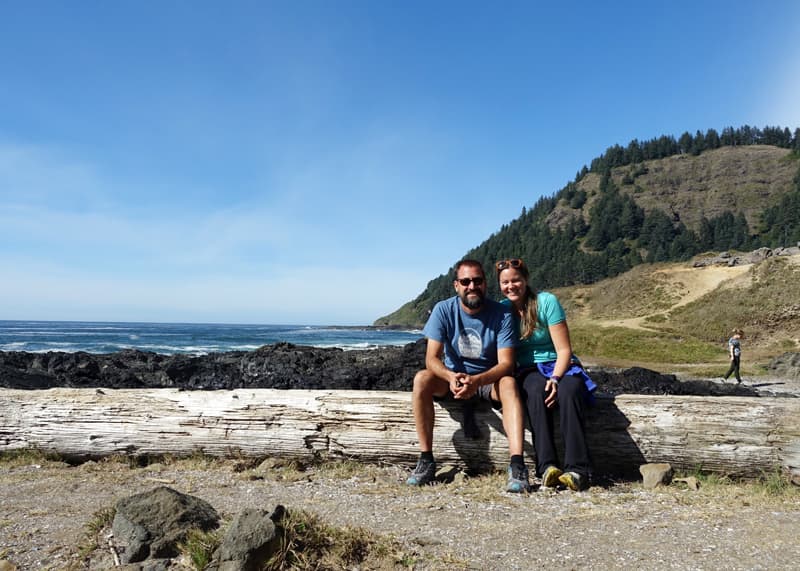 Above: Cape Perpetua, central Oregon coast
TCM: If you like breweries, you might enjoy Harvest Hosts; a free campsite business owned by fellow truck campers.  Do you document your trips for others to follow you?
Lauri: We are Harvest Hosts members.  It's great.
We document our trips on Instagram.  Jase and I both have Instagram accounts Wanderwasi and Wanderwasi_him.  We have a blog, but we haven't updated it for a year, even though I'd like to.
Jase: We have seen people who are great at blogging and they get sponsorships, but then they have a personal brand.  The blog and sponsorships become a ball and chain.  It limits them.  I post things that are interesting to me and it helps me find like-minded friends.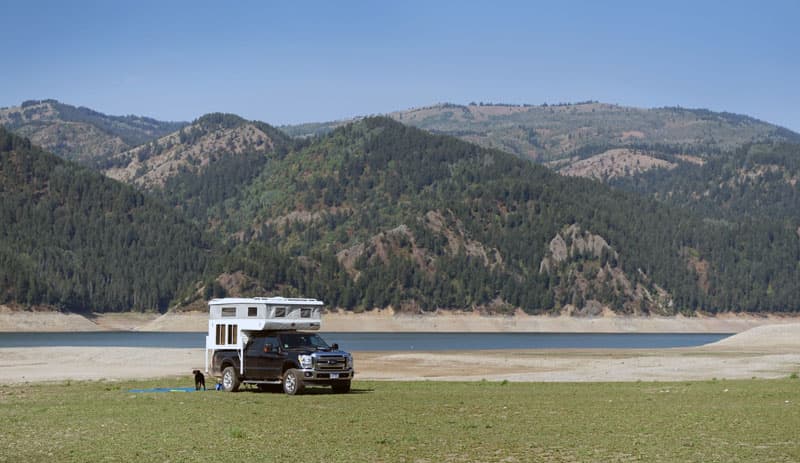 Above: Boondocking in Palisades Reservoir, Idaho
TCM: Have you ever considered exclusively living in the truck camper full-time?
Lauri: I couldn't live in our pop-up truck camper full time.  Our Hallmark does not have a bathroom.  I did travel in it for four months.  It's good for long distances to meet up with friends or family, but not full-time living.
Above: Before the interior redesign
Above: After the interior redesign
Jase: We put a lot of sweat equity into both RVs, which made both purchases very affordable.  The Airstream is great for convenience traveling, and the truck camper is great for camping in remote locations, like the southwest and Baja.  Everywhere we go, we have something we love.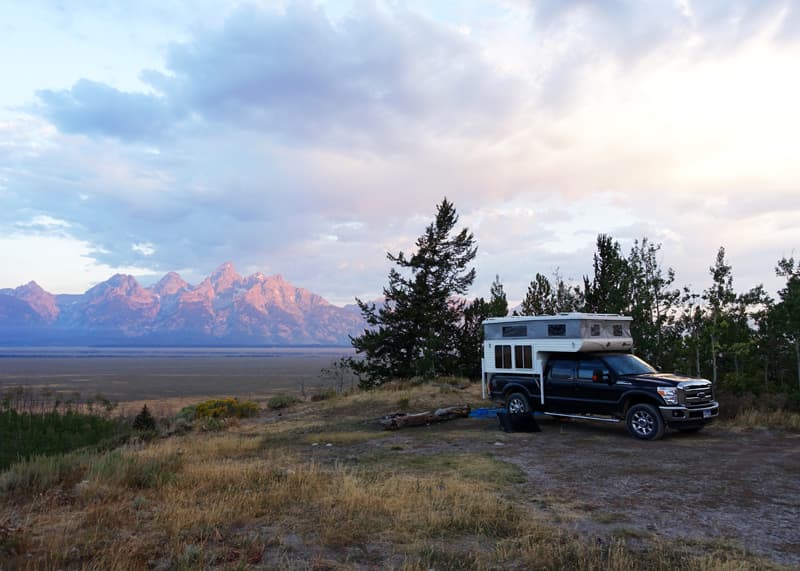 Above: Camping near the Grand Tetons, Wyoming
TCM: Do you go dry camping with your truck camper?
Jase: This summer we spent time in the Pacific Northwest with the Hallmark.  Unfortunately, there's not a lot of boondocking available in that area.  We were happy to save money with the non-hookup sites when they were available.
We've spent weeks off-grid in the Airstream before and look forward to exploring with the truck camper the same way.  Right now we are planning our trip to Baja in March to be primarily off-grid.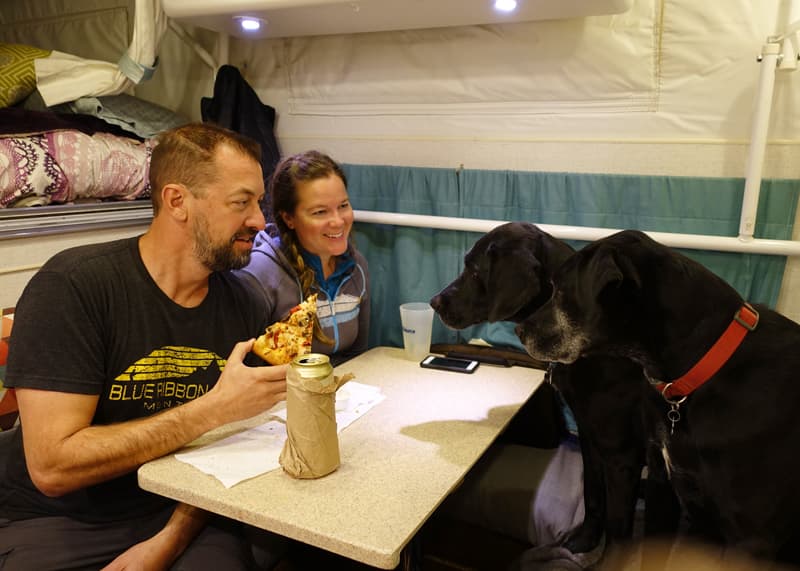 TCM: Tell us about truck camping with your dogs.
Jase: We have two 60-pound black lab mixes who travel with us.  We usually have the dinette in the down position so they have a place to stretch out.  They love the outdoors so they have no issues with being outside.  It can get a bit cramped when we're inside on a rainy day, but we all just have to deal with it.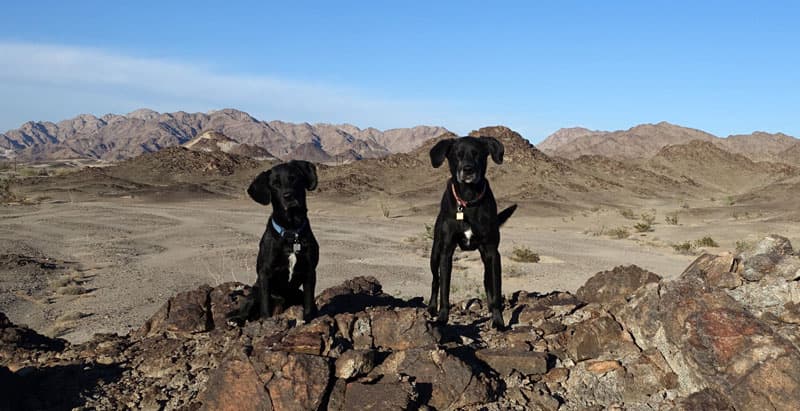 TCM: Rainy days in a camper are tough.  That's why some folks love their multi-slide sofa campers.  What are your truck camping plans for the future?
Jase: Our big plan is to be in Baja this Spring.  We have no plans yet as to where we are headed in Baja, which is our typical travel pattern.
We hope the whales are still around so we can take a swim with them; a bucket list item.  We plan to eat plenty of fish tacos, enjoy lots of beach time, and just explore what we can find off the beaten path.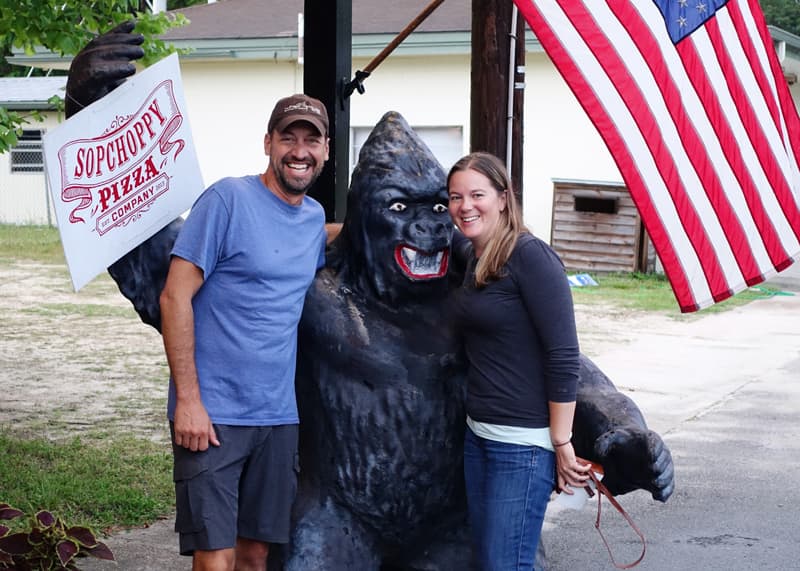 TCM: Do you plan on living on the road full-time indefinitely?
Jase: Yes.  In fact, if we were independently wealthy, I would love to live on a sailboat.
In the meantime, we are taking in the experiences.  We bounce around to different spots until we find a place we absolutely love.  The United States is amazing in that it seems like every 200 miles you are in a different geography.
We would love to buy some acreage and leave it undeveloped.  Maybe at some point, we would put it in a container home that's 500 square feet.  Something small would be ideal.  Going back to a 1,000-square-foot home seems like overkill.  This lifestyle isn't for everyone, but it's great for us.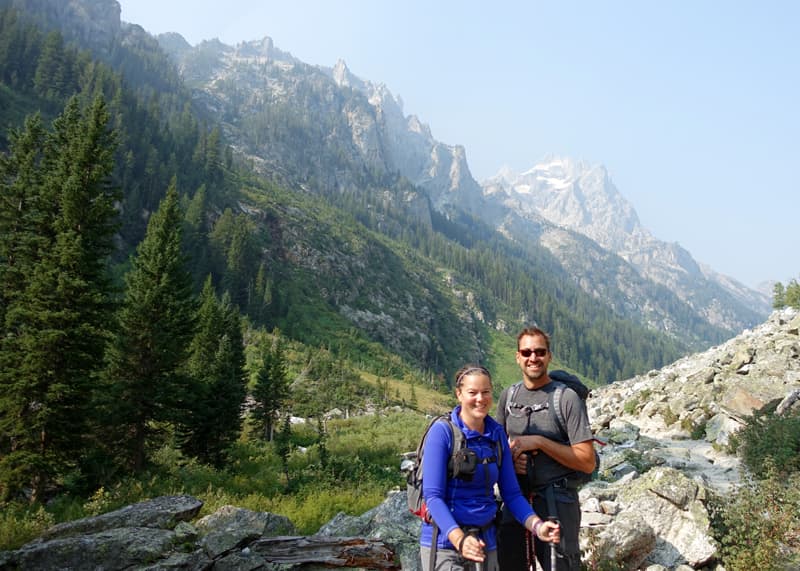 Lauri: I don't miss anything about being in a home.  I don't have to clean a whole house.  We have more time to do stuff, because we don't have to garden, mow a lawn, or shovel snow.  We have more time to do other things.
Jase: We are more mindful of things.  I was a coffee geek with a super espresso maker, and now we hand grind coffee.  We purposefully do it.  It smells better to make coffee on the stove top.  We have woken up from modern life.  Why did we have two huge HD-televisions for two adults?
Now we appreciate the stuff we have much more.  We still have a Costco membership for dog food, but we don't have room for anything else from Costco in the trailer or camper.  We actively think more about owning things.
Lauri: We have to have a discussion to get a new spatula because it takes up room.
Jase: That's because we want everything we have in the camper to be efficient and have two purposes.  We enjoy our truck camper because we are self-sufficient.  We have the choice to do things including Harvest Hosts camping, or we can be out in the middle of nowhere.
Jase and Lauri's Rig
Truck: 2014 Ford F-250, Crew Cab, 4×4, Gas, Single Rear Wheel, Short Bed
Camper: 2005 Hallmark Milner
Turnbuckles/Tie-Downs: Happijac turnbuckles
Suspension: AirLift LoadLifter Airbags