For Behind the Shot Part 9, we are featuring photos and stories from the Grand Teton National Park, Top of the World Highway, Bonneville Salt Flats, Utah, and more!  Click here to participate in the 2024 Truck Camper Magazine Calendar Contest and be considered for a Behind the Shot feature.
Forrest Renslow
Grand Teton National Park, Wyoming
2017 Ford F350
2021 Northern Lite 9″6″ Limited Edition
Camera Used – Samsung Galaxy 10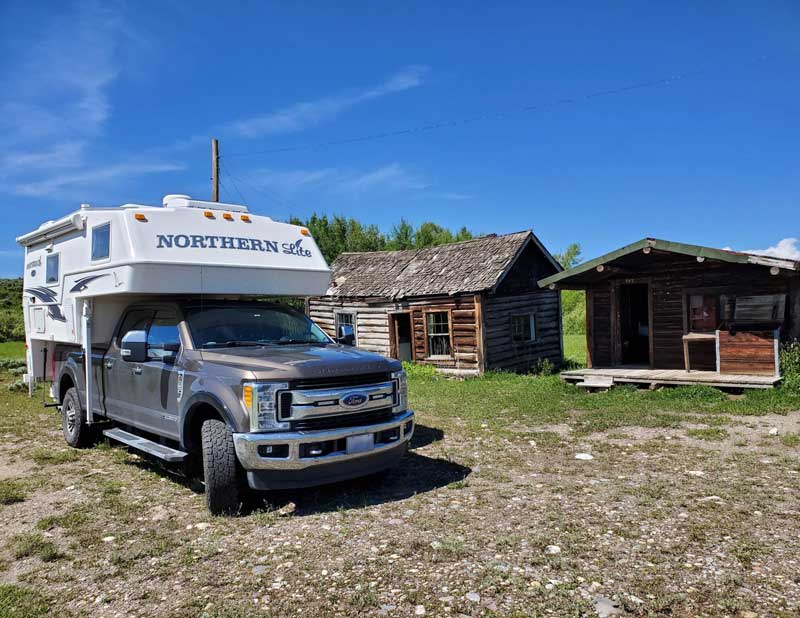 We had seen a herd of elk and were trying to get a closer look at them. I found a small side road leading to them and came upon an old defunct "dude ranch" and thought it was kind of cool.
Mark Motsko
Top of the World Highway, Yukon Territory
2016 Chevrolet Silverado 3500
2016 Bigfoot 1500
Camera Used – iPhone 13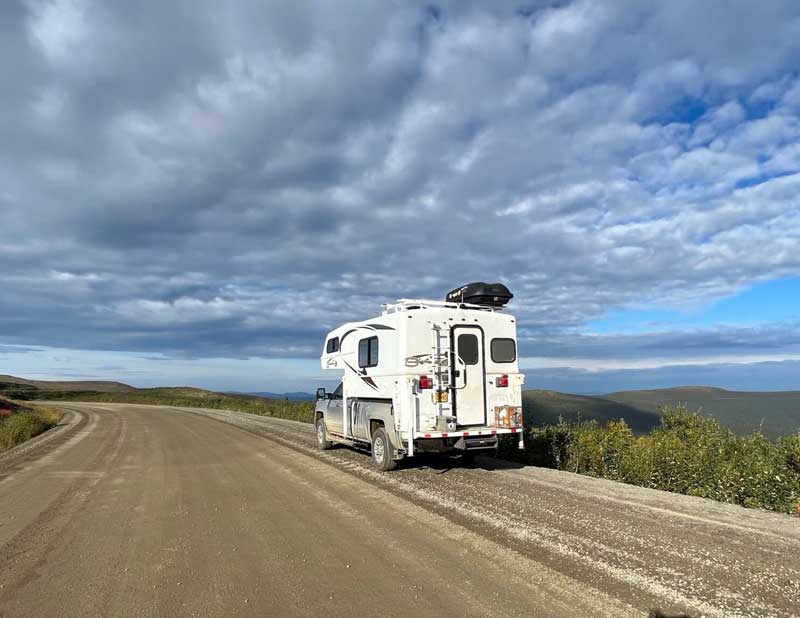 After leaving historic Dawson City in the Yukon Territory, we crossed the Yukon River on the George Black ferry and traveled west on the Top of the World Highway. Rain clouds were dissipating and the morning sun lit up the sky.
Tom Smith
Rio Grande River, Creede, Colorado
2016 Toyota Tundra
2023 Palomino SS-550
Camera Used – iPhone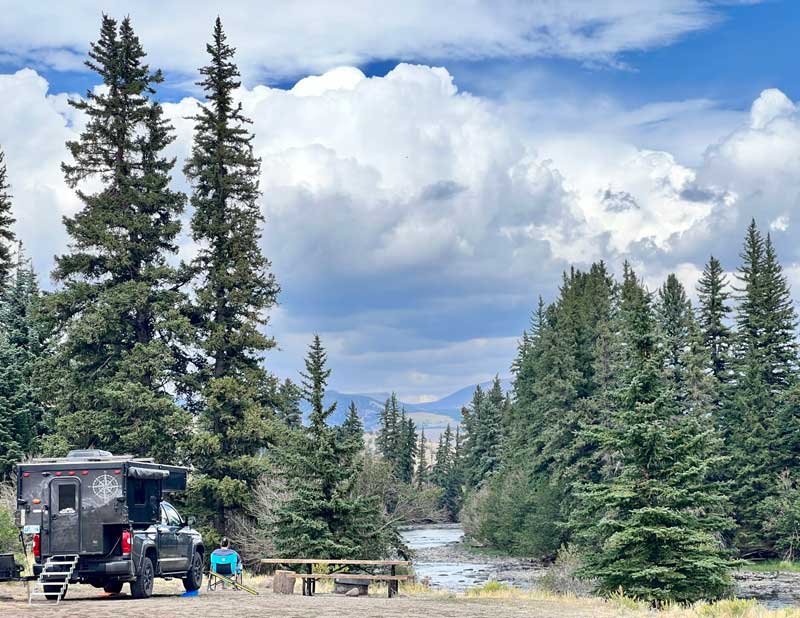 We wanted an isolated spot along the river to allow for easy access to do some fly-fishing. We found this spot on the river at the Rio Grande campground. It was off by itself and provided easy access and a great view. As I was walking back to the camper after wandering up the river, I saw my wife just sitting outside relaxing and taking in the views, which we tend to do a lot in our camper.
Jon Lafferty
Seneca Lake, New York
2021 Chevy 3500
2020 Cirrus 820
Camera Used – iPhone 14 Pro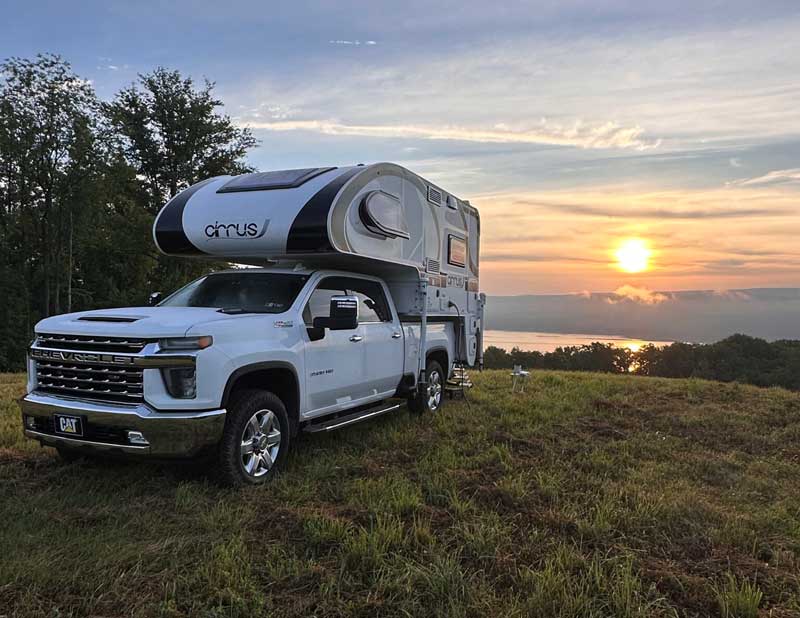 We were camping using Harvest Hosts staying at wineries around the Finger Lakes in New York.
William Hibbard
Somerset Airfield, Stratton, Vermont
2018 RAM 3500
2022 Northern-Lite 10.2 EXCD LE
Camera Used – Canon EOS RP, 15-35mm f2.8 Lens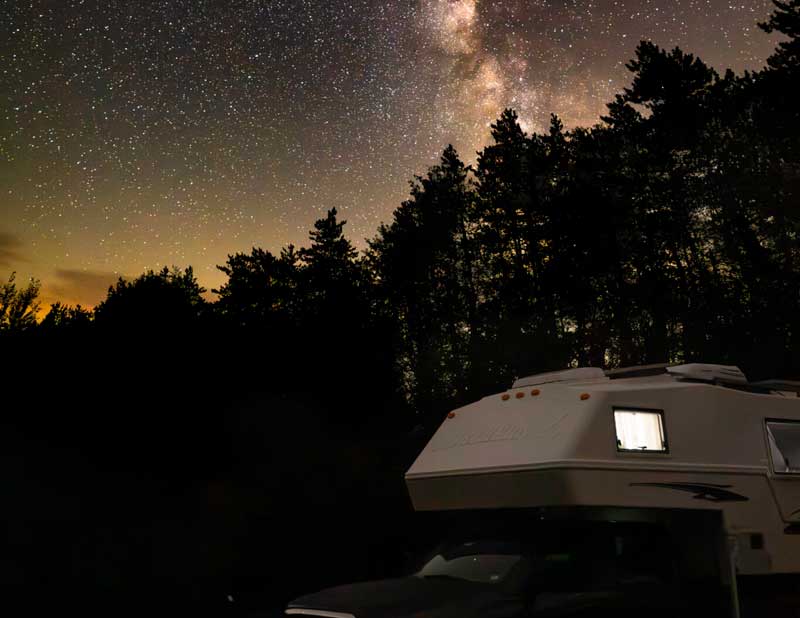 Such a beautiful spot for boondocking and very dark skies. There were wide open spaces, fire rings, and a pit toilet. The forest service allows you to stay for 14 days free. Our plan was to stay there for the 14 days. Little did we know that on our seventh day, our world would end.
The morning of our 7th day we decided to dump our tanks and get fresh water at Woodford State Park and then drive into Bennington for some provisions. Once we had our provisions we headed back to our campsite. While on RT 279 we were struck by a vehicle that crossed the center lane and hit us head-on. It totaled our truck and camper and destroyed our dreams of touring the country. We were 16 months into this dream and have seen so many beautiful places. Unfortunately, we did not have a plan "B", naive to the fact we might get in an accident. So for now we are thankful for having survived and taking life 1 day at a time.
Anne Marie Lewis
Mt. Shuksan, North Cascades, Washington
2013 GMC Sierra 3500
2013 Eagle Cap 850
Camera Used – Canon 5D Mark ii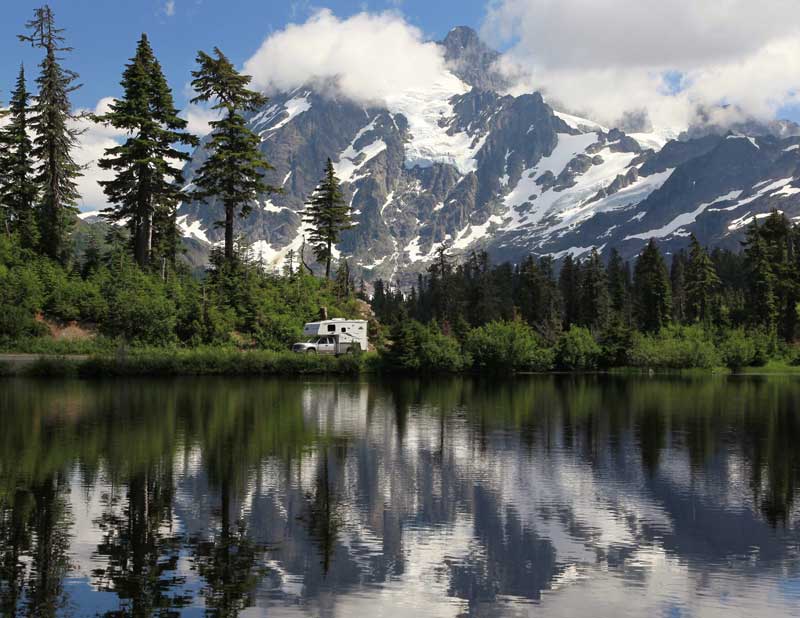 We were boondocking nearby and had driven up into the North Cascade Mountains each day for several days in July. It was very cold with deep snow lingering on our hiking trails at the higher elevations. Every time we drove by this lake, Mt. Shuksan was shrouded in clouds. But on the third day, a brief period of the sun revealed Shuksan's summit and the glaciers spilling down its flanks. I rushed to the opposite side of this small lake to get the shot.
Dominique Martin
House Rock Valley Road, Arizona
2022 Ford F-150
2022 Scout Yoho
Camera Used – iPhone SE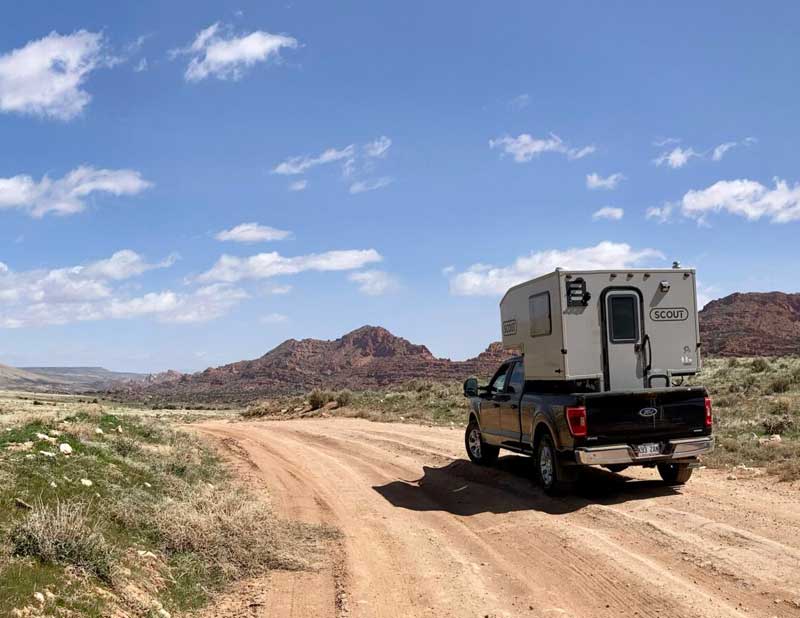 Exiting from White Pocket, Arizona, northbound to Wire Pass Trail, Utah. On this dusty and deserted road, we felt like the first settlers in the wagons, discovering these breathtaking landscapes.
Will Hoad
Capitol Reef National Park, Utah
2001 Ford F350
1991 Skamper Pop Up
Camera Used – iPhone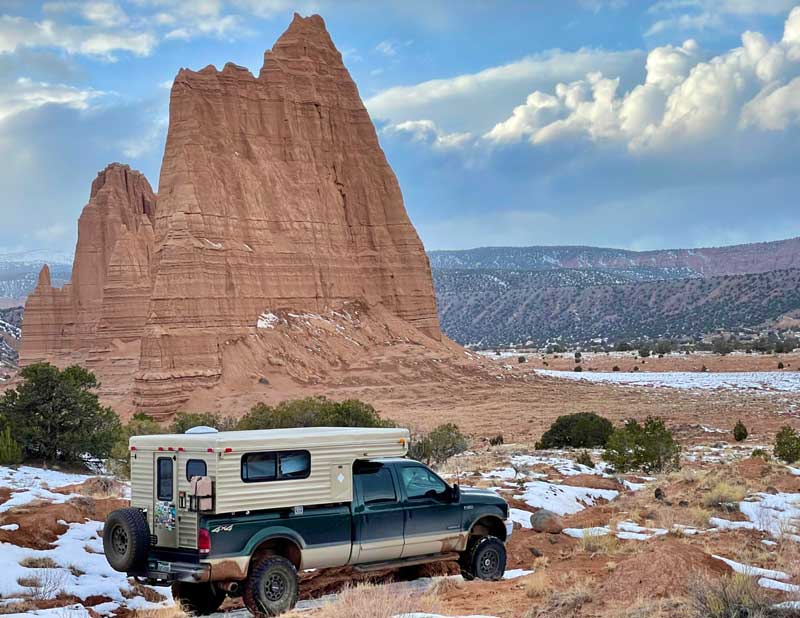 This was midway through the Cathedral Valley Loop trail going in and out of Capitol Reef National Park. We had just passed through a snowstorm and made it down switchbacks that had a bit more standing snow than we expected. After making it down and out of the storm this was a beautiful site to see.
Nick Gray
Naches, Washington
1984 K5 Blazer
1976 Chalet Camper made by Chinook for the K5
Camera Used – iPhone 11 Pro Max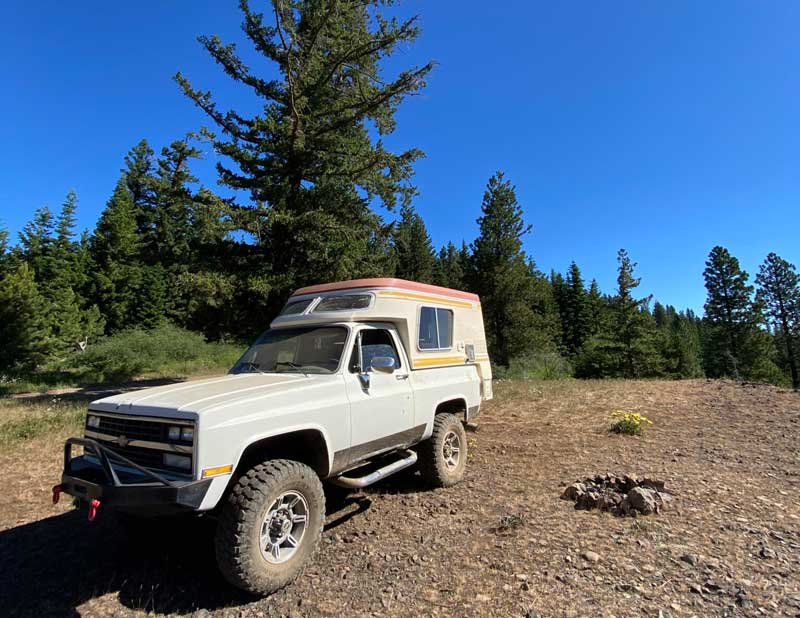 This was my first trip up in the mountains with my K5 after doing a ton of work on it. It was able to handle a ton of 4 wheel drive trails and take me all over the mountain. I watched all the crazy-built rigs crawl at funny/moon rocks up at Naches, Washington.
Laura Romine
Bear Lake in Utah and Idaho
2013 Ram 1500
2023 Tufport T76
Camera Used – iPhone 14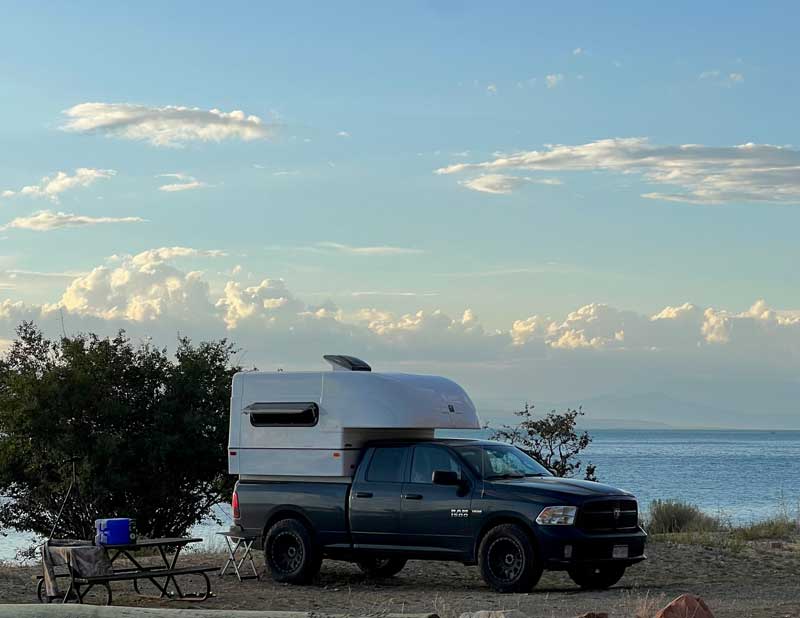 I took this photo at Bear Lake which is a lake half in Utah, half in Idaho. We were on our way back to California from the Tetons and were praying there would be a spot at this campground. It's first come, first serve and we had a hell of a time trying to find camping in the Tetons and just wanted some peace. We were delighted there was almost no one there and we got a nice swim in the lake. We had also just gotten the camper and this was our first trip in it before building it out to live in full-time!
Scott Schilling
Uinta Range of Utah
2017 Ford F-250
2017 Cirrus 820
Camera Used – iPhone 14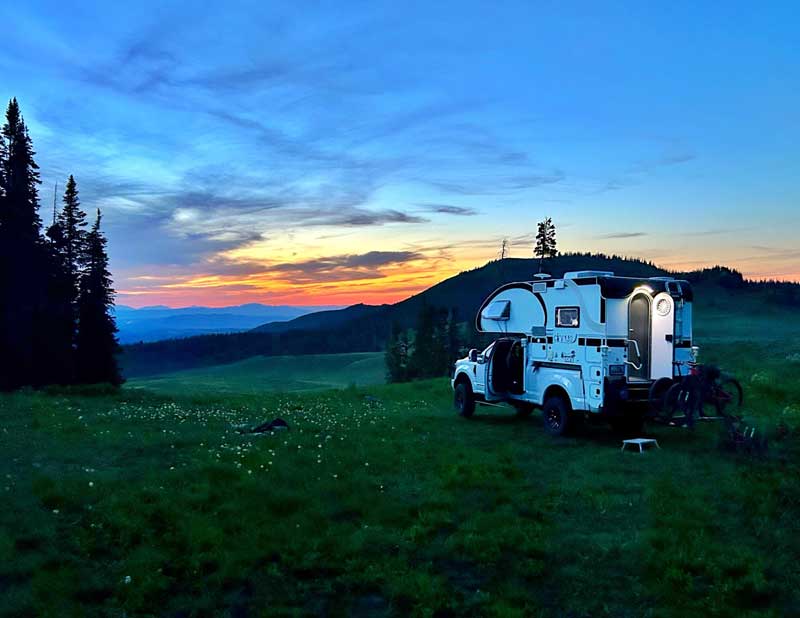 We found this campsite along a 4×4 road up at a high elevation in the Uinta Range of Utah. The views make it feel like the top of the world and we were treated to a fantastic sunset.
Josh Gould
Prince Edward Island
2021 Ford F250
2023 Scout Kenai
Camera Used – iPhone 13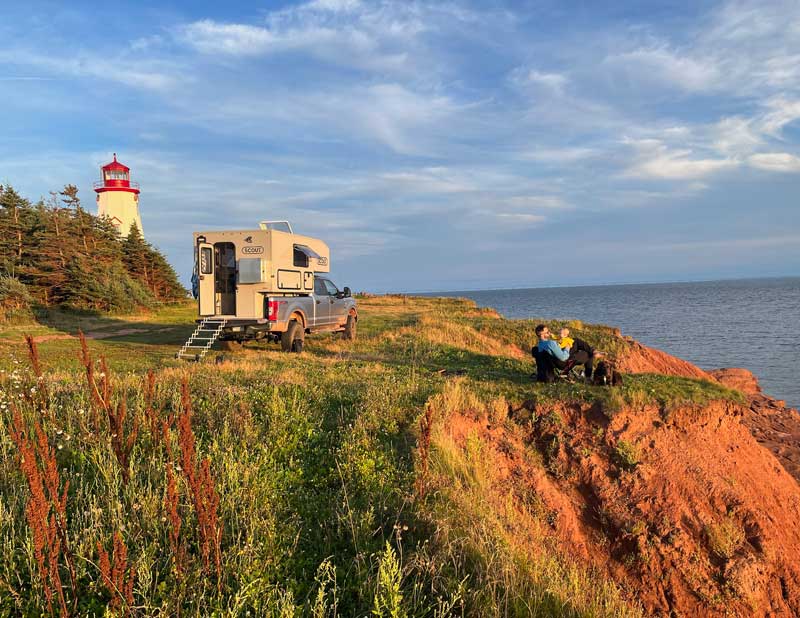 This picture was taken our last night on PEI after a week of challenging weather. After a fun day in Charlottetown, we found this serene place on the cliffs next to Seacow Lighthouse. The sunset was perfect for photographs of this epic location.
Zachary Robinson
Bonneville Salt Flats, Utah
1997 Ford F350
1997 Bigfoot 2500 9.6B
Camera Used – Phone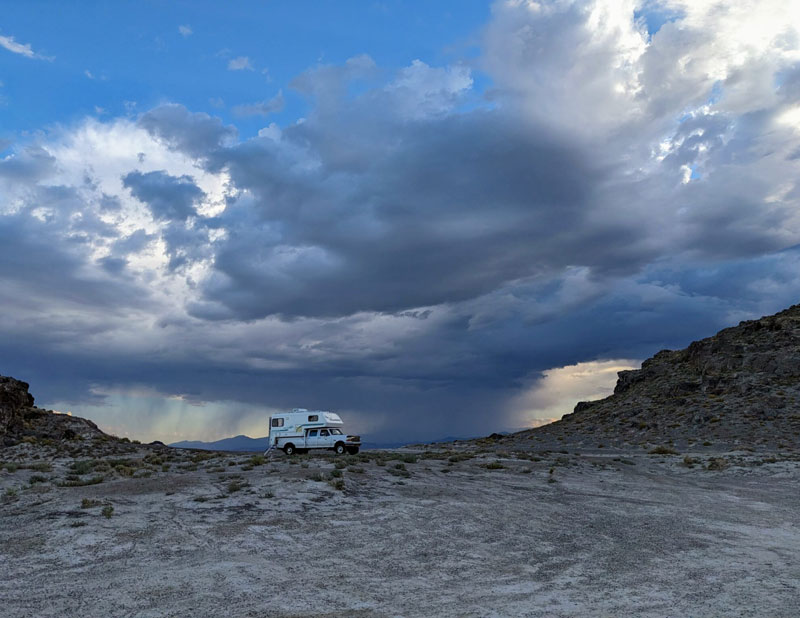 After exploring the Dinosaur National Monument on the Utah/Colorado border we drove west (on our way back to Oregon) and ended up staying on BLM land bordering the western edge of the Bonneville Salt Flats. Whenever possible, we boondock and rarely stay in a campground.
Upon arrival, we had 50+ mph winds coming from the north so I oriented the truck to face into the wind so it wouldn't rock side to side. After enjoying my daughter's favorite camping dinner (grilled cheese sandwiches and tomato soup) we went outside to watch the thunderstorms coming in from the west. I grabbed a few photos of the camper. Luckily the storms passed us to the south so we were able to enjoy the view without being blasted with lightning.
Click here to see all of the photos entered so far in the 2024 TCM Calendar Contest.  Enter your truck camper photos today!