For Behind the Shot Part 8, we are featuring photos and stories from the Denali Highway, Devils Tower, Salmon Glacier, and more!  Click here to participate in the 2024 Truck Camper Magazine Calendar Contest and be considered for a Behind the Shot feature.
Evan Page
Devils Tower, Wyoming
2020 Ford F350
2022 Lance 855S
Camera Used – Samsung S21 ultra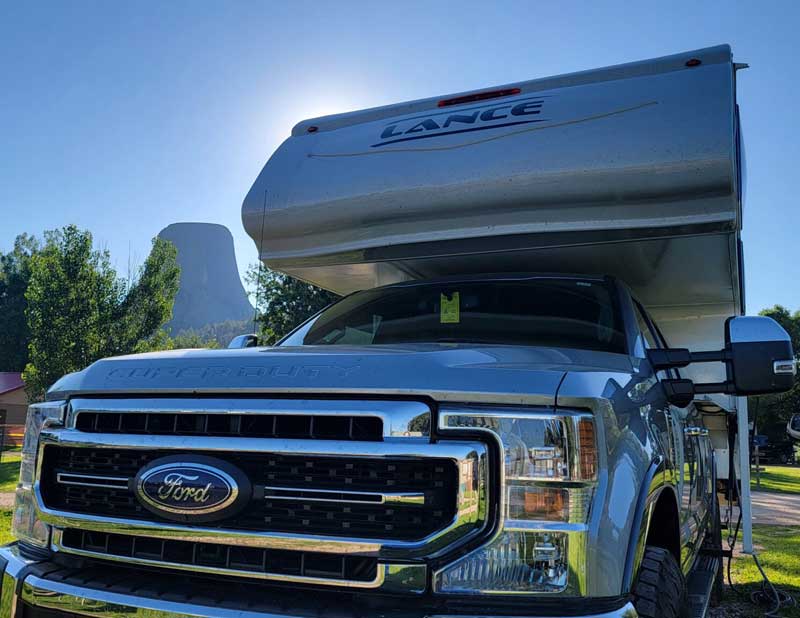 This photo is from my 2400-mile trip from Utah to Martin's Cove, Devils Tower, Jewel Cave, Mt. Rushmore, Battle of Little Bighorn Memorial, Glacier, Yellowstone, and Grand Tetons.
Pat Eastes
Chilcoot Lake, Alaska
2019 Chevy 2500
2021 Wolf Creek
Camera Used – Canon G3x Powershot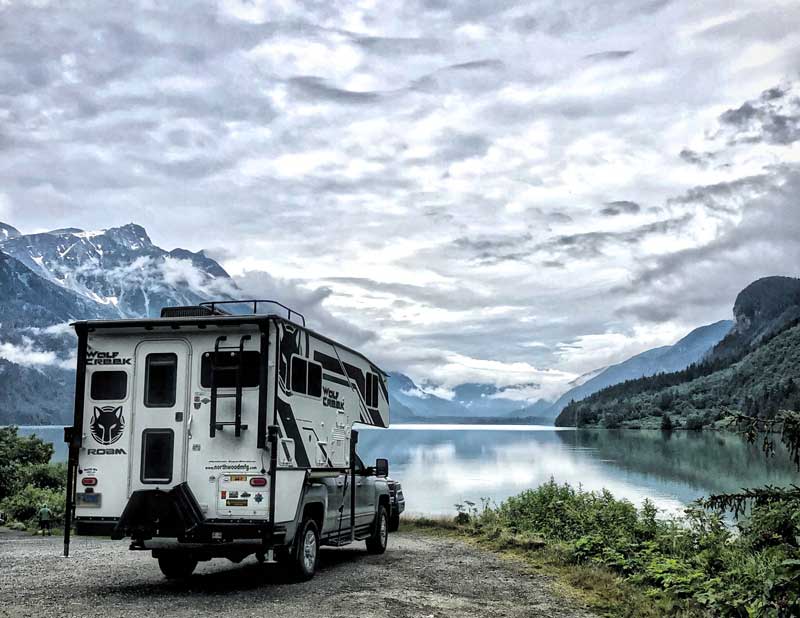 Each morning camping at the Chilcoot Lake campground it was foggy and/or rainy, but it made for interesting skies.
Teresa and Lynn Skinner
Denali, Alaska
2017 Ford F-350
2018 Lance 1172
Camera Used – Phone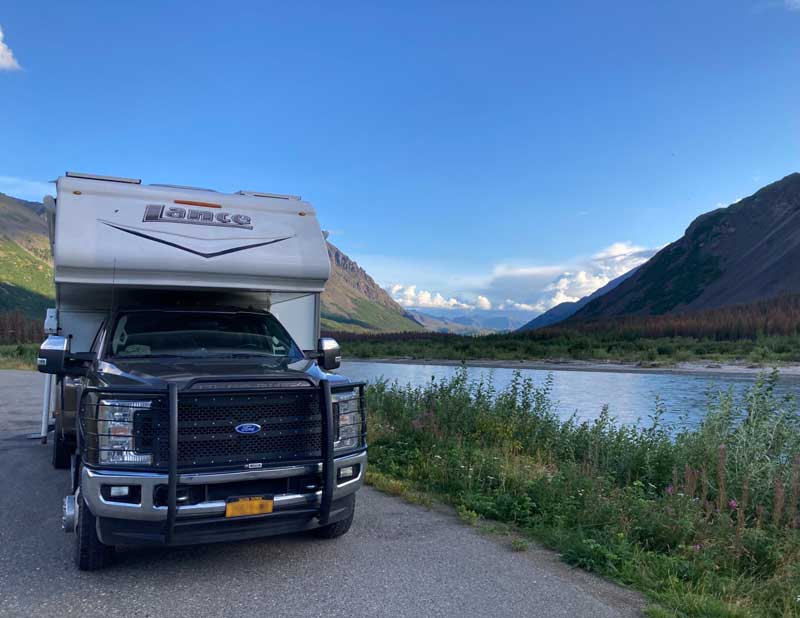 We started our trip July 24, 2023 from Hamden, New York. We were headed to Alaska. We traveled to Sweetgrass, Montana to customs then through Banff, Jasper, British Columbia, Yukon, over to Anchorage, down to Valdez for salmon fishing. Then we headed here to Denali, saw plenty of moose, and we camped along Kantishna River.
Brian Kennelly
Boss Lake Rec Site, British Columbia
2020 Silverado 1500
2018 Travel Lite 625SL
Camera Used – Galaxy S23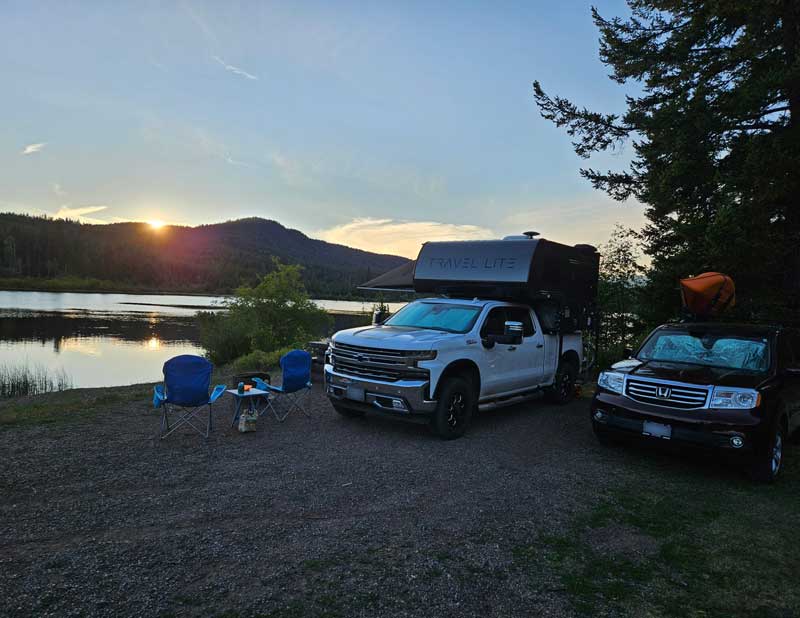 This was from a quick visit to Boss Lake to kayak and Mtb with my brother from another city.
Matt Misicka
Salmon Glacier, British Columbia
2013 Ford F250
2012 Hallmark Ute
Camera Used – iPhone SE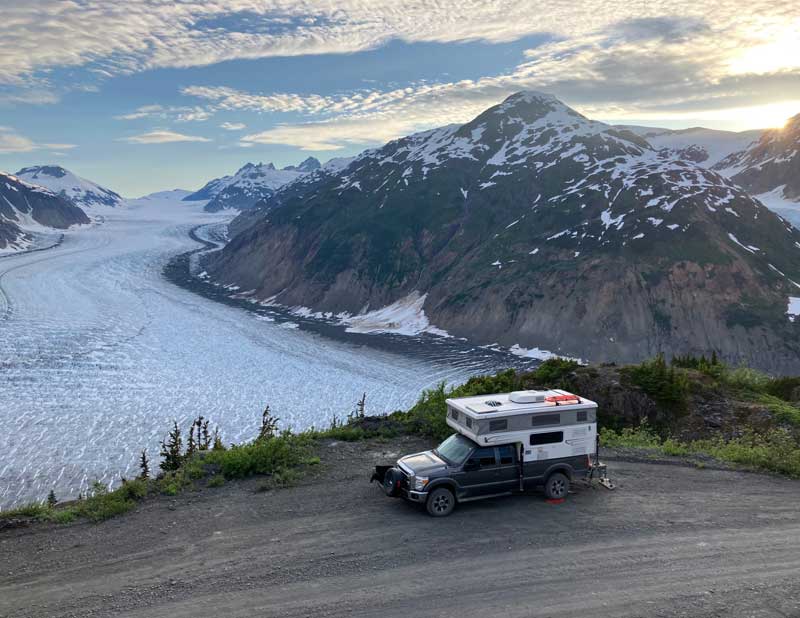 Our first trip to Alaska got fully underway with the drive up the Cassiar Highway and a side trip to Salmon Glacier. Our first glacier of the trip, Salmon Glacier really set a high benchmark for Alaska, and with the trip still in progress, it still remains one of the most beautiful, breath-taking, boondocking campsites we've ever experienced.
Wally Cutchin
Denali Highway, Alaska
2021 Ford F350
2022 Arctic Fox 990
Camera Used – iPhone 13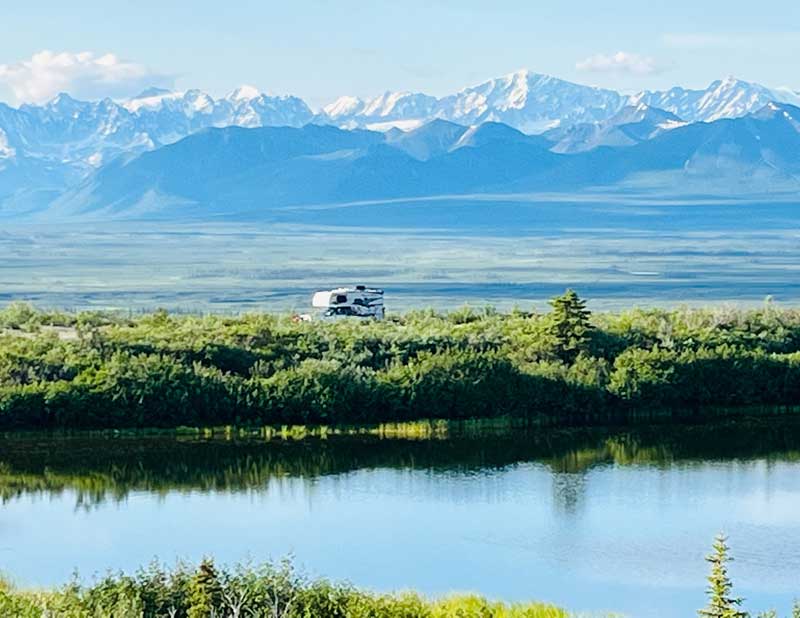 We had just left Denali National Park after an amazing week there. On a whim, we turned left on the Denali Highway and found this incredible spot to camp for the night. After dinner, we took a hike which afforded us this view of our rig. It's hard to explain to people why we sold the house and all of our possessions for this life on the road. Hopefully, shots like this help them understand.
Ross Griffiths
Hardy, Saskatchewan
2018 Ford F350
2018 Northern Lite 10-2EXCD SE
Camera Used – Canon EOS T2i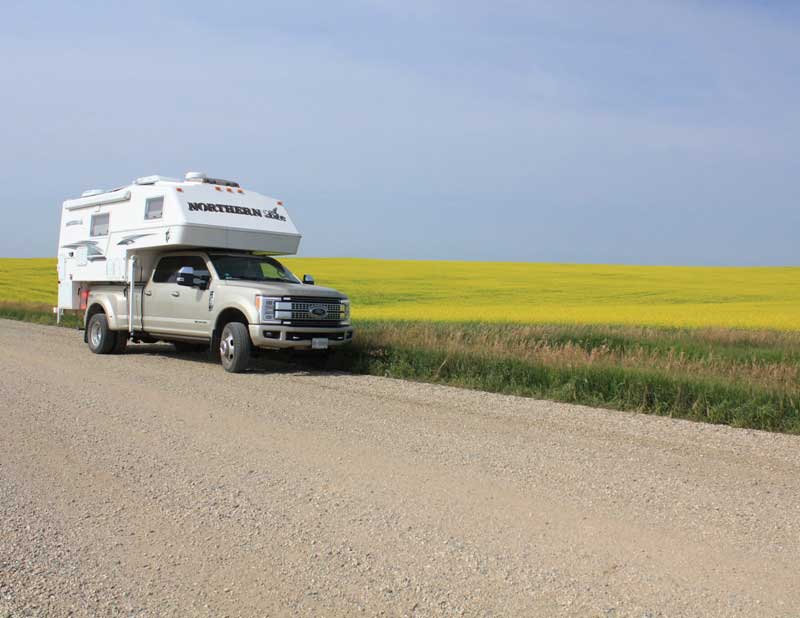 After "luxury boondocking" in our daughter and son-in-law's farmyard for a few days, we headed north along the range road that runs past their farm heading to our next destination in our 5 week swing through western Canada and the north central U.S. states. We came up a short hill and saw this large spread of canola in full yellow bloom in the morning sun stretched out off to the driver's side, right to the visible horizon. We just pulled over and snapped a few photos with the canola as the backdrop.
Rick Adams
Midland LTVA, Blythe, California
2021 Ram 5500
2021 Host Everest
Camera Used – iPhone 12 Pro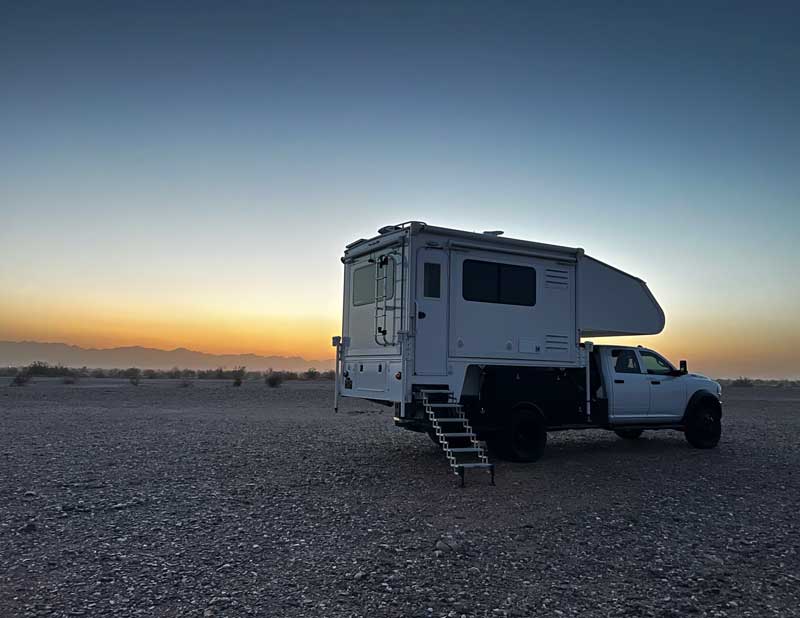 We live in San Diego, and this was a last-minute weekend getaway to drive up to Oatman, Arizona. We stopped here for a quick night. It was late in the season, so there was nobody camped at the LTVA at this point because it was getting warm in the desert. We spent an afternoon in Oatman, drove the Oatman Highway, which is tight and twisty, but so much fun. We made a stop in Havasu, and then spent two nights in Quartzsite, which was also a ghost town at this point in the season and then it was back to San Diego. We had perfect weather, kind of warm temps, and it was just a really good fun little trip.
Phil Pereira
Colorado
2000 Ford F350
2002 Bigfoot 2500 10.6
Camera Used – iPhone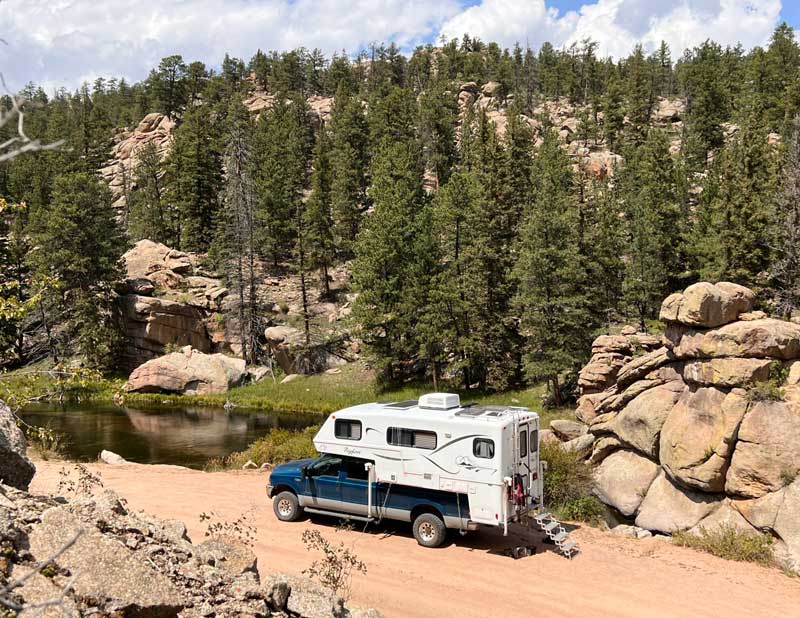 Jodie Ramsey
Tuckahoe State Park, Ridgley, Maryland
2012 Chevy Silverado 3500
2019 Arctic Fox 990
Camera Used – iPhone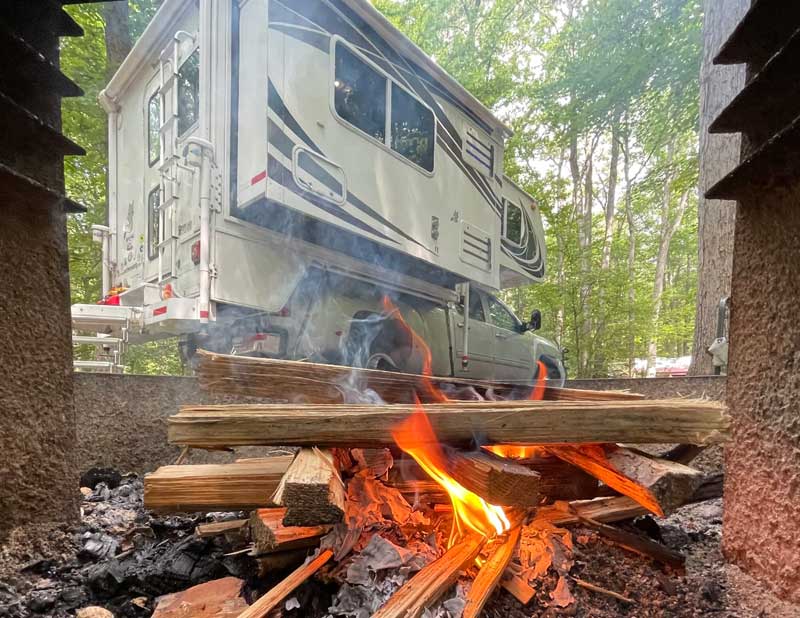 While camping at Tuckahoe State Park in Maryland, we were building a campfire and as someone looking for different angles or perspectives for images, I was drawn like a moth to the flame to take a camper shot as our fire started.
Javier Fernandez
Sonora Pass, California
2022 Ram 3500
2018 Wolf Creek 840
Camera Used – iPhone 12 Pro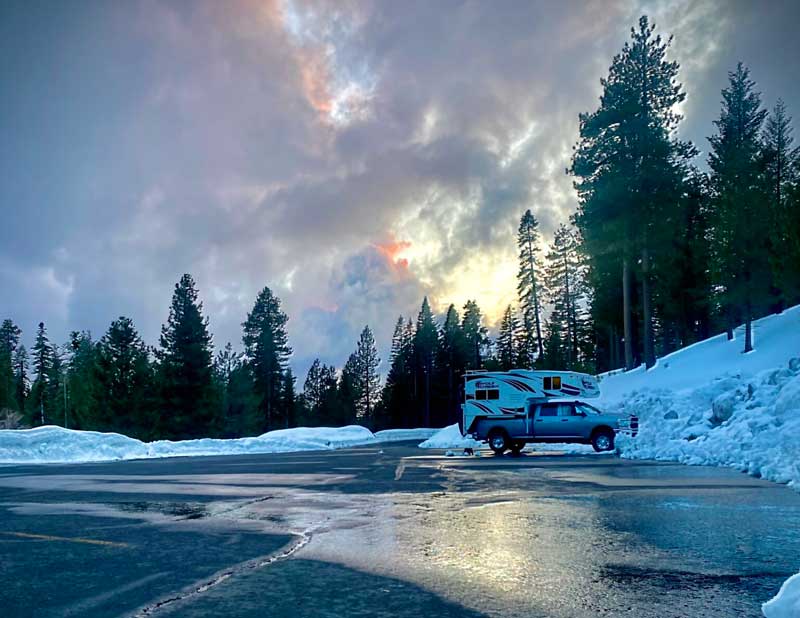 This was taken in a ski resort parking lot during our spring break trip. It was Monday night and we were all alone. This was just before an amazing storm and we had fresh snow for the rest of our trip.
Lauren Sinz
Kiona Winery, Benton City, Washington
2008 Dodge Ram 3500
2008 Lance 1181
Camera Used – Samsung S23+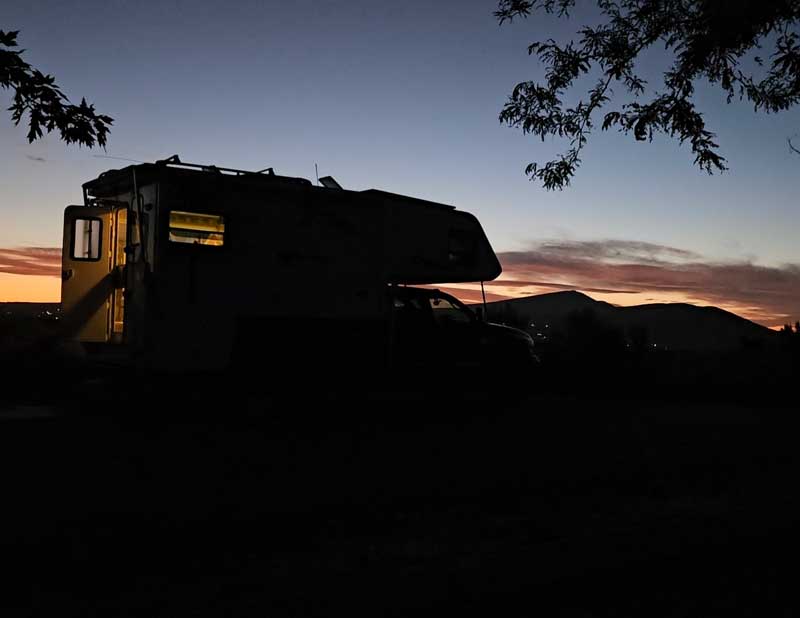 We love Harvest Hosts locations, but this one was exceptional. The camping was in their parking lot but the view of their vineyards (for as far as they eye could see) from the hill where their lot is located was spectacular. We had our dinner watching the sun go down. Kiona Winery has a policy of only one camper per night so we had the place to ourselves.
We were there on the 78th anniversary of the dropping of the bomb on Nagasaki, Japan that ended WWII. The sunset was so peaceful and contemplative in contrast with the day's historical significance. The next day, we toured the Hanford, Washington nuclear reactor where plutonium was produced during WWII for that bomb. It was a sobering experience after the night at the winery.
Click here to see all of the photos entered so far in the 2024 TCM Calendar Contest.  Enter your truck camper photos today!