For Behind the Shot Part 7, we are featuring photos and stories from the Icefields Parkway, the Dempster Highway, Crystal Beach, Texas, Lake Powell, Utah and more!  Click here to participate in the 2024 Truck Camper Magazine Calendar Contest and be considered for a Behind the Shot feature.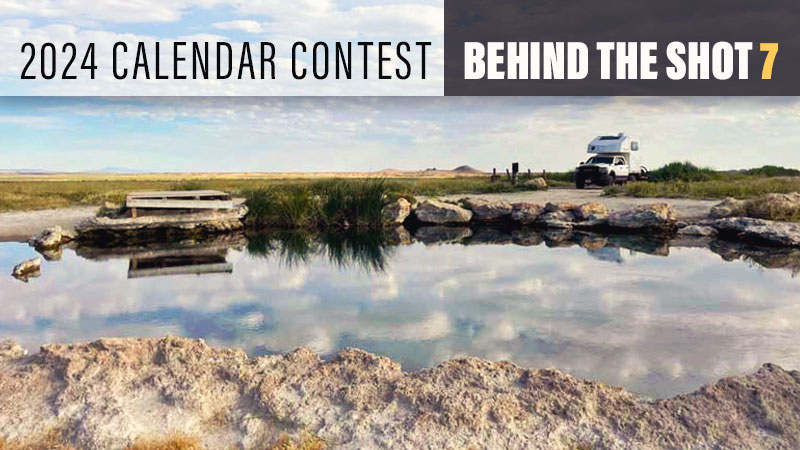 Brian Druckenmiller
Grantville, Pennsylvania
2022 Ford F-350
2020 Adventurer 86FB
Camera Used – Galaxy smartphone
I was visiting my Dad in Pennsylvania during our 4,000 mile adventure. His neighbor said we could park in his field and camp. Smoke, fog, and the sunrise combined for a beautiful picture.
Wendy Bolton
Silverhorn Campground, Icefields Parkway, Alberta
2006 Chevy Silverado 3500
2001 Corsair 10'8" Ecella
Camera Used – Nikon D40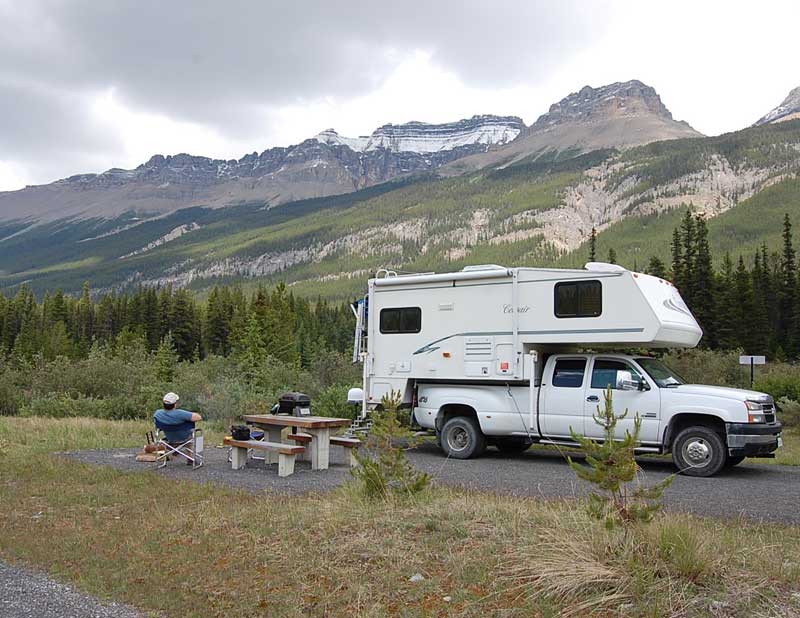 We had a wonderful trip this year (after retiring) from our Home in Seeleys Bay, Ontario through five provinces to White Rock, British Columbia in the Vancouver Area, and back. We've been visiting long-lost cousins and enjoying the beautiful diverse landscapes of Canada. We've been long-time subscribers of TCM and we've had our truck and camper since 2008. It continues to serve us well and is a wonderful unit. The photo was taken between Lake Louise and Jasper Alberta on the Icefields Parkway. I'm sitting by my Camper awestruck by the beautiful scene.
Duncan Crawford
Dempster Highway southbound, Yukon Territory
2016 Ford F350
2020 Northstar 12STC
Camera Used – iPhone 12 mini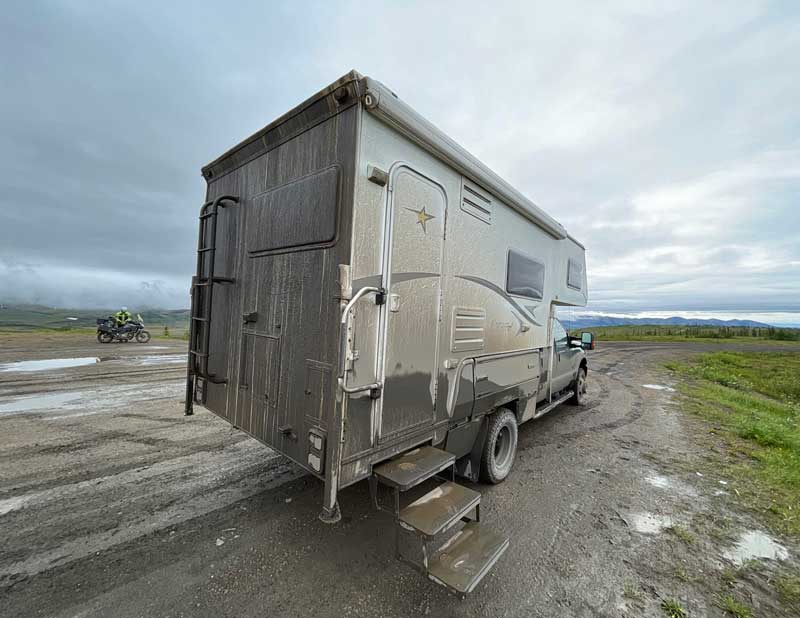 This was taken southbound on the Dempster Highway near the Arctic Circle sign (other side of the road to the left of the wet fellow with the motorcycle), en route back to the US after a 21 June visit/overnight in Tuktoyaktuk on the shore of Arctic Ocean. We were stopped for lunch and then yet another round of mud removal from camper/truck lights. Let's hear it for a side entry door.
Linda Rearick
Crystal Beach, Texas
2011 Ford F-350
2001 Arctic Fox 1150
Camera Used – iPhone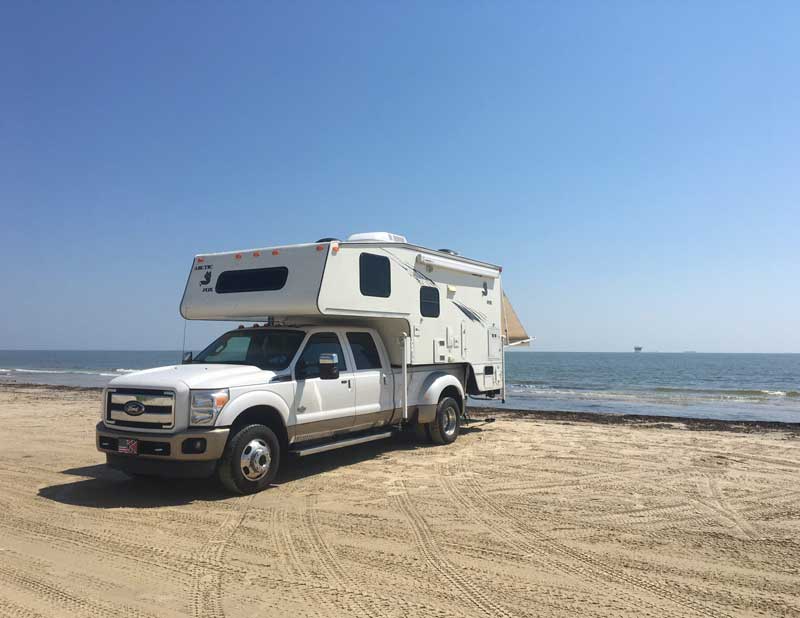 We have always wanted to camp on the beach since we started truck camping. This was a wonderful beach! There was hardly anyone there in the fall. We were parked about four feet from high tide.
Christoph Puetz
Northern end of Lake Powell, Utah
2022 Ford F250
2023 Supertramp Flagship LT
Camera Used – Google Pixel 7 Pro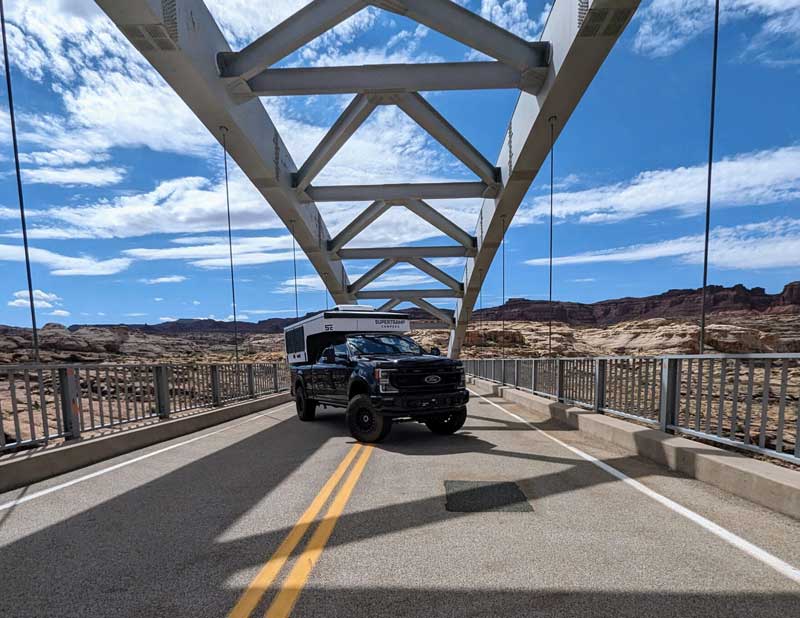 I picked up my new camper from Supertramp in Golden, Colorado on July 28. From Golden, I took the long way home avoiding Interstate highways where possible. I originally came down south on 191 from Moab when I saw a sign for the Natural Bridges National Monument and Lake Powell. It has been 23 years since I was at Lake Powell.
When I came to this bridge crossing the Colorado River there was no traffic at all and I had all the time in the world to take pictures of the bridge, the canyon, and the river. I was also looking for cool shots of my rig and the light seemed just right to pull it into both lanes and take some pictures. The picture I submitted is one of my favorite shots while driving back from Golden, Colorado to San Diego, California.
Jeff Pollock
Meadow Hot Springs, Utah
2022 Ram Power Wagon
2023 Whiskey Tango Campers custom
Camera Used – iPhone 12 Pro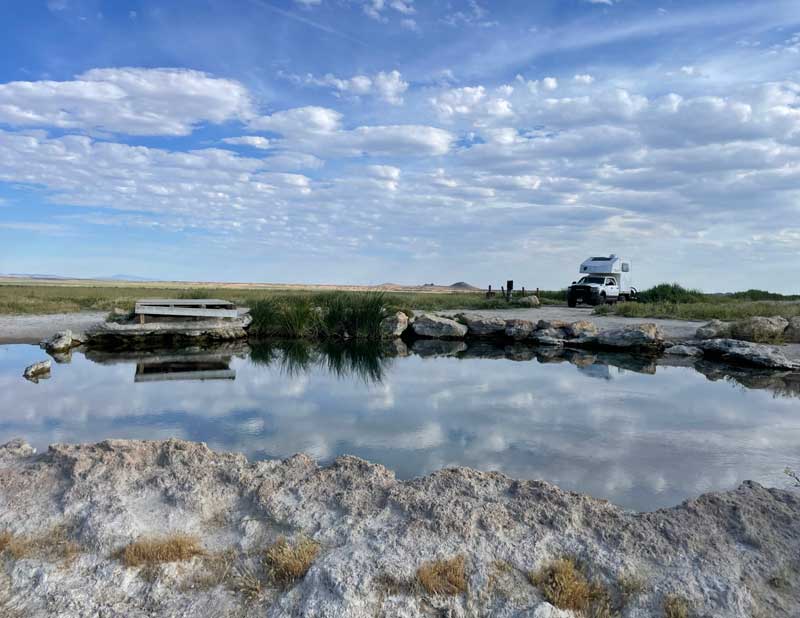 I camped overnight at Meadow Hot Springs and awoke to this beautiful morning sky with reflections in the calm spring water.
David Wightman
Dawson City, Yukon Territory
2012 Chevy 3500
2008 Bigfoot 9.6
Camera Used – Motorola Android phone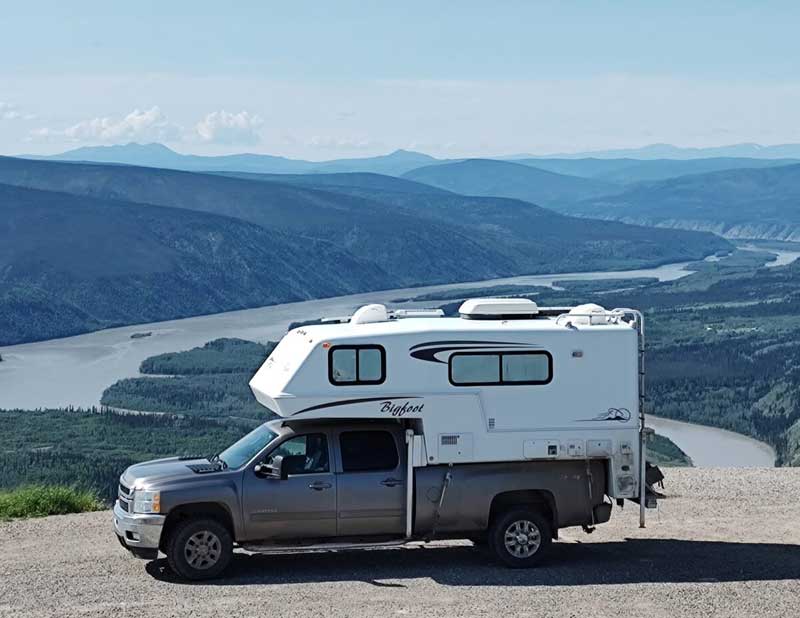 This picture is of our truck and camper on our way home to Alaska at Dawson City. The mighty Yukon River is in the background.
Stephen Ladd
Alabama Hills, California
2017 Chevy Silverado 3500
2017 Northstar 850SC
Camera Used – iPhone 14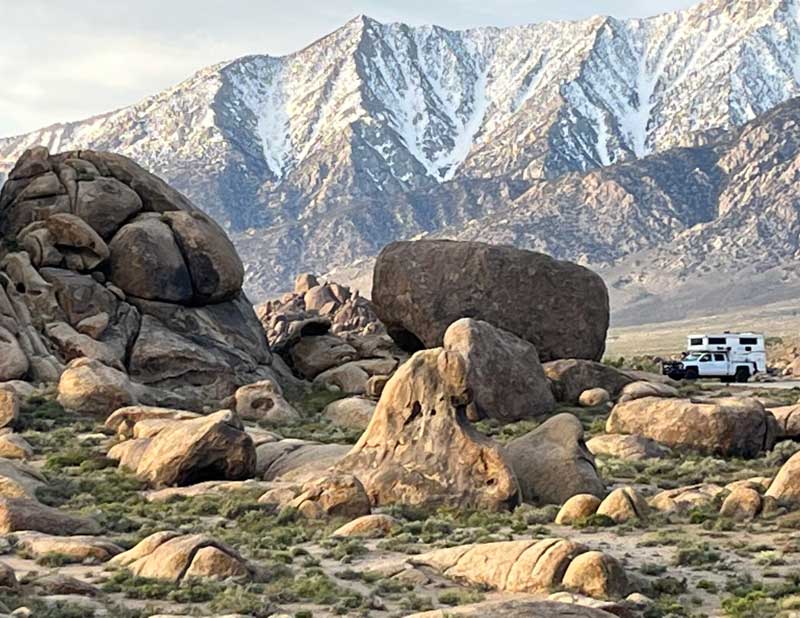 I decided at the last minute to go check out Owens Valley because I heard there was still a lot of snow on the mountains. It was just a gorgeous five days.
Don Mammoser
Lake Powell, Arizona
2020 Toyota Tundra
2023 Outfitter Caribou Lite 8
Camera Used – Sony A6600, Tamron 18-300mm lens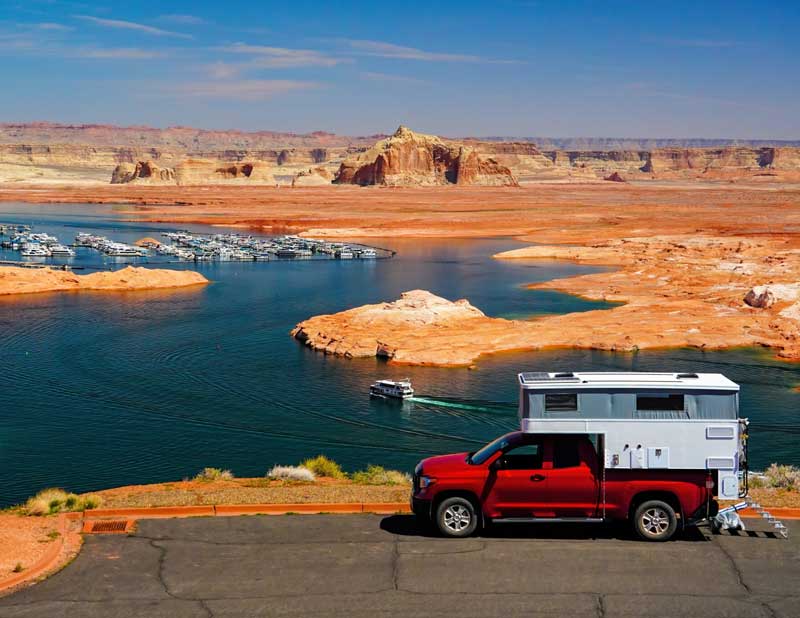 We were exploring the Lake Powell area and found this large pull-off near the Wahweap viewpoint. Our family consists of my wife and myself, and two young girls and they were both hungry by the time we found this place. It was lunchtime so we popped the roof and felt lucky to have such a marvelous view out our dinette window while we ate.
Click here to see all of the photos entered so far in the 2024 TCM Calendar Contest.  Enter your truck camper photos today!