For Behind the Shot Part 5, we are featuring photos and stories from Australia, the Grand Tetons, the Umpqua Lighthouse, and many more!  Click here to participate in the 2024 Truck Camper Magazine Calendar Contest and be considered for a Behind the Shot feature.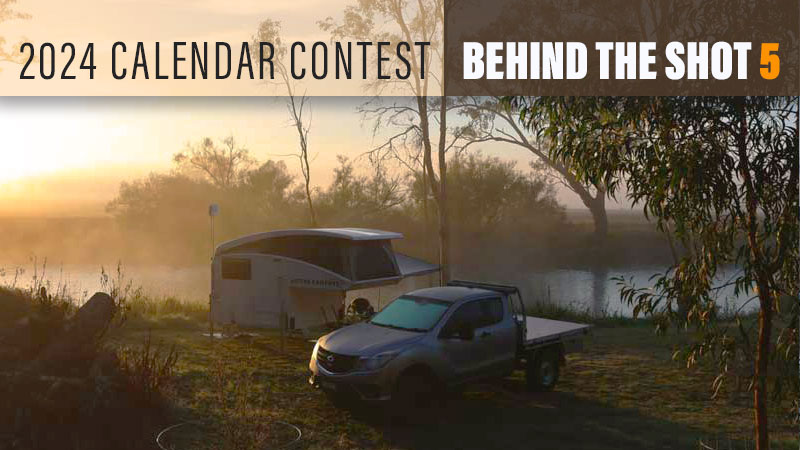 Dan Gulart
Carrizo Plain, California
2006 Ford F-250
2009 Northstar TC 800
Camera Used – Phone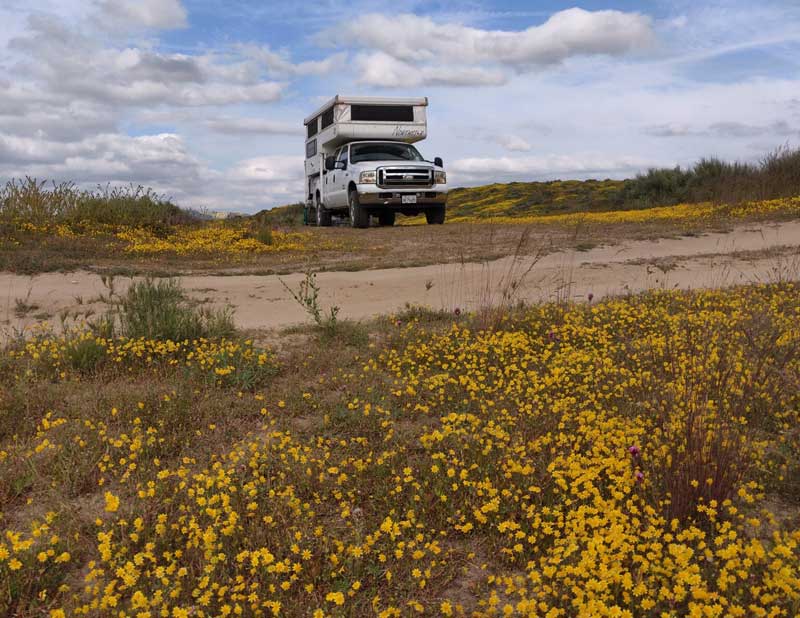 This is the Carrizo Plain Super Bloom of 2023 taken on April 19th. After a couple of hours of semi-severe off-roading, we found this gem of a campsite with nobody around. I'm not much of a flower guy but still found the flowers totally charming. The weather was perfect and the sweeping spectacular views of the Temblor Range (San Andreas Fault rift zone) made the chore of de-scrambling the camper contents thrown around by the storm-torn roads most tolerable.
Denise Steneck
Tetons, Wyoming
2019 Chevy 3500
2018 Northern Lite 8-11 EX
Camera Used – iPhone 14
Each year we, my trusted canine friend and I, venture through Yellowstone and the Grand Tetons. We managed to capture this photo, imagining a time long ago when we were the only ones on this isolated road.
Allen Jedlicki
Umpqua Lighthouse State Park, Oregon
2012 GMC Sierra 2500
2014 Wolf Creek 850SB
Camera Used – iPhone 13 Pro Max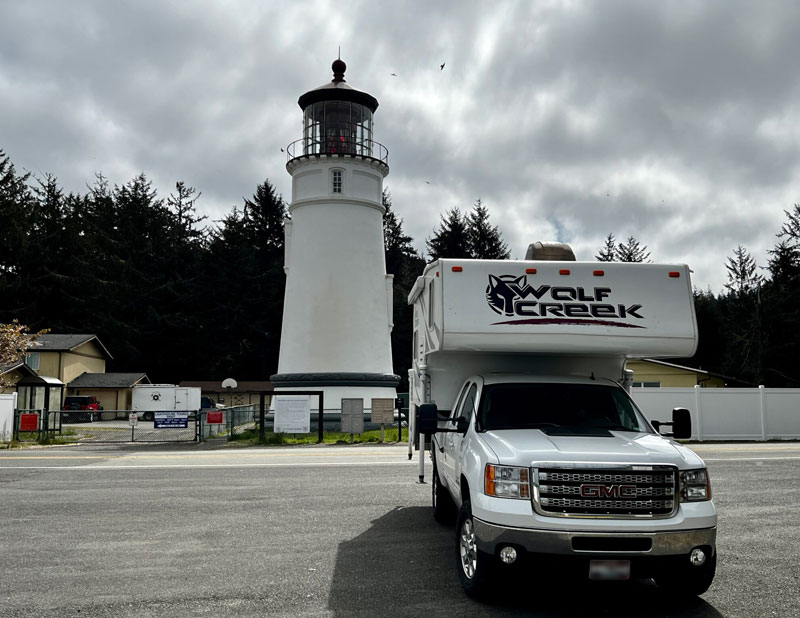 This photo was taken while we were on an Oregon Trail trip across and around Oregon. After reaching the coast we traveled its entirety from the California to Washington borders, with the Umpqua Lighthouse near the middle of the Oregon coast.
Warren Alder
Mallee region South Australia silo art
2008 Isuzu NPR 400
2014 Palomino SS-1251
Camera Used – iPhone 8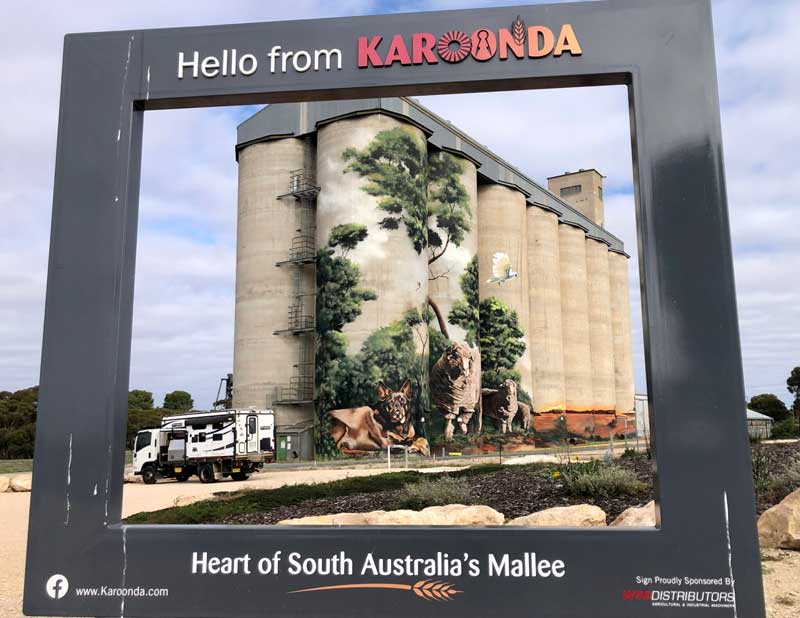 We are Warren and Chris and have been traveling Australia for just under five years. We love the lifestyle and freedom that traveling and camping offers. This shot was taken whilst traveling through South Australia, Karoonda the heart of the Mallee country and some great silo art.
Ernest Harrison
Eskdale, Victoria, Australia
2019 Mazda BT50
2020 Active Camper 2.4 Vantage
Camera Used – Canon R7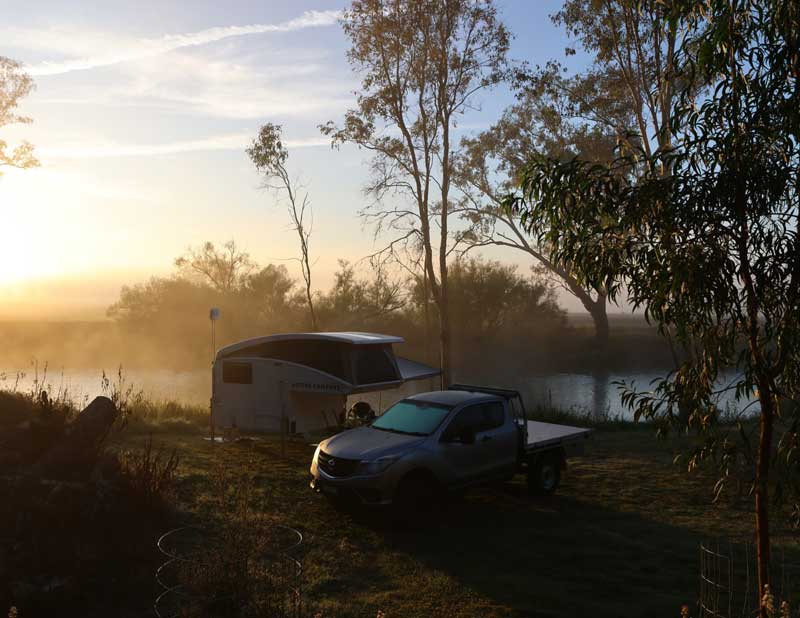 Based in Sydney we decided to head south to avail ourselves of some country hospitality in the northern part of Victoria. In March each year, there is an event called the Mitta Mitta Muster, which is a typical country event with foot races, tug-of-war, wood chopping, whip cracking and a multitude of horse-based activities designed to promote the region. We based ourselves for four days in a riverside reserve in nearby Eskdale which is open to free camping. As we were not within walking distance of Mitta Mitta we offloaded the camper so that we could travel around the area and without the worry of finding another campsite each day.
This photo was taken not long after sunrise and is indicative of the great weather we experienced throughout the week; nice cool nights with warm days which are fairly typical of early autumn in Victoria. On this particular morning, we were treated to a light mist which, combined with the rising sun, provided a great golden glow.
Erin Jephson
Outside of Zion National Park, Utah
2023 Ford F250
2022 Capri Retreat
Camera Used – Google Pixel 5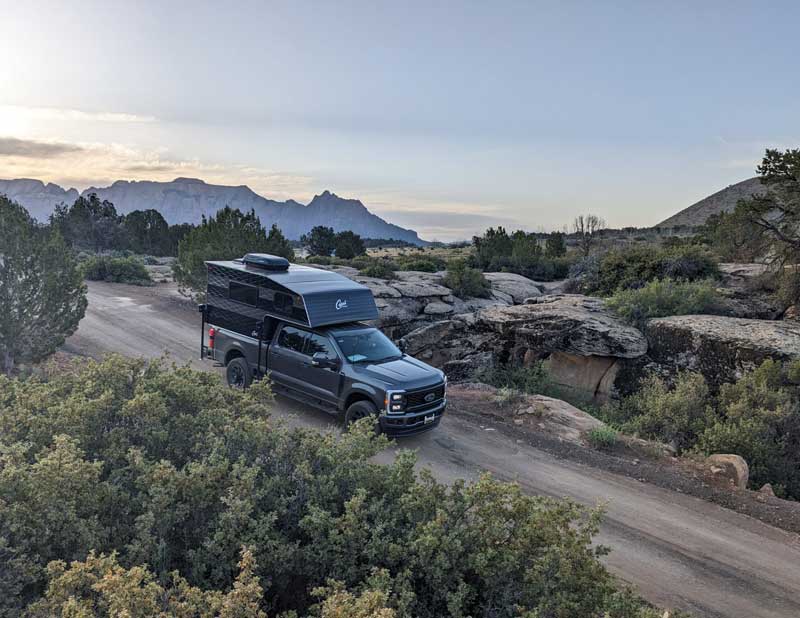 Maybe one of our best boondocking spots on our cross-country adventure in spring 2023. We found this spot right outside of Zion National Park in Utah. Literally the closest free camping with incredible views of the park in the distance. There were plenty of friendly other campers, tunes in the distance, and incredible rock formations. Wow.
Jennifer Jensen
Spencer Hot Springs, Nevada
2007 Ram 2500
2000 Bigfoot 10.6
Camera Used – Phone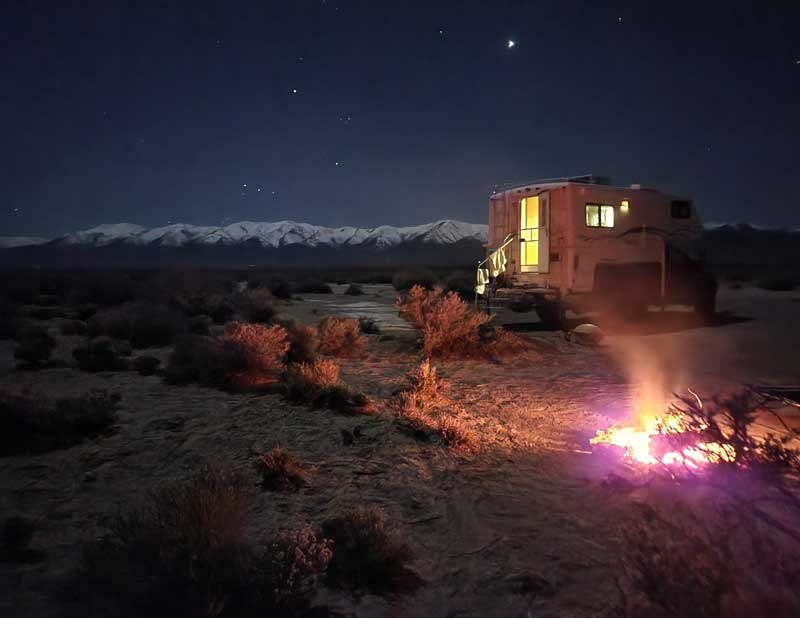 Our Bigfoot camper always looks great out in the wild boondocking. That's the main reason we bought a truck camper. After having a pull trailer and fifth-wheel toy hauler it was time to get into the truck camper lifestyle. We love that we can go to some of the places we had already visited but get off the road any further and into small forest service campgrounds. Camping out at Spencer Hot Springs is the perfect spot for our camper. The night sky can't be beat. This photo was taken with my Samsung phone in night mode. I could take a million pictures out there. The Bigfoot just looked so great lit from inside with the snow-capped mountains in the background. We try to make it out there at least once a year.
Brian Druckenmiller
Wall, South Dakota
2022 Ford F-350
2020 Adventurer 86FB
Camera Used – Phone
Camping on "the wall" in Wall, South Dakota.
Click here to see all of the photos entered so far in the 2024 TCM Calendar Contest.  Enter your truck camper photos today!