For Behind the Shot Part 1, we are featuring photos and stories from the Sacramento Mountains, the Salton Sea, Albuquerque, New Mexico, and many more!  Click here to participate in the 2024 Truck Camper Magazine Calendar Contest and be considered for a Behind the Shot feature.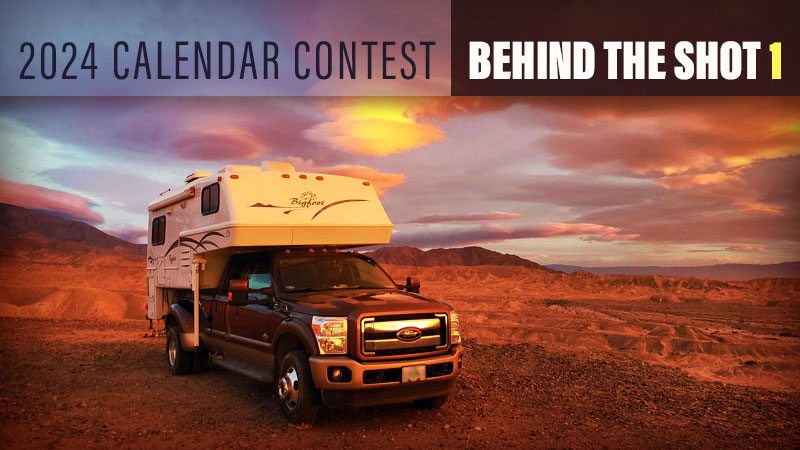 Ryan Anderson
Albuquerque, New Mexico
2022 RAM 3500
2023 Arctic Fox 1150
Camera Used – Phone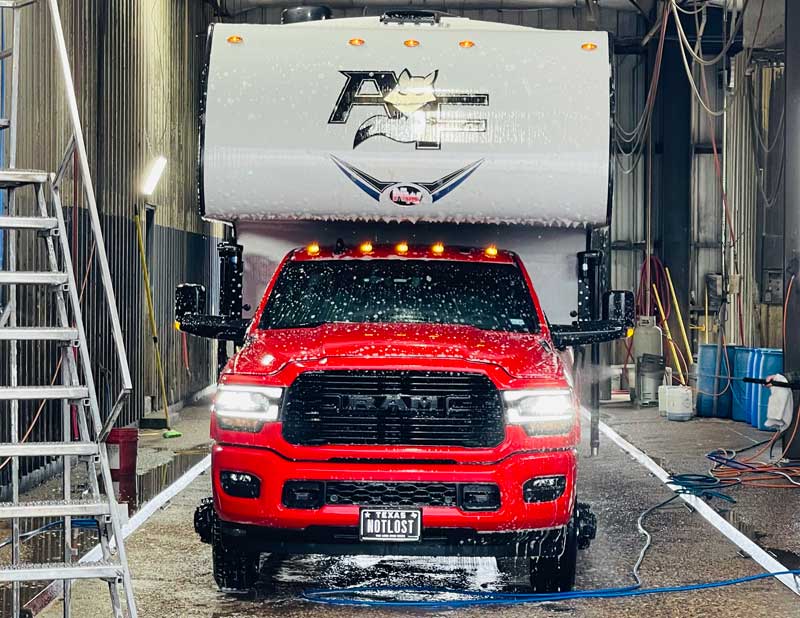 This photo was taken on the way home from Idaho Falls back to central Texas with our newly purchased 2023 Arctic Fox 1150. We went through quite the weather, pretty much everything other than tornados and hurricanes. Our truck was covered with some serious snow and mud. We just couldn't be driving such a swank setup all dirty… yet! We stopped at a truck wash and were able to get the salt and everything else rinsed before continuing on our journey. First Wash!
Ric Doedens
San Jon, New Mexico
2021 Chevy Silverado 3500
2021 Cirrus 820
Camera Used – iPhone 8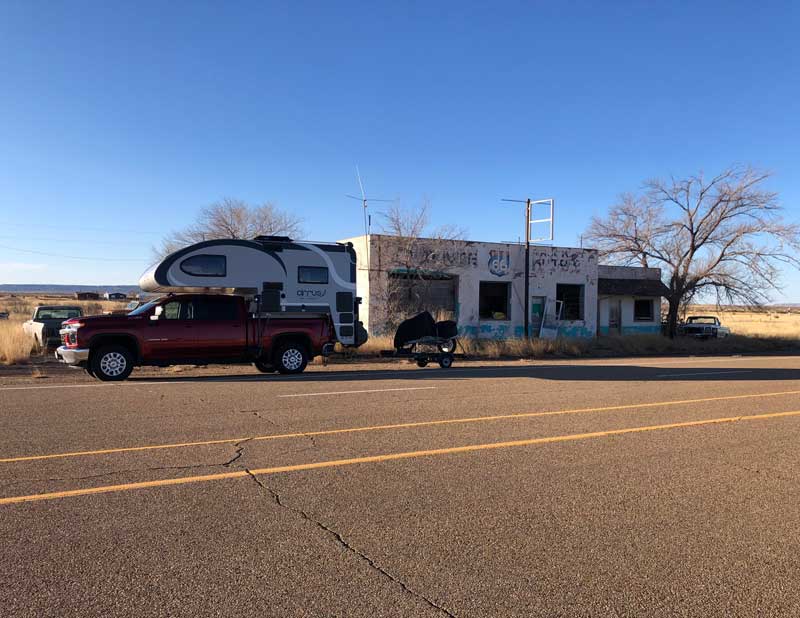 I traveled to Quartzite from Toronto to do some exploring on my dirt bike. At various spots along the way, I would find myself in proximity to the legendary Route 66. It was surreal to see how it has been transformed into a "ghost-highway" where countless roadside businesses and homes have been left abandoned as a consequence of building the larger interstate highway.
Bob Frazier
Salton Sea, California
2012 Ford F350
2001 Bigfoot 2500
Camera Used – Samsung Note 9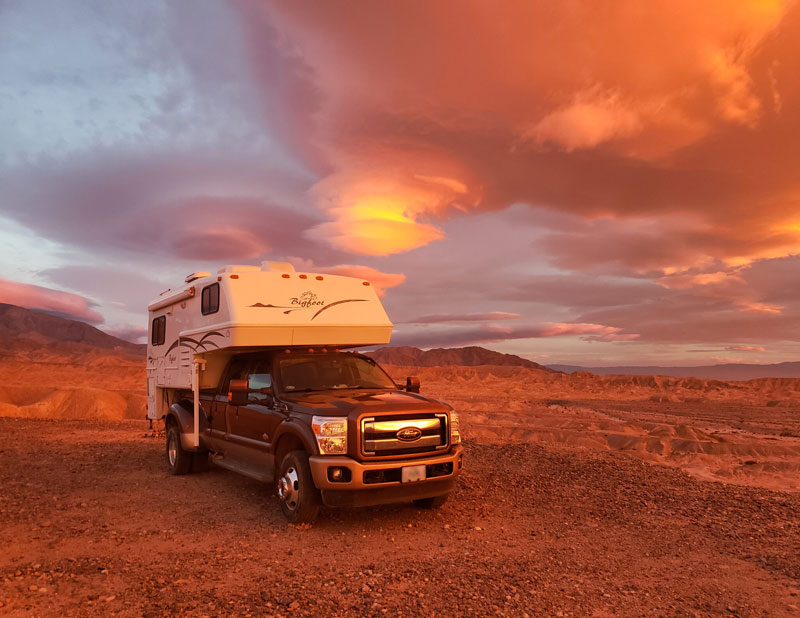 On our 28 day trip through the American Southwest we were constantly being buffeted by atmospheric rivers of wind and rain. Here we were perched on the edge of a cliff, with one of those incredible winds shaking us all night to the point we joked about we tipping over! The sunrise over the Salton Sea beautifully lit these bizarre high-wind clouds in colors so vivid I'm still in shock at the beauty of the sunrise, the clouds, and the incredible desert landscape.
This area of deep canyons is seven miles west of the Salton Sea, and on public land. We had been there before, but with the four wheel drive boondocking capability, our rig allowed us to select what we felt was an otherworldly spot right on the cliffside. We travel with our two Australian Sheppards and boondock 95% of the time… and why not? We all love to go.
John Matosh
Twinning, Michigan
2021 Ford F-250
2021 Travel Lite Super Lite 625SL
Camera Used – iPhone 11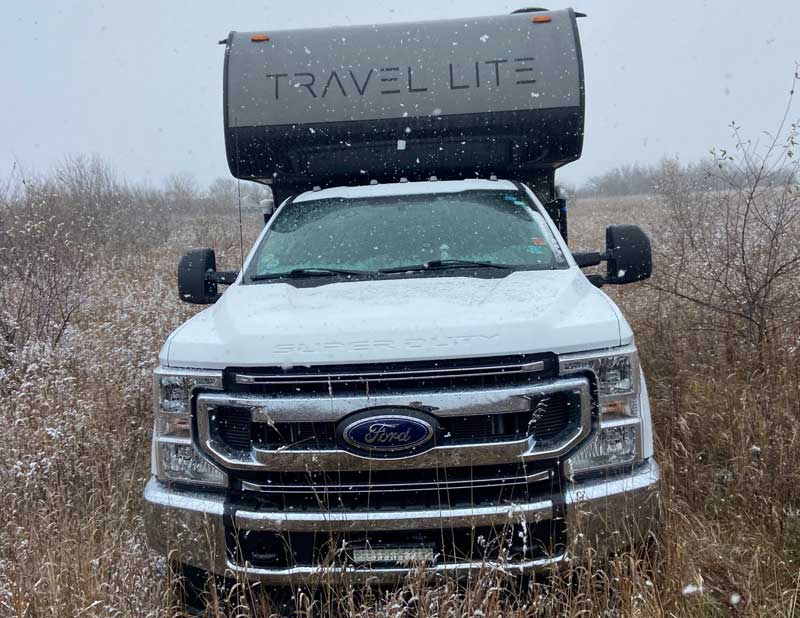 Opening day of Michigan firearm deer season. I was a successful hunter and a happy camper. I love this little rig for my northern Michigan adventures. I appreciate the opportunity to camp and hunt my friend's property.
John Virnig
Cedar Lake, North Dakota
2002 Ford F350
2010 Lance 950
Camera Used – iPhone 13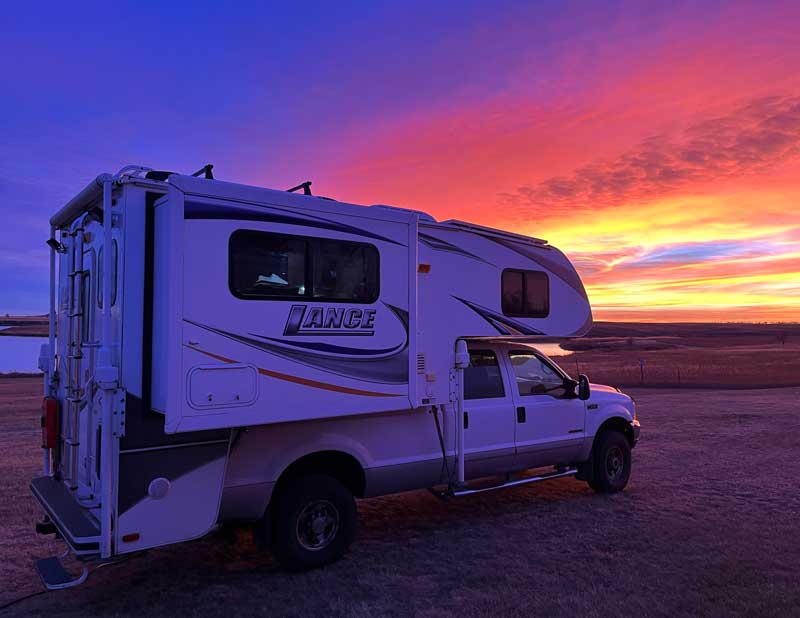 I have been stopping at Cedar Lake, North Dakota for twenty years as part of my fall bird-hunting travels. I have seen many spectacular sunsets and sunrises from this spot. Basically, I'm boondocking as no services exist. In my opinion, fall is the time to visit. There are pleasant temperatures and fall colors. Beware there are bird hunters about.
Gary McNichols
Warren, Idaho
2023 Chevrolet 3500
2014 Arctic Fox 1140
Camera Used – iPhone SE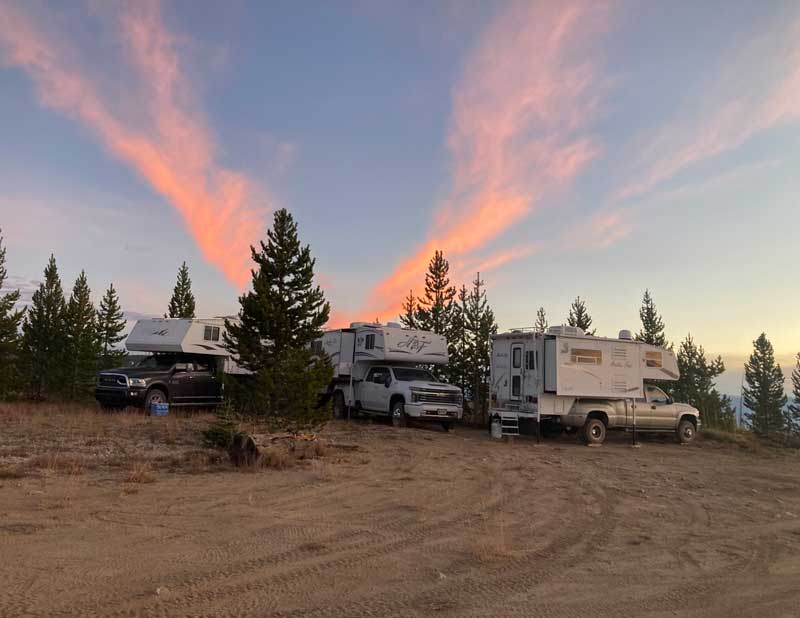 Elk camp in Warren, Idaho started out nice.  I ended up with a cold winter blast at 7000' elevation.
Jeff Van Peski
Lake McConaughy, Nebraska
2022 Ford F150
2022 Cirrus 620
Camera Used – iPhone 8+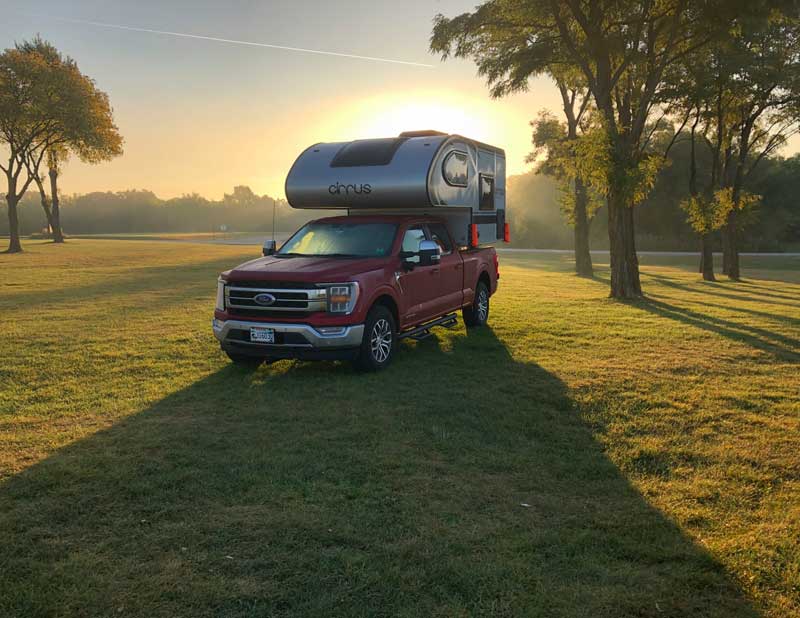 We pulled into a nearly deserted campground at Lake McConaughy State Recreation Area, and found a spot right by the lake, all to ourselves. We walked along the beautiful shoreline and were treated to a gorgeous slow sunset.  It was the perfect end to a travel day!
Tommy Smith
Sacramento Mountains in southern New Mexico
2016 Toyota Tundra
2023 Palomino SS-550
Camera Used – iPhone 13 Pro
It was the middle of the week, cold and snowy in the Sacramento Mountains. A perfect combination to ensure we almost had the mountains to ourselves. We found a pretty spot alongside a creek and decided to make camp for the night. After dinner, knowing it was a full moon that night, I stepped outside to have a look. The moon was so bright and the air so clear. It really lit up the little valley as it shone through the peaks on either side.
Howie Burke
Alliston, Ontario
2017 Ford F150
2021 Palomino HS-750
Camera Used – Canon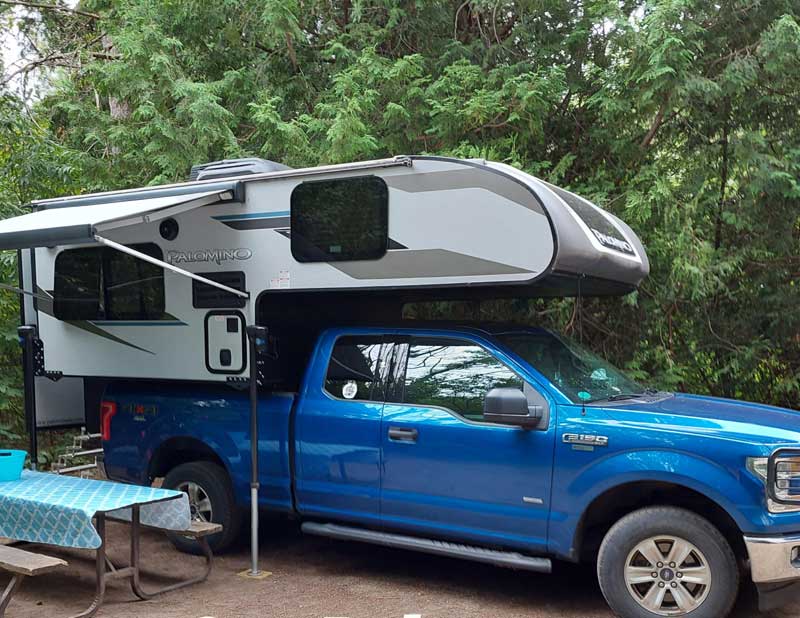 We just love getting out when we can!
Click here to see all of the photos entered so far in the 2024 TCM Calendar Contest.  Enter your truck camper photos today!