For Behind the Shot Part 9, we are featuring photos and stories from Cape Lookout, Silverton, City of Rocks, and more!  Click here to participate in the 2023 Truck Camper Magazine Calendar Contest and be considered for a Behind the Shot feature.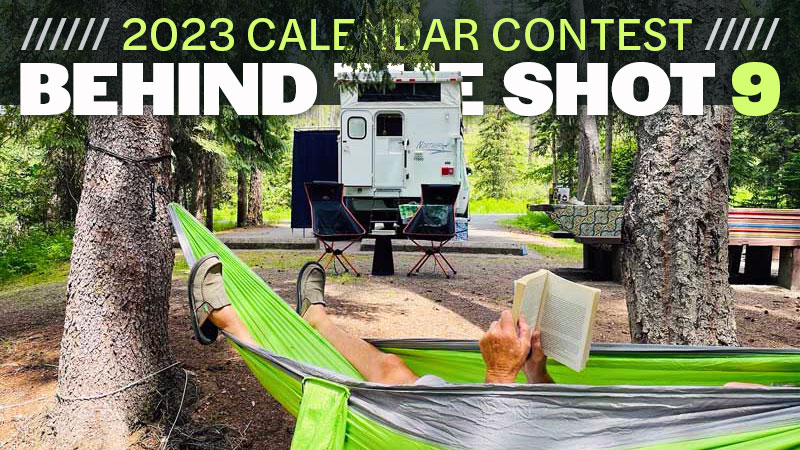 Jake Verchuyl
Gemini Bridges, Moab, Utah
2017 Chevy Silverado 1500
2018 Phoenix pop up
Camera Used – Phone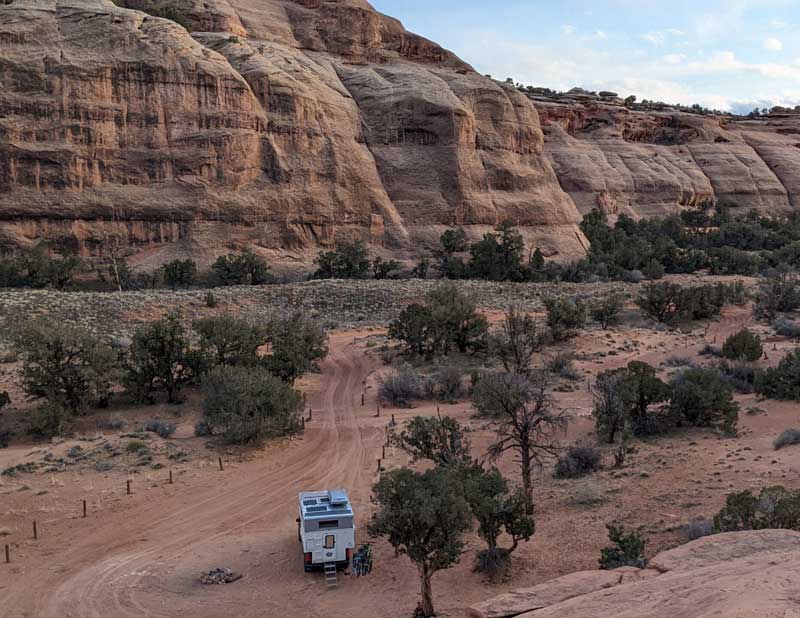 We drove the steep and exposed road into Gemini bridges near Moab and found this great spot in brides canyon. Our three kids enjoyed running up the rocks behind the camper. The sunset colors through the canyon were amazing, as were the stars. It dropped to 20° at night, but the whole family stayed cozy in our Phoenix pop-up.
Gaston Belanger
Silverton, Colorado
2017 Ram 3500
2017 Northern Lite 9-6Q SE
Camera Used – iPhone 8
This photo is from a 14-day free National Forest dispersed campsite near Silverton, Colorado. I'm here again tucked into the woods to ride a KTM 200 dirt bike over all the off-road 12,500+ elevation high mountain passes. Gotta love Colorado for its challenging four wheel drive switchback roads.
Heidi Besen
Inyo Forest near Mammoth, California
2018 Dodge Ram 3500
2018 Hallmark Nevada
Camera Used – Sony A6300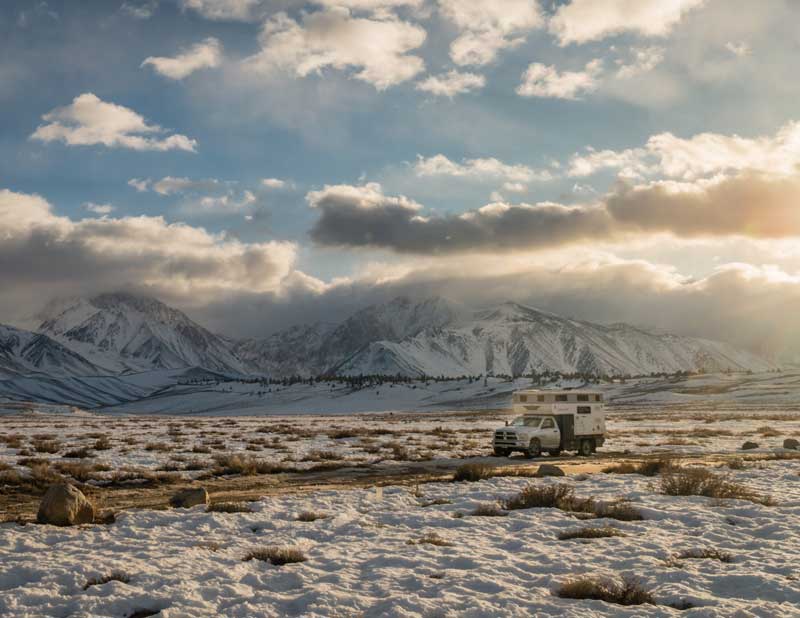 We spent much of the winter of 2021/2022 traveling to ski resorts across the western and central US. We spent the day skiing at Mammoth in California and wanted to camp nearby. This area at is pretty much at the foot of the majestic Sierras very close to the ski resort. We were there late in the day and caught some beautiful golden lighting and lots of puffy clouds.
Johanna Koester
Mapleton, North Dakota
2019 Ram 3500
2019 Cirrus 820
Camera Used – Nikon D3400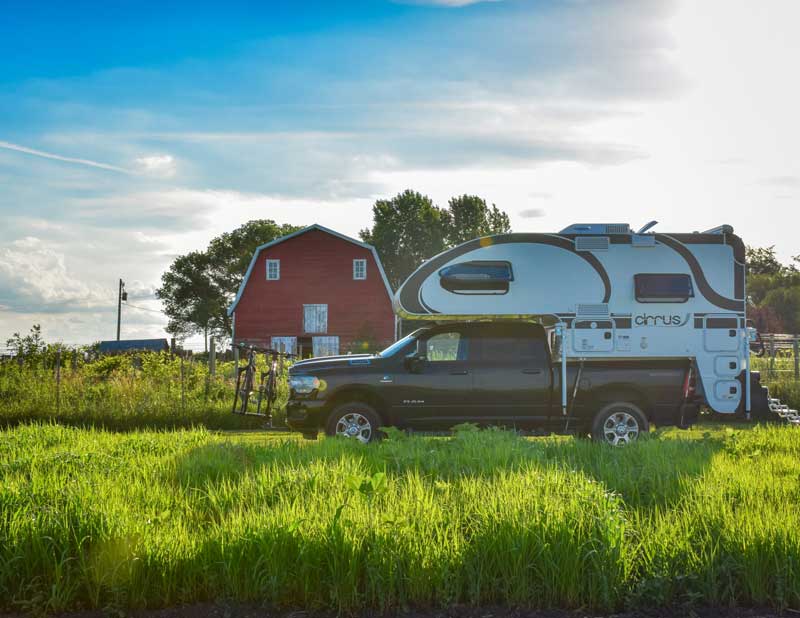 During the month of July 2022, we embarked on a three-week cross-country trip from North Carolina to Wyoming to attend a family wedding. Traveling together with our brother and sister-in-law in their own rig, we camped at a combination of state campgrounds, private campgrounds, and Harvest Hosts.
This picture was taken at our favorite Harvest Hosts location to date, the 4e winery outside of Fargo, North Dakota. Ample parking was made available adjacent to their iconic red barn which made for a very scenic picture. We enjoyed wine tasting, plant-based dinner options, shopping in their small boutique, and most importantly their welcoming and inclusive atmosphere. After dinner, chef and host Greg Cook paid a visit to the campers as he tended his garden close to the parking area, wine glass in his hand. Now that's our kind of gardening.
Great food and drink, new fast friends, and a beautiful sunset made this an ideal overnight stay for us and our family traveling companions.
Bryan Barlow
Bend, Oregon
2016 Ram 5500
2018 Host Mammoth
Camera Used – iPhone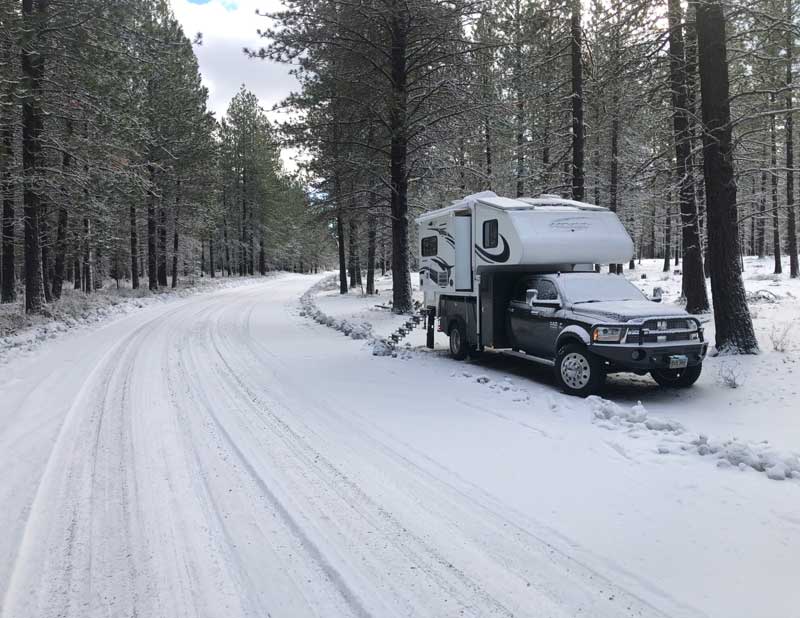 We were heading south out of Bend, Oregon when the snow started to fall. We knew we didn't want to be on the road so we turned down a dirt logging road. We were able to find a flat spot to spend the night.
Laurie Romano
Desert outside Oatman, Arizona
2002 Ford F350
2002 Arctic Fox
Camera Used – Galaxy S20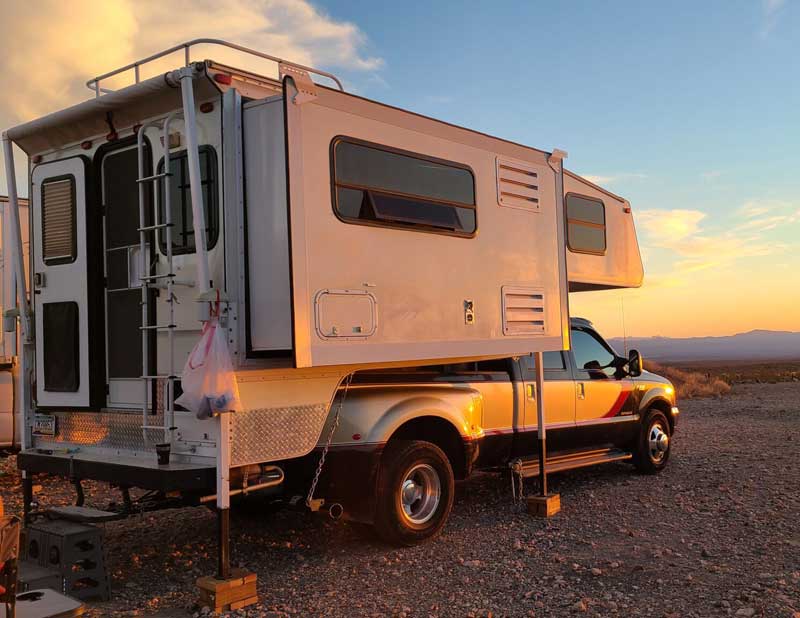 My husband, myself, and another couple, who have the same camper, but a year newer than ours, take frequent camper trips together. We love the beauty of the desert and its vastness. We can park anywhere. That night at the campground we found out that a co-worker had won something like $80 million on the Powerball.
William Hibbard
Brooklin, Maine
2018 Ram 3500
2022 Northern Lite 10-2EXCD LE
Camera Used – Canon EOS RP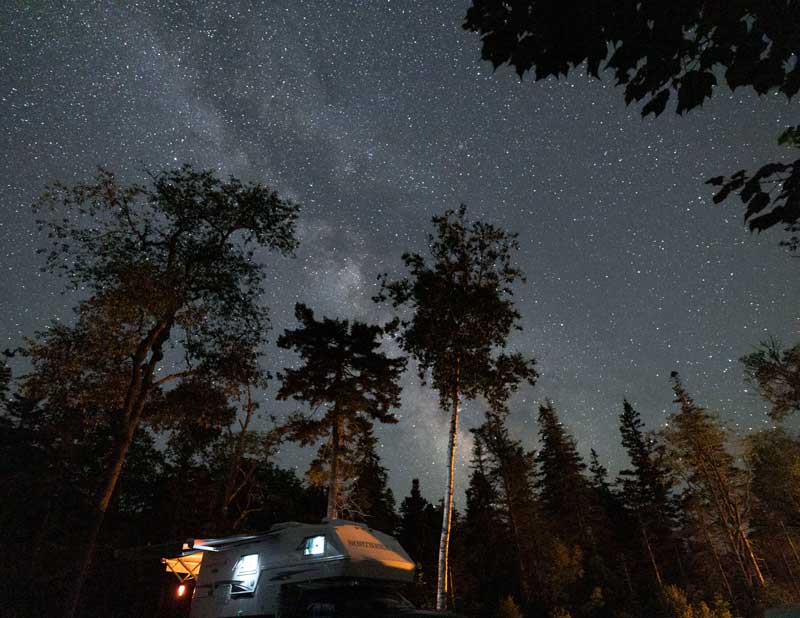 Looking for dark skies, we came across this little peach of a spot in Brooklin, Maine. It was Oceanfront Camping at Reach Knolls. We stayed for four nights and had some practice shooting the Milky Way from the beachfront. I knew I could capture the Milky Way behind our camper and was hoping I could silhouette the trees in the foreground while maintaining a good Milky Way background.
I used my headlamp to paint the trees and camper while the photo was being captured. In order to get as much of the Milky Way as possible, I used my headlamp at the last second of exposure. The lens used for the photo was a wide-angle Canon RF 15-35/2.8 L IS USM lens. I mounted my camera with the lens on a tripod using manual settings and I took a series of photos.
Adam Smit
South Dakota
2021 Ram 3500
2021 Lance 975
Camera Used – Cell Phone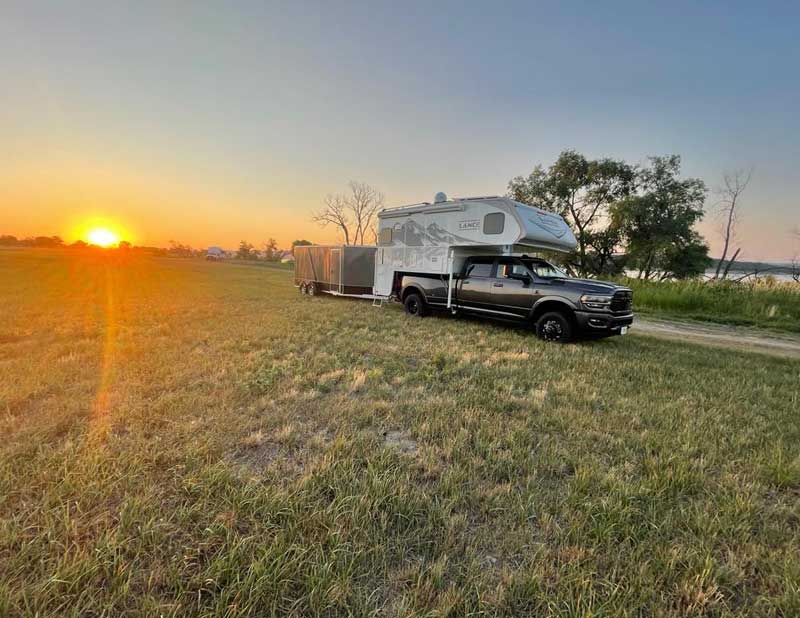 My son, Adam, took this picture. He went with me to the Sturgis Rally this year. This is a riverside site he found on an off-road App. Very cool. It's just off of I-90 three or four hours out of Sturgis.
Larry Sachs
Fisherman's Island in Northern Michigan
2009 Ford F250
2017 Palomino HS-8801
Camera Used – Samsung Galaxy phone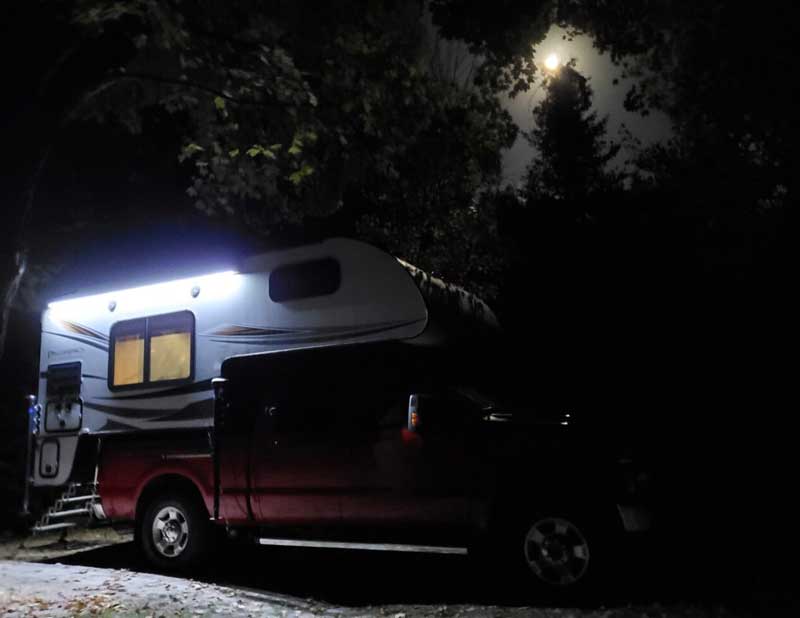 After a long day of brewery tours in northern Michigan, we Googled nearby campgrounds for a place to stay. A nice secluded campground on Lake Michigan fit the ticket. It was late and quite dark, but we managed to snuggle into our site. As we left the truck to get into the camper we were blessed with a spectacular view of a full moon creating a silhouette of Michigan through the trees. A perfect ending to a great day.
Julia Truver
City of Rocks State Park, Faywood, New Mexico
2012 Ford F-350
2018 Capri Retreat
Camera Used – iPhone 12 Pro Max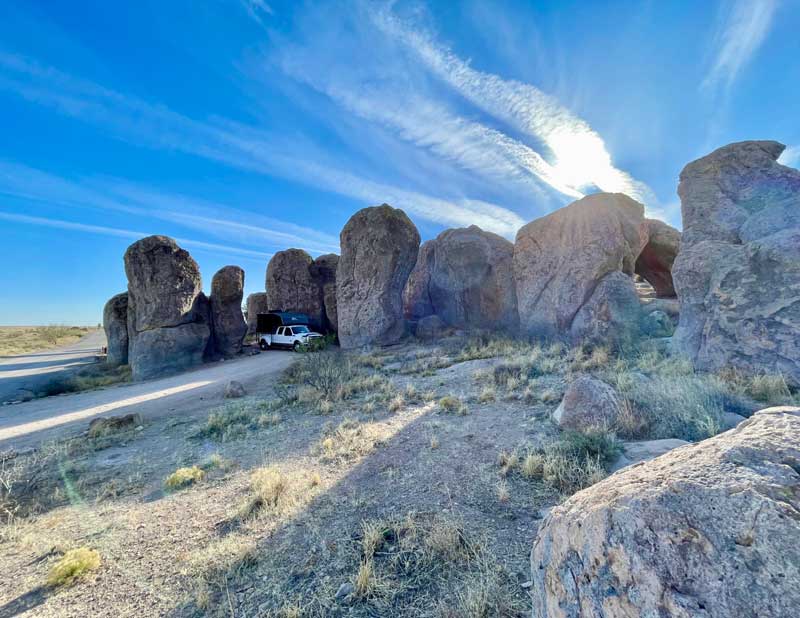 Our camping spot was called Corona Borealis and is a dry camp with no electricity or water. It does have a picnic table, fire ring, and modern restrooms with showers. They are close by to walk to. We just happened to see the park on our map and the walk or hike amongst the rocks that we camped in are a hidden treasure that anyone at any age would enjoy. It was only $10 a night. There are electricity spots available at $14 per night, but the camps spots in the rocks are inexplicably amazing. Gila Cliff Dwellings are only 73 miles up the road and are free to hike up the mile to see them.
Grant Sorg
Badlands, South Dakota
2014 GMC Sierra 3500
1996 Weekender by Skyline
Camera Used – Samsung S20
We found this place in Badlands National Park as we searched out several hiking spots. We wound up hiking all of the Notch Trail (which has a challenging steel cable and log ladder), as well as three other hikes that day.
Leslie Pederson
Yosemite National Park, California
2016 Ford F-350
2022 Host Yukon
Camera Used – iPhone 12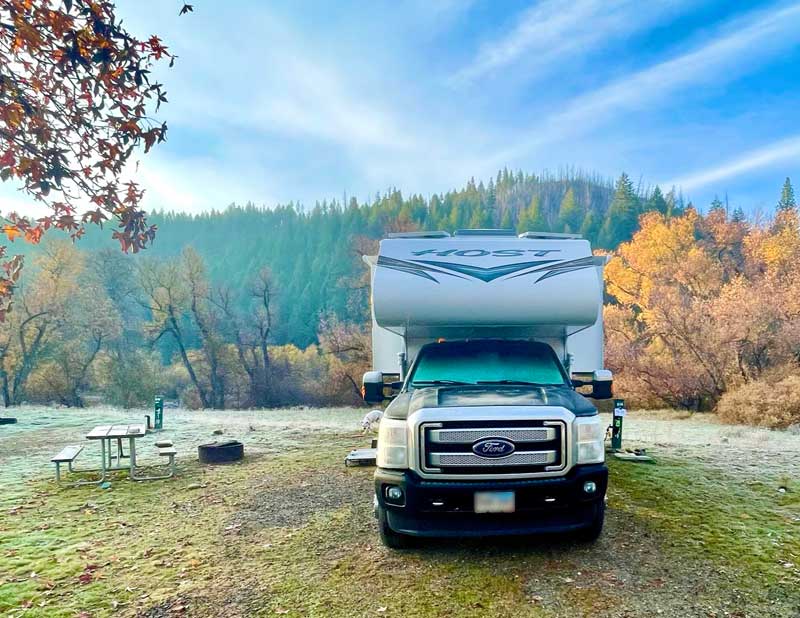 We were learning about traveling in our truck camper. We had just gotten it the month before; we are full-time living in it. We were able to get a dry camping site at Yosemite National Park.
Scott Hannaford
Highwood Pass, Kananaskis, Alberta
2018 Ram 3500
2021 Adventurer 89RSB
Camera Used – Panasonic Lumix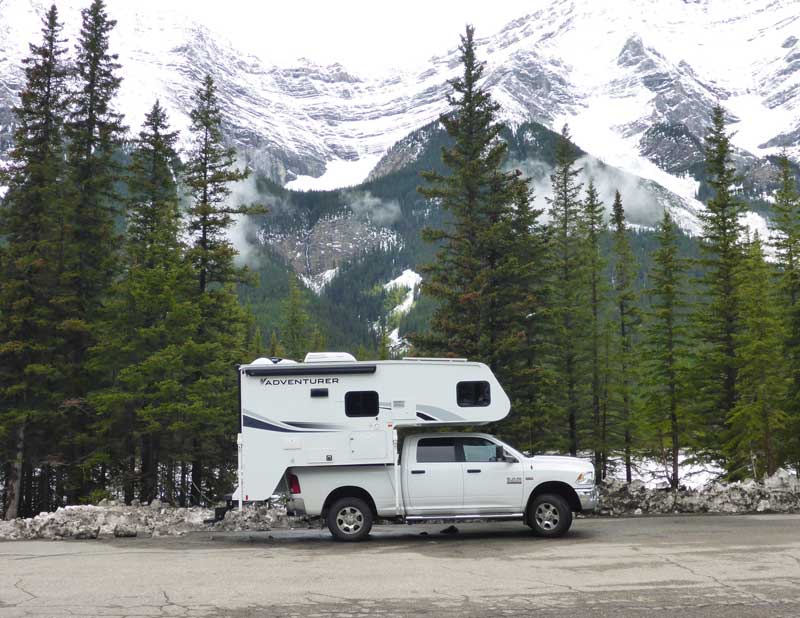 We had gotten snow in the Kananaskis Park around the 14th of June at Mt. Kidd campground about 2-3 inches. We decided to drive later that day to check out our new camp spot called Boulten Creek in Peter Lougheed Provincial Park in Kananaskis. When we left our campground at Mt.Kidd there was a lot of snow on the ground towards Highwood Pass.
We stopped here for fuel and to have a bite to eat. The lady at the gas station said that they got snow overnight. The plows had come to clear the highway and parking lot. As you can see, the snow piled up by the plow. It was a nice crisp day and drive. We saw a grizzly eating grass under all that snow.
Jim Thompson
San Juan National Forest, Colorado
2016 Ram 3500
2001 Kodiak K-99
Camera Used – Canon 7DMk2 and Canon 70-200 L lens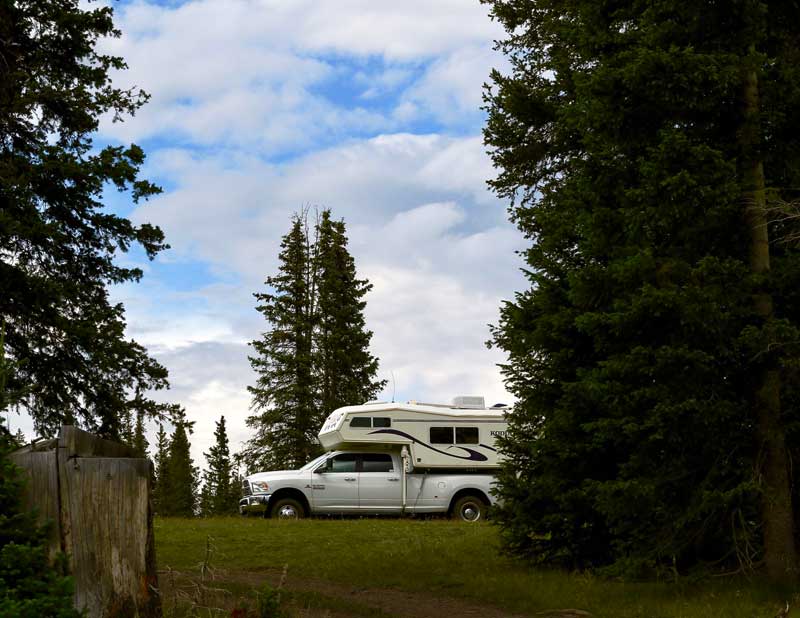 This photo was from our first outing this summer after we reloaded and repacked our be-loved Kodiak K-99 truck camper of 19 years, after trying out the fifth wheel. We would not have gotten 5th wheel in this spot. Our Kodiak did not sell for a reason. We leave this Friday for about a month to North Dakota and Minnesota with North Shore Drive, Lake Superior as our destination. We have several Harvest Hosts lined up. We sure have enjoyed them.
Denise Rousseau
Skyline Drive in Virginia
2011 Ford F350
2018 Palomino HS-8801
Camera Used – iPhone 12 Max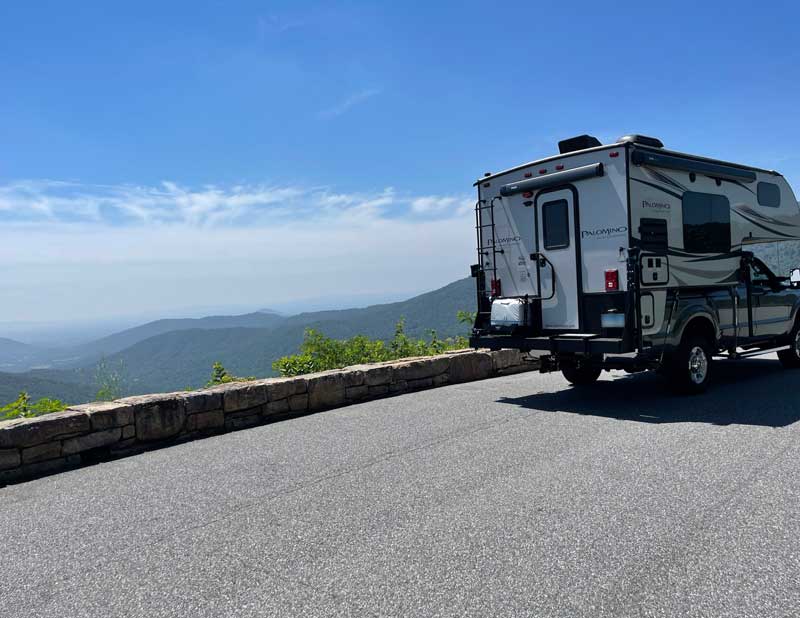 On our summer vacation at the top of Skyline Drive in Virginia. The weather was awesome and so was the 50-mile view. We did 3100 miles and 14 states with a brief stop over at our place in south Florida. The last night was spent on the outer banks of North Carolina. Time to start planning the next one!
Brian Boldi
Democrat Point, New York
2007 Ford F350
2008 Arctic Fox 1150
Camera Used – Phone
Just a typical weekend at our home away from home. Fishing was slow but that's the point…to slow it down. This is some of the best real estate on the planet and it's only accessible by people who seek adventure.
Blake Scott
Moapa Valley, Nevada
2003 Ford F-350
2012 Lance 950
Camera Used – DJI Mavic 2 Pro Zoom
After spending most of November and December stealth camping in Los Angeles for work, we finally left the city and headed towards the Nevada desert excited to find some real camping for the first time in a while. We found this amazing spot just outside of The Valley of Fire State Park in an OHV area that provided the perfect spot to camp and ride the trails. These rocks at sunset show why the area is called The Valley of Fire.
Courtney Herndon
Boulder City, Nevada
1997 Dodge Ram 2500
2001 Hallmark Ute
Camera Used – iPhone 12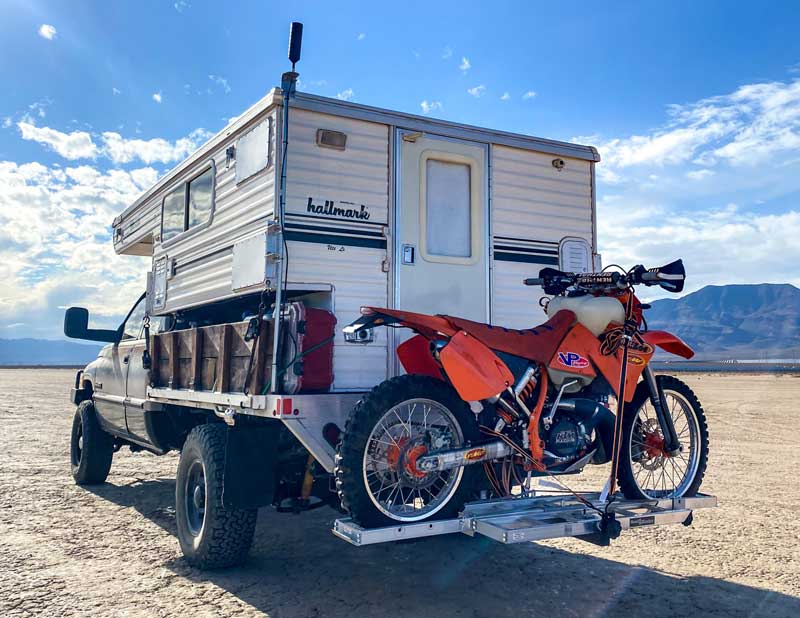 We had just picked up our first dirt bike in Vegas and came to our favorite secluded spot outside of Las Vegas. It was special to see the bike on the back for the first time and we're eager to be able to have another vessel to explore. Also special to see that our entire setup is from the turn of the century from the truck to the camper and now the KTM.
Lucy Bailey
Mt Adams, Washington
1997 Ford F250
1997 Lance Legend
Camera Used – Panasonic Lumix G9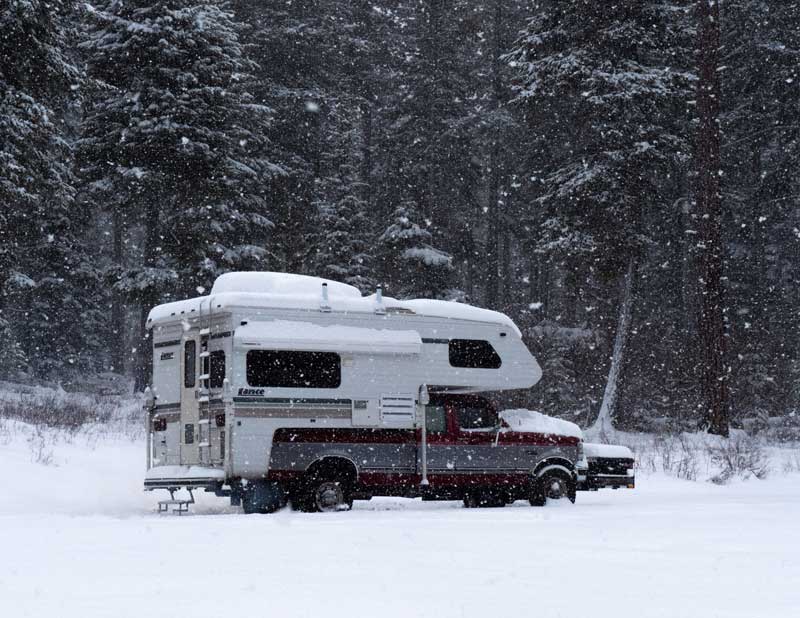 Snow Day!! This photo was taken three months into our full-time truck camper life at the base area Mt Adams in Washington. We had just spent the week prior skiing at Mt Bachelor in Oregon and we were feeling pretty sore, so we decided to take a few days off and rest our bodies.
We crossed the Columbia River Gorge into Washington and scouted a dispersed camping spot for the next two days before heading to Crystal Mountain Resort, Washington. We made it right before the storm rolled in. We sat at our dinette, drank warm tea, and watched the winter wonderland fall around us all day. Just us, enjoying the snow storm from the warmth of our cozy little camper.
Kelly Sohn
Glen Canyon National Recreation Area, Utah
2003 GMC Sierra 1500
2003 Sunlite Eagle SB
Camera Used iPhone 11
We were returning to Missouri after a trip to Southern California, leisurely camping along the way. In southern Utah, we re-visited Bryce Canyon and Capitol Reef national parks, along with a few of Utah's excellent state parks. We ended up at Glen Canyon NRA and decided to boondock for the night. Our campsite sat on a rocky plateau. Sheer cliffs leading to the Dirty Devil River below surrounded us on three sides. I kept a close watch on our dog, Mack. My husband, Carl, had to fend for himself.
Alan Parrott
Canyonlands National Park, Utah
2015 Ram 3500
2010 Bigfoot 2500
Camera Used – Samsung Galaxy 21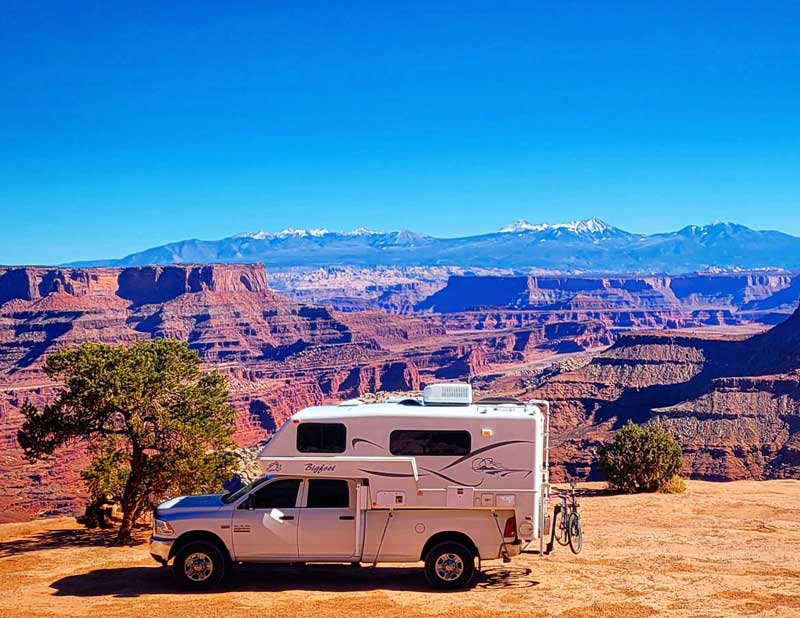 My wife and I spent a few days in Moab in early November. We rode mountain bikes down the whole enchilada, went skydiving, went to a couple of bars, and even went bowling. We loved the town and the surrounding area. This picture is on the way back up the Shaffer Trail in Canyonlands. The view says it all.
Ben Schultz
Snake River Canyon, near Pittsburg Landing, Idaho
2021 Ford F-250
2021 OEV Camp-X tray and Camper
Camera Used – iPhone 13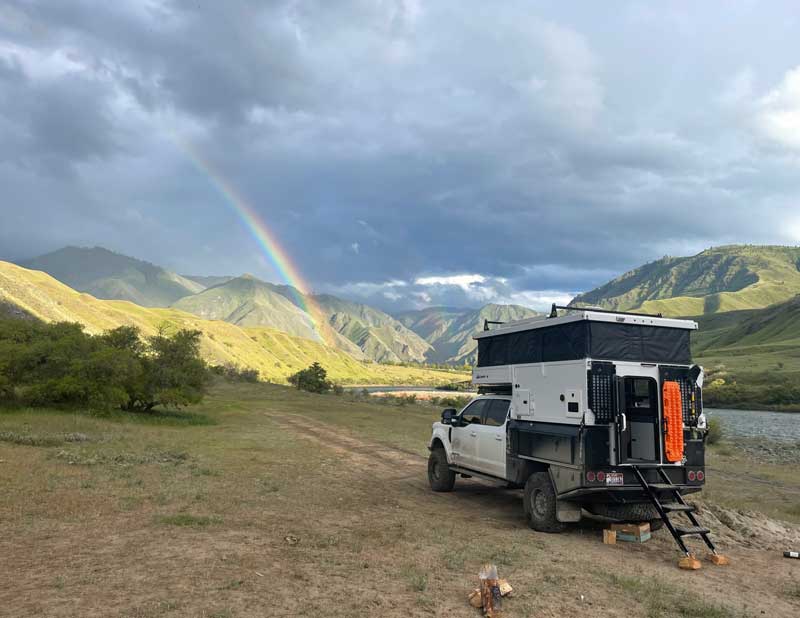 Celebrating our 21st Wedding Anniversary off-grid. Utilized the 37" wheels to overland to this special spot with zero neighbors on the snake river.
David Clock
Icefields Parkway, Jasper National Park, Alberta
2021 Ram 3500
2022 Arctic Fox 865
Camera Used – Sony A7R iii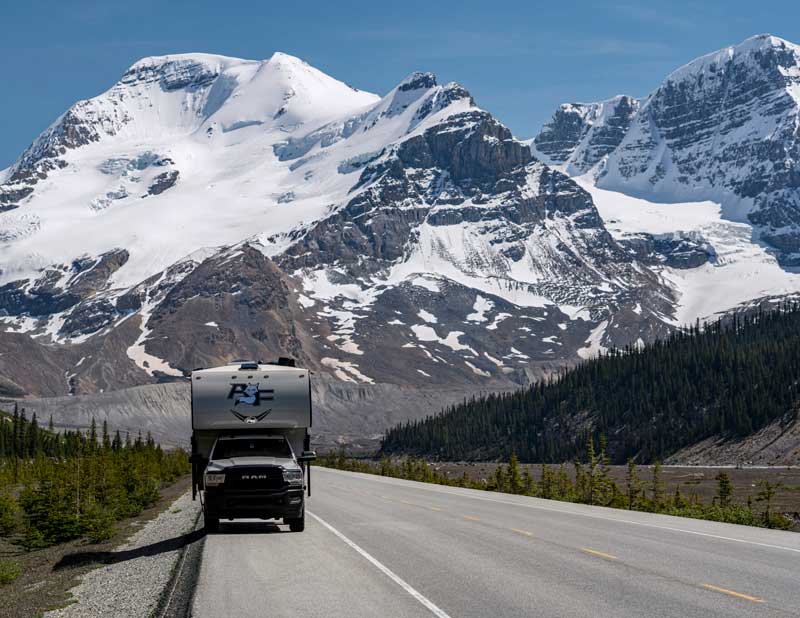 While on vacation in Canada in June of 2022, we had many days of rain. This was one of the few bluebird clear days while there. We were held up alongside the road as mountain goats were all over the roadway when I shot this. This was our last day in the area before heading home to California. The shot is looking south towards the Columbia Icefield area, with Mount Athabasca directly in the background.
Dave Dunbar
Cape Lookout, North Carolina
2016 Ford F350
2013 XP Camper
Camera Used – Samsung Galaxy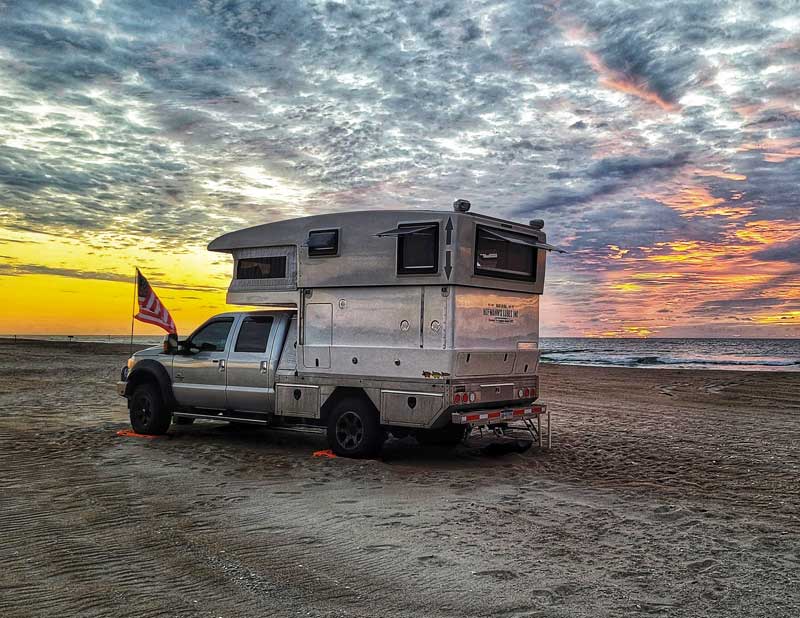 My family and I took the ferry over to Cape Lookout and spent four nights.
Cape Lookout is a small island that is basically a sandbar off the coast of North Carolina. It is all national seashore and camping is permitted along most of the island. There is one trail that runs the length of the island and many miles of beach to drive on.
The shelling, fishing and family time were tremendous. We will return this fall for more fishing, shelling, and family time.
Barbara Newbold
Lolo Pass, Highway 12, Idaho
2018 Ram 3500
2014 Northstar TC800
Camera Used – iPhone 12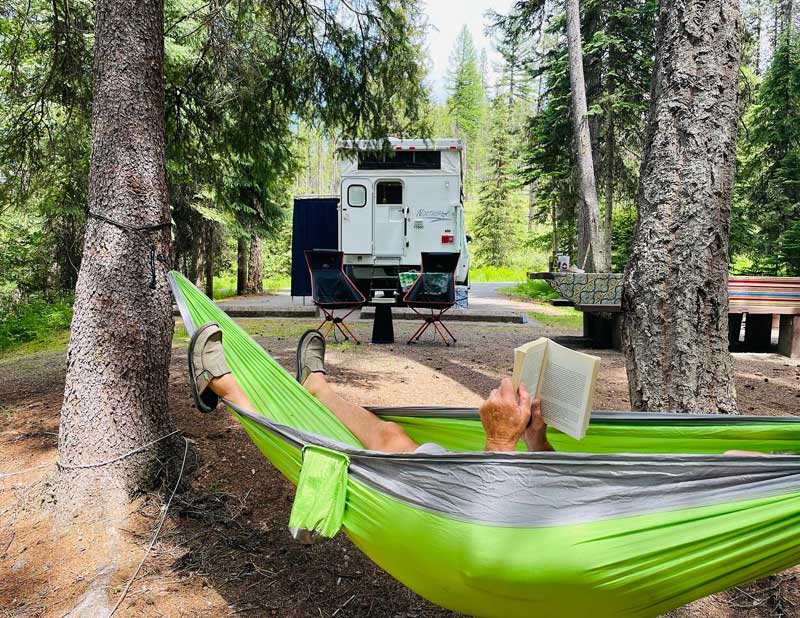 Camping along the Lewis & Clark Scenic Byway in Idaho.
Calendar photos are coming in very quickly!  For the most up-to-date look, click here to see all of the photos entered so far in the 2023 TCM Calendar Contest.  Enter your truck camper photos today!