For Behind the Shot Part 8, we are featuring photos and stories from the Columbia River Gorge, Mt Saint Helens, Labrador, Ontario, and more!  Click here to participate in the 2023 Truck Camper Magazine Calendar Contest and be considered for a Behind the Shot feature.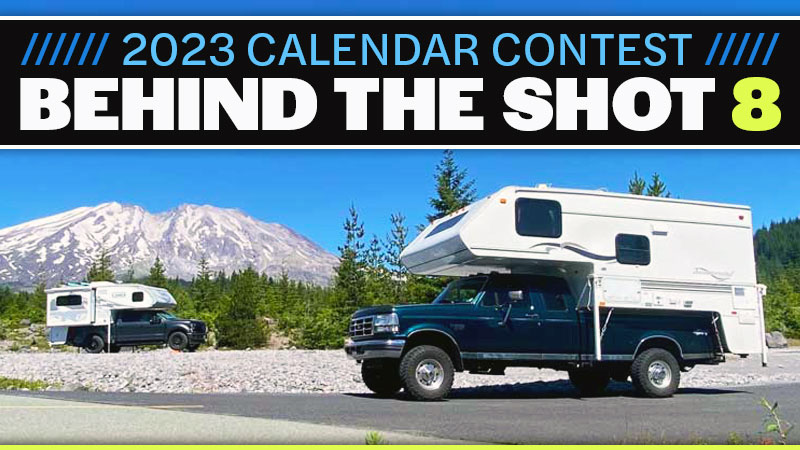 Ross Griffiths
Nipigon, Ontario
2018 Ford F-350
2018 Northern Lite 10-2
Camera Used – iPhone 13 mini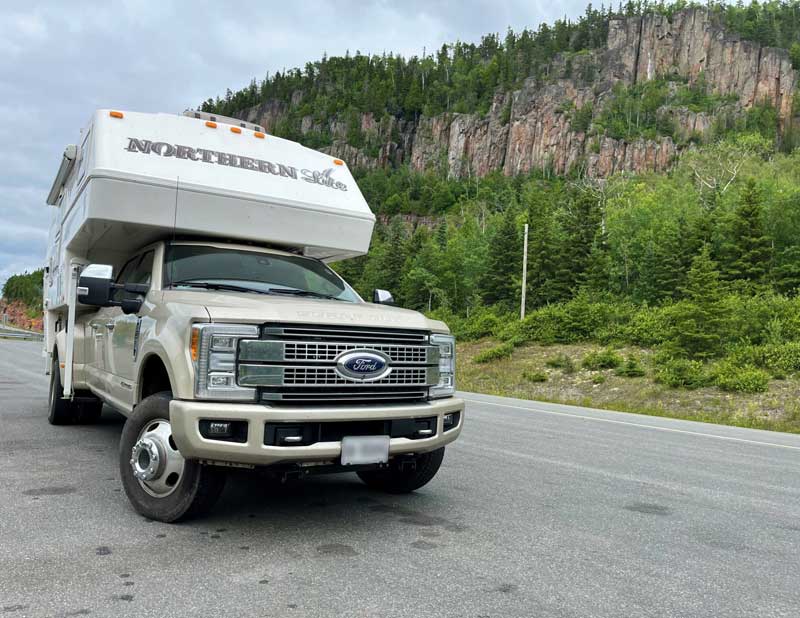 Heading for home after five weeks in western Canada, we stopped for lunch at a roadside pull-out just west of Nipigon, Ontario. The area between Thunder Bay and Nipigon is noted for its red rock cliff formations. This roadside pull-out is at the eastern end of the cliffs. Although the rocks were not particularly red in the drab light, we thought we would try for a photo opportunity while eating our sandwiches.
Cindy Wallis
Baldy Creek, New Castle, Colorado
2020 Ford F-250
2018 Lance 650
Camera Used – iPhone 12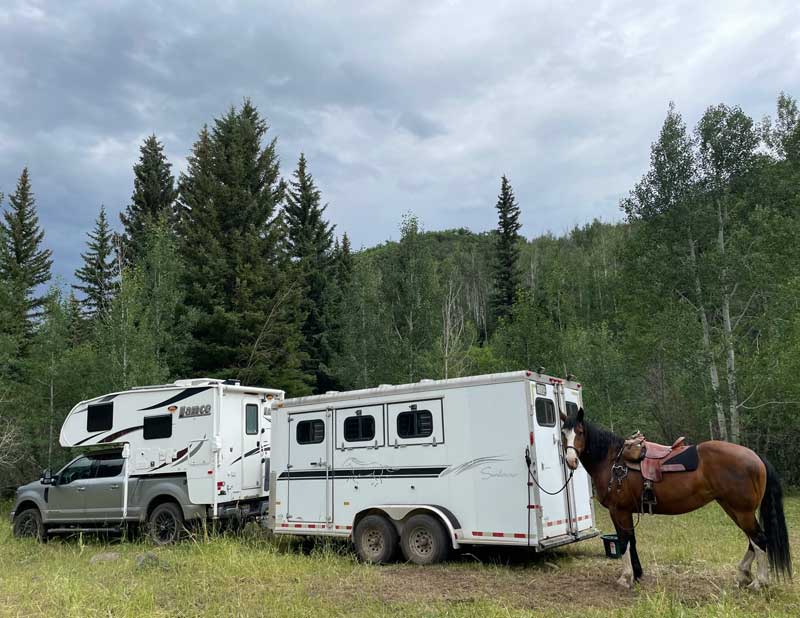 We were truck camping beside Baldy Creek in Garfield Creek State Wildlife area. This picture was taken just before going for a ride. The weather was changing and we were trying to beat the rain.
Angie Scott
Columbia River, Washington state
2014 Chevy Silverado
2016 Northern Lite 8-11Q SE
Camera Used – Nikon D7100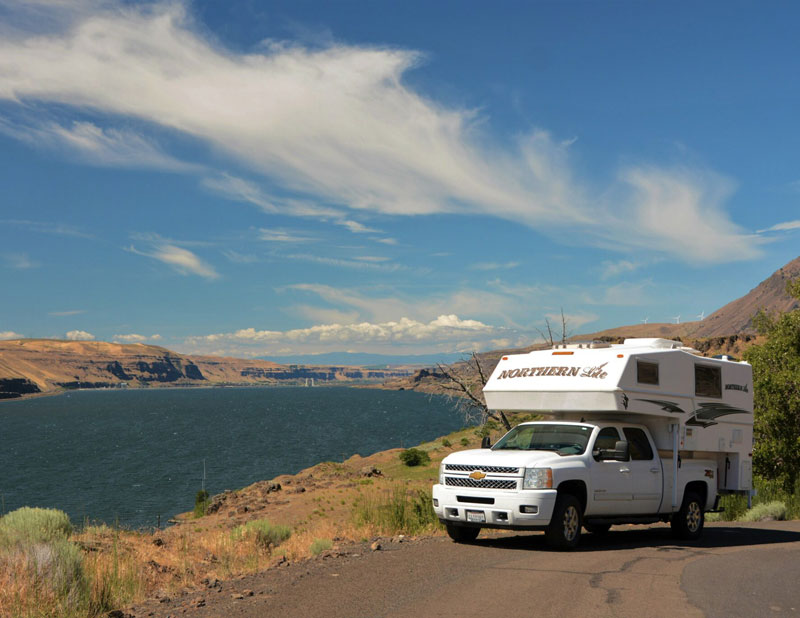 The Mighty Columbia. On this journey to visit friends and family in Idaho, we chose to drive the Lewis and Clark highway in Washington state (highway 14) instead of I-84, which is directly across the Columbia River on the Oregon side. What a nice, alternate route it was; much fewer cars and no big diesels!
Larry Fisher
Valley of Fire State Park, Nevada
2020 Ram 3500
Arctic Fox 990
Camera Used – phone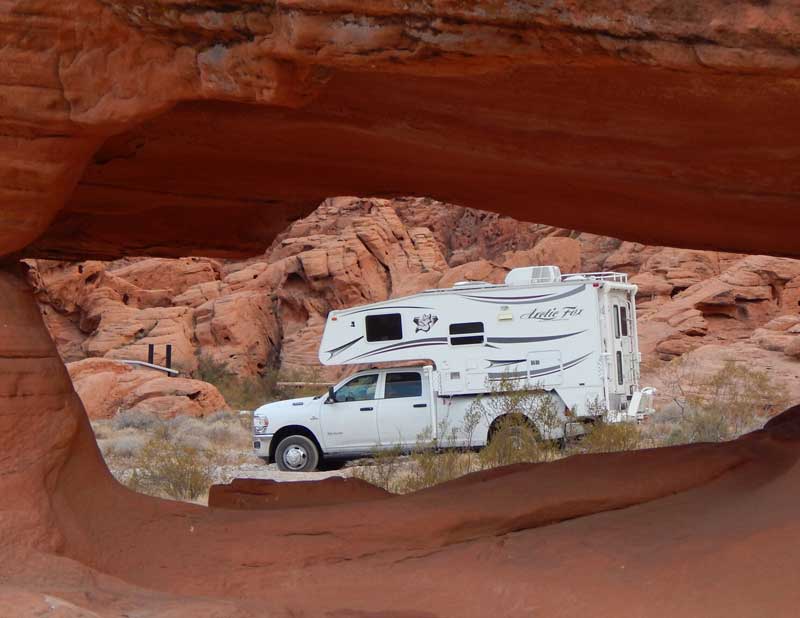 There is great hiking in this geologic wonderland. All camping is on a" first come, first serve basis". One should arrive by 8 am to drive into the spot as soon as the people exit. There is great boondocking just outside the park if you don't get a coveted spot. It's fun scrambling over these red sandstone mounds and peaks of various colors. If you are out for the day, be sure to leave a little pup tent or chairs to show the spot is occupied. It's all near Las Vegas, so it can be included in your trip if you wish. Be sure to watch for mountain sheep in the park.
Autum Rhoades
Elk Lake, Michigan
2020 Ford F350
2021 Wolf Creek 840
Camera Used – Samsung S21+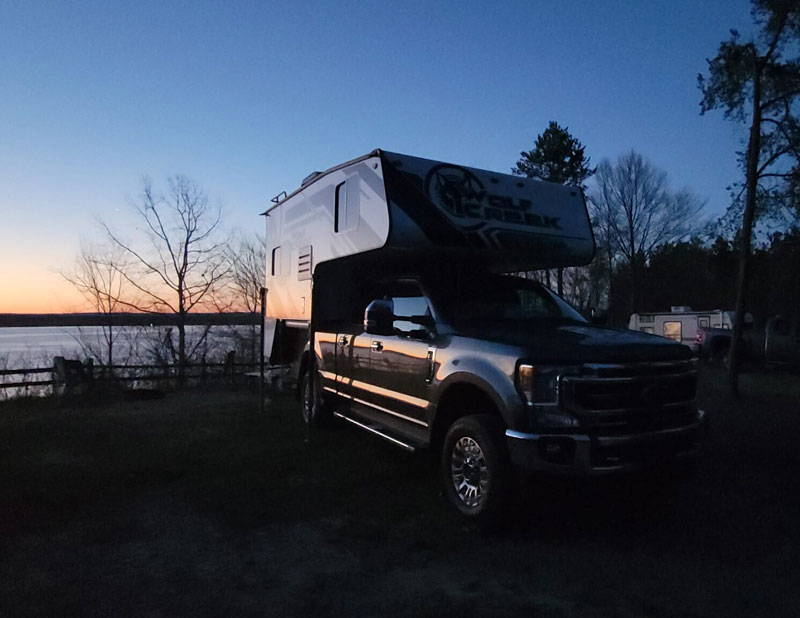 This was our first time camping in 2022. Long winters mean getting to camp as soon as we can. Loved the brisk air during the day, the colorful sunsets, and of course a blanket by the campfire. Camping in the Wolf Creek has been great! We look forward to our adventures in our truck camper.
Peter Lewko
Amour Point Lighthouse, Labrador, Canada
2019 Ford F350
2019 Northern Lite 10-2 Wet Bath
Camera Used – Apple iPhone 12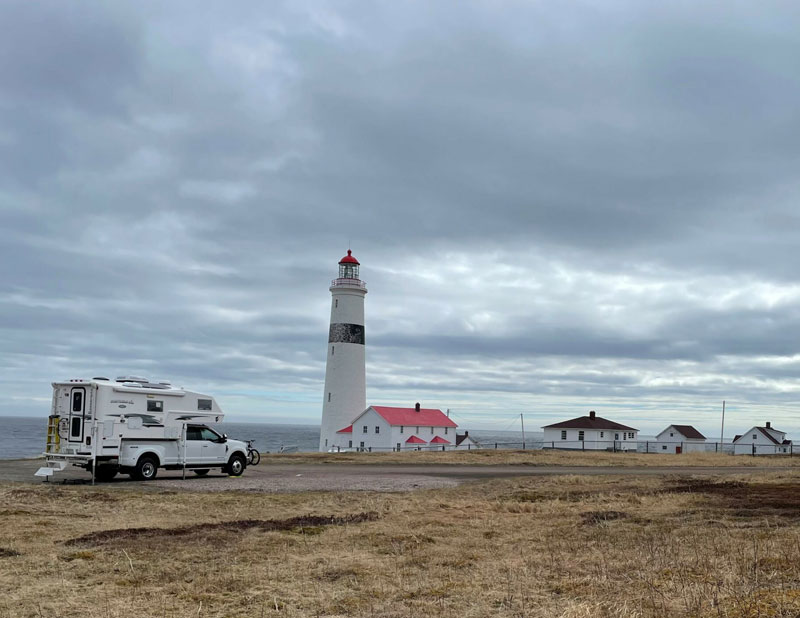 We were on day eleven of our seven-week (12,000km) east coast road trip that took us to Baie-Comeau Quebec, Highway 389 north to Labrador City, the Labrador Highway (Expedition 51) to Blanc-Sablon Quebec, Newfoundland, Cape Breton Island (the Cabot Trail), Nova Scotia, New Brunswick, the Gaspe in Quebec and home. The Point Amour Lighthouse is a historic site and it is the tallest lighthouse in Atlantic Canada. Subsequent to our lighthouse tour, we were advised that we could overnight in their parking lot. It was a beautiful spot right on the Labrador coast of the Strait of Belle Isle. It was so windy that we had to point the truck into the wind and put down the jacks to stabilize the camper for the night. A second truck camper joined us later that evening.
We experienced everything on this trip from shorts and tee shirt weather to winter jackets, toques and gloves. On day ten we camped overnight next to a snow plow in a gas station parking lot in Port Hope Simpson. We heard the snowplow leave at about 4:30am and woke up that morning to snow-covered roads. For those interested in doing Expedition 51, the worst part of the trip was Highway 389 in Quebec.
Once you get north of the Manic 5 hydro dam it turns to gravel and it is a mix of pavement, gravel, dirt, and rocks all the way to the Labrador border. The Labrador Highway is in good shape. Watch out for the potholes and frost heaves. When we took this trip there were only 32 kilometers of gravel road left on the route (located near Port Hope Simpson) and they were in the process of paving it. Cell phone coverage is minimal to nonexistent, so we traveled with a Garmin In-Reach GPS for communication purposes.
Another thing to keep in mind is that most of the tourist attractions do not open up until June 1st. We were a week early and missed out on Battle Harbour, and the National Historic Site in Red Bay. We did however see a number of icebergs.
Josh Rhoades
Abol Bridge Campground, Millinocket, Maine
2020 Ford F-350
2021 Wolf Creek 840
Camera Used – Samsung Galaxy s21 ultra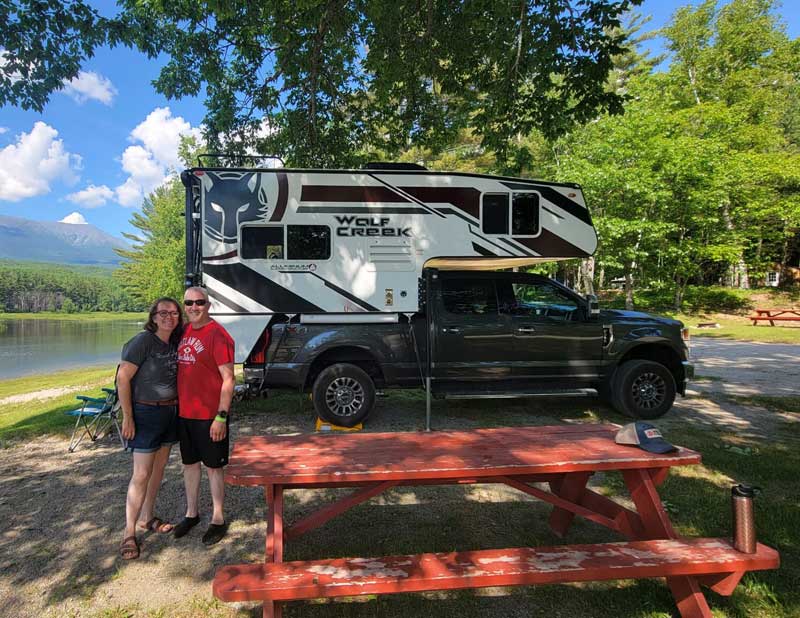 Rustic campground on the golden road. It is along the Nesowadnehunk Deadwater, a beautiful river facing Katahdin Mountain. Great spot! We drove approximately 3400+ miles during our New England trip from Michigan.
Mark Nymeyer
Homolovi State Park near Winslow, Arizona
2016 GMC Denali 3500
2009 Lance 992
Camera Used – Samsung moto5 cell phone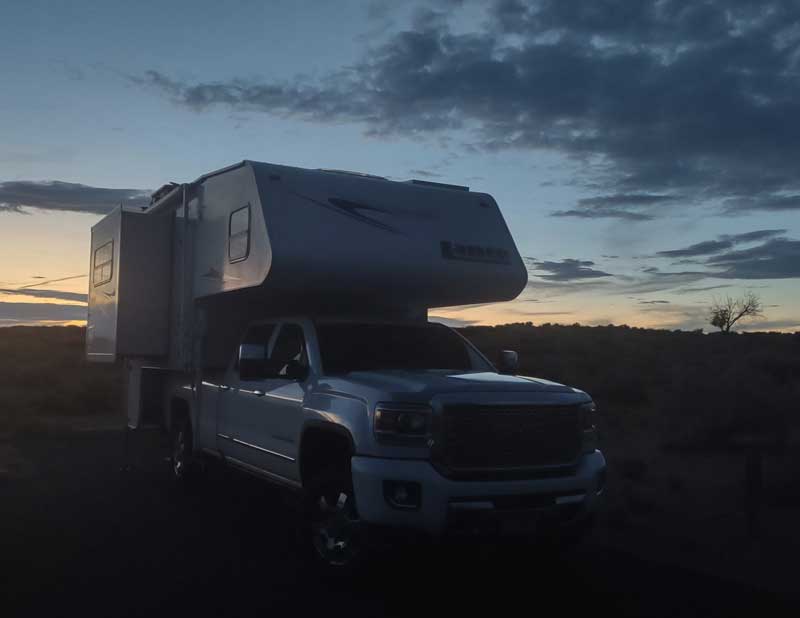 We were on our way home to Nevada after visiting family in Alabama and we decided to stop in Winslow, Arizona to take our picture "Standing on the Corner in Winslow, Arizona". We pulled into Homolovi State Park just outside of Winslow as the sun was setting and had to snap a picture!
Alex Hohman
Mount Saint Helens, Washington
1997 Ford F-350
2002 Summerwind 911s
Camera Used – iPhone 8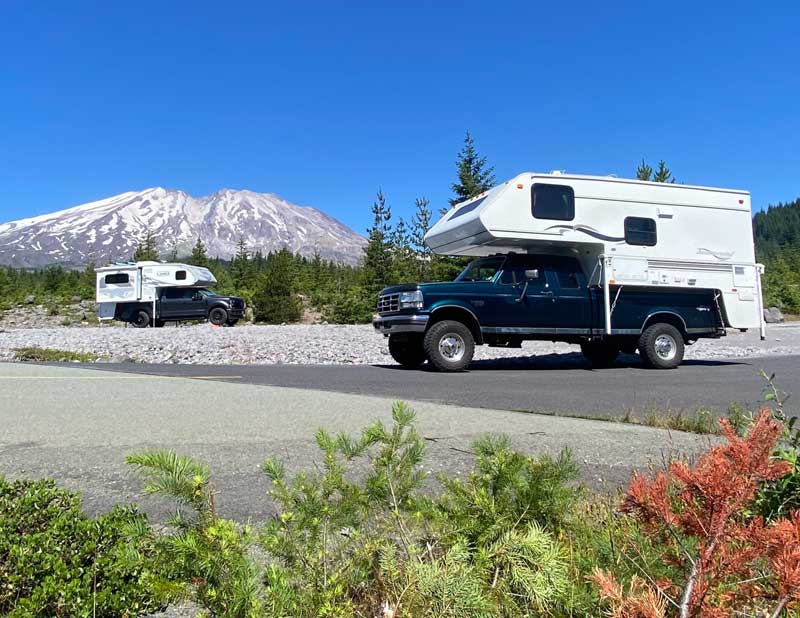 My girlfriend and I recently purchased this camper from an older couple that was happy to see the joy that it brings us. We both are originally from the east coast and moving west made us realize how much land there is out here to explore. We thought, what better way to explore than in a 4×4 camper! After weeks of searching on Craigslist, we found the perfect camper. We bought her, and completely renovated the inside with new styling for maximum enjoyment.
We live in the Mt. Hood area of Oregon and it is awesome to explore the mountains, desert, and coastal areas. Every weekend we roll out to a new stunning place and this camper setup has been extremely ideal for us. Unless people have a truck camper, they usually don't understand what it's like to be off the beaten path and surrounded by stunning scenery that's just waiting to be explored. This picture just sums up one of the beautiful places we've been and the culture of the truck camping family.
Click here to see all of the photos entered so far in the 2023 TCM Calendar Contest.  Enter your truck camper photos today!