For Behind the Shot Part 7, we are featuring photos and stories from the Badlands, White Sands, the Redwoods, and more!  Click here to participate in the 2023 Truck Camper Magazine Calendar Contest and be considered for a Behind the Shot feature.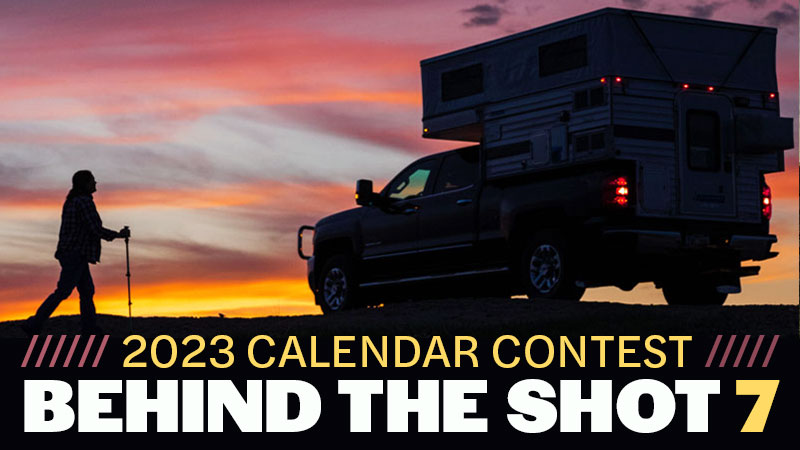 Alexandre Gregoire
White Sands National Park, New Mexico
2021 Ram 3500
2022 LOKI Basecamp Falcon
Camera Used – Sony A6600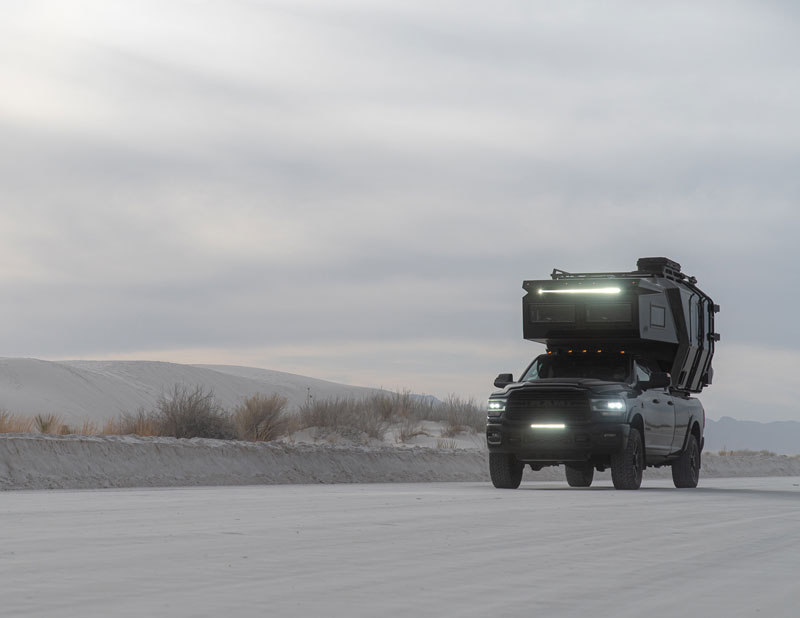 This winter, we drove to the southwest of the USA on a National Park themed road trip. We stopped in all of the National Parks we had never visited. We loved White Sands for the lunar landscape and the super soft sand. It was a magical drive around the park.
William Hibbard
Oceanfront Camping at Reach Knowles, Brooklin, Maine
2018 Ram 3500
2022 Northern Lite 10-2 EXCD LE
Camera Used – Canon EOS RP, RF15-35/2.8L IS USM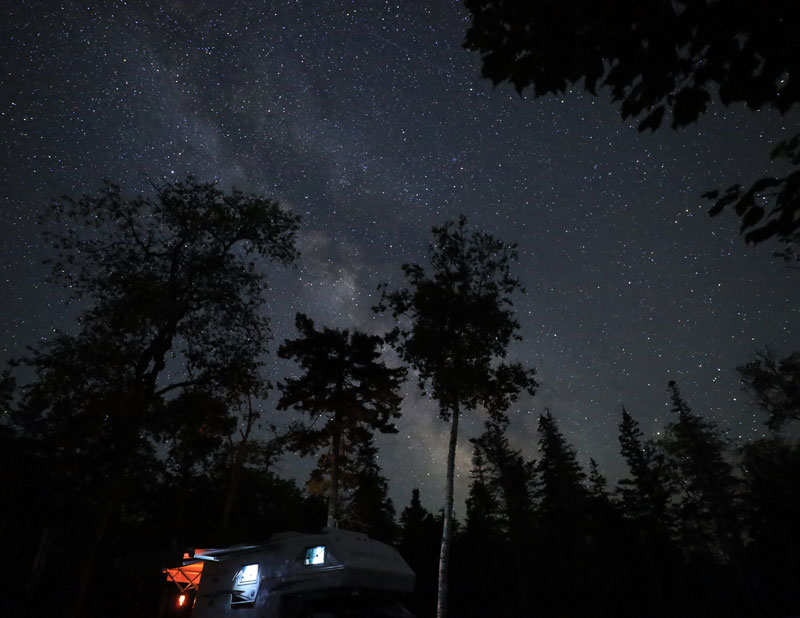 I experienced the dark skies the night before while taking some Milky Way shots from the beach and knew what to expect. While thinking about the shot, I was not sure if I could capture enough of the camper to make out features. It turns out I did.
I wanted to compose the picture from a distance silhouetting the trees in front of the Milky Way and the camper in the foreground. I left the lights on in the camper and had a LED lantern (globe) hanging off the back awning. It gave the awning a red glow to it and the windows are blazing with white light. You can barely see my truck under the camper, but it's there.
Jon Humphrey
Jonathan Dickinson State Park, Florida
2013 GMC Sierra 3500
2017 Arctic Fox 865
Camera Used – iPhone 10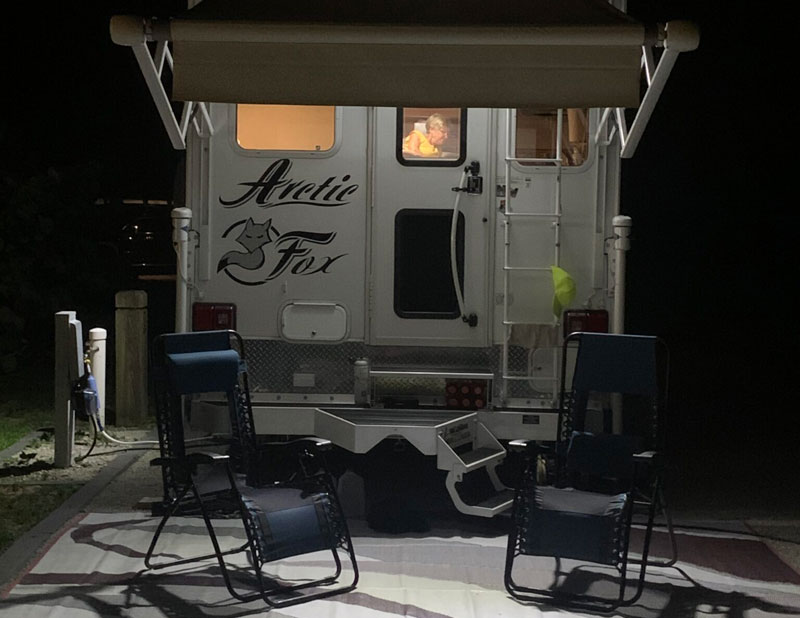 We loved camping at Jonathan Dickinson State Park and wanted to share this photo.
Colton Ziegler
Medicine Bow National Forest, Wyoming
2010 Ram 2500
2021 Capri Retreat
Camera Used – Phone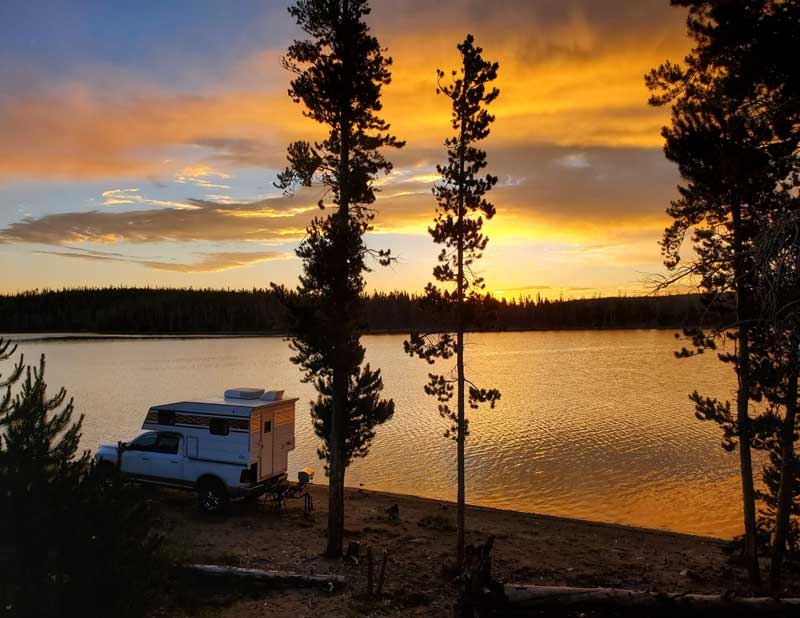 Camping at Rob Roy Reservoir in Medicine Bow National Forest we were able to pull down along the water's edge where the larger trailers/RVs couldn't fit. To our delight, we ended up with this awesome camping spot and a beautiful sunrise.
Scott Launey
Jedidiah Smith Redwoods, California
2019 Ford F-350
2020 Northstar 850SC
Camera Used – Nikon D5100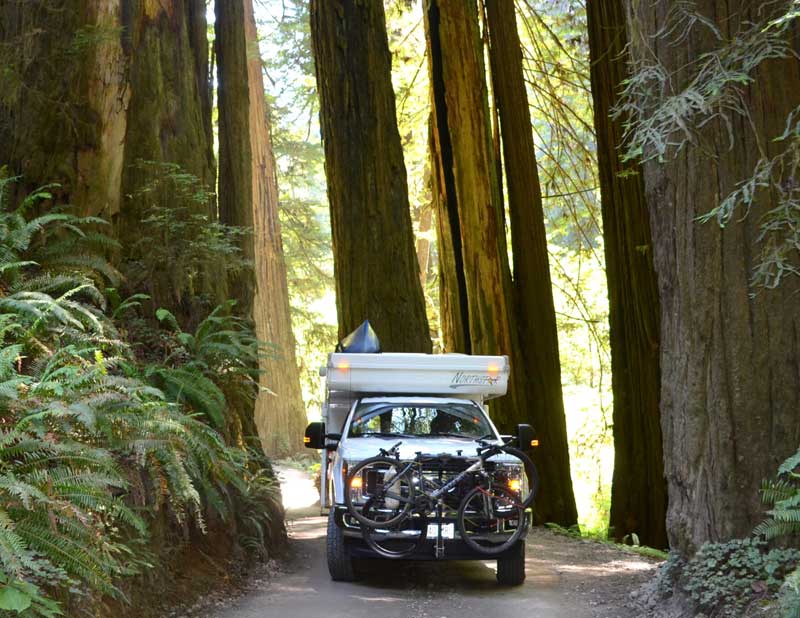 Cruising through the tight, tall, and huge redwoods, I couldn't help but stop for some photos. It's a wonderful road down to Crescent City, California.
John and Dana Bernard
Crown Land camping near Sundre, Alberta
1998 Dodge 2500
2000 Kodiak
Camera Used – iPhone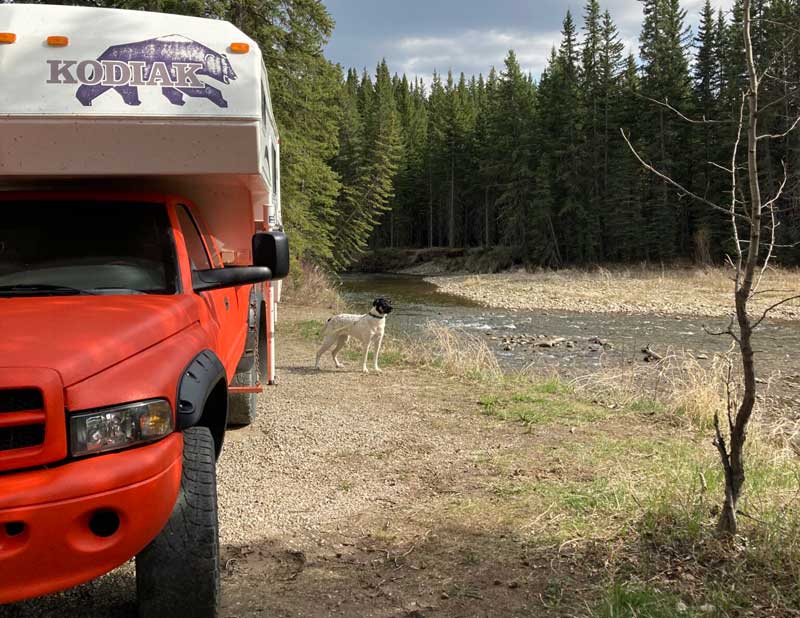 It was our first time off-road camping on Alberta crown land. We took the four wheeled and four legged beast off the grid for a week. Heading back in September for a longer trip. So much fun!
Harry Burgess
Ray Roberts Lake, Texas
2019 Ford F-350
2019 Lance 850
Camera Used – Apple iPhone 13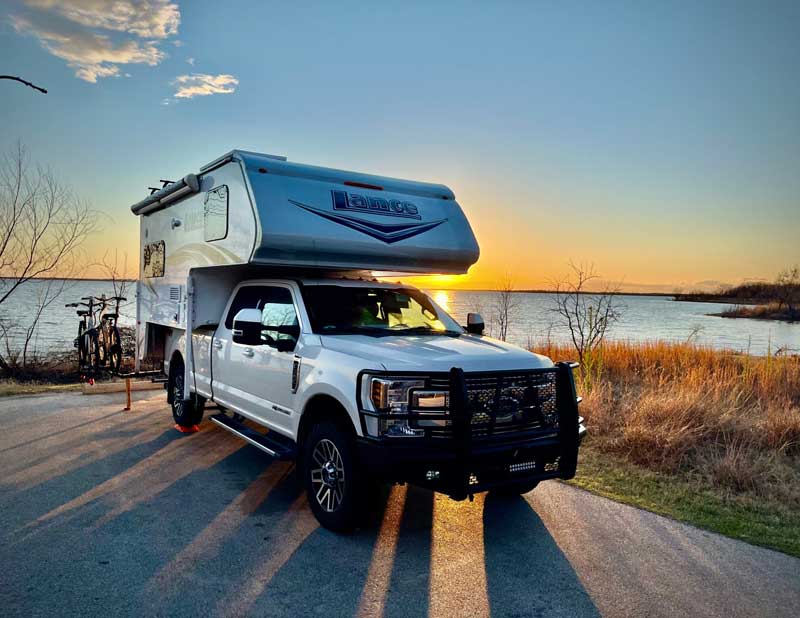 This photo was taken early in our two-month "retirement tour". The camper was new to us (but our fourth truck camper) and we were admiring it after arriving at the state park, just as the sunset. We have now spent four of the last six months in the camper, and we are planning for more.
Zack Robinson
Green River Lakes Road, Wyoming
1997 Ford F350
1997 Bigfoot 2500 9.6B
Camera Used – Google Pixel 5a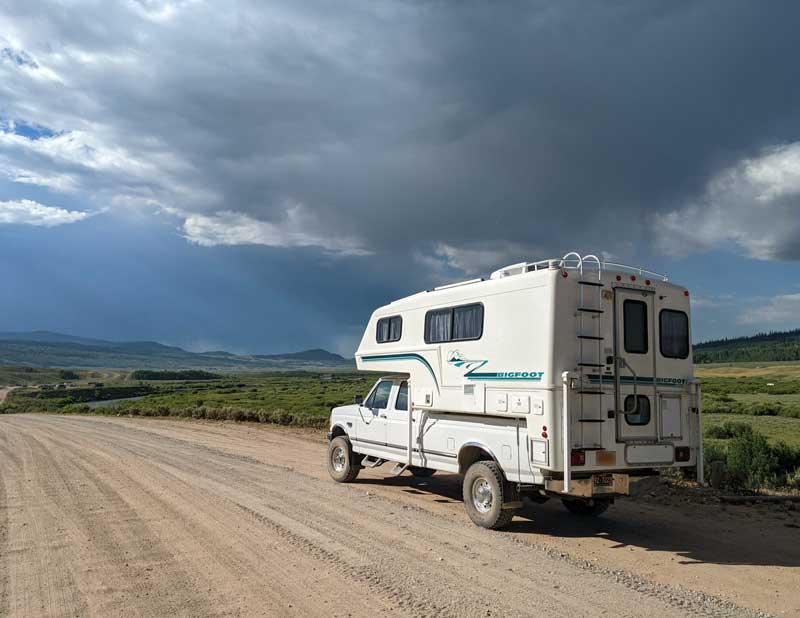 This photo was taken on our way back from camping at the Green River Lakes in Wyoming. The dirt road is about 20 miles long and is slow going; 10-15 miles per hour max in our rig. I noticed some thunderstorms to the south and pulled over to capture a few photos.
We are in the midst of a month-long trip before our daughter starts kindergarten and have been very fortunate to find places like these. With the truck camper, we can easily boondock and fit into pretty much any campsite. I added 400-watts solar in the spring which has expanded our ability to boondock even further.
Mark Burkhardt
Belknap Crater, Oregon
2015 Ram 2500
2022 Lance 825
Camera Used – Phone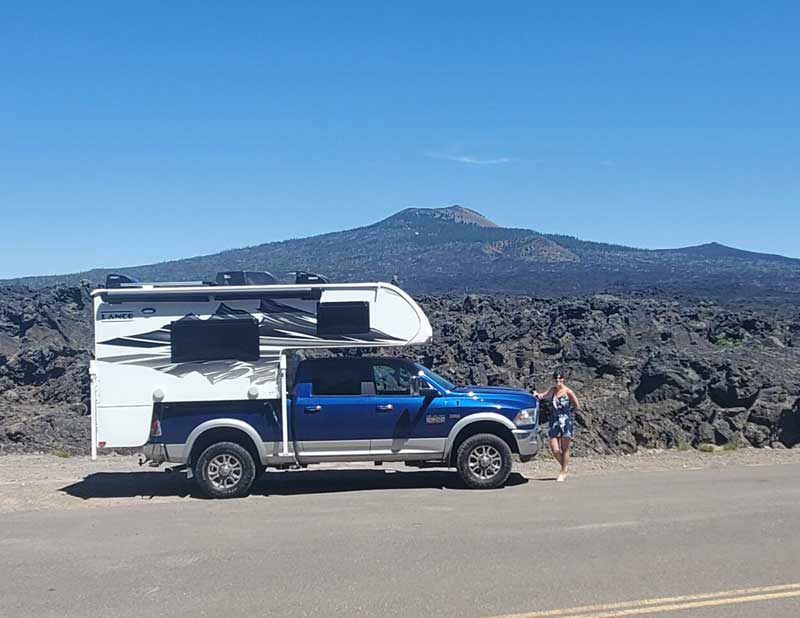 Rather than take the standard route over the pass, Highway 22, we decided to take the Old McKenzie Highway. It's a paved, but narrow, windy road. There were a lot of bikers going down the hill as we were winding our way up. The road has a maximum length restriction of 35 feet due to the narrow curves. Along the way, we stopped at the Belnap Crater, the Obsidian flow, and also the Dee Wright Observatory.
Jeff Wright
Shagwong Point, Montauk, New York
2007 Ram 3500
2021 Arctic Fox 992
Camera Used – iPhone 13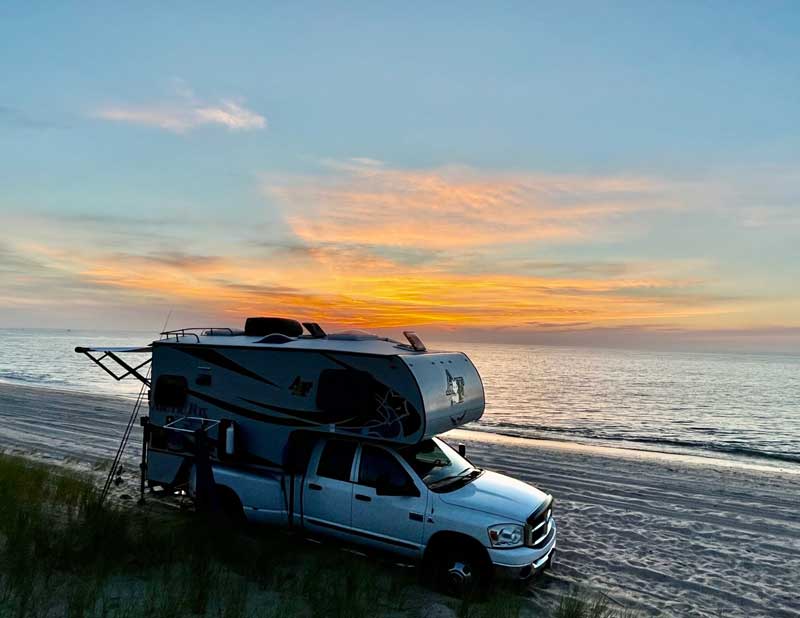 When we are not away somewhere camping, we are in the beach in Montauk every weekend between April and the end of November. It's 60 miles from our house and is our every weekend getaway.
Glenn Johnson
Lohman Hot Springs, Idaho
2022 RAM 3500
2022 Bigfoot 2.5C10.4
Camera Used – iPhone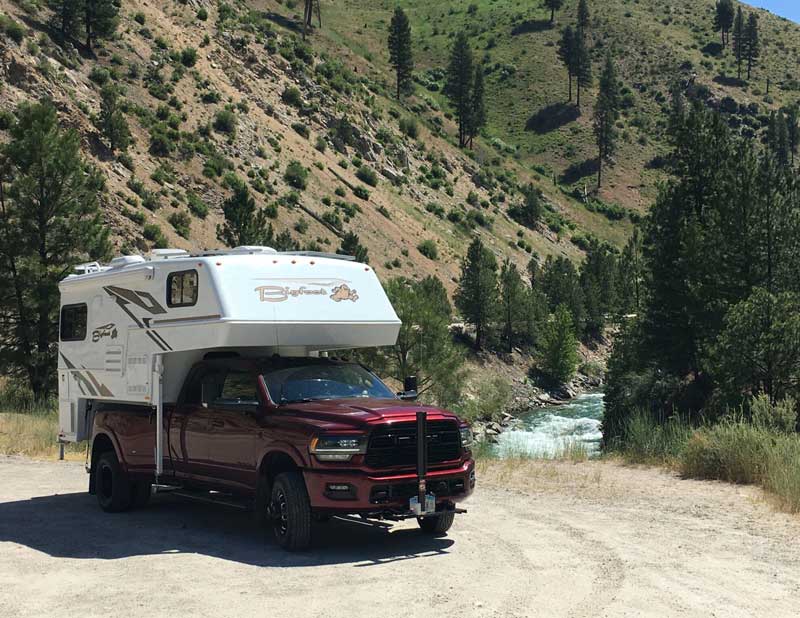 One of the first stops after picking up our new camper!
Ralph Gallicchio
Sandy Neck Beach, Barnstable, Massachusetts
2020 Ford F-350
2019 Palomino HS-8801
Camera Used – Galaxy phone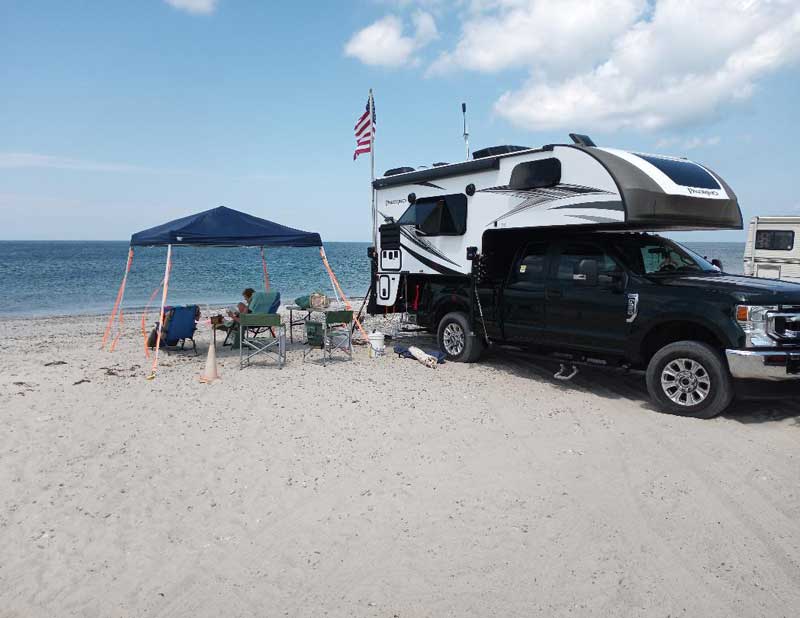 We love camping on a beach. Normally we go to Democrat Point here on Long Island, New York. We fish and stay over for a few days. Every year in July the piping plover decide to nest on this beach. We know this, so in mid-winter I started looking for an alternative beach we could visit. With some help from YouTube, I saw this beach. This is Sandy Neck Beach in Cape Cod in a town called Barnstable. I looked it up on the net and also called the gatehouse. The people there were very helpful. I applied for a nonresident permit, received it and made the plans. We were there for four days and had a great time. We also met some really nice people. Being from New York and staying in Massachusetts we did not talk about sports. We will go there again next year.
Cesar Jorge Montes
Trelew, Chubut, Argentina
2008 Dodge Ram 2500
2016 Northstar Laredo
Camera Used – Phone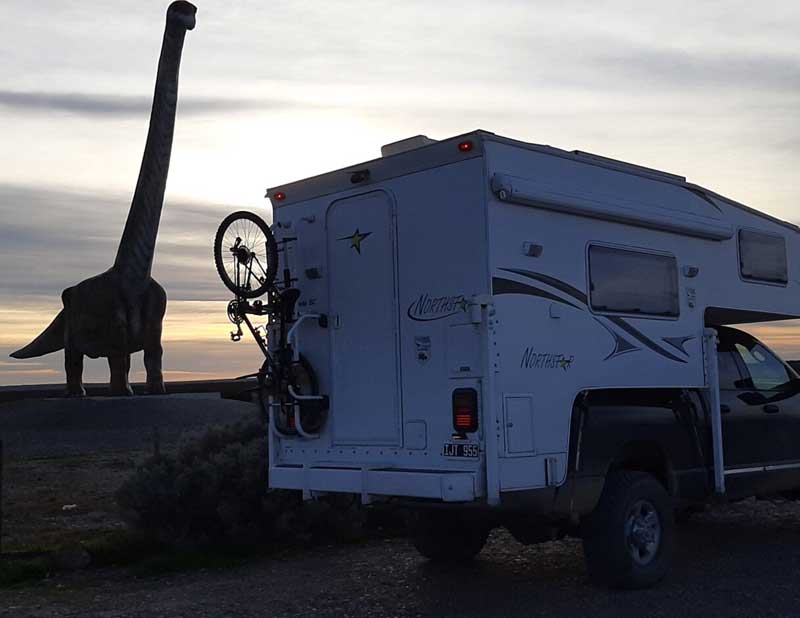 This photo was taken on National Route 3 leaving the city of Trelew in the province of Chubut, Argentina. In the background the replica of the Patagotitan Mayorum dinosaur to scale. Additional information can be visited in the museum https://mef.org.ar. This dinosaur attracted such interest in the world that it put the Mef in the international scientific showcase. It was thus that the BBC in London proposed to the Egidio Feruglio Foundation the filming of a documentary conducted by the renowned naturalist and documentary filmmaker Sir David Attenborough, about this amazing discovery and the natural wealth of Argentine Patagonia.
Tom Wells
Kenogama Lake, Minnesota
2019 Ram 3500
2003 Eagle Cap 850
Camera Used – Phone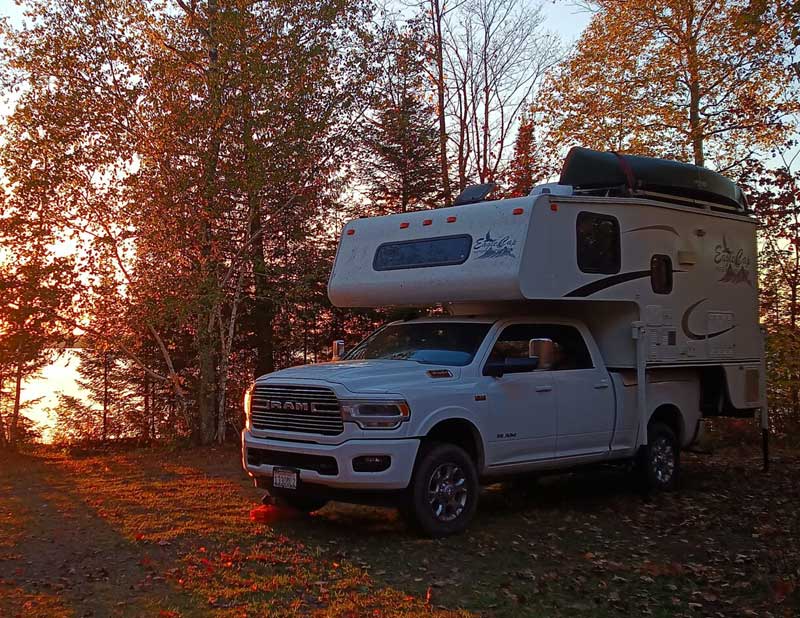 I found this remote campsite while traveling through Minnesota and ended up staying an extra night because of the remote location.
Brent Koops
Badlands Boondock Campspot, South Dakota
2016 Chevy Silverado
2016 Four Wheel Camper Hawk
Camera Used – Canon 7DMkII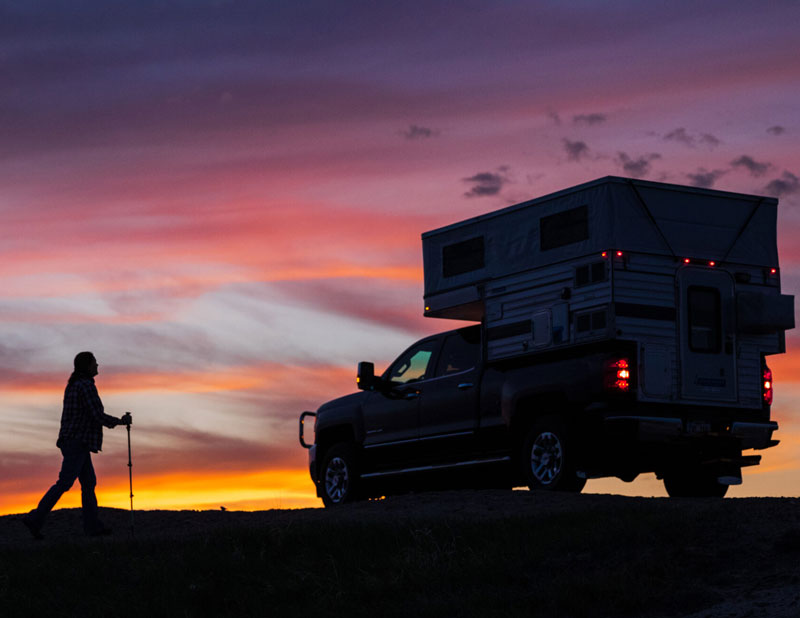 We arrived on the west edge of the Badlands National Park by late afternoon and briefly set up camp. After a relaxing evening hike of exploring around the rim of the Badlands, we arrived back at the camper as the last light of the day dimmed and we enjoyed a supper under the stars as the prairie coyotes were singing in the background.
Click here to see all of the photos entered so far in the 2023 TCM Calendar Contest.  Enter your truck camper photos today!