For Behind the Shot Part 5, we are featuring photos and stories from New York, Montana, West Virginia, Utah, Alaska, and more!  Click here to participate in the 2023 Truck Camper Magazine Calendar Contest.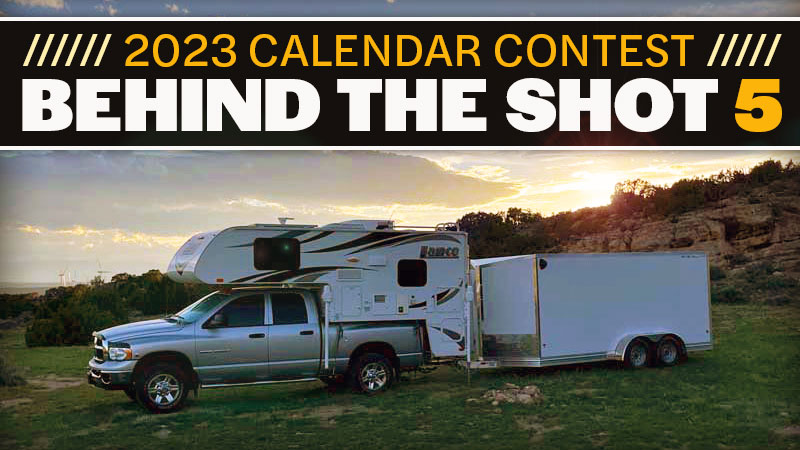 Andy Foglia
Orient Point, New York
2017 Tacoma Sport
2015 Northstar 600 cc
Camera Used – iPhone 10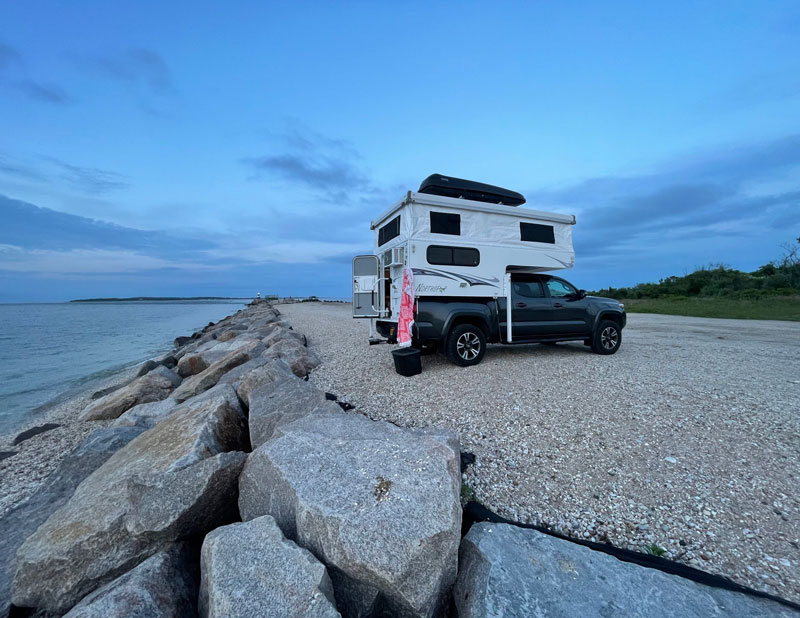 This picture is from a surf casting trip to the tip of the north fork of Long Island with my wife for our anniversary. No luck catching any fish, but we enjoyed an amazing sunset.
Jay Groves
Seneca Rocks, West Virginia
2017 Ram 3500
2022 Lance 975
Camera Used – iPhone 12 Pro Max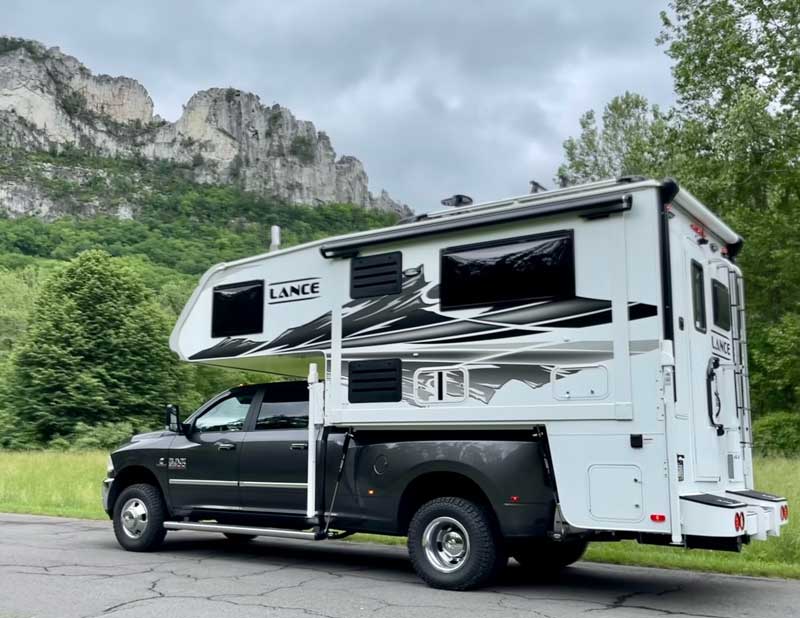 We decided to take an extended weekend to do a via ferrata near Seneca Rocks, West Virginia. That plan happened to fall through but we used the time to explore the surrounding area, which included a hike (you could climb) to the top of Seneca Rocks. This picture was taken from the auxiliary parking area at the trailhead.
Mike Keenan
Warren, Montana
2004 Dodge Ram 3500
2016 Lance 825
Camera Used – iPhone 13 mini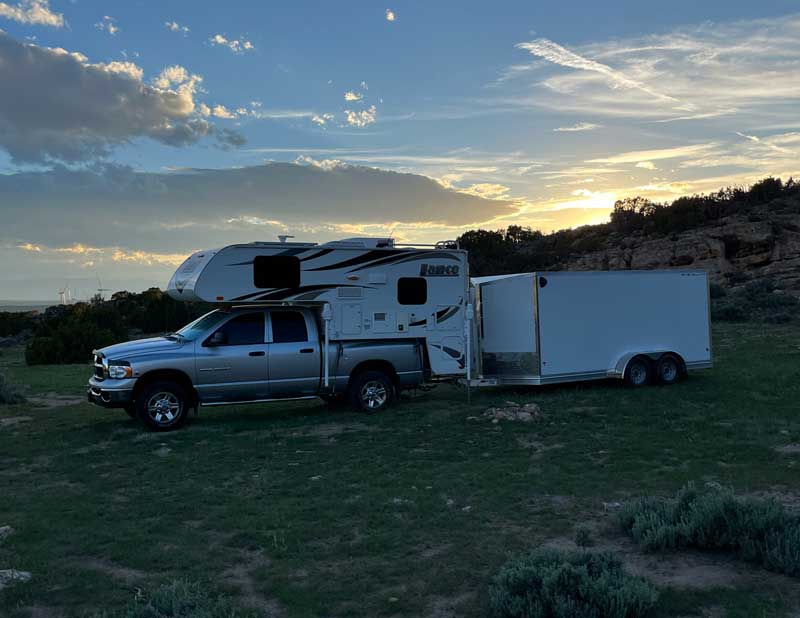 This was our maiden voyage with our new to us truck camper. I put a lot of elbow grease into cleaning, sealing, repacking electric jacks, adding 100-watts of solar and other miscellaneous items. For many years up until 2022, we pulled a 2006 Holiday Rambler toy hauler with our 2004 Dodge Ram.
It was a great camper and it served our purpose well, but my wife and I are now empty nesters and I wanted more versatility. That included the ability to transport our Honda Talon and have loads of extra storage and less overall weight. The truck is somewhat of a unicorn in my opinion as it is equipped with the near bulletproof NV5600 transmission and 5.9l HO Cummins engine. With only a tick over 35,000 miles, it should last a very long time.
Colton Ziegler
Moab, Utah
2010 Ram 2500
2021 Capri Retreat
Camera Used – Samsung S10e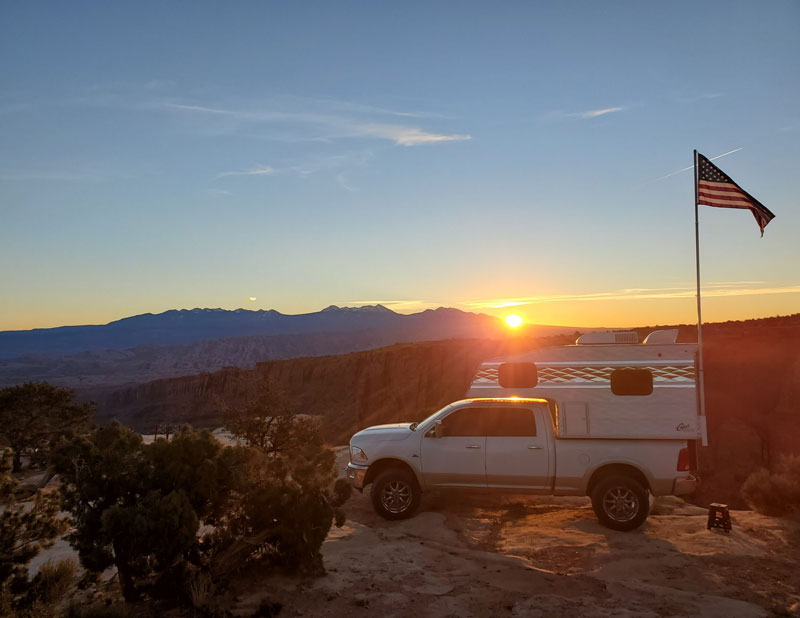 During our annual jeep trip to Moab, we were camping just outside of Canyonlands National Park overlooking Arches National Park. I was lucky enough to wake up early one day to get this awesome sunrise shot!
Shannon Davis
Lake McConaughy, Nebraska
2019 Toyota Tacoma
2019 Palomino SS-500
Camera Used – iPhone X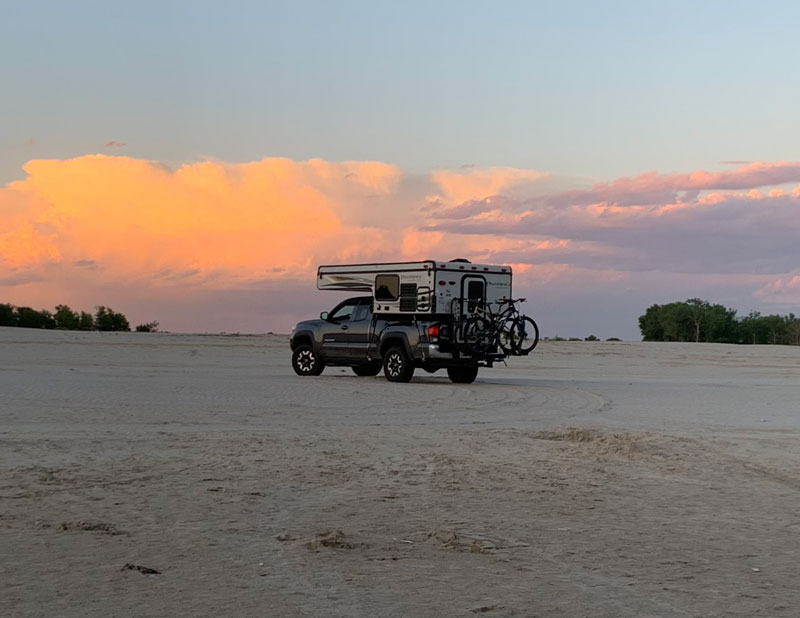 I was traveling from Colorado Springs to Wisconsin. I decided to stop at Lake McConaughy to spend a day on on the water before making the long drive east. As I rolled into the park right at sunset I noticed those huge thunder clouds in the horizon. They began to turn pink and orange as the sun set and framed my truck camper beautifully.
Julia Campbell
Fort Myers, Florida
2021 Ford F-250 (not pictured)
2021 Wolf Creek 850
Camera Used – iPhone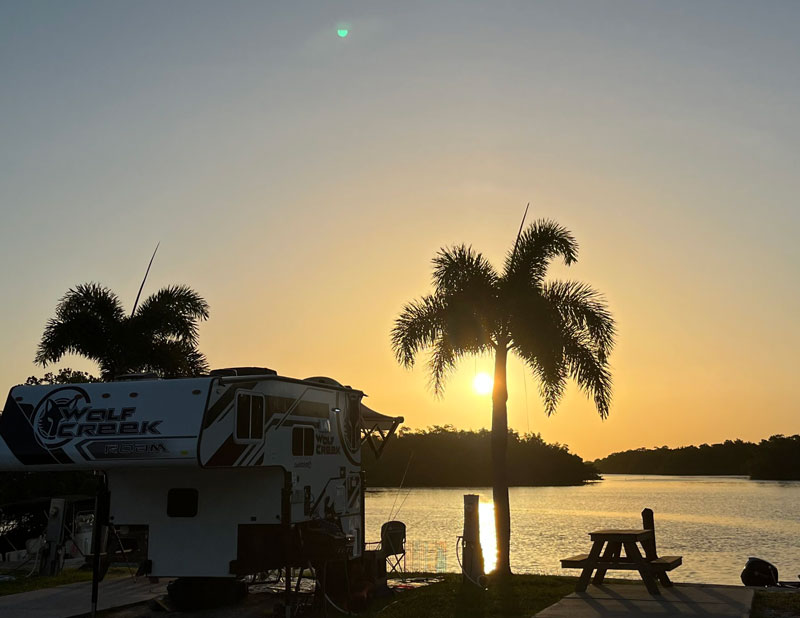 This was taken in Fort Myers, Florida at San Carlos RV and Islands. We just happened to stop here on our inaugural truck camping trip from our home on Toledo Bend in Louisiana to the Florida Keys. This was our favorite stop on the journey!
Steve Vankeuren
Kangaroo Lake, California
2006 Dodge Ram 3500
2007 Outfitter Camper
Camera Used – Samsung s10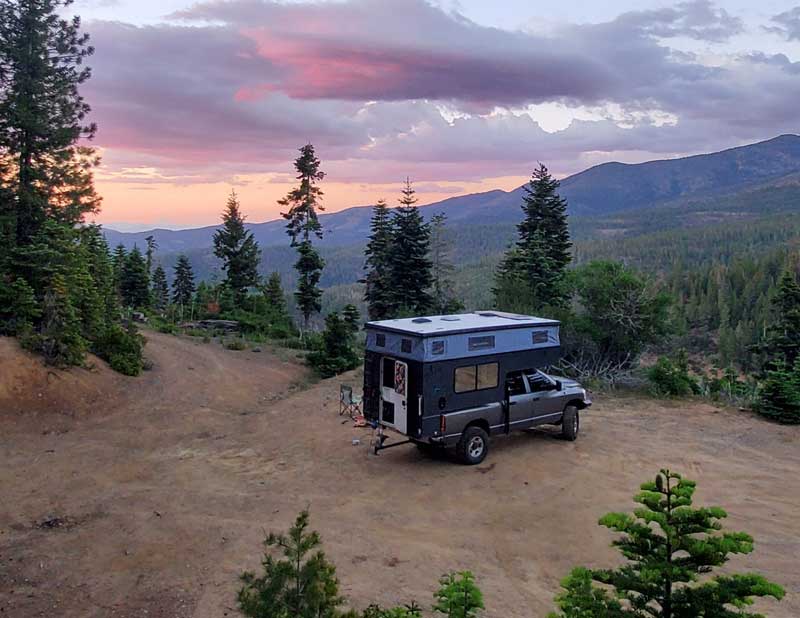 The location is a landing just under Kangaroo Lake outside of Etna, California. It was the golden hour just after sundown.
Ed Stanford
Cantwell, Alaska
2018 Ford F450
2021 Arctic Fox 1140
Camera Used – Samsung S20FE phone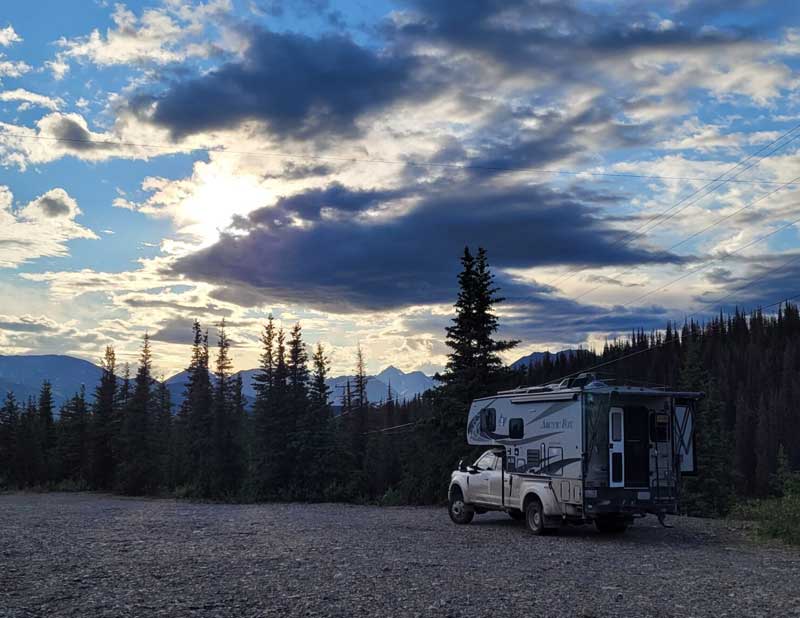 This is a roadside pullout for an overnight on the Denali Highway. It was about two miles east of Cantwell. It just finished raining for about 15 minutes. I took the dog out to do his business. The photo was taken about 9:00 PM in the evening.
Greg Gabert
Racine, Wisconsin
2019 RAM 3500
2017 Palomino SS-1200
Camera Used – Phone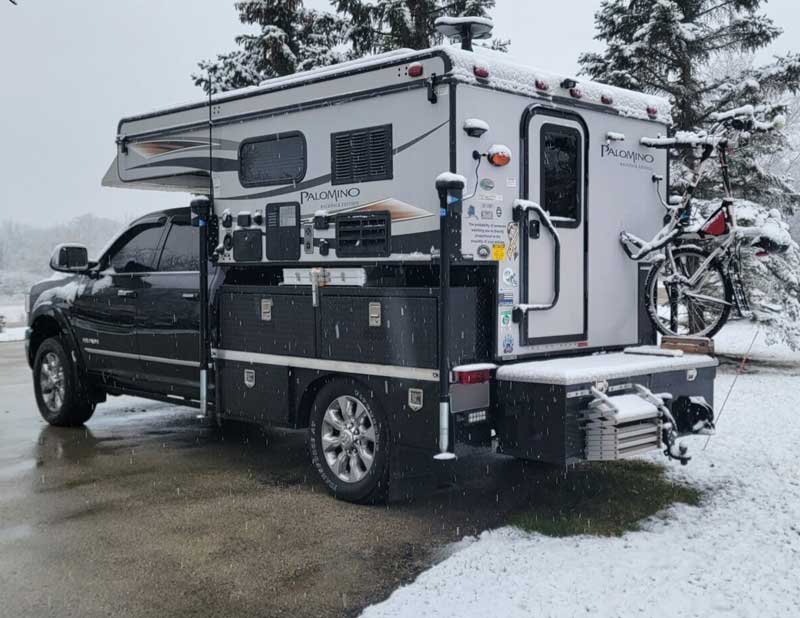 I came up from Florida on the way to Alaska. The Canada crossing was still iffy and then fuel prices headed to $8 a gallon up there. I decided to hang in Racine for the summer and continue restoration efforts on a classic car. This picture was of the last Spring snowfall.
Frank Niehus
Wickenburg, Arizona
2007 Ford F-350
2021 Lance 1172
Camera Used – cell phone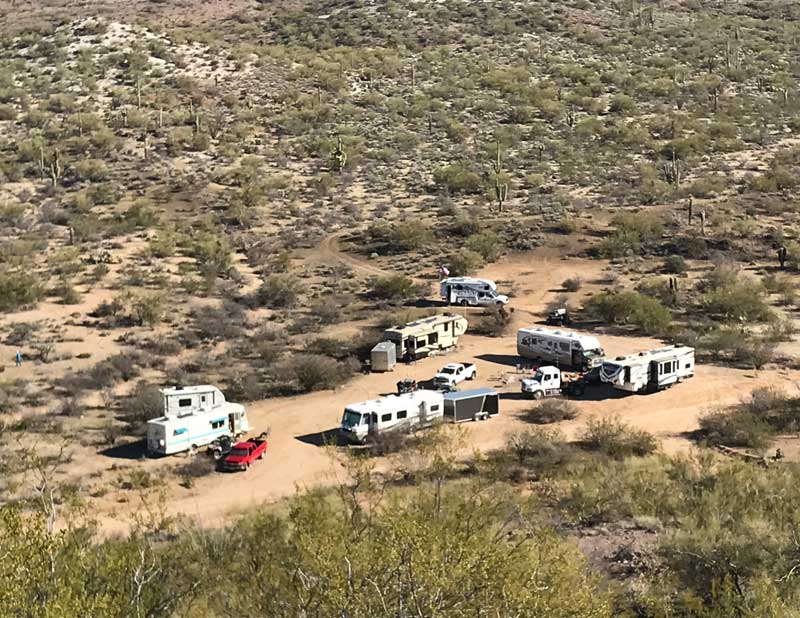 Over the last 10 years, we have met many friends who boondock and ride the deserts on the RZRs. We gather the last month around Wickenburg; some come and go during that month.
Diane Cashel
Devils Garden Campground, Arches National Park, Moab, Utah
2015 Ford F150
2016 Hallmark Guanella
Camera Used – iPhone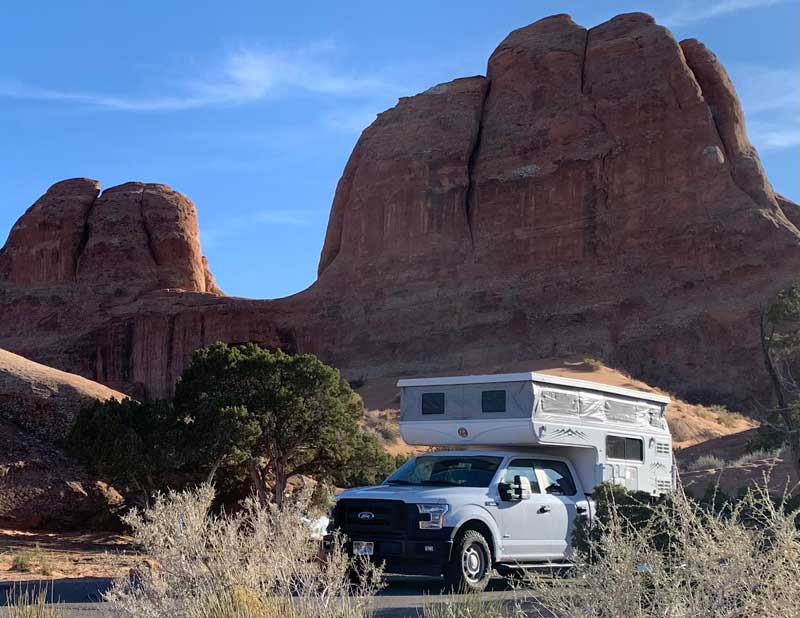 We live in Utah and it never gets old camping in this beautiful park.
Click here to see all of the photos entered so far in the 2023 TCM Calendar Contest.  Enter your truck camper photos today!