For Behind the Shot Part 3, we are featuring photos and stories from Cape Disappointment, Petrified Forest National Park, Moab, and many more!  Click here to participate in the 2023 Truck Camper Magazine Calendar Contest and be considered for a Behind the Shot feature.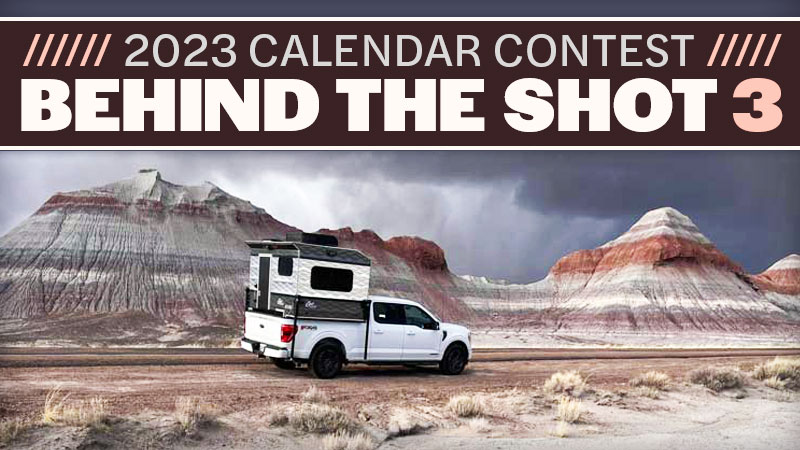 David Clock
Grant Lake, California
2021 Ram 3500
2022 Arctic Fox 865
Camera Used – Sony A7Rm3, 16mm f 2.8 lens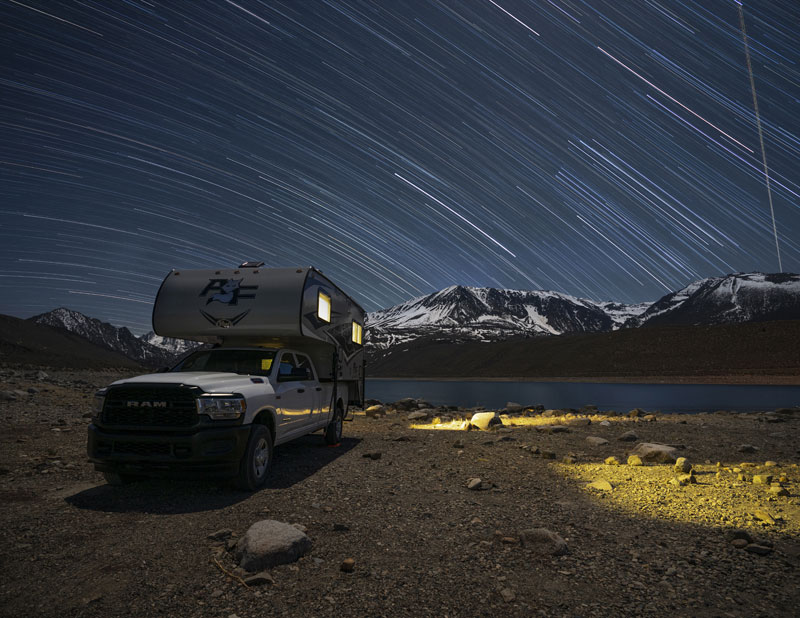 This photo was taken on a weekend trip for my birthday. I planned this quite a few months in advance checking all the moon dates to make this shot happen. The conditions needed to be right. My wife and I had done some hiking and kayaking over the weekend with this spot in mind for those activities and photography.
I often weekend camp somewhere in this area, and this place usually has no one around; it's quiet, on a lake with a big mountain backdrop which makes it special. Luckily, we had good clear weather, often not the case for early April in the Eastern Sierra.
I have done a good amount of night photography, so I knew what I was after with this shot. What I needed was enough moonlight to show some foreground detail, yet not so much to drown out the stars in the sky.
I often use a camper for my photography, and we always mix in activities like hiking, rock climbing, mountain biking, snowboarding, kayaking or a mix of them to round out the days during our trips. Having the Arctic Fox 865 has been such a solid performing, comfortable camper year round. Idaho, Montana and Canada trip coming soon!
Grace OSullivan
Cape Disappointment State Park, Washington
2017 Silverado HD3500
2008 SnowRiver
Camera Used – Android phone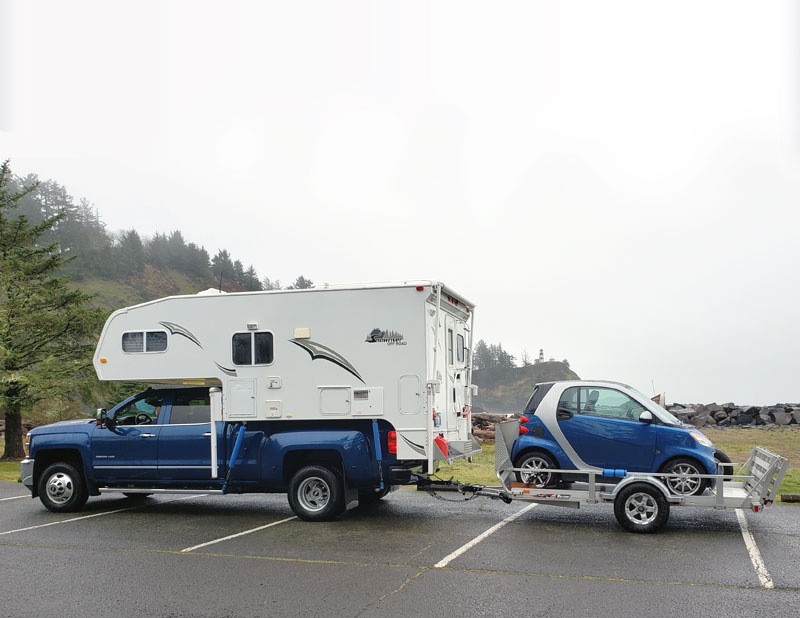 We towed a SMARTCar (1800 pounds) so we could explore while leaving our camper and truck at the campsite. It was super convenient and fun exploring the Long Beach, Washington peninsula getting 45 miles per gallon. Huge waves crashing along the shore with Cape Disappointment lighthouse in background. This lighthouse marks the entrance of the Columbia River and is the oldest operating lighthouse in the Pacific NW. It's said that the trail that is now closed to the public trail is haunted. We didn't verify this…we're faint of heart.
J Morris
Six Sigma Ranch, California
2013 Ford F350
Jayco 9 1/2 (year unknown)
Camera Used – Samsung s20 cell phone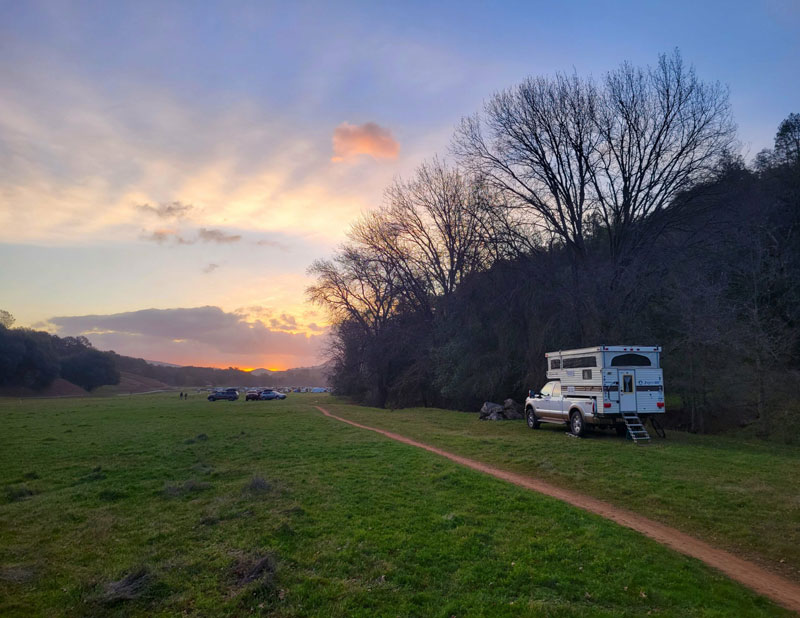 I arrived at the Mountain Bike Races at Six Sigma Ranch in the early afternoon. As more and more campers showed up, it got crowded. As the generators fired up, I decided to move westward down the valley along the creek. This picture is the sunrise when I woke up to go to the 7am coaches meeting.
Charles M Coushaine
Huguenot Memorial Park, Jacksonville, Florida
2001 Ford F350
2012 Chalet DS116RB
Camera Used – Samsung S9 phone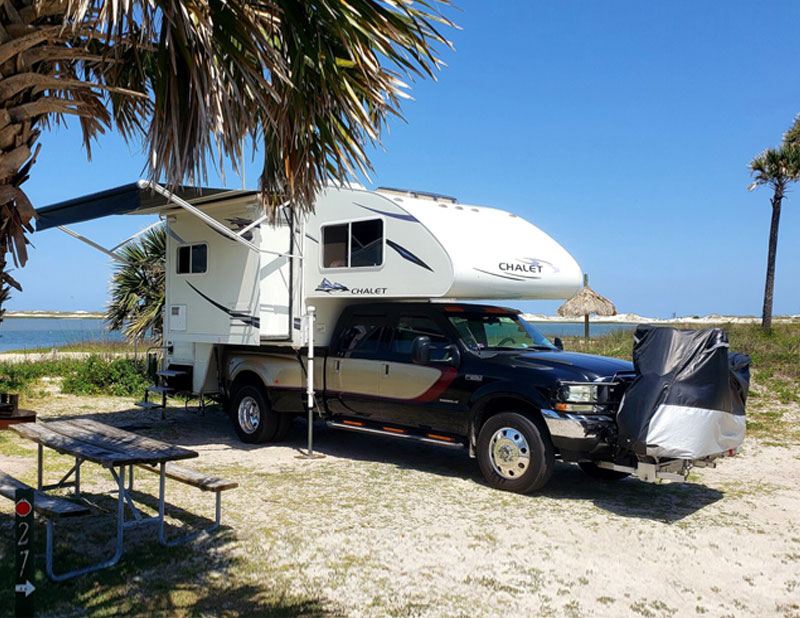 Traveling north from Florida this year we decided to hug the east coast all the way up to Connecticut. Our first stop was just north of Jacksonville at this beautiful city park right on the waterfront!
Shane Kenny
Lake Indoon near the town of Eneabba in Western Australia
2004 Ford F250
2005 Northstar Laredo SC
Camera Used – iPhone 12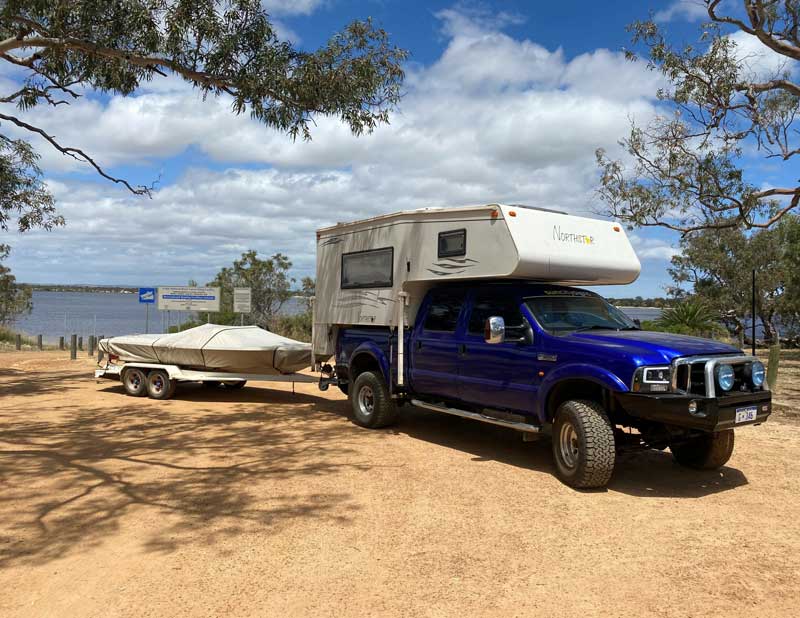 Lake Indoon is a fresh water lake about an hour and a half from our house here in Western Australia. I have been going there for over 20 years for camping and water skiing. This is the first time in about four years we have been able to ski there due the water finally being back up high enough after a severe drought. It's so good to be able to take our boat plus the camper with us and to all be in one car. The F250 and camper are not so common here in Australia. We always get comments where ever we stop and people ask to take photos and ask questions.
Saundra Schmitt
Haines, Alaska
2010 Dodge 3500
2019 Cirrus 820
Camera Used – Phone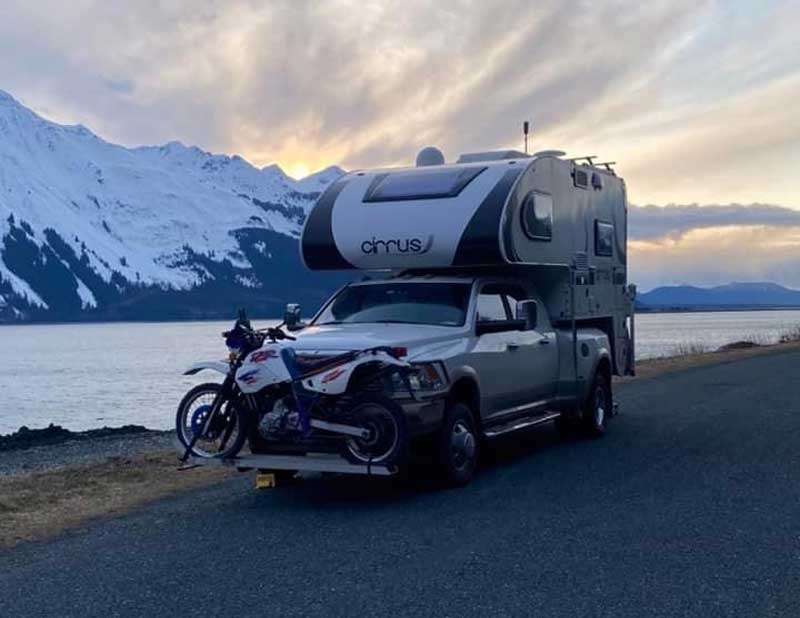 We were in Haines, Alaska waiting on the ferry to Skagway, Alaska. Just another beautiful boondocking night.
Bryan Burgess
Petrified Forest National Park, Arizona
2022 Ford F-150
2018 Capri Cowboy XL
Camera Used – iPhone 13 Pro
The skies got grey and ominous in the late afternoon over the painted desert of Petrified Forest National Park, so I headed to my site at the Holbrook, Arizona KOA. It started snowing as the sun set, and my rig was an iceberg the next morning. I scraped enough off to squeeze in, see and get going, and melted away as I drove west to Death Valley National Park.
Kevin Burkhart
Why, Arizona
2021 Ford F350
2016 Lance 995
Camera Used – Nikon Z6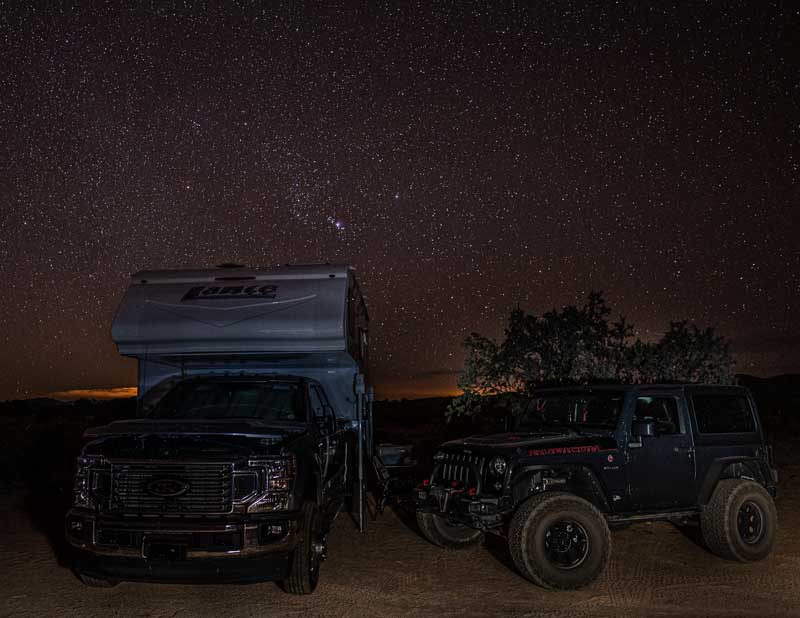 Off-the-grid winter camping in a dark location in southern Arizona. It was a good place to experiment with nightscape photography. The camper and jeep were illuminated with a dim flashlight while the camera shutter was open.
Ali Davies
Moab, Utah
2010 GMC 2500 HD Sierra
2021 Scout Olympic
Camera Used – Canon R6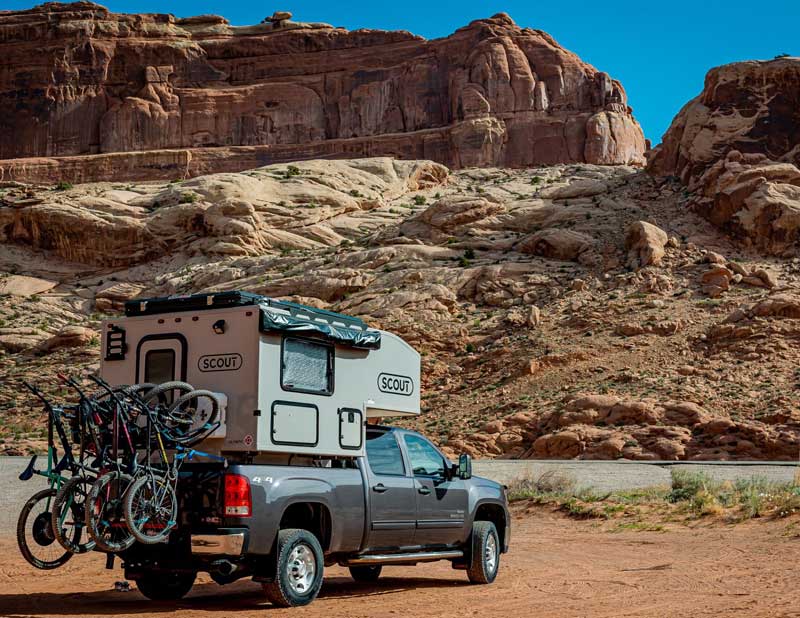 This trip to Moab was planned the day I arrived back in 2018. I had joined a group of friends on a spur of the moment mountain biking trip. Fast forward to 2022 and the Canada-US border opening up allowed me to take my young family of four down to this wicked place. One huge part of this trip's success was our Scout camper along with my young girls' drive to explore and ride our mountain bikes together. We have many more pictures, but this picture here was of our last day in the Moab area before we started making our drive back home to Okotoks, Alberta, Canada.
Click here to see all of the photos entered so far in the 2023 TCM Calendar Contest.  Enter your truck camper photos today!