For Behind the Shot Part 2, we are featuring photos and stories from Anza Borrego State Park, Tassili N'Adjer, Algeria, the Badlands in South Dakota, and many more!  Click here to participate in the 2023 Truck Camper Magazine Calendar Contest and be considered for a Behind the Shot feature.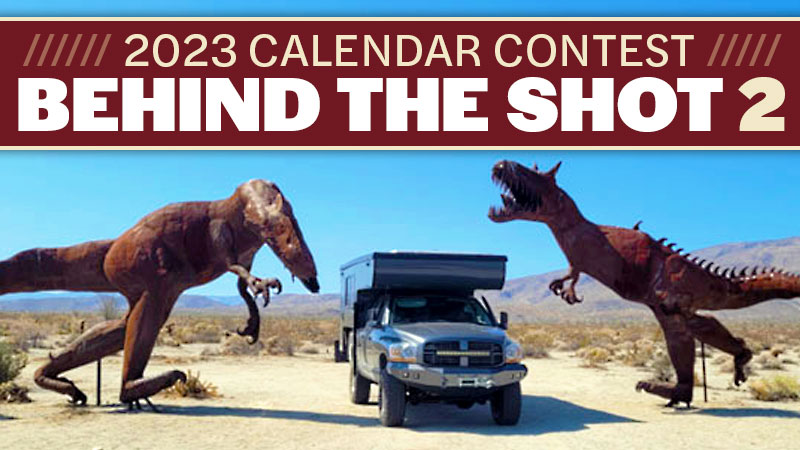 Davey Gravy
Utah
2021 Ford F-350 Tremor
1990 Palomino
Camera Used – Canon R5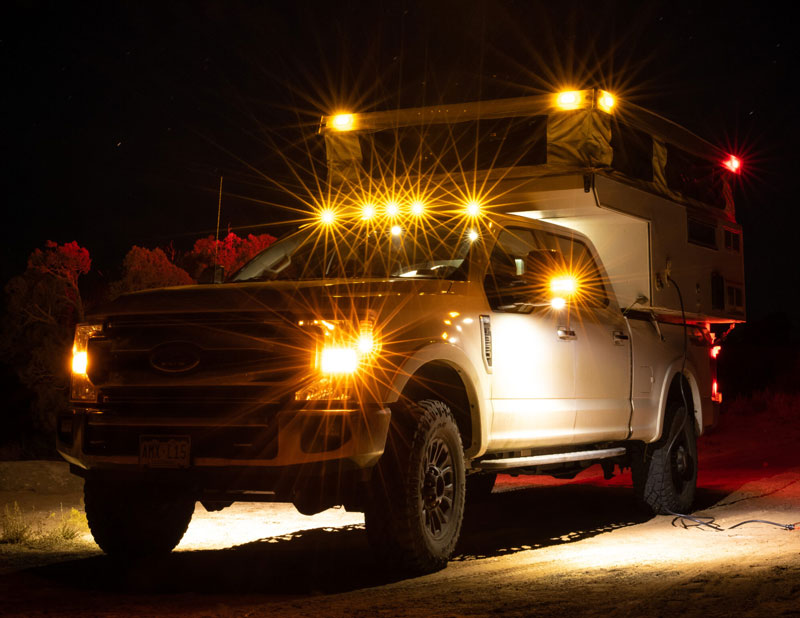 Our family wanted to get a slide-in so we could do some winter adventuring with our toddler. After picking up the slide-in this fall and putting a bunch of work into making it fit for a small kid, we headed out to Moab, Utah for some winter camping.
Sky Rubin
Cameron Pass, Colorado
2019 Ford F-150
2020 Overland Vehicle Explorer Camp-X
Camera Used – iPhone 13 Pro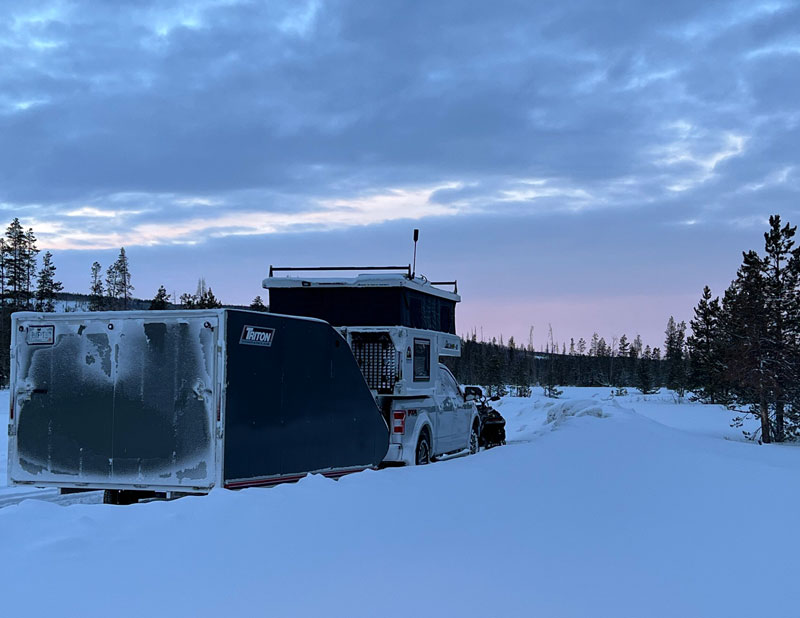 It's -21F in this picture at about 9,000 feet. I had a warm night in my Camp-X and enjoyed the snowmobiling the next morning.
Patrice Bossard
South Sahara, Tassili N'Adjer, Algeria
2016 Ram 1500
Palomino Backpack
Camera Used – iPhone 11 Pro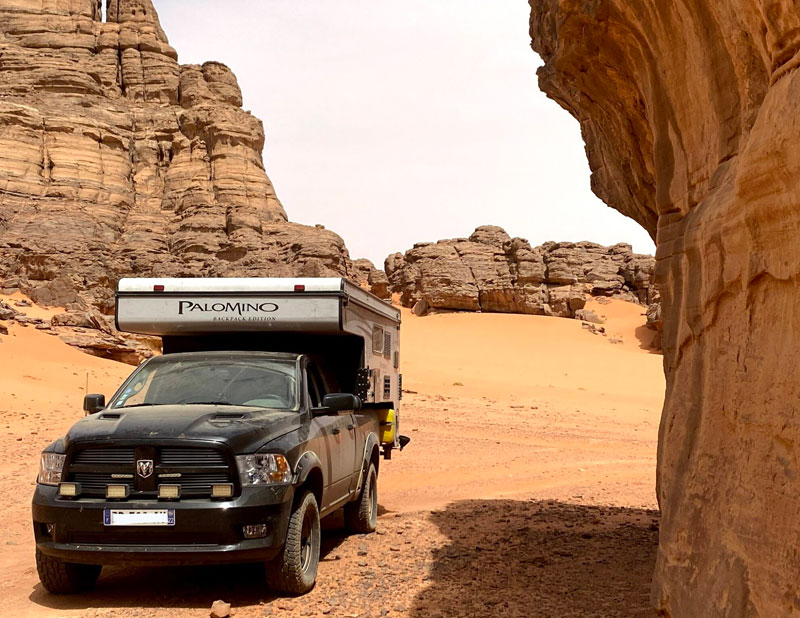 We were on an expedition to Algeria from France. We crossed by boat and then traveled 3000 kilometers south to find the track from Djanet. We traveled on 800 kilometers of sand and dunes in the region bordering Libya; the red Tadrart in the Tassili N'Adjer.
Michael Gottholm
Alafia River State Park, Florida
2022 Ford F350
2022 Cirrus 820
Camera Used – Phone
I purchased my truck and camper in late 2021 and this was my first multi-week trip. I headed to Alafia River State Park. It is a former phosphate mine that altered the landscape to create the ideal terrain for mountain biking. I was down there for the week to mountain bike and take advantage of the great Florida temperatures in February. This picture was taken on the third night I was there. The full moon came up over the horizon and silhouetted the trees and my truck camper. I had the LED lights of my awning and the lights of my back door porch on, which both complimented the moonlight. I had a great time that week and met a bunch of fellow mountain bikers!
Dustin Ward
Stuttgart, Arkansas
2005 Ford F250
2019 Capri Retreat
Camera Used – iPhone 12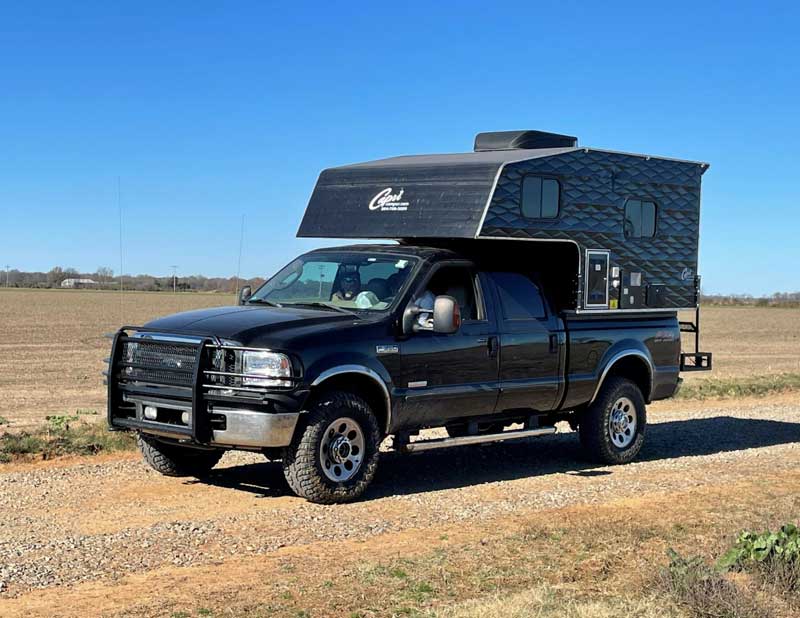 Early morning duck hunting in Stuttgart, Arkansas.
Todd Thompson
Skull Creek Road, Osage, Wyoming
2019 Toyota Tundra
2020 Four Wheel Camper Grandby
Camera Used – iPhone 11 Pro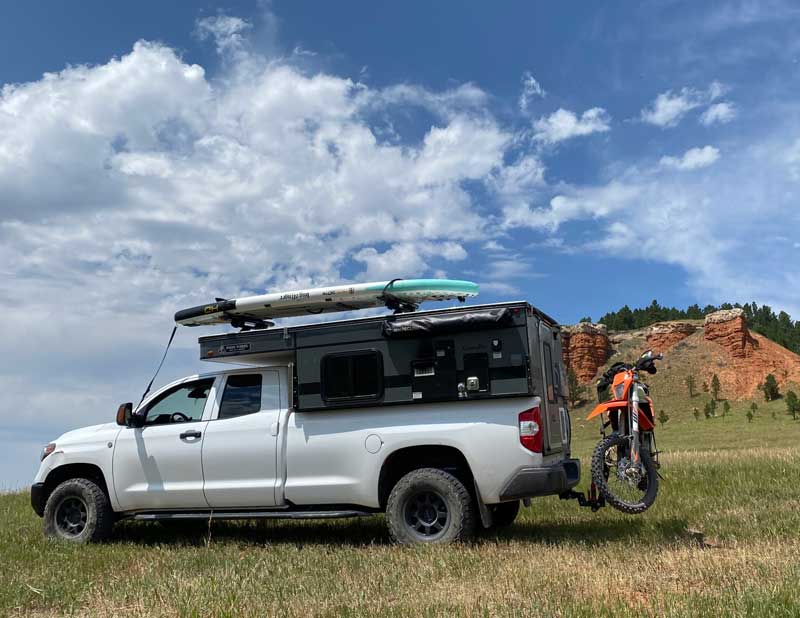 This was taken on a Wyoming backcountry solo motorcycle trip. I use the Tundra and Grandby to set up camps and the KTM 500 XCF to explore the backcountry of Wyoming.
Norton Canfield
Cheyenne Mountain State Park, Colorado
2010 Chevy Silverado
2021 Cirrus 620
Camera Used – iPhone 6s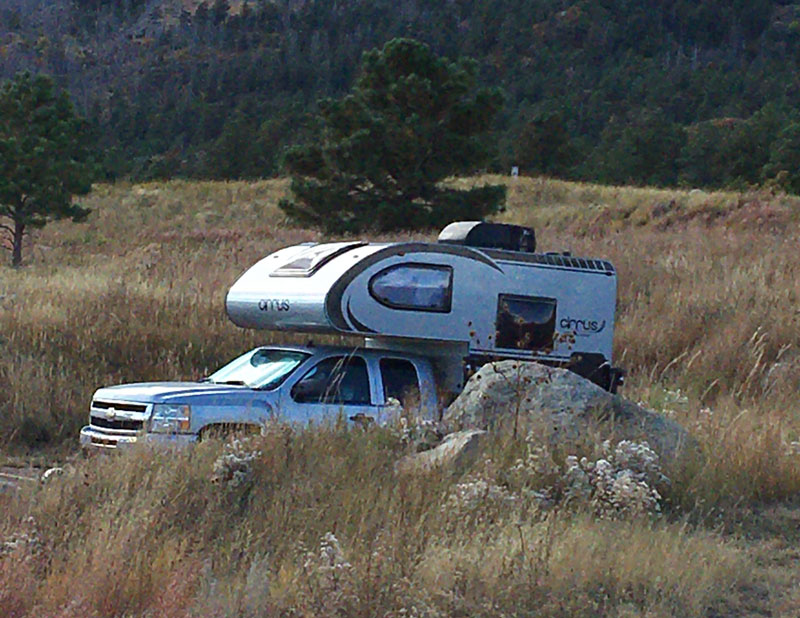 This photo is from my return to our campsite at Cheyenne Mountain State Park in Colorado. It has legends and my favorite is about a Native American, Great Spirit Manitou, who was unhappy with his people and decided to wash them away. The flood water started to recede. A huge dragon-lizard named Thirst had started to drink up all the water. It became bloated and could not move. Manitou was afraid he would drink up all the water in the world. Manitou turned it to stone. Its image captured in the mountain. A little research and you can read a lot more history. There is beautiful camping there. We were out west on a vacation and a surprise performance for me in New Mexico. Now we're heading home to Missouri.
JT Glowniak
South Cow Mountain OHV, Lake County, California
2001 Ford F350
2006 Host Yellowstone
Camera Used – iPhone 11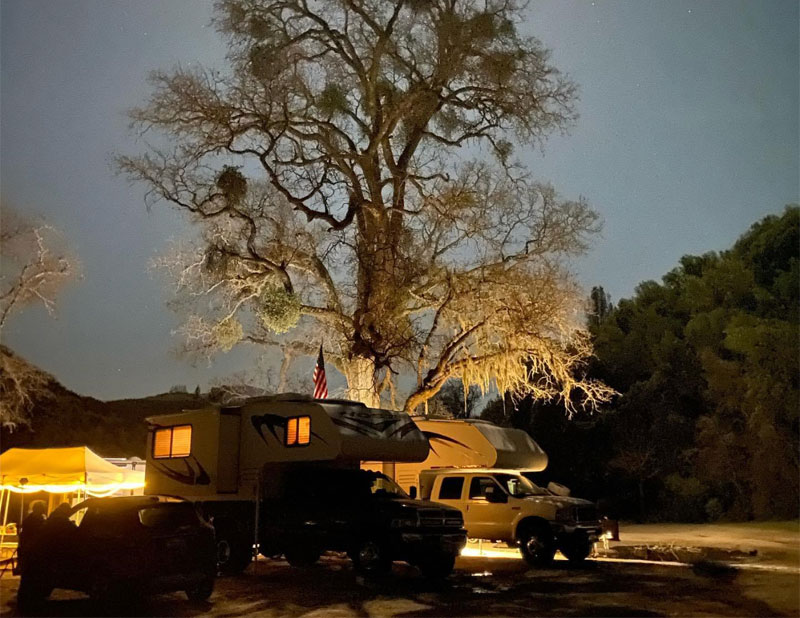 Camping on BLM land for younger brother's birthday. Riding dirt bikes during the day, and hanging out around the fire at night.
Steve Vankeuren
Anza Borrego State Park, California
2006 Dodge Ram 3500
2007 Outfitter
Camera Used – Samsung S10 plus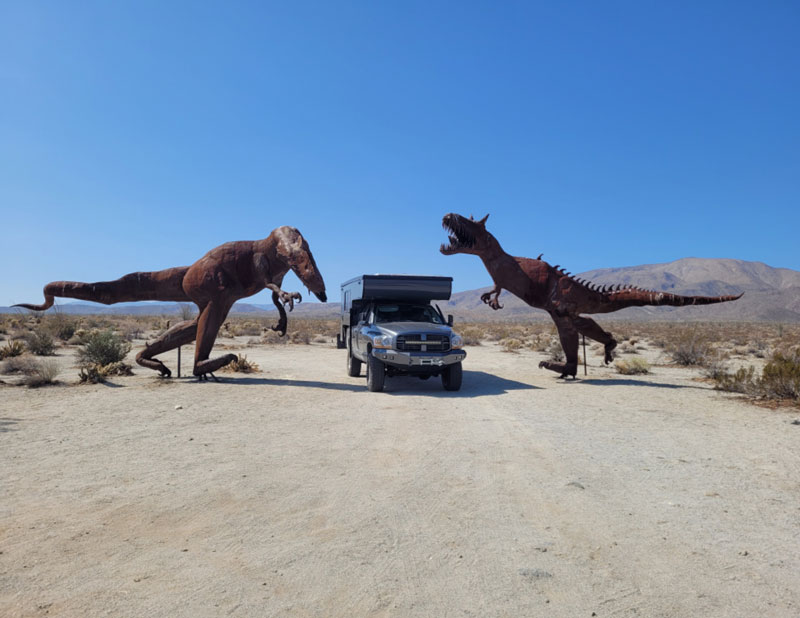 On a 2500-mile road trip, we went to a couple of national parks and a hot air balloon ride in Sedona, Arizona. We hiked the Wave in Arizona. It was one of our best road trips!
Mike Crespo
Upper Madera, Big Bend State Park, Texas
2020 Ford F450
2021 Northern Lite 10-2 LE
Camera Used – Samsung 9S+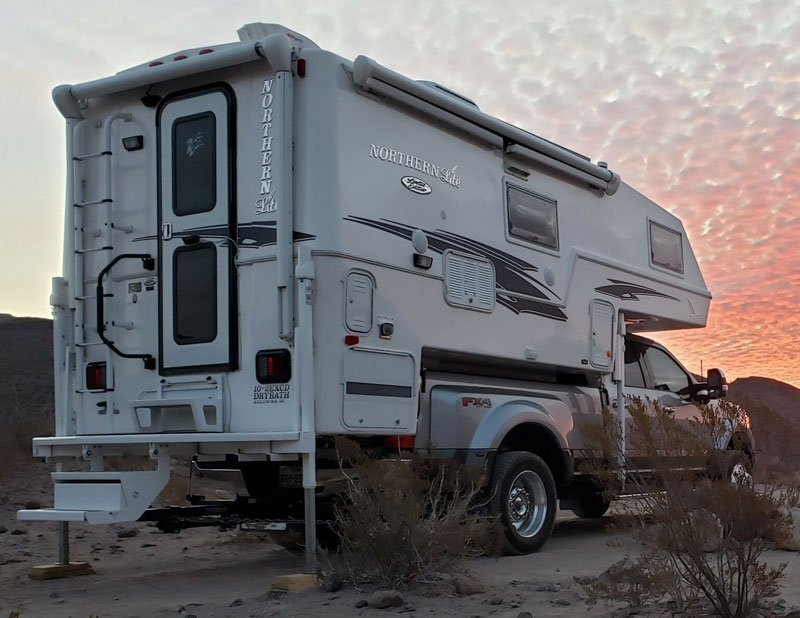 We were boondocking at Big Bend State Park. My wife, an amateur photographer, took off down the road to catch the sunrise photo. Well, she got skunked and I got this shot right outside our back door.
Joanne Rowden
Mojave Desert, California
2022 Silverado 2500
2019 Palomino SS-1608
Camera Used – iPhone 6s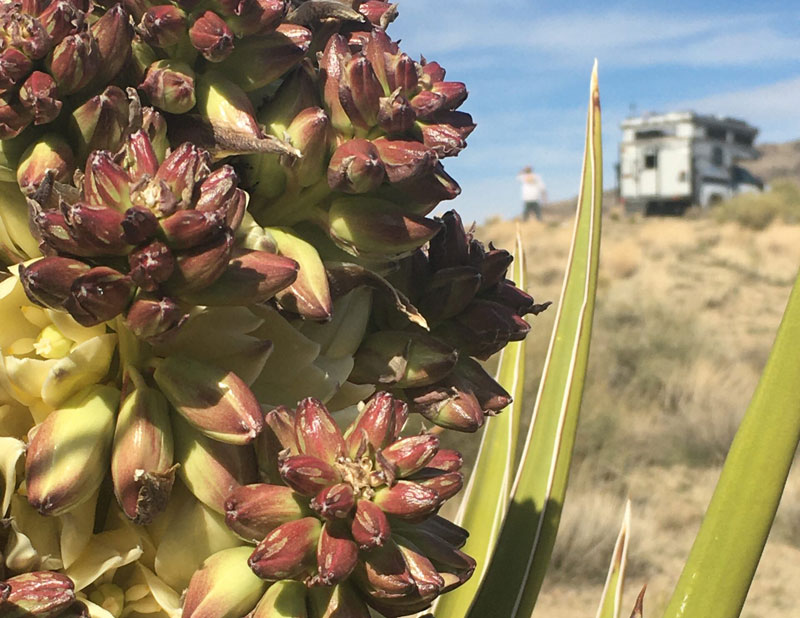 I was camping at Hole-In-Wall in the Mojave Desert and the Joshua trees were in bloom. This area was devastated by a fire in 2005 and the trees are just starting to come back, so there were not many blooms. I was excited to see this one with a perfect shot of my truck camper in distance.
Tracy Baker
Redwood Forest, California
2022 Ram 5500
2022 Eagle Cap 1200
Camera Used – iPhone X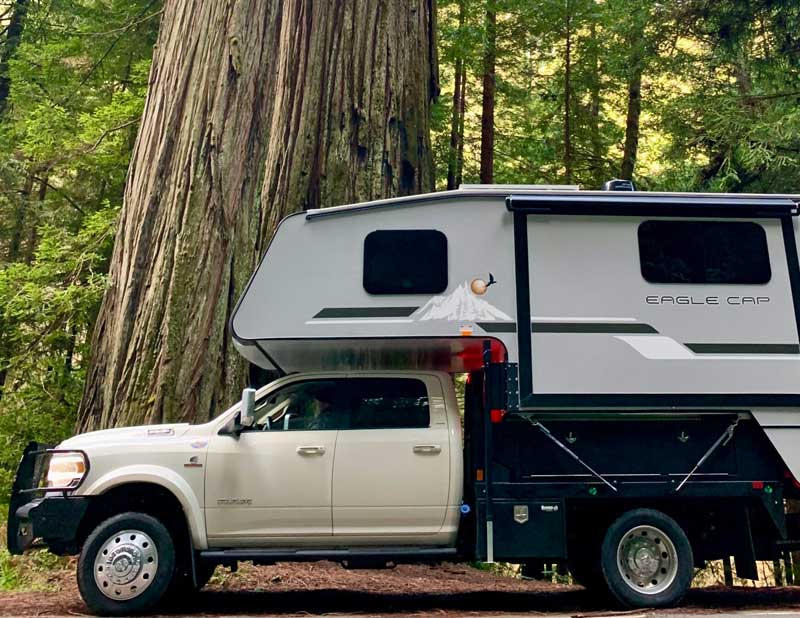 We left our home in Colorado in a rental car filled to the ceiling with the things we couldn't live without for 10 days of camping in our new rig. We had ordered the truck eight months prior and had the flatbed made and upfitted many miles from home. So off to Idaho we went without ever even sitting in the exact model of our truck!
Then it was on to Portland to get the camper, which we had also been waiting on for almost a year, and had never seen in person. That day was long and exhausting, but we finally had our new toy.
After a couple of days of tweaking things, we headed down the 101. We were on vacation and the Redwoods were calling! We thought our rig was huge and impressive until we parked next to those soaring, beautiful trees…it kinda reminded us of our place in the world. And off we go to address, if not satisfy, our wanderlust.
Kenneth Hall
Rainbow Ranch near Petrified Forest National Park, Arizona
2022 Ram 3500
2022 Northern Lite 9-6 Limited Edition
Camera Used – Phone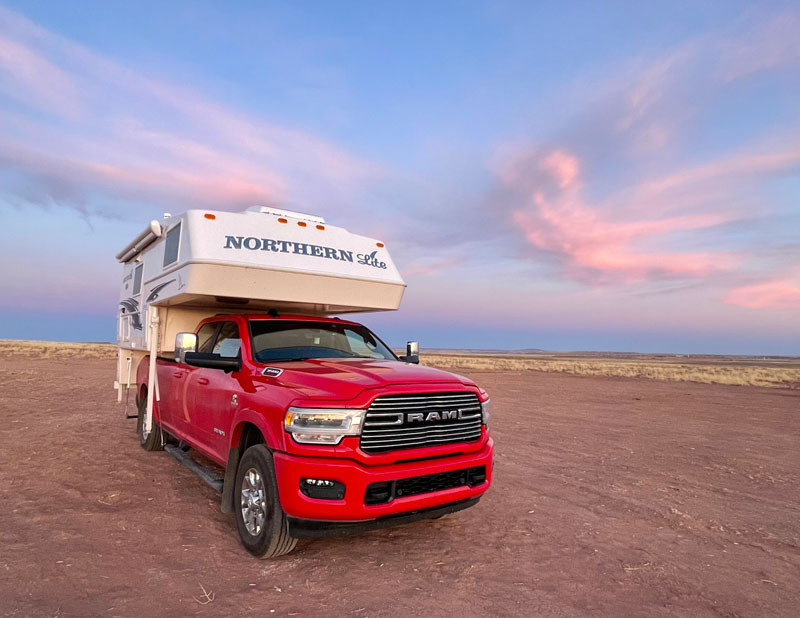 Boondocking after a long day at the Petrified Forest National Park. We camped at Rainbow Ranch and captured this photo just at sunset.
Dean Turner
Highway 101, California Coast
2003 Chevrolet Silverado
2013 Arctic Fox 1150
Camera Used – Samsung Galaxy Note 8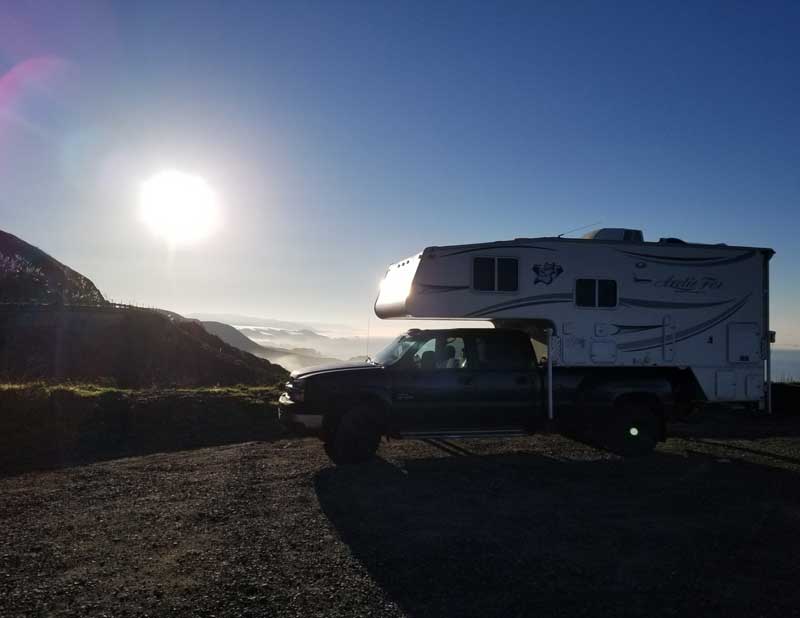 We drove from Galveston, Texas to Bellingham, Washington to have Thanksgiving with our two daughters. Along with our two chihuahuas and one cat we made many stops on our three-week journey. Our travels included Big Bend National Park, Phoenix, Twin Falls, Idaho, Snoqualmie Pass, and all down the west coast until heading back to Galveston. This picture was taken at one of the many stops along the California coast right after leaving the Redwoods National Park campsite. Our total trip was 6,397 miles.
Keaston Handeland
Badlands, South Dakota
2020 Ford F-350
2022 Lance 855S
Camera Used – DJI Mavic Mini 2 4k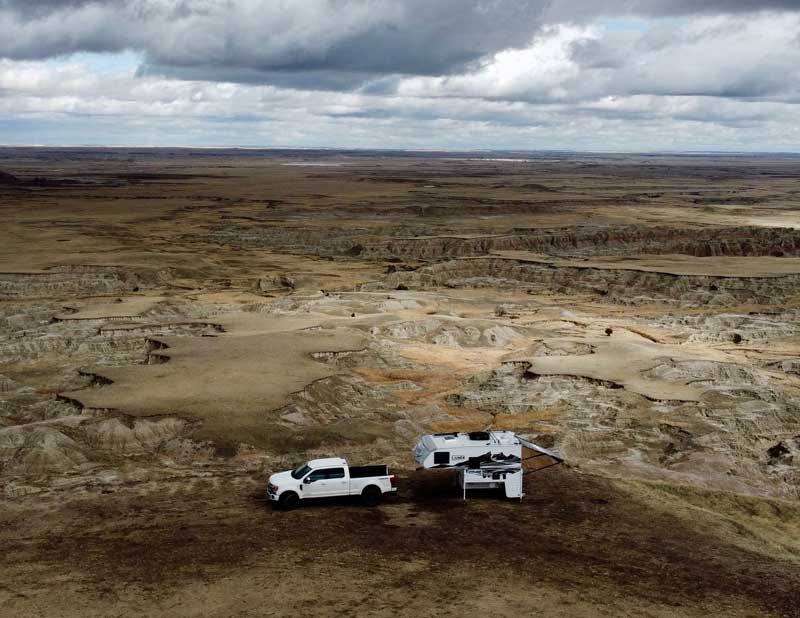 Excited to take our new Lance 855s on its maiden voyage, we headed to Badlands National Park. A few Google searches suggested the "Nomad View Dispersed Camping Area" on the north side of the Badlands, just south of the town of Wall. We stayed for three nights during the first week of April and didn't see another human being our entire time at the campsite. I was able to get this drone shot in between afternoon thunderstorms. This will always be remembered as our first boondocking experience in our new truck camper and will definitely be a pit stop any time we are passing through the area!
Lori Stevens
Canyonlands National Park, Utah
2022 Ford F-350
2021 Lance 825
Camera Used – Canon RP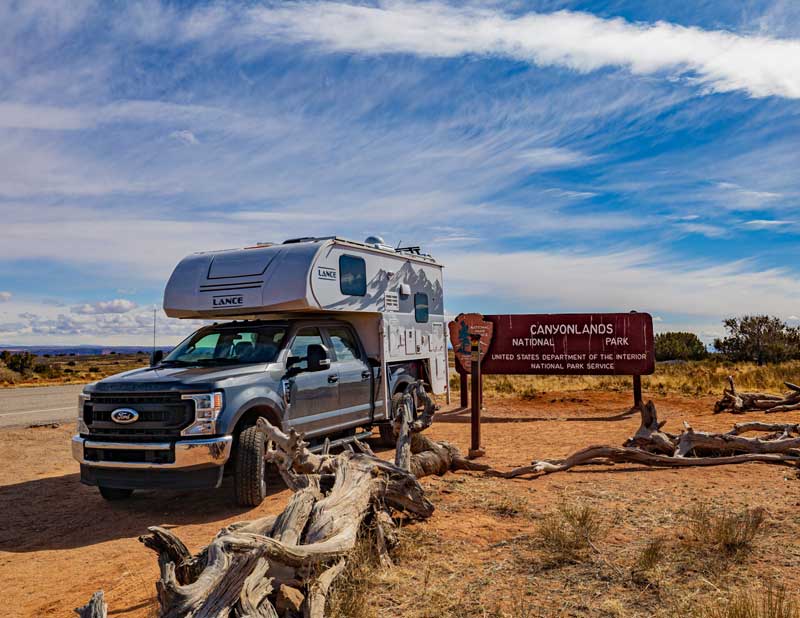 I decided to take a photo next to the Canyonlands National Park sign.
Dave Rogers
The Owyhee, Oregon
2007 GMC 2500HD
2007 Outfitter Apex 8
Camera Used – iPhone 12 Pro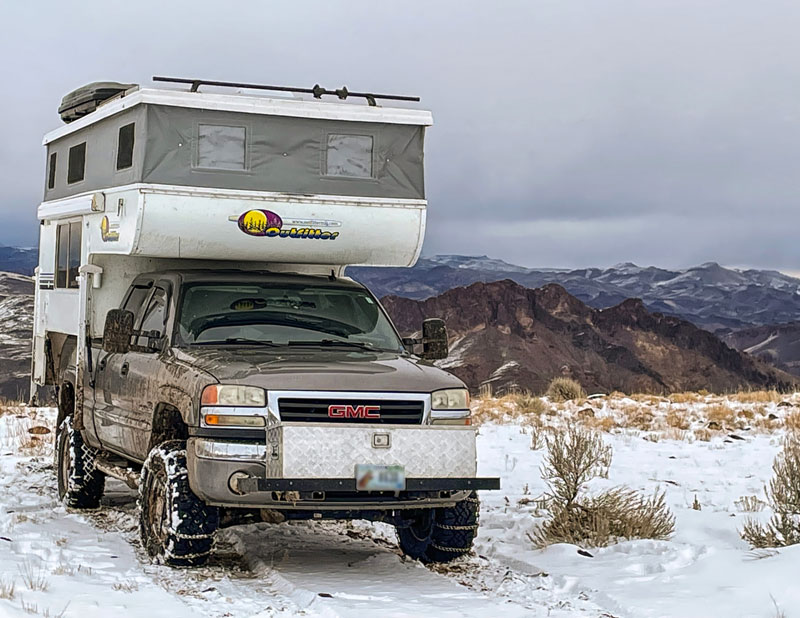 My wife was working in Phoenix for three months including Christmas. I didn't want to fly during the holidays so I went camping. This picture was taken on Christmas Eve out in the Owyhee Canyonlands of SE Oregon. After living and working outside in Phoenix for 22 years we, I especially, love camping in Idaho winters out in the desert of the Pacific Northwest.
Lyn Banville
Belchertown, Massachusetts
Ford F-250
2019 Lance 825
Camera Used – iPhone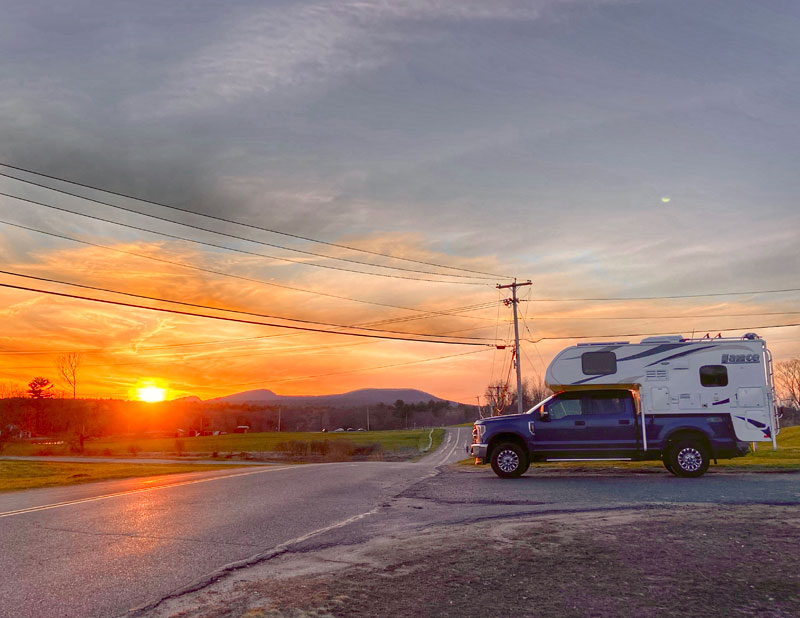 This spot is my most favorite location in my hometown. I am brand new to the truck camping world and look for opportunities to practice loading and driving. I had been outside waxing my new to me truck camper and thought the sky would be beautiful for sunset. So, the dogs and I hopped in the truck and drove a few miles to catch this awesome sight. Although I travel often, I also enjoy the beauty in my hometown and enjoy my backyard.
Harry Wagner
Death Valley National Park, California
2014 Ram 2500
2017 Northstar 650SC
Camera Used – Canon 5D MkIV with 70-200mm lens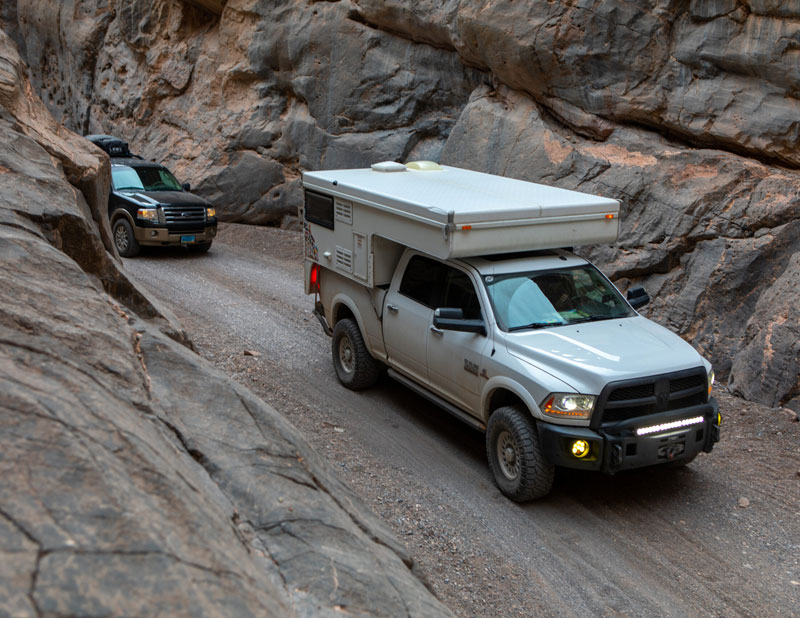 Death Valley is one of my favorite places to visit in the winter, and Titus Canyon is definitely the crown jewel of Death Valley National Park in my opinion. I love how the canyon gets narrower and the walls get higher as you continue down the trail with the walls polished smooth from past flash flooding. Then just when you think it can't get any narrower… bam! The canyon opens up to reveal Death Valley in all its splendor. I like to camp near Big Dune just east outside the park to get an early start in Titus Canyon, leaving enough time to explore other parts of Death Valley and find a place to camp before the sun sets.
Doy Gorton
Joshua Tree, California
2003 Ford F350
1967 Avion C10
Camera Used – Sony Nex7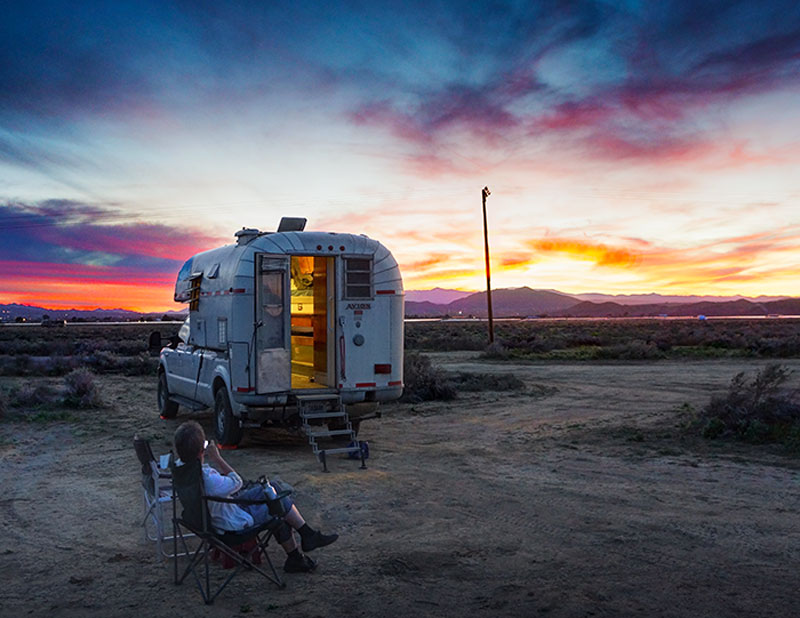 We were rattling along in a vaguely unplanned camper trip that had taken us to Organ Pipe National Monument. Then, there was a mistaken turn that took us over the Mexican border at Lukeville, Arizona…having been waved through by the Mexican border guards (in spite of no records for our amazing Australian Shepherd Hula the Wonder Dog). We were on the one of the most dangerous roads in northern Mexico, Route 2, admiring all of the abandoned homes and businesses, blithefully unaware of the danger when we stopped at a Mexican truck stop for some authentic tripe burritos.
When we returned to our truck camper, Hula had eaten the GPS. So, we were on our own as we wandered back into the US at Mexicali, spending a night at Anza Borrego and another night at the Salton Sea before chugging up to Joshua Tree which, it turned out, was completely filled up. We know since we tottered about through all of the camping spaces irritating the folks who had copped a campsite. Frustrated and towards evening, we left the national park in the direction of the town of Joshua Tree without our GPS.
A woozy stoner informed us that the land over there was BLM. We actually followed a Class A, who had talked to the same stoner through the rutted roads until we got clear and found an open patch of land, set up our sweet 1967 Avion, poured an adult beverage, and watched the sunset on steroids. It could not have been a better evening.
Click here to see all of the photos entered so far in the 2023 TCM Calendar Contest.  Enter your truck camper photos today!