For Behind the Shot Part 1, we are featuring photos and stories from Big Bend,  Charleston, South Carolina, Mont-Radar, Quebec, many more!  Click here to participate in the 2023 Truck Camper Magazine Calendar Contest and be considered for a Behind the Shot feature.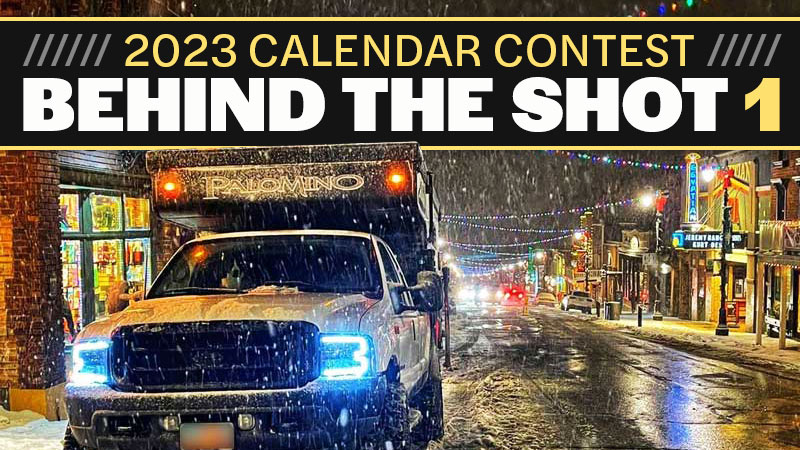 Jack Smith
Big Bend National Park, Texas
2021 Toyota Tacoma
2021 Phoenix Pop-Up
Camera Used – Nikon D5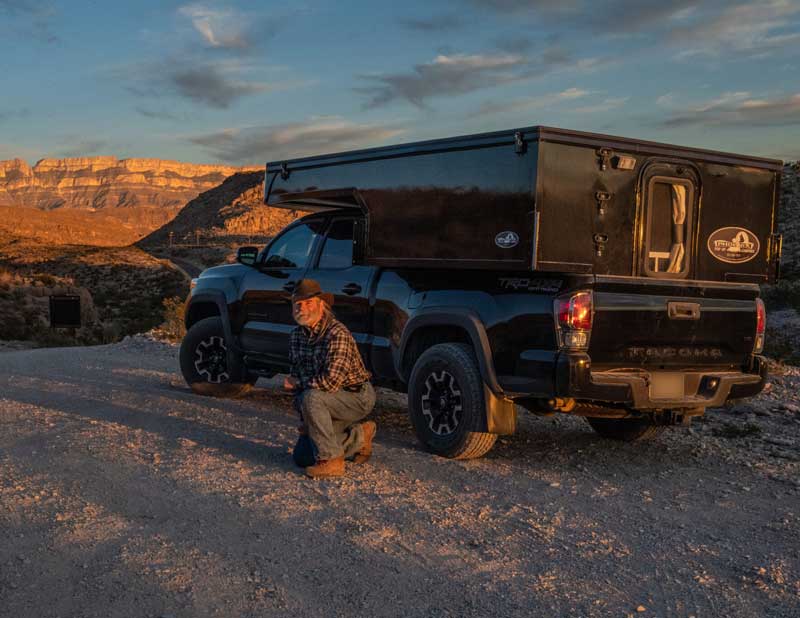 I was camping in the Rio Grande Village Campground on the east side of Big Bend National Park.  A photographer friend of mine and I had driven down Old Ore Road about a week prior to this photographed scene.  I was exploring the park alone on January 16th and realized I could capture an image of my truck camper near sunset with the Sierra Del Carmen Mountains in the background on top of a ridge at the beginning of Old Ore Road.  I was very pleased with the results of the image.  Big Bend National Park is a large park in West Texas along the Rio Grande River that serves as a natural border with Mexico.  I can't wait to return and explore more of the park.
Mike Simmons
Park City, Utah
2001 Ford F-350
2021 Palomino Backpack SS-1500
Camera Used – iPhone 11 Pro Max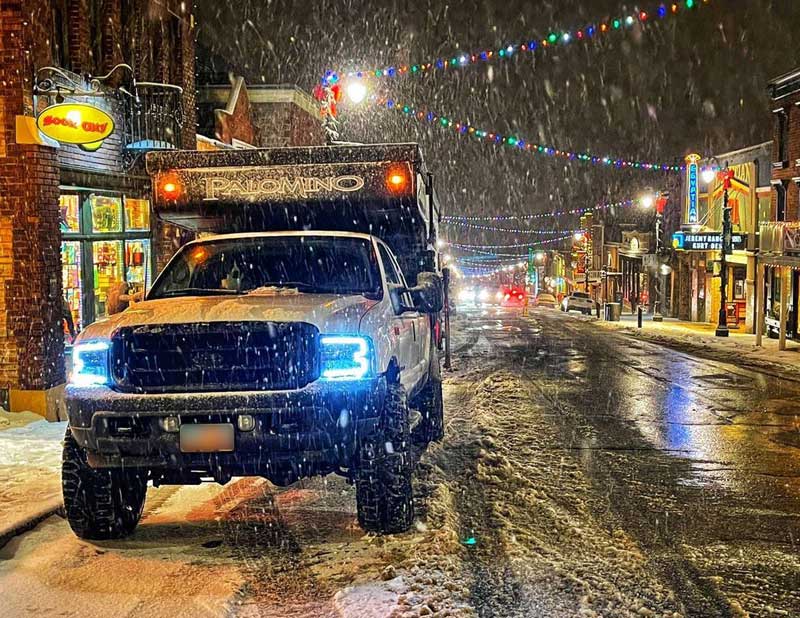 This was taken the week of Christmas on Main Street in Park City, Utah.
Alexandre Gregoire
Mont-Radar, Quebec
2021 Ram 3500
2022 LOKI Basecamp Falcon
Camera Used – Sony A6600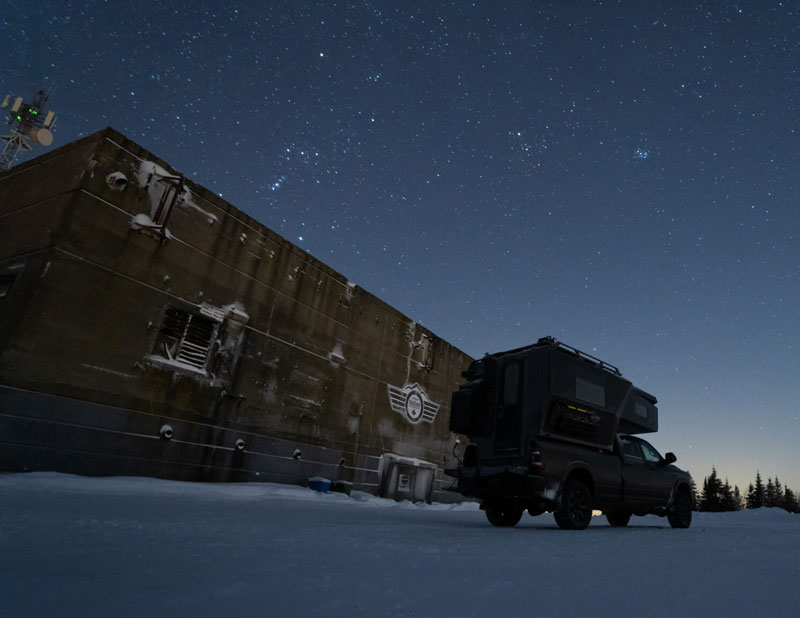 We were on a road trip in the Chaudiere-Appalaches region of Quebec.  After a day of shooting videos outside for the tourism bureau, we had special permission to camp on the top of the mountain beside a huge army bunker that used to serve as a Radar station in the 50s.  I took the photo before I went to bed in our warm and cozy camper.  The outside temperature was below -25 Celsius (-13 Fahrenheit).
Dave Williamson
Very Large Array, Socorro, New Mexico
2011 Ram 2500
2012 Travel Lite 770SL
Camera Used – Kyocera Phone Camera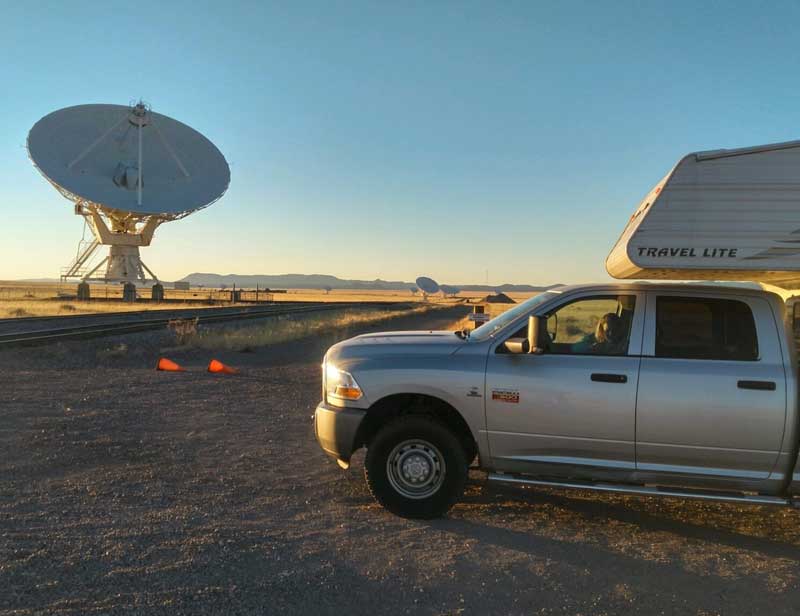 My wife, Lori, had two weeks off during Christmas break as an elementary school secretary, so we decided to leave the cold Michigan winter behind to do some dispersed camping in New Mexico.  Being an engineer, I had to stop and see the "Very Large Array" of astronomical observatory telescopes out in the desert.  I love to see the natural wonders of the world, but great engineering projects also grab my attention.  So much to explore in New Mexico.
Dustin Ward
Palo Dura Canyon, Texas
2005 Ford F-350
2019 Capri Retreat
Camera Used – iPhone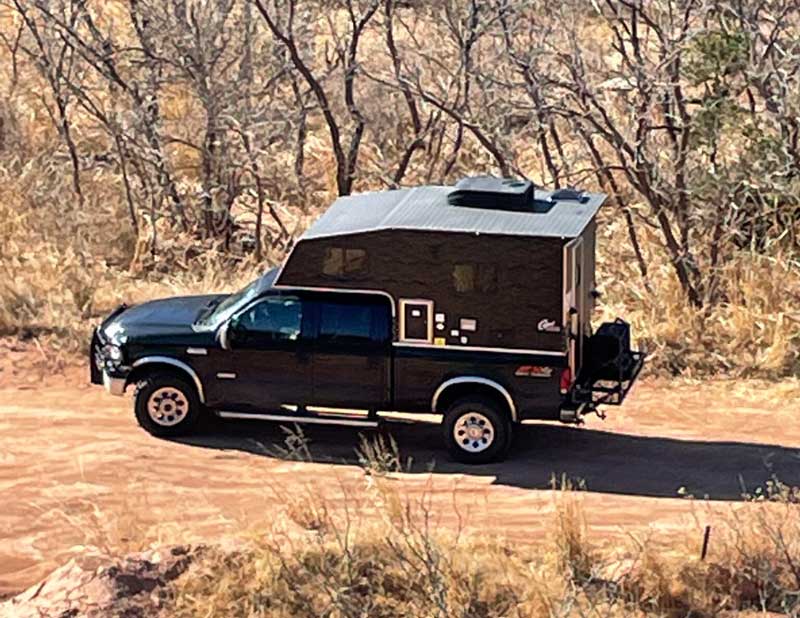 I took a solo trip through the Texas panhandle Climbing through Rock Garden Trail at Palo Dura State Park, Texas.
Tyke Mederios
Apache Lake, Arizona
2016 Ram 2500
2019 Lance 650
Camera Used – Apple iPhone 13 Pro Max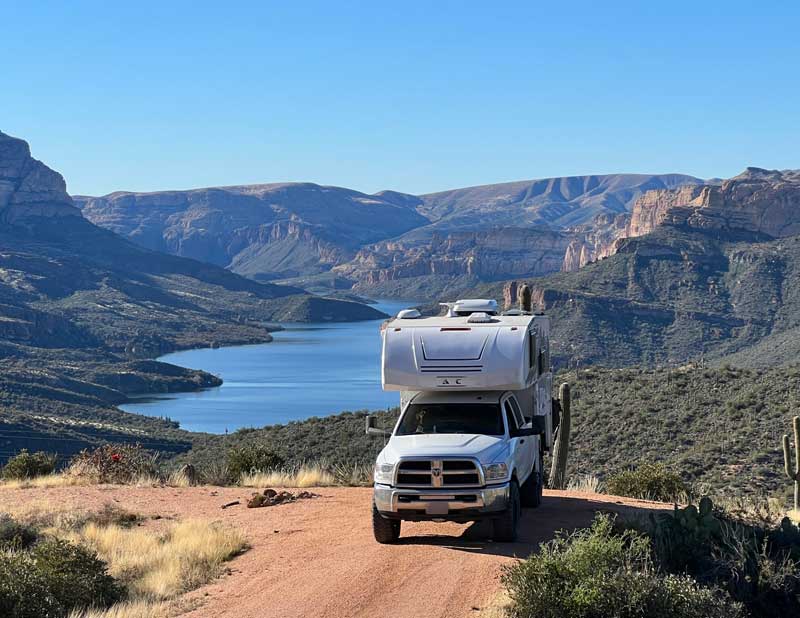 I was exploring the area of Lake Roosevelt.  While talking to people familiar with the area, they told me I needed to take the Apache Trail and camp at Apache Lake.  While I did not camp in the spot of the photo due to high winds that day, I did enjoy the spot for a few hours.  It is definitely a place I will be back to visit again.
John Sturm
Charleston, South Carolina
2010 Ford F-350
2018 Lance 995
Camera Used – iPhone 7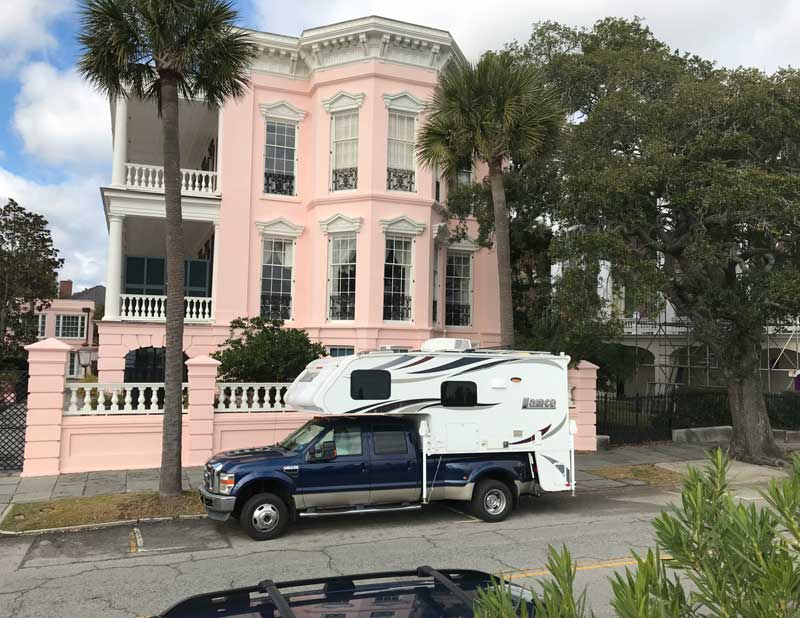 Both of our grown and married daughters spent Thanksgiving with their husband's family leaving my wife and me without plans.  We decided last minute to take the camper to Charleston, South Carolina.  It was only a three-day trip but we "boondocked" and negotiated the narrow streets of Charleston without an issue.  This picture was taken when we visited the Battery neighborhood.  I knew the minute I took the photo that it was going to be entered in the TCM Calendar contest.  Submitted truck camper pictures are rarely taken in urban settings but truck camper RVing is perfect for city vacationing.
Doniece Montanelli
Alabama Hills, Lone Pine, California
2015 Ford F350
2016 Northern Lite 9.6
Camera Used – iPhone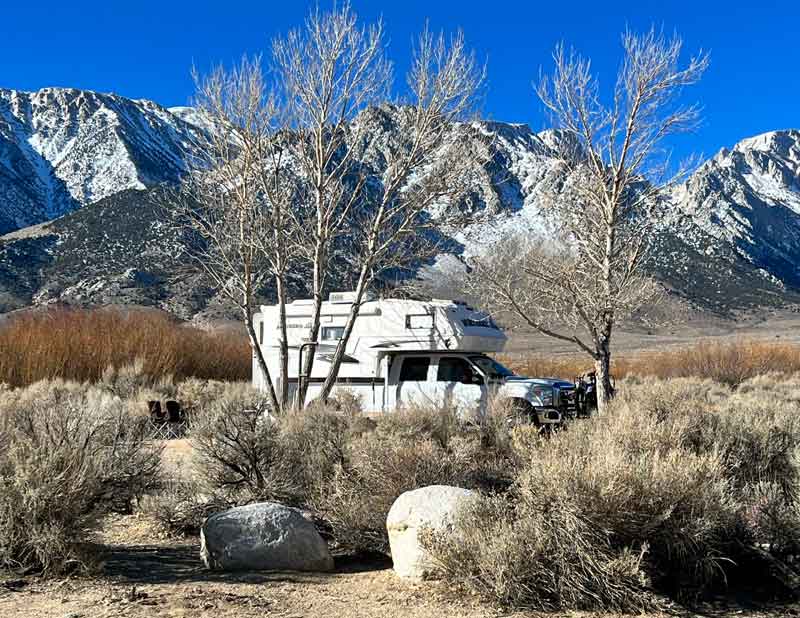 We took off for a little getaway.  We love the California 395 and wanted to visit the Alabama Hills.  We camped at Tuttle Creek Campground.  It was practically empty!  We loved it!
Jason Yu
Mt Bachelor, Oregon
2020 Ram 3500
2015 Eagle Cap 850
Camera Used – phone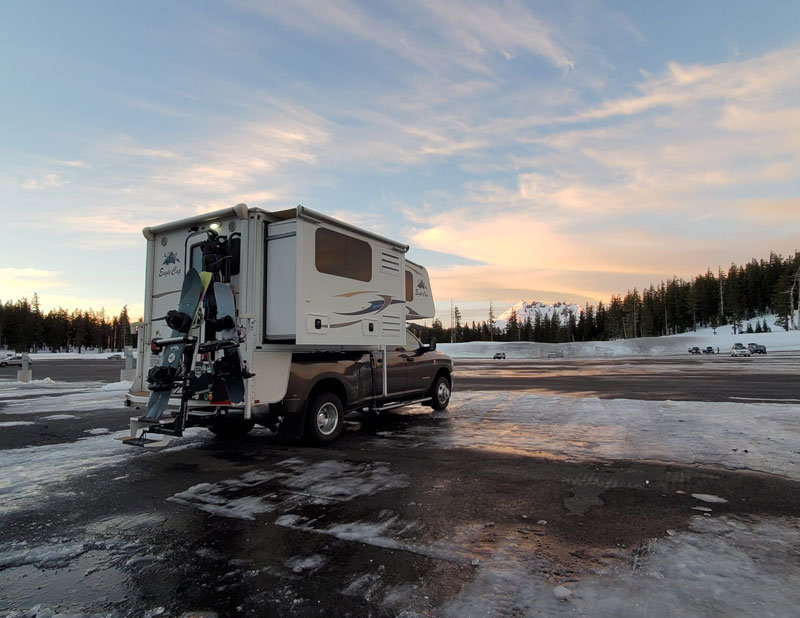 My wife and I always wanted to snowboard Mt. Bachelor and camp at the resort.  All the weekend spots were booked, so we got a spot during the weekday.  This photo was taken after the crowd left and the sun was setting.  We pretty much had the whole place to ourselves.
Click here to see all of the photos entered so far in the 2023 TCM Calendar Contest.  Enter your truck camper photos today!