For Behind the Shot Part 8, we are featuring photos and stories from Shiprock, Blaeberry River, Cape Lookout Lighthouse, Bonneville Salt Flats, and many more!
Click here to participate in the 2022 Truck Camper Magazine Calendar Contest and be considered for a Behind the Shot feature. Click here to see all of the photos entered so far in the 2022 TCM Calendar Contest.
Steven Osburn
Allen Canyon, Utah
2019 Ford F350
2020 Lance 1172
Camera Used – Phone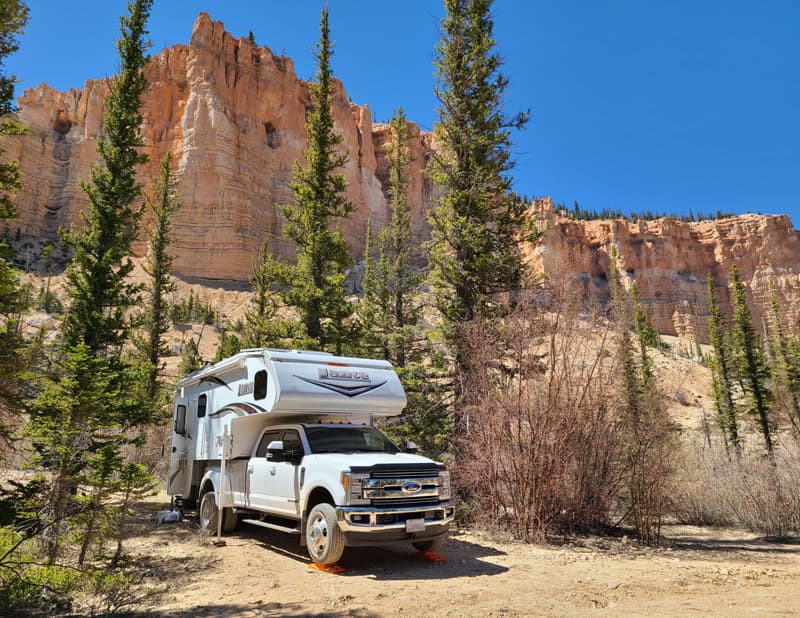 We were looking for a place to boondock after driving the Hell's Backbone Road near Escalante, Utah, and saw some amazing canyon walls in the distance. I checked out the roads on my GPS and found some roads that took us to the right area.  Six miles of "interesting" road later, we found ourselves at the foot of the canyon wall. This is only about 15 miles from Bryce Canyon (as the crow flies), which is why it looks similar.
Once there, we got our rig level, and had a perfect spot to enjoy the evening and the next morning.  One other vehicle passed us, or was anywhere nearby, for the whole time we were up there. We've love to have spent another night there, but we had places to go and things to see.
Anthony Hudema
Blaeberry River, Golden, British Columbia
2020 Ford F350
2022 Arctic Fox 990
Camera Used – Samsung Galaxy S10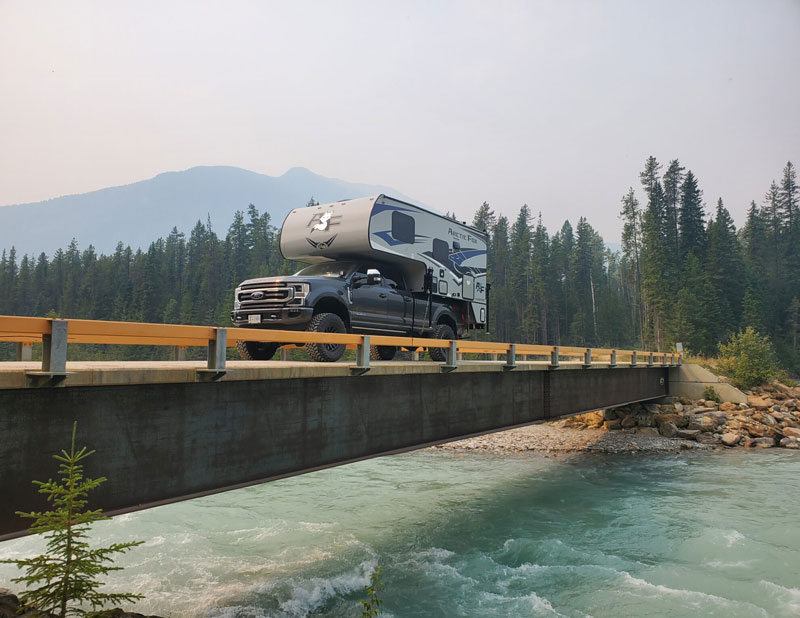 I just bought my new Arctic Fox two days before this picture was taken.  My camper has dual rolls to play being that it is my home away from home when I am in northern British Columbia working, and it also serves as the best way to get out and enjoy the beautiful places we have here in our province!
It is not very often that the whole family can make it camping, but this year we were able to in Golden, British Columbia.  Even my 83 year old mother came along.  This was taken on the way to where we all were camped.  Even though it was smokey from all the forest fires, we were all able to get together and enjoy each other and the beautiful scenery!
Skyler Dahandeh
Lake Billy, Chinook Cove, Palisades, Culver, Oregon
2011 Ram 3500
2005 Northern lite 10-2 Special Edition
Camera Used – Galaxy Note 10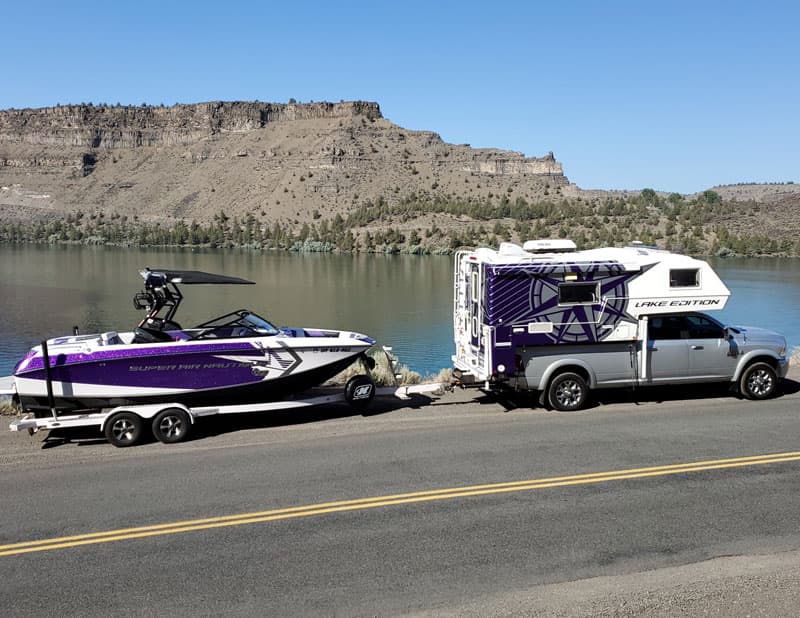 Lake Billy is known as three rivers in central Oregon.  I have been taking my family there annually for the last eight years and it never disappoints.  The water is always refreshing on hot days when we do water sports, Sup boarding or are on the beaches.  There are two state campgrounds around this lake and a private community beach and local marinas. A few offer rentals on house boats and two-tier pontoon structures with slides. It is a must go with family and friends and guaranteed to have a great time.
Bryan Burgess
Shiprock, New Mexico
2018 Ford F150
Capri XL
Camera Used – Fuji XT2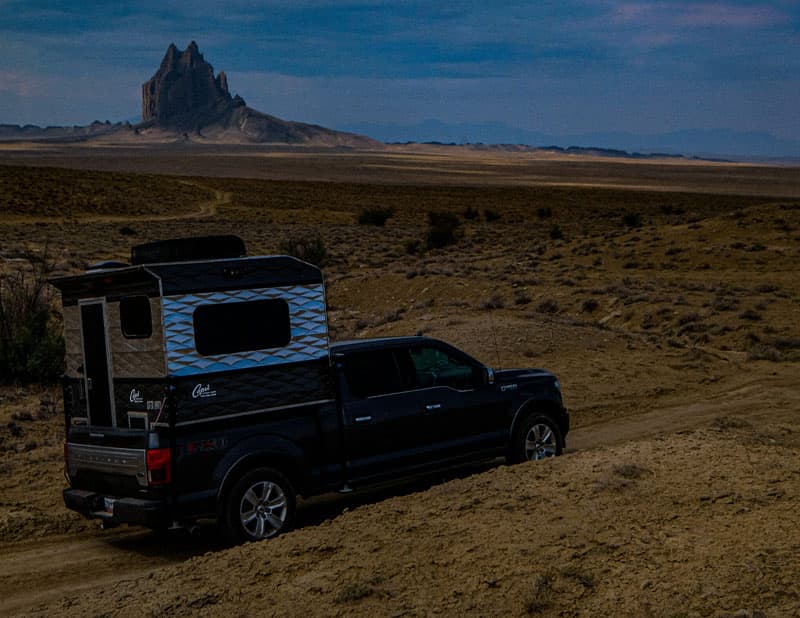 I was toodling around in the scorching heat of the desert, canyons and hoodoos of mid-east Utah when the Navajo Nations lands re-opened to tourists in July 2021.  I immediately headed south to Monument Valley and Hubbell Trading Post.  On the way  east through the Four Corners area, I was humbled to be in the presence of "Tse' Bit' a' i "("Winged Rock" aka "Ship Rock").
Heather Crawford
Crested Butte, Colorado
2016 Toyota Tundra
2018 Hallmark Hybrid – K2 and Guanella
Camera Used – iPhone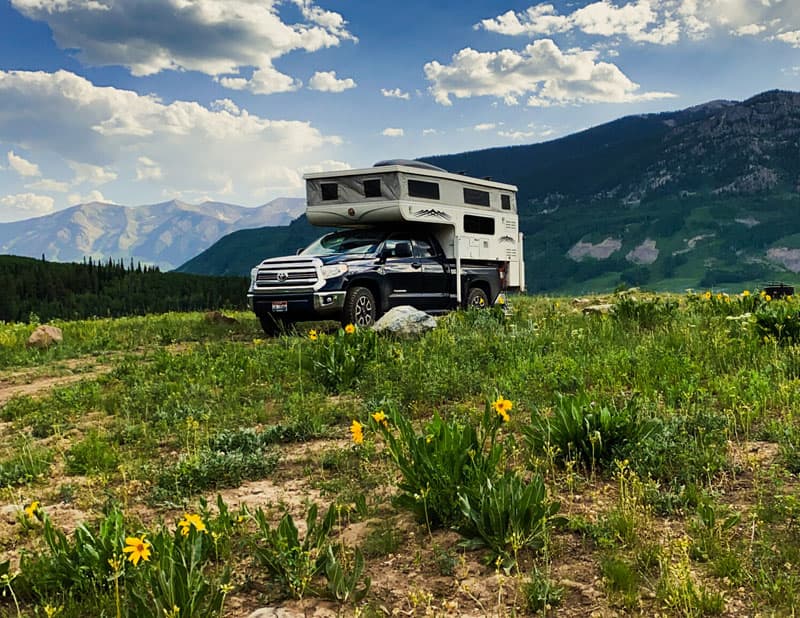 I was exploring Colorado on a six week 4,500 mile road trip. The sun was nice there.
Beverly Schulte
Tioga Lake, California
2020 Ford F350
2020 Arctic Fox 865
Camera Used – iPhone 8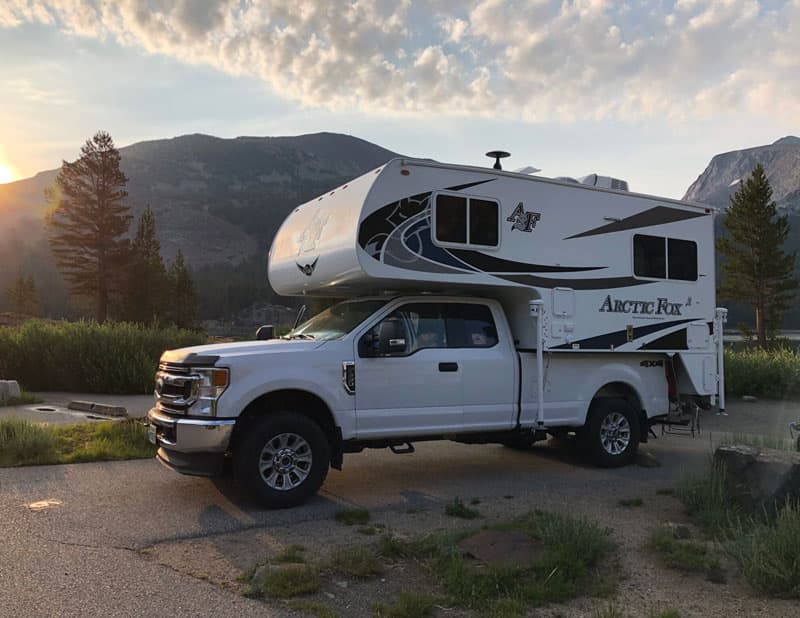 One of our favorite spots in the Eastern Sierra is Tioga Lake just outside the Eastern entrance of Yosemite.  It is a small campground with 13 spots and no reservations. The weather ranged from sunny to heavy rain on this day.
Kolin Smith
Virginia City, Montana
2019 Ram 1500
2021 Palomino 1251
Camera Used – iPhone 8 Plus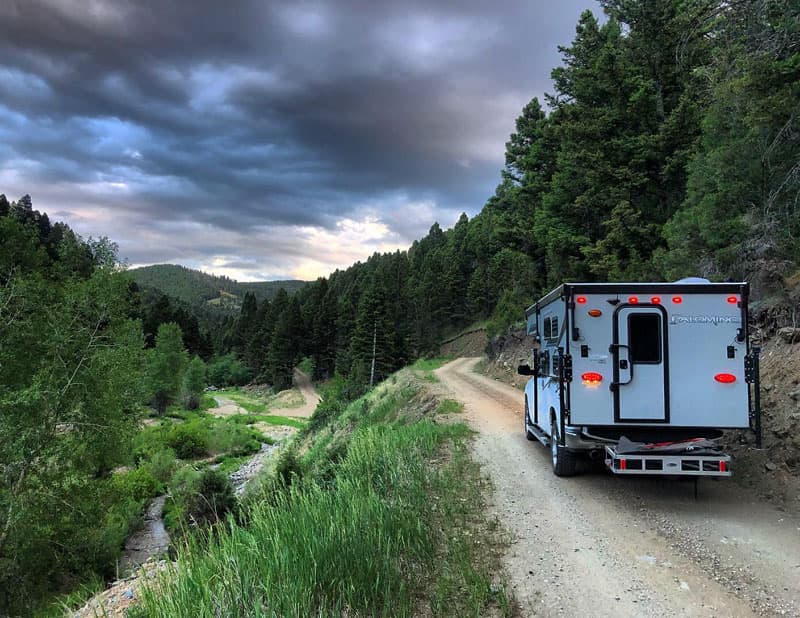 We decided to visit the historical Virginia City ghost town of Montana.  It is home of the Montana Vigilantes 3-7-77 and Gold Rush of 1863.  We decided to venture off the highway and explore Alder Gulch which was the location of the Gold Rush itself.  Today it can only be traveled via 4×4 truck over 20 miles into the Montana Wilderness.
Eric Svensson
Island Beach State Park, New Jersey
2015 Ram 3500
2005 Lance 981
Camera Used – iPhone 12 Max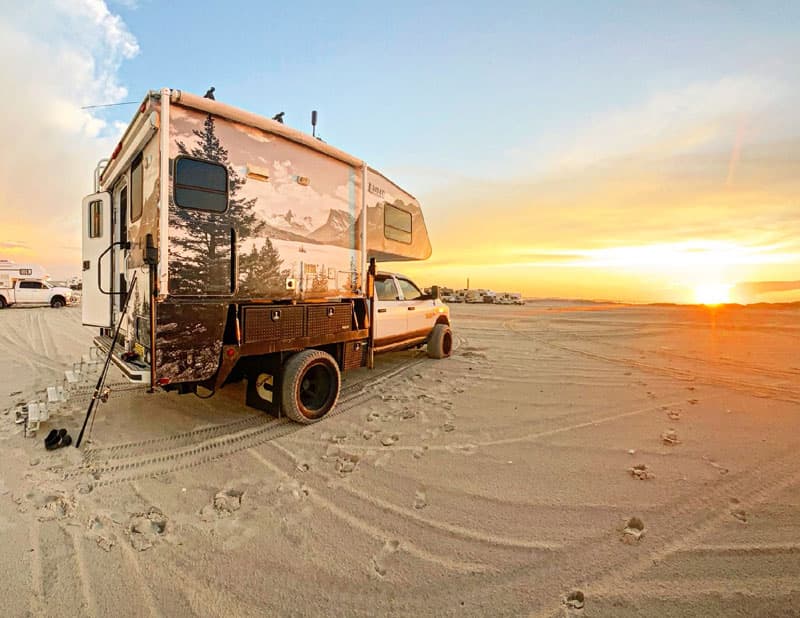 In typical Cummins Camper fashion, we were late and had hightailed it from northwest Jersey out to Island Beach State Park. After sitting in traffic, airing down our tires and a three miles drive on the sugar sand of the Jersey Shore, we made it to "the end" of IBSP.
As we were getting situated, I realized we were in the midst of the golden hour and the sun was starting to set on the horizon.  I quickly grabbed my new iPhone and took a couple of pictures from different angles.  This one took the cake.
Donna Caldwell
The Breaks Interstate Park, Breaks, Virginia
2021 Chevrolet Silverado
2020 Capri Retreat
Camera Used – LG V40 Phone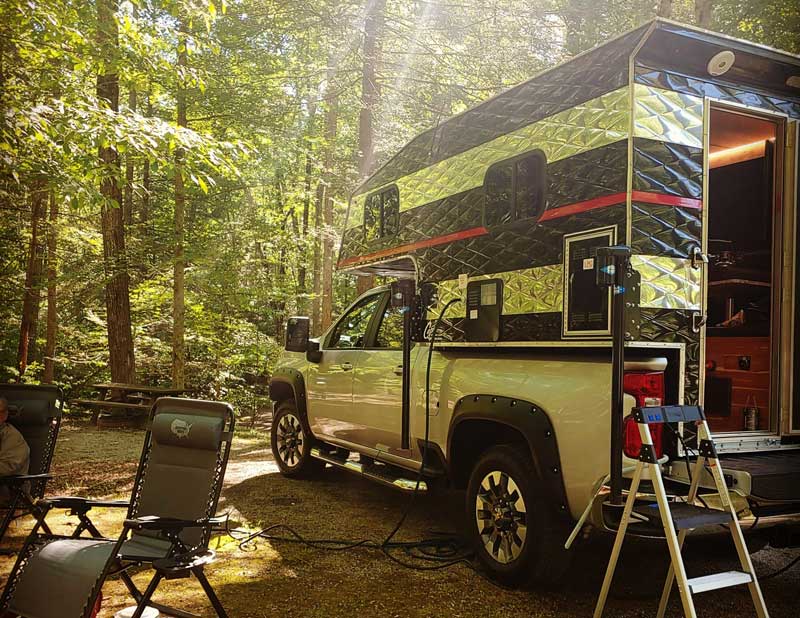 After a very long year, we decided to finally go camping somewhere (just to get away from all the craziness of work and health issues). We decided upon a place only three hours from home, but far enough away that we could clear our heads. This place is beautiful, friendly, and exactly what our family needed to reset mentally and physically. We loved it so much that we went back July 4th and had an even better time.
Random Facts About The Breaks: At many of the overlooks you are standing in Virginia but looking at Kentucky (on the state line). It is also known as the Grand Canyon of the South.
Joan Light
Grove Point Stables, Earelville, Maryland
2019 Ford F-250
2016 Northstar 850SC
Camera Used – iPhone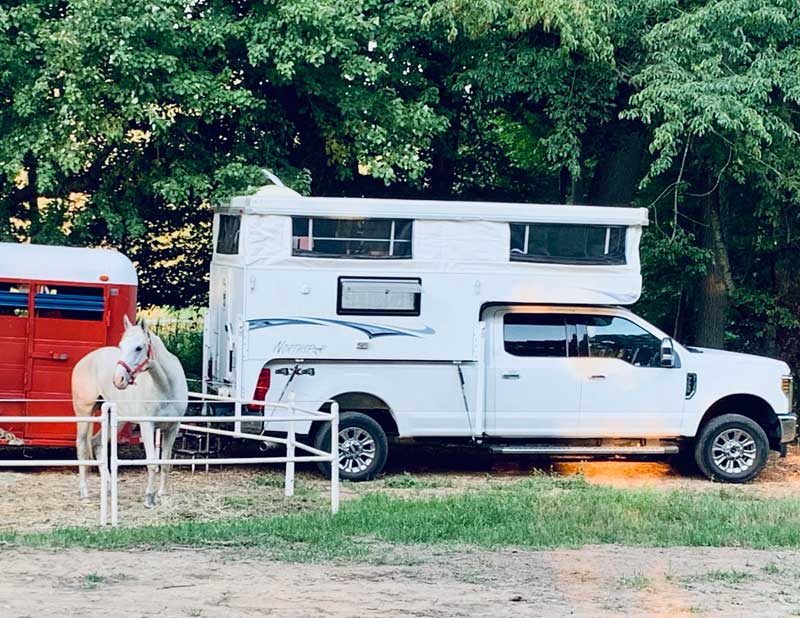 We love to horsey camp! Grove Point Stables in Earleville, Maryland is one of our favorite places! Elizabeth, the owner, offers primitive camping right on the water. It is like heaven! This particular campsite is on the water, so it is a picture perfect sitting with a campfire and the orange sun going down.  We were eating a fresh blueberry cobbler right off the fire from a cast iron pan (and don't forget whipped cream).  It really doesn't get much better than that!
This year we invited our friend, Kathy Shank.  This is her set up with her Arabian named Diamond. I took this picture early in the morning, just when the sun was coming up. All the horses were waiting for their breakfast. Later in the day we took the horses over to the beach and swimming in the Sassafras River which is a tributary of the Chesapeake Bay.
Robert Hayes
Cape Lookout Lighthouse, North Carolina
2014 Chevy Silverado 1500 LT
2018 Lance 865
Camera Used – iPhone 11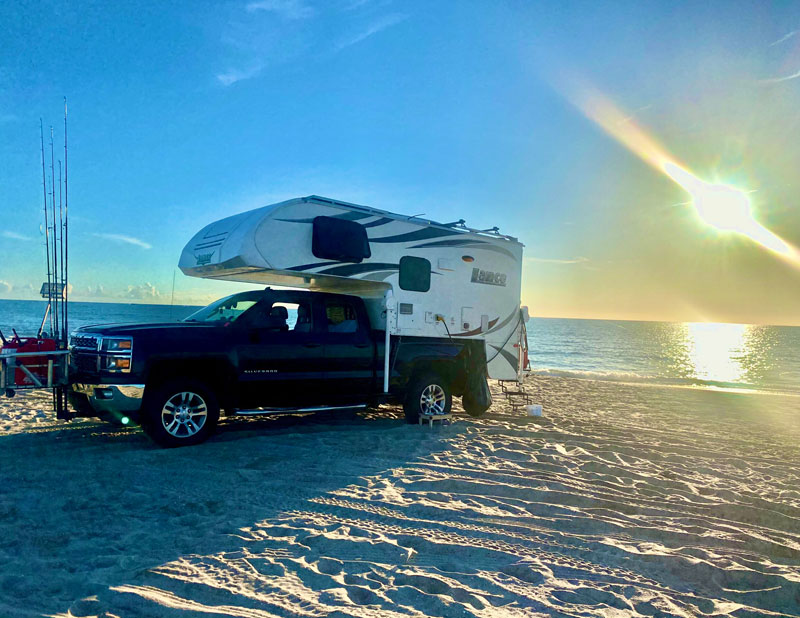 We were just getting ready to leave the island. It was my last day of vacation for 2020.
Kristin Wimmer
Bonneville Salt Flats, Utah
2018 Ford F-250
2020 Travel Lite 800x
Camera Used – Nikon D3500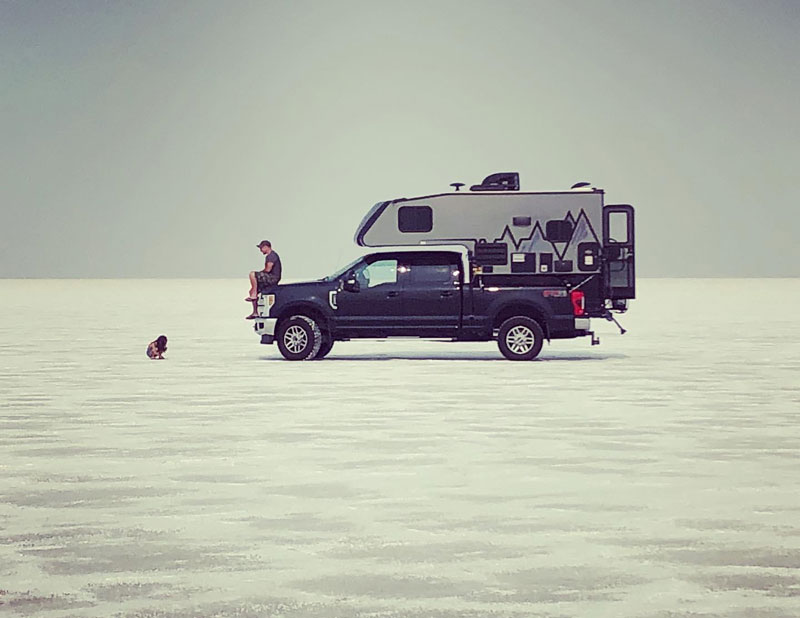 My family and I were on our way to California and couldn't pass up the opportunity to drive out on the salt flats.
Mindy Slonka
Custer State Park, South Dakota
2018 Toyota Tundra
1999 Lance
Camera Used – Google Pixel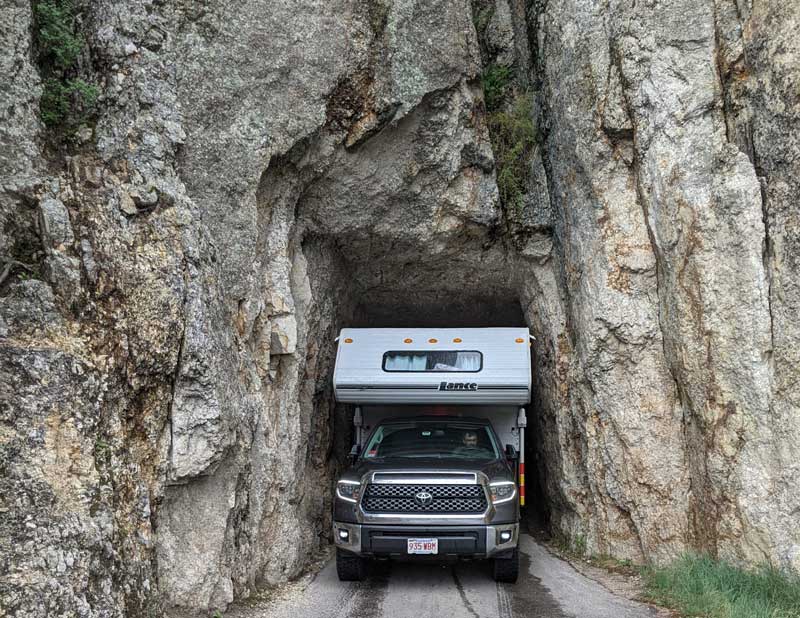 This was taken going through the needles eye tunnel in Custer State Park.
Tim McDevitt
Bridger-Teton National Forest
2020 Toyota Tacoma
2020 AT Overland Atlas
Camera Used – iPhone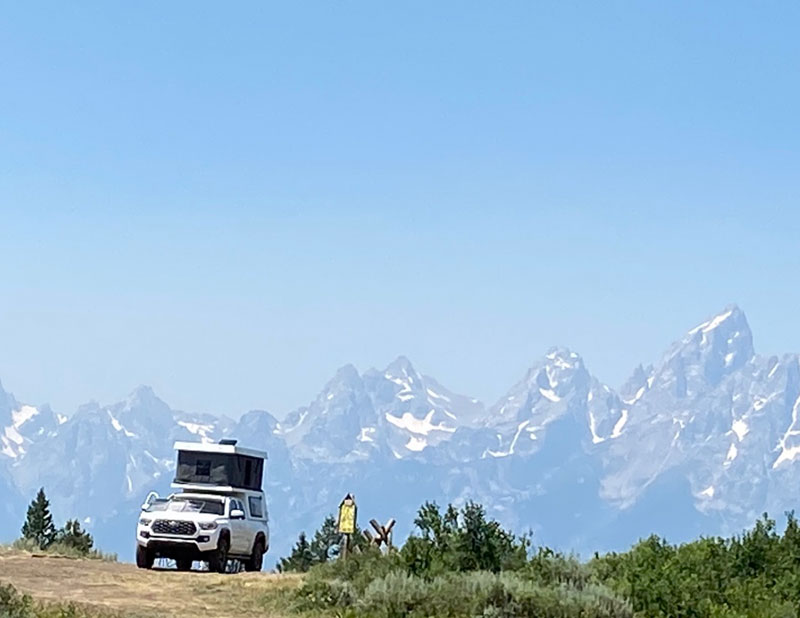 We found the last spot at the Upper View Campground and lucked out. The next morning we woke up to a moose walking around right outside our camper.
Chris Stone
Grand-Vallee, Quebec
2021 Ford F250
2021 Four Wheel Campers Hawk
Camera Used – iPhone 7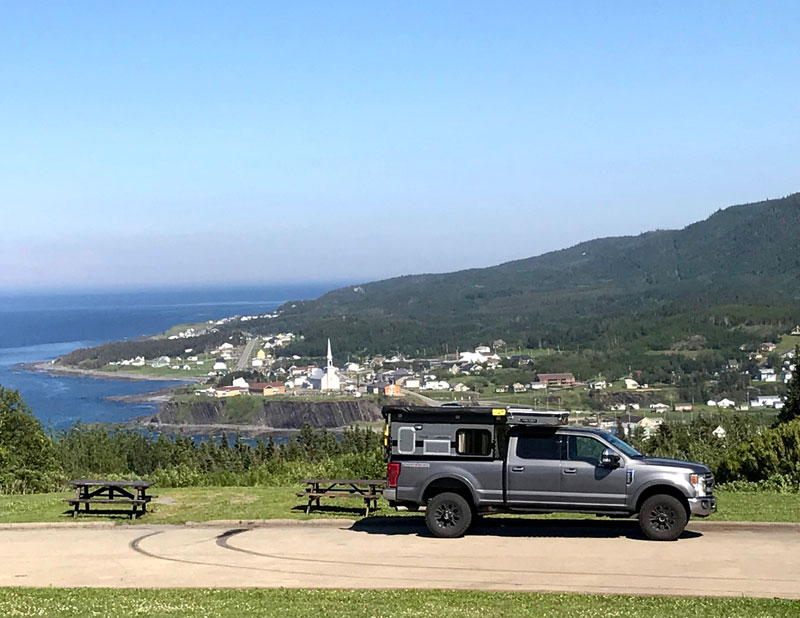 I had just retired and we purchased this truck and camper to be able to live the freedom of retirement. This trip was extra special as it was the first time we had been outside of our local neighborhood since all the pandemic lockdowns in Quebec and it felt wonderful. This was along the north side of the Gaspe Peninsula in Quebec and it was a big surprise that it was such a beautiful drive.
Todd Harps
Crystal Springs, Nevada
2017 Ram 4500
2018 Eagle Cap 1165
Camera Used – Phone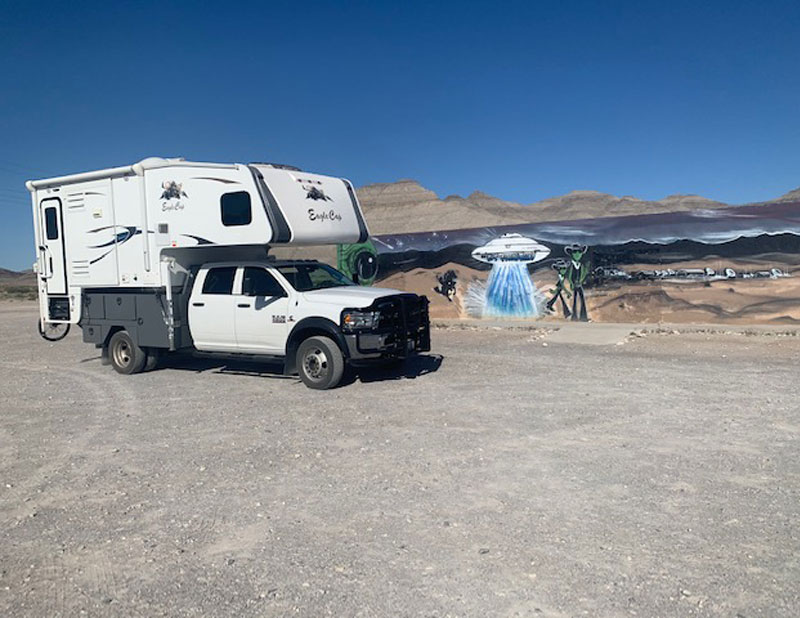 The start of the ET Highway close to Area 51/Groom Lake and some really good Jerky!
Tyler Albers
San Luis Valley, Colorado
2010 Ram 2500
2020 Palomino HS-750
Camera Used – Samsung Galaxy A51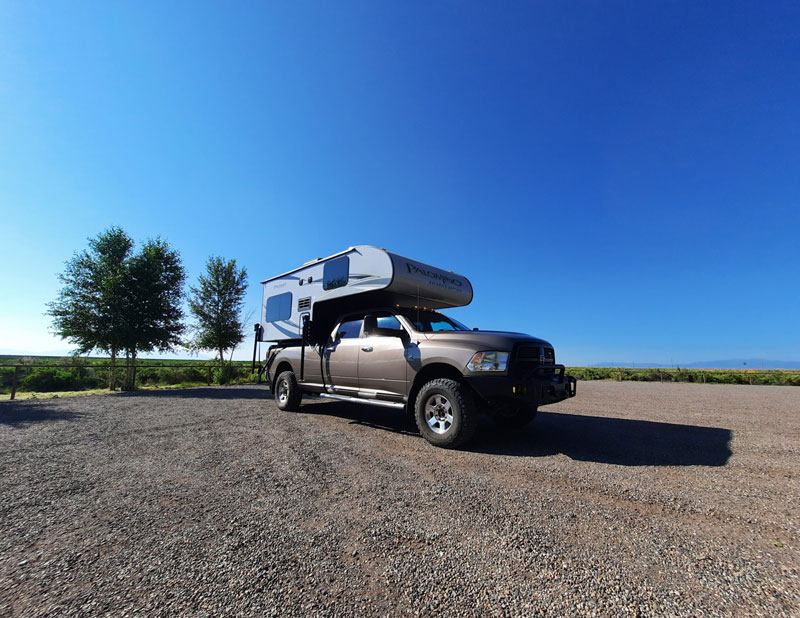 We took a trip from Colorado to South Dakota and this was a bathroom break on the way. That bathroom break introduced us to the excellent waterfowl at Russell Lakes State Park.
Steve Breeding
Gold Butte National Monument, south of Mesquite, Nevada
2014 Ford F-250
1999 Starcraft Roadstar
Camera Used – iPhone SE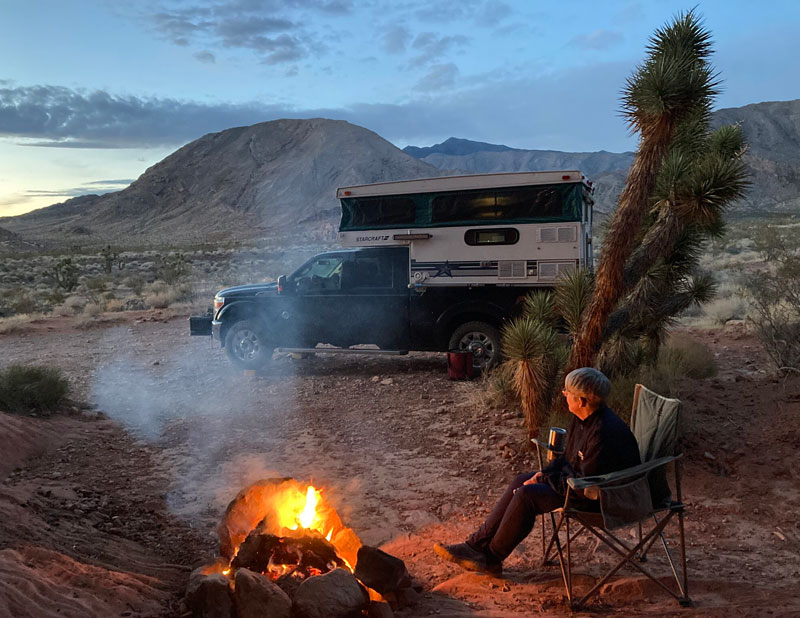 I was camped below beautiful rock formation in remote location of Gold Butte National Monument. It's a hidden gem.
Jon Lafferty
Keuka Lake, New York
2021 Chevy Silverado 3500
2020 Cirrus 820
Camera Used – iPhone 12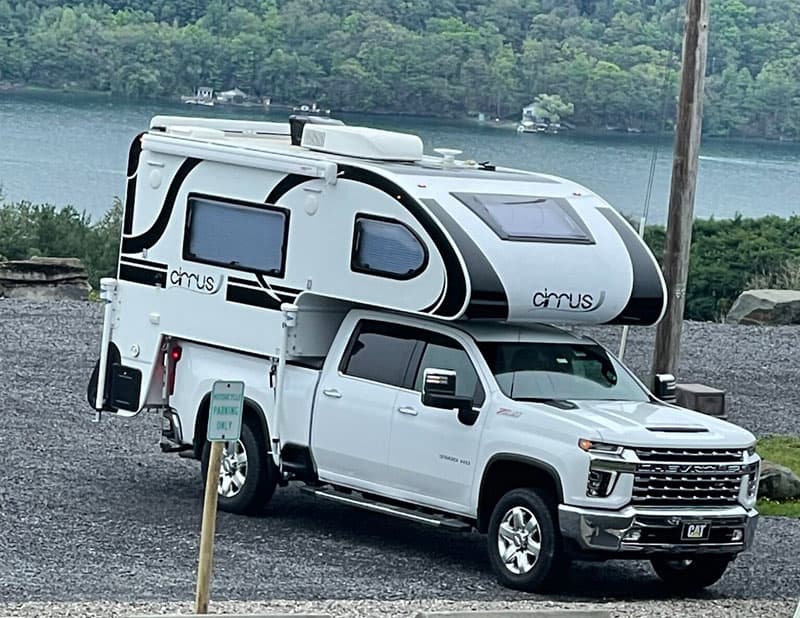 We did a wine tasting trip around the Finger Lakes. We used the Harvest Hosts app and found lots of places to boondock.
David Pearson
Lithia Springs Recreation Center, Illinois
2011 Ford F250
2018 Palomino HS-2902
Camera Used – Nikon Z6 II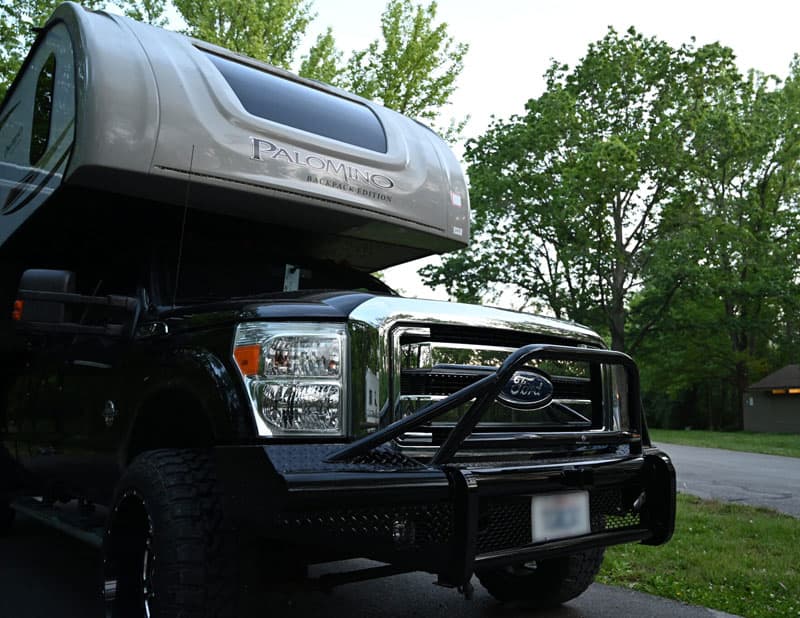 Enjoying the Memorial Day Holiday!
Connor Miller
Jasper, Alberta
2003 Dodge 2500
1996 Northern Lite 9-6
Camera Used – Samsung S9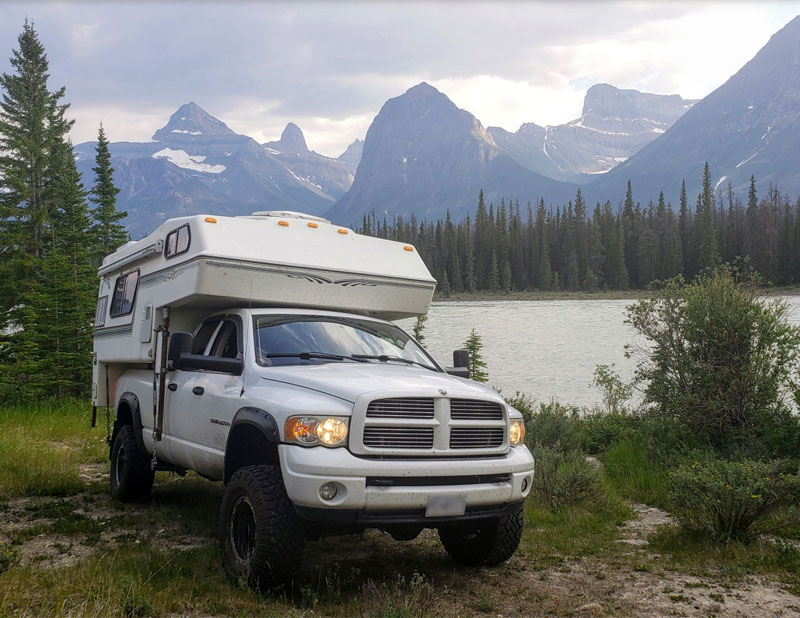 I'm in the Royal Canadian Air Force and just got transferred from CFD Masset on Haida Gwaii, British Columbia, Canada to Tinker AFB in Oklahoma City Oklahoma, USA. Our drive was 5,000 kilometers over ten days through the most beautiful country imaginable. My wife and I along with our two labs drove through Jasper, Banff, and Yellowstone just to name a few of the major parks. This picture here is beside a little lake in Jasper Provincial Park where we stopped for out two dogs to take a break from driving and have a swim.
Edith Horn
Humboldt-Toiyabe National Forest, Lamoille, Nevada
2018 Ram 3500
2019 Northern Lite 10-2 Limited Edition
Camera Used – iPhone 6S
I found this free dispersed camping area near the Ruby Mountains in Nevada when I decided to detour off I-80 for some backroad exploration. It was early April so the Thomas Canyon Campground was still closed for the winter season and completely snow covered.
A few miles down the road, just west of the campground, I noticed another truck camper camped about 1/4 mile off the road along a good size creek.  So, I backtracked to investigate.  I'm so glad I did.
Not only was there free camping, but no one else was there since the other truck camper was just pulling out as I was pulling in. The morning views were amazing as the sun peaked over the partially snow covered mountains. This is the spot I landed.
There was a trail from my site leading down the short narrow path to the creek, so I could the flowing sound of water from my campsite. The night sky was glorious. It was still the winter season, so I nearly had the place to myself. The night air was nice and crisp and I had warm days in the 70s.
Click here to see all of the photos entered so far in the 2022 TCM Calendar Contest. Enter your truck camper photos today!