For Behind the Shot Part 6, we are featuring photos and stories from Mt Rushmore, Anza Borrego, Arches, and more!  Click here to participate in the 2022 Truck Camper Magazine Calendar Contest and be considered for a Behind the Shot feature. Click here to see all of the photos entered so far in the 2022 TCM Calendar Contest.
Mike Shaw
Mt Rushmore in South Dakota
2002 Ford F350
2013 Eagle Cap 995
Camera Used – iPhone 10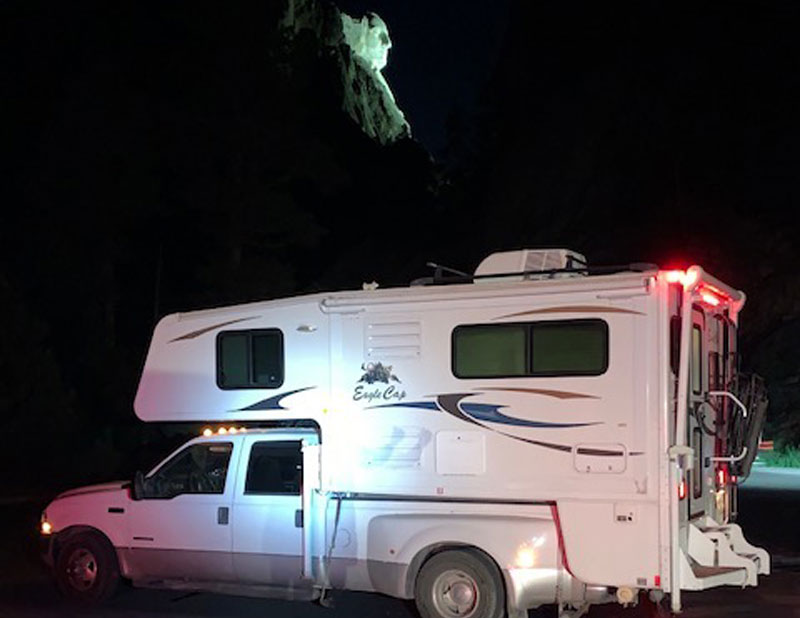 We left home in Nevada, Texas on our "See America" tour. The first stop was in historical Dodge City, Kansas (boondocked at a local Walmart). Then, we drove to Hulett, Wyoming, boondocked at a local hardware store.
We met up with family members for a few days. Day three was spent at Devils Tower, and day four we drove to Keystone, South Dakota and we camped two nights at Holy Smoke RV Resort.
We visited Mt. Rushmore and Crazy Horse monument; both were on our bucket list. Next on the list was to visit the historical Walls drug store, and then onto the Badlands, South Dakota. The RV park outside the local grocery store (pay for your RV spot inside the store) had full hook-ups. It was a nice town, had everything you could want; a grocery store, bar, one school, an old Jail (all in walking distance), and breathtaking sunsets.
On our way home, we stopped just outside of Oklahoma City at a rest stop where we boondocked. Then, it was back home to Nevada, Texas. Great trip! America!
Beverly Schulte
Anza Borrego State Park, California
2020 Ford F350
2020 Arctic Fox 865
Camera Used – iPhone 6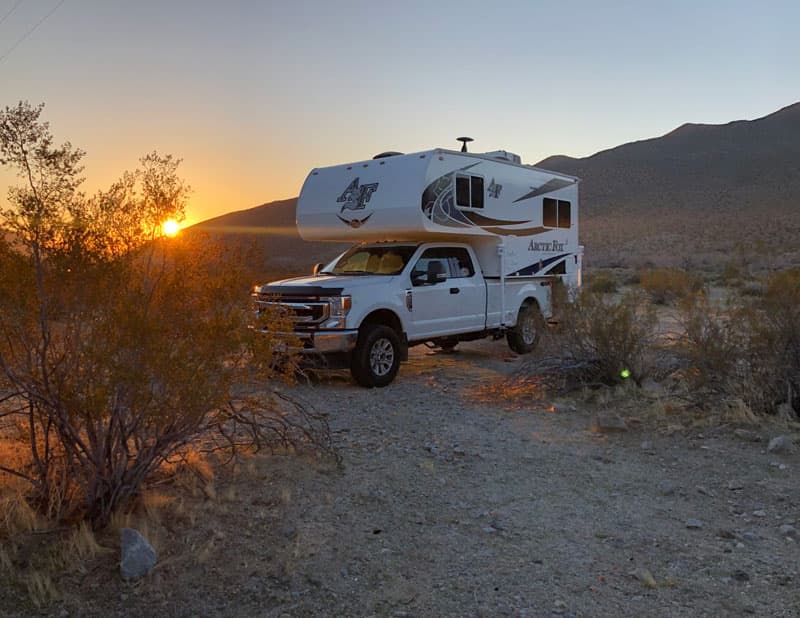 This was taken at sunrise while primitive camping on the west side of Anza Borrego. We spent the weekend touring the park. While there were other campgrounds open, we wanted to stay and boondock. The flower show really didn't come this year as there was little to no rain, but the desert is always beautiful and we enjoy it very much.
Corey Humphrey
St George Island, Florida
2018 Chevy 2500
2000 KZ Sportsman
Camera Used – iPhone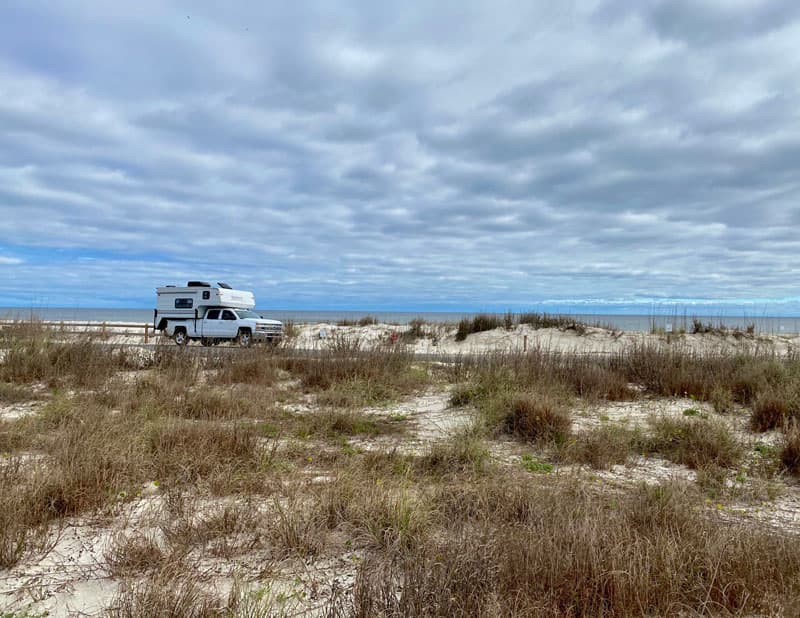 Living in Michigan we try to camp for a month or two in Florida during the winter. On our way home this year we detoured along the entire gulf coast to Texas for a friend's wedding before heading north. This was a two-day stop along the way. Being as March wasn't quite a busy time here yet in northern Florida, we pulled off for a day of beach fishing and had the entire beach to ourselves the whole day, as far as the eye could see. To top it all off we filled the cooler with whiting and had an amazing fish dinner back at the campground.
Mike Mlikan
Arches, Utah
2015 Chevy Silverado 2500HD
2010 Travel Lite
Camera Used – Phone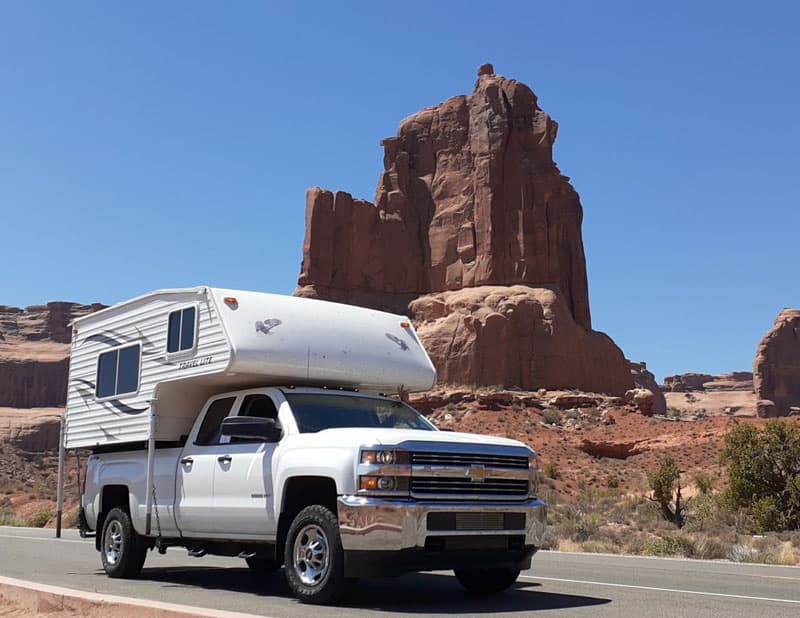 An off-the-beaten path in Arches National Park, Utah.
Peggy Straathof
Benton Lake, Michigan
2008 Ford F350
2004 Northern Lite Ten-2000
Camera Used – Pixel 3a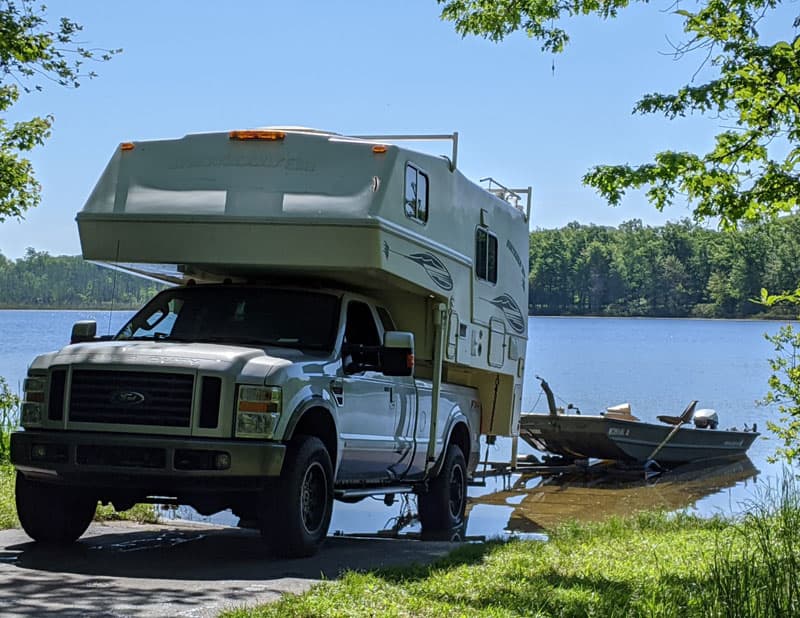 This is from Benton Lake National Forest Campground, just north of White Cloud, Michigan. We were pulling our boat out after a great three days of fishing.
Click here to see all of the photos entered so far in the 2022 TCM Calendar Contest. Enter your truck camper photos today!