For Behind the Shot Part 5, we are featuring photos and stories from Ozarks National Forest, Ironwood National Forest Monument, Switzerland, and many more!  Click here to participate in the 2022 Truck Camper Magazine Calendar Contest and be considered for a Behind the Shot feature.  Click here to see all of the photos entered so far in the 2022 TCM Calendar Contest.
Kami Golembeski
Ozarks National Forest, Arkansas
2011 Ford F350
2019 Northstar Igloo U
Camera Used – iPhone 10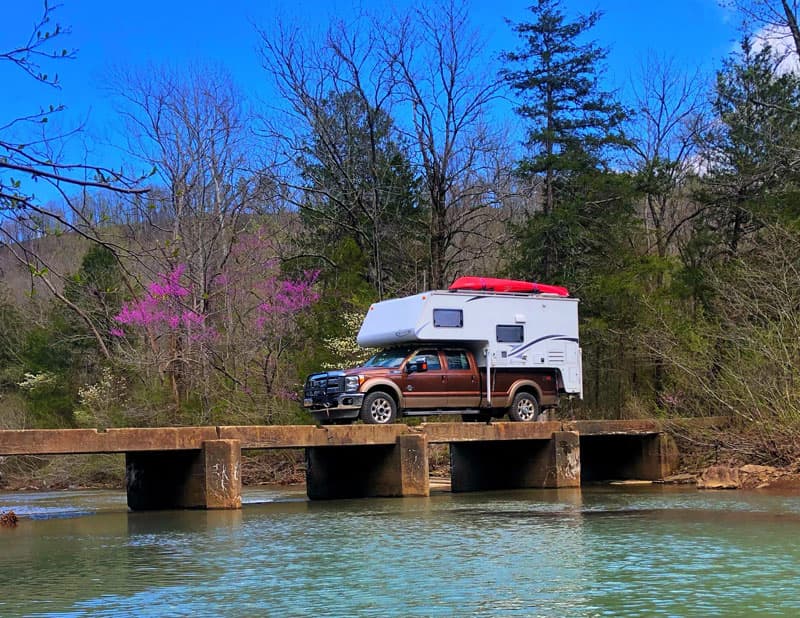 Who knew that Arkansas was so beautiful? Traveling from Oklahoma to Georgia, we drove through northern Arkansas and through the Ozarks National Forest. We bumped into a local that told us about a great area to hike and camp, so off we went to explore the dirt roads she promised. We thought we would be there a night or two.
A week later we were still exploring and falling in love. There were beautiful hikes, waterfalls, and rivers of amazing blue! The trees were just starting to bud and the bugs were not too active just yet. I think we hiked to 10 different waterfalls and a total of 17 miles! Free camping and boondocking was easy to find, but cell service was not. But, with so much adventure to have, who cares!
Mark White
Ironwood National Forest Monument, Arizona
2011 Ford F250
2005 Lance 845
Camera Used – iPhone 11 Pro Max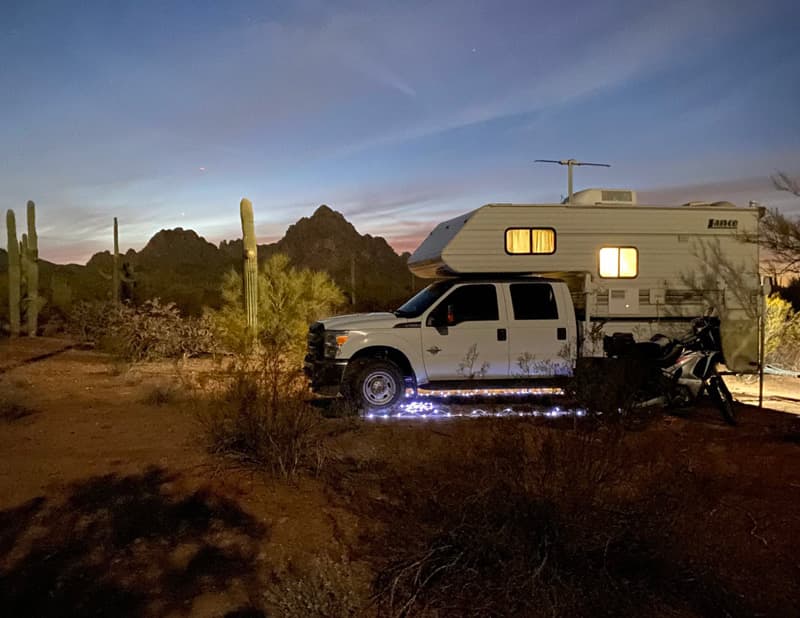 I was exploring the Ironwood National Forest Monument near Tucson, Arizona, and came across this great dispersed camping spot located right off the gravel road. This spot was excellent due to the many hiking opportunities and it was very secluded.
Felix Agel
Switzerland
2016 Isuzu D-Max 2.5
2004 Lelycamper 270DS
Camera Used – Huawei P30 Pro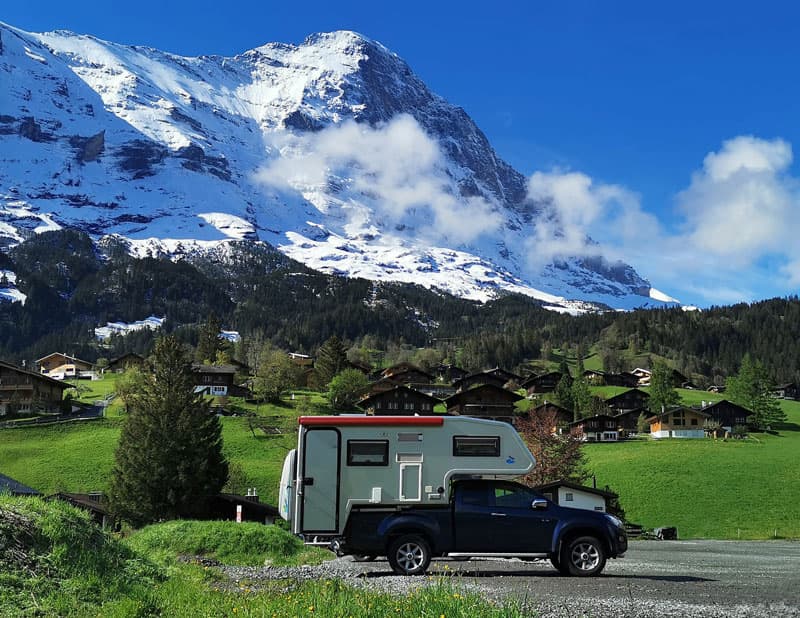 An amazing view from our campground in Grindelwald at the base of the Eiger (3,967-meter (13,015 feet) north face, Bernese Alps in Switzerland. The north face (Nordwand) rises vertically more than 10,000 feet. It is highly publicized for the many tragedies involving climbing expeditions. Since 1935, at least sixty-four climbers have died attempting the north face.
Bart Stoneback
Nebraska
2016 Chevy 3500
2018 Eagle Cap 1165
Camera Used – Phone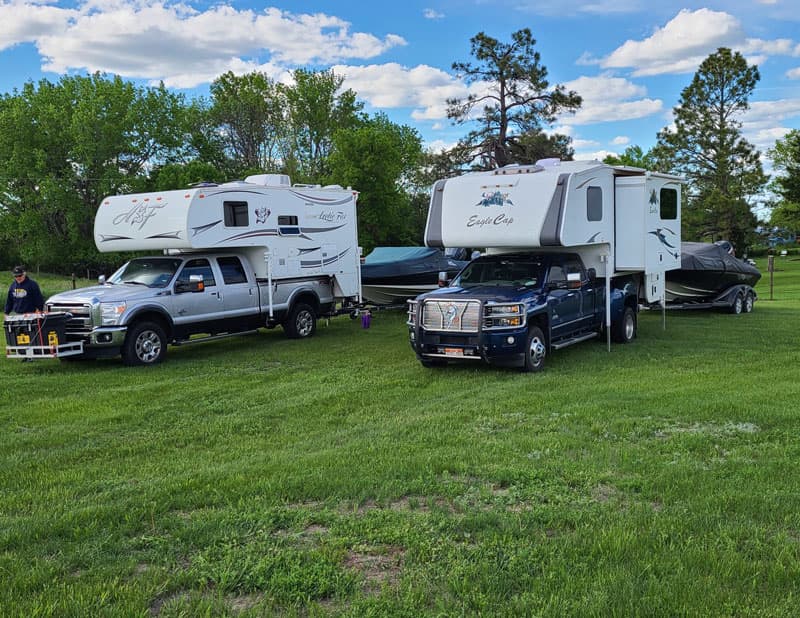 Beautiful evening at a Harvest Hosts vineyard on our way to a great fishing destination.
Mike Brandl
Moab, Utah
2017 Ford F450
2019 Adventurer 901SB 50th Anniversary Edition
Camera Used – iPhone 11 Pro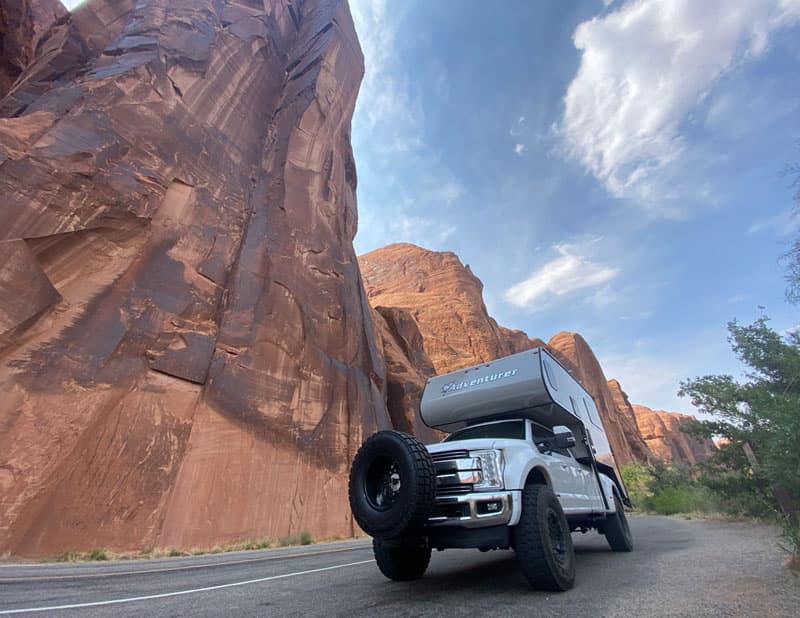 After selling my previous truck camper I found an Adventurer 901SB 50th anniversary edition located in Fresno, California. There were only 60 made, so I knew I wouldn't be able to find another one for sale. I made the drive from Florida to California. After picking up the camper I made a cross country vacation coming back visiting many sites.
David Clock
Grant Lake, California
2003 Toyota Tundra
2007 Four Wheel Camper Kestrel
Camera Used – Sony A7R3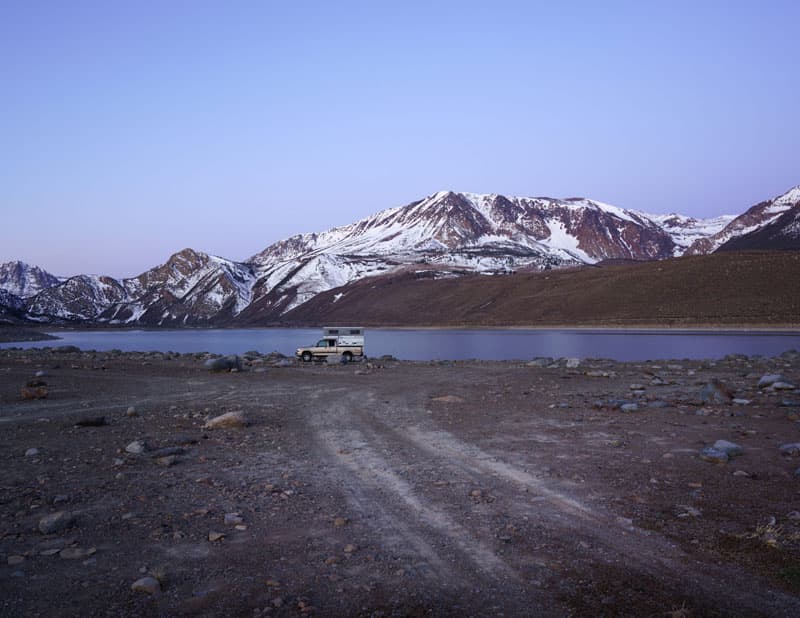 After spending a week searching out spring conditions ski/snowboard lines up and down the Sierra crest in Eastern California, I needed a relaxing base camp with great views. There are many to choose from in the area. This one has always been one of my favorites; rarely with anyone around.
On this trip, every morning is started with anticipation of that day's big hike to find good snow and ski lines. It starts with a great view that helps get me going. I wanted to capture the big landscape and exactly where I was headed that day in an image. I hiked up Parker Peak in the background of this image to snowboard. I knew that I had a great spot and base camp to come back to after a long day!
Mark Dyvig
Fort Clinch State Park, Amelia Island, Florida
2001 Ford F250
1969 Avion C11
Camera Used – Samsung S8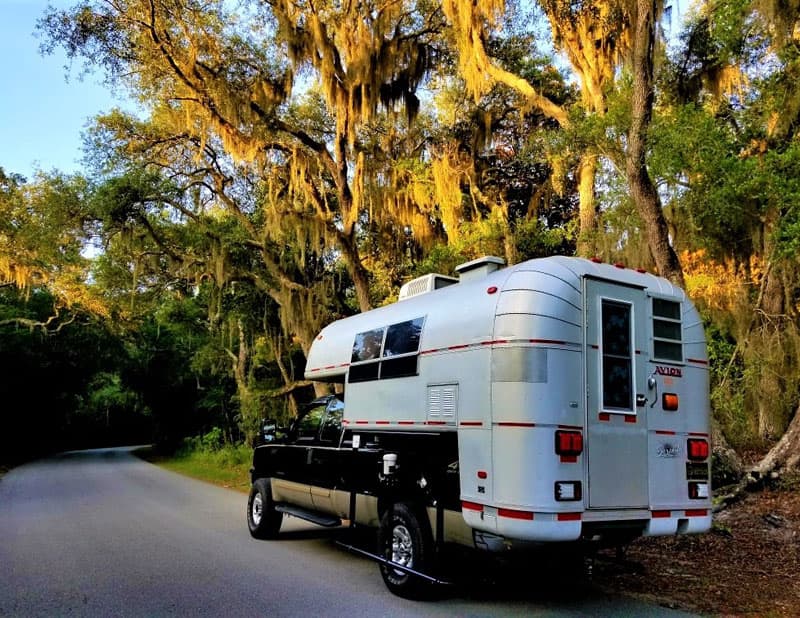 I play on the Golfweek Senior Amateur Tour and had a golf tournament on Amelia Island. I decided I would take the camper, do the tournament and then meet the kids in Disney World for the weekend.
Amy decided last minute to go with me so we decided on Fort Clinch State Park on Amelia Island. We stayed at a River Campsite and it was really nice, and close to the beach so we could take a long walk on the beach and look for sharks' teeth. We did not find any teeth, but I found a shell that was shaped like a heart with, what we thought looked like an "A" on it. It was Amy's birthday month, so it was pretty cool.
The next morning we headed out early and the sun was coming through the tops of the trees lighting up the moss hanging down. It looked really spectacular, so we stopped and took the picture.
Roger Gedminas
Toquerville Falls, Utah
2008 Toyota Tundra
2017 Four Wheel Camper Hawk
Camera Used – DJI Mini 2 – Drone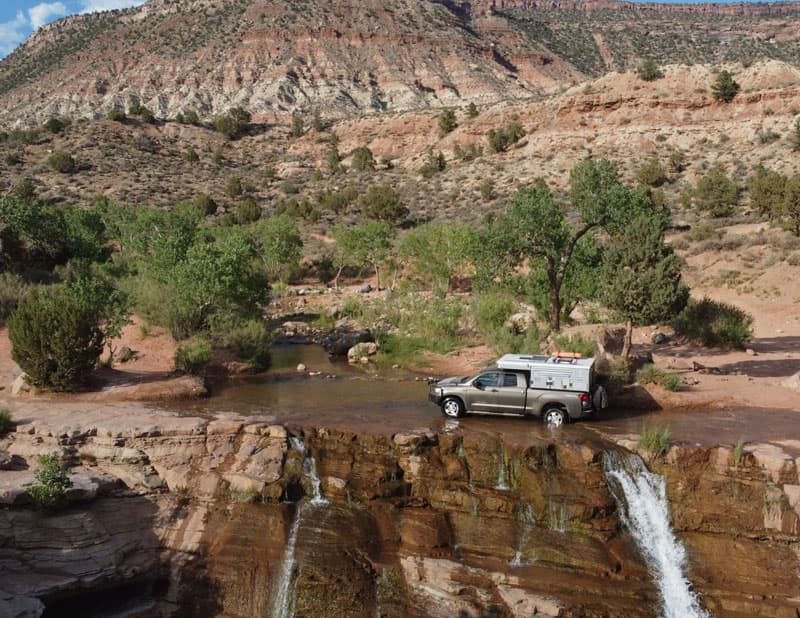 After 35 tries we finally got permits for The Wave in Arizona. It was hot, so the day before we went to Toquerville Falls to swim in the steam and jump off the waterfalls to cool off. The road was difficult requiring a spotter with rock stacking and hole filling. Several times running boards still hit. In the end, it was totally worth it and I was the only camper there with a full kitchen, refrigerator, and king-sized bed!
Karen Petelin
Grand Teton National Park, Wyoming
2019 Chevrolet 3500
2020 Palomino HS-2902
Camera Used – iPhone 11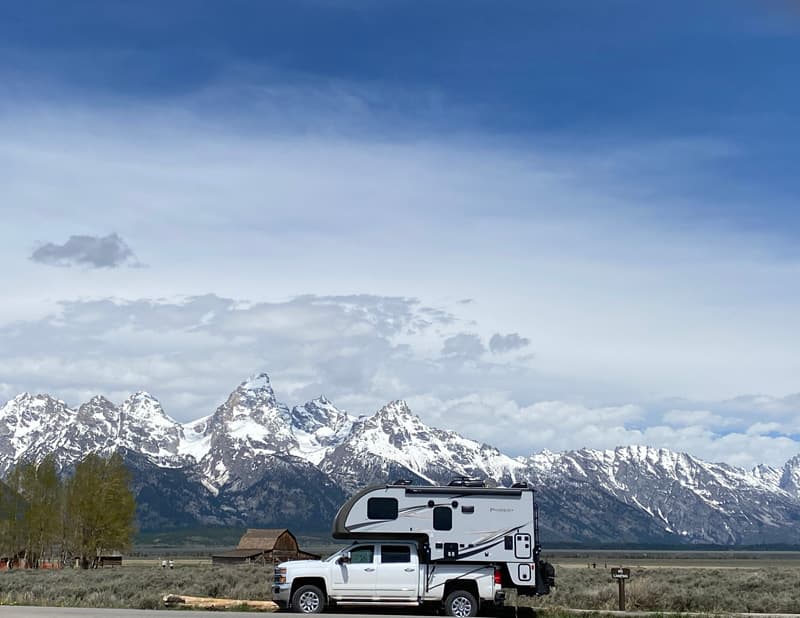 Here's my last stop for pictures before heading home after a week at Grand Teton National Park.
Jackie Whitlock
Big Bend National Park, Texas
2003 Ford F350
2004 Lance 1010
Camera Used – Canon SX60 HS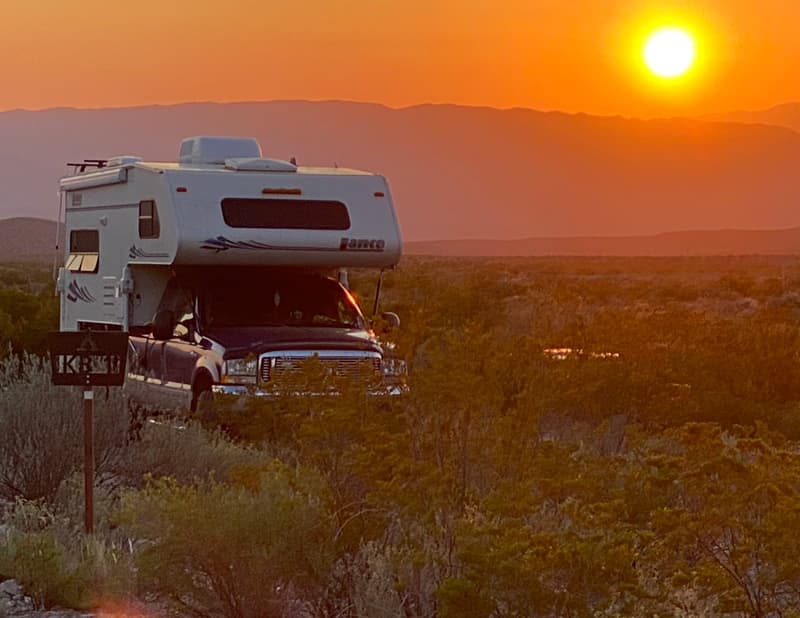 What better way to social distance during a pandemic than to load up the camper and hit the open road. My wife and I did just that last October. We drove from Georgia to California and back totaling 5728 miles. This photo was taken at sunset in a backcountry site in Big Bend National Park. It was one was the six National Parks we visited along the route.
Kathryn McGuire
Flagstaff, Arizona
2001 Dodge Ram 2500
1999 Bigfoot 2500
Camera Used – iPhone SX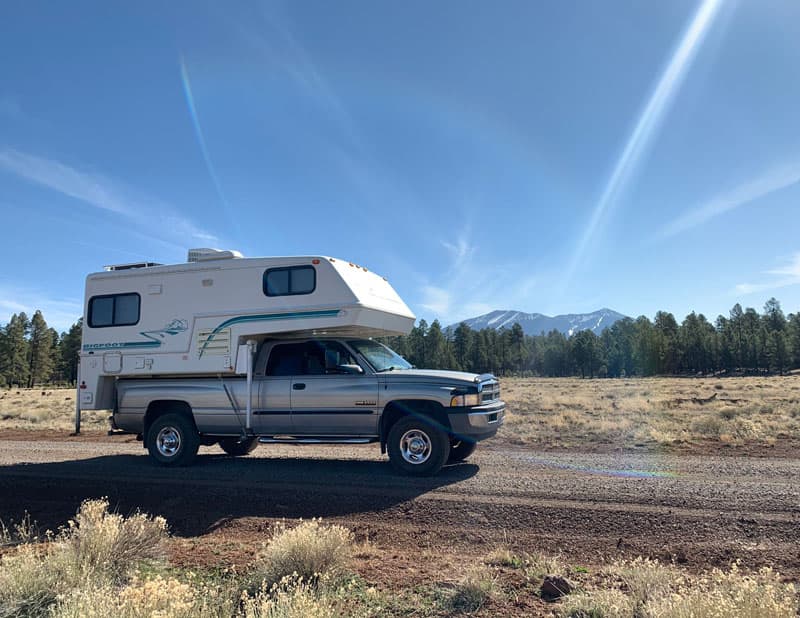 I recently moved to Phoenix, Arizona and use my free time to take my truck camper, and full time home on adventures. On a weekend journey to Flagstaff, Arizona, I hiked Humphries Peak, the tallest mountain in Arizona, and boondocked for a few nights on forest service roads. This photo was taken the morning after the hike while I was driving into town from my campsite. The dirt forest road was remarkable in the morning light and I stopped for this photo when I noticed an amazing view of snow-capped Humphries Peak.
Rick Nelson
Moab, Utah
2016 Chevy 2500
2021 Wolf Creek 840
Camera Used – Galaxy S10
I went on a road trip from Renton, Washington to Moab, Utah.
Angela Hayslip
Utah
2015 Ford F250
2020 Palomino HS-2902
Camera Used – iPhone 11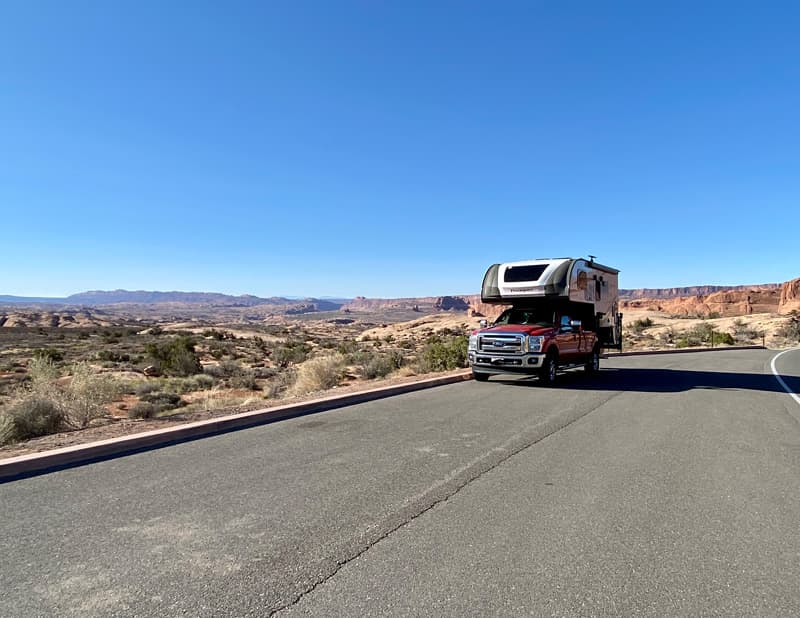 We are from Ohio and went out west.
Nick Deschermeier
Myrtle Beach, South Carolina
2019 Ford F350
2011 Lance 830
Camera Used – iPhone 8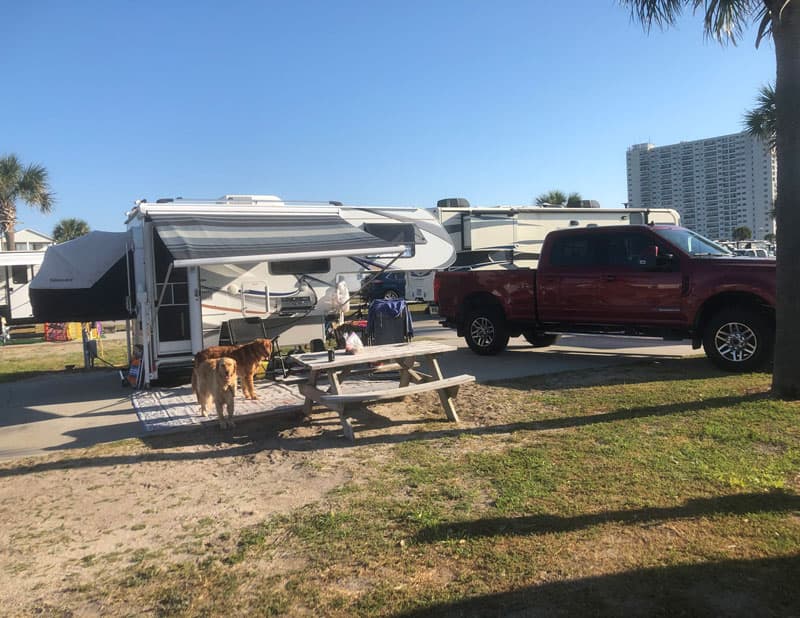 We try to camp at Myrtle Beach every spring, although last year it was canceled due to Covid. We stay at Ocean Lakes Campground. It is a great place with large sites. Once you stay there at least once you can do a quick setup so there's no stopping at the office. You can drive right to your site. We always go at the end of April; after spring break and before bike week. We have two golden retrievers that just love being at the beach. They go everywhere with us and love camping.
Colton Ziegler
Poison Creek Campground, Donnely, Idaho
2010 Ram 2500
2021 Capri Camper Retreat
Camera Used – Samsung S10e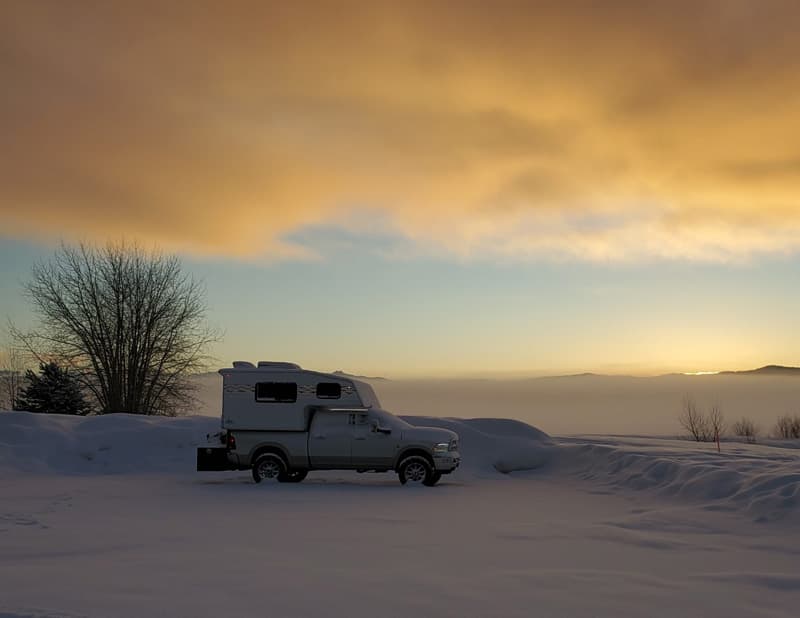 I was camping overnight before skiing at Tamarack ski resort the next day. I was not expecting any snow overnight, but to my surprise, I walked out to 6″ of dry powder and a beautiful sunrise coming up over Lake Cascade; couldn't ask for much better of a day!
Chase Garrett
Colorado
2017 GMC Sierra
2019 Travel Lite 625
Camera Used – DJI Air 2S
We were road-tripping to Ouray, Colorado from Moab, Utah, and drove past a road that my wife recognized the name. She shouted out, "I think there's a boondocking spot up there somewhere". We turned around and went to scout it out. We had no service and found ourselves driving our truck camper on jeep trails. We were freaking out about low branches and rutted roads, but we didn't want to give up. Luckily our patience paid off. It took us two hours to make it to the top of the mountain and we were greeted with the most gorgeous view we had ever seen. It was the most beautiful place we ever camped.
Click here to see all of the photos entered so far in the 2022 TCM Calendar Contest.  Enter your truck camper photos today!