For Behind the Shot Part 3, we are featuring photos and stories from Taiwan, Santa Fe National Forest, Alvord Playa, and many more!  Click here to participate in the 2022 Truck Camper Magazine Calendar Contest and be considered for a Behind the Shot feature.
Steve Stebbins
Alvord Playa, eastern Oregon
2004 Silverado 3500
2003 Lance 835
Camera Used – iPhone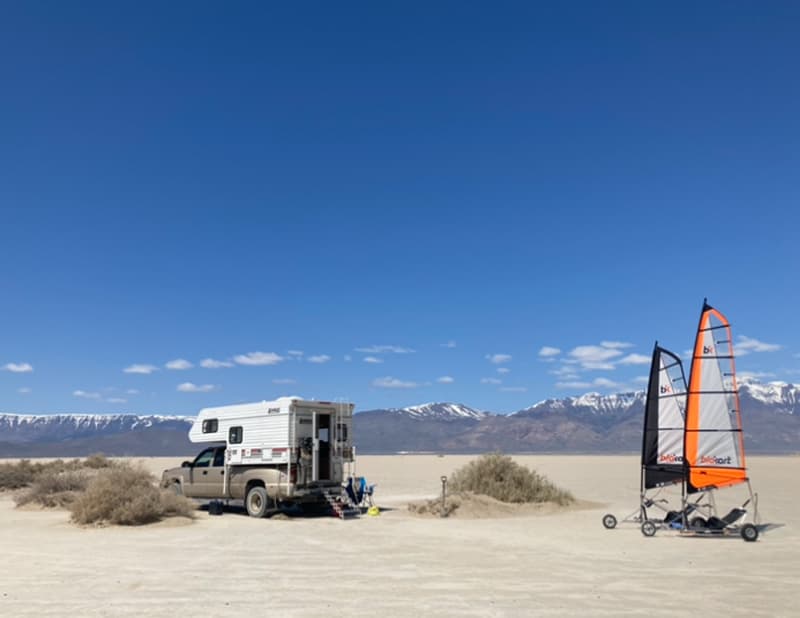 Early morning sunrise on the Alvord Playa in eastern Oregon. I was waiting for the wind to pickup to go land sailing.
Peter Wang
Taiwan
2010 Land Rover Defender 130
2010 Four Wheel Camper Grizzly
Camera Used – Phone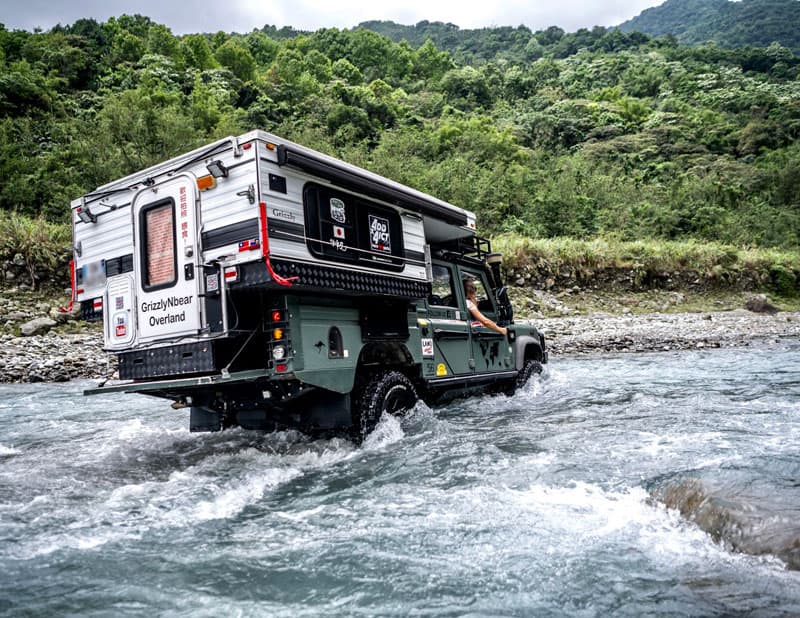 Taiwan is the most mountainous country in the world for its size. These thousands of mountains create thousands of steep-sided canyons just waiting for adventure.
This photo was snapped deep in the Hualien region on the wild east coast of Taiwan crossing one of the many rivers of the day to reach the night's camping location.
Jim ODell
Rhyolite, Nevada
2013 Ford F350
2018 Adventurer 89RB
Camera Used – Samsung S10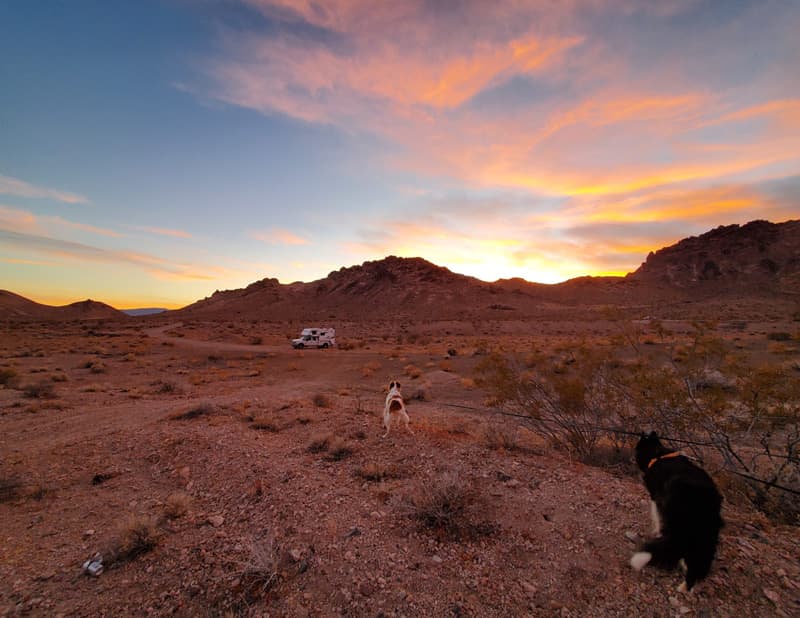 We were rockhounding and geocaching around the state of Nevada in January due to my work being put on hold. We wanted to see Rhyolite and there is BLM land right next to it. Just over the hill is Rhyolite. We took the dogs for a walk before dark and, on our way back, I snapped a couple of pictures of our campsite from a small hill. The color is untouched and we were amazed by the lighting. So warm and beautiful for January.
Michael Wells
Bighorn Dam, Clearwater County, Alberta
2018 Ram 3500
2009 S&S Montana Ponderosa 9.5
Camera Used – Samsung S20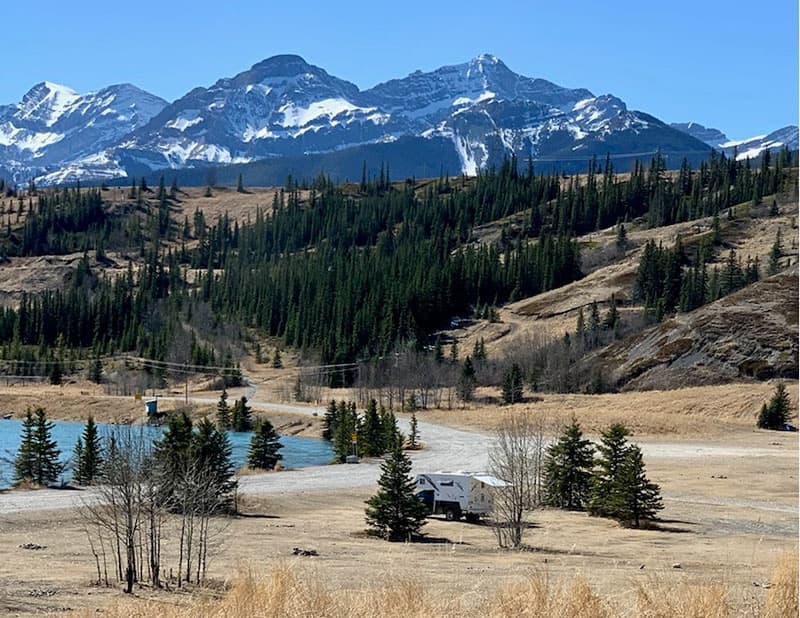 For years when I was single, I rode my motorcycle along Alberta's Highway 11. I found it to be my favorite for scenery in our province. A few years later when I met a gal and got a dog, we bought a truck and camper and spent a week touring and hiking areas along Highway 11. This photo was from when we hiked up a small hill behind the camper to catch the scenery. Canada is beautiful. The next morning after this photo, it snowed 6 inches. The weather in the Rockies can turn on a dime.
Michael and Barbara Dvorak-Sutton
Zion National Park, South Campground, Utah
2003 Ram 3500
2007 Okanagan 90W
Camera Used – Motorola G8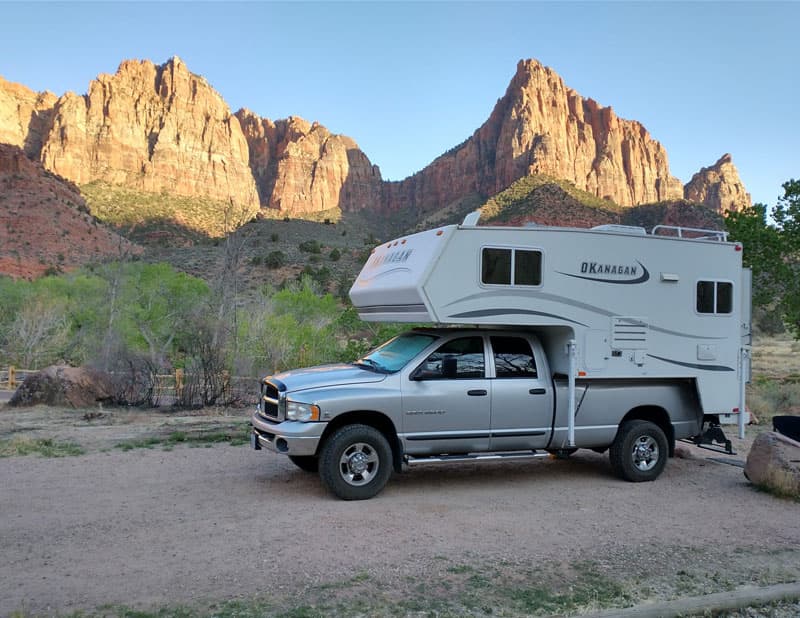 Our first trip, after living in our truck camper for 14 months while building our new house in central Oregon, was to Grand Canyon, Zion, and Bryce. They are all must-see once destinations. We found Zion in particular to have postcard-worthy shots where ever we looked. We also have to say, though, that the mobs of people at the big parks were difficult to deal with and probably cured us from visiting any others any time soon.
Forrest Atkins
Factory Butte, Utah
2011 Ford F250
2014 Phoenix Camper
Camera Used – Galaxy Note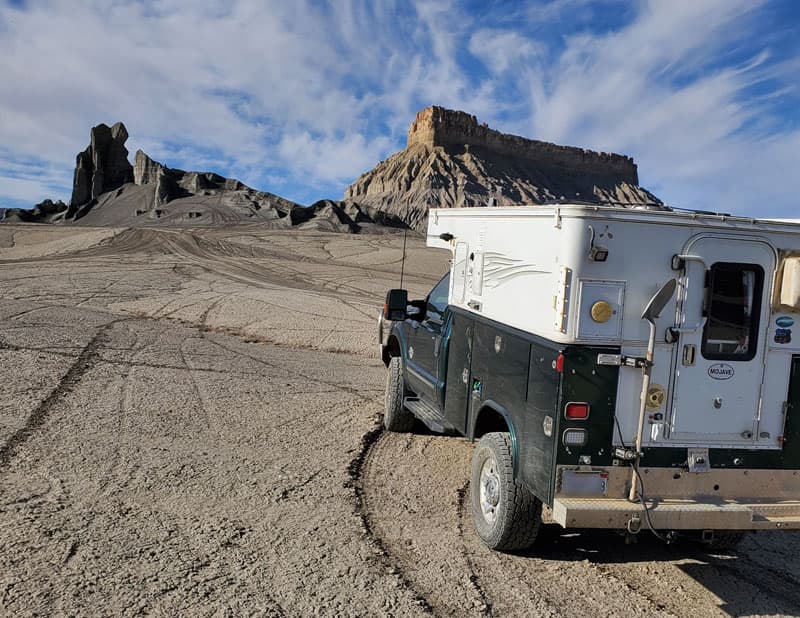 This was from a photo gathering in Utah with friends. It's at Factory Butte, Moonscape Overlook, and San Rafael Swell.
Grant Sorge
49 Degrees North Ski Area, Washington
2014 GMC 3500
1996 Weekender by Skyline
Camera Used – Galaxy S20+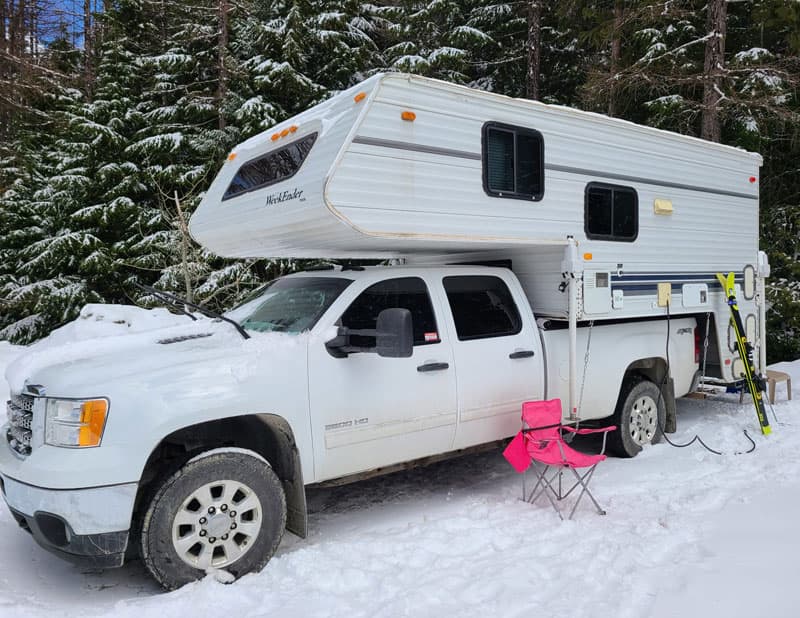 We just had the best ski day of the season. There were perfectly groomed slopes with two inches of fresh powder over the top, which means everybody on the slopes looks like an expert. You just can't do anything wrong. Very exhilarating!
It was Sunday and late in the day. The temperature rose to 38 degrees and it was sunny. It was great to sit beside our camper, enjoying red wine, and a book after all that exercise.
Nola Marth
Sicamous, British Columbia
2015 Ford F150
2004 Northern Lite 8.5
Camera Used – Samsung 10+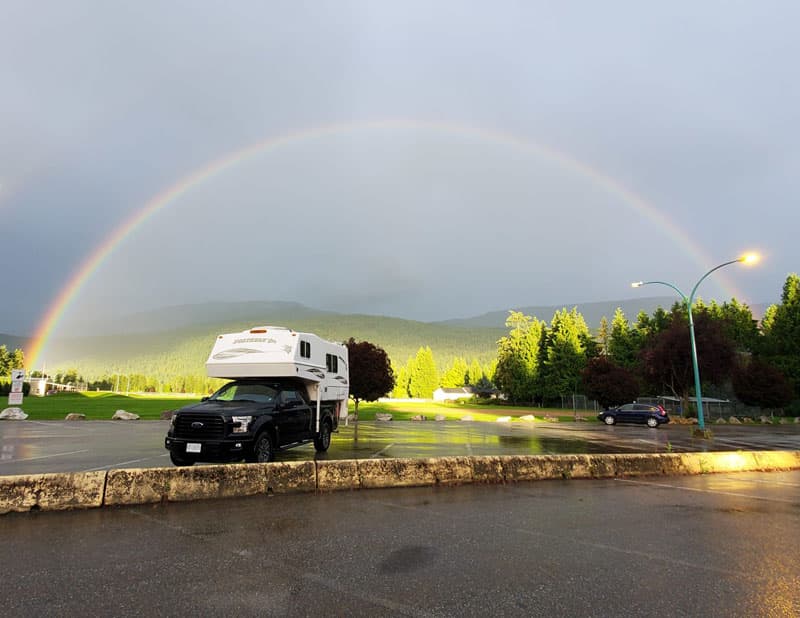 I just came out of Roger's Pass through the Rockies. There was roadwork and torrential rain. I stopped in a municipal parking lot to climb in the back for a nap and was on my way again at 5 am.
Mike Shippy
Caja Del Rio Dispersed Camping, Santa Fe National Forest, New Mexico
2016 Ram 3500
2017 Adventurer 89RBS
Camera Used – iPhone 12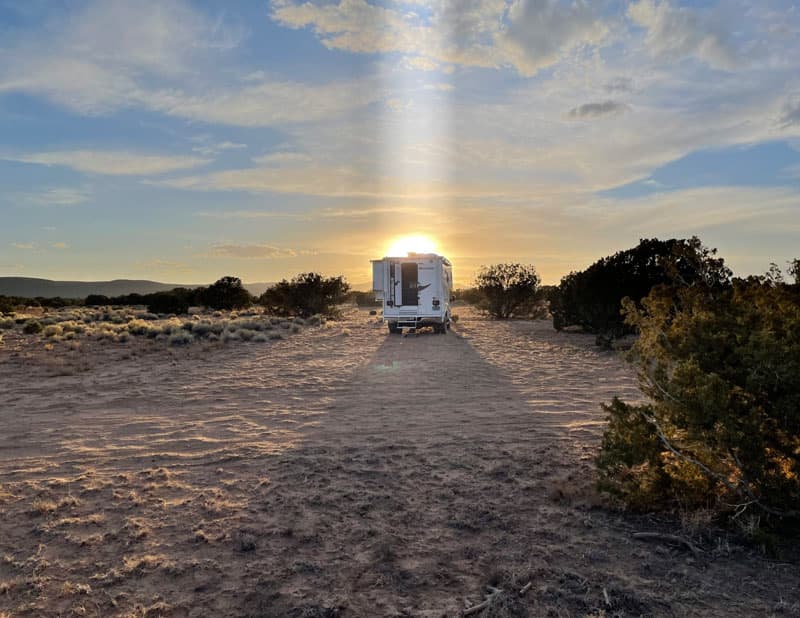 We were on our way back from Tucson, Arizona, Joshua Tree, California, and the Colorado River/Parker, Arizona area. We stopped at the Caja Del Rio dispersed camping area in the Santa Fe National Forest before going home the next day. We boondocked here on the way to the southwest deserts and liked it so we stayed again on the way home. When I took this photo, I wanted the sun to be behind the camper and also to almost see the sun itself. This photo was not retouched in any way. By luck. this is just the way it came out. We must be special…haha. The camp spot was found on the Campendium.com website. We were just looking for a free site not too far off of I-25. It was a nice camping area and there were not many people in April.
Click here to see all of the photos entered so far in the 2022 TCM Calendar Contest.  Enter your truck camper photos today!