For Behind the Shot Part 2, we are featuring photos and stories from Alabama Hills, Black Rock Mountain State Park, and many more!  Click here to participate in the 2022 Truck Camper Magazine Calendar Contest and be considered for a Behind the Shot feature.
Forrest Atkins
Alabama Hills, California
2011 Ford F250
2014 Phoenix Custom camper
Camera Used – Galaxy Note 10+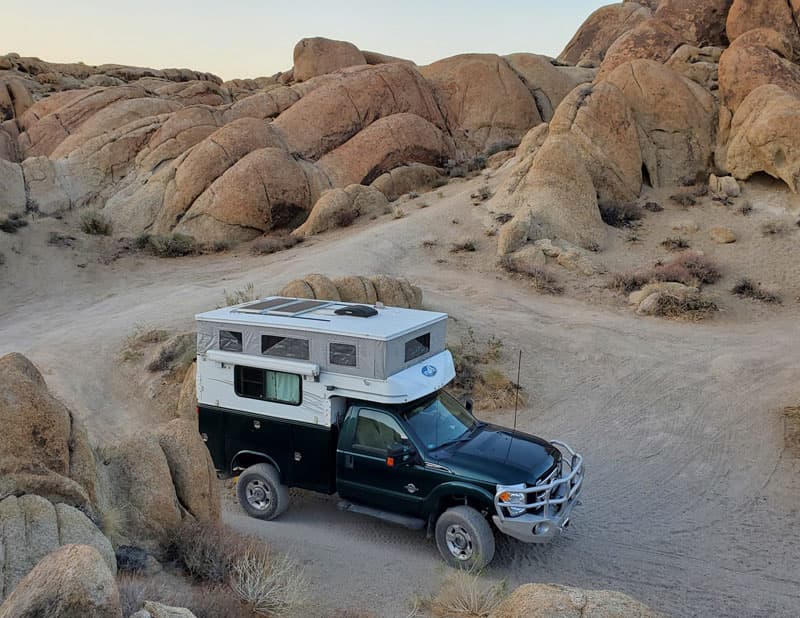 I pulled into one of my favorite campgrounds in Lone Pine, California only to find it full to capacity. On all previous occasions, I had my pick of campsites. I decided to take my chances over in nearby Alabama Hills. The Hills have become quite popular, read occupied, but I managed to find this spot back in the hills. It was a tight squeeze getting into the campsite, but I managed to get in, and more importantly, I was out at sun up the next morning. I hiked up the hill to take this shot just before sundown.
Pam Koski
Needles District, Canyonlands National Park, Utah
2020 Ford F-350
2021 Northern Lite 8-11EX
Camera Used – iPhone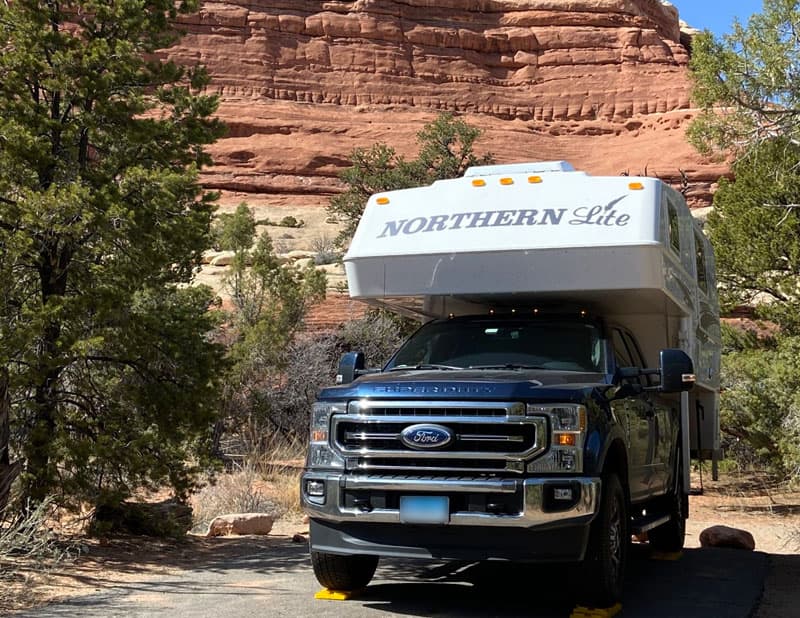 This is a first-come, first-serve camping area in the Needles District. After a serious navigation area that put us on the west side of the Rockies, a short drive to Canyonlands landed us the best campsite in the campground. Timing is everything!
Pat Phillips
Black Rock Mountain State Park, Georgia
2016 Ram 3500
2018 Arctic Fox 1140
Camera Used – iPhone 8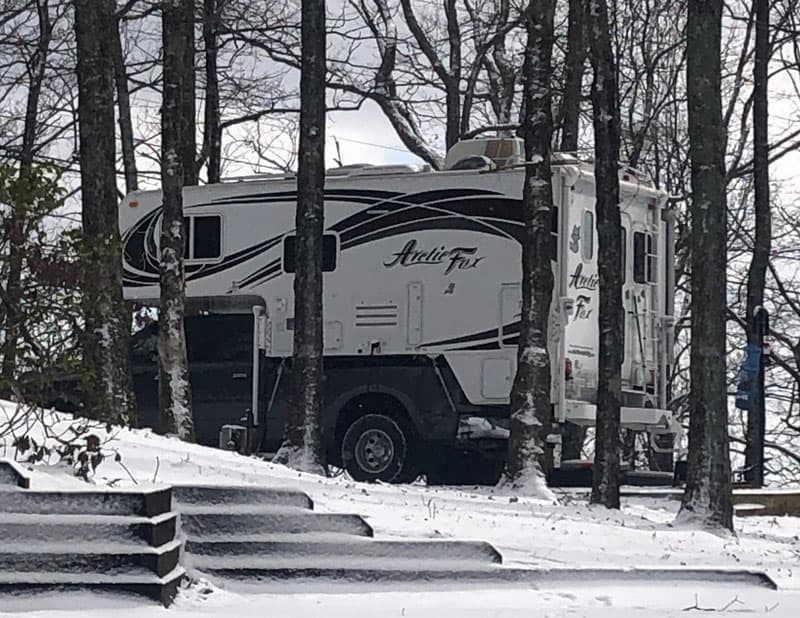 My daughter decided she wanted to get away for a few days, preferably in the North Georgia Mountains. So, even though snow was in the forecast, we booked at Black Rock Mountain State Park near Clayton, Georgia. And sure enough, it snowed on Christmas Day. Driving up the mountain was a tad nerve-racking as it is a narrow windy road and, of course, not de-iced. But, four wheel drive is amazing and we enjoyed a very quiet Christmas as very few campers wanted to risk the drive up. It was absolutely beautiful and we couldn't have done it with anything else but a truck camper!
Gary Usher
Green Swamp West, Florida
2017 Ford F350
2015 Lance 1172
Camera Used – Samsung Galaxy S10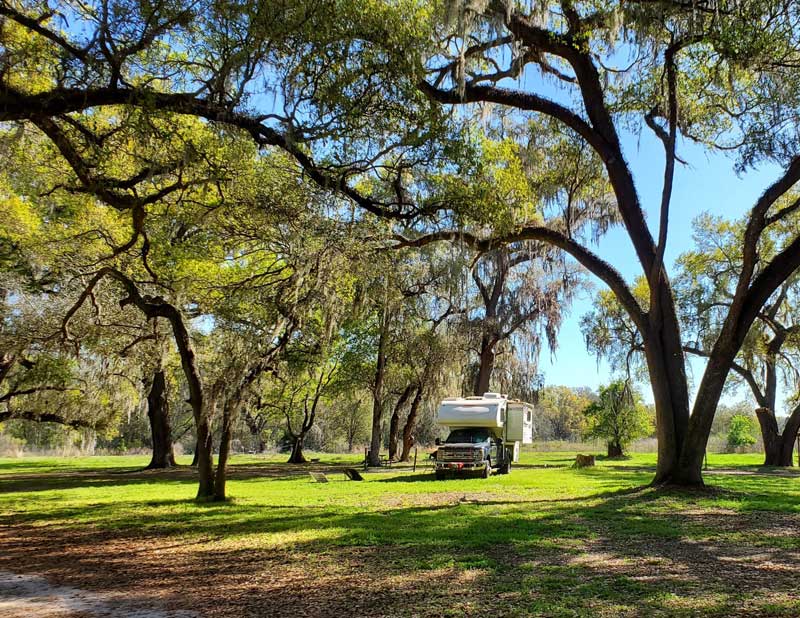 I spent two weeks visiting friends in the area so this was my hotel, only better. I know who's been sleeping in my bed!
Michael Straw
Black Rock Desert, Nevada
2017 Ford F450
2019 Eagle Cap 1165
Camera Used – iPhone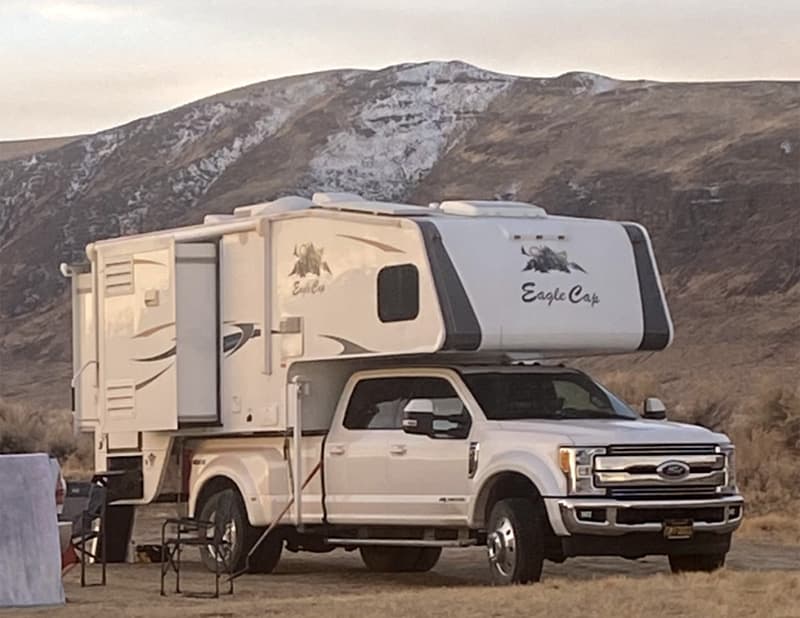 My wife, Marion, and I met our family out in the Black Rock desert at a hot spring to get in a little family time. It was a great weekend in our Eagle Cap 1165!
Tom Warren
Turnagain Pass, Alaska
2013 Ram 3500
2008 Adventurer 104DSS
Camera Used – iPhone 11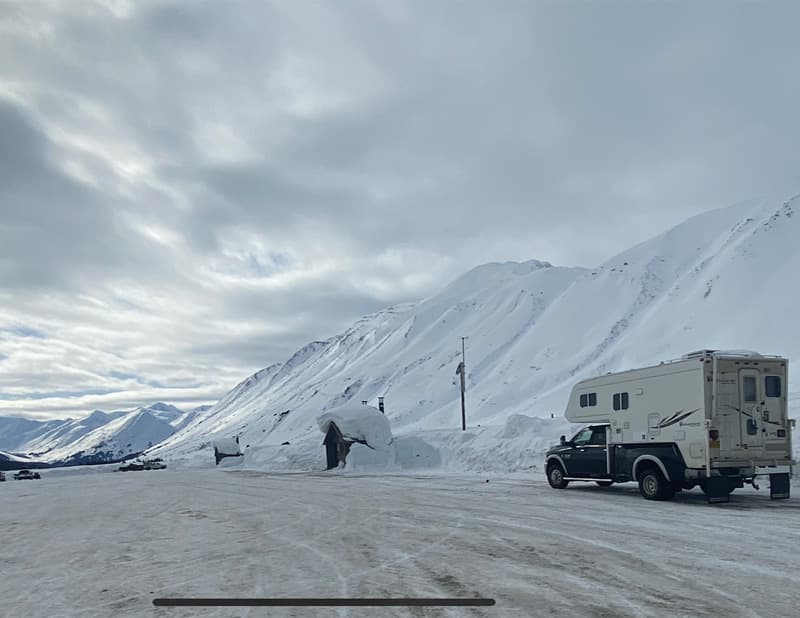 This photo was taken along the Seward Highway in Alaska. We were heading south of Anchorage to the sea town of Seward to hang out for a couple of days. This location is a rest area stop once on top of Turnagain Pass. It is a popular pull-off for the views along with snow machining the mountainsides in winter. This is also a great place to spot wildlife like moose and bears during the summer.
Ken Meyers
Dog Canyon Guadalupe National Park, Texas
2007 Chevy 1500
2020 Travel Lite 700SL
Camera Used – iPhone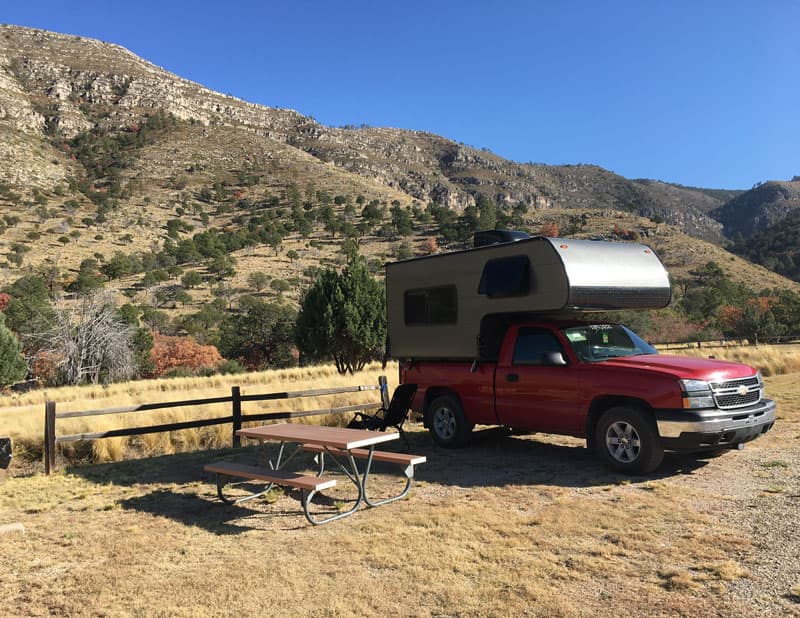 Four campsites are at the end of a 60-mile dead-end road. I was the only one there. Beautiful sky! Worth the drive!
Steve Price
Valley of the Gods, Utah
2019 Ford F-350
Four Wheel Campers Grandby
Camera Used – Samsung Android Phone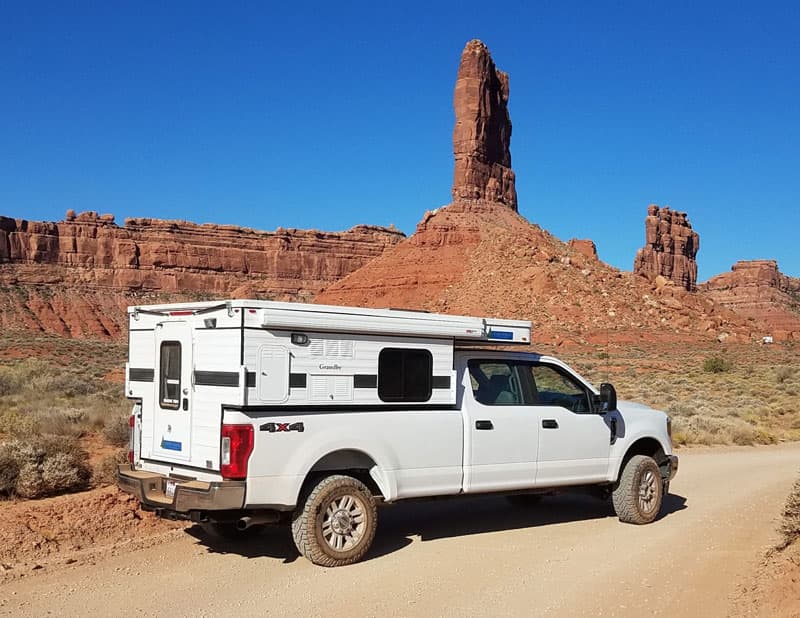 We were on a two-week overland camping trip in Utah. We visited Capitol Reef, National Park, Grand Staircase-Escalante National Monument, and Zion National Park. We drove every winding dirt road we could find! This shot was taken in Valley of the Gods. Instagram: @steve_price_la
Tief Weller
Flowing Lake, Washington
2015 Silverado 3500
2020 Adventurer 901SB
Camera Used – Samsung S20 Ultra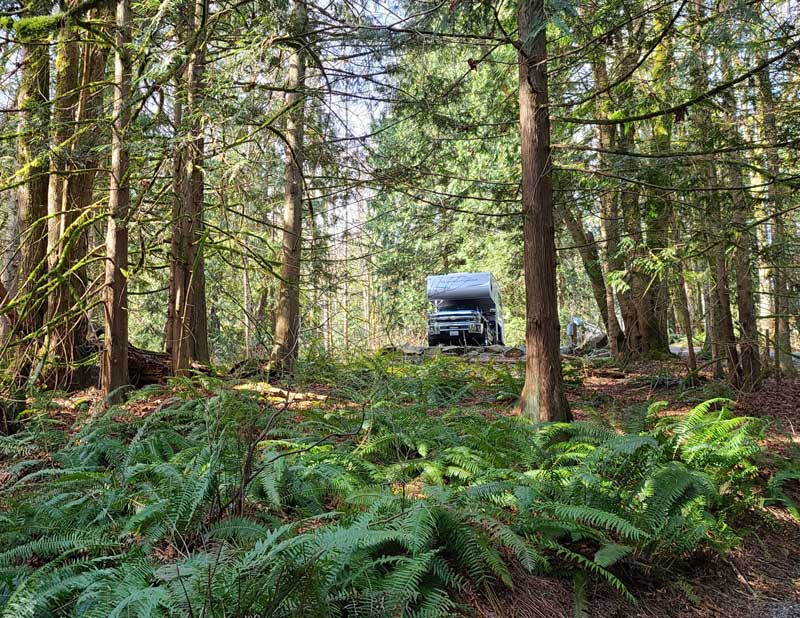 This was from our inaugural trip to a local spot. I was walking down a trail and turned around to take a look and snapped this shot of the truck and camper standing proud and happy in the forest.
Murray Burbidge
Lake Manapouri, South Island, New Zealand
2010 Nissan Narva
2003 Six-Pac
Camera Used – iPhone 8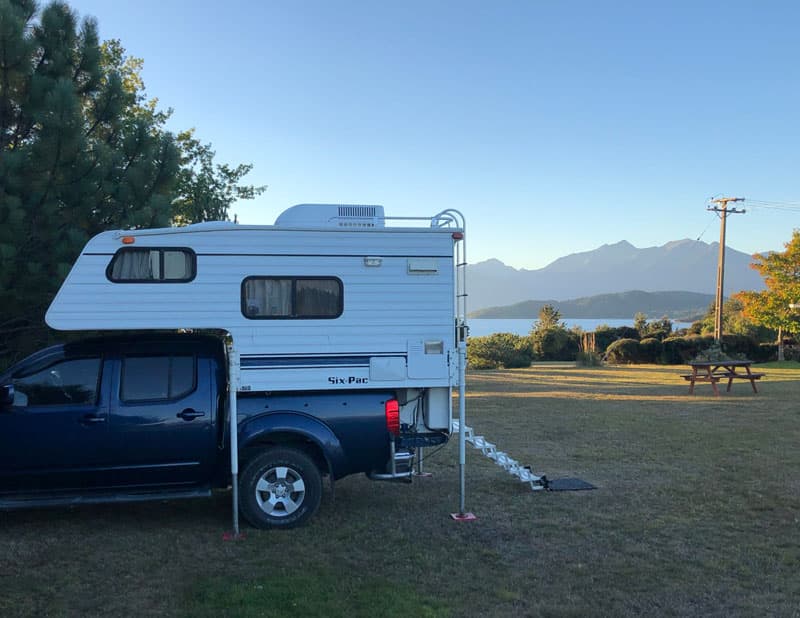 We had taken an 18 day trip from the top of the south island down the lower east coast part of the south island of New Zealand. We took in the remote Doubtful and Milford sounds sites. Then we carried on down to the lower part of the south to Tuatapere, Riverton, Inercargeill, and then went through the Catlins and arrived home some 3500 kilometers later.
Scott Schorling
Loveland Ski Resort, Colorado
2021 Ram 1500
1995 Bigfoot 8.2
Camera Used – Pixel 3a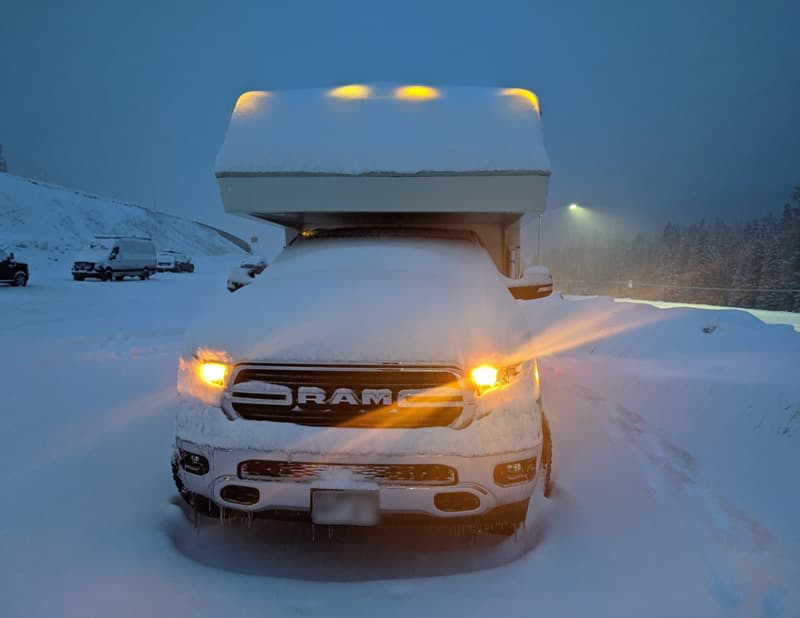 Naturally, when the weather forecast was calling for the largest snowfall of the year in Colorado, my wife and I decided to head up to the Loveland Ski area to take advantage of the fresh powder after a difficult year of reservation requirements at the ski resorts. We knew this would be a great opportunity to take advantage of hysterical news reporting and we headed up the night before and camped out in a lot by the resort. I snapped this photo after waking up in the early morning to avalanche control explosives being launched, and about 12″ of fresh powder. It was a perfect, crowd-less day on the slopes, and the new Ram made the trek back home through the blizzard with great capability.
Terry Glfeller
Union Pass Road, Dubois, Wyoming
2015 Ram
2013 Lance 865
Camera Used – Canon Powershot SX400 IS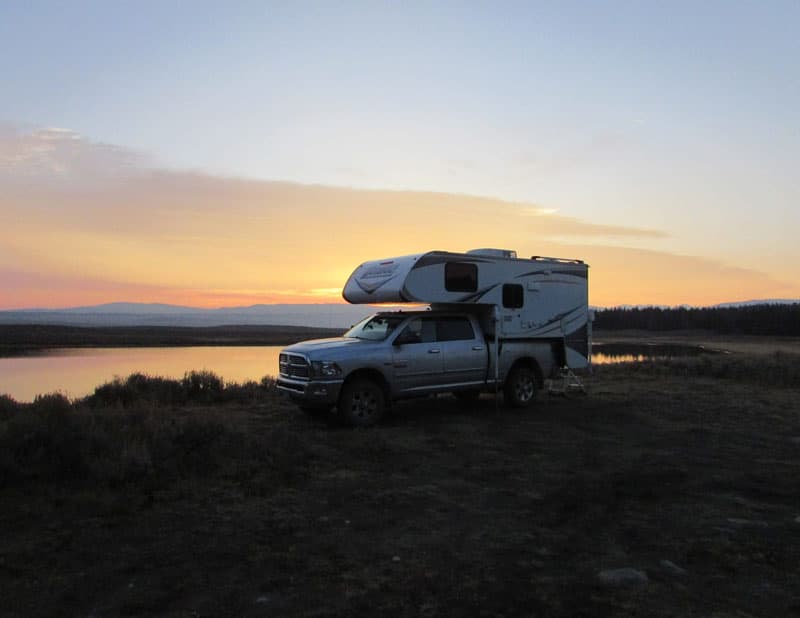 I enjoy my annual trip over Union Pass Road out of Dubois, Wyoming. I have camped at this spot a number of times. It is nice and quiet if the elk season is not yet open. Otherwise, there can be a number of Jeeps and ORVs growling about.
On this trip, I got to watch a bull elk travel through close to camp, a herd of cow elk on the far ridge, and a bull moose wander by.
Steven Eiding
Gouldings at Monument Valley, Utah
2017 Ford F350
2021 Eagle Cap 1165
Camera Used – Cell Phone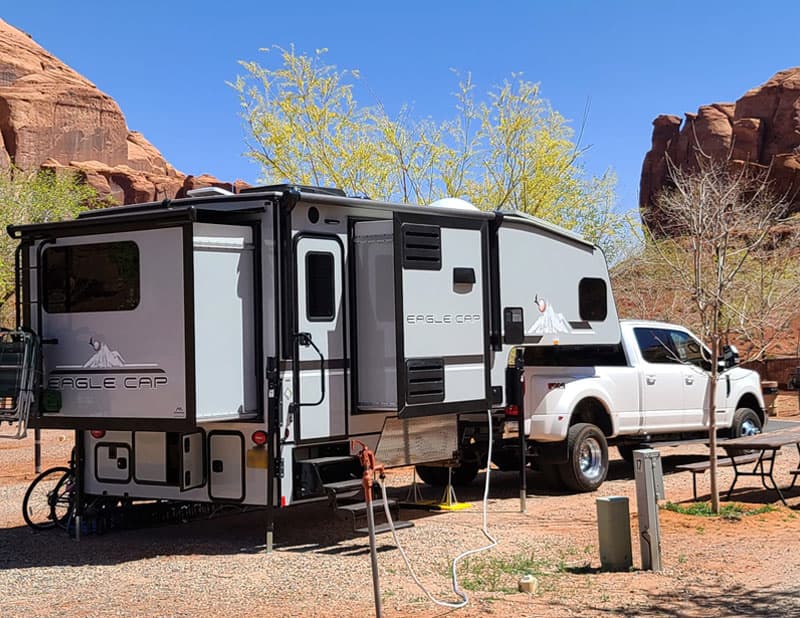 Camping at Goulding's RV, I took the camper off so we could drive the truck around Monument Valley.
Click here to see all of the photos entered so far in the 2022 TCM Calendar Contest.  Enter your truck camper photos today!