For Behind the Shot Part 10, we are featuring photos and stories from Quebec, Durango, Colorado, the Blue Ridge Parkway, and many more!  Click here to participate in the 2021 Truck Camper Magazine Calendar Contest and be considered for a Behind the Shot feature.
Nick Mullinger
Little Wilson Lake, Nakusp, British Columbia
2017 GMC Sierra 3500HD
2020 Bigfoot 25C9.4SB
Camera Used – Samsung Galaxy S8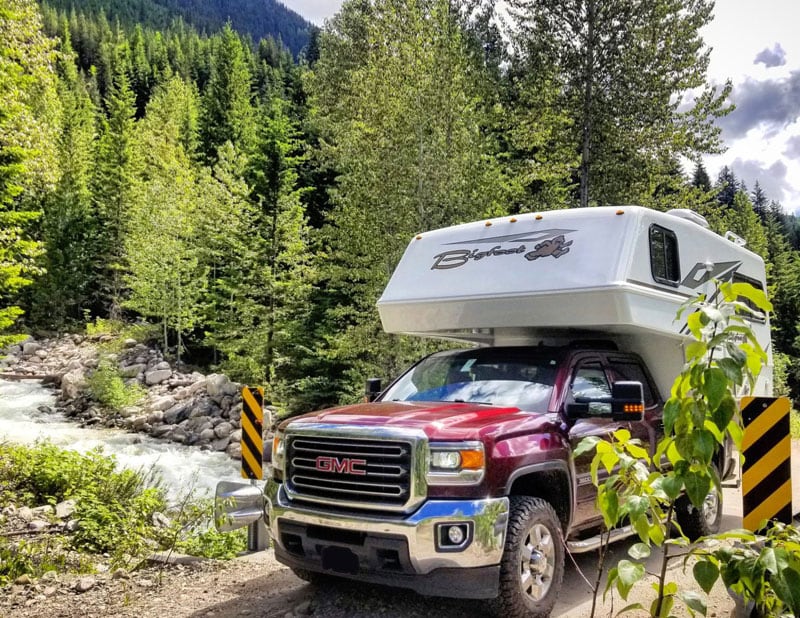 We had just picked up our brand new Bigfoot and took it on a three-day road trip to test it out. I found a good looking Forest Service Road on the map to a wild lake camp spot. I thought it would be a good idea and spent the night by the lake, but the drive out was much rougher and steeper than expected. It was not a fun experience the first time driving a truck camper, but it sure was scenic!
Bryan Burgess
Bluff Mountain Overlook, Blue Ridge Parkway, Virginia
2018 Ford F-150
2018 Capri Cowboy XL
Camera Used – Fuji XT2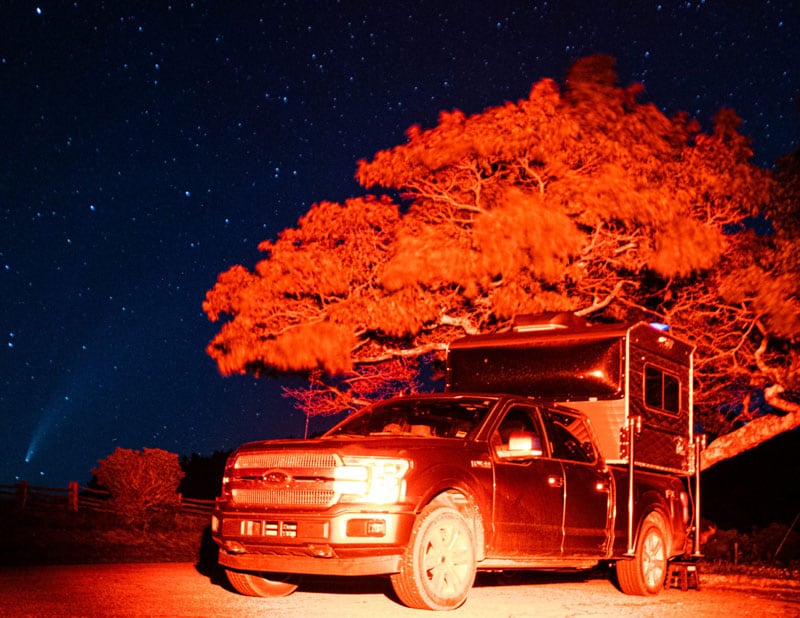 I hoped to see the Neowise Comet on this trip and found it at the Bluff Mountain Overlook, Blue Ridge Parkway, Virginia.
Darcy Senft
Saskatchewan, Canada
2015 Ram 2500
2018 Palomino Real-Lite SS-1608
Camera Used – Nikon D850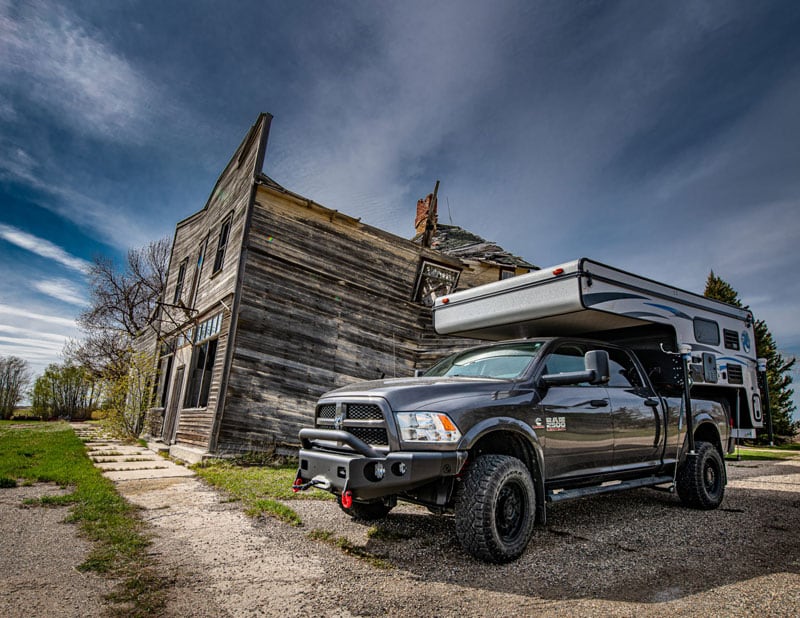 Back in May, after several modifications, we thought we would head out for a couple of nights to a place that is a few hours away in our home province of Saskatchewan. We wanted to make sure all the systems worked before we took any trips farther away. As a hobby, I enjoy photographing some of the remaining heritage of Saskatchewan and capture what's left before it's gone. I'm happy to say everything worked out over that weekend, but in Saskatchewan, the weather can be quite extreme. We had winds that were non-stop that were anywhere from 60-80 km/h (40-50 mph) over those days. But, it still beats sitting at home!
Brent Koops
Theodore Roosevelt National Park, North Dakota
2016 Chevrolet Silverado
2016 Four Wheel Hawk
Camera Used – Canon EOS 7D Mark II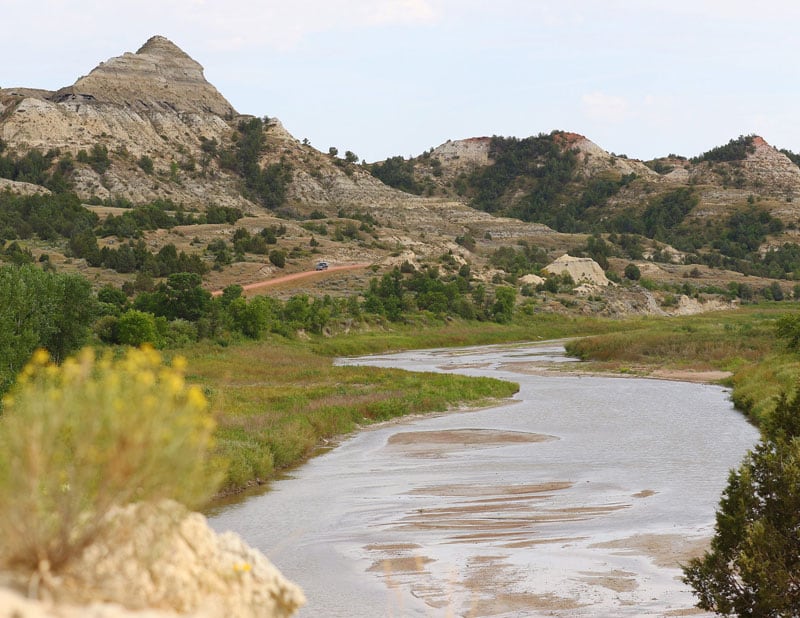 We took a drive through Theodore Roosevelt National Park and continued along the Little Missouri River where we spotted this picturesque location.
Scott Wyllys
Fayette State Park, Michigan
2011 Dodge 1500
2008 Travel Lite 700
Camera Used – iPhone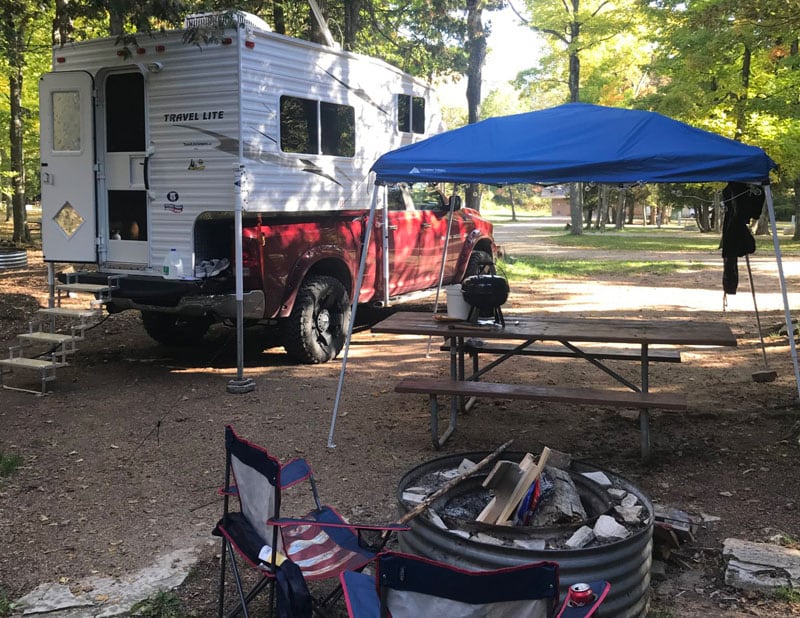 We picked this place to camp because I have been going there for years. But, this year was different because we bought the camper, so we could stay there for the night. It just has a special place in my heart. So beautiful.
Ken Southworth
Pull-off along Highway 550 north of Durango, Colorado
2015 GMC 3500HD
2018 Host Mammoth
Camera Used – Samsung Galaxy S7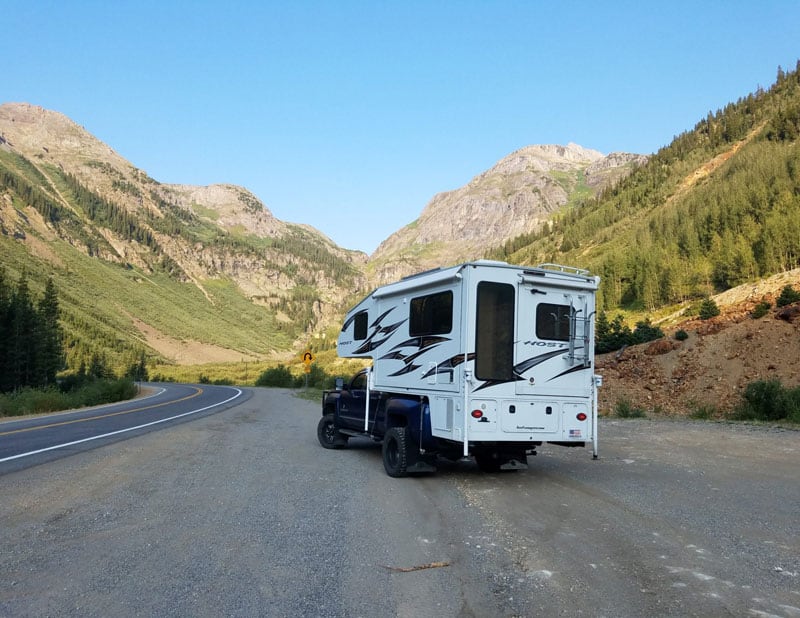 This was on our first major cross-country trip in our truck camper. We drove from Iowa out to California to see our new grandson. On the way back we decided to take a scenic drive through Colorado.
This drive began in Durango, Colorado where we got on the Million Dollar Highway, Highway 550, to Ouray and then up to Montrose. Then, we took Highway 50 towards Salida to Highway 285 towards Buena Vista to Route 24 up to Leadville, and Route 91 up to Frisco. We then took Route 9 to Kremmling, Highway 40 to Grandby, and then Route 34 up to Grand Lake where we entered the Rocky Mountain National Forest and drove the Trail Ridge Road to Estes Park.
This has got to be one of the most scenic drives through Colorado, and we highly recommend it. You could do it all in one day if you pushed it, but why? We did it in two days and stopped at most of the scenic lookouts to take pictures and enjoy the beauty. We took hundreds of spectacular scenery pictures, but only a few with our camper in them. Next time we go through Colorado we want to take the same route again, just going from north to south next time.
René Bois
Riviere-au-Tonnerre, Quebec
2005 Ford F-250
2008 Okanagan
Camera Used – Phone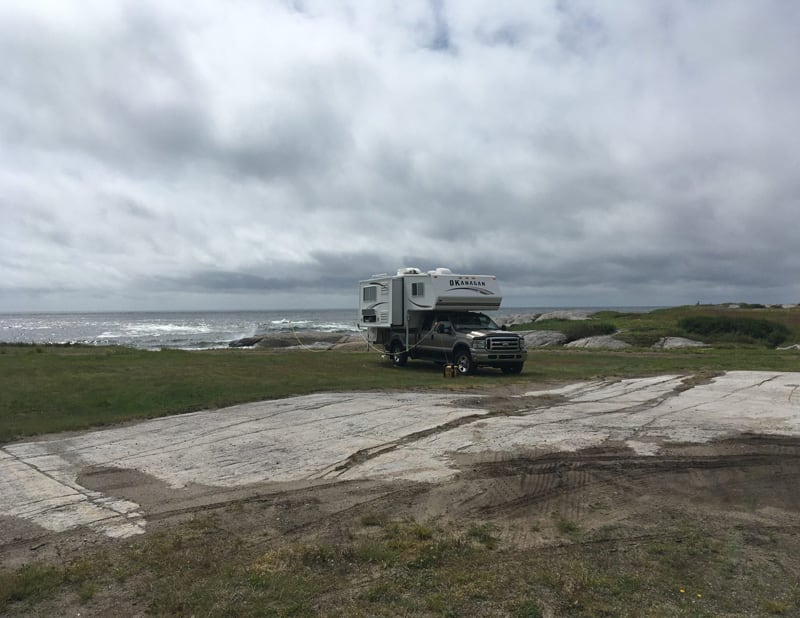 This is a small, beautiful village on the north coast. This is on Road 138 near the St Laurence River. Many fishermen live there for the crab fishing. There are many villages on this road. The poet, Gilles Vigneaut, lives in Natasquam.
Sicco Rood
Bishop, California
1986 Ford F250
1999 Bigfoot 10.4
Camera Used – Canon Powershot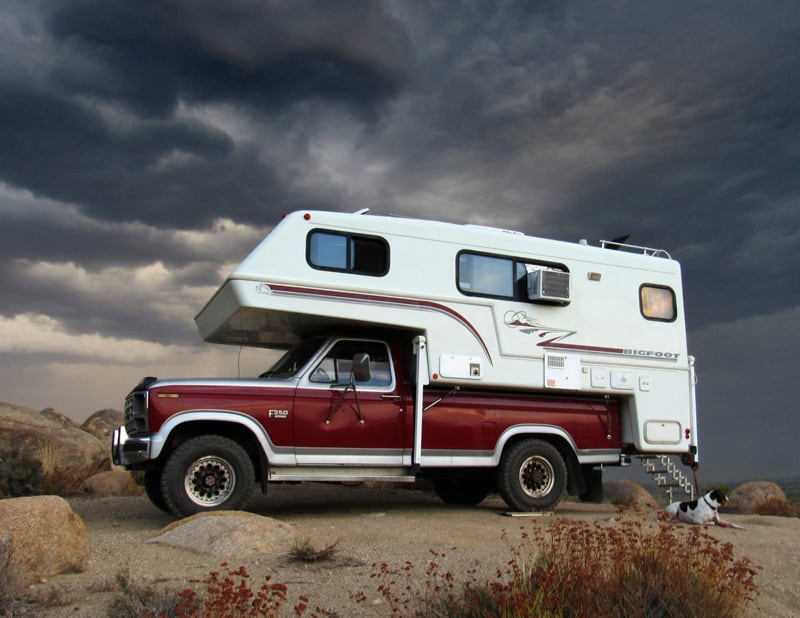 Back in late October, we were looking for a place to hunker down for the night before this impressive thunderstorm moved in. It was pretty close to town, off an unmarked and steep section of dirt road. This is why we have a truck camper; we can get places in a pinch where it would be impossible to turn around with a large RV or trailer. I loved this old diesel F250. We have since upgraded to a 2016 Ford F250, as the old truck always had issues starting.
Click here to see all of the photos entered so far in the 2021 TCM Calendar Contest. Enter your truck camper photos today!