For Behind the Shot Part 7, we are featuring photos and stories from Grand Lake, Colorado, Yellowstone National Park, Kennedale Speedway Park, and many more! Click here to participate in the 2020 Truck Camper Magazine Calendar Contest and be considered for a Behind the Shot feature.
John Bell
Mountains west of Grand Lake, Colorado
2007 Ram 3500
2000 Lance 1130
Camera Used – Smart phone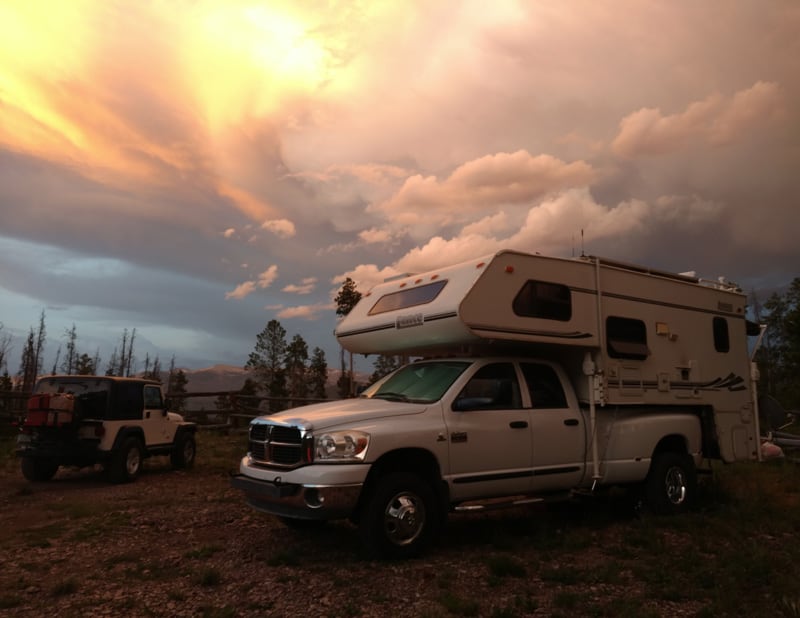 We were camped at one of our favorite boondocking sites. A storm was rolling in that evening creating very interesting clouds and lighting from the waning sunlight. I had to capture that image.
Carrie Daniels
Yellowstone National Park, Wyoming
2018 Ram 3500
Arctic Fox 811
Camera Used – iPhone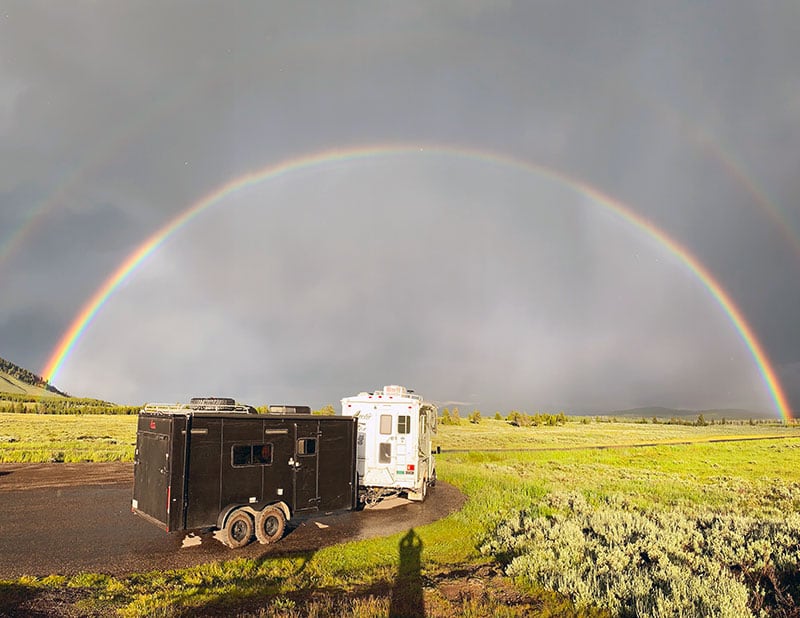 We were driving in Yellowstone looking for wildlife and saw a double rainbow.
Dan Daddieco
Monument Valley, Utah
2015 Ram 3500
2015 Eagle Cap 1165
Camera Used – Sony DSC RX10 III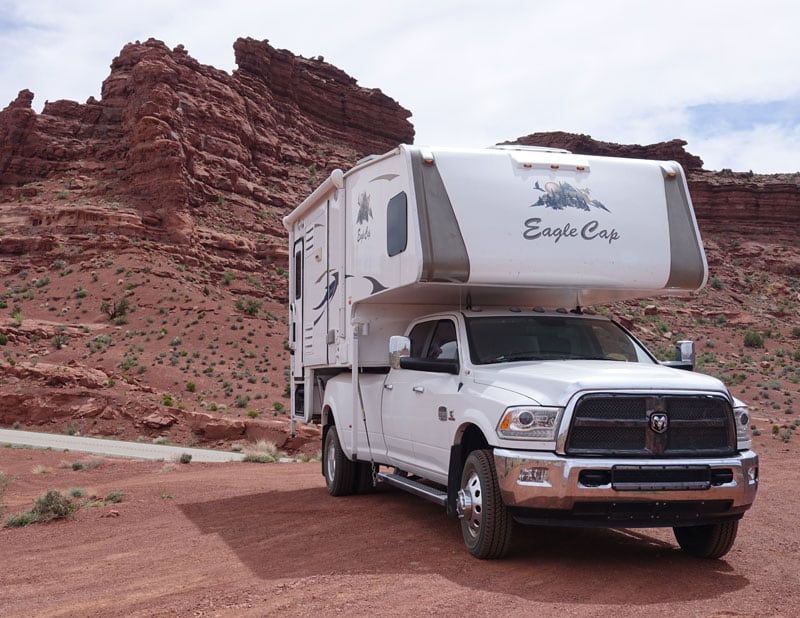 Monument Valley is not a valley at all, but rather a wide, flat landscape interrupted by colorful red buttes and spires rising hundreds of feet into the air. These are the last remnants of the sedimentary rock layers that once covered the entire region. It straddles the border of Arizona and Utah. In dozens of films stretching back almost a century, Monument Valley has stood as a symbol of the American West.
In our humble opinion, Monument Valley is one of the most underrated vacation destinations. It's appeal is dwarfed by the likes of Zion National Park, Arches National Park, Bryce Cannon National Park and others. We've been to them all! Monument Valley is clearly the winner when it comes to being able to relax, travel at your own pace, meet the Natives and simply enjoy the wonderfully strange landscapes. We will return someday!
Gregory Parker
Near Mt Whitney, California
2012 Chevy Silverado
2017 Northern Lite 8-11
Camera Used – Phone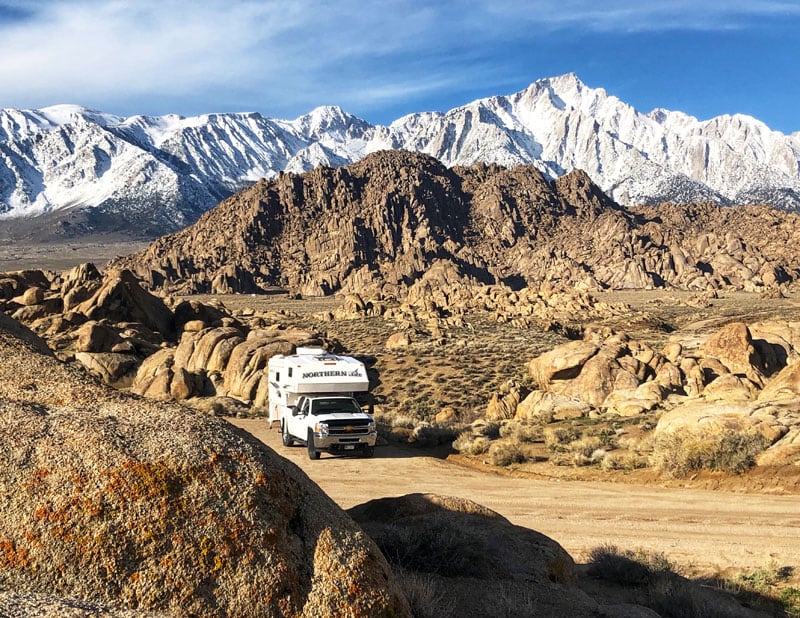 We stopped off for a couple of days here in the Eastern Sierras before spending some rainy days in Death Valley National Park.
Brenda and AJ Dancer
Kennedale Speedway Park, Kennedale, Texas
2018 GMC Sierra 3500HD
2017 Capri Retreat
Camera Used – iPhone XS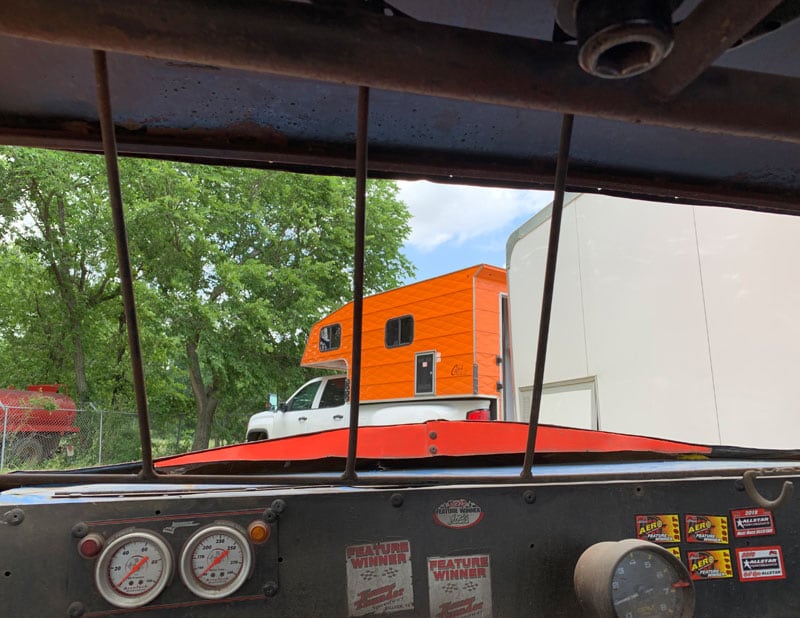 This was the first day of the IMCA Red River Modified Tour in May 2019. We had raced at Heart O' Texas Speedway in Elm Mott, Texas the night before and had to check everything on the car before the races that night at Kennedale Speedway Park. I was sitting in the car while AJ worked on the brakes. In the Texas heat, we were able to go into our camper and cool off, which made everything so much better.
Andrew Howard
BLM Land, Idaho
2001 Dodge Ram 2500
2001 Starcraft Field and Stream 850 Lite
Camera Used – Nikon P900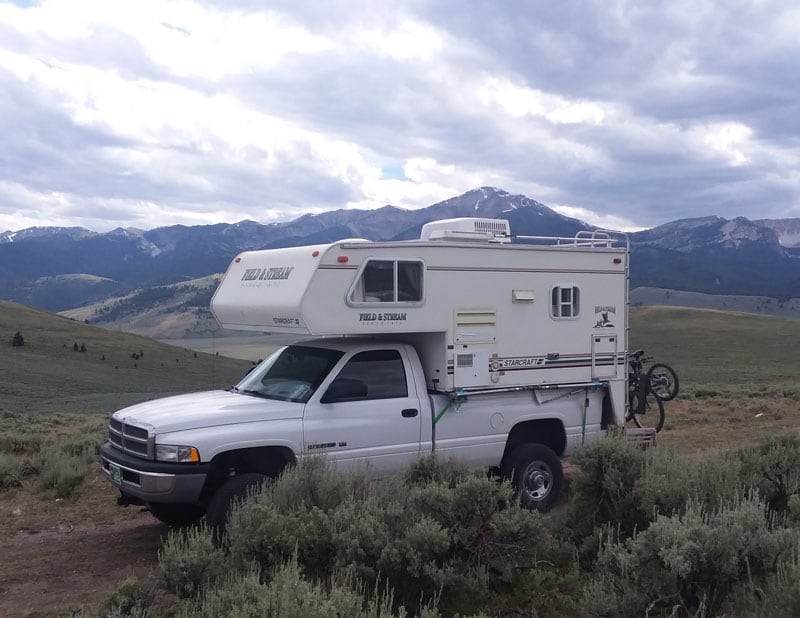 This photo was taken on BLM Land between Salmon, Idaho and Idaho Falls, Idaho at an elevation of 7500-feet. This was during July 2019 while my son and I were on our Great Summer Road Trip. We drove over 6000 miles and covered sixteen different states.
Click here to see all of the photos entered so far in the 2020 TCM Calendar Contest. Enter your truck camper photos today!