For Behind the Shot Part 4, we are featuring photos and stories from the Outer Banks, the Florida Keys, Berlin Canyon, the Alvord Desert, and many more!  Click here to participate in the 2020 Truck Camper Magazine Calendar Contest.
Chris Marcolini
Black Bear Pass, Colorado
2017 Toyota Tacoma
2016 Four Wheel Camper Swift
Camera Used – iPhone 6s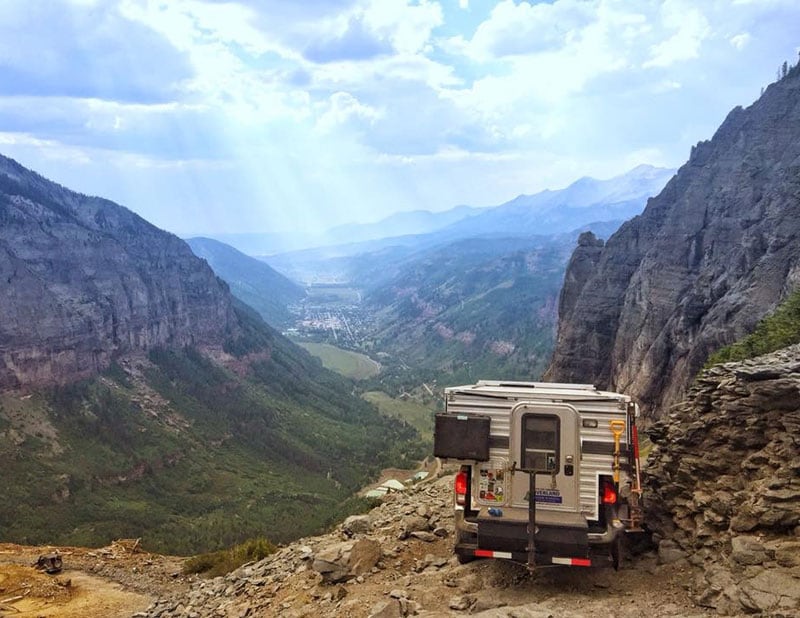 My wife and I were half way into a 10,000 mile trip when I took this photo.  Little did she know I was searching for some dangerous trails along our route.  As we were passing though Colorado I heard about Black Bear Pass and its reputation.
Curious to put the truck and camper to the real test I decided that this pass will be the one.  The camper raised the sketch factor quite a bit with the higher center of gravity and the extra 1,200 pounds of payload.  But the little Tacoma handled it with ease.
On the other hand, the two of us were doubting our abilities to safely finish.  We were excited, nervous and a bit scared.  We may have just been the first truck camper to complete the infamous Black Bear Pass.  There was only one thing we could do afterwards; grab some craft beer!
Susan Boettger
Assateague Island National Seashore, Maryland
2006 Chevy Silverado
2006 Lance 1191
Camera Used – iPhone 7 Plus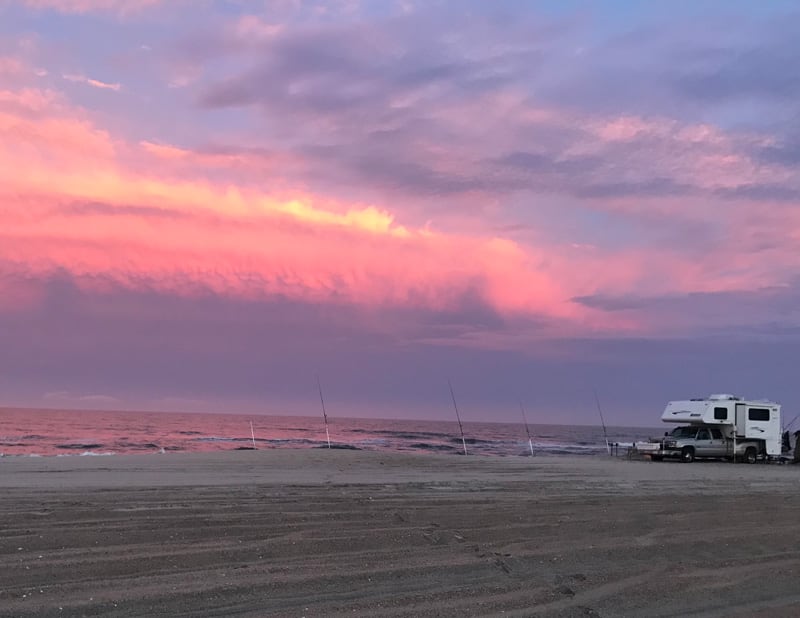 I took this picture while we were camping and surf fishing on the beach over Memorial Day week 2019.  The sunset was approaching and a storm had just passed through.
Usually the sky colors are over the dunes to the west during sunset.  Because of the storm, the sky over the ocean to the east actually came alive with a rare beautiful array of colors.  It was breathtaking!
Deanna Schrell
Blaine County, Idaho
2006 Toyota Tundra
2012 Palomino Bronco 800
Camera Used – Panasonic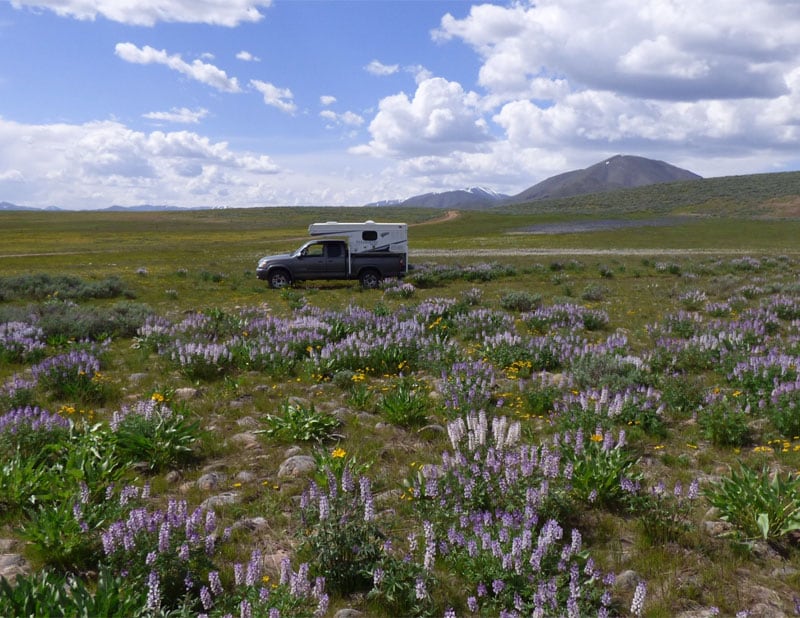 This is a spring time favorite secret spot and it's local for me.  I'm an artist and when the flowers are out it is beautiful.
Usually no one is around except maybe some wild animals and birds.  The vista is pristine with only nature to be seen making it a perfect place to get some nice paintings in.
Brenda Gard
Oregon Inlet Campground, North Carolina
2006 Ford F-350
2016 Adventurer 910DB
Camera Used – Samsung phone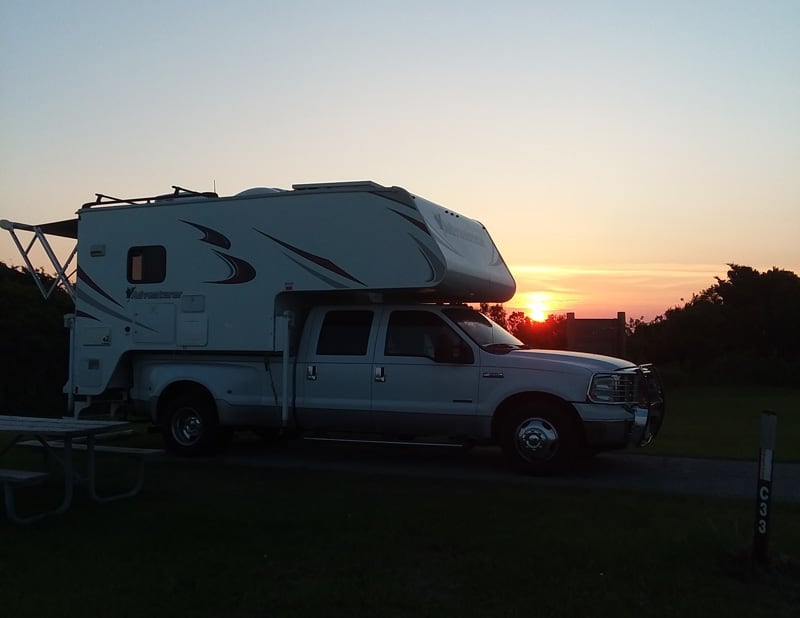 A beautiful sunset on the Outer Banks of North Carolina.
Joseph Smit
Bahia Honda State Park, Florida Keys
2017 Ram 3500
2017 Lance 850
Camera Used – Phone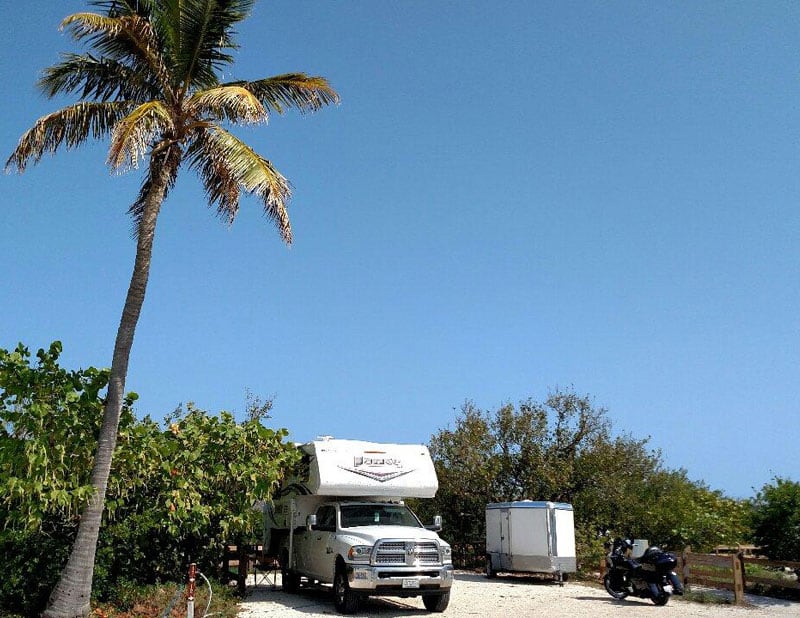 I reserved eleven months in advance to get this site in Bahia Honda State Park in the Keys.  The motorcycle was trailered down in May for a few days.
Vince Wall
Dirt road in Berlin Canyon, Berlin, Nevada
2018 Ford F-350
2016 Lance 850
Camera Used – iPhone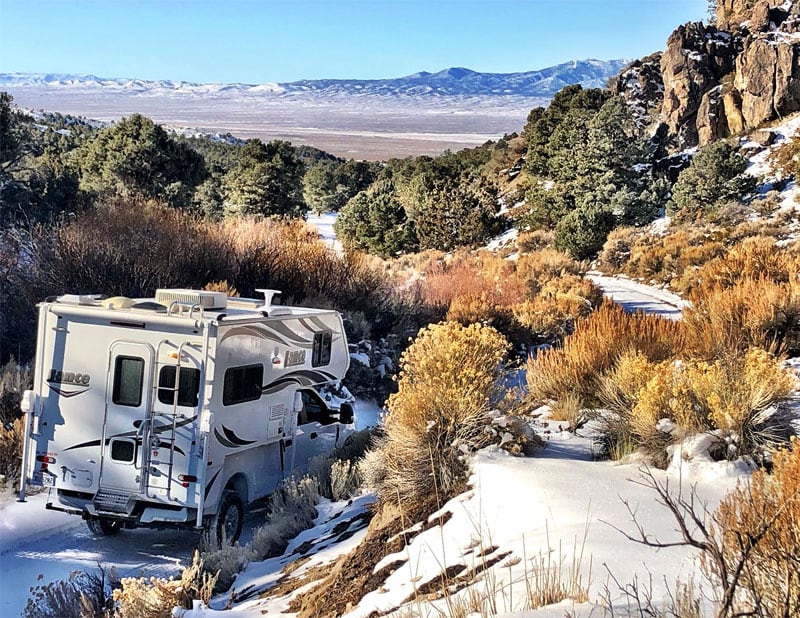 On the morning of December 31, 2019 we decided at the last minute to go somewhere for the holiday.  We spent the night on a elevated point overlooking Berlin Canyon, which is above the ghost town of Berlin, Nevada.  We were the only ones there all day.
We arrived at our campsite at sunset and discovered that I had thrown away my only leaking plastic quart of oil and had not replaced it.  The portable generator was low on oil and the low-oil-safety cut-off switch prevented the unit from starting.  Along with that, the camper's batteries were low and I didn't want to run them empty using the on-board heater.  I had one portable green propane bottle to run the generator in the morning.
We spent the 17-degree night bundled up under a ton of blankets waiting for the sun to rise.  We proceeded up West Union Canyon in four-wheel drive until we had to turn around.  This photo captures us on the way out back down to the floor of the valley.  We drove 60-miles on a dirt road back to the blacktop.
Rainer Mueller
Alvord Desert, Oregon
2015 Ford F-350
2017 Host Mammoth
Camera Used – Fujifilm XH1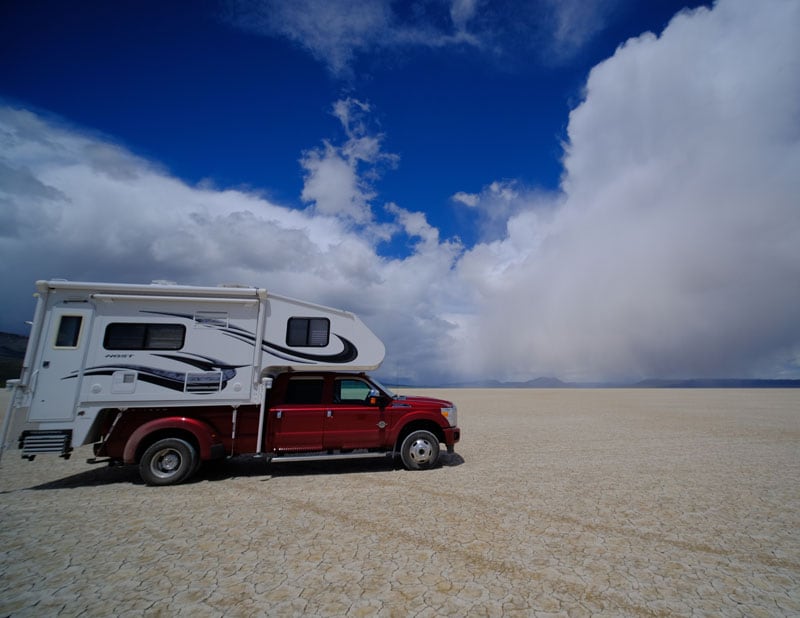 On my way to see the grave of Jean Baptiste Charbonneau, I checked off the Alvord Desert from my bucket list.  This unique landscape isn't the easiest location to find, and you'll have to drive up to 48-miles on a gravel road to accomplish this feat.  But, it is definitely worth it.
I didn't camp here because of the threatening storm clouds which will turn this parched landscape into a truck swallowing mass of muck that may be difficult to escape from without expensive towing, which may take days to arrive.
Gary Usher
Cape Lookout Lighthouse, North Carolina
2017 Ford F350
2015 Lance 1172
Camera Used – DJI Phantom 4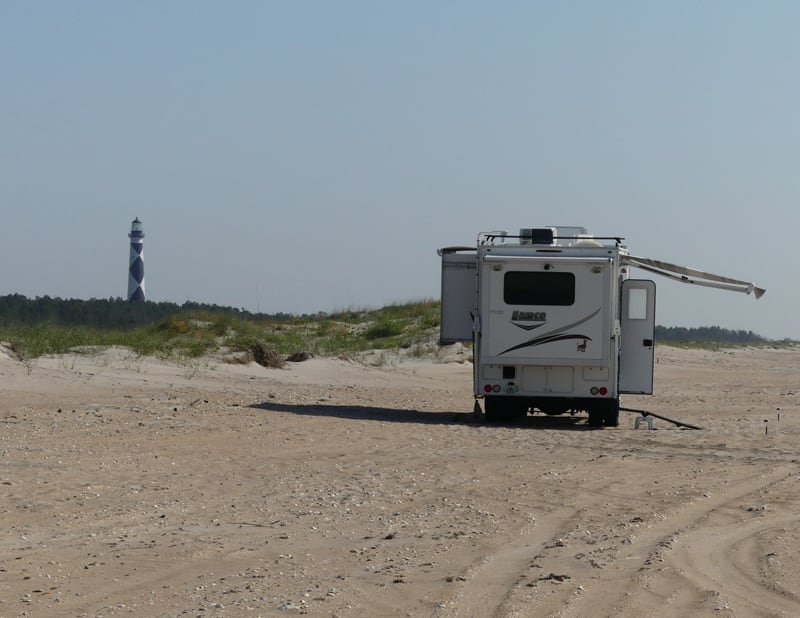 I spent three days at this location south of the lighthouse.  During the week it was completely private.  The views at night are stunning.
Click here to see all of the photos entered so far in the 2020 TCM Calendar Contest.  Enter your truck camper photos today!