For Behind the Shot Part 1, we are featuring photos and stories from Big Cypress Swamp, Shaver Lake, Lake Powell, Red Rock Canyon State Park, and many more!  Click here to participate in the 2020 Truck Camper Magazine Calendar Contest and be considered for a Behind the Shot feature.
Bob Hampton
Big Cypress Swamp, Florida
2013 Ford F350
2010 Arctic Fox 990
Camera Used – DJI Mavic Pro 2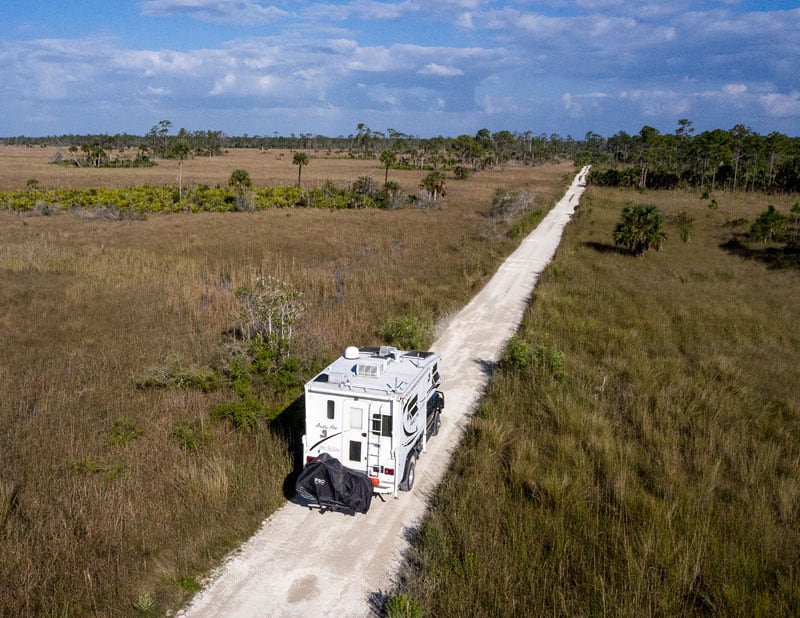 This photo was taken during my February 2019 tour of southern Florida parks and preserves. My goal was to capture unique images featuring the vast landscapes of the Big Cypress National Preserve, Everglades National Park, and nearby state parks. My usual photographic gear is a Canon7D, however I added a DJI Mavic drone prior to this trip. I have had a great time capturing unique views and using the drone to scout ahead traveling back-country trails.
Joan Thompson
Echo Amphitheater on Highway 84 in north central New Mexico
2011 GMC Sierra 3500HD
2013 Lance 1191
Camera Used – Samsung S7 Edge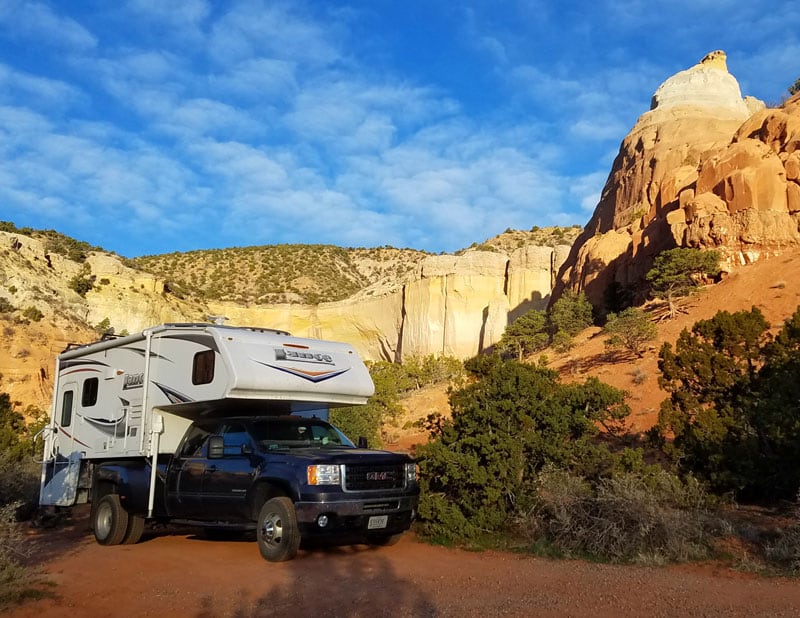 Throughout our seven weeks of travels this winter – a loop from Wisconsin to Southern California and back – we kept getting lucky with campgrounds. Even in Arizona during spring break, we would pull in to forest service campgrounds and get the last available site.
We ended up at this spot in northern New Mexico on the way home in early April. This was the best of all of them because we got the last site, which was the best one. And the fee for the site was just one dollar!
I knew the morning sun would light up the red cliffs behind us when it first came up. So I was out there, bundled up in my down coat, to catch it. The day concluded at Ouray, Colorado after a drive through Durango and over Molas Pass. My husband had been wanting to take me on that road ever since we've been married (37+ years) and now I know why. When I look at this photo, I am amazed at the contrasts – from the red rock canyons at first light to the avalanche chutes along the winding mountain road in the afternoon. It was all in one day!
Gina Marie
Shaver Lake, California
2018 Ford F-250
2018 Lance 825
Camera Used – Samsung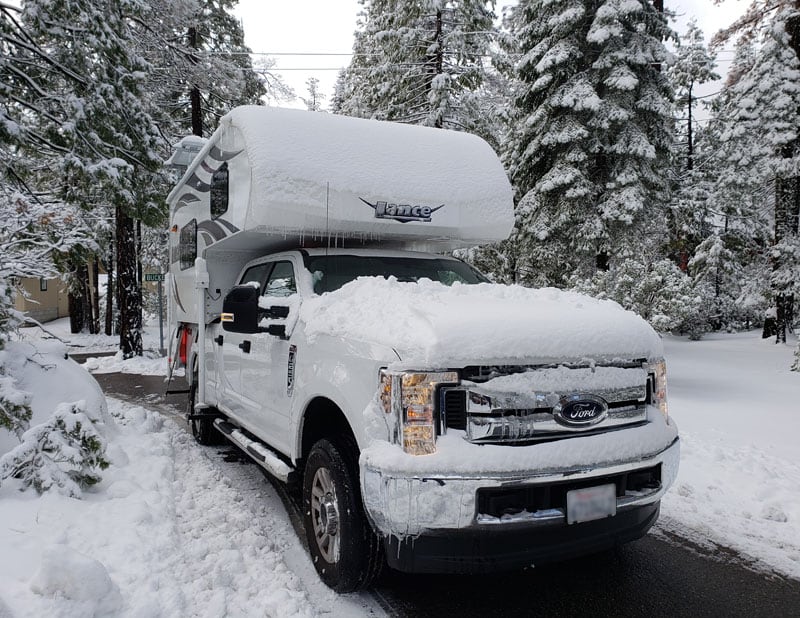 I was boondocking in the Sierra National Forest at Shaver Lake in California.
Douglas Donato
N. Fork of Robbers Roost Canyon, Utah
2007 Toyota Tacoma
2011 Four Wheel Fleet
Camera Used – LG V40 ThinQ phone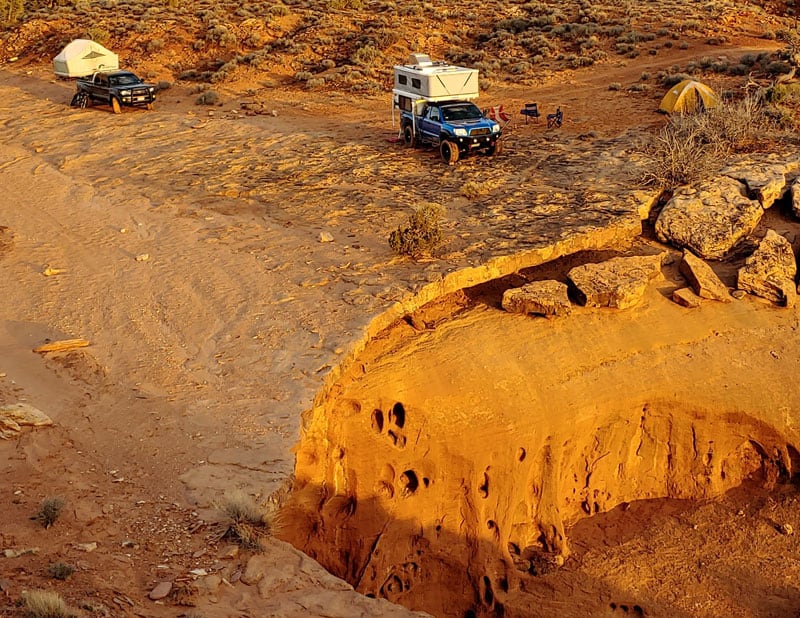 We drove from home in Lakewood, Colorado (April 2019) to the Green River, Utah. Then we went south on Highway 24 to just past the Goblin Valley turnoff. Then we went east down a dirt road and split south onto a minor four wheel drive road to this beautiful spot at the top of the North Fork of Robber's Roost Canyon.
The picture was taken at sunset on the first night. We were all alone the four days we were there. We did a technical canyoneering trip down the canyon the first day. The second day we took a 3-day backpack to the Dirty Devil River and the main Robbers Roost Canyon before returning to camp and moving on to Red Rocks Nevada outside of Las Vegas for five days of rock climbing.
Doug and Andrea Caruolo
Lake Powell, Kane County, Utah
2001 Ford F-350
2018 Cirrus 920
Camera Used – Samsung J727V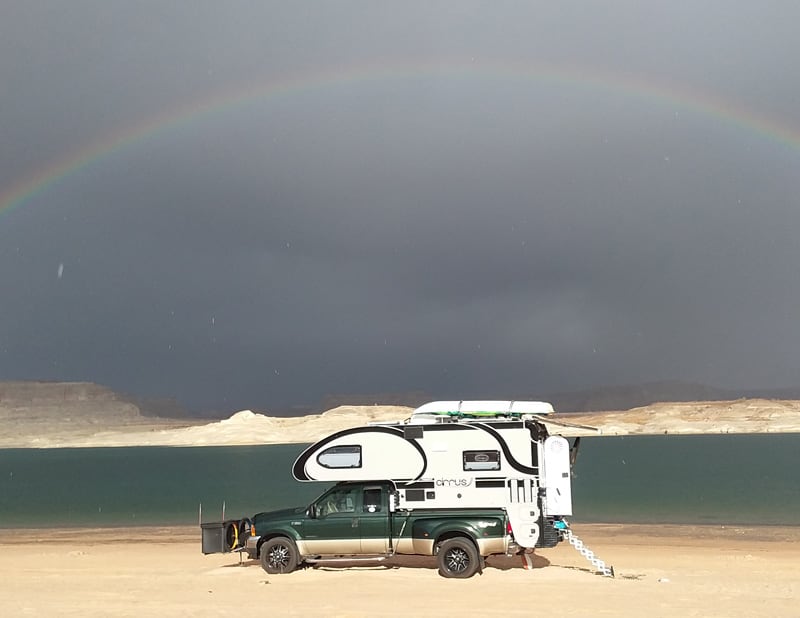 We spent about one week here camping and kayaking. As you can see, it rained in the distance and there was a cool rainbow. These are the pots of gold that we get to be a part of when truck camping.
David Fradkin
Orlando, Florida
2017 GMC 3500
2017 Lance 975
Camera Used – Samsung Galaxy S7
We're from Pennsylvania and visited Disney World's Fort Wilderness in Florida for a few days. We met friends who live nearby.
Rainer Mueller
Red Rock Canyon State Park, California
2015 Ford F-350
2017 Host Mammoth
Camera Used – iPhone 7 Plus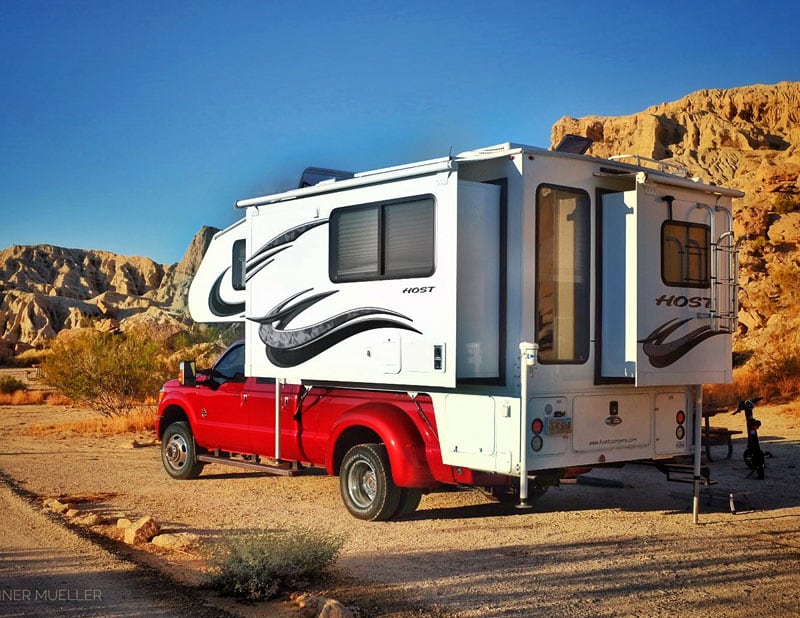 I have lived and camped in California for almost 50 years. I had driven right past this state park a couple of times, but never pulled in because of it being either too hot or too crowded. But this time was special because it was late summer, and my birthday.
When my wife and I arrived we discovered that we were the only campers in the park! We had our pick of spots and. of course, I picked the best one. Setting up camp with a truck camper is mighty easy when you don't have to put down all the jacks. Within minutes I grabbed an adult libation, fired up a drone and got some great scenery videos. The next morning I grabbed my iPhone and captured a few shots of the rig before we headed to the Kern River for more adventures. I'm just a happy camper.
Tom Neustadt
Briceville, Tennessee
2002 Chevy 2500HD
2019 Lance 850
Camera Used – iPhone SE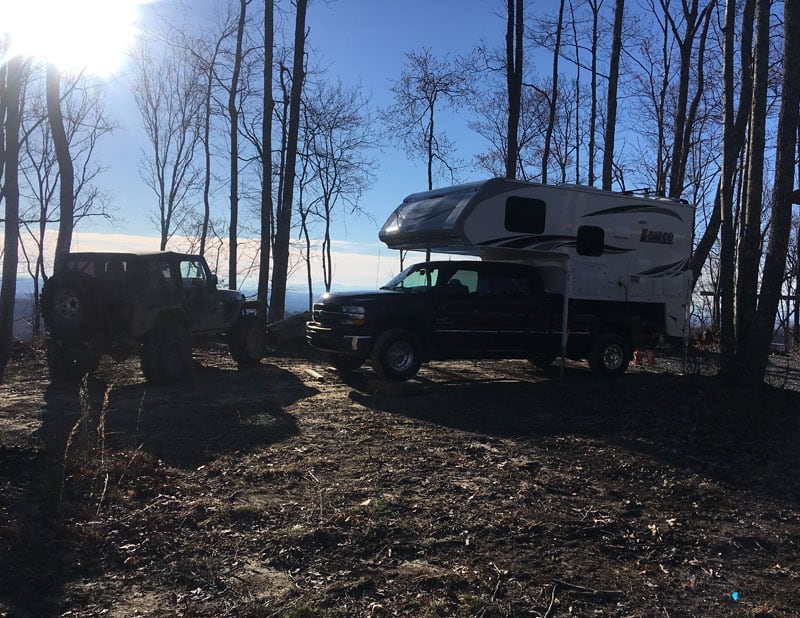 This is from our maiden voyage camping at our leased land on Windrock Mountain. I trailered the Jeep and took the picture during the morning sunrise.
Bill Collins
Fish Lake, Sinlahekin Wildlife Area, Washington State
2009 Ford F250
2015 Adventurer 86FB
Camera Used – Nikon D600 with a Nikkor 16-35mm f/4.0 lens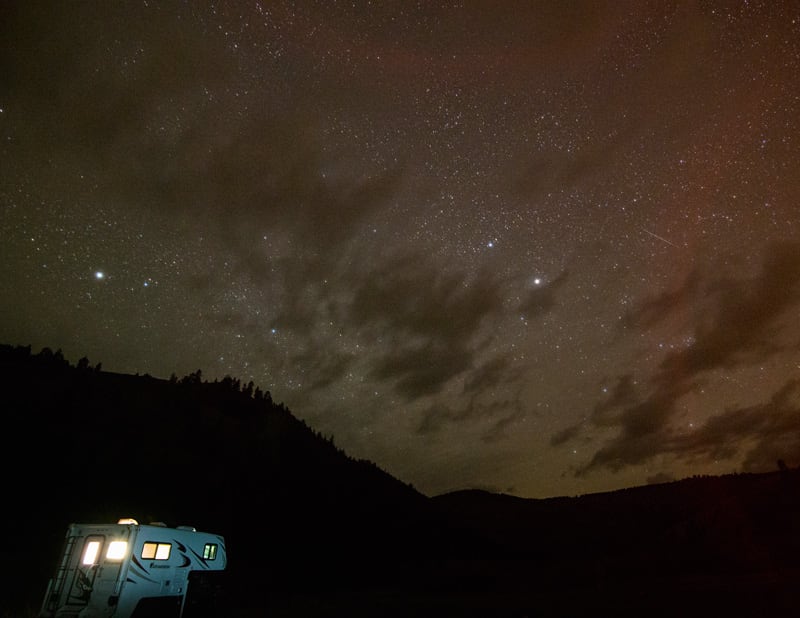 I was on my way back from Yellowstone National Park in April of this year. I am from British Columbia. When I traveled through Montana and the upper part of Idaho, I wanted to visit the Sinlahekin Wildlife Area because I am very interested in bird and wildlife photography. However, I got to the spot too late for photography. So I had to find a place to camp.
I drove by this spot at Fish Lake. There was a small campground maintained by the Washington State Department of Fish and Wildlife. A short drive down a gravel road and I was parked all by myself. I have done star and Milky Way photography in the past, but I decided to include my Adventurer camper in the shot. ISO 6400 with my Nikkor 16-35mm lens wide open at f4.0 for 30 seconds usually works, and it did on this occasion as well.
Sylke Baranski
Playa Requeson, Baja California Sur
2001 Ford F350
1999 Okanagan 1050 W
Camera Used – Nikon D 750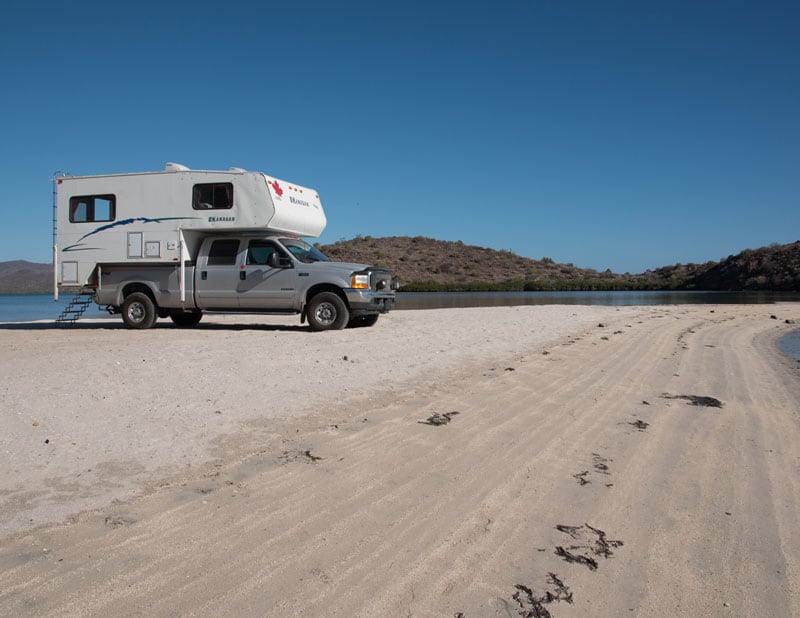 Playa Requeson is one of the most beautiful beaches in the Bahia de Conception in Baja California Sur. It is a must stop when driving down the coast.
Teague Uva
Anza Borrego, California
2002 Dodge Ram
2016 Lance 825
Camera Used – Phone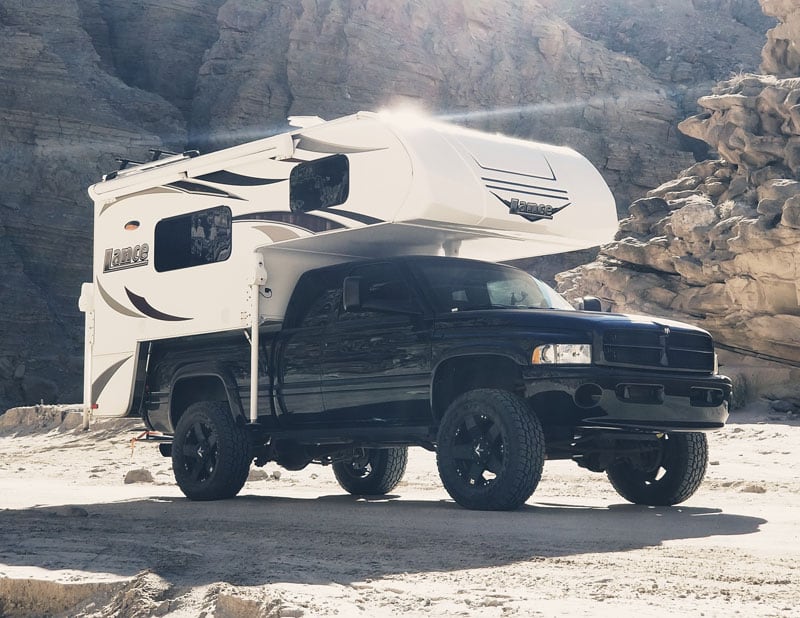 I was up in Fish Creek Wash in Ocotillo Wells about an hour off pavement.
Michael Davis
Ocean Shores, Washington
2017 Ram 3500
2018 Adventurer 89RBS
Camera Used – iPhone X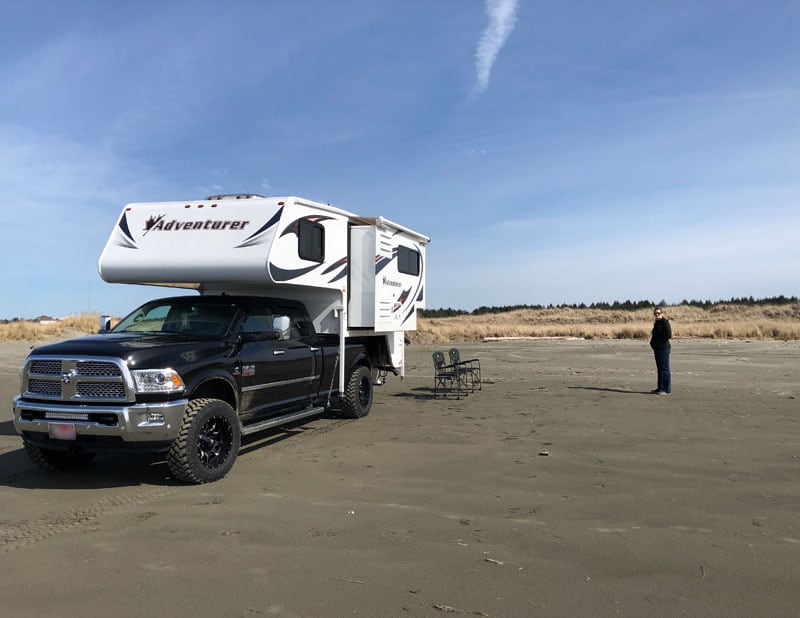 This was taken at Ocean Shores Razor Clam Festival 2019. We were relaxing on the beach after gathering our limits of Razor Clam and enjoying the sunny warm weather.
Patrick Hayes
US64 in Cimarron Canyon State Park, New Mexico
2018 Ram 3500
2016 Arctic Fox 865
Camera Used – Google Pixel 3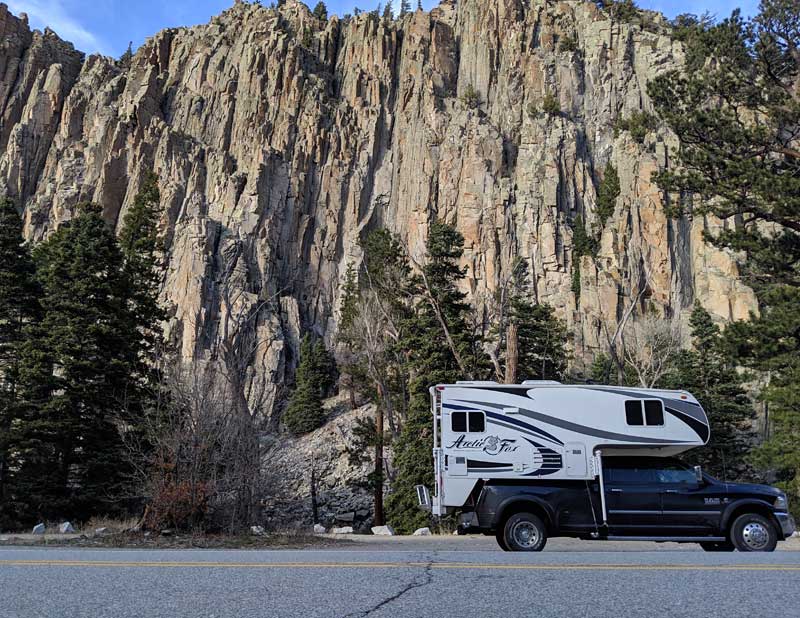 After stopping at the Rio Grande Gouge bridge, we stumbled upon this spot. We had to stop to get a picture!
Click here to see all of the photos entered so far in the 2020 TCM Calendar Contest.  Enter your truck camper photos today!