For Behind the Shot Part 9, we are featuring photos and stories from Elk Creek on Vancouver Island, Bonneville Salt Flats in Utah, Pinto Lake in British Columbia, Shiprock in New Mexico and many more!
Click here to participate in the 2019 Truck Camper Magazine Calendar Contest and be considered for a Behind the Shot feature.
Timothy Dea
Elk Creek, Vancouver Island, British Columbia
2017 Ford F-350
2017 Arctic Fox 990
Camera Used – Samsung S8
I stumbled on the campground. There were seven spots and we were the only ones there.
Charles Coushaine
Buttonwood Farms in Griswold, Connecticut
2001 Ford F350
2012 Chalet DS116RB
Camera Used – Nikon D5300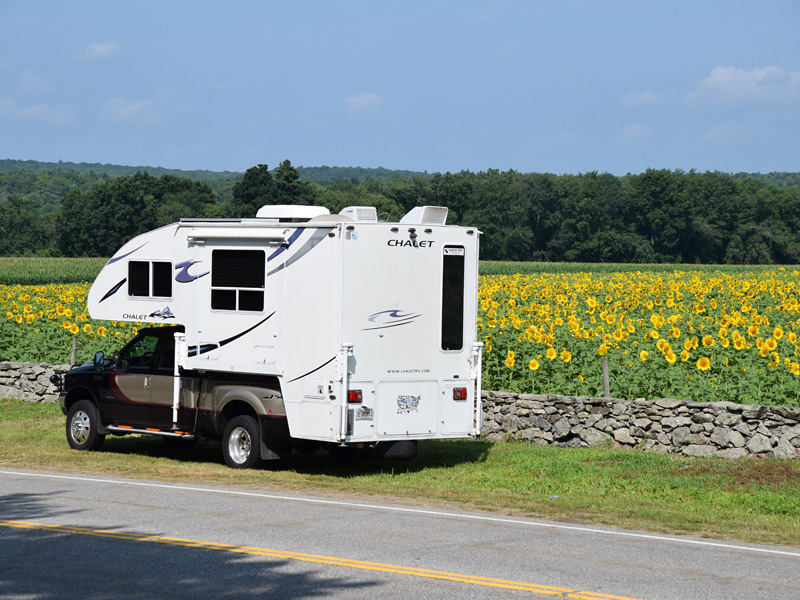 Buttonwood Farms in Griswold, Connecticut grows sunflowers every year to support the Make-A-Wish Foundation. We go there to support their cause and to get some of their famous homemade ice cream!
Kevin Mooney
Pinto Lake, British Columbia
2014 Ford F-350
2006 Okanagan 106 UDB
Camera Used – iPhone 5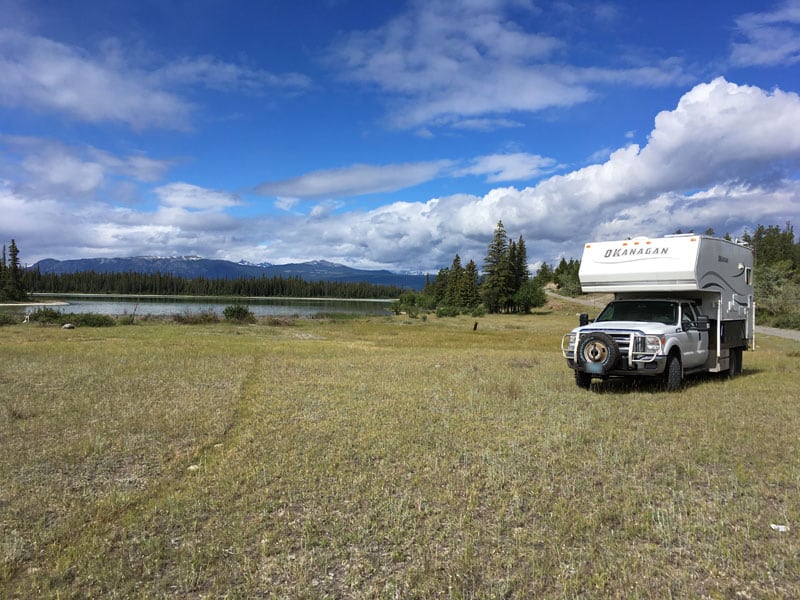 This is a short bypass off of Highway #20 between Williams Lake and Bella Coola. It has two recreation sites here. There is no power, no water or toilets. It is just a great place to stop for lunch or an afternoon nap. It has beautiful views and you are not likely to have any company.
Candice Sund
Bonneville Salt Flats, Utah
2016 Dodge Ram 3500
2015 Arctic Fox 992
Camera Used – Nikon D7500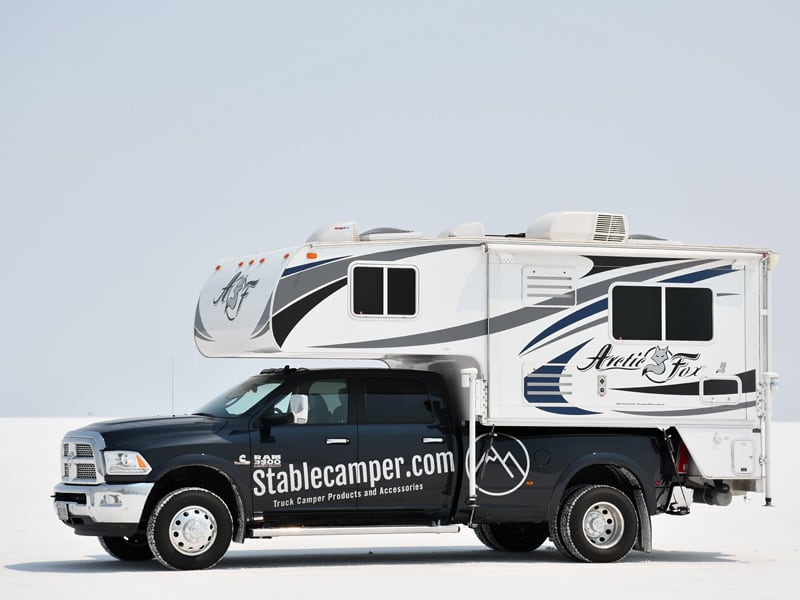 We were heading home from a family reunion and decided to stop at the Bonneville Salt Flats to take our truck camper for a spin on the racetrack and break some speed records. I'm not sure we broke any speed records, but the views were spectacular on the flats. Our side trip was followed promptly by a trip to the car wash for a quick scrub down before returning on our journey home.
Ralph Langley
Bishop Creek, Bishop, California in the eastern Sierras
2006 GMC 2500
1999 Lance 1030
Camera Used – Cannon G12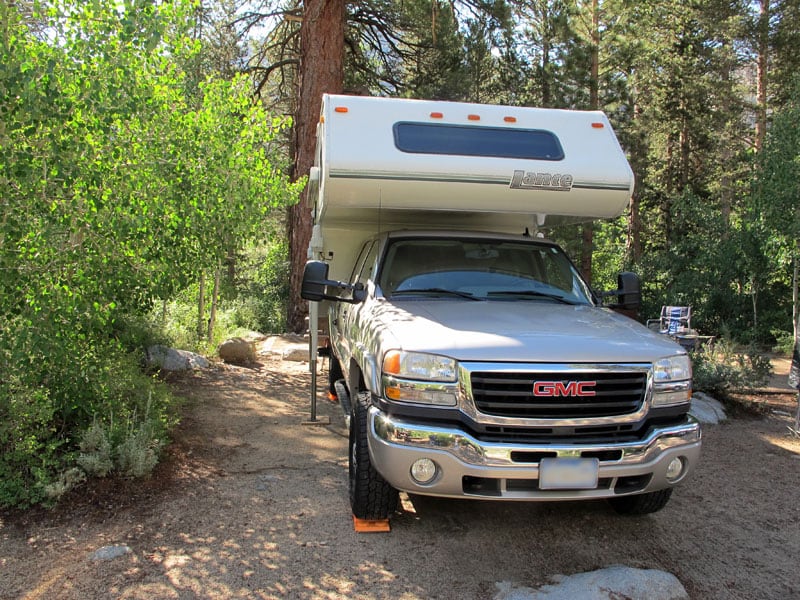 Camping on Bishop Creek in the eastern Sierras is so scenic that one forgets the rest of the world exists. This year the creek is exceptionally high. There is an equal amount of moving water background sound and the wildlife is around every corner. The campground is situated in a canyon surrounded by high mountain peaks. It is truly a site one doesn't want to leave.
Tony Polvino
Devils Tower, Wyoming
2016 Ford F150
2016 Travel Lite 770 RS
Camera Used – Samsung Galaxy S8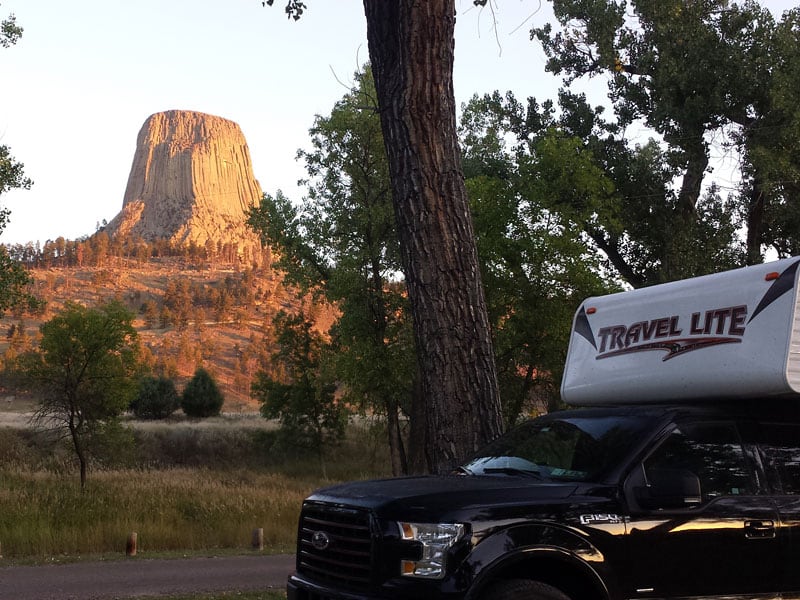 We got real lucky to be able to secure a fantastic site at the base of Devils Tower. We were able to hike up to the tower. The hike brings you through a busy prairie dog town as you continue upwards to the tower destination. The views looking back down to the campground and river valley were just as awesome.
Nancy Stevenson
Shiprock, New Mexico
2015 Ford F-350
2017 Capri Retreat
Camera Used – Canon 60D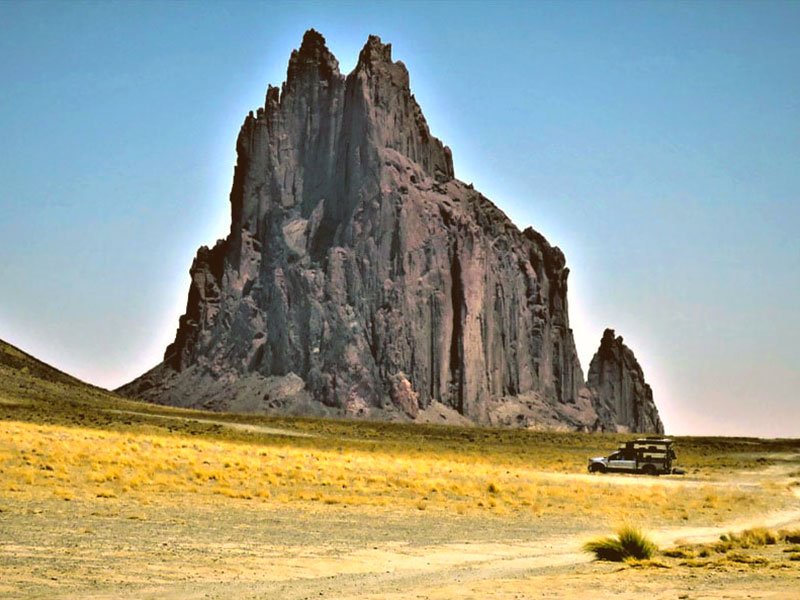 Now that we are retired and travel to the southwest every year, we go by Shiprock, New Mexico. Jim and I have memories of it when we were teachers on the Navajo Reservation back in the 1970s. We decided to pull off and camp by this majestic rock that looks like a big ship!
Larry Tucker
1902 Gilbert, Arkansas General Store
2018 Ford F-150
2018 Eureka
Camera Used – Samsung Galaxy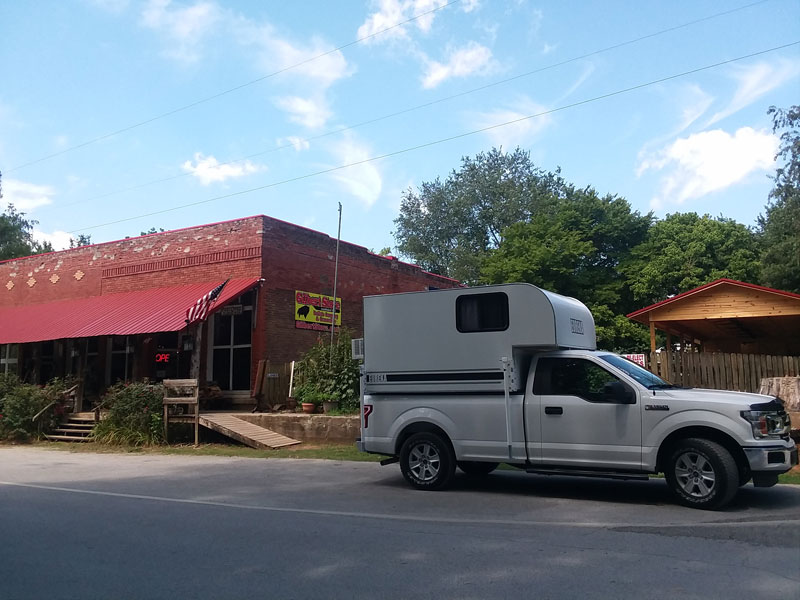 The Gilbert General Store located in Gilbert, Arkansas has been in operation since 1902. Gilbert, a town of 22 is located by the Buffalo National River.
Click here to participate in the 2019 Truck Camper Magazine Calendar Contest and be considered for a Behind the Shot feature.