For Behind the Shot Part 6, we are featuring photos and stories from Nantahala National Forest in North Carolina, Alabama Hills in California, Mammoth Caves National Park in Kentucky, the Price River Canyon in Utah, and many more!
Click here to participate in the 2019 Truck Camper Magazine Calendar Contest and be considered for a Behind the Shot feature.  Check out the calendar gallery so far.
Jim ODell
Price River Canyon, Utah
2013 Ford F-350
1997 S&S 9T
Camera Used – Google Pixel phone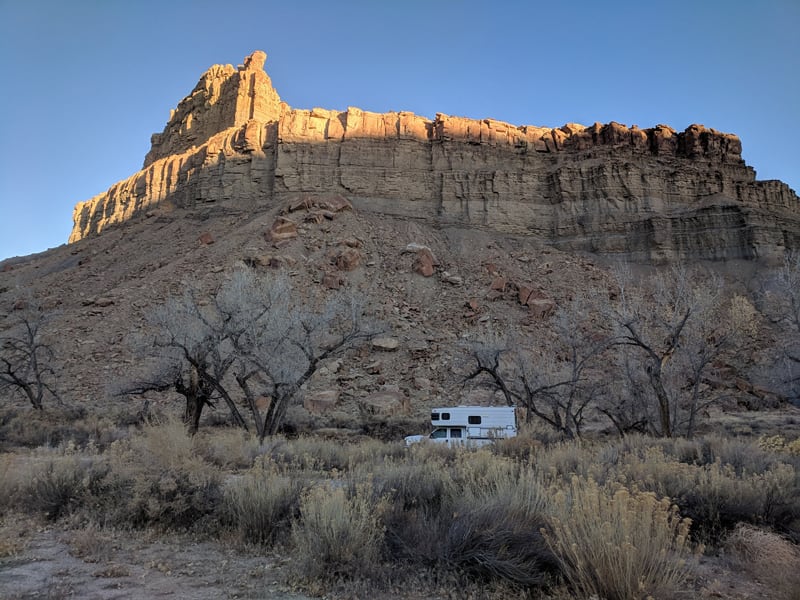 This picture was taken early in the morning in the Price River Canyon on BLM land.  It was early December, 2017 and we were returning from Arizona on a week long vacation.  We pulled off Highway 6 going up Soldier Summit.  It was late in the evening.
When we woke up, it was 7 degrees and my pillow was frozen to the window, but the view was spectacular.  We also found out our water system had frozen up for the first time ever.  So we had to use our bottled water stash to get some morning coffee.  Got to love the adventure in boondocking!
Tony Ma
Mount Rainier National Park, Washington
2016 Ram 3500
2015 Arctic Fox 990
Camera Used – iPhone 7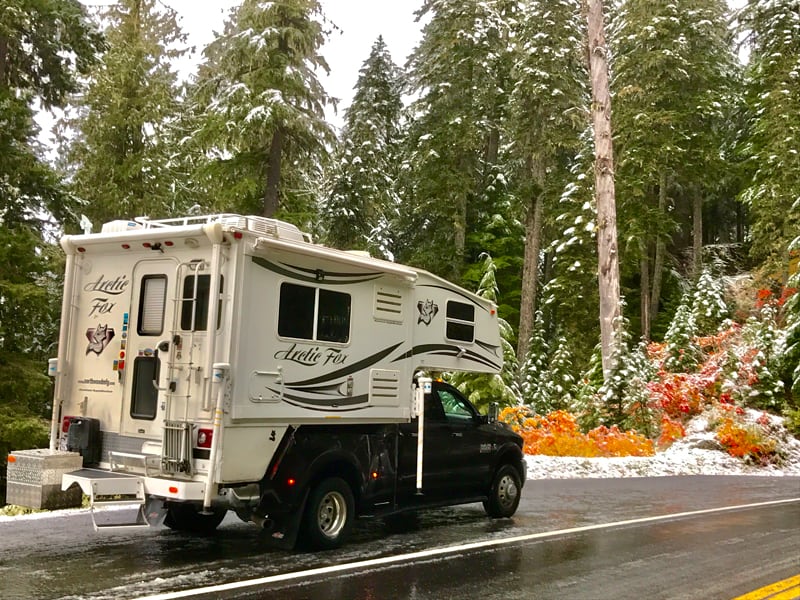 This was on the way from Seattle to Mount Rainier National Park in October 2017.  It was very beautiful scenery along side of the highway to the mountain.  It was snow covered and all the autumn leaves were so spectacular.
Gary Goyette
Capitol Reef National Park, Utah
2016 GMC 3500HD
2012 Northern Lite 8-11
Camera Used – Olympus T-860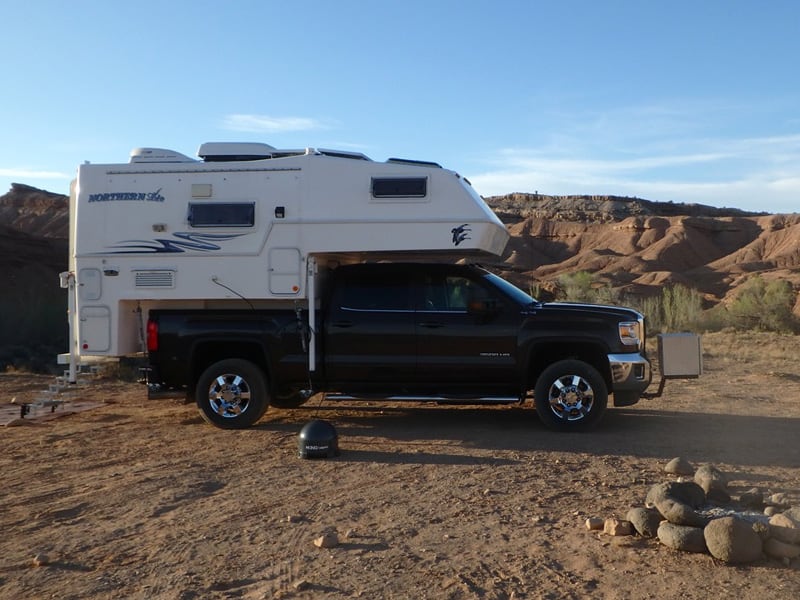 We hoped to return to Capitol Reef National Park in Utah.  It was one of the parks my family traveled to back in the 1980s.  Fruita Campground was one of our favorites.  During this trip, we were turned away because the campground was full.  So we headed east of park to BLM land.  This was much nicer than than a crowded campground.
Russell Waller
Mammoth Caves National Park, Kentucky
Ford F-250
2008 Lance 861
Camera Used – Sony Cyber-Shot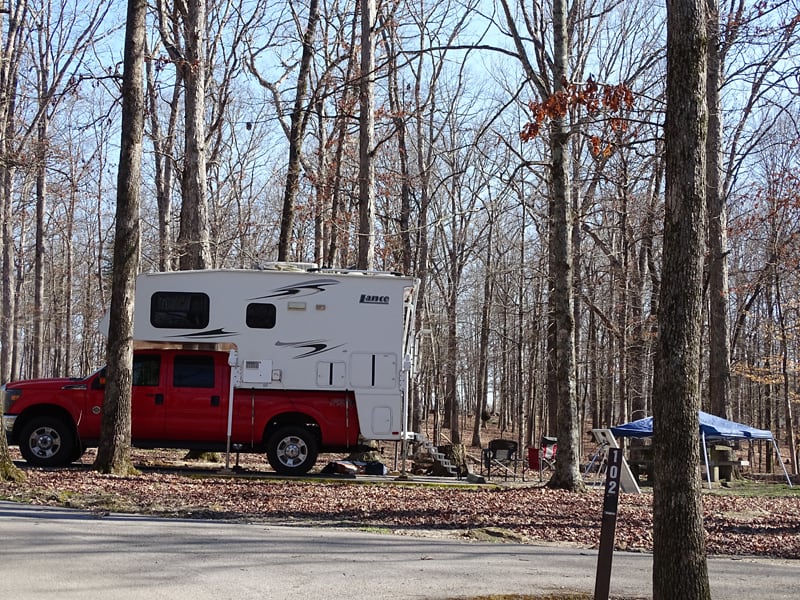 Walking back from one of the tours of the Mammoth Caves, I saw this nice shot with nothing else around.
Chris Tiefenbrunn
Alabama Hills, California
2016 Ram 3500
2016 Northstar Arrow U
Camera Used – DJI Magic Drone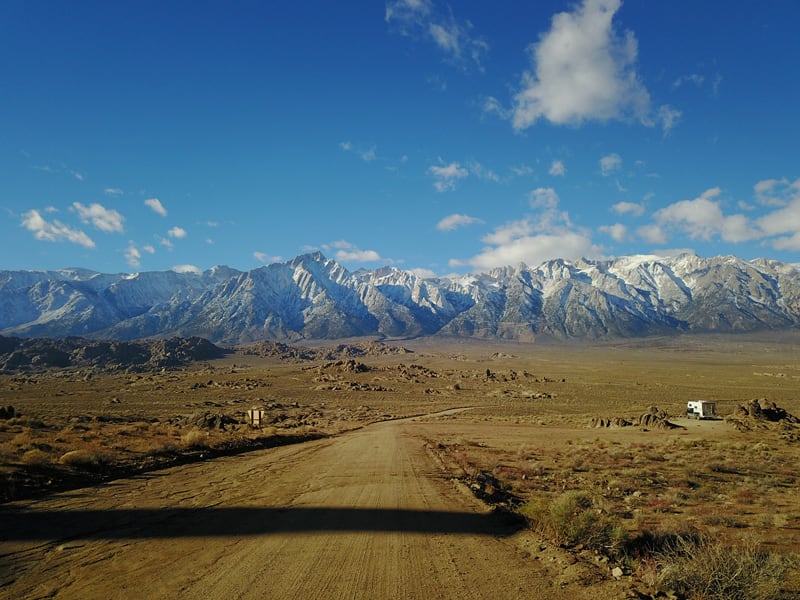 Victor Carrillo
Humphrey's Wilderness outside Chama, New Mexico
2010 Chevy 2500
2010 Hallmark Guanella
Camera Used – iPhone 7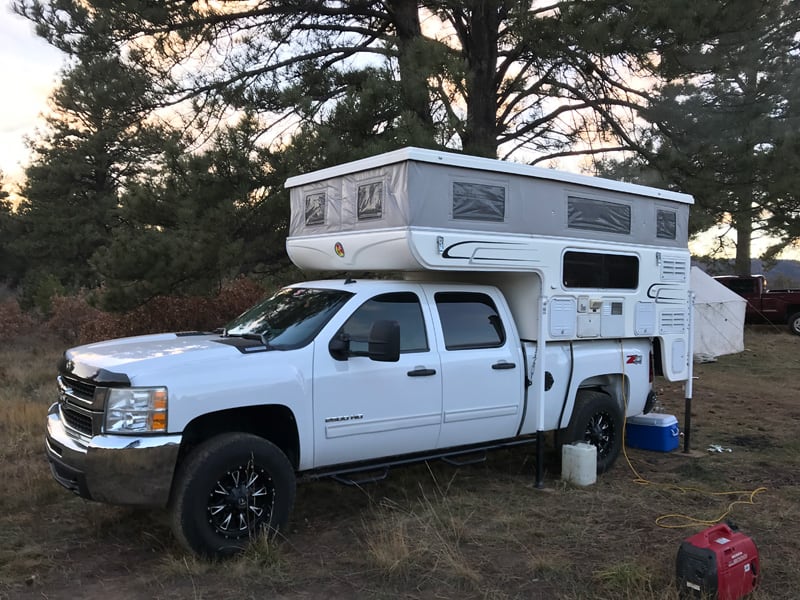 Brandon Guard