For Behind the Shot Part 5, we are featuring photos and stories from Sandy Neck Beach in Massachusetts, Lake Topaz in Nevada, the Burr Trail in Utah, and many more!
Click here to participate in the 2019 Truck Camper Magazine Calendar Contest and be considered for a Behind the Shot feature.
George Lovely
Sandy Neck Beach Cape Cod, Massachusetts
2018 Silverado 2500 HD
2001 Lance 845
Camera Used – DJI spark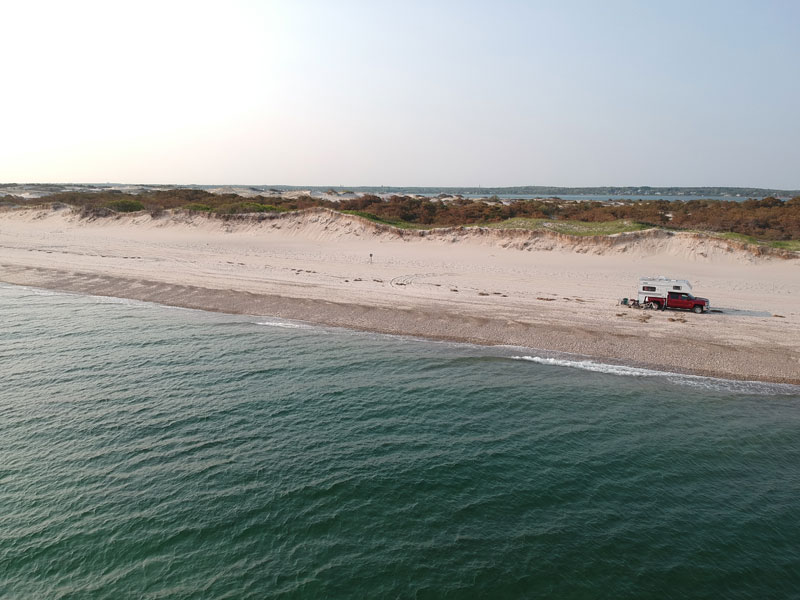 Waking up to the sounds of the ocean has been on our bucket list for sometime now.  We where finally able to live our dream May of this year.  Beach is dog friendly as long as they are leashed.
Billy Wirtanen
Lake Topaz, Nevada
2013 Toyota Tundra
2003 Sun-Lite
Camera Used – Phone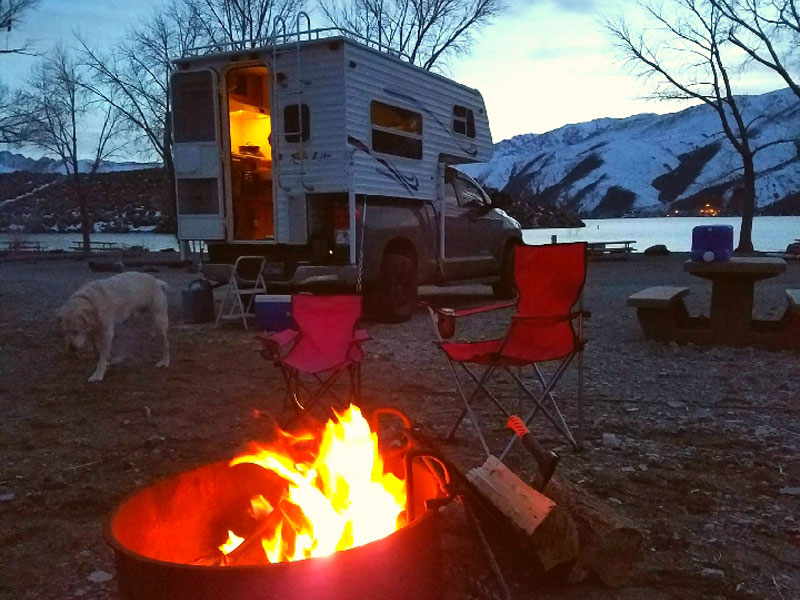 This was our first night in our new to us camper.  Twenty miles from home you can still find adventure; two adults, a four year old, a three month old, and a nine year old yellow Lab!  Our inaugural night was a success.  We are hooked.
Chris Nagy
Burr Trail Switchbacks, Utah
2008 Ford F-350
2006 Adventurer 106DBS
Camera Used – Canon EOS Rebel T6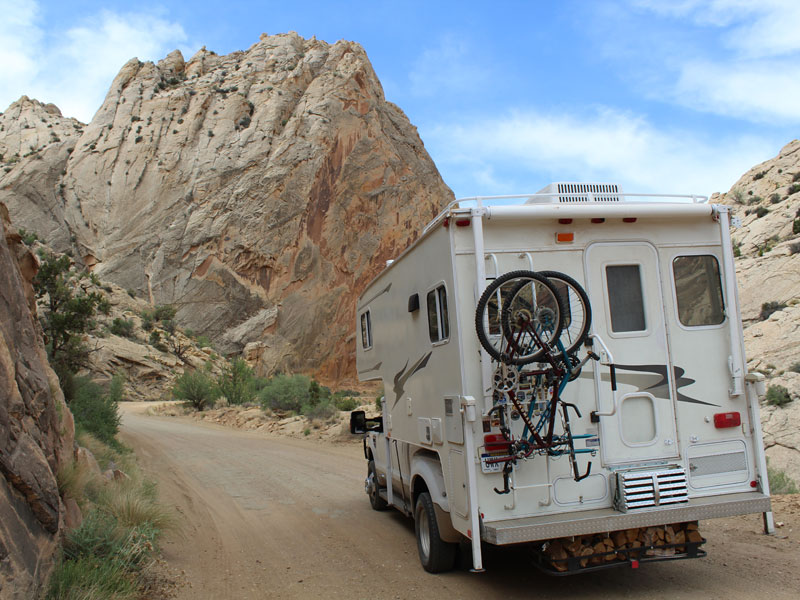 We spent the entire month of May 2018 exploring Utah's Grand Circle, its natural beauty and incredible geology.  In all we logged 3,500 miles with about 800 of those on back roads, forest roads and 4×4 trails where we found so many great dry campsites on the road less traveled.
This picture marked one of the highlights as we made our way up the Burr Trail Switchbacks.  It was quite a workout for our rig with a near 5,000 pound backpack.  Oh so worth it!
Matt Misicka
Catoctin Mountain Park, Maryland
2013 Ford F250
2012 Hallmark Ute
Camera Used – iPhone 8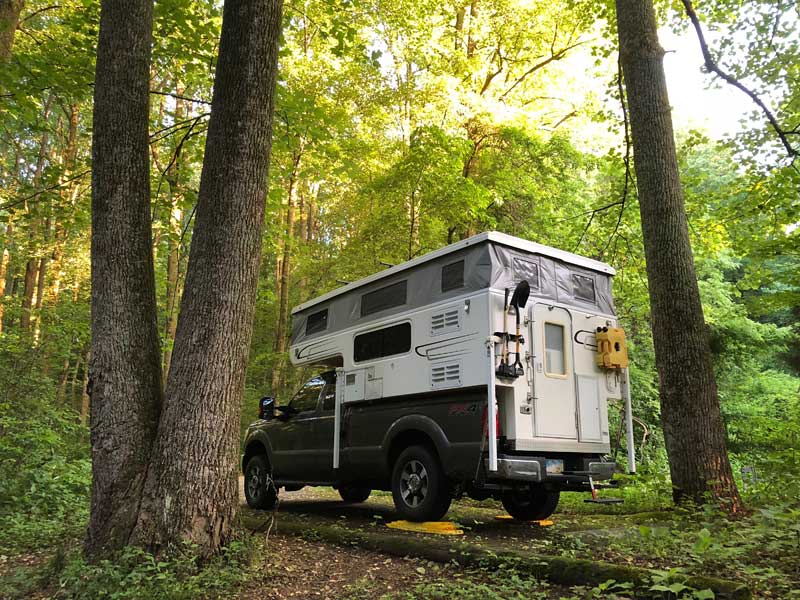 This is the first campsite in peaceful Owens Creek Campground about an hour after sunrise.  This park and campground is operated by the National Park Service.  Maximum length is 22-feet and reservations are required.
I had stopped to fish for trout in the catch-and-release section of Big Hunting Creek for a couple days while on my way to a meeting of the National Wildlife Federation in Chantilly, Virginia.  Along with a wide variety of fish and wildlife, this park is also home to the presidential retreat, Camp David.
From Roosevelt and Churchill, to Eisenhower and Khrushchev, to Carter, Sadat, and Begin, to Bush and Putin, all the presidents since 1942 have relaxed (and worked) here.  Once you've visited, its easy to see why.  But, be advised, when the President is in the residence, the one and only road through the park can be closed for security.
Nancy Page
Palm Canyon, outside Quartzsite, Arizona
2014 Dodge Ram 1500
2009 Four Wheel Campers Hawk
Camera Used – Samsung S8 phone camera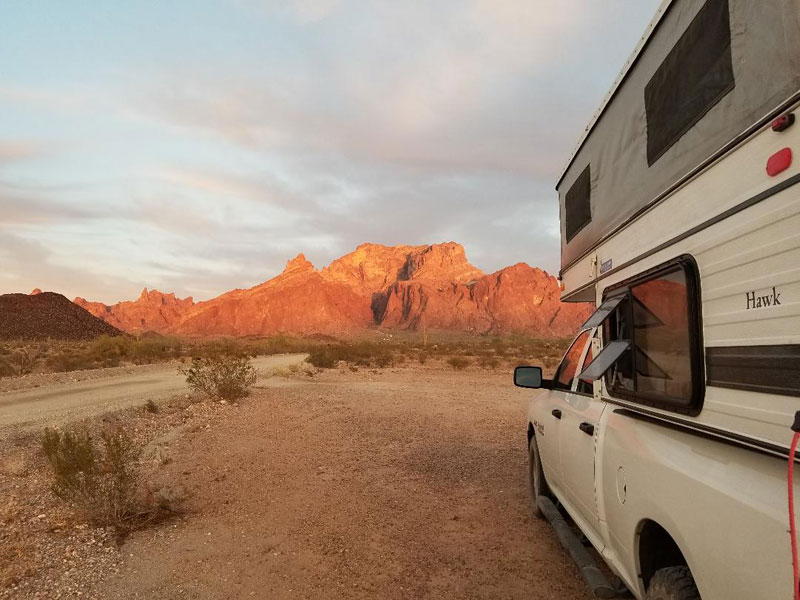 In 2007 when my husband and I had first gotten together, he introduced me to Palm Canyon in the Kofa Mountains near Quartzsite, Arizona.  He loved Quartzsite but had never ventured out to this beautiful site off the 95 on the way to Yuma, AZ.  We fell in love with the place and make yearly visits with our dogs to camp and fall in love with it and each other all over again.