For Behind the Shot Part 4, we are featuring photos and stories from Mammoth Lakes in California, Theodore Roosevelt National Park in North Dakota, Kamloops Lake in British Columbia, and many more!
Click here to participate in the 2019 Truck Camper Magazine Calendar Contest and be considered for a Behind the Shot feature.
Melanie Saucier
Mammoth Lakes, California
2018 Dodge Ram 3500
2011 Lance 830
Camera Used – Canon 5D Mark III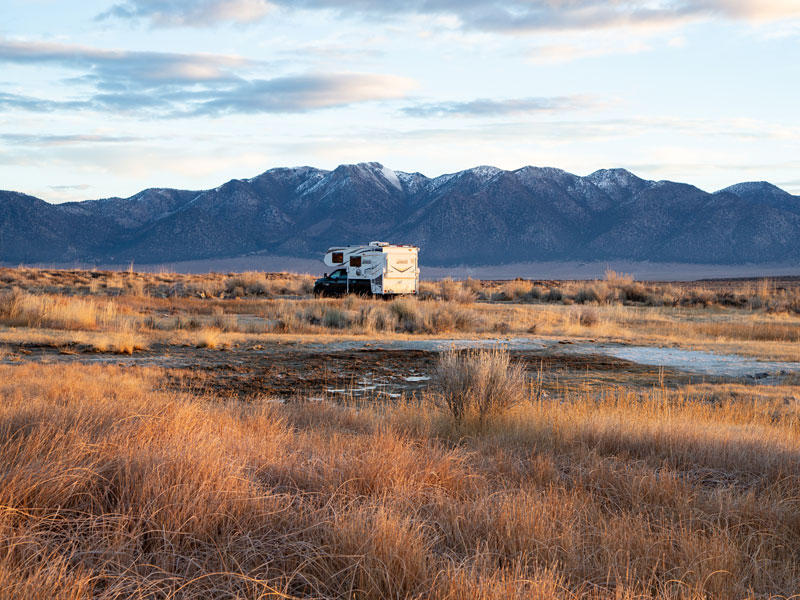 Boondocking on BLM land was a first for my girlfriend.  Sleeping in our truck camper was a first as well and she was smitten!  She didn't know we could establish camp wherever we wanted on public land, be so comfortable in a truck camper, and set up so easy and quick!  After that trip, she decided to convince her family to rent one so both our families can go a trip together.
Gary Goyette
Theodore Roosevelt National Park, North Unit, North Dakota
2016 GMC 3500 HD
2012 Northern Lite 8-11 Queen Classic SE
Camera Used – Canon EOS DIGITAL REBEL XSi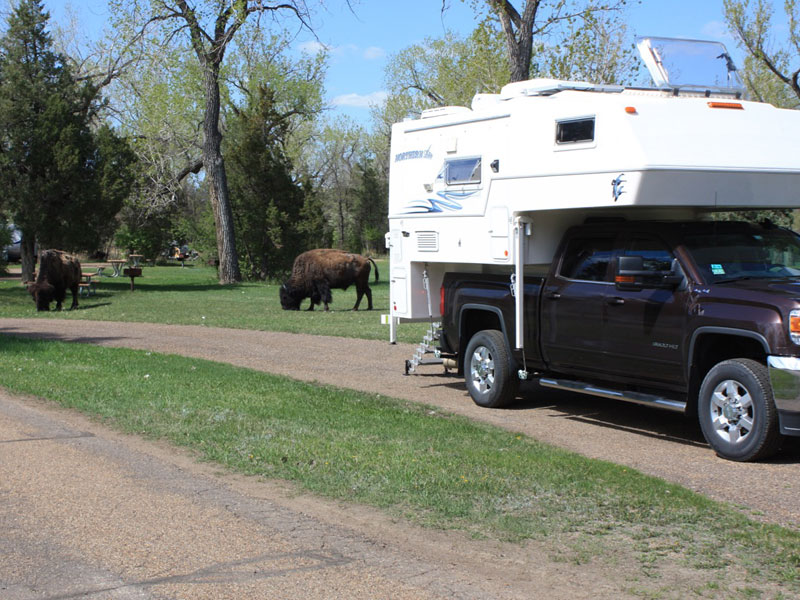 We traveled to North Dakota near the end of our three month winter trip. This was our 48th state.  We stayed two nights at the southern unit and traveled to the northern unit's Juniper Campground.  These Big Boy Bison were in the campground all day.  It was amazing to be that close.
Robert Bergen
Proctorsville, Vermont
2008 Chevrolet 2500 HD
2014 Cirrus 800
Camera Used – Panosonic Lumix S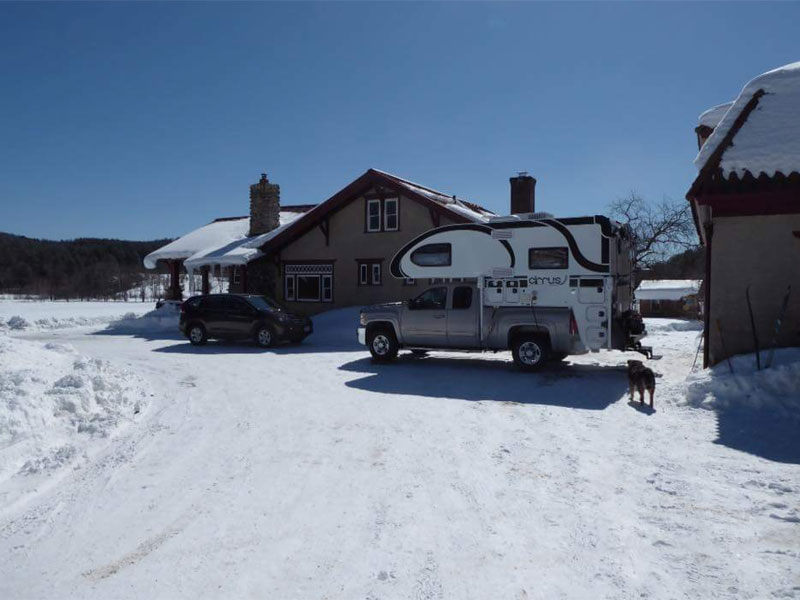 We were driveway camping at my aunt's house so that we could join a family ski time at Okemo Mountain.  It was -15 degrees Saturday night, and we were plenty toasty.
Craig Brueckman
Giant Spring State Park, Great Falls, Montana
2015 Ford F350
2013 Lance 1191
Camera Used – Samsung Galaxy 7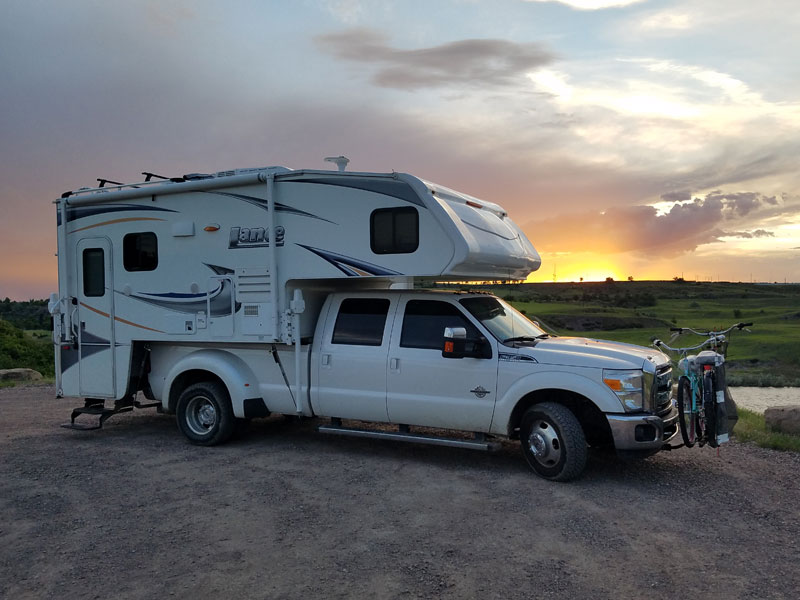 We just arrived in Great Falls and stopped at this pull-off to enjoy dinner.  The sun was setting just as we finished, so I grabbed this picture.
Edward Albert
Yellowstone National Park, Wyoming
2002 Chevy 2500
1995 Lance Legend
Camera Used – GE Digital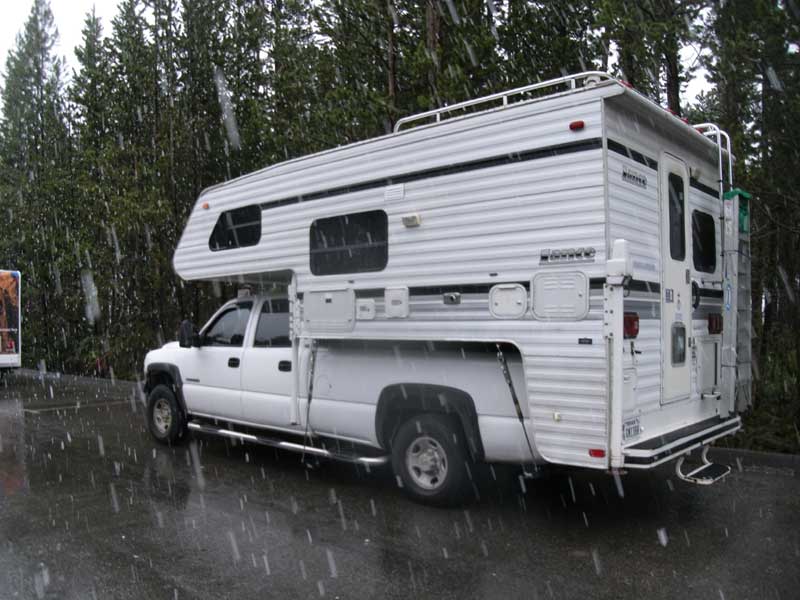 We were visiting Yellowstone National Park when we ran into a snow storm while visiting Norris Geyser Basin on June 1, 2018.  We were nice and cozy in the camper waiting for the snow to stop.
Gaston Belanger
Bradshaw Mountains, Prescott, Arizona
2017 Ram 3500
2017 Northern Lite 9-6 Q SE
Camera Used – iPhone 7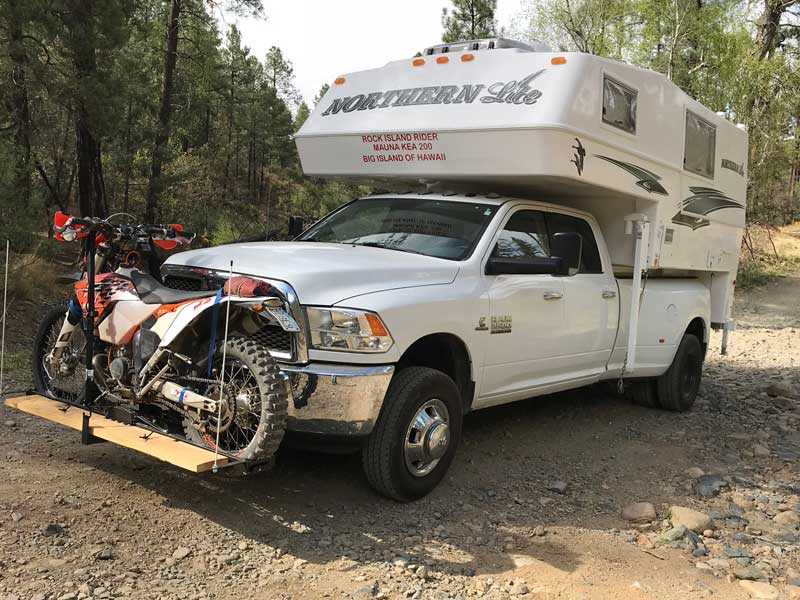 I am 77 years old and a solo full-time on the road RVer.  I was out looking for nasty gnarly challenging off-road mountain trails.  I ride and race local extreme endurance events throughout the USA.  Life is short.  Pitch it sideways wherever you can.
Ivan Hass
Zion National Park, Utah
2017 Toyota Tacoma
2017 EarthCruiser GZL 300
Camera Used – iPhone SE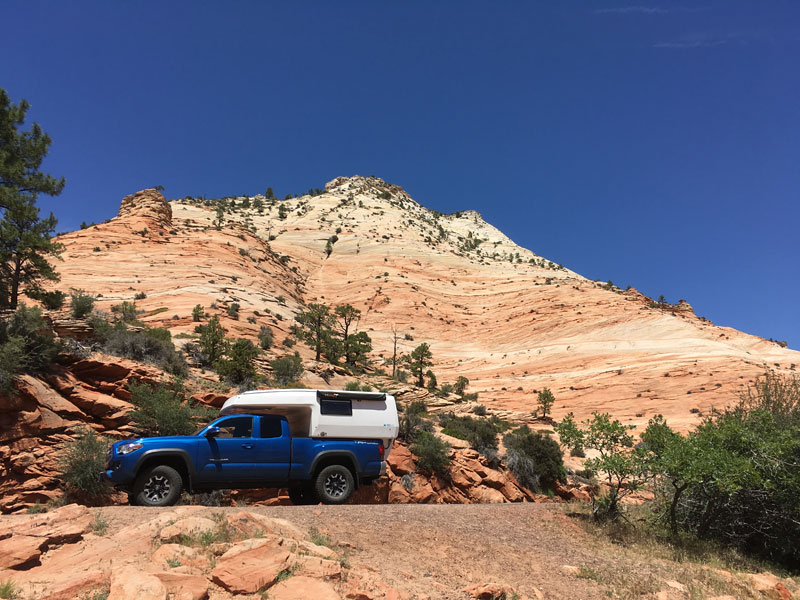 This was from Zion National Park. I was heading west just past the Checkerboard Mesa on Utah Rt 9.  I stopped at a turnout to look at the yellow blooms of beaver tail cactus.
Click here to participate in the 2019 Truck Camper Magazine Calendar Contest and be considered for a Behind the Shot feature.