For Behind the Shot Part 3, we are featuring photos and stories from Escalante in Utah, Tonsina River in Alaska, Long Key in Florida, North Padre Island in Texas, Santa Rosa Lake State Park in New Mexico, and many more!
Click here to participate in the 2019 Truck Camper Magazine Calendar Contest and be considered for a Behind the Shot feature.
Paul Kellagher
Coney Island, County Sligo, Ireland
2008 Landrover Defender 130
2009 Ranger Camper
Camera Used – iPhone 5 SE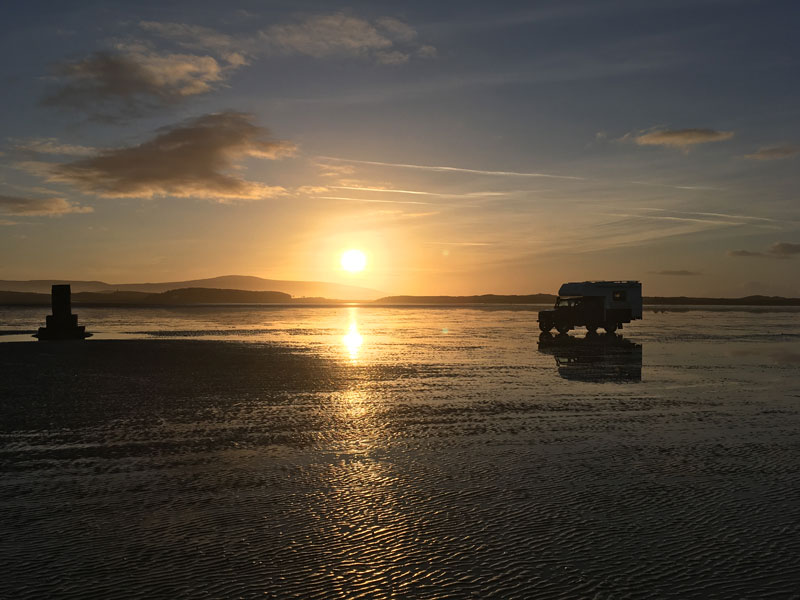 This is a stunning corner on the west of Ireland and an unusually calm day in January. We overnighted on the island beside the sea. You can only get off at low tide and there's a wonderful feeling of isolation.
Kim and Lori Oliver
Yosemite National Park, California
2015 GMC 3500 HD
2013 Adventure 86 SBS
Camera Used – iPhone 8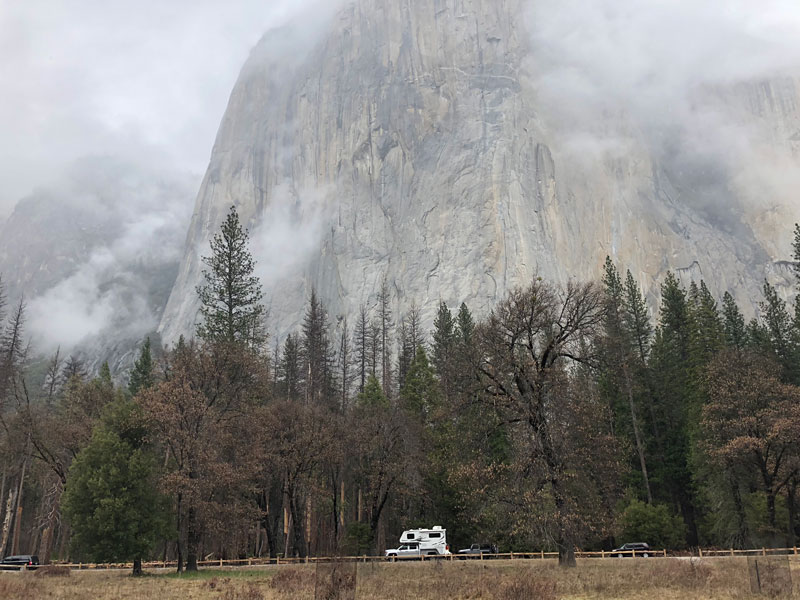 This is the iconic El Capitan in Yosemite National Park. It was taken on the way out of park as we were evacuated due to an impending storm on April 6, 2018. Our family tradition is to stop for a photo from this meadow.
Marjorie Geiser
Mark Twain National Forest, Missouri
1996 Ford F250
2019 Northstar 850SC
Camera Used – Samsung S9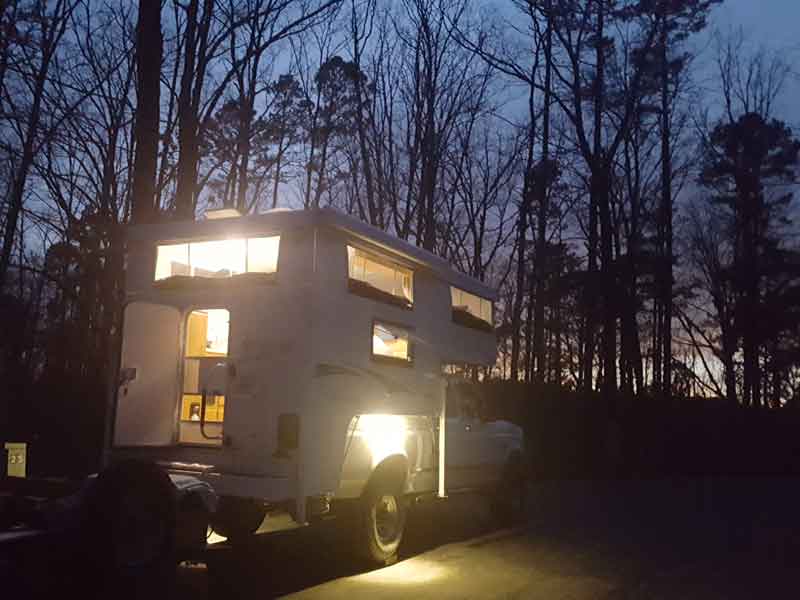 This was our maiden voyage after picking up our camper from the factory in Iowa. This campground had no one and was extremely quiet! Our first trip was 4,000 miles and included our two big dogs.
Susan Boettger and Jonathan Harris
Assateague Island National Seashore, Maryland
2006 Chevy Silverado 3500
2006 Lance 1191
Camera Used – iPhone 7 Plus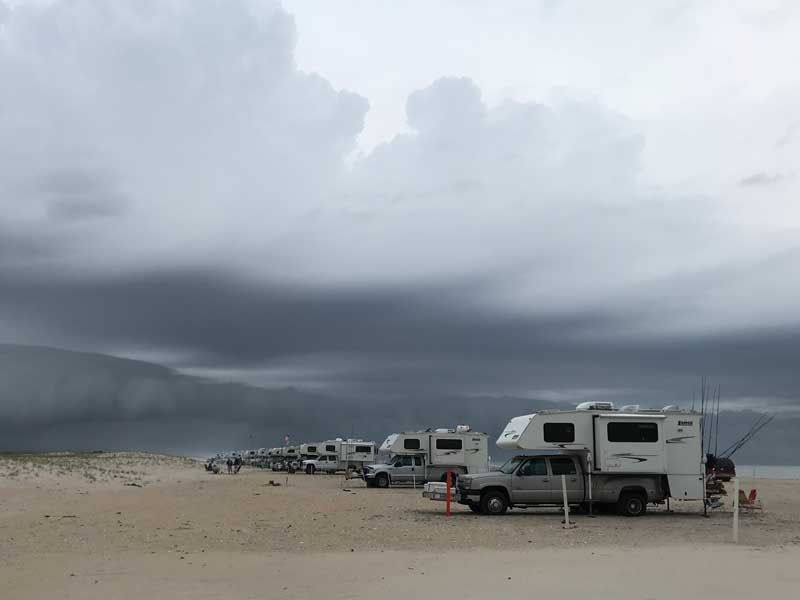 This picture was taken on Sunday, May 27, 2018. A storm was approaching and several truck campers converged on the Bullpen. We were on the OSV (Over Sand Vehicle) Zone at Assateague to get the safety of the dune instead of being at the water's edge. Our truck camper is the one on the foreground. It was neat to see the line of truck campers huddled together. There were nearly forty campers in the row all together.
David Franklin
Santa Rosa Lake State Park, New Mexico
2017 GMC Sierra 1500
2018 Four Wheel Camper Hawk
Camera Used – Canon SX730
We were planning on heading to Mills Canyon, New Mexico when we saw a storm on the horizon. Checking the forecast we decided to divert south of the storm to Santa Rosa, New Mexico. We ate dinner in town while the storm moved through. We arrived at the pictured location less than thirty minutes after the storm had moved on. The combination of being near sundown and the storm made the picture memorable.
Mike Brandl
Fiesta Key RV Park, Long Key, Florida
2014 Ford F-250
2013 Lance 865
Camera Used – iPhone 6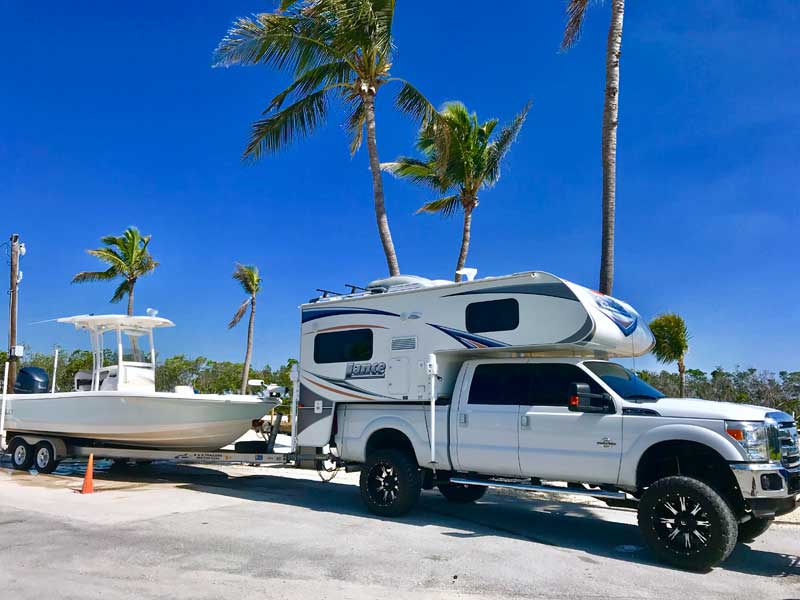 Neal Krantz
North Padre Island, Texas
2012 Ram 3500
2012 Arctic Fox 1140
Camera Used – Google Pixel 2 xl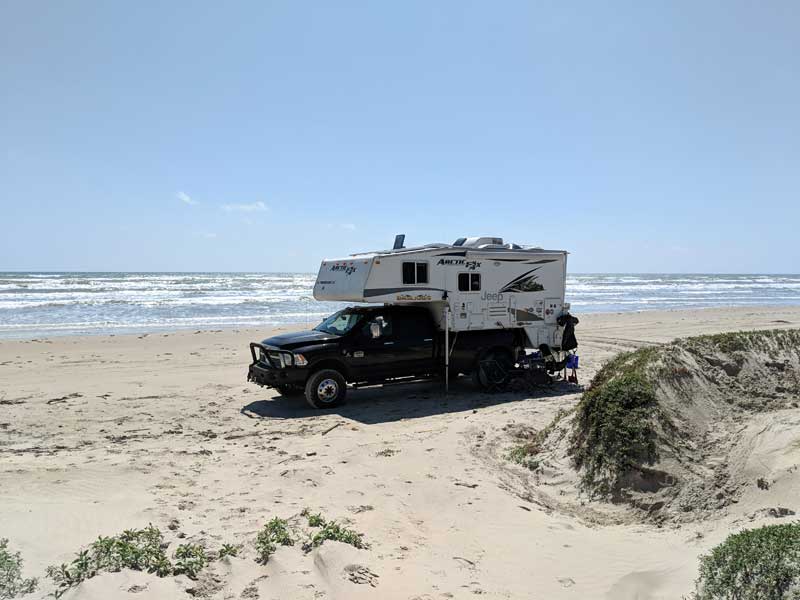 Doug Davis
Escalante Staircase, Utah
2008 Dodge Ram 3500
2004 Hallmark Cuchara XL
Camera Used – Fuji Film 16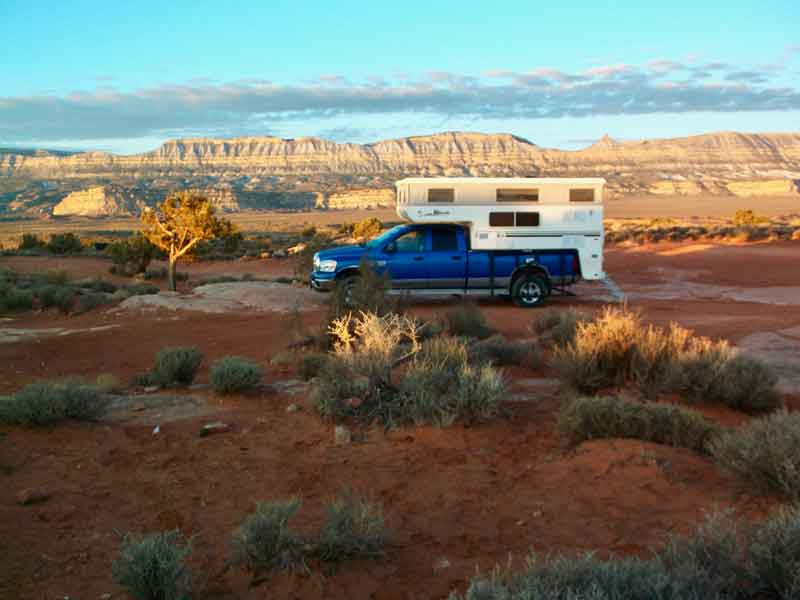 This photo came about as we were camped overnight in the Escalante Staircase area of Utah. It was mid-March 2018 at sunrise. My wife and I travel the southwest in the winter leaving the cold weather of Iowa behind.
We spend up to four months in our Hallmark Camper with the added convenience of the Stable-Lift. The Stable-Lift allows us to have the camper off the truck in about ten minutes and lowers almost to the ground. It allows us to then use our pick-up to explore some of the rough back country roads and canyons that we would not want to take the camper on. The added advantage is the ability to sleep in the camper without it being on the truck. Our favorite thing to do is hike slot canyons and the Escalante area of Utah has some of the best.
Jamie Rea
Cape Jourimain Island, New Brunswick
2012 Ford F-350
2012 Lance 855S
Camera Used – Apple iPad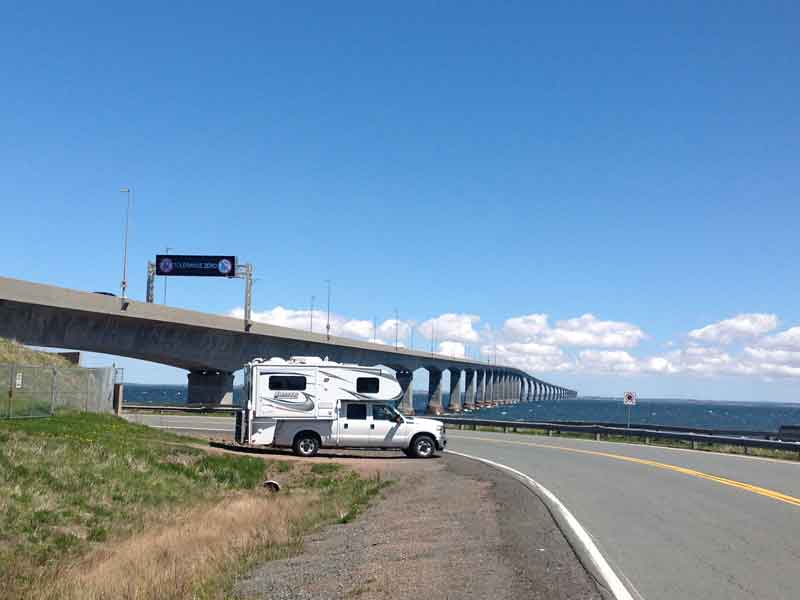 My wife and I were on our way from Prince Edward Island to Nova Scotia for a wilderness camping trip. We stopped for lunch at Cape Jourimain on the New Brunswick side of the 14 kilometer Confederation Bridge from PEI.
Steve Jackson
Chanslor Ranch, Bodega Bay, California
2013 Toyota Tacoma
2015 Four Wheel Camper Fleet
Camera Used – Samsung Galaxy 8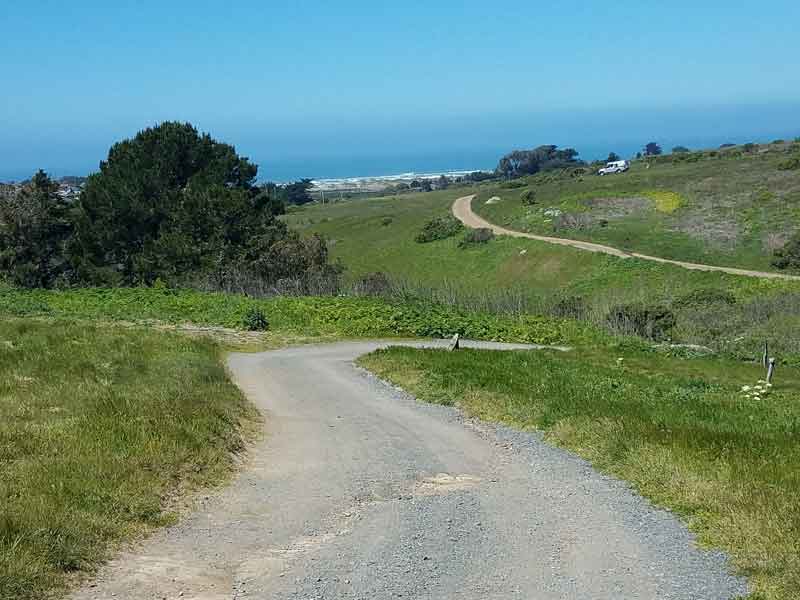 This was from the recent Four Wheel Camper Rally in northern California from April 21-22, 2018. I arrived early and was the first person to set up. That is why I am all alone when the shot was taken. In a couple hours, there were 75 more campers.
Todd and Gwynn Carlsen
San Felipe, Mexico
2008 Ford F-350
2006 Arctic Fox 811
Camera Used – iPhone 7 Plus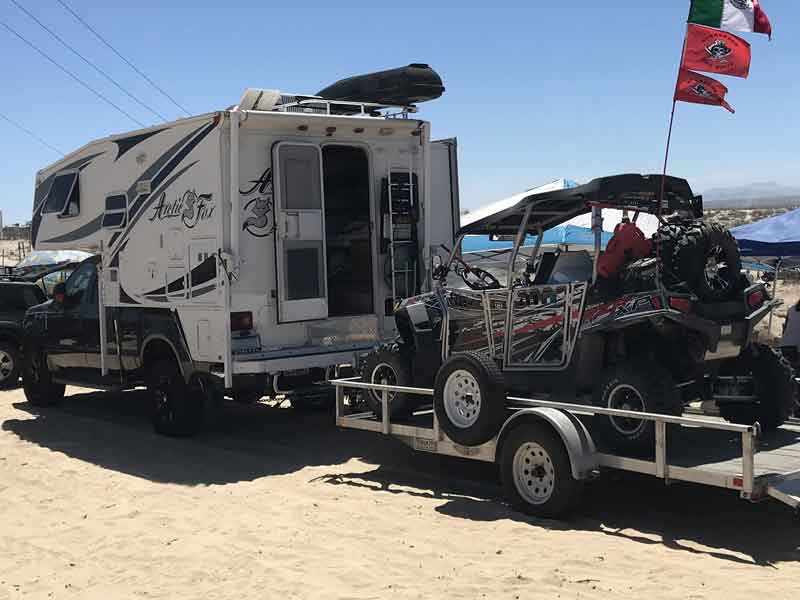 This was from a family trip to watch the San Felipe 250 race!
Keith Lord
Tonsina River, Alaska
2000 Ford F-250
1998 Coachman 11.5S
Camera Used – Samsung Galaxy 4 Pad
Susan and Hector Mabillard
Nanaimo Lakes, Nanaimo, British Columbia
2017 GMC Sierra 1500
2012 Westland 8W
Camera Used – Nikon 3100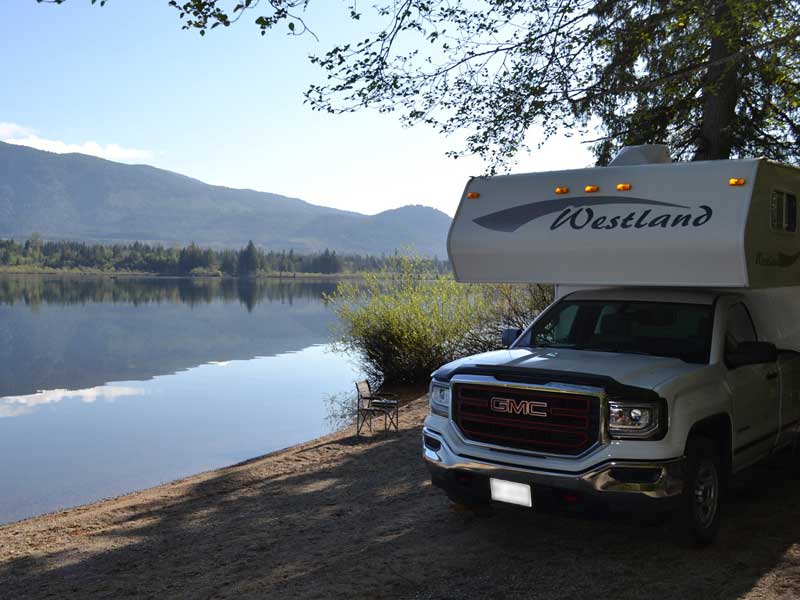 This was our first camping trip of the year and the first with our new truck. We got the best spot at Nanaimo Lakes. After a very windy night, the next day the lake was like glass. The sun was out and it was beautiful. We only get a chance to get this spot at the start or end of camping season since it is always a popular one. We like it best at the start of the season when everything is calm and green!
Bill Richcreek
Shawnee National Forest, southern Illinois
2013 Ford F-350
2017 Lance 855S
Camera Used – Phone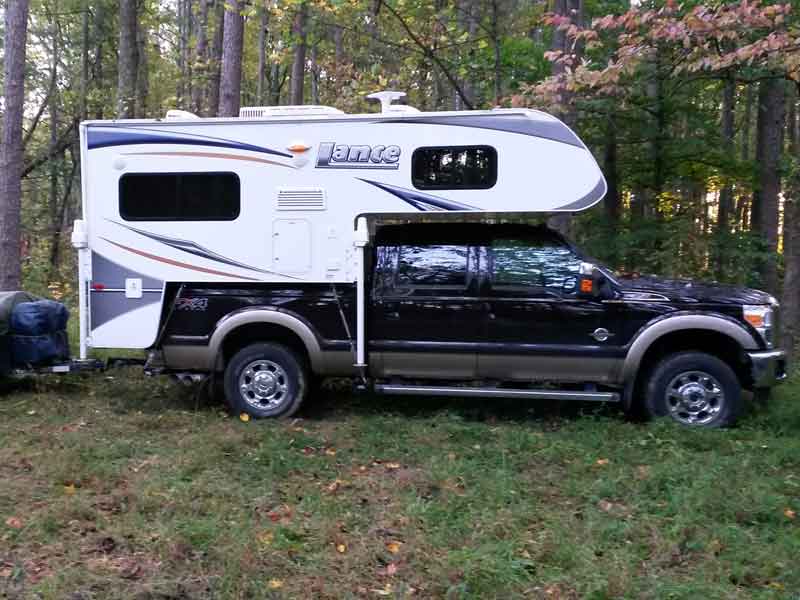 This is at Deer camp.
Clint Jackson
Pacific Beach, Washington
2006 Ford F350
2019 Host Cascade
Camera Used – iPhone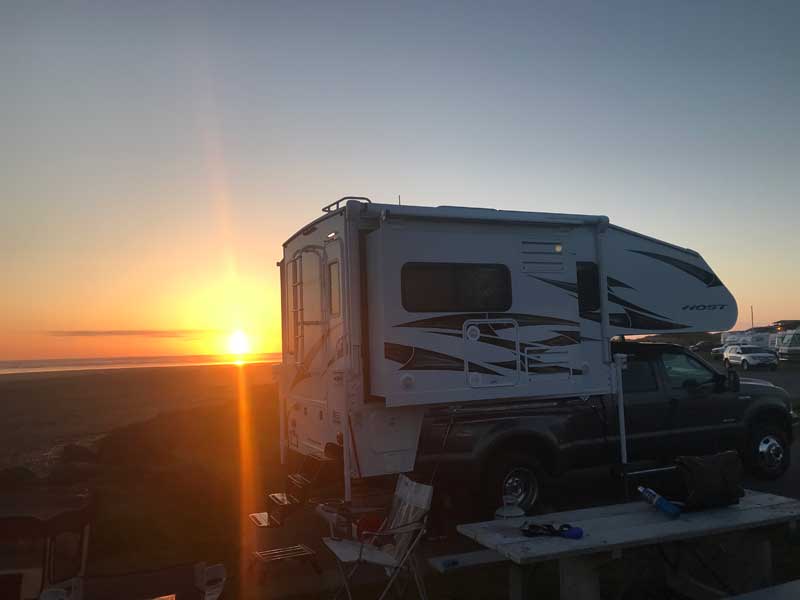 Here is a picture of me camping at Pacific Beach State Park, Washington after a day of digging razor clams.
Roger Jennings
Canyonlands, Utah
2015 Ram 3500
2015 Lance 1052
Camera Used – Nikon D60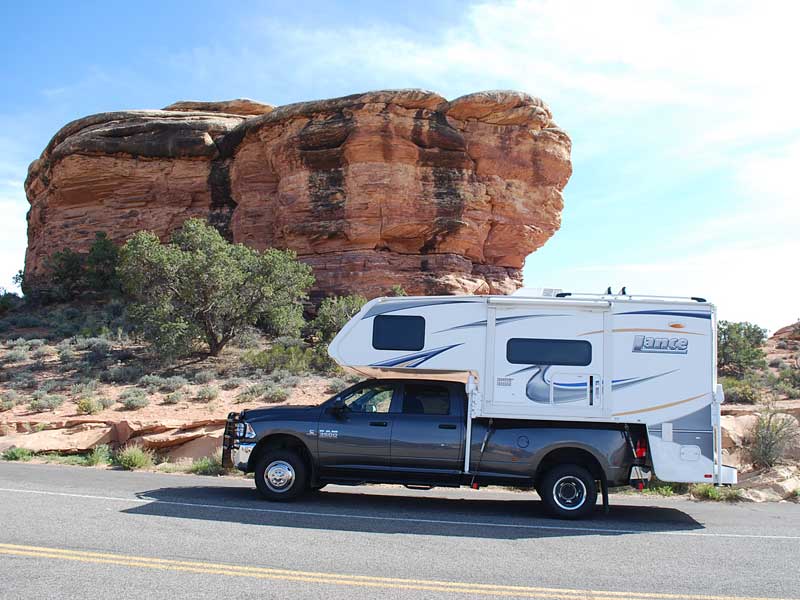 We went with two other couples. Each had their own truck camper. We went on a trip to Big Bend and around. We love using the back roads. You get to see so much more than the interstate roads. We ended up about 5000 miles from Georgia/Alabama. We went to to Big Bend, Canyonlands, Roswell, Arches, and Showboat. We had an array of scenery; prairie, desert, mountains, and snow. We are looking forward to our next adventure.
Ken and Lynn Gillespie
Texas Panhandle
2015 Ford F350
1994 Sunlite pop-up
Camera Used – Droid Moto Z Force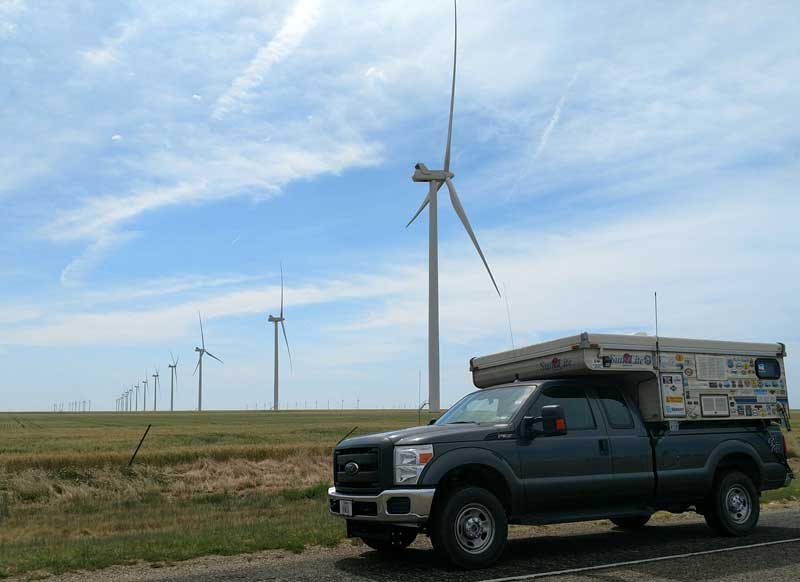 Click here to participate in the 2019 TCM Calendar Contest and be considered for a Behind the Shot feature.