For Behind the Shot Part 13, we are featuring photos and stories from White Lake Provincial Park, Glessner Covered Bridge, Valley of the Gods, and many more!
Click here to participate in the 2019 Truck Camper Magazine Calendar Contest and be considered for a Behind the Shot feature.
Marcos Gadaian
Boundaries of the Kluane National Park, Yukon
2005 Ford F350
2005 Lance 881
Camera Used – iPhone 7 plus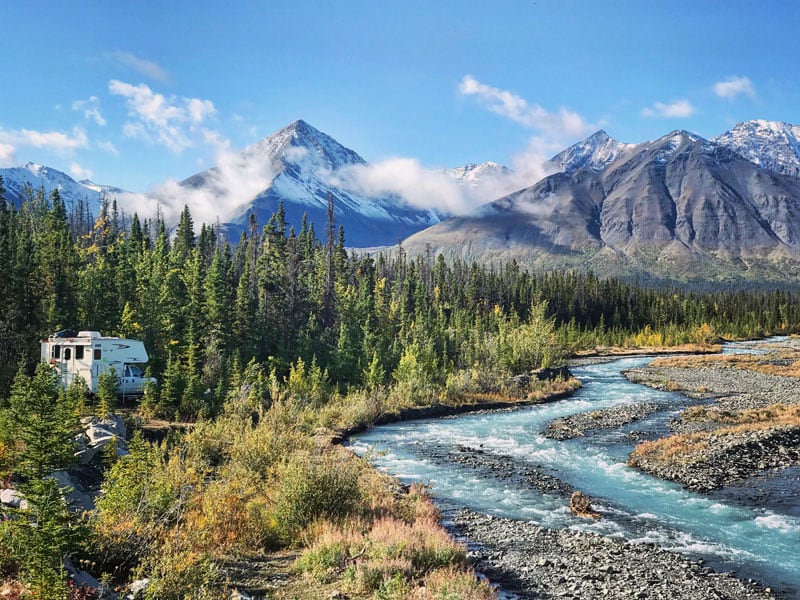 We were driving to Kluane National Park, Yukon. I was tired, and it was raining.  We found this spot and decided to overnight.  In the morning the sky was clear, and it was beautiful!
Aaron Blatt
Mono Country, California
2016 Toyota Tundra
2018 Capri Retreat
Camera Used – Canon 5D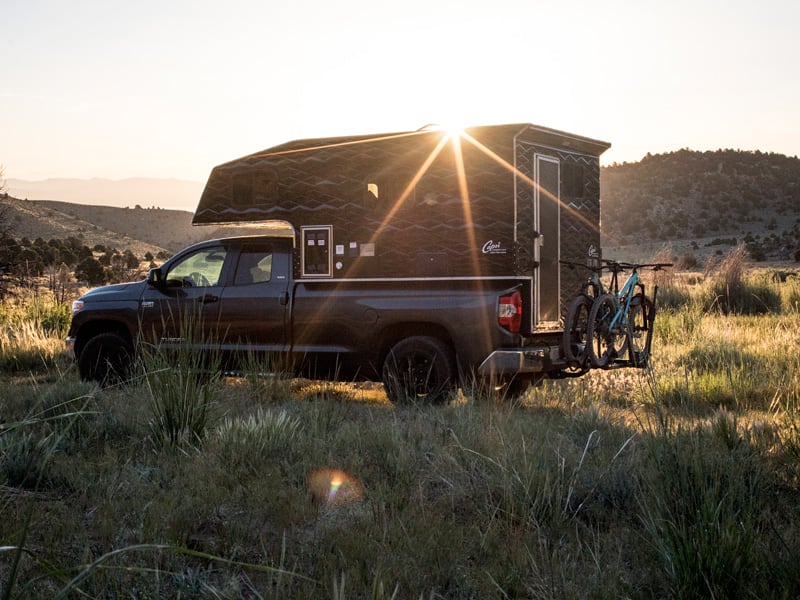 This photo was taken after a night spent out under the stars just west of Mono Lake in California.  We woke up early to a blazing sun and then headed North towards home.  Love the morning light!
David Fern
Near Holly Cross 4×4 trail head above Leadville, Colorado
2005 GMC 3500
2017 Eagle Cap 1160
Camera Used – Droid Turbo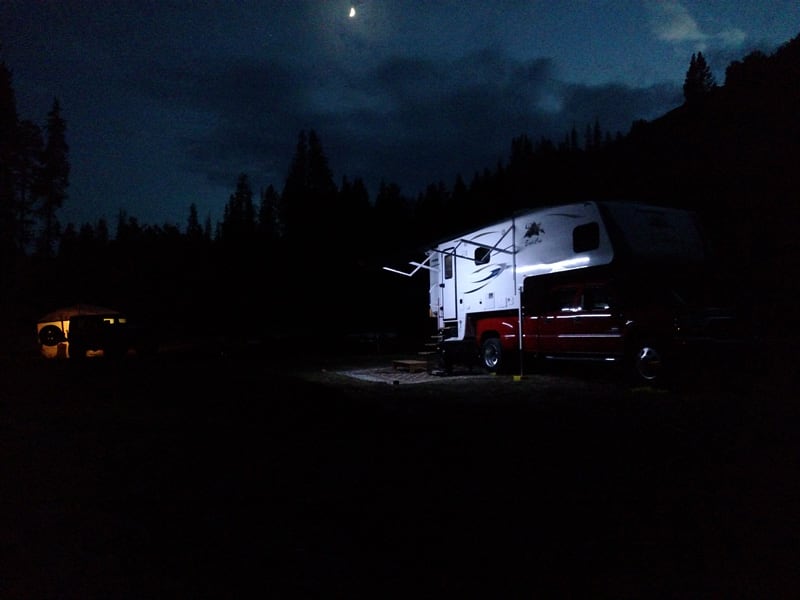 We had set up camp the night before in a remote spot along the access road to Holly Cross 4X4 Trail Head located between Vail and Leadville.  The first night it rained from 4:00pm to sometime in the night.  I fell asleep to the nice tapping sound of the rain on the camper.  The rain cooled things off and reduced some of the dust from the extremely dry conditions.
The next night we were sitting around the fire ring with a Coleman lantern due to the fire bans.  I heard a noise in the night and looked back towards the camper.  It was lit up from the LED awning lights, the moon, and the glow from one of the tents silhouetting one of the Jeeps.
A nice warm feeling came over me thinking of how lucky I am to be able to share this wonderful location and view with friends.  I went and got my cell phone (which had no signal in the remote location) and snapped the picture.
Brent Koops
Glessner Covered Bridge, Stonycreek Township, Pennsylvania
2016 Chevy Silverado 2500
2016 Four Wheel Hawk
Camera Used – Canon 7D Mark II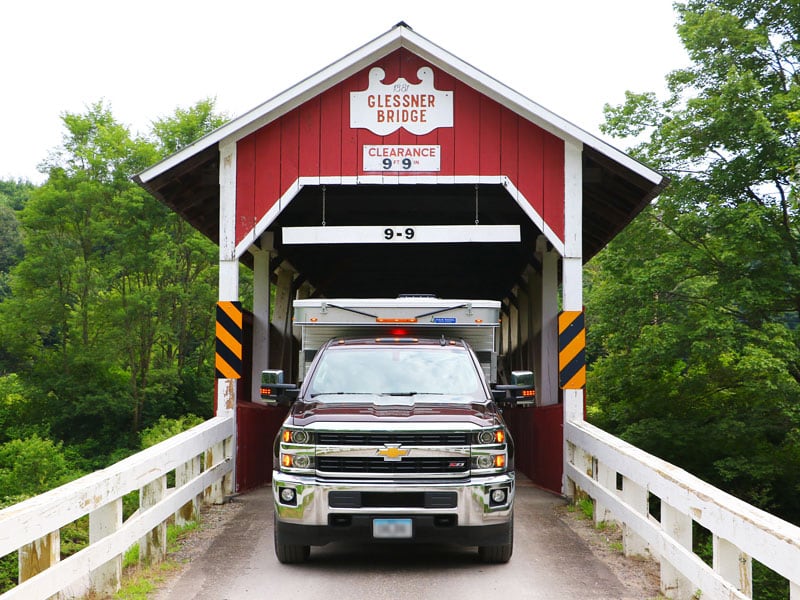 "Do you think it will fit!?", we asked each other as we crept up to this narrow covered bridge in rural Pennsylvania.  This gorgeous covered bridge was on the list of numerous covered bridges and other neat sights in the area of western Pennsylvania.  Definitely worth seeing with beautiful spots to camp and discover!
Chuck Pearson
White Lake Provincial Park, Ontario
2008 Chevy Silverado
2013 Hallmark K2
Camera Used – Canon EOS XSI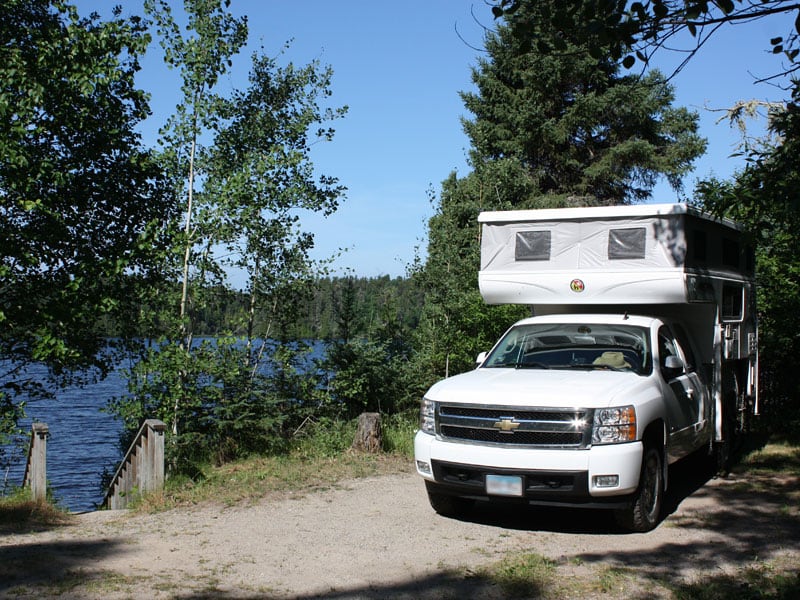 We pre-booked this campsite at White Lake Provincial Park because it was right on the lake and had a stairway down to a private beach, which is handy for swimming or bathing.  It was designated as a windy site, but had some trees to block it.  There was still enough wind to keep the bugs away.
We only stayed one night here on our Lake Superior Circle Tour, but should have stayed a couple more.  The campground had great amenities with very private, wooded campsites in a beautiful forest!