For Behind the Shot Part 13, we are featuring photos and stories from White Lake Provincial Park, Glessner Covered Bridge, Valley of the Gods, and many more!
Click here to participate in the 2019 Truck Camper Magazine Calendar Contest and be considered for a Behind the Shot feature.
Marcos Gadaian
Boundaries of the Kluane National Park, Yukon
2005 Ford F350
2005 Lance 881
Camera Used – iPhone 7 plus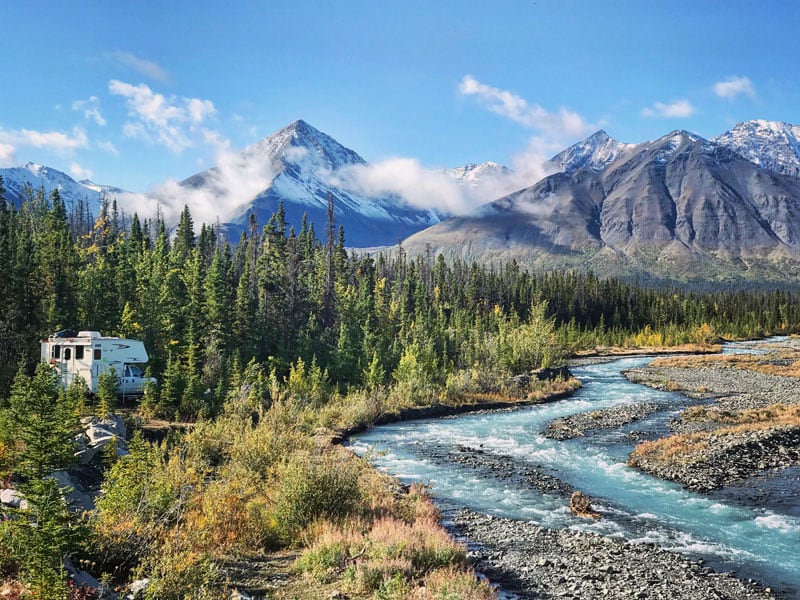 We were driving to Kluane National Park, Yukon. I was tired, and it was raining.  We found this spot and decided to overnight.  In the morning the sky was clear, and it was beautiful!
Aaron Blatt
Mono Country, California
2016 Toyota Tundra
2018 Capri Retreat
Camera Used – Canon 5D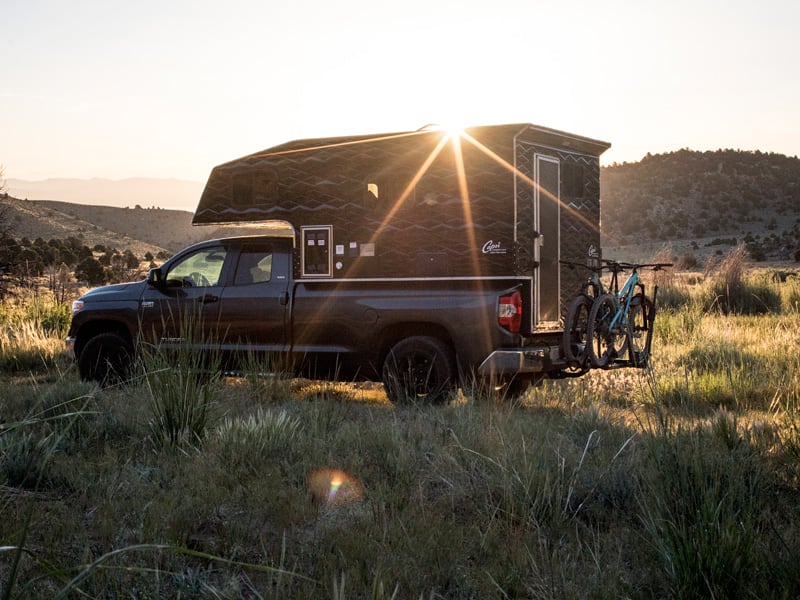 This photo was taken after a night spent out under the stars just west of Mono Lake in California.  We woke up early to a blazing sun and then headed North towards home.  Love the morning light!
David Fern
Near Holly Cross 4×4 trail head above Leadville, Colorado
2005 GMC 3500
2017 Eagle Cap 1160
Camera Used – Droid Turbo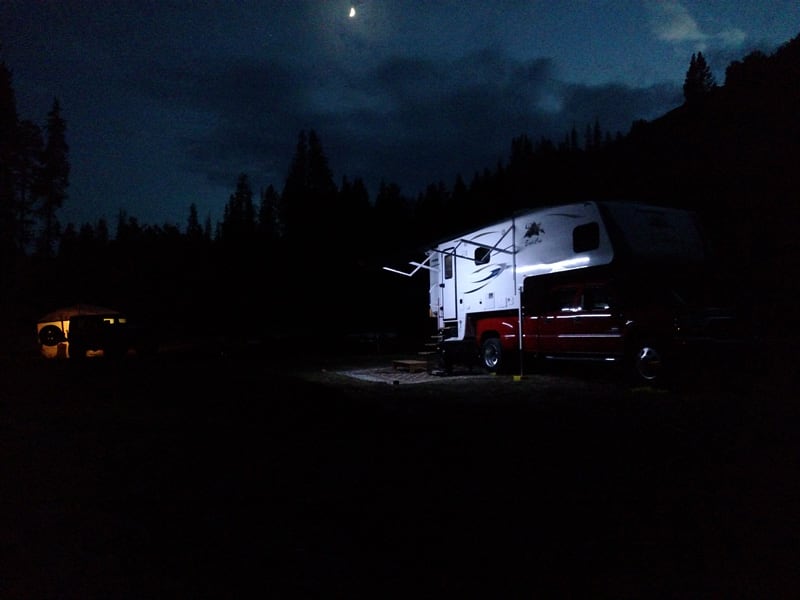 We had set up camp the night before in a remote spot along the access road to Holly Cross 4X4 Trail Head located between Vail and Leadville.  The first night it rained from 4:00pm to sometime in the night.  I fell asleep to the nice tapping sound of the rain on the camper.  The rain cooled things off and reduced some of the dust from the extremely dry conditions.
The next night we were sitting around the fire ring with a Coleman lantern due to the fire bans.  I heard a noise in the night and looked back towards the camper.  It was lit up from the LED awning lights, the moon, and the glow from one of the tents silhouetting one of the Jeeps.
A nice warm feeling came over me thinking of how lucky I am to be able to share this wonderful location and view with friends.  I went and got my cell phone (which had no signal in the remote location) and snapped the picture.
Brent Koops
Glessner Covered Bridge, Stonycreek Township, Pennsylvania
2016 Chevy Silverado 2500
2016 Four Wheel Hawk
Camera Used – Canon 7D Mark II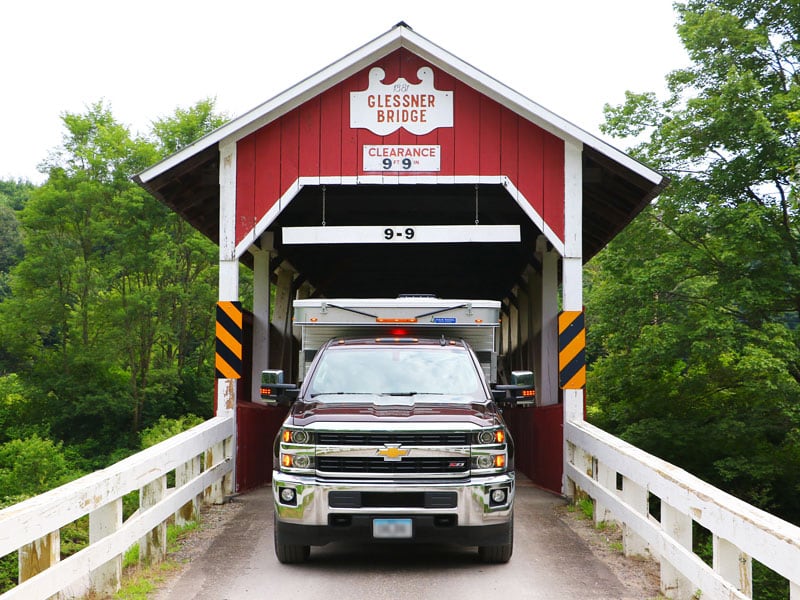 "Do you think it will fit!?", we asked each other as we crept up to this narrow covered bridge in rural Pennsylvania.  This gorgeous covered bridge was on the list of numerous covered bridges and other neat sights in the area of western Pennsylvania.  Definitely worth seeing with beautiful spots to camp and discover!
Chuck Pearson
White Lake Provincial Park, Ontario
2008 Chevy Silverado
2013 Hallmark K2
Camera Used – Canon EOS XSI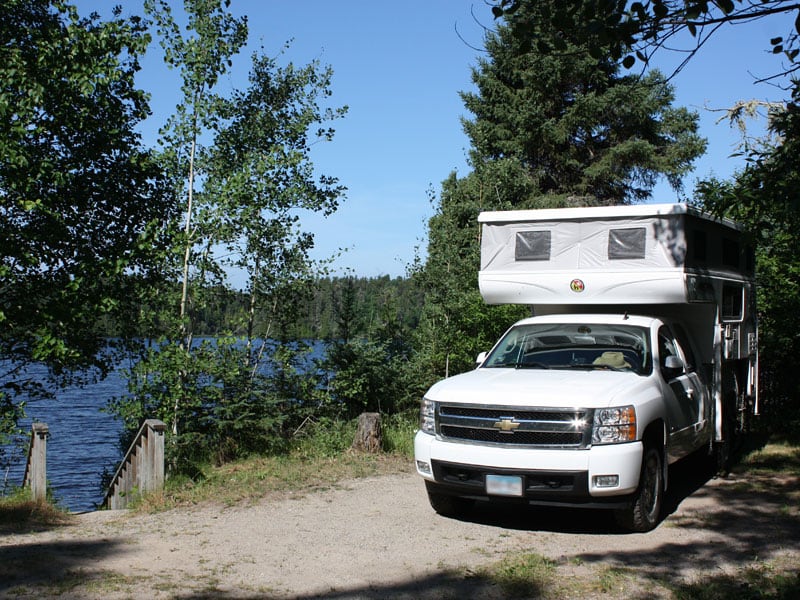 We pre-booked this campsite at White Lake Provincial Park because it was right on the lake and had a stairway down to a private beach, which is handy for swimming or bathing.  It was designated as a windy site, but had some trees to block it.  There was still enough wind to keep the bugs away.
We only stayed one night here on our Lake Superior Circle Tour, but should have stayed a couple more.  The campground had great amenities with very private, wooded campsites in a beautiful forest!
David Fradkin
Ludington, Michigan
2017 GMC 3500
2017 Lance 975
Camera Used – Panasonic Lumix GF-1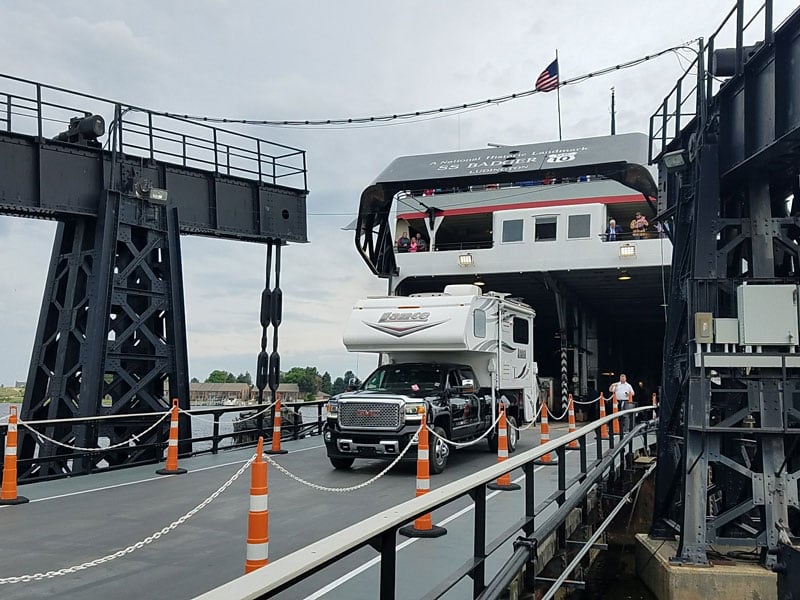 We live in Pennsylvania and have mostly gone RVing in the southeast.  We always said that once I retire we wanted to travel the United States.  So it finally happened.
In June of 2018, we loaded up the Lance and traveled out west.  We hit 16 states.  The main focus of our trip was Yellowstone, Mt. Rushmore and Arches National Park in Moab, Utah.
We took a northern route out west which took us through Michigan to visit family in Grand Rapids.  We wanted to go through Wisconsin, Minnesota and North Dakota as we progressed west.  Rather than going south around Lake Michigan and back up, we took the four hour cruise on the S.S. Badger ferry across Lake Michigan from Ludington, Michigan to Manitowoc, Wisconsin.
It was such an interesting trip.  The S.S. Badger is the last steam powered ship in the United States, probably the world.  Yes, steam powered.  The ship was originally built to carry 60 ore cars back and forth on the lake.  It also served in World War II.
I can't describe how huge this ship was.  It swallowed up our rig like it was a peanut.  In fact, there was a tractor trailer loaded on as well.  It had a movie theater, bar and restaurant as well as two TV lounges and observation decks.  It was a wonderful trip.   Definitely try it if you can.
Gary Usher
Long Point Park, Melbourne Beach, Florida
2017 Ford F350
2015 Lance 1172
Camera Used – Panasonic Lumix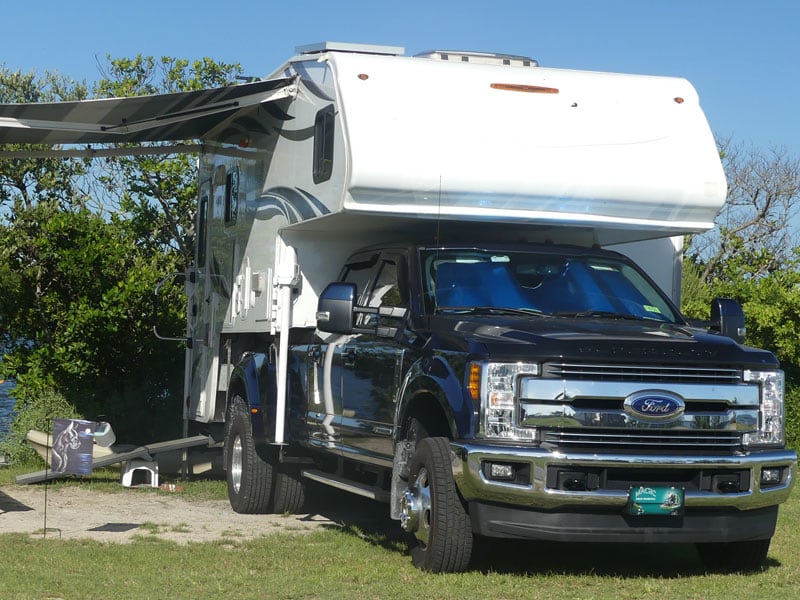 Long Point is my "home" campground.  It's about 30-minutes from my house.  It's right on the water has great people and fantastic fishing.  Can't wait to return!
Gregory Parker
Creede, Colorado
2012 Chevy Silverado
2017 Northern Lite 8-11 QCSE
Camera Used – Phone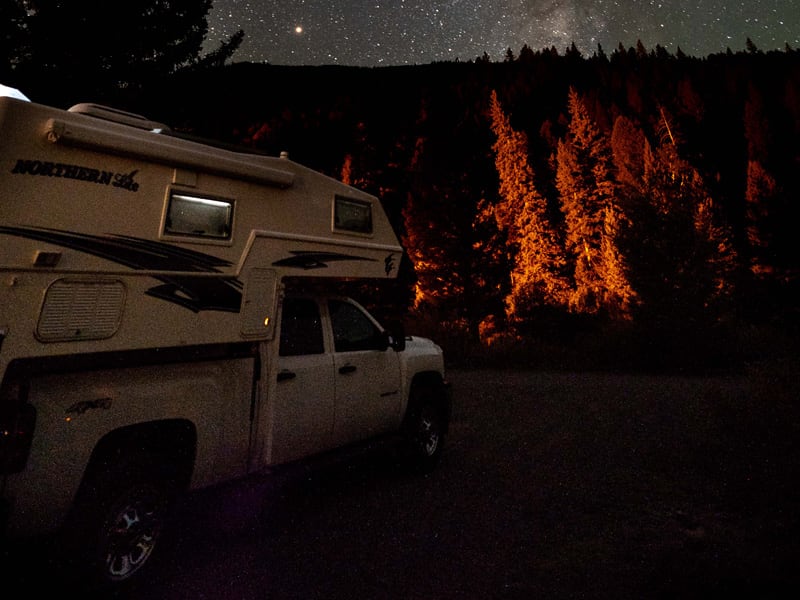 We were camping near Creede, Colorado while exploring the town.  There is a nationally recognized repertory theater group there and we attended the last performance of the season.  As a bonus, there was an excellent classic car show there on the same day.
We camped right next to the Rio Grande River which has its source in the area.  The moon set early, leaving a wondrous display of stars for me to photograph.
David Jolly
Great Sand Dunes National Park, Colorado
2012 Toyota Tundra
2009 Phoenix Camper
Camera Used – Canon EOS Rebel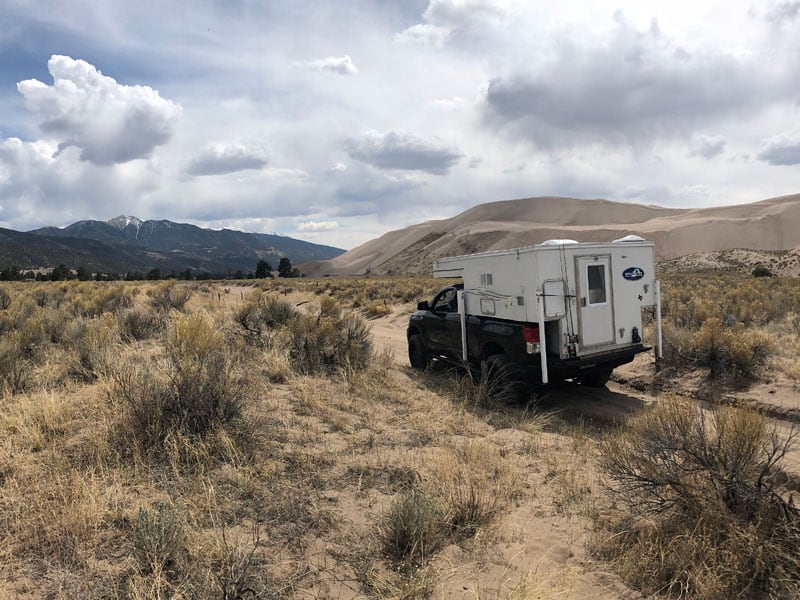 This was just one of my spur of the moment trips to Colorado; the second one before summer in fact. I decided to National Park hop and this was the first stop. I found the shot interesting between the two different types of landscapes. The mountains of sand are next to the actual mountains.
Sonja Jernstrom
Western Lagunas Route, SW Bolivia
2008 Toyota Tundra
2015 Four Wheel Camper Hawk
Camera Used – Olympus OMD Mark II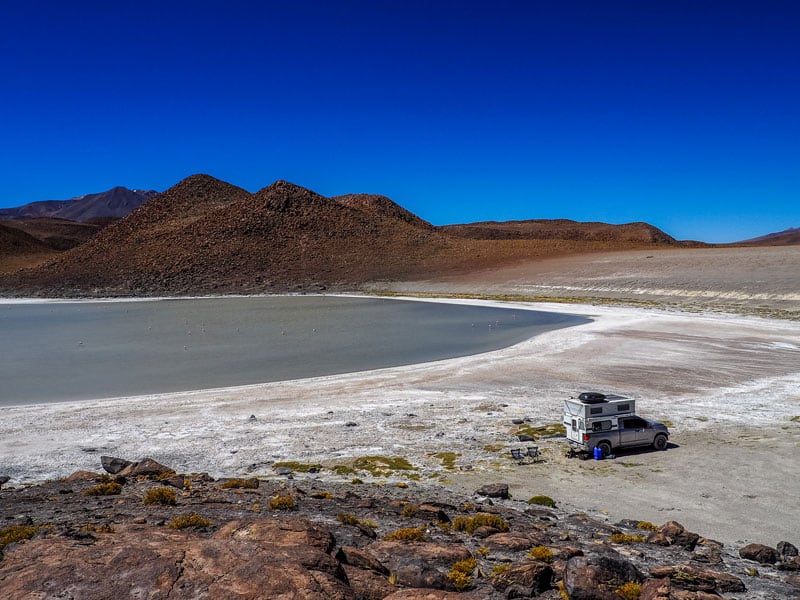 My husband and I, along with our two children (ages 3 and 6), decided to drive the Pan American Highway from Seattle to the tip of Argentina.  We did a preliminary shake-down cruise up to the Arctic Circle in Alaska in 2016 to make sure we could tolerate four people in close quarters for an extended period.
We survived that adventure so we began heading south in June of 2017.  After shipping the truck across the Darien Gap in October, we made our way through Colombia, Ecuador, and Peru before entering Bolivia.  Bolivia is a land of extremes: altitudes, temperatures, and road conditions all proved challenging.
The Western Lagunas Route is a 450-kilometer track through the Andes Mountains in the very southwest corner of the country.  While portions of it are within a national park, most of it is simply a vast, nearly uninhabited stretch of arid, high mountain desert.  There are few amenities: overlanders must stock up on food, gasoline, and water in Uyuni and be prepared for self-recovery efforts.
This campsite was perched beside a small salt lake inhabited by flamingos.  At roughly 14,000-feet above sea level, the temperature fluctuations were brutal and the wind was fierce.  It was definitely one of our more adventurous campsites in our eight months of Pan American travel.
Nancy Stevenson
The Million Dollar Highway, Route 550, Colorado
2015 Ford F350
2017 Capri Retreat
Camera Used – Canon Power Shot HD 60X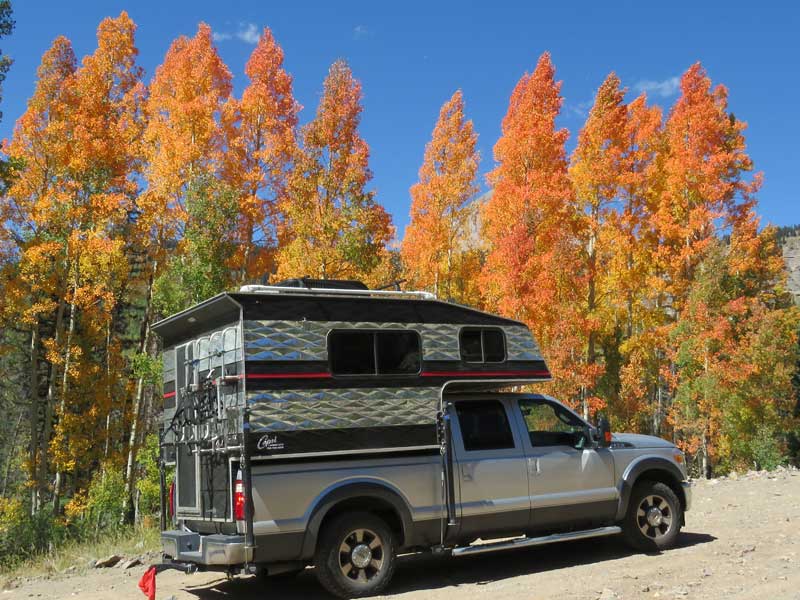 Three weeks ago we were camping at Mesa Verde National Park.  We decided to take a Sunday afternoon drive up to Silverton, Colorado to get some barbecue at Thee Pitts Again restaurant.  Along the way the hillsides were covered with golden aspens.  Then the orange/red trees showed up and we said, "Whoops, this will be a good picture to send in for the calendar contest".  So here it is!
Gaston Belanger
Utah
2017 Ram 3500
2017 Northern Lite 9-6 Q SE
Camera Used – Kodak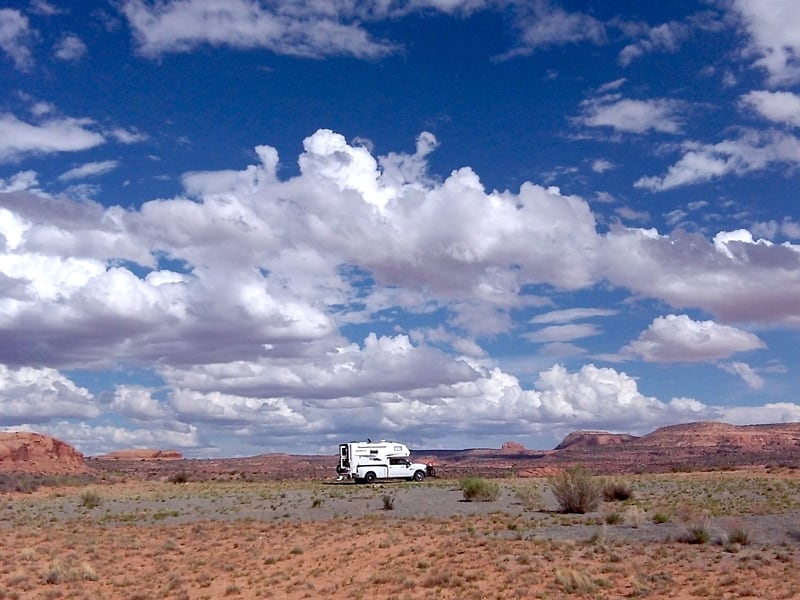 Boondock camping in the beautiful Utah desert.
Diane Erhart
Grand Teton National Park, Wyoming
2002 Dodge Ram 2500
2016 Northstar 950SC
Camera Used – Nikon D810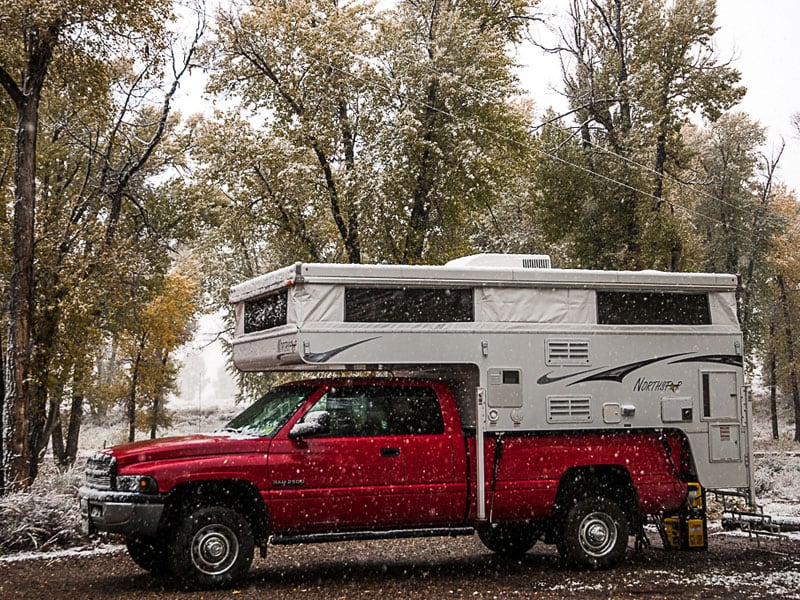 Our annual trip to the Grand Tetons occurs the end of September or early October in Gros Ventre campground.  This is one of the few times we utilize a campground.  Usually we are on BLM and National Forest land.
Our niece and nephew joined us and we got up early before the sunrise to get to a place to photograph the wildlife and landscapes.  We were very lucky to find bull moose, elk, and a grizzly bear.
The fall colors are spectacular with the aspen leaves showing a golden shimmer with a touch of orange here and there.  The mountain maple turns a brilliant red.  By the time the snow had quit there was over 8-inches on the ground.
We have camped in the fall in 20-degree weather and have stayed very warm.  We purchased two Champion 2000-watt inverters, which we use to charge batteries if needed, and for emergencies.
Zac Freeman
Valley of the Gods, Utah
2010 GMC Sierra 2500HD
2004 Starcraft Lonestar
Camera Used – iPhone 8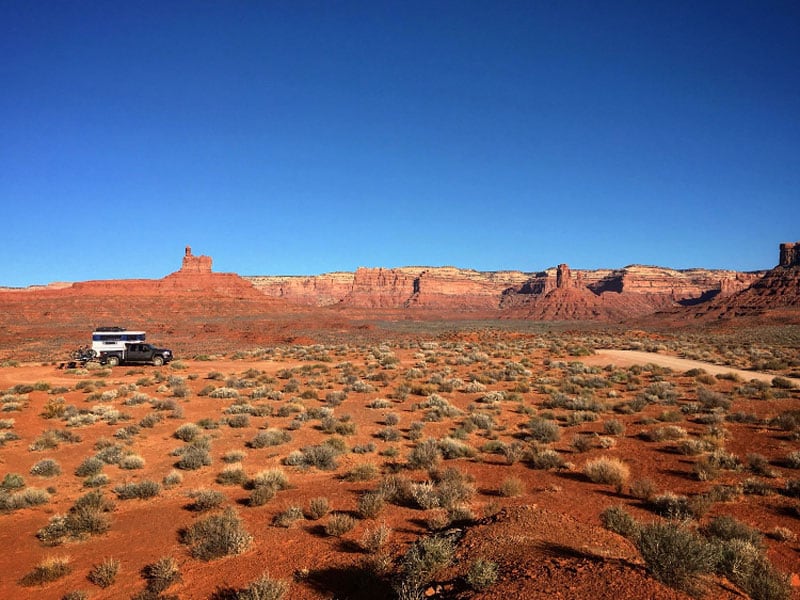 This was from a one-month road trip my wife, our three-year old son and myself took this past spring.  We live in Vermont, but traveled to Colorado, Utah, Arizona, and New Mexico, riding our mountain bikes, hiking and visiting family and friends.  It was incredible.
The highlight from a 100-perecnt pure standpoint was this; Valley of the Gods, Utah.  No developments, no fees, no people, and the most serene and powerful place we've ever been.  We spent two days there exploring and could have stayed two weeks!  It was magical.  We will go back.
Burt Godwin
Sierra Nevada Mountain Range, California
2005 GMC 2500HD
2015 Wolf Creek 850
Camera Used – Canon T6i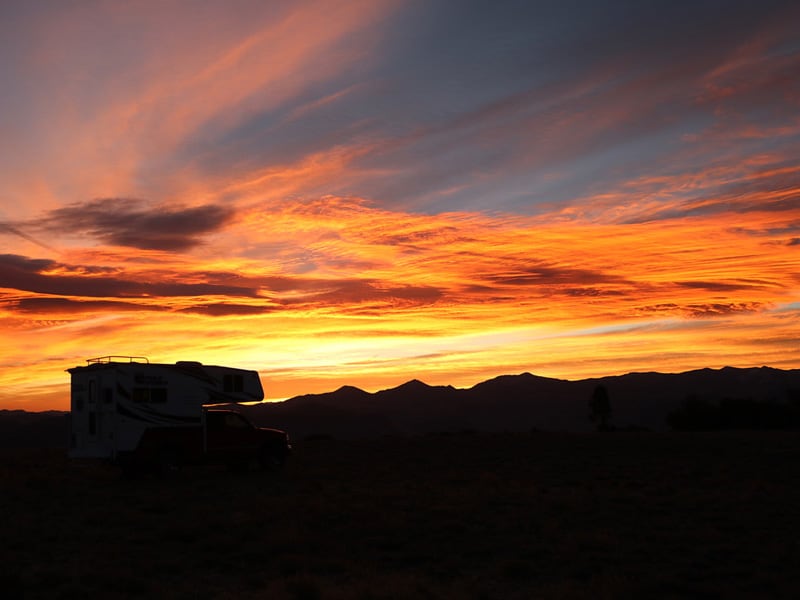 I shot this photo while camped at one of my most favorite spots in the Sierra Nevada in order to enter the TCM calendar contest.  While searching for an elevated spot to watch the Perseids last year, I discovered this area on a topo map and have returned several times.  It's wide open to the sky so stargazing is epic.  There is clear air and spectacular views of other mountain ranges nearby.
Click here to participate in the 2019 Truck Camper Magazine Calendar Contest and be considered for a Behind the Shot feature.