For Behind the Shot Part 12, we are featuring photos and stories from Gold Butte National Monument, Deschutes National Forest, Jane's Island State Park, and many more!
Click here to participate in the 2019 Truck Camper Magazine Calendar Contest and be considered for a Behind the Shot feature.
Dave Edwards
Gold Butte National Monument, Nevada
2013 Ford F-150
2016 Four Wheel Camper Hawk
Camera Used – Canon SL-1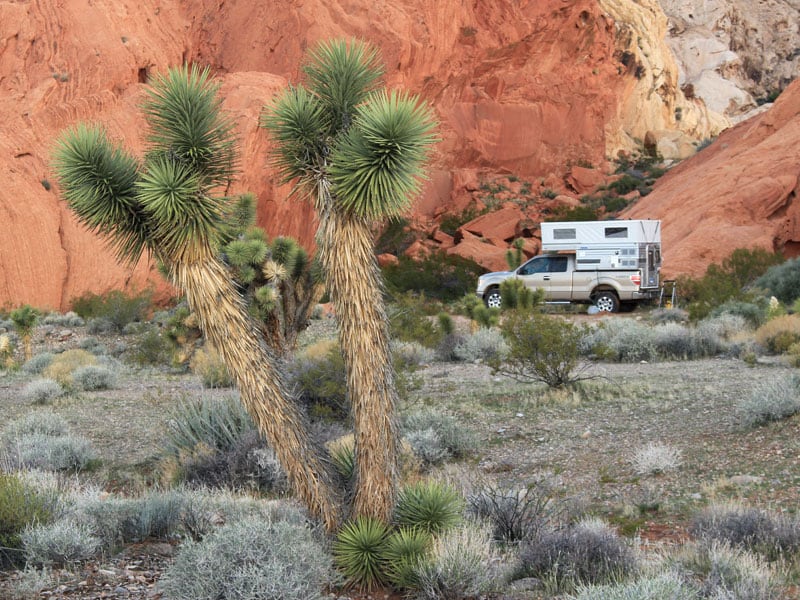 We normally take a month-long trip in the spring into the desert Southwest to go looking for wildflowers in the Mojave – particularly in California.
In the spring of 2018, the flowers were not doing too much, so we altered our trip to take in parts of Nevada that we had never seen before.  After a couple of nights at Valley of Fire we headed east to Gold Butte National Monument.
The road south from the interstate is "paved".  In that manner, it often makes pure dirt roads preferable.  Alignment-rattling potholes are seemingly everywhere.  The pavement ends at the monument boundary.  I had some ideas about where to camp from Google Earth, but a storm was moving in and the wind was cold and steady.
We found this spot on the leeward side of some rocks and hunkered down while the rain pelted the camper and snow fell just above us in the Virgin Mountains.  Early the next morning I grabbed this image of the camper and a large yucca with a background of red rock.
Diane Erhart
Central Montana
2002 Dodge Ram 2500 and 2001 Dodge Ram 2500
2016 Northstar 950SC and 2014 Northstar 850SC
Camera Used – Samsung phone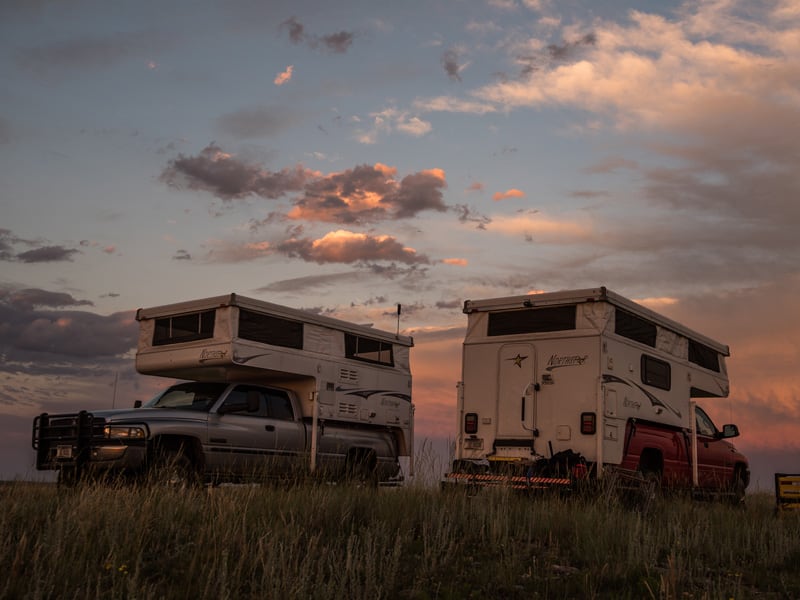 After our friends checked out our pop-up Northstar, they decided to purchase one as well.  Now we travel together usually taking our UTV with us to explore various areas which are not accessible easily by pickups.
This evening we were on a ranch in central Montana to photograph an ancient wooden oil pump jack, which is about a 100-years old.  The skies were incredible with great color in the Big Sky, Montana.  Montana's nickname is Big Sky Country.
We like the fact we can bounce over two-track roads miles from any main county road.  Our campers show no signs of wear or falling apart – as our previous campers did.
Leanne Ellard
Biggar, Saskatchewan
2006 Ford F-350
2001 Lance 1121
Camera Used – Samsung S7 Edge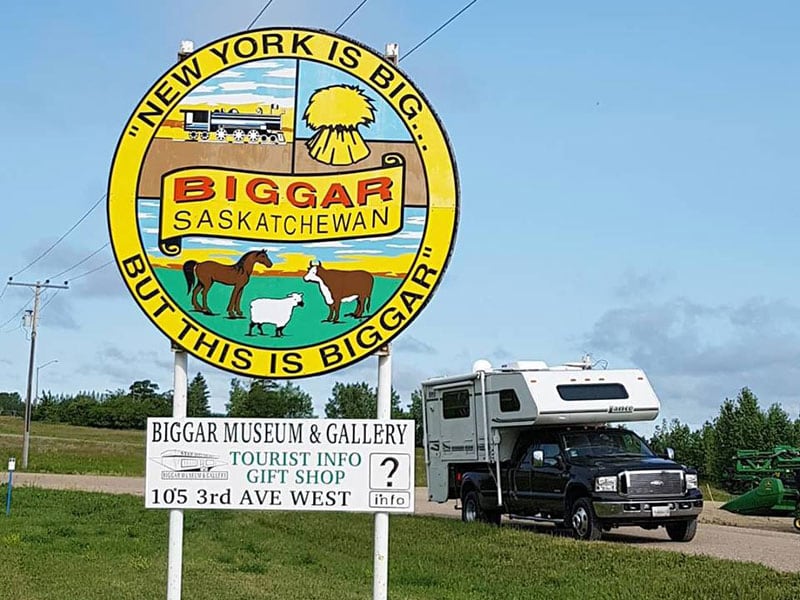 When we travel out west, I always try to stop in Biggar, Saskatchewan.  In 1909 my Grandparents homesteaded and began to raise a large farm family.  My Dad was born there in 1933 and, as a child, we often returned to visit family and hear stories of life on the farm.
The iconic sign holds the values and humor found in those living in rural Saskatchewan.  It will always generate a smile from residents and travelers!
Jean Fouty
Red Gulch/Alkali Backcountry Byway, Wyoming
2013 Ford F-250
2014 Hallmark Cuchara
Camera Used – iPhone 6S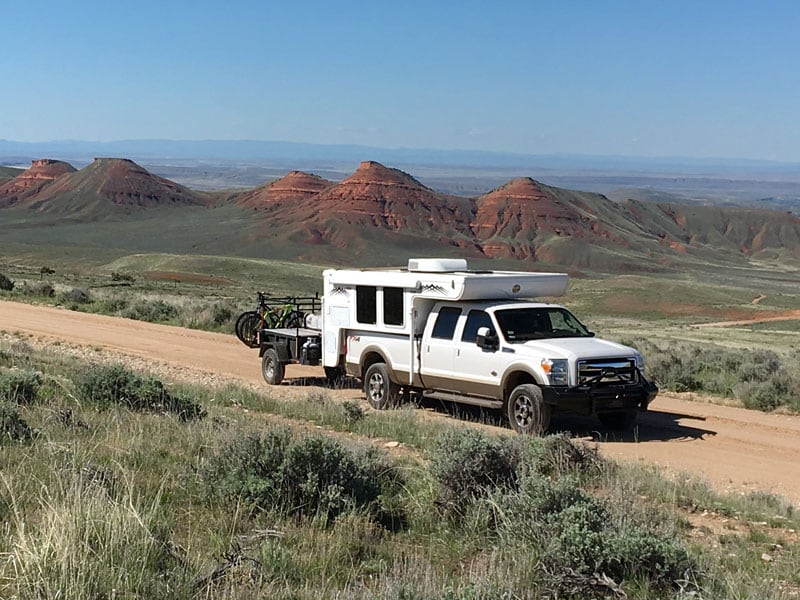 It was mid-May.  After traveling through the Big Horn Mountains on Highway 16 with an overnight camp at Medicine Lodge Archeology Site, we ventured onto this Red Gulch/Alkali Road.  It is a designated scenic backcountry byway.