For Behind the Shot Part 12, we are featuring photos and stories from Gold Butte National Monument, Deschutes National Forest, Jane's Island State Park, and many more!
Click here to participate in the 2019 Truck Camper Magazine Calendar Contest and be considered for a Behind the Shot feature.
Dave Edwards
Gold Butte National Monument, Nevada
2013 Ford F-150
2016 Four Wheel Camper Hawk
Camera Used – Canon SL-1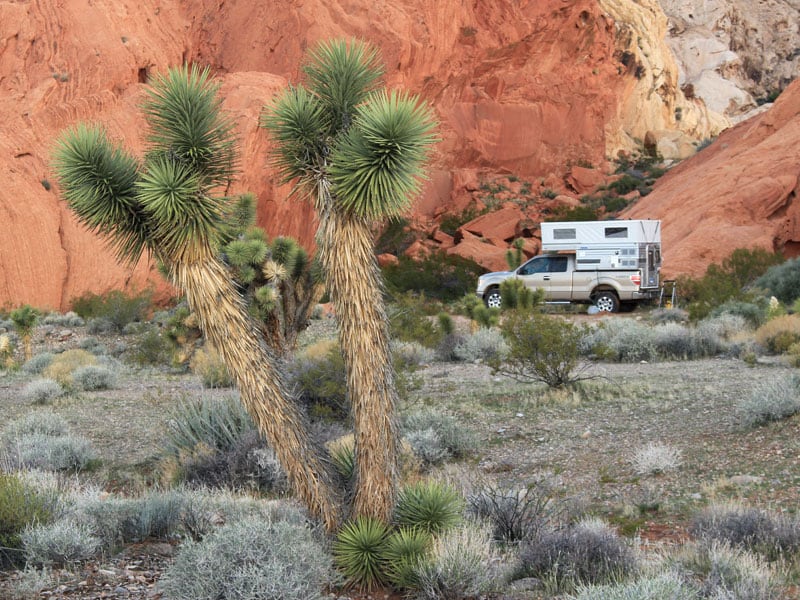 We normally take a month-long trip in the spring into the desert Southwest to go looking for wildflowers in the Mojave – particularly in California.
In the spring of 2018, the flowers were not doing too much, so we altered our trip to take in parts of Nevada that we had never seen before.  After a couple of nights at Valley of Fire we headed east to Gold Butte National Monument.
The road south from the interstate is "paved".  In that manner, it often makes pure dirt roads preferable.  Alignment-rattling potholes are seemingly everywhere.  The pavement ends at the monument boundary.  I had some ideas about where to camp from Google Earth, but a storm was moving in and the wind was cold and steady.
We found this spot on the leeward side of some rocks and hunkered down while the rain pelted the camper and snow fell just above us in the Virgin Mountains.  Early the next morning I grabbed this image of the camper and a large yucca with a background of red rock.
Diane Erhart
Central Montana
2002 Dodge Ram 2500 and 2001 Dodge Ram 2500
2016 Northstar 950SC and 2014 Northstar 850SC
Camera Used – Samsung phone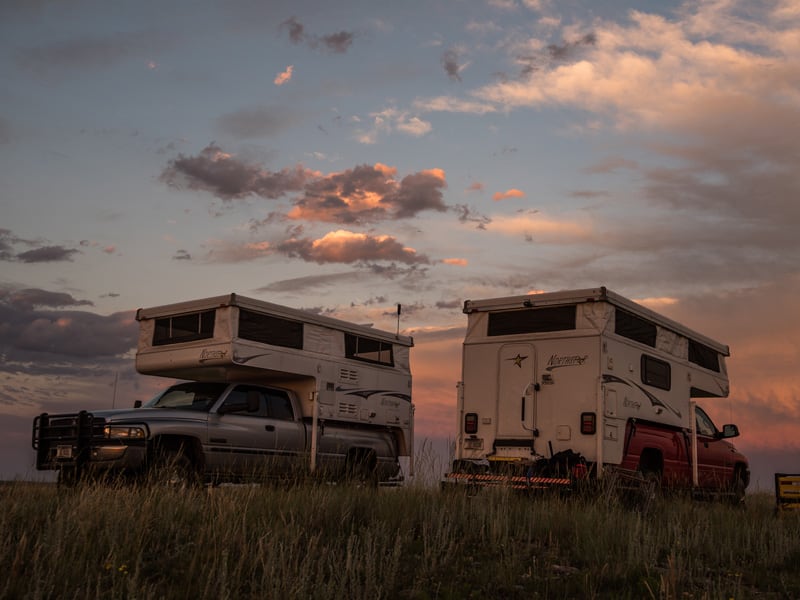 After our friends checked out our pop-up Northstar, they decided to purchase one as well.  Now we travel together usually taking our UTV with us to explore various areas which are not accessible easily by pickups.
This evening we were on a ranch in central Montana to photograph an ancient wooden oil pump jack, which is about a 100-years old.  The skies were incredible with great color in the Big Sky, Montana.  Montana's nickname is Big Sky Country.
We like the fact we can bounce over two-track roads miles from any main county road.  Our campers show no signs of wear or falling apart – as our previous campers did.
Leanne Ellard
Biggar, Saskatchewan
2006 Ford F-350
2001 Lance 1121
Camera Used – Samsung S7 Edge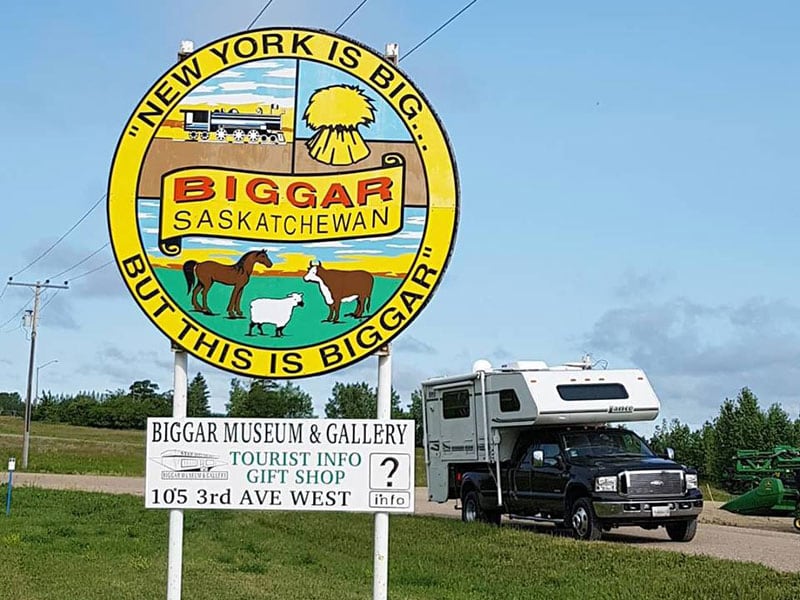 When we travel out west, I always try to stop in Biggar, Saskatchewan.  In 1909 my Grandparents homesteaded and began to raise a large farm family.  My Dad was born there in 1933 and, as a child, we often returned to visit family and hear stories of life on the farm.
The iconic sign holds the values and humor found in those living in rural Saskatchewan.  It will always generate a smile from residents and travelers!
Jean Fouty
Red Gulch/Alkali Backcountry Byway, Wyoming
2013 Ford F-250
2014 Hallmark Cuchara
Camera Used – iPhone 6S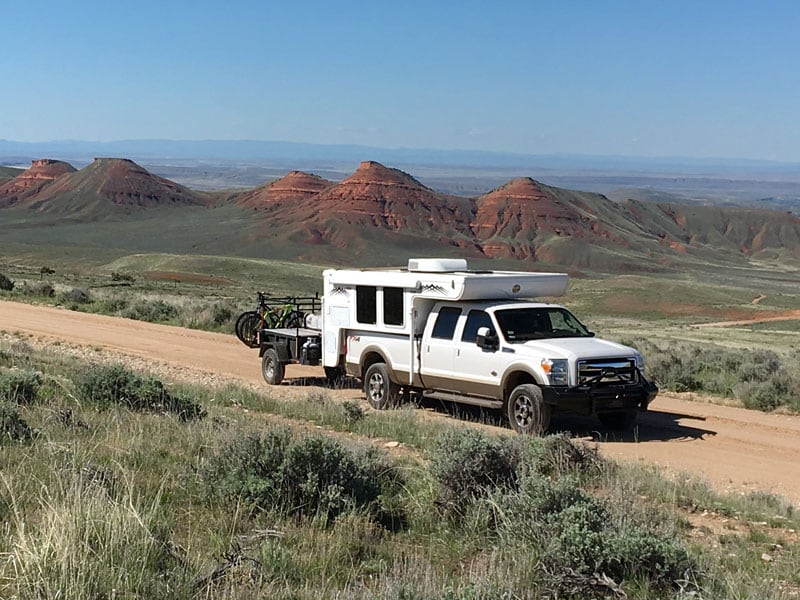 It was mid-May.  After traveling through the Big Horn Mountains on Highway 16 with an overnight camp at Medicine Lodge Archeology Site, we ventured onto this Red Gulch/Alkali Road.  It is a designated scenic backcountry byway.
It did not disappoint.  The vistas were breathtaking.  It was a little rough, muddy, and slow going at times, but it was two to three hours of adventure before coming out the other end.
Shawn McMillian
Canyonlands National Park, Needles District, Utah
2016 Ford F-250
2018 Wolf Creek 850
Camera Used – Nikon D90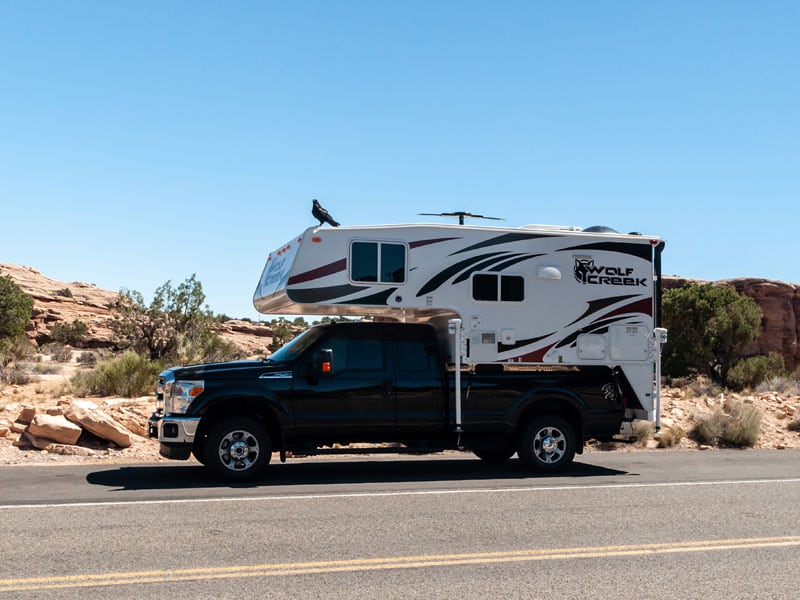 Everyone goes to the national parks to see wildlife.  We're no different.  The animal we see the most is the Raven.  They seem to follow us and are always up to no good.
Bill Lenz
Blue Ridge Parkway, North Carolina
2014 Ford F-150
1992 Shadow Cruiser
Camera Used – GE E850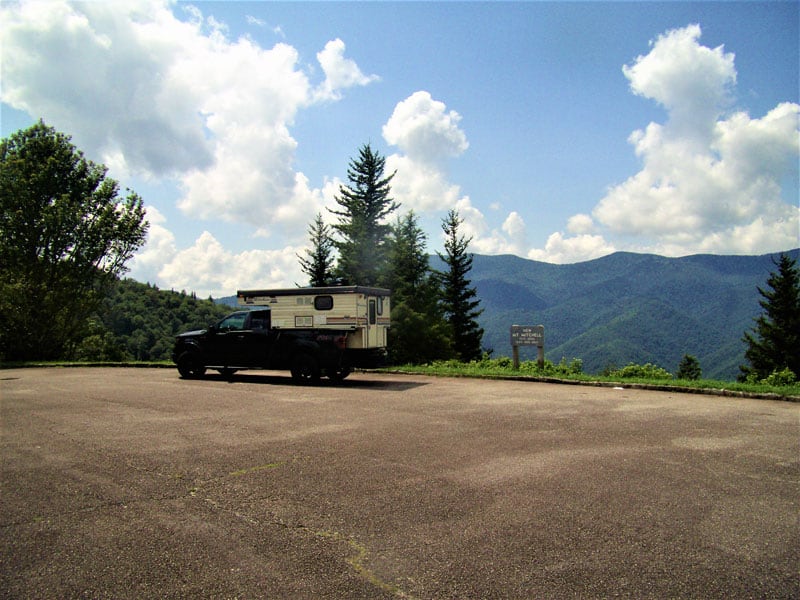 We spent two weeks traveling the entire length of the Blue Ridge Parkway (BRP).  We went from Virginia and North Carolina into Tennessee, camping at several National Park Service campgrounds, located directly on the parkway.
Taking many pictures, I think this photo stands out the best.  It was taken from an overlook at 4,825-feet in elevation.  We are looking the highest peak east of the Mississippi River; Mt. Mitchell, North Carolina.
The mountain peak is 6,684-feet above sea level, and can be accessed at Mile Marker 355.4 on the BRP.  Then, it's a state road almost to the top.  There is a wonderful observation deck at the very top that is not to be missed!
Ed Keith
Trapper Creek Campground, Deschutes National Forest, Oregon
2006 Toyota Tacoma
1996 Four Wheel Camper Eagle
Camera Used – LG V30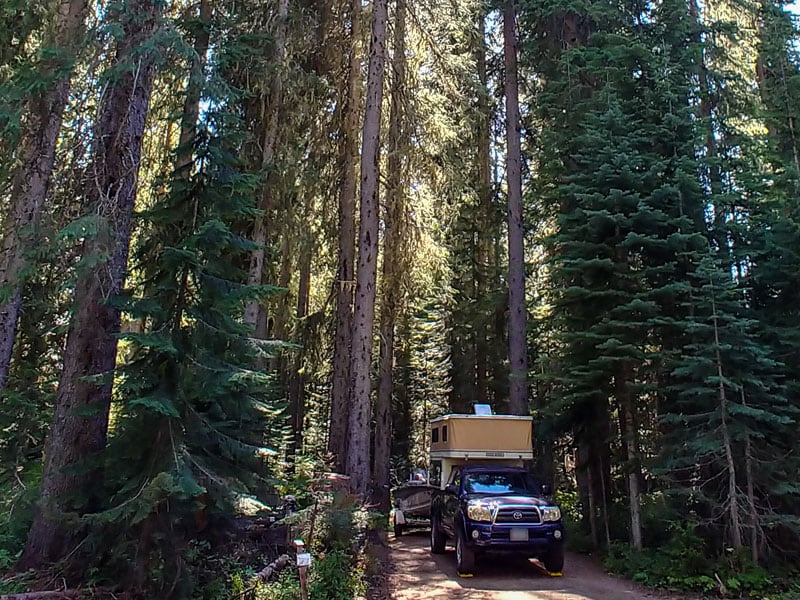 This was shot at Trapper Creek Campground on the Deschutes National Forest.  This is our favorite developed campground.  You can find us here many weekends throughout the summer.
It is located right on Odell Lake which has a great Kokanee fishery.  It's a beautiful lake to spend the day looking at the beautiful forest and Diamond Peak.  The campground is filled with tall spruce and fir as well as wild blueberries.  Usually it has an osprey or eagle circling overhead.
Mike Nunez
San Simeon State Beach, California
2001 Ford F-250
2011 Lance 865
Camera Used – Phone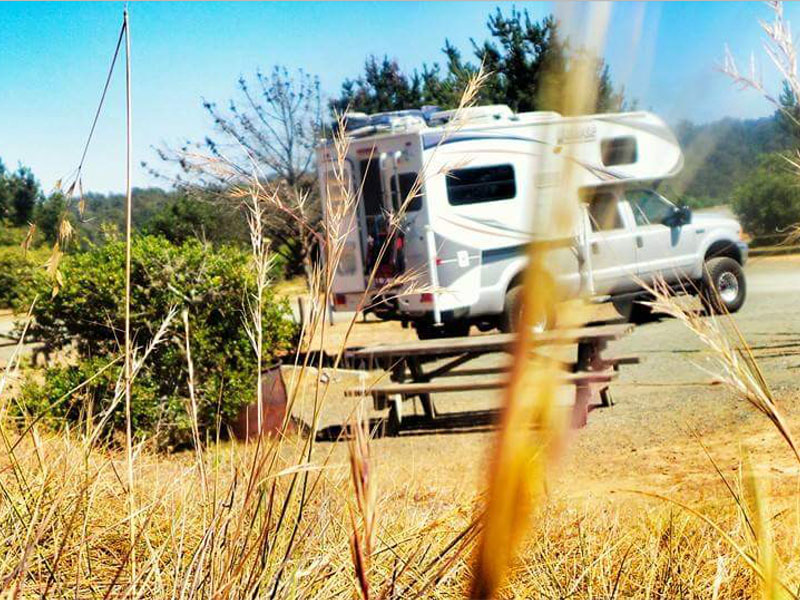 San Simeon State Beach is always a great place to camp when visiting Moonstone Beach, Cambria, and Hearst Castle!
Bill Carroll
Jane's Island State Park, Maryland
Chevrolet Silverado 3500
Eagle Cap 950
Camera Used – Samsung phone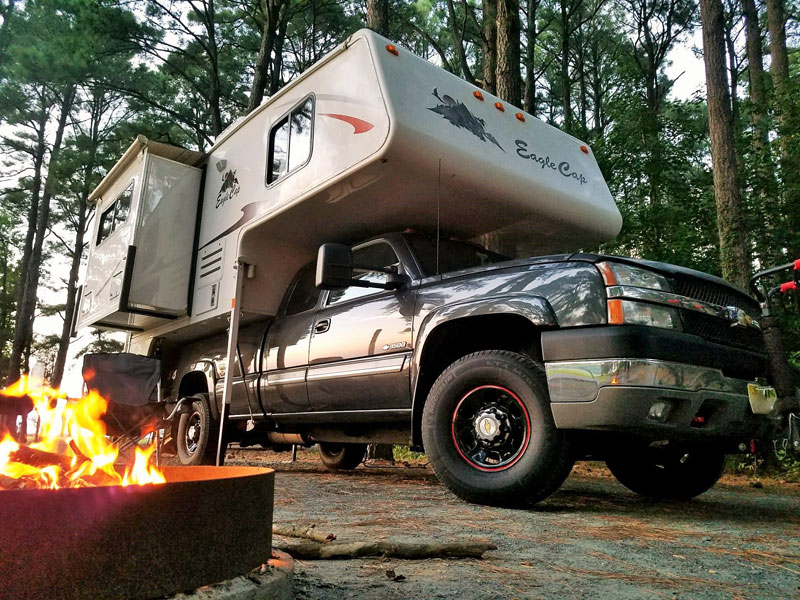 This is a waterfront spot at Jane's Island State Park.  I lucked out reserving the spot.  We were told reservations need to be made far in advance to get this location and that somebody must have canceled.  It's a great park for kayaking, canoeing, and especially crabbing.
Rich Bain
Cove Palisades State Park, Oregon
2004 Dodge 3500
2010 Adventurer 810WS
Camera Used – Galaxy S7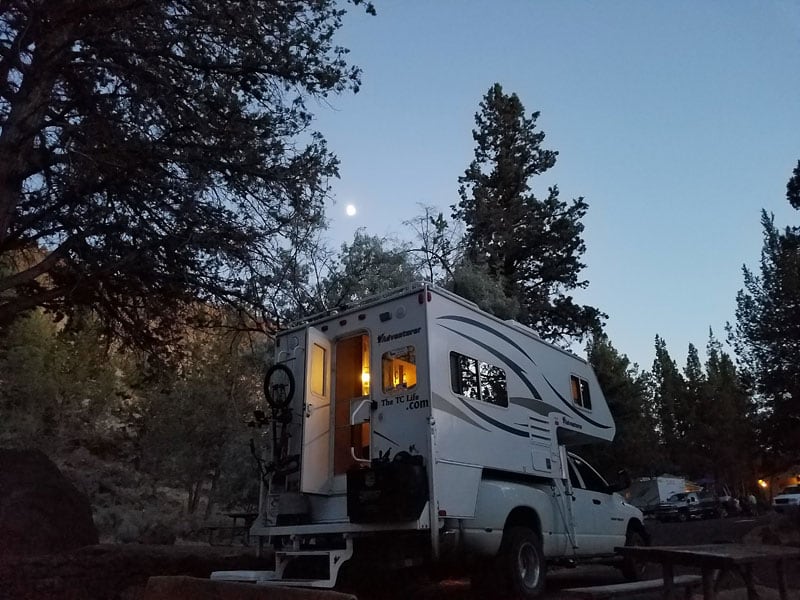 We stayed at Cove Palisades State Park on our two week Oregon tour.  The very sad part of this picture is that it was our last night of our vacation.
There was only one night left to just hang around the camper and relax, and only one more night to take in the sights of what Oregon has to offer.  And only one more night of sharing our camper bed with our five dachshunds.  Yes, it was kind of sad.  What great memories we have from that trip.
We stayed at several Oregon state parks on that trip and loved them all.  Oregon should be very proud of the state parks they have.  They are excellent.
We look forward to a return trip to the Oregon state parks.  We will be back in spring and summer of 2019.  We are already excited about the return trip in our camper.
Clifford Craft
Alabama Hills, California
2017 Chevy 2500HD
2006 Lance 815
Camera Used – Samsung Galaxy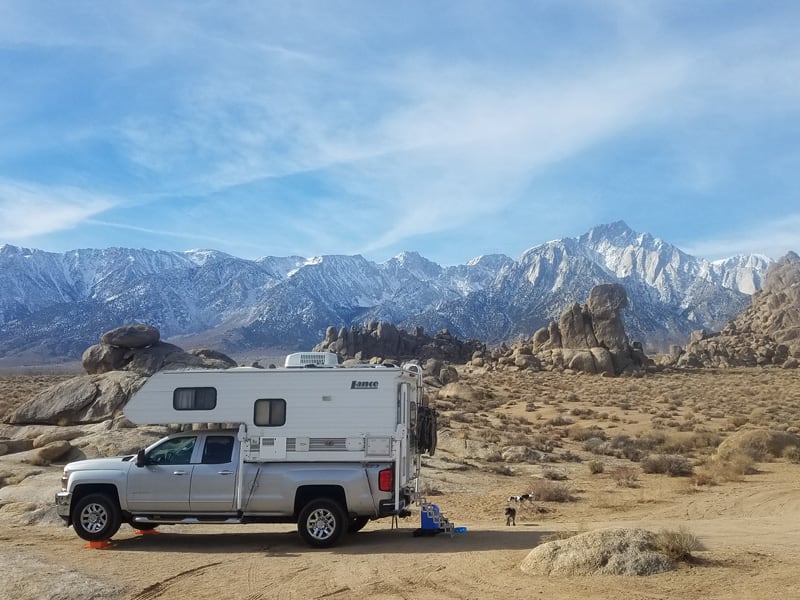 This was from our very first trip in our new to us truck camper.  We had wanted to camp in the Alabama Hills for a long time, but never had time.  This is fairly close to home and far enough away to be a good first trip for us 'new to truck camping' people.
Leonard Eagle, Jr.
Seven Devils Mountains, Hells Canyon, Idaho
2009 Ford F-450
2008 Okanagan 126TKS
Camera Used – Panasonic DMC-ZS 40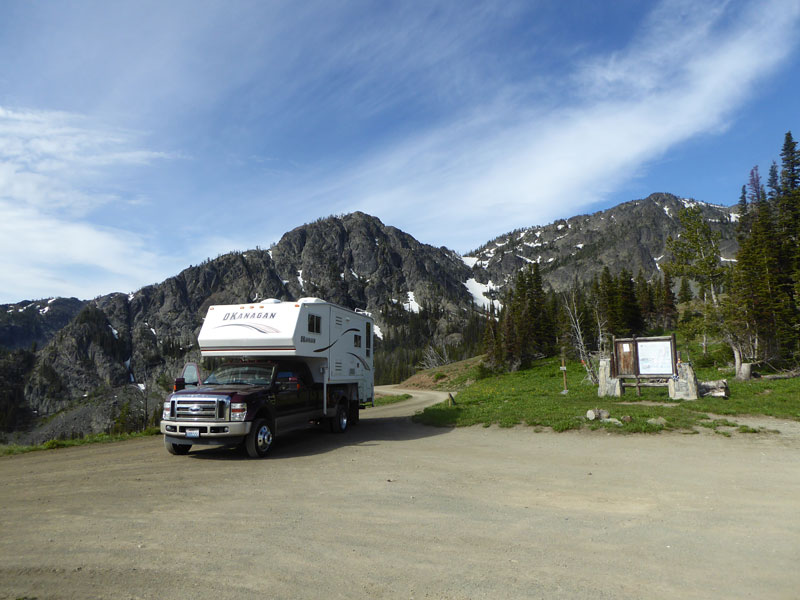 Click here to participate in the 2019 Truck Camper Magazine Calendar Contest and be considered for a Behind the Shot feature.