For Behind the Shot Part 11, we are featuring photos and stories from Grand Escalante National Monument, Bridal Veil Falls, Golden Hill State Park, and many more!
Click here to participate in the 2019 Truck Camper Magazine Calendar Contest and be considered for a Behind the Shot feature.
Shelley Pike
Grand Escalante National Monument, Utah
2009 Ford F-350
2006 Lance SC950
Camera Used – Olympus E1 Mark II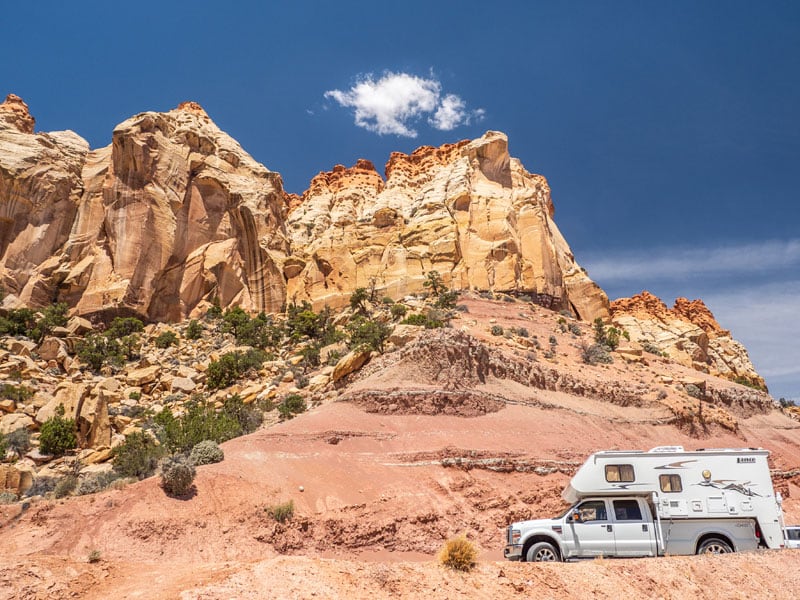 We were driving Highway 12 in Grand Escalante and came upon an overlook.  After parking in the turnout and walking down to the overlook to take pictures, I turned around and spotted the truck and camper silhouetted against the colorful mountain above us.
Jeff Dieter
Golden Hill State Park, New York
Chevy Silverado 3500
Lance 1172
Camera Used – iPhone 8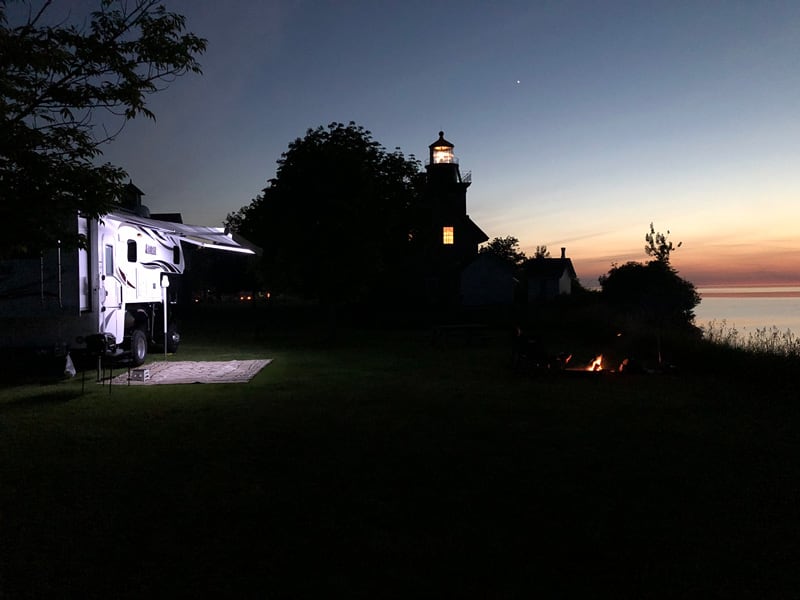 We had been looking for an interesting place to camp where we could get a beautiful view of the lake and breath taking sunsets.  We found a location next to the Thirty Mile lighthouse which exceeded our expectations.
Thirty Mile Point lighthouse is in the background and is located on the south shore of Lake Ontario in Niagara County, New York.  It is part of Golden Hill State Park, which is a New York State Park.
The lighthouse gets its name because it is the point 30-miles east of the Niagara River.  It was built in 1875 of hand-carved stone.
The Thirty Mile Lighthouse was decommissioned by the U.S. Coast Guard in 1958 and is open to the public year round.
Neil and Yoly Mullen
Bridal Veil Falls, Highway 64, Highlands, North Carolina
2016 Ram 2500HD
2018 Eureka
Camera Used – Canon Powershot ELPH 330HS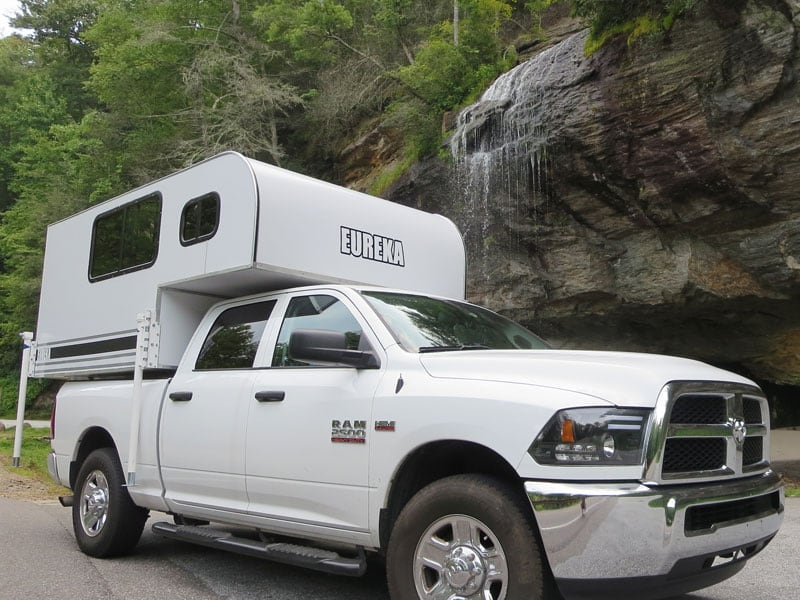 Yoly and I were escaping the 90-degree heat of north Georgia and traveling the easy 100-miles to the mountains of western North Carolina.  It brought us to a beautiful National Forest Campground called Van Hook Glade at an elevation of 4,115 feet.  It is located off Highway 64 just west of Highlands, North Carolina.  The daytime temperatures hovered around 76 each day.  We really enjoyed our time there.
Bridal Veil Falls is the least spectacular of the three nearby falls but the only one you could park next to.  I had planned on shooting photos with my Phantom 3 drone with the Eureka staged at one of the turnouts overlooking the valley.  The photos were spectacular, but I didn't notice until we got home that the camera was not set correctly.  I usually just shoot video.  All of them were thumbnail size and not suitable.
Craig Lembke
Lady Bird Johnson Redwood Park, California
2009 Chevy 3500
2016 Lance 1050S
Camera Used – Apple iPad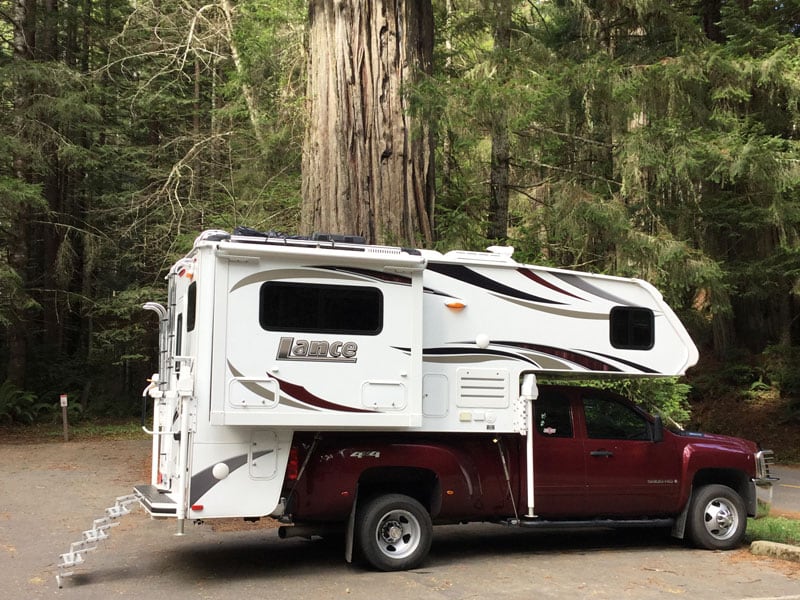 We walked through the Redwoods and there was our tiny truck camper and a monster Redwood – Wow!
Jim and Irene Thompson
South of Ennis, Montana
1999 Ford F-350 SD
2001 Kodiak K-99
Camera Used – Canon 7D Mark II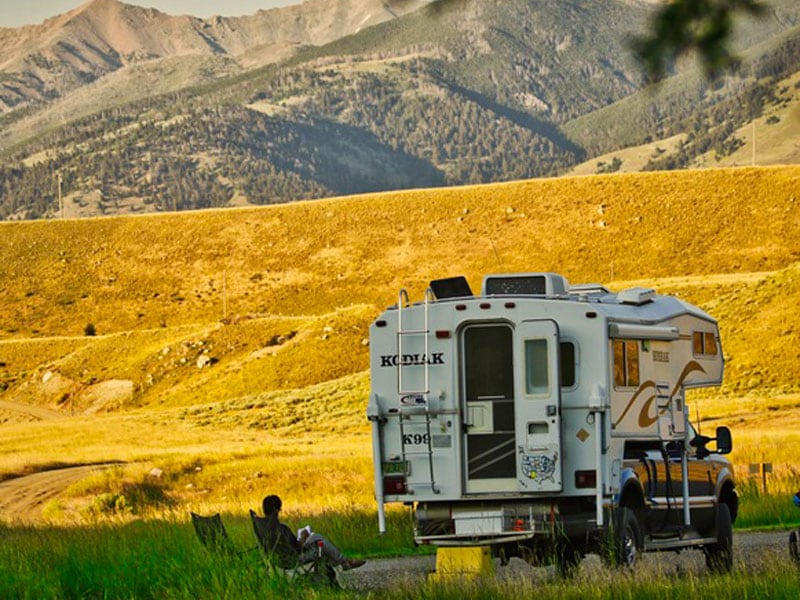 Ken Anderson
Southern Oregon coast
2004 Dodge 3500
1997 Lance Squire 9500 11'3″
Camera Used – Samsung phone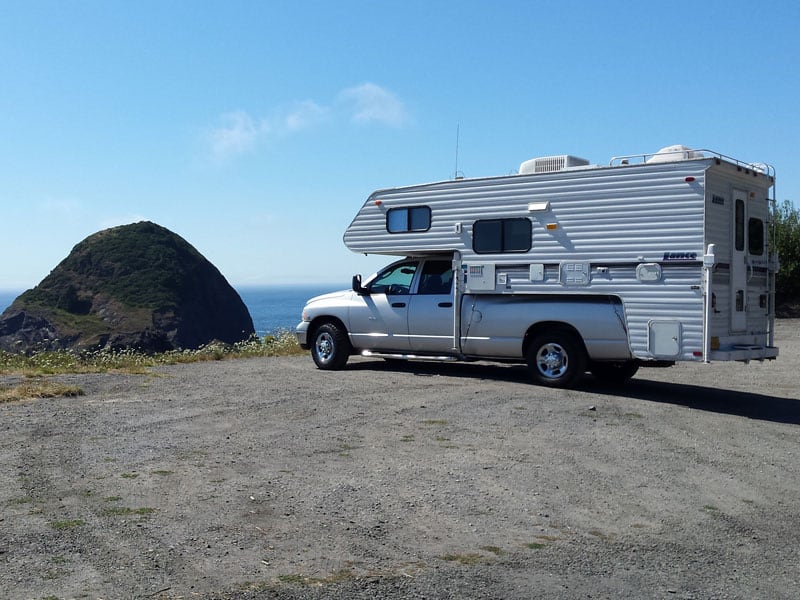 Here our rig headed to Gold Beach, Oregon to salmon fish.
Christopher Folta
Grand Teton National Park, Wyoming
2012 Dodge RAM 3500
2016 Lance 1172
Camera Used – iPhone 8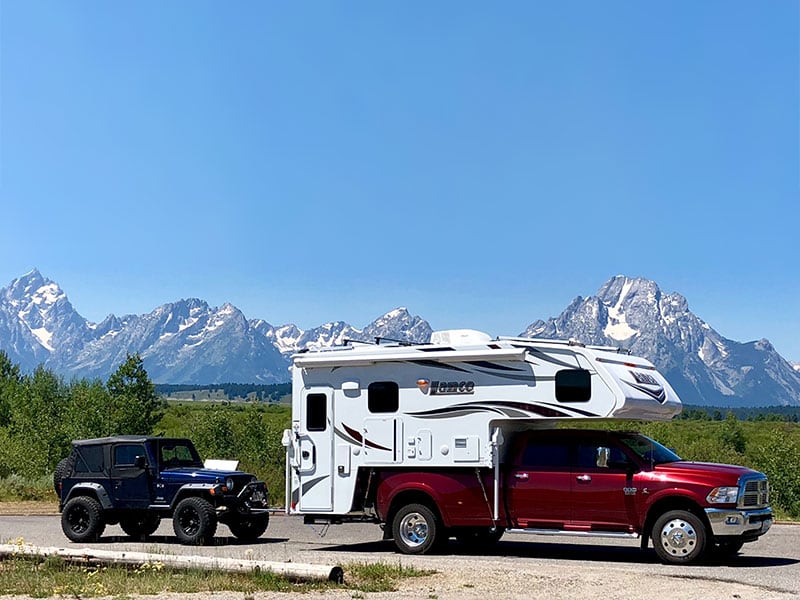 Todd and Gwynneth Carlsen
Grants Pass, Oregon
2008 Ford F-350
2006 Arctic Fox 811
Camera Used – iPhone 7 plus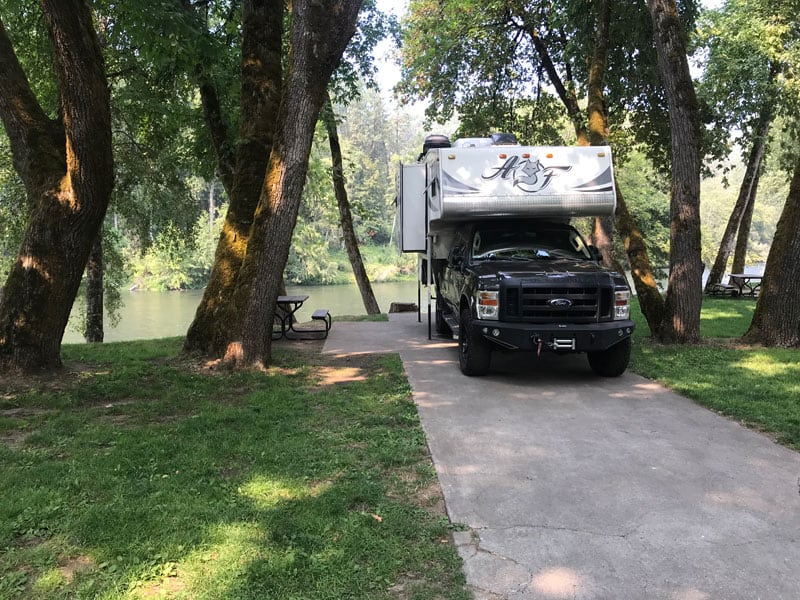 Rick Martin
Fort Stevens State Park
2014 Ford F350
2015 Adventurer 80RB
Camera Used – iPhone 7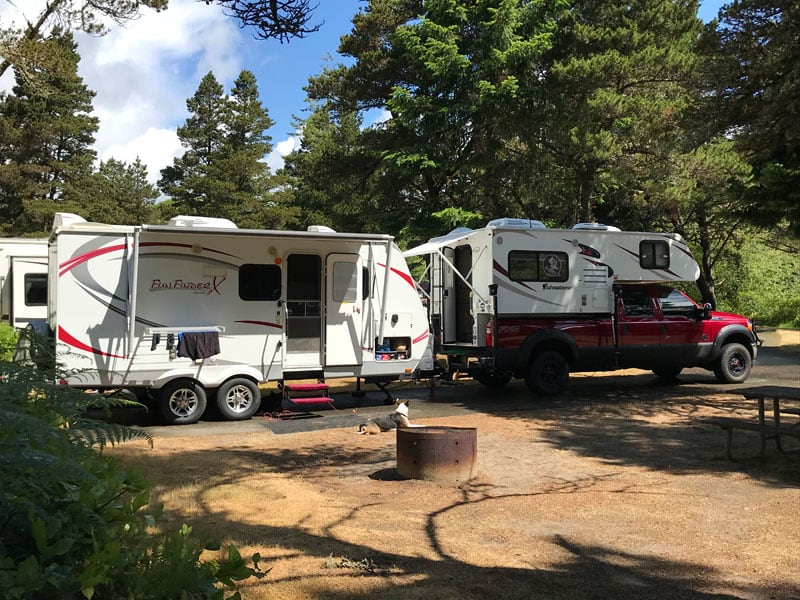 Until 2014 we always camped with the truck and travel trailer.  Then the opportunity came to have dad come with us.  What do we do?  A larger camper/bunk house?  Nope.  We tried a truck camper.
We started with a Palomino.  The set up involved raising the roof with canvas.  That was too inconvenient for us, especially if the weather wasn't great.  So we upgraded to the Adventurer 80RB.  Along with that came a wet bath, which was a great improvement.
We added a receiver off to the side so we could add receiver mounted steps while still hooked up to the travel trailer.  Then we built a semi-circle deck as a better top landing step.  It's covered in plastic AstroTurf and has LEDs under it to light up the steps.
Dad's a spry 82 and can get in and out of the truck camper relatively easy.  It's a great solution because he's got his own privacy.  He can get up and fix breakfast when he wants.  We added a second battery and solar so he's always charged.  We also have the ability to connect the truck camper to the travel trailer so they both share each other's solar panels.  We wired in an inverter to one 110-volt outlet, and presto, he's got Keurig coffee and toast to go with eggs and bacon.  It's a great solution!
While there's nothing particularly special about this photo or the campsite, we've gone from Georgia to Tennessee to the West Coast twice (2015 and 2018).  In 2018, we went in to British Columbia for six-weeks.  We've put some miles on this setup.
Click here to participate in the 2019 Truck Camper Magazine Calendar Contest and be considered for a Behind the Shot feature.